If I had to describe Amazing Spider-Man #10 in one word, that word would be "abrupt." This is part two of the multiverse-spanning Spider-Verse event, and after building up some interesting mysteries around a handful of the Spider-Folks over five lead-in issues of Edge of Spider-Verse, two tie-in issues, and a handful of back-up stories this chapter chucks them right out the window and transforms into the fully armed and operational marketing battle-station we all feared this series might be. Is my cynicism showing?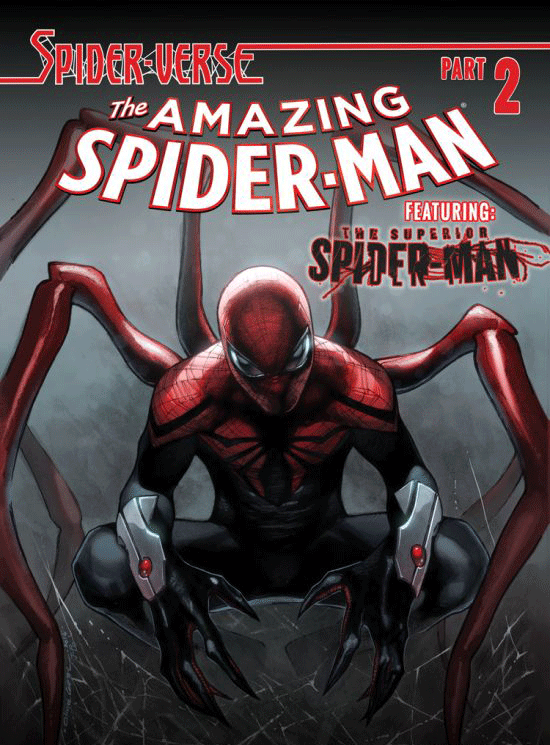 The book starts out strong. Miles Morales and Ultimate Black Widow, who were left dangling off of last issue's cliffhanger, get recruited into the Superior Spider-Team, led by the time-displaced Spider-Ock, and make their escape from the matron of the Inheritors, Verna. We also get to meet Spider-Punk here, and he's basically a ratty leather jacket-wearing, spikey-headed potty-mouthed Spider-Man. I kind of like him.
Not long after that, we have a quick follow up discussion continued from last week with the main Spider-Team as to why Peter Parker of Earth-616 is the "Chosen One." It's because he's the only one to have ever defeated an Inheritor before. (That would be Morlun.) Spider-Team is alerted to Superior Spider-Team's silly warping-about type behavior and they decide to send some Spiders to go get them and consolidate their forces on the Captain Universe-Spider Earth.

When the various teams converge in what is Earth-616 but in the year 2099, the two teams finally meet. Spider-Ock is aggravated because he believes he has everything under control and now all the Spider-Peeps are going to lure an Inheritor before he's ready. Lo and behold, that's exactly what happens. Deamos shows up, or does he? Old-Man-Spider sure does seem to know a lot about them all of a sudden, hmmm?
This is the point in the book where the very thing I thought this event would avoid happens. Without giving away every spoiler, we find out who Old-Man-Spider is, who "The Bride" is, and some other business about the Inheritors that literally had not been remotely hinted at until now. Then different members of the Spider-Team pair off and jump through various portals and, as they do, they are accompanied by editor note captions letting you know which tie-in book you can follow them in.
Support For Comic Book Herald:
Comic Book Herald is reader-supported. When you buy through links on our site, we may earn a qualifying affiliate commission.
Comic Book Herald's reading orders and guides are also made possible by reader support on Patreon, and generous reader donations.
Any size contribution will help keep CBH alive and full of new comics guides and content. Support CBH on Patreon for exclusive rewards, or Donate here! Thank you for reading!
I was fully prepared to go into this event with the understanding that the tie-ins might be essential to the story. I was thrown off the scent by the multitude of seemingly non-essential tie-ins leading up to this, and led to believe that Amazing was the core book to follow. Either scenario is totally fine with me, and I realize that Marvel can't go around saying, "well, we have all these tie-in books but they're totally skippable!" They have to sell  books. But my point is that we are only two chapters in and the seven issues leading up to this have been almost pointless. I think a lot of fat could have trimmed off of this story and it would be much more entertaining. Or, I'd at least feel a little better about spending my money going forward. I can't even remember the last time we saw Karn, and he's the guy that kicked off the event! Why did we spend half of Spider-Verse Team-Up and Spider-Verse #1 dealing with things that don't matter at all, and then cram more seemingly random yet important plot points into this issue?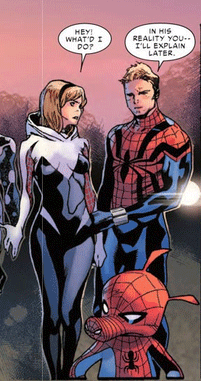 Dan Slott's script in this issue does what it needs to do, which is spin off the Spider-Teams into smaller, more marketable Spider-Teams. There's just too much that's trying to happen in this book. He does make some space for some genuinely great gags, though, like when Spider-Monkey meets Spider-Ham for the first time. Those are the comedic nuggets I love Slott for.
Olivier Coipel's art is still fantastic, and he somehow manages to make a lot of dialogue heavy pages still look dynamic and exciting. It's a pretty impressive feat considering that the story is about to collapse under it's own weight in this issue. I've heard that he isn't doing the art for every issue of the event in Amazing, and that is a genuine shame.
If you're reading Spider-Verse, you need this issue. It just would have been nice to know which issues we didn't need up to this point. Some might think the story rotating on various dimes is exciting, but I think it's just sneaky. I feel like this issue could have been paced much better if Marvel hadn't wasted so much time and paper up to this point. This is the first time in the series that it feels poorly planned out. I really hope it gets back on track next issue.
CBH Score: 2.5 of 5.0
[schema type="review" rev_name="Amazing Spider-Man #10″ user_review="2.5″ min_review="0.0″ max_review="5.0″ ]