I didn't know until this week that Spider-Verse #1 was going to be an anthology. I want to mention up front that I expected for a long time that this book would be a major chapter within the Spider-Verse story. It isn't that. Instead, it's six stories of varying shortness that either flesh out a Spider-Person we've seen on the edges of the event, introduce us to a new character, or parody some aspect of the Spider-Man mythos.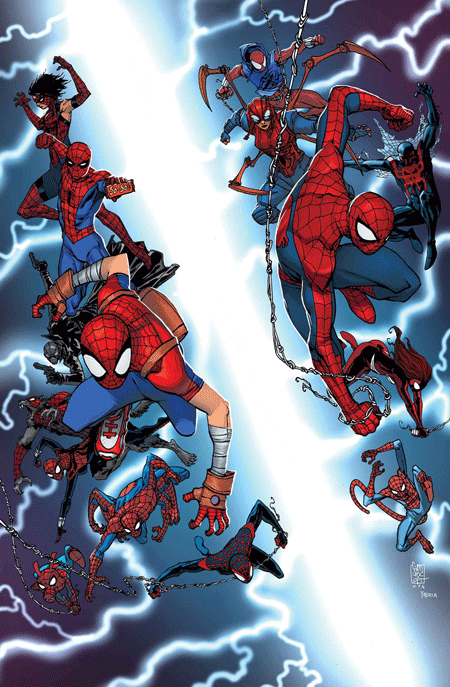 The first story is a two-page prologue that shows the Master Weaver and the Web of Life and Destiny. It is written by Dan Slott and drawn by Humberto Ramos, and Ramos shows us a few windows into some alternate realities within the web, and the most interesting one, in my mind, is what appears to be a look into the Spider-Man: Reign universe. The prologue also serves to set up Master Weaver in a kind of storyteller role for the book.
Next we see the Spider-Man of the Mangaverse getting a strange visit and heading out to confront Venom and investigate his disturbing visions. He ends up at a temple of the Spider-Clan before one of the Spider-Verse teams appears to get him to join the fight. This one was written by Skottie Young and has some good action in it, but it really only serves to give a little background information on Manga Spider-Man.
Because of the art by Jake Parker, I first thought this one took place in something like the Super Squad universe, as everyone looked more kiddie-esque as opposed to having a manga influence. I'll also admit that I never read the Mangaverse stuff, so fans of that may not be as confused as I was. The art is good with some good action and fight scenes, though.
The next story is the strongest of the bunch. It's written by Robbie Thompson and introduces us to the steampunk-inspired Lady Spider. I feel like this one could have easily carried it's own issue of Edge of Spider-Verse instead of being relegated to eight pages in this anthology. We're introduced to May Reilly, our hero whose powers seem to be mechanical arms and web-shooters she built out of car parts. While she does mention that she was once bitten by a spider, it doesn't seem to have granted her with any extra powers. She is, however, extremely smart, possessing multiple degrees, but she finds herslef limited by the strict societal codes of 1895 because she's a woman. She fights the Six Men of Sinestry, which is a fantastic take on the Sinister Six.
Support For Comic Book Herald:
Comic Book Herald is reader-supported. When you buy through links on our site, we may earn a qualifying affiliate commission.
Comic Book Herald's reading orders and guides are also made possible by reader support on Patreon, and generous reader donations.
Any size contribution will help keep CBH alive and full of new comics guides and content. Support CBH on Patreon for exclusive rewards, or Donate here! Thank you for reading!
The art in this section, done by Denis Medri, looks really nice, though the action is a bit confusing. I'm going to chalk that up to the lack of space for this adventure; it feels like a 22 page comic condensed into eight and it really does this story a disservice.
The other longer story in the anthology is a cutesy version of Spidey as an 11-year-old girl, and it just isn't my thing. It was my least favorite. We meet Penelope Parker in the all-too-familiar setting where she gets bitten by the radioactive spider. This one is written and drawn by Katie Cook and while there isn't anything wrong with it, it just feels out of place. None of the Inheritors show up and frankly, it would feel really weird if they did.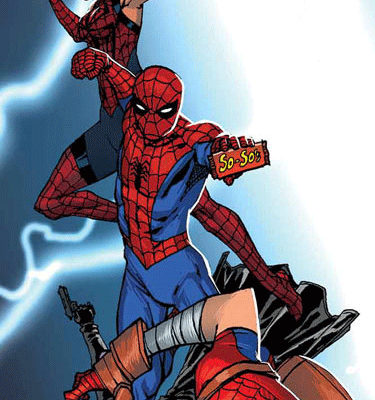 There's also a one page story that's a parody of the Hostess ads from the old comics that has a not-so-great ending for Spider-Man, and i think it's hilarious to think that there is an entire universe of heroes out there that try to solve all their problems by throwing delicious cakes at them.
And finally, there is a Slott-penned lampoon of the Spider-Man newspaper strip that has an amazingly funny twist ending. Let's just say that Morlun is not impressed with how long it takes to do anything in a daily comic strip. If I could frame those last two pages, I would.

Overall, if you just want to follow the main story, you can easily skip this. It's uneven and out of six stories, which is really only five plus a prologue, I thought two were really strong, two were so-so, and one was just out of place. If you're only interested in the main story, so far it looks like there really isn't much going on outside of Amazing Spider-Man.
I also think it's borderline criminal that the Lady Spider story didn't get it's own issue.
CBH Score: 2.5 of 5.0
[schema type="review" rev_name="Spider-Verse #1″ user_review="2.5″ min_review="0.0″ max_review="5.0″ ]