The 90s were a tough decade for Marvel. They started off great – In 1990, Todd McFarlane's Spider-Man #1 sold 2.5 million copies and a year later Rob Liefeld's X-Force #1 sold 5 million copies and Jim Lee's X-Men #1 sold 8 million copies. Then in 1992 all three of these artists and a handful of others left Marvel to form Image. Then in 1996, Marvel was forced to file for bankruptcy. Between these two events, we got Heroes Reborn
, which was oddly shaped by both of these occurrences. This series, in a strange way, shaped the course of Marvel comics post-bankruptcy.
In 1994, Marvel started approaching some of the artists that left them for Image to come back for at least a year. According to Liefeld, they first asked McFarlane to come back and draw Spider-Man but he categorically turned them down. They then approached Lee and Liefeld with a different proposition – to take over four struggling titles[1] and reboot them: Iron Man, Fantastic Four, Avengers, and Captain America. After more than a year of negotiations, the two signed an agreement that would have been worth 1.5 million dollars each, not including signing bonuses.
According to Liefeld, the plan for Captain America was for him to write and draw the first six issues, with a writer providing dialogue, and then hand the book to Stephen Platt. Liefeld and Lee were subcontractors, and their companies Extreme Studios and Wildstorm Studios respectively would provide the talent to produce the book. For Captain America, Liefeld initially approached Mark Waid, who had been writing Captain America beginning in 1995. Waid didn't think he was a fit, so Liefeld approached Chuck Dixon, but they had creative differences. Finally, Liefeld tapped Jeph Loeb. But four issues into Liefeld's Captain America run, Marvel declared bankruptcy and tried to renegotiate the terms of the contract. Liefeld refused, and his Extreme Studios stopped producing the book after Captain America #6. Wildstorm took over the rest of the run and hired James Robinson to write and Joe Bennett and Ed Benes to draw Captain America.
Despite the reboot, most of Captain America's lore is kept intact: a scrawny kid who gets the super-soldier serum and becomes a hero during World War II only to disappear and never be seen again. He even has a near-identical outfit, with the only change being that he has an eagle on his forehead rather than the A. When Robinson takes over, even that change is undone. Liefeld's twist is that Steve Rogers had been living what he thinks is a normal life only to realize that everything he knew about himself was a lie. Near the end of World War II, Cap learned about Truman's plans to drop the atomic bomb on Japan. Cap objected and threatened to go public with his disapproval. To prevent this, SHIELD wiped Rogers' mind. The mind-wipe would only work for so long before Rogers remembered his past so SHIELD would have to mind wipe him regularly. But now, America faces a threat so great that they need Captain America. So Fury offers Rogers a choice: join SHIELD or "go back to sleep."
This grave threat facing America is the World Party, led by Alexander the Great. Alexander is really Master Man, a little-used World War II Captain America villain meant to be the Nazis' version of Captain America. The World Party appeals to racial resentment and xenophobia, but claim that they're not Nazis because the Nazis lost and they're winners.
Support For Comic Book Herald:
Comic Book Herald is reader-supported. When you buy through links on our site, we may earn a qualifying affiliate commission.
Comic Book Herald's reading orders and guides are also made possible by reader support on Patreon, and generous reader donations.
Any size contribution will help keep CBH alive and full of new comics guides and content. Support CBH on Patreon for exclusive rewards, or Donate here! Thank you for reading!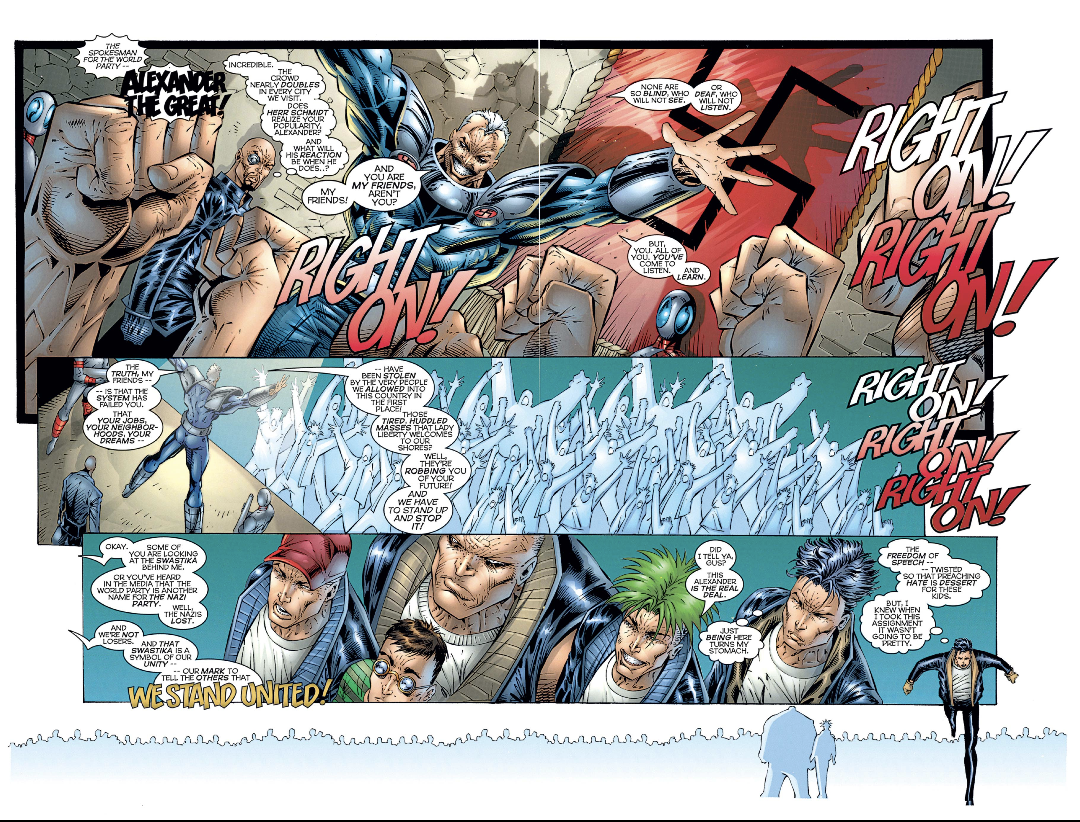 The through-line of the series, even as it changes creative teams, is Captain America's quest to rid America of the Nazi infiltration. After these first six issues, Captain America gets on a motorcycle and heads west to defeat the various chapters of the white supremacist group the Sons of the Serpent.
What They Got Right
There was a lot of potential in this series, but some of the best ideas turned into missed opportunities. Still, this series definitely got a few things right. First and foremost, there's the art. I know what you're thinking: it's not just Liefeld but it's the series with Liefeld's most infamous art piece: Captain America with his puffy chest.[2] You know what I'm talking about. But the thing about that piece is it wasn't a cover or even a panel for the series; it was promotional art. So while Leifeld's art can veer off to the unintentionally funny much of the art in these first six issues is quite good.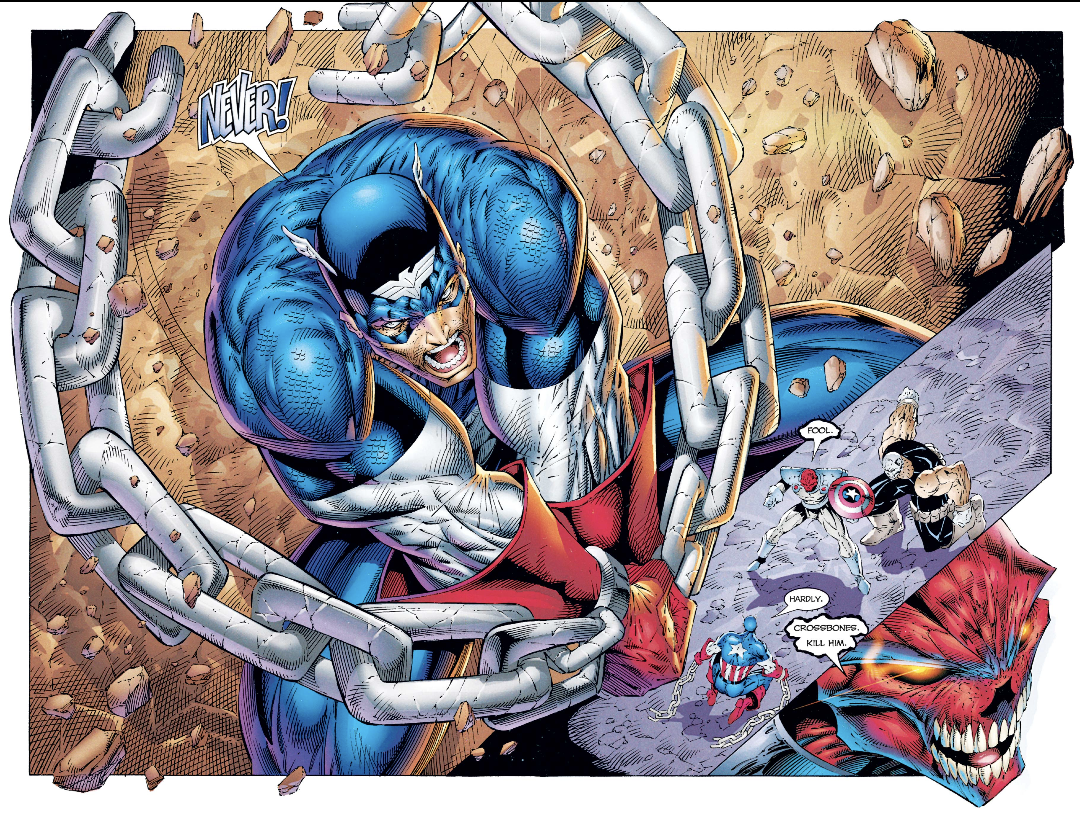 Art tastes are subjective and while I don't usually like Liefeld's art, I have to admit that it's often exciting here. There's a ton of great action shots with huge guys punching each other. In fact, if you're only into that I highly recommend you at least read issue 6 of this series where Captain America and the new Bucky team up with Cable to take on MODOK and AIM. It's a time-traveling story that is set completely outside the rest of the Captain America continuity and it's 20 pages of punching.
Starting with issue 8, Joe Bennett and sometimes Ed Benes take over pencils, and their art is strong. There are a lot of talking heads, which might be a result of the last-minute changes to the creative team, but the action shots are dramatic, even if they don't come with Liefeld's unrealistic sense of anatomy and perspective.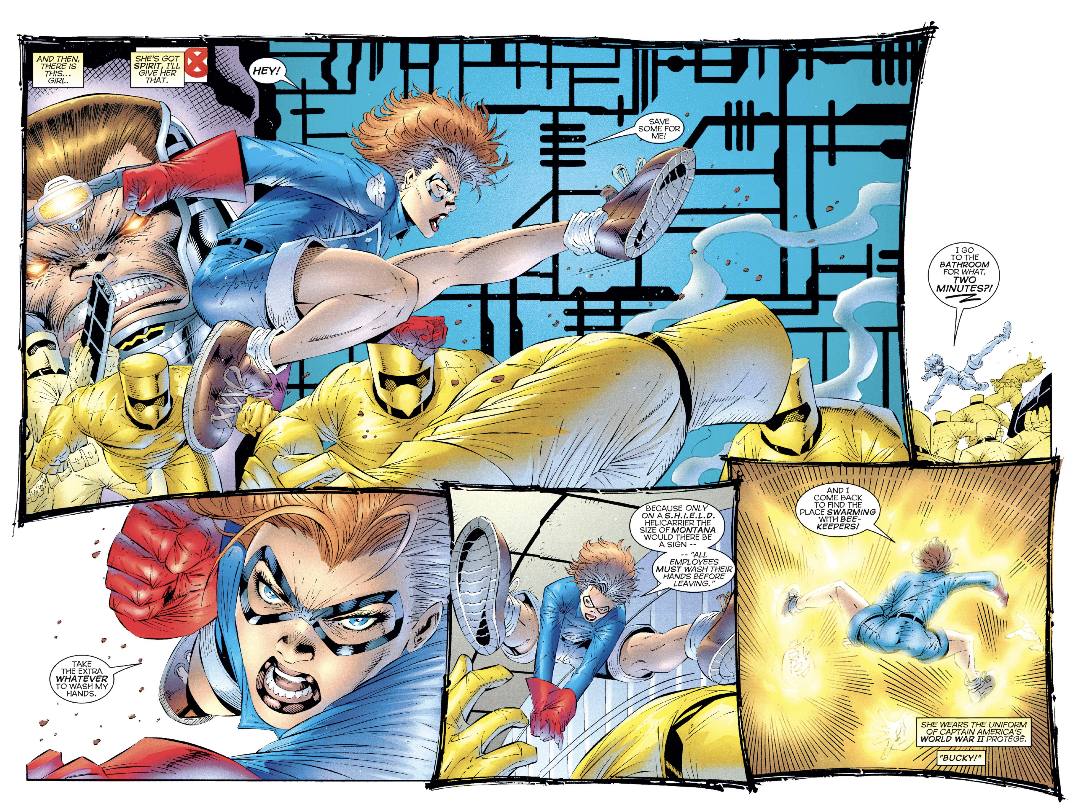 Another thing this series gets right is the dilemma Cap finds himself in. There's a pervasive threat of white supremacists in America, but this forces him to ally with the government that has been deceiving him for decades. He could go back to living his dream life with the wife and kid, but he has a duty if not to the American government but to America itself. Putting Captain America at odds with the government has always been a great way to generate interesting stories, and Robinson continues this by drawing from Cap's Easy Rider days and has him travel the country. I should point out that this Cap is in Philadelphia rather than New York, but they don't make much use of the new setting.
Probably the best thing about Captain America was also the biggest missed opportunity: Rikki Barnes. She's reminiscent of Carrie Kelly from the Dark Knight Returns. She's young, rebellious, cunning, and has a great design. She gets involved in Captain America's mission by accident – her brother and friend joined the World Party, and to try and save them she infiltrated the party's headquarters only to end up strapped to a nuclear bomb.
The problem is that after Liefeld left, the new creative team largely ignored her. She doesn't go on a road trip with Cap and she's injured most of issue 12, the finale to the Heroes Reborn universe. She does play a significant role in issue 11 and gets brought over to the 616 universe, but doesn't do much there either.
What Went Wrong
One of the biggest problems this series has is just how weak Loeb's writing is. In issue 1, Liefeld and Loeb want to present Rogers as a patriotic everyman who loves his family, but there's just no subtlety in any of it. Starting with page 1, we learn Rogers has three favorite colors–can you guess what they are?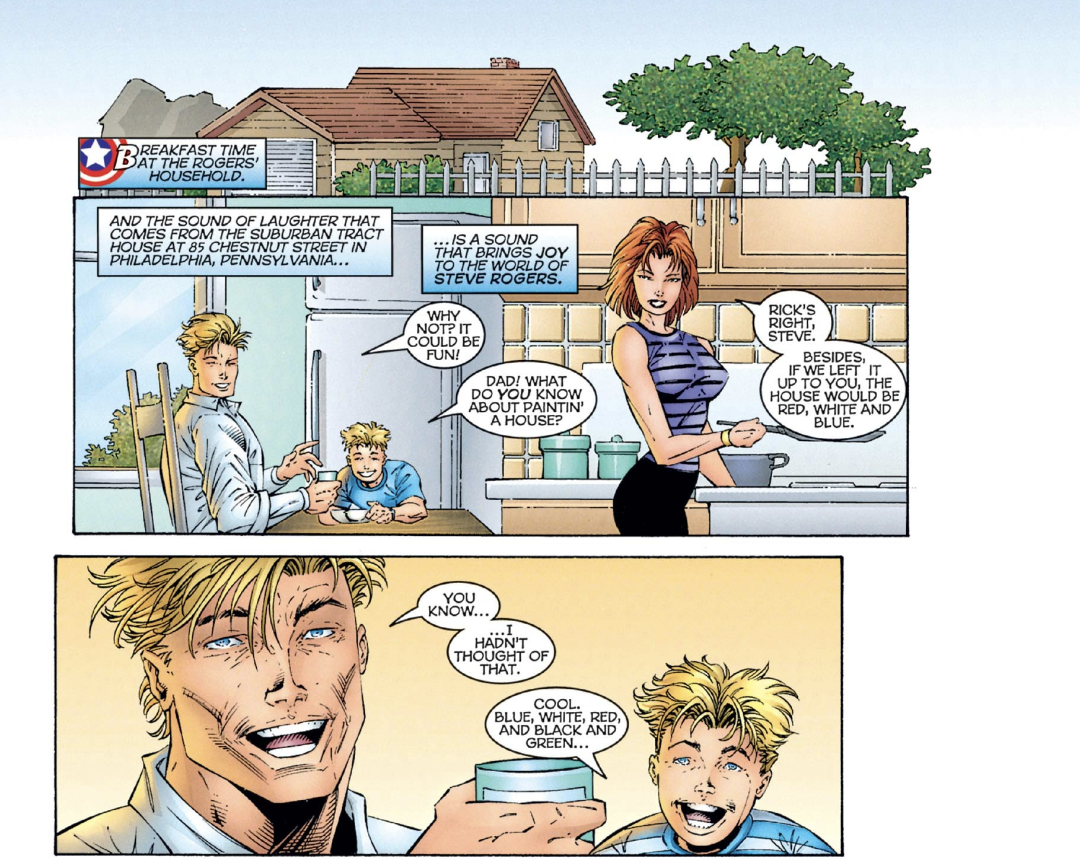 A few pages later when Rogers' coworker tries to poke fun at him the joke comes off awkward, which undercuts the sentiment. It does do the job of making it clear that everyone thinks Rogers is a dork who tells dad jokes, but that would hit much harder if the joke was delivered better. It's also a shame because there aren't any light moments in the rest of the series. This is it in terms of comic relief.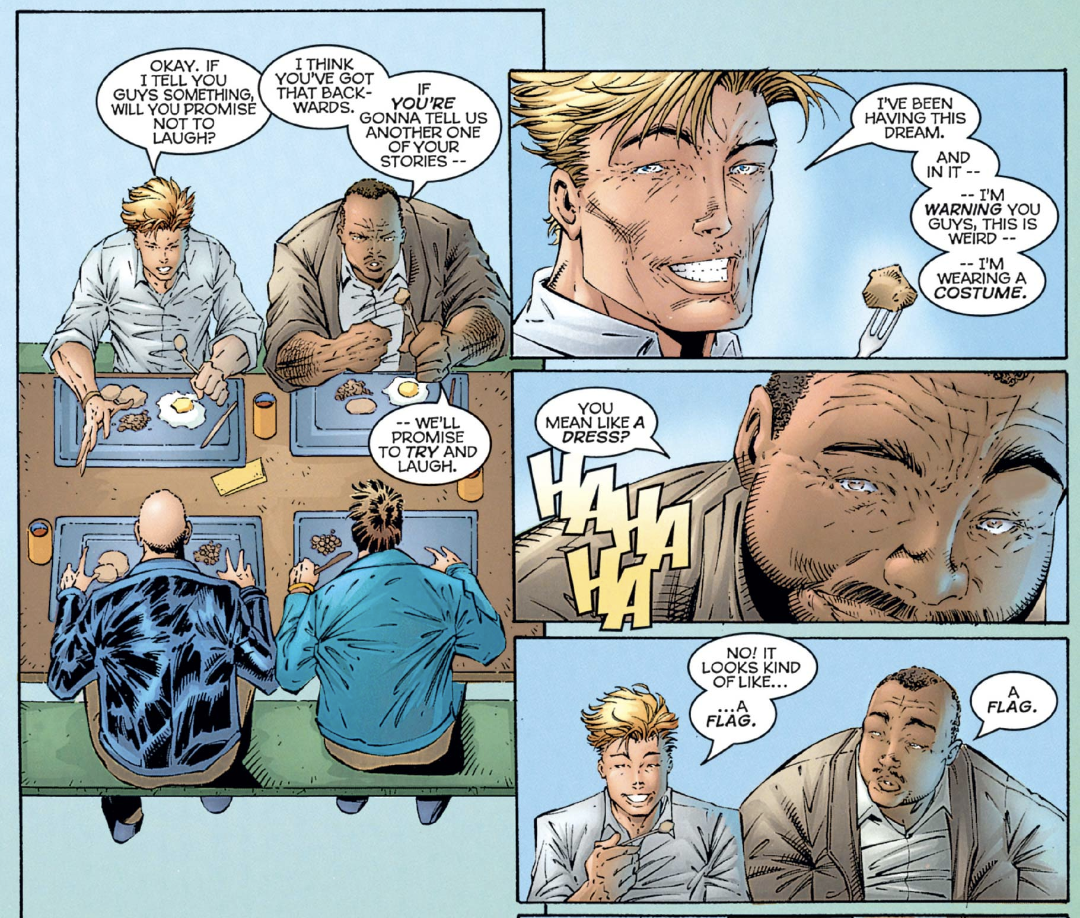 The biggest problem in Robinson's half of the series is his characterization of Captain America. This Cap is unquestionably more brutal than his 616 counterpart. At one point he takes a member of Sons of the Serpent and tortures him in the La Brea Tar Pits. Torturing people doesn't square well with themes like liberty and justice, and that's usually why amoral characters like Nick Fury do the dirty work.
A big problem that both creative teams have is just a lack of diversity, even for 1996 standards. For a story about the threat of white supremacists in America, there are only three black characters that make appearances in the entire 12 issues, and only one of them appears in more than one issue. There's also a severe lack of women. Rogers' wife is a Life Model Decoy, and while Sharon Carter shows up she doesn't do anything. Aside from a few reporters who only serve to deliver exposition, Barnes is the only woman in this series and she goes underutilized when Robinson takes over. In issue 8, she appears on the cover but is out of the story by page 3.
The Series' Legacy
Putting the Heroes Reborn event in a pocket universe limited the effect these stories could have on the 616 continuity. The heroes return to the main universe and nothing that happened in the pocket universe seems to matter. Barnes does make it through as well but she dies so often that one of her powers is to attain the powers and memories of other Rikki Barneses throughout the multiverse. She's played a key role in defeating Onslaught, the villain conjured up to kill Captain America, the Fantastic Four, and the Avengers, and she had her own miniseries in 2010. Right now she's a member of the Future Foundation.
A more impactful legacy is the likely influence of this Captain America on the Winter Soldier. Issue 7 of Captain America has Fury explaining to the president what they did with Captain America. Before he was mind-wiped and given a regular life, they would "reconfigure how he thought" and send him on military operations under various aliases. This is similar to how the Winter Soldier functioned for the Soviets. While I don't know if Ed Brubaker ever confirmed this was his inspiration, he was certainly familiar with this series – Rikki Barnes showed up in his own Captain America run.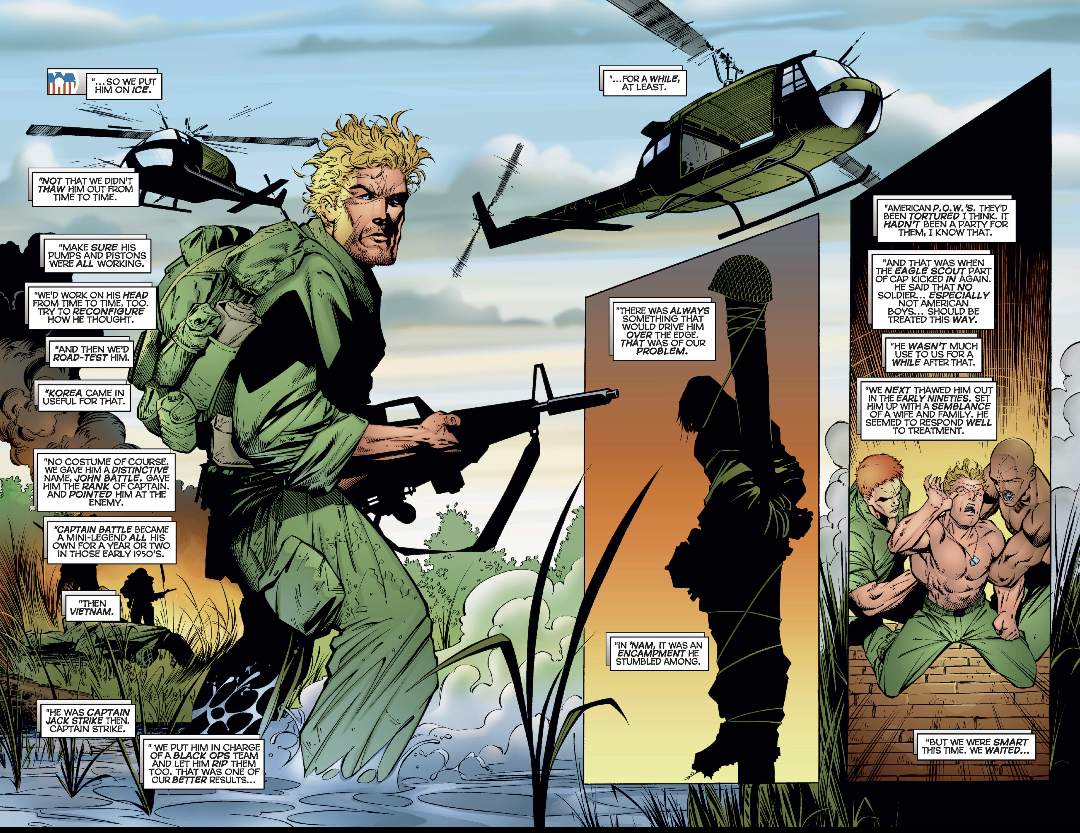 Heroes Reborn as an idea has an even more lasting impact on Marvel. These four series showed Marvel that there was interest in alternate universe versions of their characters. A few years after this event, Marvel tried alternative universes again with their most marketable character. Ultimate Spider-Man was a smash hit and likely wouldn't have happened without Heroes Reborn. While the Ultimate Universe is no more, it did last 14 years, had some stellar titles, and was the inspiration for the look and feel of the Marvel Cinematic Universe.
There is some dispute over just how bad the sales of these comics were at the time. John Jackson Miller, who runs Comichron, a blog that, among other things, tracks the sales of comics, estimated that the 1995 average monthly sales of Fantastic Four was at 103,500 and the other three titles were in the mid-80,000 range. Yet both Lee and Leifeld contend that Marvel told them that these books were selling in the 30,000 range. It's possible that the numbers picked up some from 1994 when negotiations began or that Marvel was basing those numbers on estimates. Needless to say, Marvel felt Lee and Leifeld could help sell more books and that's why they got generous contracts. ↑
This is definitely now how Leifeld refers to it, but this is a family publication so we'll go with that, okay? ↑