Nuclear weapons offer us nothing but a balance of terror, and a balance of terror is still terror. — George Wald
There are two different stories in horror: internal and external. In external horror films, the evil comes from the outside, the other tribe, this thing in the darkness that we don't understand. Internal is the human heart. — John Carpenter
---
Full disclosure: I have a professional relationship with Storm King Comics. That said, they did not pay to have this article written, and I haven't worked on any of the books mentioned herein. This article was written because I will take any opportunity to discuss the craziness of the Cold War, as you'll find out over the next few weeks…
---
Hidden Between the Gold and Silver Ages is Lost Era.
An expired generation, born in secret in the Nevada desert, just before the end of World War II. The Atomic Age of Comics stretches for just eight years, from 1948 to 1955. Officially, it covers just the beginning of the Cold War, and yet you feel its impact as late as the 90s.
The Atomic Age marks the beginning of the end of America's infatuation with nuclear power, and the beginning of our fear of it. It also marked the golden age of mature horror comics, a time that's only now returning. 
It is also the fear I grew up with. The fear most familiar to me. And I wanted to know why.

A Brief Word on the Comics Code Authority
It's impossible to talk about horror comics without mentioning the Comics Code Authority (CCA). Mostly because the CCA, a censorship campaign that the industry imposed on itself. It is a big, complicated, and unfortunate period. Both for comic books and for the country. For now, a wildly simplified summary.
Support For Comic Book Herald:
Comic Book Herald is reader-supported. When you buy through links on our site, we may earn a qualifying affiliate commission.
Comic Book Herald's reading orders and guides are also made possible by reader support on Patreon, and generous reader donations.
Any size contribution will help keep CBH alive and full of new comics guides and content. Support CBH on Patreon for exclusive rewards, or Donate here! Thank you for reading!
The Three Most Important Facts about CCA and Horror
The CCA was the product of a Cold War Era moral panic.

It had weirdly specific rules eliminating comics with "horror" or "terror" from the title. Comics could not show "horror," "excessive bloodshed," gruesome illustrations." Nor could they depict the "walking dead, (…), vampires and vampirism, ghouls, cannibalism, and werewolfism."  These were the dominant subjects for horror comics.

Horror comics used to be much more mature, with many created to appeal to WWII vets and other adults. The CCA eliminated all such products.
Going Down With a Fight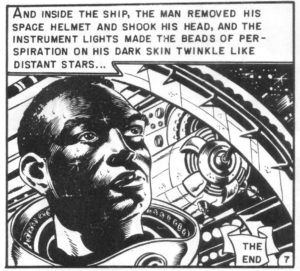 Because horror comics were the ones most affected by the CCA, they were also the publishers fighting it the hardest. As evidenced by some of their finest work being done in the final two years of the atomic age. In addition to putting out some fantastic stories and great artwork, publishers began to take on the CCA directly. Specifically, they lashed out with some of their politically-minded works that railed against anti-semitism, lynchings, and police corruption.
Most notable from the list is Judgement Day — the story of an African-American astronaut piloting a nuclear-powered ship — with incredible artwork by Joe Orlando and classic writing Al Feldstein (who would lead EC after it was bought by Mad Magazine).
Sadly, by the end of the atomic age, the Comics Code Authority would force more than half of the horror publishers to close shop, with at least two more (Warren and EC) turning into magazines to take advantage of a loophole. While that may have bought them time, it also meant reduced access to the comic book market (since the two now had different sales restrictions.)
To Recap
America undergoes a moral panic

The Comics Code Authority is created and it begins censoring books containing (among other things) monsters and/or gore.

The resulting change decimates forces the horror market to collapse… almost.
Why The Bomb Took Over Our Fears
Obviously, the American public's fear of the Cold War becoming a nuclear one seems painfully sensible. Maybe even pragmatic.
My question instead is: what purpose did it serve in media? The decades between the mid-50s and early 90s were filled with countless panics, from Civil Rights and the Pill, to the Crime, AIDS, and Crack epidemics.
With all these "new" concerns, why was it that the old fear of atomic warfare stayed on the charts? The question isn't "why did people ever fear the bomb" but "why did generation after generation continue to do so?"
And why is it so prevalent in comic books, which can contain any horror imaginable?
The Comics Code Authority Strikes Again
Nuclear horror is really the omega of all things terrible and frightening. It is essentially humanity cracking the door on our collective annihilation then straddling that brink so as to best use the dark promise it represents as a resource, as a cudgel and (in really twisted parlance and rationalization) as a means of keeping the peace through our mutually assured destruction. — Joe Harris
When the CCA forced comics to remove virtually every horror mainstay and trope, what they left were three things: aliens, robots, and atomic warfare. And not every canon can make room for aliens and robots (although many did try!)
Furthermore, the bomb was suspiciously perfect. First, because It vaporized its victims, leaving no gore. Second, It didn't necessitate sex, guns, or dumb politicians. Third, it gave the world a brand new monster: the mutant. The hot new creature for a modern era, and legally dissimilar from vampires and werewolves.
In a strange and twisted sense, the bomb (and the "super weapons" it inspired) was the safest of all choices.
Versatility
Horror had seen a lot of both types of threats. Internal horror like demonic possession, sickness, or body horror tends to pop up when a culture feels defeated in some way. External horror like vampires, werewolves, and knife-wielding psychos, come up when a culture tends to feel  powerful (or wants to project that feeling).
Nuclear war, on the other hand, is almost a 50/50 split. 
External
External horrors are often flashy and obvious. They have dripping fangs, or capes, or enormous weapons that scrape across the floor. The Soviet Menace, with its tanks, uniforms, and easily parodied accent would fit right in. Equally so, the bomb blast itself, with its blinding flash, horrifying rumble, and explosive pressure wave. These things attack from the outside, and it's their observable nature that makes them terrifying.
Internal
But what you might not see is everything that comes after. Invisible radiation creeps in like any curse or corruption, a thing that reaches inside and changes people. Resulting in cancer, mutations, poisoning of land, food, and air. These things are all internal. As well as a perfect metaphor for how someone can change.
Simple Shorthand
It is frighteningly easy to make people imagine a nuclear holocaust. To show you what I mean, here are the first few pages of Akira by Katsuhiro Otomo.
Look at how clean that reads, even without the captions. Furthermore, look at how you can read power, then scale, and finally fall out. To me, one of the most frightening things about a nuclear attack is that it does not need to explain itself.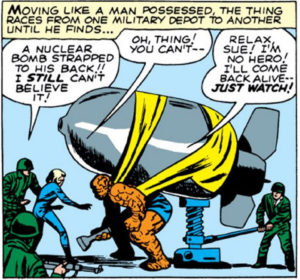 By the same token, I imagine that this efficiency is why so many iconic heroes have their start from atom bombs and radiation; it's an instantly clean slate.
It is a stand-in for all fear because it is the great fear. It is the threat of all loss. That there would be nothing left, nowhere to rebuild. Add to that the fear of the unknown, the fear of not knowing if tomorrow will be the day. There is a similar fear with the climate crisis but with that, there is a chance of mitigating the damage or slowing it down and of someplace being habitable, unlike a nuclear holocaust where it would all be gone. — Cat Staggs
Does the End of the World Still Mean Anything?
It's 2019 now. More than 70 years since the bomb was dropped. Nuclear-powers rattle their sabers constantly. Our bodies are bombarded every second cellular signal, wifi, radio waves, some kind of radiation. Cancer is now an occasion for a fun-run. Thatcher and Reagan are both dead and buried beneath mountains enchanted to hold them.
Our comics reflect that. Civil War opens with a nuclear attack, yet the biggest concern is given to superheroes fighting. This was just one of the times our world as we know it has ended. The total number of actual apocalypses in comics is impossible to even count. Maybe nuclear weapons as a threat are as toothless now as the CCA itself.
So what good is nuclear Armageddon?
If nuclear destruction seems simple now, it's probably because it always was. Just as it makes for an easy shorthand when creating a hero, it makes for a concise threat in a story. Nuclear bombs need no introduction, no explanation. Best of all, they are an enormity unto themselves, almost something divine that transcends the normal boundaries of governments, morals, and daily lives.
Unlike monsters or serial killers, they do not target you. They cannot be outsmarted or outrun. Unlike magic or beliefs, nuclear bombs will kill you, regardless of your faith in them.
But most of all, they promise an absolute end to things. If the bomb goes off, the world will forever change. Whatever it is you were working on before this, whatever bills you had to pay, whatever worries kept you awake each night… they'll be gone, one way or another.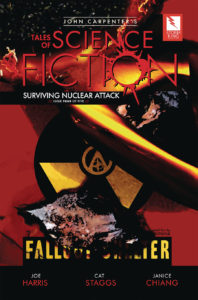 Modern Work
Horror comics are making a comeback and stories like Little Bird, East of West, and even Immortal Hulk all have aspects of the bomb to them. There are vast wastelands and governmental control.
But there's something else, too. The idea that the apocalypse and its inciting event can be minimized. If the bomb drops and no one sees it, and radiation and fallout are invisible. If all of these elements are effectively taken away, then what's left of the bomb?
But most interesting to me are stories like Surviving a Nuclear Attack from Storm King Comic's John Carpenter's Tales of Science Fiction.
It takes those ideas and lays them right out on the table. There are parts we know have to happen (taking radiation pills) and parts we forget happen anyway (a sudden belief in a higher power.)
More than anything, though, I appreciate that they are showing that there are still mysteries hidden behind the gaudy flash and the well-trodden ground. In fact, they embrace that with characters and moments that feel like something from Judgement Day and other pre-Comics Code masterpieces.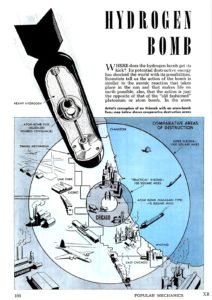 Final Thoughts
In the end, our changing feelings about the atomic bomb are little more than a reflection of how we feel about the inevitability of death. The uncaring and impersonal totality of the weapon. The way it feels both certain and impossibly unlikely. Most of all, the clear chaos in radiation, global politics, and the universal certainty of accidents have only become more entrenched in the intervening years.
I can only wonder now if nuclear threats come in waves. Perhaps patterned to something the way that earthquake weather seems to be. The way it rises and falls, giving us heroes for a few seasons, then death for others. Perhaps it is on some great, elliptical orbit, the outer valence shell of our fear, collapsing in when our faith runs out. One last, great sureness. A gift from the first big bang.
Nuclear disaster rolls all our fears into one: death, dismemberment, loss of a loved one and tops them off with no escape, no future. It's human annihilation and loss of our planet. It's all our fears at night in the dark alone before we go to sleep that we fear our prayers can't answer. — Sandy King Carpenter