Writer/Artist: Hugo Pratt
Corto Maltese was Indiana Jones and Han Solo before Harrison Ford was even invented. He's Lupin III and Spike Spiegel and yes, even Carmen Sandiego. The character and his title are true classics, capturing and even defining not just a style, but the entire tradition of "action books."
So it's hilariously perfect that he shows up late to his own book for the same reason Star Wars doesn't start at the Cantina.
Instead, it begins with a hilarious ruse. We start with an eighteen-year-old Serbian deserter named Rasputin, a boy having faced such hardship that only the internationally renowned adventurer, scoundrel, and bon vivant Maltese can help—a man so famous, it takes real-world literary master Jack London to bring the two together.
This is a bit like saying that if you want Spider-Man's help, you have to go through Hemingway first.
Support For Comic Book Herald:
Comic Book Herald is reader-supported. When you buy through links on our site, we may earn a qualifying affiliate commission.
Comic Book Herald's reading orders and guides are also made possible by reader support on Patreon, and generous reader donations.
Any size contribution will help keep CBH alive and full of new comics guides and content. Support CBH on Patreon for exclusive rewards, or Donate here! Thank you for reading!
The Corto Maltese books feel somehow both dated and contemporary. The tropes they invented are still very much in use, and Pratt's style can still be seen in Moebius, Paul Pope, and more manga than I can count. It's also behind the creation of Benedict Cumberbatch.
Writer/Artist: Moebius
Silent, psychedelic, sci-fi, high fantasy, a possible love letter to Peru?
The character designs. Moebius's use of color and the cost and difficulty of reproducing it. The sheer enormity and scale of the book. This is one of those rare, pure examples of one person using once-in-a-generation abilities simply to have a great time.
The bad news is that, despite their importance, Moebius's books are often in short supply globally, and may simply not exist in every language. (Except in France, where they print a surplus.) Since the story has zero words, the only text you may miss out on is the artist's notes on each chapter.
The hilariously confusing news is that Moebius, a true surrealist, made a series but changed its name with each release. It's almost exclusively collected under this title (Arzach), but if you want to collect the individual issues… well, for multiple reasons, that's even harder than finding a graphic novel still in print.
Writer: Alejandro Jodorowsky
Artist: Juan Gimenez
These two (or arguably one) stories are what happens when you let a couple of artistic geniuses set out to make a brand new mythology. Let me break down how literally I mean that.
The Incal is about the birth and death of a universe. It is about the order of that, its grand design. There are resurrections of the dead, an immaculate conception. And the immortal rulers of creation aren't so much "cyborgs" as religious fanatics who have ritually sacrificed some part of their body to be painfully replaced by metal and circuitry.
However, much like old myths, these two books get a little lost through constant reference. And that might take a little away from them. You'll see a lot of Dune in the book, which should come as no surprise given that Moebius and Jodorowsky have a long history with the book and film. You'll also see The Incal in The Fifth Element, and Metabarones was nearly Xeroxed into Warhammer 40,000.
Today, these two books are still must-reads for just about everybody. The only thing harder than describing them is trying to describe what they were like the first time.
Writer/Artist: Julie Maroh
This story is a gorgeous triumph of a graphic novel. It feels wonderfully, uncomfortably filled with youthful restlessness. A feeling only strengthened by the misplaced certainty of that age that pushes against the frame constantly. These sensations feel both universal but also specific to the book's two queer teenaged girls, making the book accessible but also illuminating, not so much "correct" as "true."
Maroh's artwork is a little manga-inspired, smart in its restrained use of color, and it retains that incredible, naive excitement that very young talents begin with.
This is a lived experience, not necessarily better but certainly different than its filmed adaption, the uniqueness of which was wonderfully fitting.
Writer: Enrique Sanchez Abuli
Artist: Jordi Bernet and Alex Toth
Abuli's hit series is a dark comedy crime comic in the way few things are anything. It's so pitch-perfect, it's almost like an extremely earnest cliche or satire. Taken as a whole or judged by its smallest panel, it simply feels… "right." The book is good in the way pulps are good, and it is goofy in the same, specific way. There's a real joy to that accuracy, like watching athletes move, or when a song you might like becomes one you know you'll love.
However, Torpedo is also a problem in the way that pulps are problematic. I don't think it was the goal of the book to interrogate issues of racism, sexism, sexual freedom, and physical/sexual/mental violence. But it's also very clear that the book has an idea of how those things are "just right" for the aesthetic, and more uncomfortably, so do I.
And yet reading it is seeing a sneak preview of 100 Bullets, Sin City and Frank Miller's artwork, and Jim Lee, Marc Silvestri, and Sean Murphy's careers, to name only a few. There's an undeniable excitement in seeing the pulp book so many pull from.
Writers/Artists: Juan Díaz Canales and Juanjo Guarnido
I sing the praises of this brilliant, funny, insightful, and artistically singular book everywhere. Sometimes by request. The writing is smart, the artwork is incomparable, and the series is one of my all-time favorites.
I had intended to add it on those grounds alone, only to accidentally find an actual good reason. Blacksad is also the perfect pulp comic, alongside Torpedo, for almost exactly opposite reasons.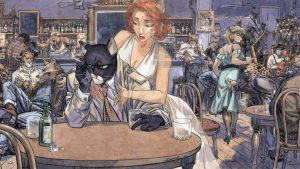 Blacksad is a pulp noir that has nothing classic or traditional about it, but is somehow still exactly that. When one thinks of pulp, one probably thinks the opposite of "Disney's classic era." Vicious, mean, gritty, and dumb. I'd also add "macho." Blacksad is the story of a black private eye whose work brings forces him to confront racial, sexual, and economic violence routinely. And yet it's also a bright, hand-painted cartoon about anthropomorphic animals.
This is a whole different struggle over the meaning of aesthetics.
Writer/Artist: Marjane Satrapi
Like Julie Maroh, Satrapi tells her life story by finding the universal within the specific, doing so with an equally misunderstood and maligned culture: Iran.
The book is very much about Marjane Satrapi, ages six to fourteen. It is also about the Iran Revolution, which was somehow the most and possibly least important thing in her life. The Revolution exists here as a historical object, something Satrapi must meaningfully help her readers learn about. Its violence, rebellion, and mania become a metaphor for this period of Satrapi's life, just as her need to explain it, make it seen to begin with, is a metaphor for her life now.
Ironically, the effort of making Iran's history clear and the need to provide that education might also obscure the substance and purpose of the book. Make no mistake, this was an extremely real, painful, and important part of human history. Those same words apply to how the Iran Revolution seemingly means so little in the West, and what impact that may have on its survivors.
But this book is also rightly renowned for the family dynamic between young Marjane and her parents. A relationship that is every bit as enormous, important, and sometimes painful as the period of history they live in.
Persepolis, to me, lives and breathes in the difference between how the book works so hard to make one of these struggles feel understood and important, and the way simply shows the other. It's not that one balances the other… it's about moments in life, what we work to make clear, and what we feel we need to teach people.
Writer: Alan Moore
Artists: Alan Davis, John Totleben
Moore's deconstructed masterpiece makes almost any Top Ten list. And it seems an even more obvious choice here, given that the only thing more famous is Moore's Englishness.
I'm here to say that if you haven't read this yet, you ought to in spite of all that praise. Marvel Man isn't something comics fans should read, in the way one should see Casablanca or should buy renter's insurance. It is now and has always been a brilliant, shocking, deeply flawed, and remarkable book. I'm not here to wax poetic about the particulars or their importance to art, comics, media, and so on; thousands of writers, some of them way smarter than me, have clubbed that dead horse to atoms that are now widely distributed. You'll hear that all over.
Instead, I'm here to tell you that simply looking at Miracle Man flying reminds me of how flight felt to me as a kid. The simple, guileless wonder. It also has actual supervillainy, with an antagonist that rips the skins off people and hangs them to dry on clotheslines. I'm here to tell you that these are also reasons you might want to read this book.
Writer/Artist: Enki Bilal
This trilogy follows journalist Jill Bioskop; Alcide Nikopol, mental patient; and Horus, the Egyptian god of fate and vengeance that's possessing him. It's a world filled with anxious humor and that particular brand of weirdness that's a hallmark of so many Euro magazines. The plot is somehow both a familiar pairing of sci-fi genre with dystopian politics and the deeply strange. A mix of cyberpunk, the old joke about when Jesus talks back, space travel, and… building codes?
Bilal's art is something much more clear. Better yet, these books come oversized, which has a dramatic effect on the artist's gritty, beautiful, '90s-Underground pieces.
But this post wouldn't be complete without one other strange bit of comedy. While Nikopol can be read on its own and is the book I'm intentionally recommending, it's also—technically—part of the Nikopol trilogy. I say this only so that I can say to ignore it. All three books are good, but there is absolutely no way in which to read them the makes the story one iota less odd. Hell, read Milligan's Shade: The Changing Man or Maroh's Blue Is the Warmest Color instead; both form as good and logical a trilogy with Bilal's Nikopol as Nikopol does with its prequel and sequel.
Writers: Patt Mills, John Wagner, Jack Adrian
Artists: Mike McMahon, Brian Boland
2000 AD comes from the golden era of punk rock, and the whole publisher is Sex Pistols down to the very ground. It is at once a celebration of everything loud, brash, stupid, vulgar, and puerile and the quiet desperation in the soul of the British people.
Judge Dredd is the star of 2000 AD and something of an epitome of all that it is. Fears over nationalism, the fall of the Empire, the ascendency of American cultural power, the falling wealth and justice available to the masses, and the rising security state England was becoming: these deep, empathetic concerns are expressed tastefully in this story about an ultra-violent law man traveling into a Mad Max-style desert where cartoon versions of Ronald McDonald and the Burger King raise armies to kill one another.
I've forgotten why it happened, but for some reason totally unrelated to America's cultural rise, 2000 AD was nearly sued out of existence and the issues of Dredd disappeared from it entirely. What I do know is that this is the best time to get into the story, as it's finally been reprinted in its entirety (look for the "uncensored" label on each cover).