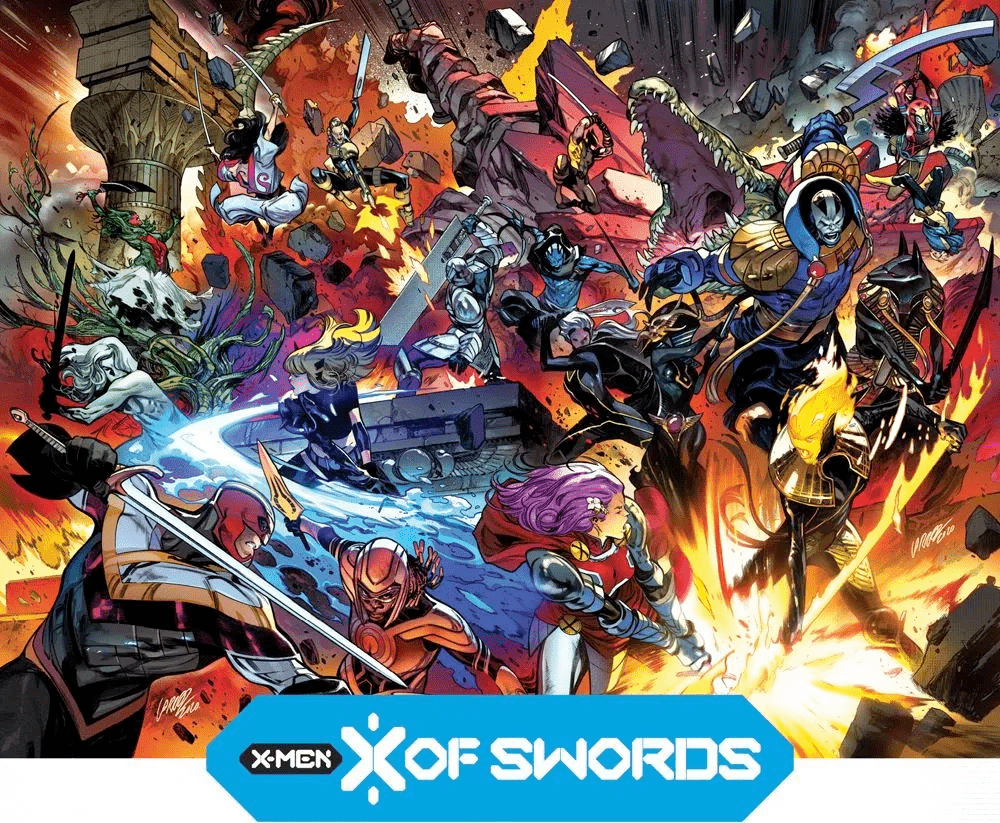 X of Swords is by –  W: Jonathan Hickman, Tini Howard, Leah Williams, Benjamin Percy, Vita Ayala, Gerry Duggan, Ed Brisson, Zeb Wells; A: Lienel Francis Yu, Pepe Larraz, Carlos Gomez, Viktor Bogdanovic, Matteo Lolli, Rod Reis, R.B. Silva, Stefano Caselli, Joshua Cassara, Phil Noto, Carmen Carnero; C: Sunny Gho, Marte Gracia, Israel Silva, Matt Wilson, Edgar Delgado, David Curiel, Nolan Woodard, Guru-eFX, Rachelle Rosenberg; L: Clayton Cowles, Joe Caramangna, Cory Petit, Ariana Maher, Travis Lanham, Joe Sabino; D: Tom Muller
X of Swords
is a story about love, like all the best X-Men stories. This is why it excels so beautifully, because it honors the emotional core of its characters and themes of found family and protecting the weak. The newly-collected crossover event is about what our heroes will sacrifice to recover lost love – in a contest of swords, the sharpest are the ones that pierce the heart. Tini Howard, Jonathan Hickman, Pepe Larraz, and Marte Gracia lead the entire X-Men creative team in a coordinated effort to create a sprawling epic. It may wobble at times but never loses sight of its true purpose, sticking the landing with Olympic flair. The story introduces years' worth of new material and vibrant characters into the canon while giving fans hit after hit for their long-time favorites. X of Swords draws on the past, present, and future of the franchise to pull just about every heart string.
Related:
Support For Comic Book Herald:
Comic Book Herald is reader-supported. When you buy through links on our site, we may earn a qualifying affiliate commission.
Comic Book Herald's reading orders and guides are also made possible by reader support on Patreon, and generous reader donations.
Any size contribution will help keep CBH alive and full of new comics guides and content. Support CBH on Patreon for exclusive rewards, or Donate here! Thank you for reading!
Over 600 pages long, this weighty tome represents a feat of modern comics-production. The hardcover is dressed in Tom Muller's signature design work, tying it in with the preceding HoX/PoX hardcover while retaining its own visual identity (I love the little touches that make the event feel like a special affair). The full list of credits is mighty, as every "Dawn of X" writer and a host of regular and guest-starring artists participate. This period of X-Men is marked by the writing teams' close collaboration and X of Swords is the first major statement on how effective that strategy can be. To use a Hickman-ism – it's not perfect, but what is? I get the sense everyone participating in this comic had the time of their lives, and if that comes at the expense of flawless pacing or consistent tone then I can't complain too much.
Gone but Not Forgotten
Comparisons to Avengers: Endgame are not entirely off-base, because of this crossover's scope and scale – X of Swords culminates the first Phase of the current House of X/Powers of X era. It builds off of the very foundations of the status quo, Krakoa. Jonathan Hickman reinvented the mutant island as a homeland paradise in Powers of X, revealing it to be one piece of a larger entity, violently divided and separated from its other half thousands of years in the past. At long-last, the other mutant island, Arrako, has found a way to send a leafy SOS into our world and spark the hope of reuniting with Krakoa once more. This theme of reclaiming what was once lost turns out to be the central theme of this comic, as we'll see it echo throughout the narrative.
For instance, the ancient mutant Apocalypse, also shares Krakoa's desire. Like Krakoa, Apocalypse was separated from his family in the same war that split the island from Arrako, sealed away in a hell dimension to save the world from a demonic horde. Months before the X of Swords begins, one of Apocalypse's descendants slips back into our world. This Summoner informs his grandfather what has happened in the past thousands of years – the mighty Arrakii have held the horde at bay, but time is short and Earth is next in line for invasion. Apocalypse has been preparing for this moment for ages, fueled by the hope of standing with his family again, and is ready to act.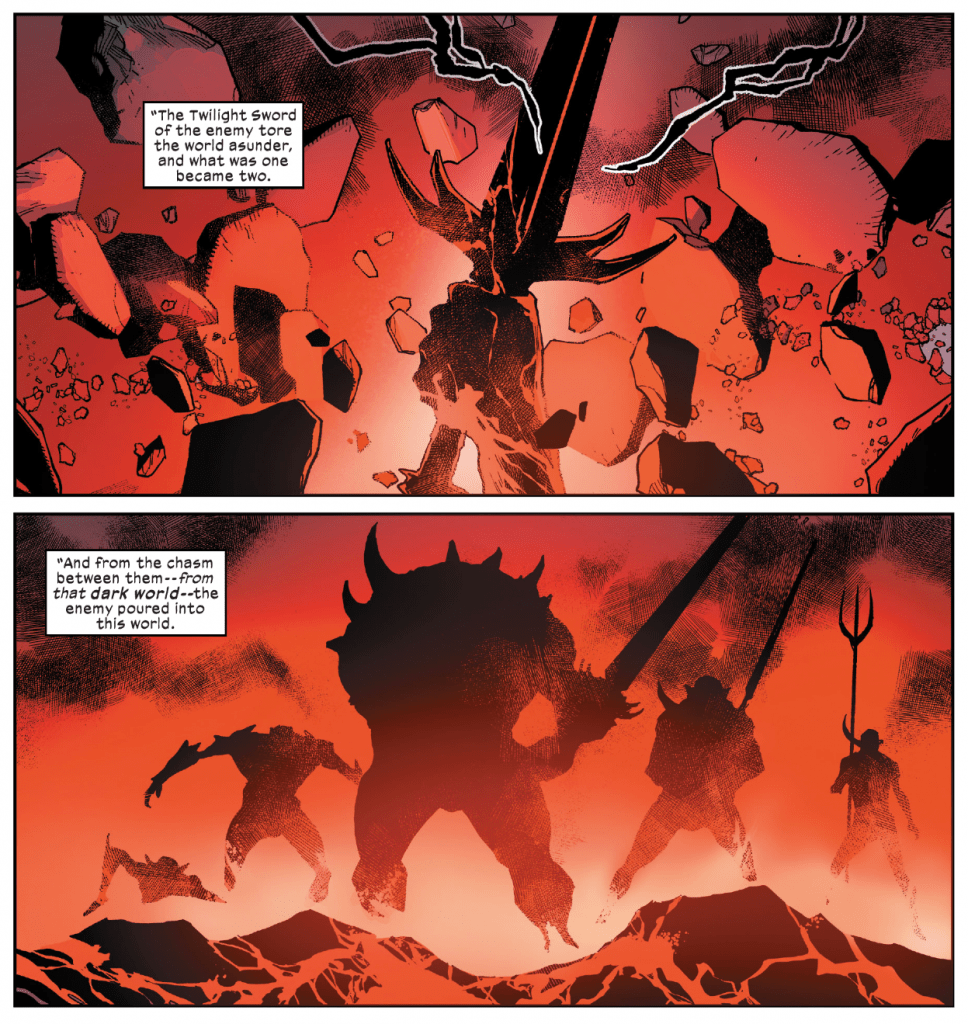 The extra-dimensional Otherworld is all that stands in between Earth and Amenth, the unforgiving land where Arrako now resides. Directly in the center sits the Starlight Citadel, multiversal hub and throne to Her Royal Whyness. The Omniversal Majestrix Opal Luna Saturnyne is a character with ties to the Captain Britain Corps, once guardians of every reality that were wiped out some time ago. Tini Howard, X of Swords' co-architect, has spent the better part of her tenure on Excalibur scaffolding Saturnyne's own machinations to reestablish the Corps, each member of which was a variation on the man she has a major crush on, Brian Braddock. Brian, however, is both retired and married, and the only Captain Britain available is Saturnyne's least favorite Braddock, Betsy. Saturnyne is the master of all she surveys, however, and has already set her plan in motion.
Raise. Your. Sword.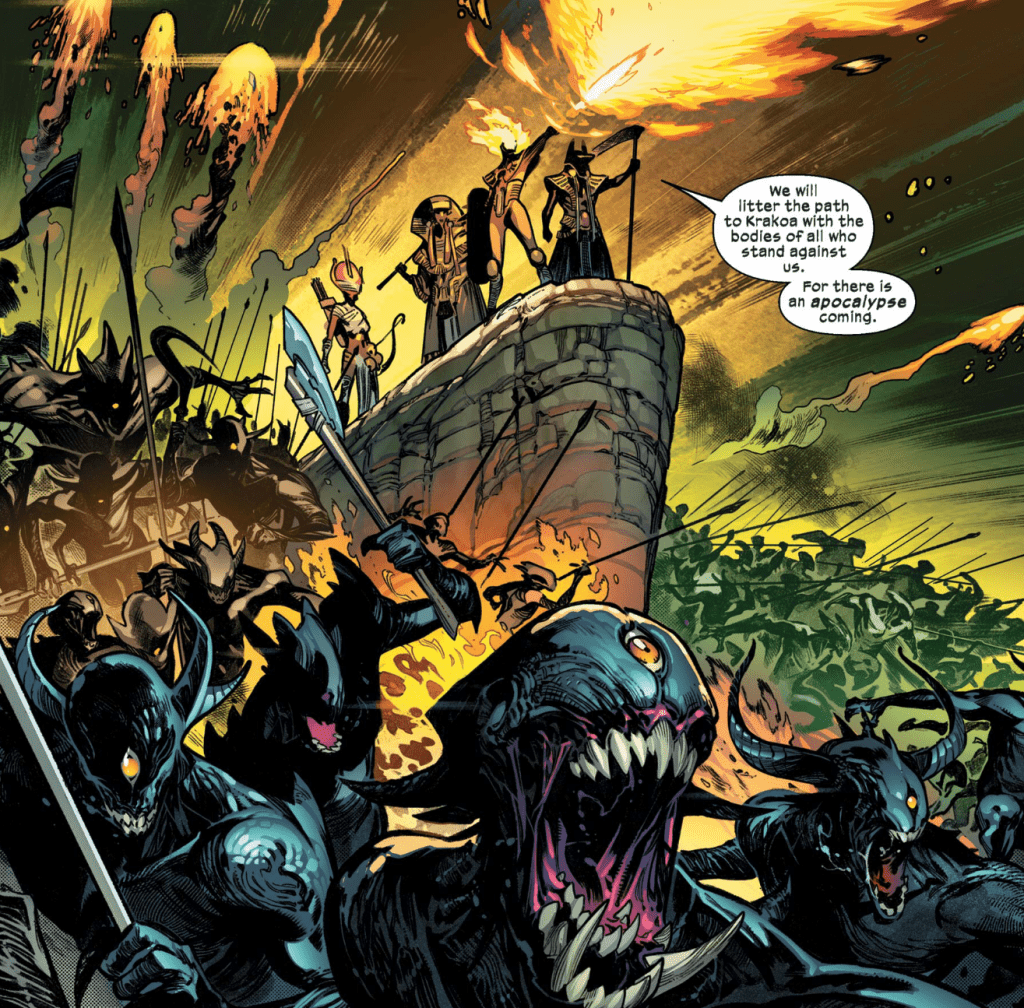 Everything comes to a head at the base of the Starlight Citadel, where Apocalypse sends a small scouting party to answer the Summoner's request for aid. This turns out to be a disaster since Summoner has been lying his little white butt off – the Arrakii surrended to the demonic Amenthi horde long ago and now serve their evil armies. They spring murderous ambush that leaves Krakoa on the defensive. Saturnyne, meanwhile, has called upon her special tarot deck, forged from star-dwelling wyrm, to advise her delicate schemes. She steps in to defuse the mounting tensions between Krakoa and Amenth, reminding everyone how formidable she is. Pepe Larraz weaves magic with his paneling throughout this chapter, and it's not even the best work in this book.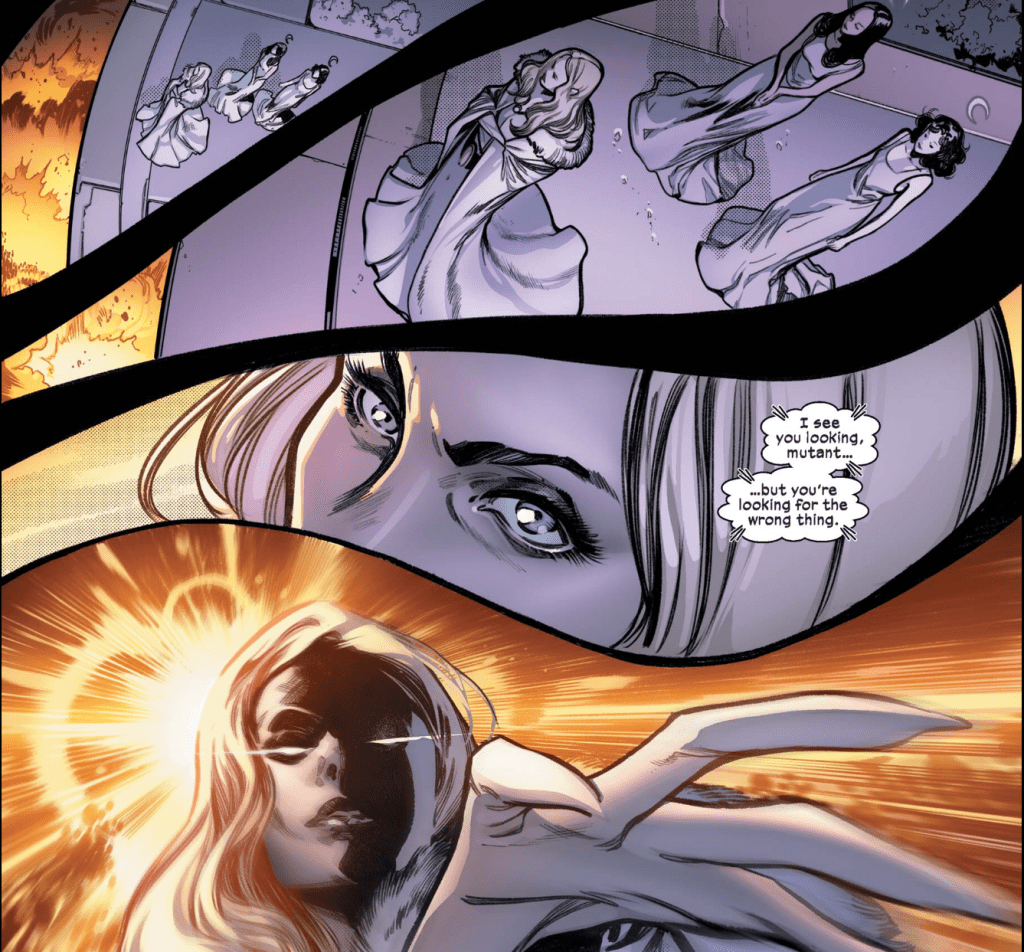 Saturnyne sets the terms of engagement – each side will be represented by ten Champions bearing ten swords. Arrako's Swordbearers are all new to the reader, rich characters like Isca the Unbeaten, Bei the Blood Moon, and Pogg-Ur-Pogg, while Krakoa is represented by story-relevant players Apocalypse, Betsy and Brian Braddock. They're joined by fan-favorites like Storm, Wolverine, and Magik, as well as more ponderous choices like Cypher and Cable (who, already having a sword, is given a special contingency mission that becomes significant at the eleventh hour). Mahmud Asrar and Marte Gracia spend more time introducing us to the new villains midway through the volume, conveying so much about each one with very little panel space. A testament to how much great storytelling contributes to a book of this size.
Writer Leah Williams and artist Carlos Gomez are given the unenviable task of following that glorious opening with an explanation of why the now-routine act of mutant resurrection won't be available, reinstating death as a real threat. Unfortunately, this is one of the moments in the book that stumbles over itself, not helped by the lack of regular series artist David Baldeon. The idea itself is fascinating – the endless possibilities of the Omniverse interfere with and corrupt the backups of mutants slain in Otherworld – but in execution the characters know too much about the mechanics way too quickly for my suspension of disbelief to hold.
The remaining first half of the book proceeds at a leisurely pace as the mutants collect their swords. The definite highlight is Vita Ayala, Matteo Lolli, and Edgar Delgado's entry of Storm retrieving her sword from Wakanda, endangering their diplomatic relationship with Krakoa. It's one of the best Storm stories in years. Less successful is Ben Percy and Viktor Bogdanovic's two chapters of Wolverine descending into Hell to get his Muramasa blade. Percy's Logan comes off as whiny, boorish and determined to scapegoat his way out of the conflict – he blames Krakoa, he blames Brian Braddock, he blames Saturnyne. Not my favorite depiction of a character I admittedly don't already love. Powers of X superstar artist R.B. Silva returns for a stunning chapter of Excalibur and Ed Brisson ends his run on New Mutants with a lovely moment, drawn by Rod Reis, between Magik and Cypher that sets up one of the crossover's more charming and unexpected plot points (remember, this whole thing is a love story).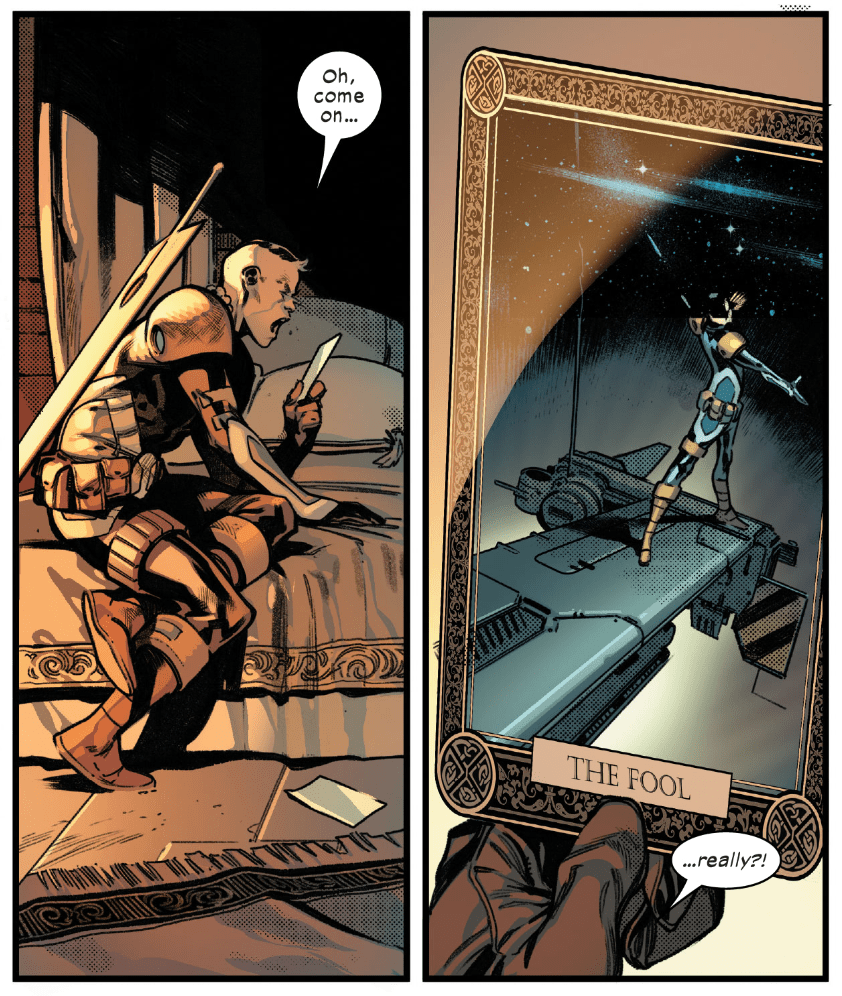 Sleight of Hand
The way this story finishes rehabilitating Apocalypse's character is astounding. The leader of the demon horde turns out to be none other than his beloved wife Genesis, wearing the insatiable helm of Annihilation. Hickman again rewrites X-Men history to have Apocalypse get his "survival of the fittest" shtick from his wife. She actually left him behind because he wasn't strong enough. Amenth is a hard land, demonstrated by how ruthless the Arrakii are, so much so the softness of Krakoa is offensive in comparison. Genesis goads Apocalypse for being weak but betrays a suppressed shame and sadness of her own. Krakoan society represents an alternative to "only the strong survive," a protective, nurturing instinct the X-Men have always stood for. If that can win over Apocalypse, once the most bloodthirsty of villains, then what a powerful dream it is.
The dreams of the X-Men are subservient to Saturnyne's true goal, however. Her Royal Whyness' determination to revive her perfect Corps means she has to shift the rules to serve her needs. We see this play out in the sudden outcome to the first challenge between Betsy and Isca and the Unbeaten. Given Captain Britain's importance to this entire event, it's a shame to see so much more attention be paid to what happens to Cypher (admittedly, the most delightful of the events many surprises). Betsy's fate is appropriately disarming, but it happens so quickly I worry that it loses emotional weight.
Everyone is whisked from one surprise to another at a feverish pace, revealing the real contest to be a series of mini-games. There are as many sword fights as there are drinking contests, fashion shows, arm wrestling, or spelling bees. Joshua Cassara paired with Guru-eFX's colors is the perfect team to handle this medley, tempering the more light-hearted tone of Percy and Duggan with jaw-dropping work. The battle between Wolverine and Summoner is unbelievably cool, and Storm's duel with Death is instantly iconic. The rapid-fire gauntlet is good fun but amounts to Saturnyne just running down the clock. The entire game seems rigged against the X-Men, with defeat all but certain. Time for the contingencies to come in.
Planning for Rain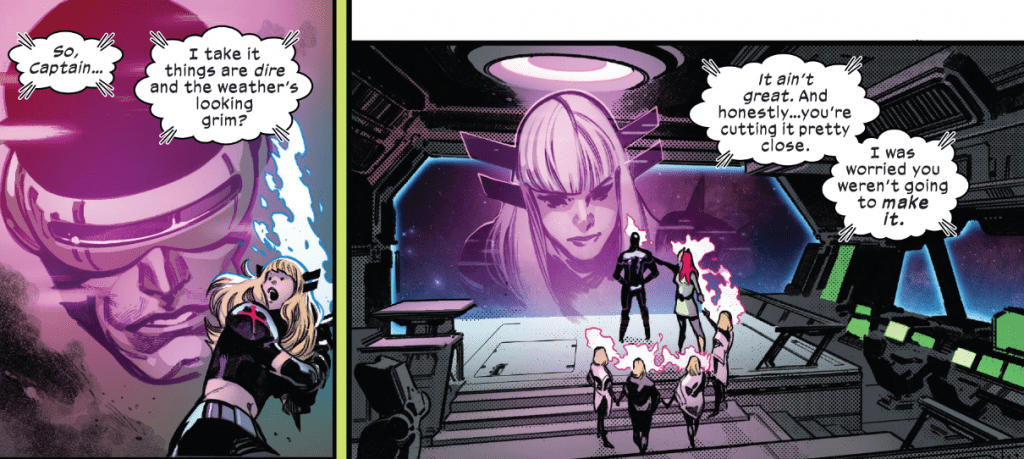 All this time, no one realized that the X-Men themselves were among the many things lost to be recovered. We learn that X-Men as a concept has been retired, while the eponymous series has instead focused on Cyclops, serving as Captain Commander at the behest of the Quiet Council. Not one to leave something to chance, he's kept in contact with his son Cable long enough to learn how hopeless the situation has become. Cyclops and Marvel Girl break with the Council and decide to launch a rescue mission, get their people and get out no matter what. This marks the official return of the X-Men in a scene that I didn't realize I needed to see so badly, kicking off the most triumphant series of events in the entire crossover. There's one particular page that made me stand up and cheer before making it the desktop wallpaper on all my devices.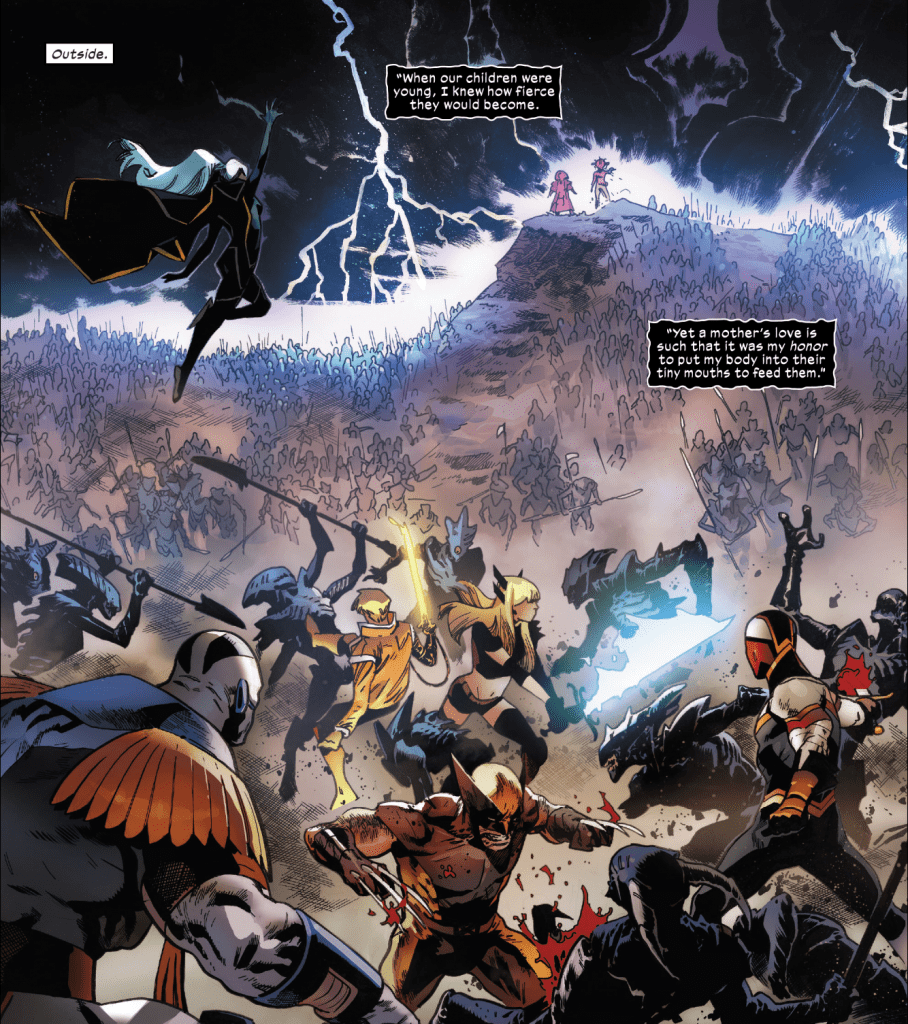 Asrar draws some of the strongest action scenes in the run up to the grand finale. The last contest comes down to Apocalypse versus Genesis, who chooses to face her old lover unmasked. As the battle starts to turn in favor of the "weaker" Apocalypse, the villain casts all the rules aside and calls war down on the Citadel. The combined talent of Larraz and Gracia wipes away any quibbles I may have had with earlier chapters, leaving only the awe of how magnificent comics can be. Howard and Hickman have done such a wonderful job of setting up these different love stories – Krakoa and Arrako, Apocalypse and Genesis, Cyclops and his family, Saturnyne and Brian Braddock – convincing us they are worth sacrificing for. It should be no spoiler to say that love wins, but the specific way this battle ends, and how it turns on everything that's been established previously, is quite masterful.
The ending is incredibly poignant, especially since it's not as neat and tidy as a preordained outcome would lead you to expect. We don't see much come from the threat of corrupted resurrection but there's more subtle things at stake that we have yet to see how they will play out. The writing team shakes the board enough so that the pieces fall into unexpected places for the next go-round. No doors are closed and all the amazing new concepts and characters brought into X-Men canon have only just begun to be used. Of particular interest is the entire map of Otherworld and its various courts that we only see glimpses of in this story. When will we ever see what's happening in Mercator? The X-Men and their world exit this event genuinely changed, something that is often promised but rarely delivered.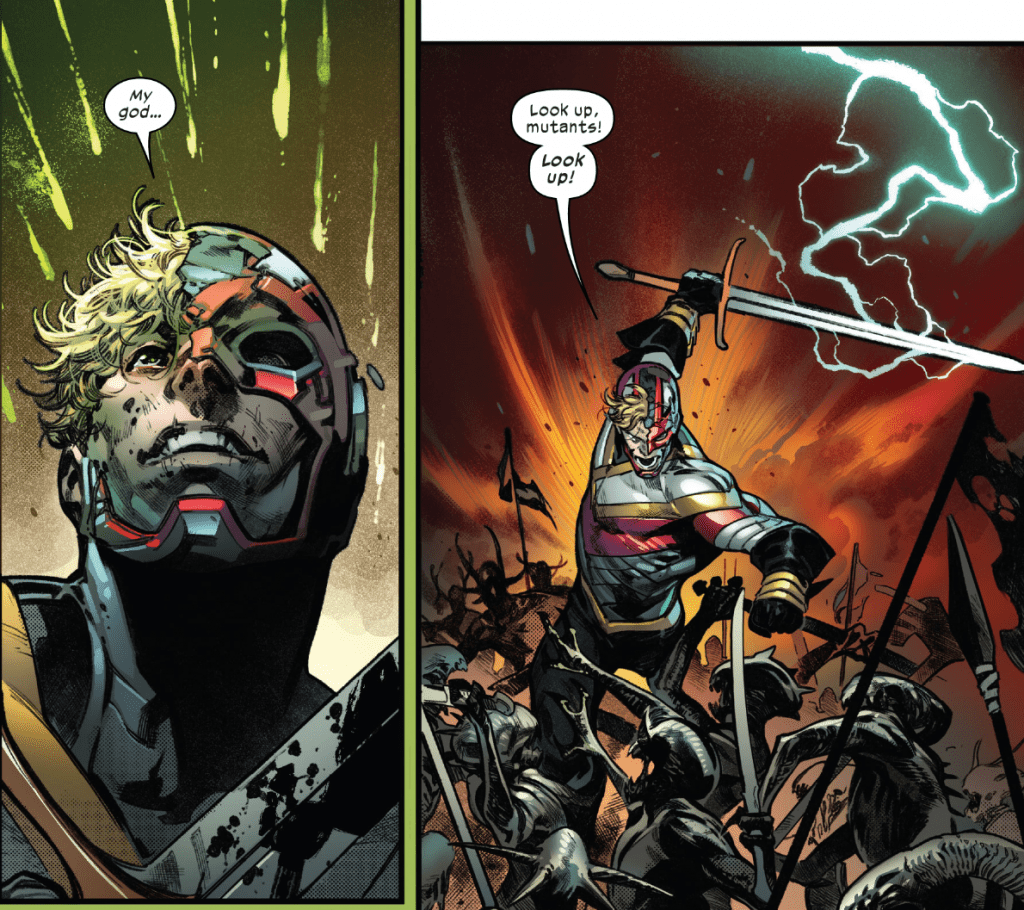 I came into X of Swords with high expectations – I've been loving both X-Men and Excalibur, especially the deep-mining of Captain Britain lore, and framing the story through tarot was welcome. There was no way to predict the winding path it ended up taking, which contributed to its success. There's so much happening in this crossover that each reader will have something different to fall in love with – I know the moments I cared for the least are someone else's favorite, and vice versa. I didn't even get to talk about Mr. Sinister's mission in the Hellions chapters. House of X/Powers of X established a high standard for all future X-titles, and X of Swords exceeds it, raising the bar even higher. This is a contender for one of the strongest X-Men stories I've read. To borrow another Hickman-ism, why lie about art done well?