X-Men Legends. At first glance, the title is a little confusing. Are the stories legendary, or the creators involved? The answer is a little bit of both. The stated mandate of X-Men Legends as a series is to tell X-Men stories set in various classic eras of the characters' long history, designed to stoke nostalgia for and featuring creators with a previous connection to the era in question. Furthermore, the tales are set between specific issues, and though they are "legendary," Marvel assured fans that these stories "count" from a continuity perspective: they are not Elseworlds or What Ifs? or Imaginary Tales. Instead, these are stories meant to reveal new information about the past.
X-Men Legends Vol. 1: The Missing Links collects the first six issues of the twelve-issue miniseries, but as of this writing, the series' eighth issue has been published, with the general plots and creative teams involved for the remaining four issues all announced. So let's dig into the series thus far and see how well it meets its mandate as a vehicle for nostalgia, a celebration of beloved creators, and a reinterpretation of past continuity.
Blasts from the Past
The six issues of the series collected in Missing Links comprise three two-part stories.The first story, written by Fabian Niceiza and drawn by Brett Booth, comes out swinging with a writer well known to a certain generation of fans and a story that makes the series largest alteration to past continuity thus far. In the early '90s, much of X-Men fandom was abuzz with the mystery of the "Third Summers Brother," launched after Mister Sinister casually suggested to Cyclops in X-Men Vol. 2 #23 that he had one or more brothers other than Havok. Shortly thereafter, Fabian Nicieza began to hint that the third Summers brother was a recent creation of his: Adam-X (the X-Treme!), a walking embodiment of '90s cliches. He had a soul patch, a backwards baseball cap, and a power that allowed him to electrify blood, but only after he cut his target with one his kewl little hatchet-knives. But Nicieza left X-Men before he could officially reveal Adam-X (the X-Treme!)'s status as a Summers. Eventually, the mystery of the third Summers brother was answered in Ed Brubaker's Deadly Genesis miniseries, long after most people stopped caring about it (the third Summers brother turned out to be newly-created and long-lost Gabriel Summers aka Vulcan).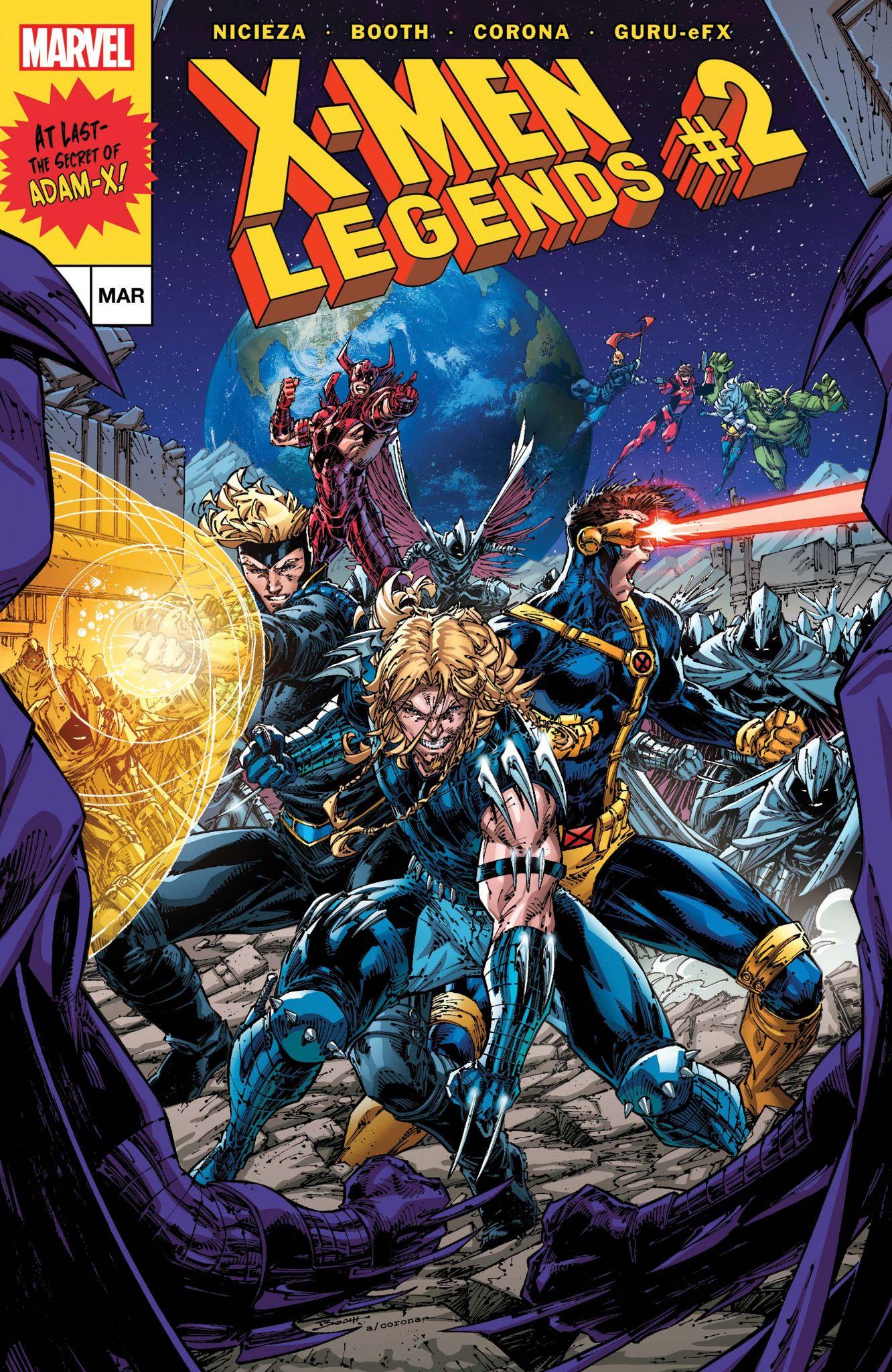 X-Men Legends #1-2 provides Nicieza the opportunity to finally tell his Adam-X (the X-Treme!) story, revealing him to be Cyclops and Havok's (and Vulcan's…) half brother, the product of genetic engineering that blended the DNA of the boys' mother, Katherine Summers, with that of the alien Shi'ar Emperor D'Ken. The story itself is fine. Nicieza crams in as many extra characters as he can, including Cable, the Starjammers, and the Imperial Guard, giving it a "kitchen sink" approach that is fitting given the series' mandate. Yet for all that, the retcon is hardly shocking: Nicieza has been pretty vocal with fans and the press about his intentions for the character through the years, so this story was more a confirmation of what he'd always intended to do rather than a shocking reveal. Still, it's nice for him that he finally got to make it official.
The best story of the collection (and of the series thus far) is the X-Factor tale from writer Louise Simonson and her husband, artist Walt Simonson. While it dances between the raindrops of continuity a bit (featuring a villain Cameron Hodge, whose identity is obscured from the heroes because at the time of the story they believe him to be dead), it doesn't take any big retroactive swings. Rather, it succeeds on the strengths of its creators. Walt Simonson's art is big and bold and expressive, featuring copious full-page splashes that are still packed with detail and sequential action, such that they're still eye-catching but don't speed up the pace of the story. Louise Simonson, meanwhile, hasn't lost a beat since her X-Factor days, with characters sounding like they did under her pen (like the way everyone calls baby Cable "Christopher") and a plot that manages to reference previous stories without being repetitive. This two-part story could easily be inserted into the original run without missing a beat, which is high praise in a series like this.
Support For Comic Book Herald:
Comic Book Herald is reader-supported. When you buy through links on our site, we may earn a qualifying affiliate commission.
Comic Book Herald's reading orders and guides are also made possible by reader support on Patreon, and generous reader donations.
Any size contribution will help keep CBH alive and full of new comics guides and content. Support CBH on Patreon for exclusive rewards, or Donate here! Thank you for reading!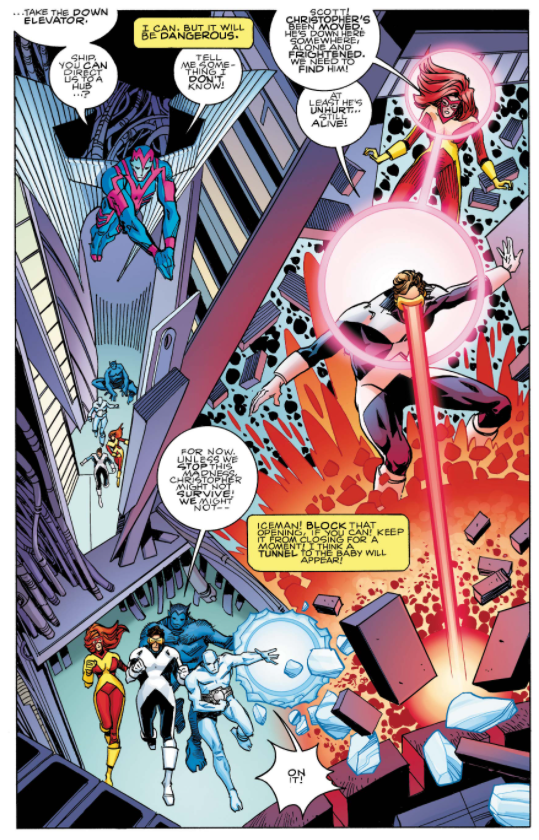 The third collected story is also the slightest. Like the Simonsons' effort, Peter David and Todd Nauck's story featuring the later "All New, All Different" X-Factor team (comprised of the likes of Havok, Strong Guy, and Multiple Man) doesn't take any big continuity swings in its depiction of an encounter between X-Factor and a group of Lateverian mutants who have captured the Latverian embassy in Washington, DC. The plot takes advantage of this iteration of the team's status as government agents. David, who injected a fair amount of humor into the series during his original run as writer, also includes a great gag in the first issue in which the embassy situation is effectively passed around the superhero community before eventually landing back in X-Factor's lap. But he and Nauck fail to make the villains work as characters, as they come across as little more than vehicles for conflict.
Additionally, the beats of the story never really require the heroes to come together and accomplish anything as a team, which feels like a missed opportunity. It also features one of the more egregious continuity flubs of the collected stories, in which Wolfsbane reverts to her human form at a time when her inability to do so was both a significant character and plot point. Not the worst sin a story can commit, but it's more problematic in a series like this.
Following the three stories collected in Vol. 1, former Wolverine writer Larry Hama and Billy Tan provide a three-part Wolverine and Jubilee adventure, the middle chapter of which was just released. Beyond that, solicitations tell us to expect a solo exploration of Mister Sinister's past written by Nicieza and drawn by Dan Jurgens, an encore appearance by the Simonsons for a single issue set during Louise Simonson's run on New Mutants, and a final issue by Chris Claremont and Scott Eaton featuring Kitty Pryde and Nightcrawler and set in the very early days of Excalibur.
Achieving Legendary Status
So how well do these stories do in meeting the series' mandate as a vehicle for nostalgia, narrative retcons, and showcasing creators of X-Men tales past? In terms of the writing-related criteria, the series mostly succeeds. Fabian Nicieza, Louise Simonson, Peter David, Larry Hama, and Chris Claremont are all writers with lengthy runs on multiple X-books; their contributions to the franchise alone qualify them as legends. And with none of them having worked on an X-book recently and/or consistently, having them return for a story set in one of the eras in which they previously wrote certainly feels like a big deal, and helps spike nostalgia for fans of their earlier work.
Where the series struggles is in its assortment of artists. Walt Simonson is, again, the clear standout here, an accomplished and beloved artist with a history in the X-books who is still turning out excellent art. But the dropoff from there, in terms of creators with strong ties to the era being revisited, is sharp. Brett Booth has enough of a '90s style (and some previous X-Men work to his name) to fit in reasonably with Nicieza's introductory story, but it's hard to imagine anyone picked up the beginning of the series simply because Booth was drawing the story (more on this below). Todd Nauck is a fine artist who has a history of working with Peter David, but he has little connection with the era of X-Factor he's drawing. What about Larry Stroman, the artist who launched the "All New" X-Factor with David back in the '90s? Putting them both on the story would have really goosed its "legends" cred and helped elevate the lackluster plot.
Looking past the collected edition, while it's understandable that Marvel wasn't going to get Marc Silvestri to come back and re-team with Larry Hama for the Wolverine story, how about Adam Kubert, who had a long run on the series with Hama back in the 90s, and is right there penciling the current Wolverine book? Why not bring him over for a few Legends issues? Or how about Mark Texeira, another veteran of Hama's Wolverine run? Billy Tan has drawn the X-Men before, but he's not a "legendary" creator on the scale of a Silvestri or Kubert. Similarly, Scott Eaton drew some issues of X-Men Legacy in the '00s, but Chris Claremont worked with numerous artists through the years; why not bring one of them into the series? Imagine, for example, how much hype there would be for a Claremont/Alan Davis reunion on an X-Men Legends issue featuring Excalibur-era Nightcrawler and Shadowcat.
Of course, we aren't privy to the decision-making and behind-the-scenes machinations at Marvel. For all I know, the editorial team did their best to bring in some higher-impact artistic legends to match the writerly ones. But regardless of how hard they tried (or didn't), it's still a shame the series couldn't feature at least one or two more artists who would qualify for the same "legend" status as the writers involved.
Another issue with at least some of the creators involved is that they haven't aged well in terms of their relationship with the world outside comics, which, amongst other concerns, penetrates the bubble of nostalgia these stories are meant to generate. For as much as Brett Booth may be a suitable stand-in for one of the bigger name X-artists of the early '90s in terms of style, he has also proven himself to be not a terribly good person, and seeing him headline the launch of this series was disappointing.
Similarly, Peter David continues to work for Marvel and is beloved in some corners of fandom, but remains an unabashed bigot when it comes to the Romani people. Once you know that, seeing him make the villains of his X-Men Legends story Romani immediately reads like either a further example of his bigotry, or him taking a poke at the people offended by that bigotry. Either way, it takes the reader right out of the story. No one is saying every creator involved in a story needs to be morally perfect, but bringing in creators whose offenses are this well documented just because they have some creative history with the X-Men is an unfortunate decision. All else aside, it ultimately takes away from the stories themselves.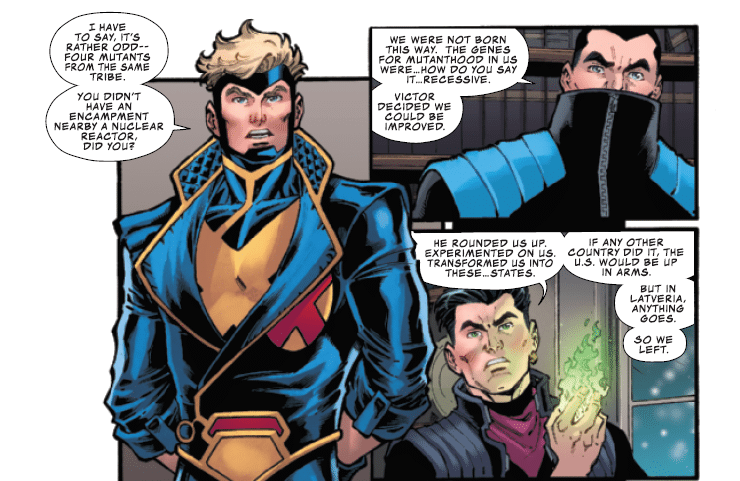 Finally, for as much of a big deal was made at the launch of the series about how these stories would all "count" for continuity purposes, one trade/eight issues in, it's hard to see why such assurances were necessary. The Adam-X (the X-Treme!) confirmation ("revelation" seems too strong a word) aside, none of the stories thus far require that kind of assurance: they are neither good enough nor history-altering enough for it to matter either way. Technically, yes, we now know X-Factor unknowingly fought Cameron Hodge one more time, or that Wolverine had an extra free-for-all with some of his classic baddies, but the kind of assurances that accompanied the series seemed to suggest more significant retcons and continuity patches were coming. Perhaps they are; the Mister Sinister origin issue seems like it could upend some previously established bits of lore, and Chris Claremont is certainly not afraid to tweak old stories, working with a pair of characters in an era in which there is ample room to move between continuity raindrops. But for now, all the assurances that these stories "count" — that they represent "legends" which will change readers' understanding of X-Men history and/or are so good they'd have to count — seems like much ado about very little.
Legends Never Die, They Just Fade Away
X-Men Legends, then, has been a mixed bag so far. Which can be expected from an anthology series featuring rotating creative teams. Yet the curious thing about the series is the way it is uneven. A series like this is going to attract three kinds of readers: ones who want to revisit a past creative era they remember fondly, ones who simply want a good story featuring familiar characters, and ones who are reading along to stay abreast of the happenings in the ongoing narrative saga of the X-Men. In one way or another, the series fails all three types of readers.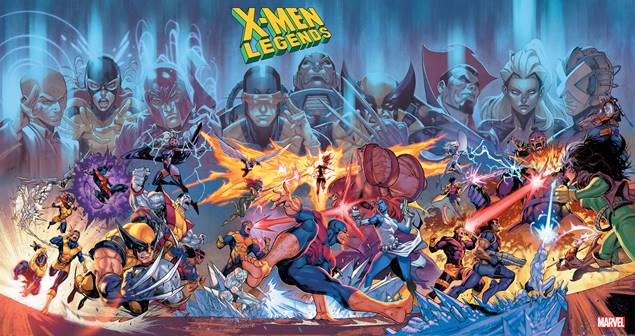 By name alone, it promises to feature "legendary" creators. Yet in most cases, that is only half true at best — and in at least some cases, the choices of creators prove more distracting than they're worth. Thus the attempts to stoke nostalgia for a specific creative period fall short. The stories themselves, devoid of all other considerations, are mostly fine: the characterization is consistent, the continuity flubs are (mostly) minor, the art, for its varied styles, manages to clearly tell the story. But none of the stories (with the possible exception of the Simonsons' X-Factor tale) are so well-executed in the writing and the art that they can't be missed, all other considerations aside. And in terms of breaking new ground in the X-Men narrative, of telling readers "everything they know is wrong!" or of revealing some shocking new information about a character, nothing in the series has been that earth-shaking. Sure, it's good to know these stories all "count," but does it even matter? The continuity-obsessed could skip these stories entirely and not miss anything, aside from never finding out Fabian Nicieza's plans for Adam-X (the X-Treme!) were made "official."
A series like X-Men Legends implicitly promises some pretty big things, and the marketing of the series made those implications more direct. Yet two-thirds of the way into the series, whether as hits of nostalgia, well-crafted stories enjoyable on their own merits, or updates to existing X-Men continuity, it has yet to fully live up to its name.