Oh Inferno, you big beast of a crossover. 
Inferno is the culmination of a plethora of story seeds in the X-Men line of comics over the course of just…so many issues. The event runs through New Mutants, X-Terminators, Uncanny X-Men, and X-Factor. Not to mention, titles like Daredevil, Fantastic Four, Cloak and Dagger, and various Spider-Manses all get in on the tie-in game! And this Omnibus collects it all. It's honestly a bit overwhelming, or at least it was for me when I first approached reading it in my 80s X-Read through sometime last year. However returning for this coverage, it's much more simple to parse when you realize there are really two stories under one event. The first story is about Illyana Rasputin being tricked into opening the gate to limbo and reckoning with her role as the Darkchilde, and the second is the tragedy of Madelyne Pryor and her turn as the Goblin Queen. 
This is a big event for two big stories. It can't be overstated just how many things were leading directly towards this event and how many elements can be tied right back to it.  But honestly, enough prologue. Like I said there's a lot here.
Nobody Puts Babies in A Pentagram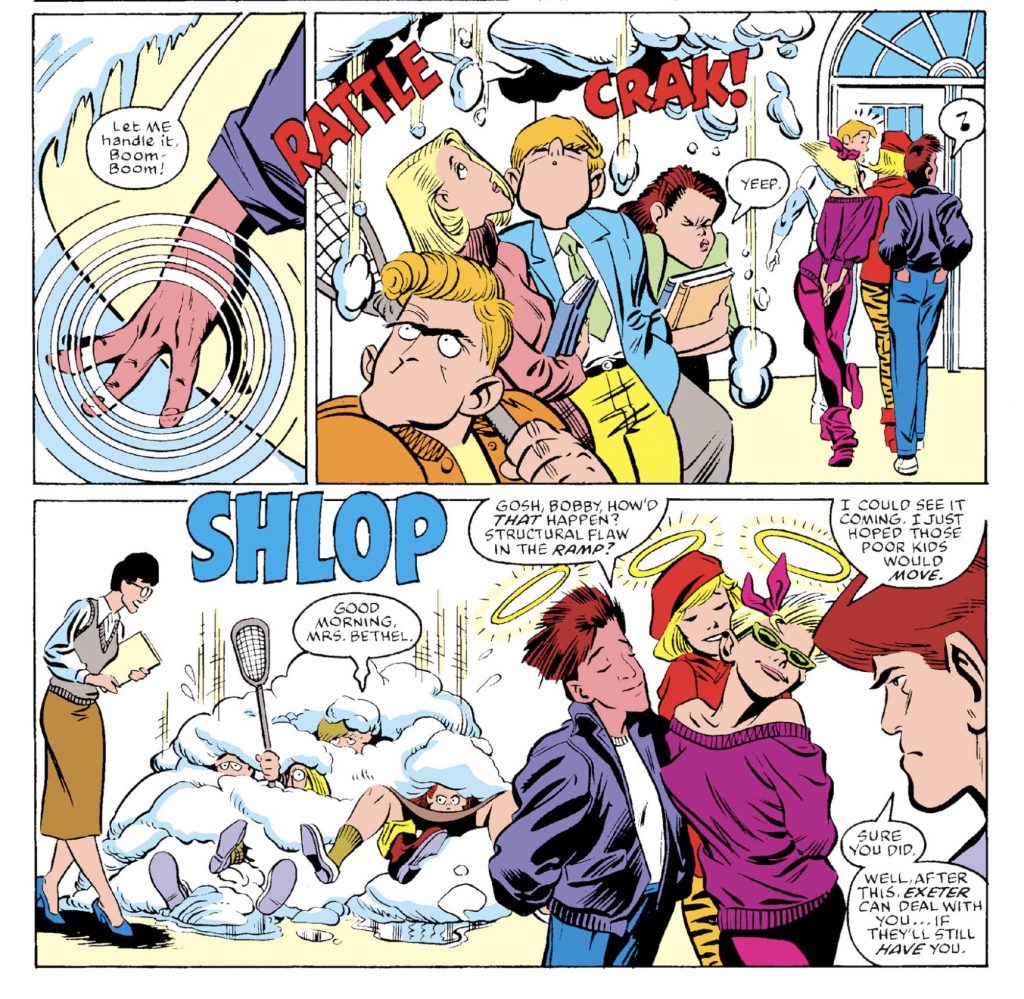 It's genuinely a bit difficult to put a starting point to Inferno, but dare I say I will start it with the baby-snatching plot covered in the X-Terminators. X-Terminators is just the best, and it's such a treat that it is technically a part of Inferno. The miniseries spins out of X-Factor with the young mutants in the charge of the original five X-Men being sent to boarding schools and things immediately go awry. The adorable moppets Artie and Leech are kidnapped by demons to prep for Inferno and the best mutant, Takeshi "Taki" Matsuya aka Whiz Kid, enters the fray to get the gang together and rescue them. (And also help the demons open the portal to Limbo through his mutant computer powers but uh…he didn't want to!) Louise Simonson (who pens the majority of this crossover) is firing on all cylinders here and really nails these kids' voices and the energy going into this crossover.
X-Terminators is a really fascinating choice as an opening salvo to Inferno because it really sets up the absolutely wild tone that this event pulls off, and it is only helped by the fact that Jon Bogdonave is the artist. The team in this is really just a bunch of kids – one of them can make his wheelchair into a jet and another is Boom Boom. It's objectively a fun book. But at the same time, the driving plot is demons stealing babies which could be a genuinely scary hook, but it walks the line between being scary and being a B grade horror movie. Bogdonave as a cartoonist is one that understands the assignment, knows exactly when to push exaggeration, and can really sell that tonal tightrope – and it's something that the art teams on this even pull off extremely well. There are moments where the demons are imposing or creepy, and there are moments where you can perfectly visualize the rubber puppet someone would make if this were a live-action movie. Overall, X-Terminators is a very fun setup for some of the main mechanics for the events. It's essentially the table-setting for the Manhattan transformation and the portal to limbo, but hey we like those kids. 
Support For Comic Book Herald:
Comic Book Herald is reader-supported. When you buy through links on our site, we may earn a qualifying affiliate commission.
Comic Book Herald's reading orders and guides are also made possible by reader support on Patreon, and generous reader donations.
Any size contribution will help keep CBH alive and full of new comics guides and content. Support CBH on Patreon for exclusive rewards, or Donate here! Thank you for reading!
Speaking of likable kids, the New Mutants story is one of the more tragic strands of this crossover. New Mutants #71  gives us a recap of Illyana Rasputin's tragic past in limbo and sets up a lot of the themes and challenges she will face in her segment of this event. With the New Mutants trapped in Limbo, Illyana takes her soul sword back from S'ym and opens a stepping disk that unleashes demons into Manhattan and crosses over with the X-Terminators on baby rescue duty. This is the most lighthearted that the New Mutants get during this crossover (aside from the background gags that permeate this event), however, Bret Blevins has brings a similar quality to Jon Bogdonave to his New Mutants issues. The artwork has incredibly youthful energy when it comes to the titular New Mutants but the texture that Al Williamson brings with his inks gives it a texture and grit that really ground it and sells the horror when it needs to be sold.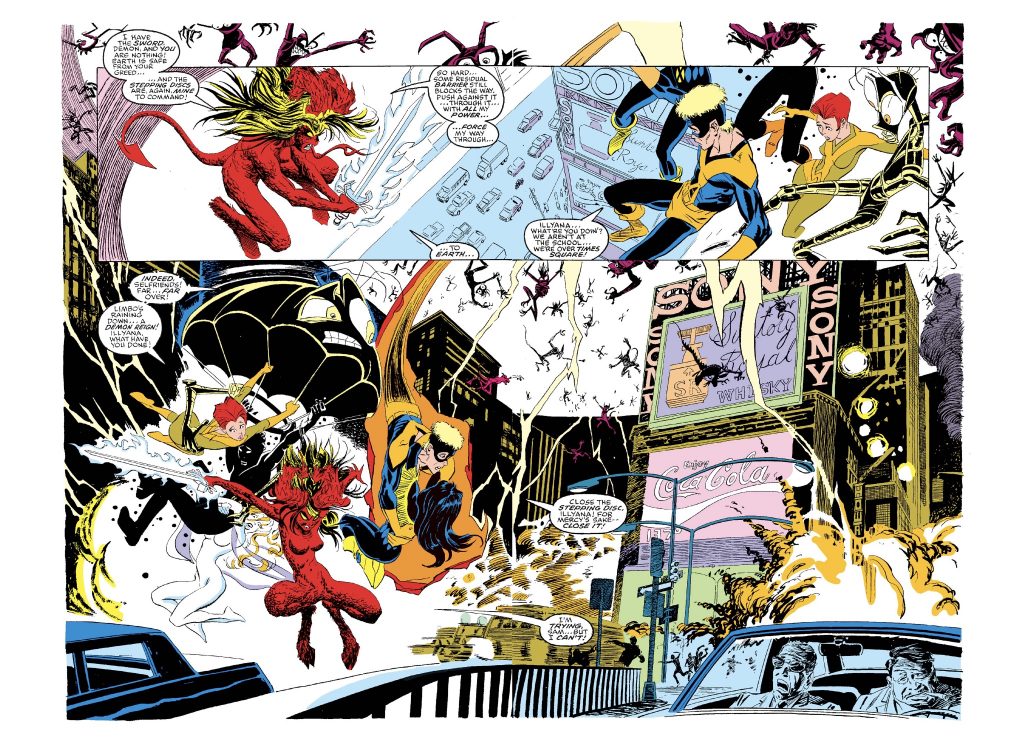 The battle for Illyana's soul is extremely impactful due to not just the art team but also Simonson's focus on Illyana's inner turmoil. The way the New Mutants issues could be read on their own to a satisfying degree speaks to the focus of this chapter of the storyline. Simonson also utilizes the rest of the cast to a great degree during this, particularly Rahne Sinclair aka Wolfsbane. Inferno is almost as big of a character moment for her as it is Illyana. Rahne has come so far from fearing Illyana as an inherently "evil" character based on her upbringing, to believing that there is fully a way to save her even when her friends think otherwise. There's a lot of heavy layers on redemption and determinism to be unpacked in Illyana's pseudo sacrifice and there's a lot there to chew on. But this is barely the halfway point of this event. And there are other demonic X-Women to discuss. 
The Messiest Divorce
Madelyne Pryor's Inferno is a slow burn, starting from her first appearance almost 100 issues earlier in Uncanny X-Men #168. She started off as just a woman who happened to look like the recently deceased Jean Grey and ended up marrying Scott Summers and having a child with him. It wasn't until the editorial and fictional return of Jean Grey threw a wrench into their happy life, with Scott abandoning Maddie and their son to form X-Factor with the original five X-Men. Following this abandonment, Maddie's path to the Goblin Queen began after she was attacked by the Marauders and taken in by the Uncanny X-Men, becoming a fixture on their team through their apparent death and into the Outback Era. All of this prologue leads to the Genosha arc where Madelyne first consorts with the demons who would drive this plot and drop us to the doors of Inferno.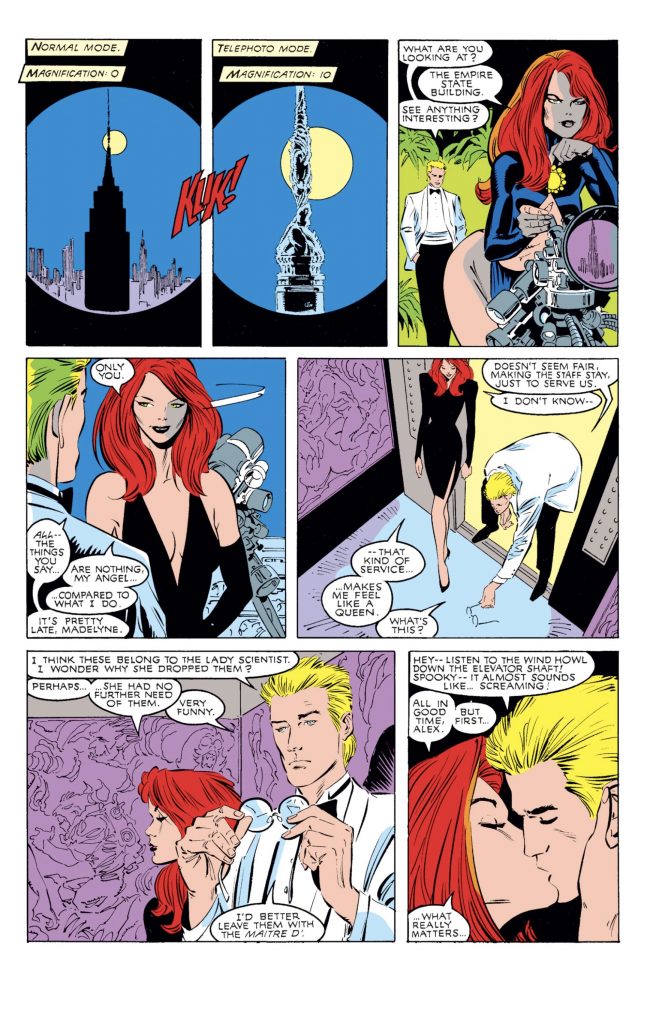 This Omnibus picks up on Madelyne's story after a lot of build-up and hits the ground, not necessarily running, but in a slow all fours crawl into a sprint. Like something out of a horror movie. Uncanny X-Men #239 itself is a good place-setting for getting readers situated in the status quo and it also gives some great hooks. Mr. Sinister is introduced, Storm discovers Jean Grey is alive, and we get the first taste of the Empire State transformation. We also get the first of a few truly unsettling scenes of Madelyne Pryor, where she verbally responds to Alex Summer's internal monologue and Alex, like the himbo he is, just assumes he was talking out loud. And it continues into #240 as well with Alex and Maddie's date night where there are so many unsettling shifts where she's drawn as the Goblin Queen for a panel and her dialogue is written in such a way that she's just slipping into a different reality. This whole event is excellent but this opening salvo really plays with anticipation and a denial of satisfaction. It's inarguably psychosexual (something that's never been said of Claremont) and it really permeates this event and tonally separates it from the New Mutant portion (which is very fair as they are children).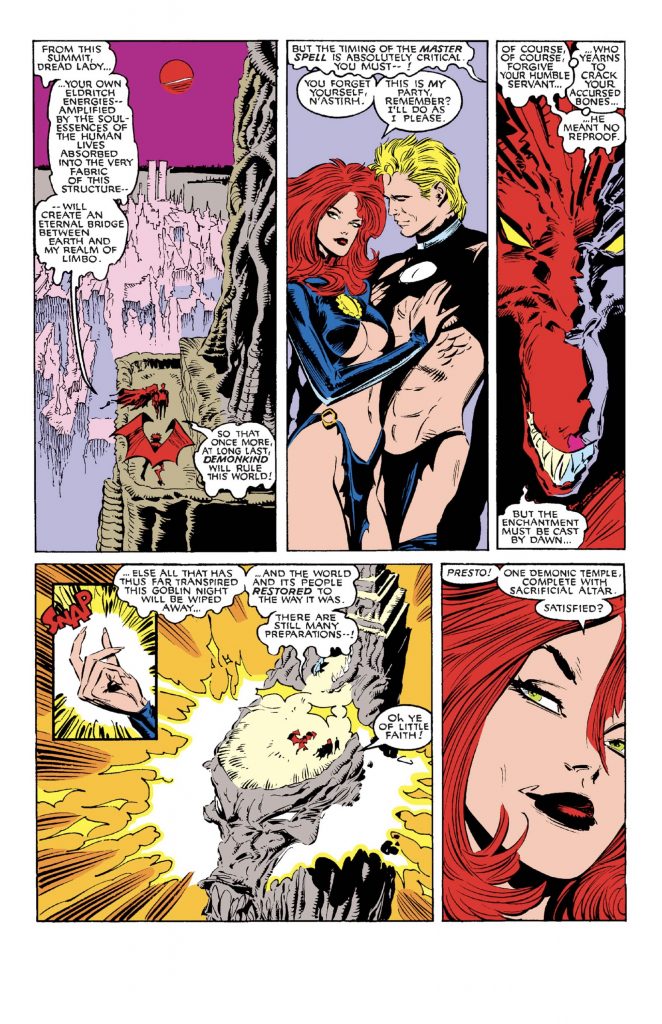 X-Factor's opening salvo does a bit more heavy lifting with setting up the mystery of where Scott and Maddie's son is and introducing the hit characters Nanny and Orphanmaker. The big addition is the setup of Scott's past at a Nebraskan orphanage and the sinister ties there. The event really pops off when Uncanny X-Men and X-Factor begin crossing over in earnest and I think this shows off Inferno's strengths and weaknesses. We get the conflict of the two teams meeting and having a severe misunderstanding fight, and the Goblin Queen manipulating team members (leading to the ICONIC skimpy Havok look). It's all very much big superhero action and high stakes but it can be a bit overwhelming. There are a lot of X-Men running around even discounting the New Mutants issues that can be read in between the main story. Despite this, it's difficult to say it isn't all very engaging and satisfying. Yes, the back half of the event could arguably be bogged in heavy exposition, but that exposition is the resolution to several mysteries that have been running through the X-Line for some time, and they set up so many more stories to come.
Ultimately Inferno earns its status for more than just how it acts as a satisfying climax and conclusion for so many story threads and sets the stage for so many more. Looking beyond that impact, Inferno tells two extremely layered stories thematically around women feeling abandoned and destined for destruction. They are both tragedies and leave us with endings that are both hopeful and incomplete. It's an event that manages to have a grand scope and such intense focus on two personal stories and is unquestionably essential reading for any X-Men fan.
Plus Daredevil fights a vacuum cleaner in one of the tie-ins!