[Yanick Paquette and Alejandro Sánchez Rodríguez cover]
The tense, fiery opening pages of Knights of X #1 doesn't just manage to immediately grab reader attention; as the heroes flee to the safety of a vast castle mantling an island in flight over a high-fantasy landscape, writer Tini Howard manages an admirably concise recap of the end of the last Excalibur series, which ended, unlike several other Krakoa titles, with nary a glimmer of hope: "The gate home has been destroyed." And Merlyn, the creator of Otherworld long ago, has usurped Omniversal Majestrix Opal Luna Saturnyne and turned the Starlight Citadel into the grim Lunatic Citadel.
Masterful high-fantasy Excalibur colorist Erick Arciniega returns for Knights of X, and while Marcus To, who drew every single issue of Excalibur's 26 issues, is off to Shang-Chi with Gene Luen yang, let's hope that rising talent Bob Quinn (of Way of X) is here for an even longer run (although we should always be happy to see such hardworking artists catch a breather for a month here and there😊).
In an Otherworld that Fears & Hates Them
Since the end of Tini Howard's Excalibur last year, Betsy Braddock has been stranded in Otherworld, whose gate back to Krakoa is in Avalon, which has fallen to Merlyn and his loyal stooge and musclehead King Arthur—who is still mortified over discovering that his only son Mordred is "witchbreed" (Otherworlder for "mutant"). That gate's ultimate fate is perhaps not yet decided, but in the meantime, Captain Britain must somehow call on her fellow Krakoans and bring them in as reinforcements to battle this Otherworld's usurping autocracy and antimutant hatred (not that it had been a utopia before, much less a democracy; all its provinces or "Courts" appear to be under some form of feudalism and/or despotism).
And at the start of Tini's Knights of X, we find Bets and her Captain Britain Corps playing a role similar to Kate's Marauders—and classic X-Men teams of old. They can't escape the world that hates and fears them, but they can establish a small asylum (the Lavender Keep) and rescue others who are feared and hated (getting about on pegasi rather than pirate ships).
Support For Comic Book Herald:
Comic Book Herald is reader-supported. When you buy through links on our site, we may earn a qualifying affiliate commission.
Comic Book Herald's reading orders and guides are also made possible by reader support on Patreon, and generous reader donations.
Any size contribution will help keep CBH alive and full of new comics guides and content. Support CBH on Patreon for exclusive rewards, or Donate here! Thank you for reading!
The action opens on Jackdaw's Nest, an Avalon elf village named in honor of Jackdaw, the early sidekick of Captain Britain Brian Braddock, an innocent cartoonish fae boy slain by an alt-earth Mad Jim Jaspers' Fury, a superhero-killing Sentinel analogue, in the opening pages of Alan Moore's classic Captain Britain run (1982-1984). The dynamic duo had been dispatched to investigate this alternate earth by CB Corps master Merlyn—whom Moore killed off in his last installment, making way for his daughter Roma's leadership. Roma, working from her father's plans—and while remaining undetected, with Saturnyne as her proxy—made the creation of the super-team Excalibur look like happenstance and then continued to foster them from afar (see Alan Davis masterpiece Excalibur #50). Clearly, this is all relevant to Tini's present work!
In Knights of X #1, the village's second appearance—after its debut in Excalibur #19, where its water well sheltered the spirit of the recently shattered Betsy Braddock—Jackdaw's Nest immediately goes up in flames from giant attacking Furies—no longer at the beck and call of Jim Jaspers but allied rather to Merlyn, with the alt-earth Jaspers' original Fury as their leader, going by Forgemaster now. So, we see a grim circularity already at work in Tini's narrative homage to classic Captain Britain/Excalibur stories.
Speaking of which, how did there get to be so many Furies that they now have their own vast tract of reality as a part of Otherworld, the so-called "Fair Court" of Infuri, the Everforge? (It's literally a sun removed from another universe, with a Celestial that they fused into the star-stuff—thus creating a weapons forge that they are said to guard with particular zeal.)
But Captain Britain manages to save a Krakoan who had been hiding out in the village—Joshua Englehard (the cheeky-named Jersey Devil), whose teen antics led to Avalon Monarch Jamie Braddock stranding him in Otherworld, apparently. As it turned out, mapping this fantasy landscape had become Josh's passion, and he confessed to the elder New Mutants no real interest in returning to Krakoa (New Mutants #16-17). Unsurprisingly, his rescuer is quickly revealed to be an alt-earth Betsy, Captain Bretland, and as they return to the Lavender Keep in the Floating Kingdom of Lady Roma Regina, he finds himself amongst the Corps, countless variations on Captain Britain in classic Captain Britain Corps fashion (and I am so happy that they're myriad Betsys rather than Brians now).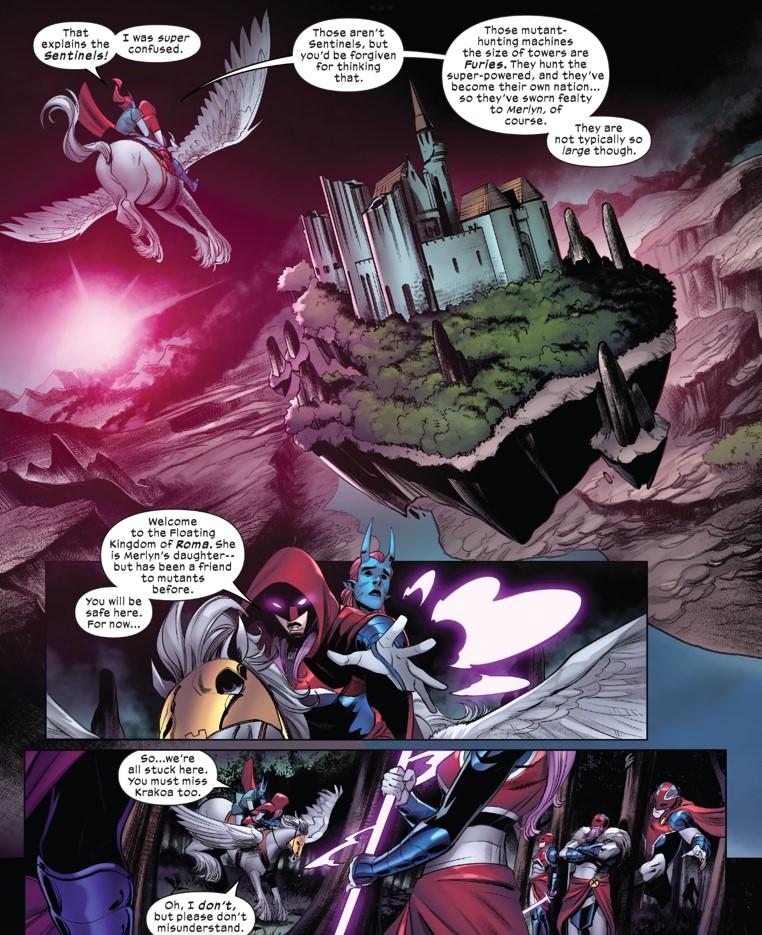 This opening scene very effectively reintroduces readers to the Captain Britain Corps and holding off on showing our familiar Earth-616 Captain Britain Betsy Braddock allows Tini to get the recap out of the way, very smoothly, so we can jump right into the real Betsy-centric drama: sapphically charged drama with Saturnyne.
(Note that when Betsy calls her "Courtney," it's just a deep-cut jibe, only the real name of Saturnyne's 616 counterpart, who was, unfortunately for Courtney Ross, no one particularly special but perhaps modestly ambitious, just not enough for the superpowered spectacle of superhero comics—surely, totally unlike powerhouse Omniversal Majestrix Opal Luna Saturnyne, except—oops!—where has her power gone?)
Merlyn, by the way, did return several years after Alan Moore's tragicomedy, revealing, in Alan Davis' run on Excalibur (see issue #50), that he'd faked his death to manipulate events from behind the scenes. Roma was furious, losing all trust in him, and he never did resume his role as Omniversal Guardian. Also relevant, perhaps, to Tini's Knights of X: Merlyn's return in the late '80s revealed as well that his creation of Otherworld directly came about from his old mentor's lust for power (including over the Phoenix Force—via a proxy, a pupil of his in communion with it). His mentor (Necrom) was ultimately defeated by Excalibur powerhouse Rachel Summers (Phoenix-possessed at the time).
In other words, Tini's Otherworld is in continual conversation with those classic runs from the Alans, though so far her style and temperament are much more in the vein of Davis but without the zaniness (which is a tough act to follow and not to everyone's taste, though I do really miss that bonkers quirkiness); of course, the darkness of tone, Otherworld's current pall under the drear and hateful hegemony of Merlyn, is somewhat reminiscent of Moore—but without Moore's pitiless acerbic wit (although that's perfectly fine for fans of the other Alan).
But I am definitely here for the queered high-fantasy content, not just with Julio and Shatterstar but with Betsy and Rachel, above all—given what felt like a promise in the latter half of Tini's Excalibur.
X-Arthuriana: Weaving Together the Mythoi
While Knights of X will, I believe, be the only high-fantasy/Arthurian title in the current X universe, notice the large share of writers among the Destiny of X cohort who have already had a keen professional interest in Arthuriana—after all, three of them Brits all with a good deal of experience not just writing on such themes but really tweaking and transforming them for their own meaning-making. Tini's fascination with the Matter of Britain may or may not simply be from her Excalibur influences, but that's four Arthuriana enthusiasts out of 10 or 11 Krakoan chroniclers, more than a third!
But maybe "Arthuriana" is no longer really the best name for it because I sense that it's more about a venue of potential, a creative/imaginative topos—better named, in this case, just Camelot. And a central image here is the Round Table, of the "fated warriors" of justice (Captain Britain's Knights of X; Storm's Brotherhood) but also of latter-day Machiavellianism (the Great Ring of Arakko; the Quiet Council) or even corruption (obviously, not a few Quiet Council members). It will be interesting to see how the writers deeply familiar with this material, which really shares similarities with the cyclic and serial nature of superhero comics, may make use of it in refracting it through our modern mutant narratives, contorting and reshaping this subgenre, because the X franchise seems capable of metabolizing all narrative topoi, no matter how disparate.
And hey, we're practically invited to sort our current Knights of X into D&D-style classes/character types, and we are indeed ready for a quest. 
I'm dorking out because it is awesome that this freak comics franchise can bridge the abyss between countless genres, and largely doing so with an insouciant nonchalance. Obviously, there are other comics that can do this, but few are as celebrated for near-constant genre-mashups—as much as for the characters, especially the B-, C- and even D-listers. Ideally, that's what Excalibur has always been for, the X book that most explicitly says, "Let's have zany fun, but when there's dire, striking drama we'll make sure it's always the soapiest." Tini Howard kept the title's interest in heroes currently on the backburner, or half-forgotten, but she's leaning much more into the high fantasy of the name, which will continue with Knights of X. This will be a fascinating new direction; there isn't a history of the high-fantasy quest at Marvel comics, and really, it's past time the fans got to explore Otherworld for an extended period of time, hopefully the whole run! Still, I do miss the zaniness and bouffant risqué comedy of Claremont and Davis, more than the dour satire of Moore. No doubt, though, Tini's era will prove all her own, and the most memorable feature of it will be the innovation, renovation, and reimagination at work in giving us the definitive Betsy Braddock (and thus, Captain Britain as she is from now on), a much-needed expansion and diversification of Otherworld as a concept, and a reminder that this medium is free to be so much more than it usually is when the creators are passionate and engaged in just spinning a good yarn.
And occasionally, the best yarns will become integral to the tapestry of the myth of X; Knights of X will likely prove one of those. (Let's hope the same for Si Spurrier's Legion of X, debuting at the end of May.)
Siege Perilous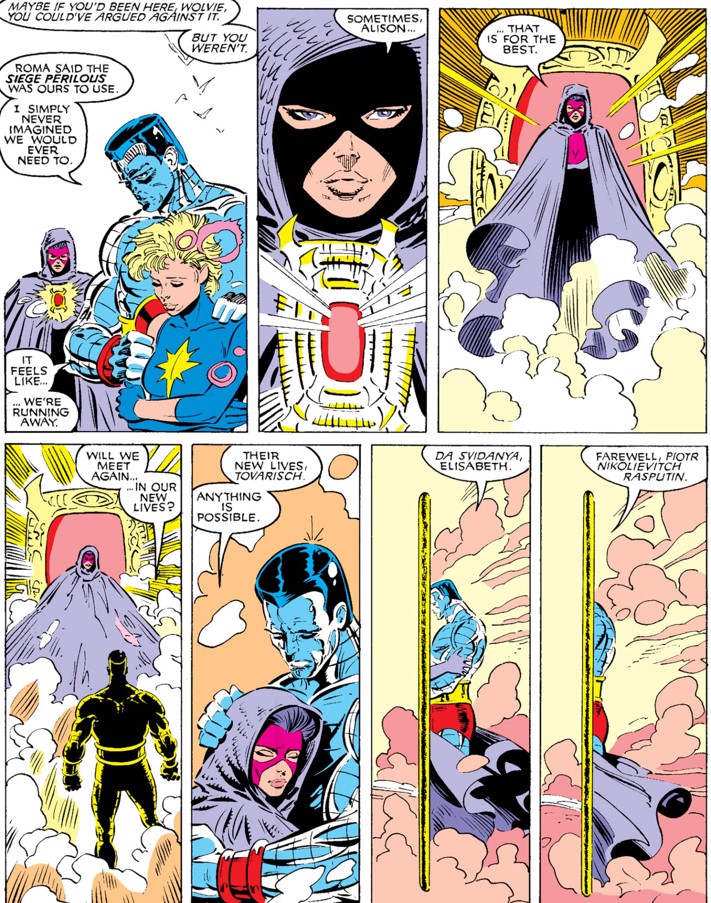 [Betsy with the Siege Perilous in Uncanny X-Men #251 by Chris Claremont, Marc Silvestri, Dan Green]
After Merlyn's death at the end of Alan Moore and Alan Davis' Captain Britain run, his daughter Roma sent his body off through the Portal Perilous (later, the Siege Perilous—same thing, different name) in order to return him to the universe. It is a portal that transforms any who enter, granting them what it believes that person really desires or perhaps even needs. Thus, identities and memories can radically change, as well as appearance (such as what happened to Betsy being transferred to an Asian body, later retconned as Kwannon, a whole mess; or Alex Summers waking up in human-run Genosha as an apartheid security agent; respectively Uncanny #256 and 270; 251 is the issue where they and other X-Men stepping through it toward separate unknown fates).
Possibly, Moore and Davis' inspiration for this portal was from Claremont's original Captain Britain origin in 1976's Captain Britain #1, where Brian Braddock has a road accident that tumbles him into a circle of stones, sort of like Stonehenge—it turns out to be a site of magical transformation, with Merlyn and Roma alerted to his presence and subsequently transforming him into Captain Britain (the multiversal Corps is later introduced by Moore and Davis). Some fans have referred to this as the debut of the Siege Perilous, but while that's a stretch, it might suggest the Siege's conceptual origin is closely tied to the early evolution of the Captain Britain Corps mythos.
Undoubtedly, given the central, traumatic role the Siege has had in Betsy's life, seeing it appear at the end of Knights of X #1 as key to the quest Roma has "granted" Betsy must have been deeply startling indeed. None of the other "Knights of X" have any experience with this mystical crystal portal that has provided several X-Men some of their most distinctive periods of characterization (like Rogue in the Savage Land romancing with Magneto or Colossus as Piotr the artist with only a vague memory of being a superhero). So, with the Siege's sudden appearance here, Tini Howard is saying: Expect the unexpected! And hopefully, it will stick for a minute too…
By which we mean, in X-Men time anyway, hoping for fresh change and innovation that lasts for an era, typically at least a year and change.
Kylun
The unusual story of Kylun characterized one such brief era back in the '90s, the Alan Davis Excalibur run, making his return here a perfect fit.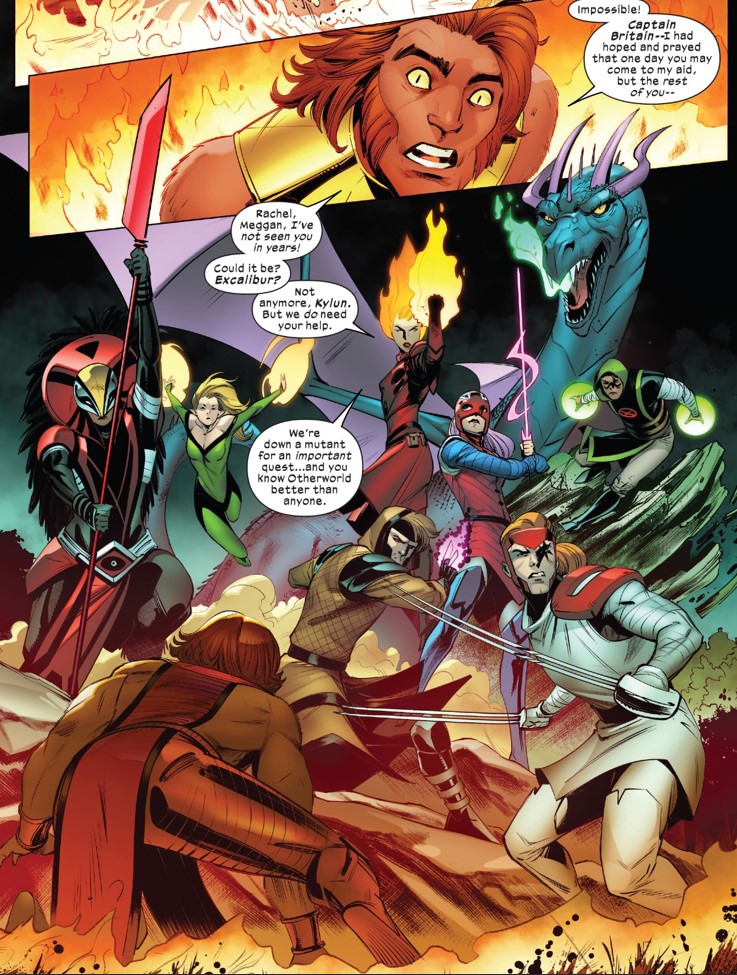 His mutant ability is much less important than his mystical blades of Zz'ria, which can cut through anything except those who are pure of heart—making Kylun the most classically romantic of all who could be named mutant knights. His native talent for verbal sound mimicry is amusing, allowing him to recreate any sound he's ever heard with perfect accuracy—he's like the Taskmaster of mouth sounds—funnier than it is useful, which was entirely Alan Davis' purpose. After all, just as not all mutations can be spectacularly omega, neither would the majority likely be all that useful for combat or even anything practical. (And hey, we're obviously not talking actual evolutionary theory here, y'all!)
While Colin McKay first appeared as an adult in suspenseful cameos starting with Excalibur #40 and culminating in the miniepic that pitted him and his new allies, Excalibur, against Necrom, an evil sorcerer and Merlyn's erstwhile mentor, it was soon revealed that he had in fact been seen in the title's second issue, as a mutant child on the run who finds a robot head, Widget, that teleports him to safety on another earth, Ee'rath—where time must run at an accelerated rate relative to Earth-616 (but which never appears again after Davis' solo run). There is clearly something of the changeling about Kylun.
Returned to 616 as a highly martially trained, non-passing mutant with leonine features and a mystic blade—and a tragic story of lost love—Kylun never managed to fit back in with his native earth—until, that is, no one was particularly interested in following up on his penchant for high adventure, following the Davis run. Instead of letting him go off adventuring outside the purview of a current Marvel title, Marvel let us know sporadically over the years that he had more or less adjusted to ordinary, humdrum human life. However, I find this unlikely and profoundly unsatisfying. At least, now he's back with those whose company invites joy as much as peril, and let's hope Tini reveals what he's really been up to all this time, since what in the world is he doing in Otherworld?
Now, from Alan Davis' classic solo Excalibur run as both we're just missing Shi'ar super-warrior Cerise, who when not acting as a bio-engineered weapon with a conscience is a neat alien gal down to relax and enjoy meeting people from other civilizations and learning about their customs—like the unexpected joy of sharing a mutual lip "massage" with one Kurt Wagner. After falling in with Excalibur for a minute during the Davis solo era, she hasn't been seen since with any consistency, except the first five issues of Mr. & Mrs. X by Kelly Thompson, the storyline that introduced Xandra. (But at this point, a spotlight in Marauders or even Legion of X would probably make more sense.)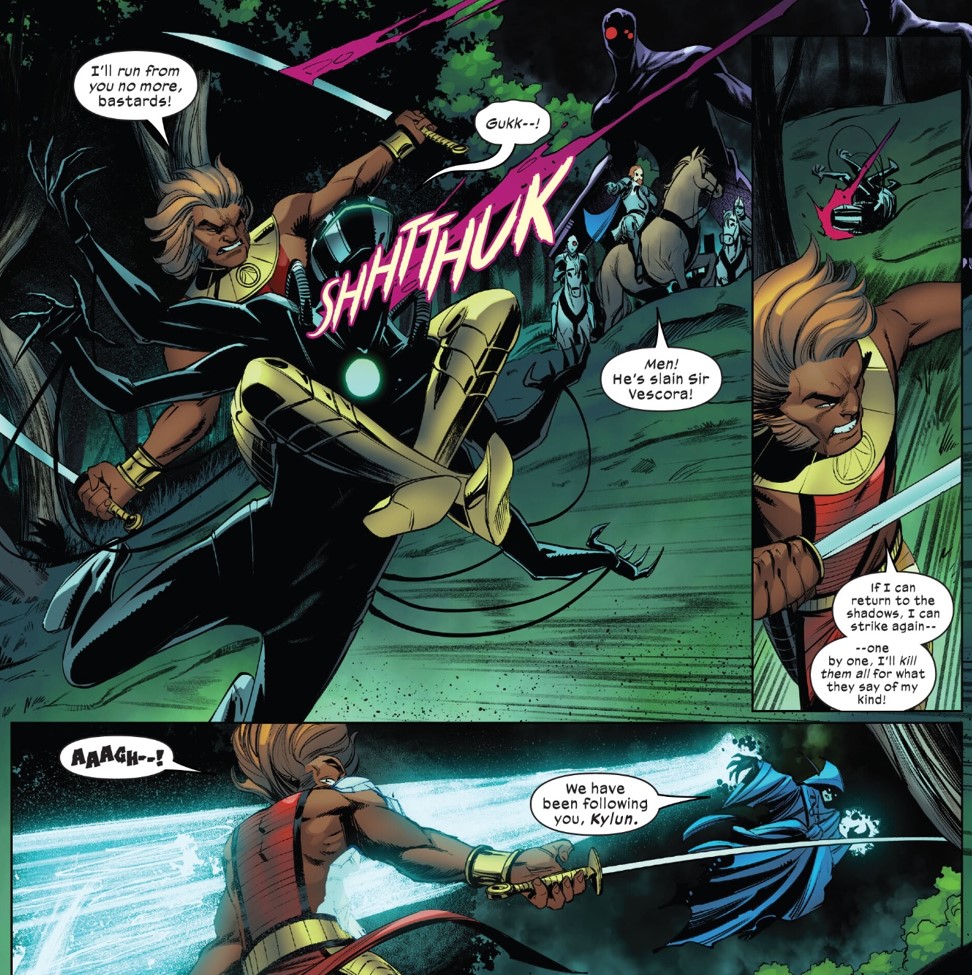 Merlyn's Knights of the Round Table
Besides Arthur, this issue features only one other knight among Merlyn's Knights of the Round Table—Sir Vescora, whom Kylun dispatches. Sir, we hardly knew ye. Expect to see more of the Foul Court creatures anon.
Mordred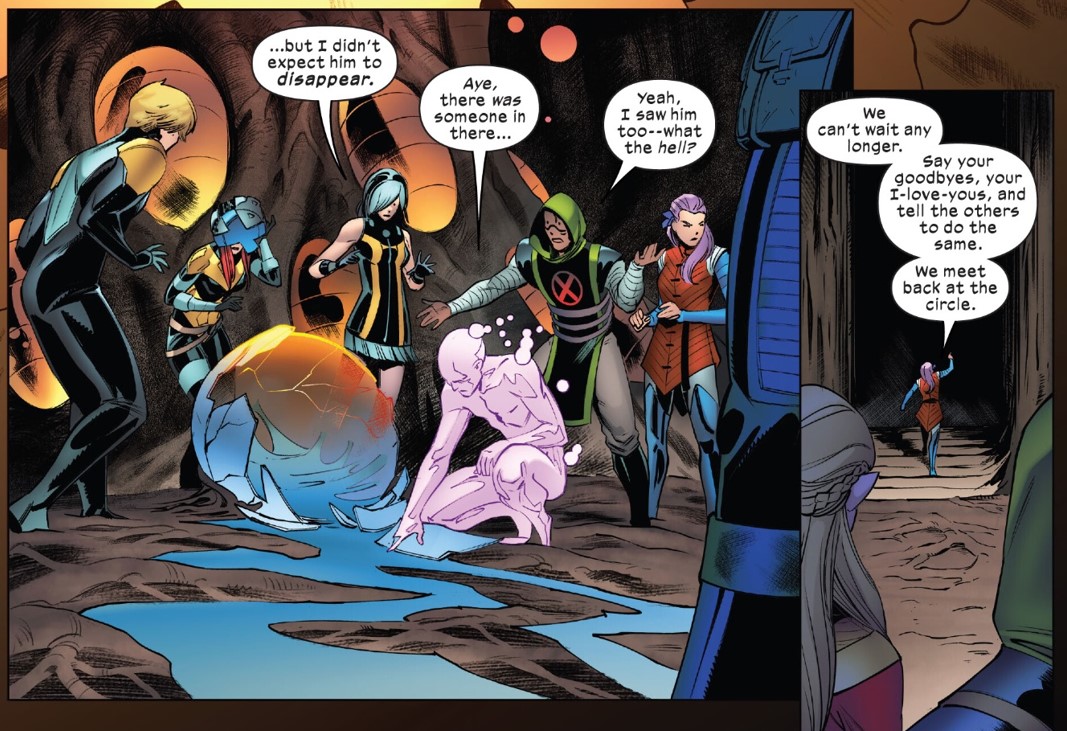 Though Mordred wasn't killed in Otherworld, as an Otherworld native, he undergoes Krakoan resurrection with unpredictable results—allowing Tini to return him to life as a relatively blank slate, far from the jaded and half-mad villain that the new Black Knight (Dane Whitman's previously unknown daughter Jacks) killed in combat in last year's Black Knight: Curse of the Ebony Blade from Si Spurrier. But the fact that he's a mutant is Tini's contribution from Mordred's posthumous mention in Excalibur #23. His power, presumably, is at least similar to Spurrier's recent characterization: that he can sense inner weaknesses, using them to his advantage, villainously, of course. He brutally kills Black Knight Dane Whiteman twice. However, he clearly seems to be a different person now, fresh-faced, innocent, and humble. The scene of him offering fealty to Betsy is striking to longtime readers, but even newer ones will be struck by his air of chivalric dreaminess (which, yes, has nothing to do with chivalry of the banal and brutalist historical variety, but if Knights of X wants to give us the fantastic aspirational mode of chivalry, let's be here for it).