Aptly titled "The Last Wolverine Story", Wolverine #10 sets the scene for what will be the swan song of this beloved character.  This issue tasks Wolverine to make amends with allies he will need, so he can go after, who else, but Sabertooth.
The cover is a countdown in and of itself, drawn terrifyingly beautiful by Steve McNiven and Laura Martin.  It's a fun visual that the covers have been giving us, first starting with clenched fist, and three claws, then the first claw blown apart, and now the second.  The use of blood and shrapnel is nice, and it does give the right message – death is coming and it's inevitable.  I do wonder if there was a suggestion to make the middle claw be the last one, as a final F-U to fans who are bent out of shape over the impending doom of the title character.  What exactly is exploding the claws though?  Mini-bombs?  Nanites?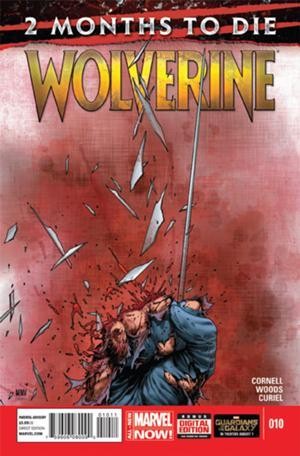 Paul Cornell's script is solid, and it should be, as he has had the reigns of this book since the last time Marvel rebooted the series in its fifth incarnation (meaning the 5th time Wolverine started with a new number one issue), back in early 2013.  Forcing Wolverine to confront characters he has wronged, including Beast, Storm and Thor, the pacing is both urgent and heartfelt.  Wolverine is a character that acts first and rarely questions later, and to see him vulnerable and apologetic is slightly out of character, but handled well.  Ever since he lost his healing factor at the end of the "Killable' arc preceding this volume, it seems everything he has said and done has been slightly out of character.
The plot is simple enough.  After the events of the last few issues, Wolverine is finally ready to face his fear of death head-on.  Many obvious choices have been building throughout this book since its reboot.  Sabertooth, the constant thorn in Wolverine's metaphorical paw, is the big bad once again and has a plan to remake the world the way he wants.  You know, nobody pushing him around anymore, a call of the wild, back-to-basics kind of environment that Sabertooth can survive and thrive in.  With him is Mystique, whom Wolverine always seems to almost kill but leave alive to torment him again, and the Hand ninjas.  What are these people going to do when Wolverine finally kicks the bucket?  The Hand will be fine, and probably die at a much slower pace without Logan clawing them up all the time, but Sabertooth and Mystique?  They might just have an old fashion cry when they really learn that they don't have Wolverine to push around and torment anymore, and they are stuck with people like Thor who won't play that game.  Hammer beats Tooth.  But we will all have to wait and see what the future holds.
Pete Woods takes over for Kris Anka as artist on this book, with David Curiel continuing his stellar colors.  Woods does a real good job of keeping the feel that Anka had, which is a tough feat sometimes in the middle of an arc.  Even though this book starts its own story, it is part of the bigger "3 Months to Die" lead-in arc to the impending "Death of Wolverine" storyline.  Wolverine's face is drawn remorseful and anguished in almost every panel, while the glimpses of Sabertooth give us a calmer and happier visage.  The subtle dichotomy is not lost on the reader, and is colored beautifully by Curiel, keeping with his dark and brooding blues, creams and golds.
Support For Comic Book Herald:
Comic Book Herald is reader-supported. When you buy through links on our site, we may earn a qualifying affiliate commission.
Comic Book Herald's reading orders and guides are also made possible by reader support on Patreon, and generous reader donations.
Any size contribution will help keep CBH alive and full of new comics guides and content. Support CBH on Patreon for exclusive rewards, or Donate here! Thank you for reading!
The 'Best There Is':
The only panel that Wolverine smiles, still sporting a scar over his eye (he's mortal now remember) on the fourth to last page.  It's a subtle check if the reader's paying attention, because it really brings the idea home that he is ready to deal with what he fears.  Death is what he has always sowed, and now it's coming for him.  Beautifully focused on the humanity of his features, the inks and colors make for a rare warm moment.  Wolverine saying that it's "time for a little responsibility" is a great way to write a good "here we go. buckle up" moment.
The 'Isn't Very Nice':
When S.H.I.E.L.D. shows up, eager to help.  I get why they are there, and hopefully will have important parts to play in the next few issues, but it feels trite.  Also, the flanking S.H.I.E.L.D. soldiers with smiles on their faces is wrong.  Maybe Nick Fury is ready and willing to help Wolverine (though I'm still not used to "Sam Jackson" version showing up), but the ten other agents seem generally happy to be there helping the hero that has time and again fooled, maimed and killed their ranks.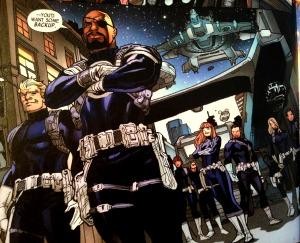 This comic is a strong beginning of the end, so to speak.  Looking forward to the final two issues of the series, if not to finally put to rest the strange and different path this character has led as of late.
Last but not least, the elephant in the room:  Stop with the arm claws.  I get it, no healing factor.  Hurts when he pops his real claws, and he bleeds all over the place.  But the arm gauntlets with claws in them that Superior Doc Ock-Spider-Man gave him need to go.  They should be burned in a fire when he dies.  Just saying.
CBH Score:
3.1 out of 5.  (The extra .1 is for the awesome "Spineless Cowsons" line that Thor got to say)