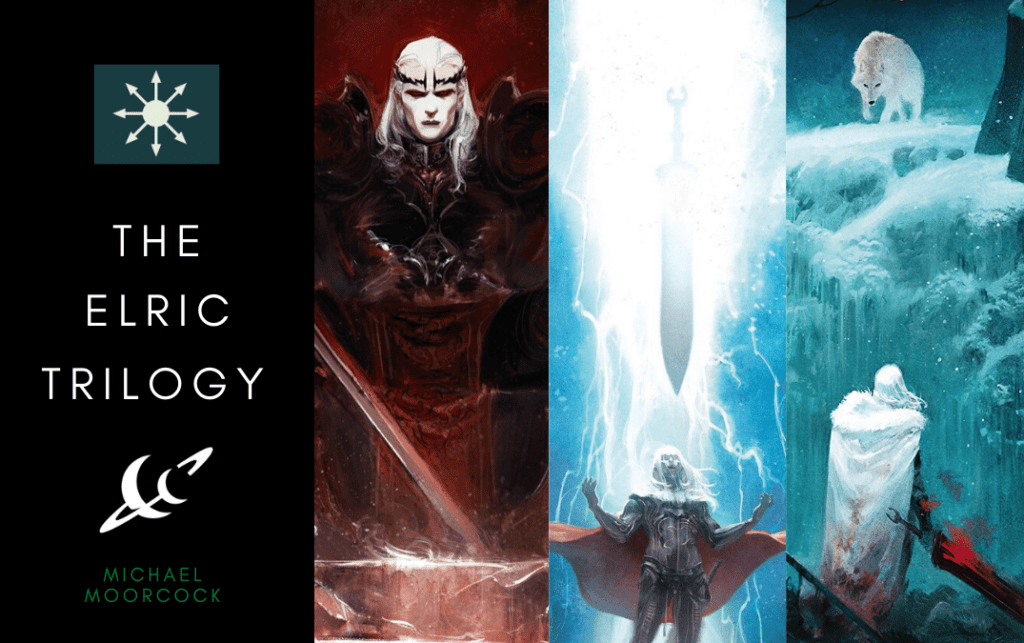 'Fully captures Elric's sense of utter decadence. The saga of the albino I would have written myself had I thought of it first!' – Michael Moorcock

'I'd like to join with Moorcock in declaring this to be the most successful, true-in-spirit re-imagining of his fate harrowed icon.' – Alan Moore
Right now, you likely belong to one of two groups:
Group A- You know Elric. At least of Elric, even if not about Elric. You have at least a basic cultural osmosis idea of what the deal is. Or perhaps you're far more familiar than that. Perhaps you're a fan and a reader and you're curious on this new Titan Trilogy.
Group B- Who is the heck is this sword-toting dude? What's an Elric? Why am I meant to care or get interested in this at all? This is the first I've heard of all this!
Regardless of whichever group you fall into (we'll attempt to serve both here), we'll approach this piece as a way to help out Group B the most. So what this will be is an introduction to Elric of Melniboné, conceptually and historically, and why he and his world matter. What is the appeal here and what's worthwhile? In so doing, we'll dig into what these trilogy of comics are and why they might just be worth your time, even if they're not talked about much. So to those of Group A, just enjoy the ride back into the history for a moment. After all, it's not everyday we get to talk about The White Wolf…
Let's begin.
Support For Comic Book Herald:
Comic Book Herald is reader-supported. When you buy through links on our site, we may earn a qualifying affiliate commission.
Comic Book Herald's reading orders and guides are also made possible by reader support on Patreon, and generous reader donations.
Any size contribution will help keep CBH alive and full of new comics guides and content. Support CBH on Patreon for exclusive rewards, or Donate here! Thank you for reading!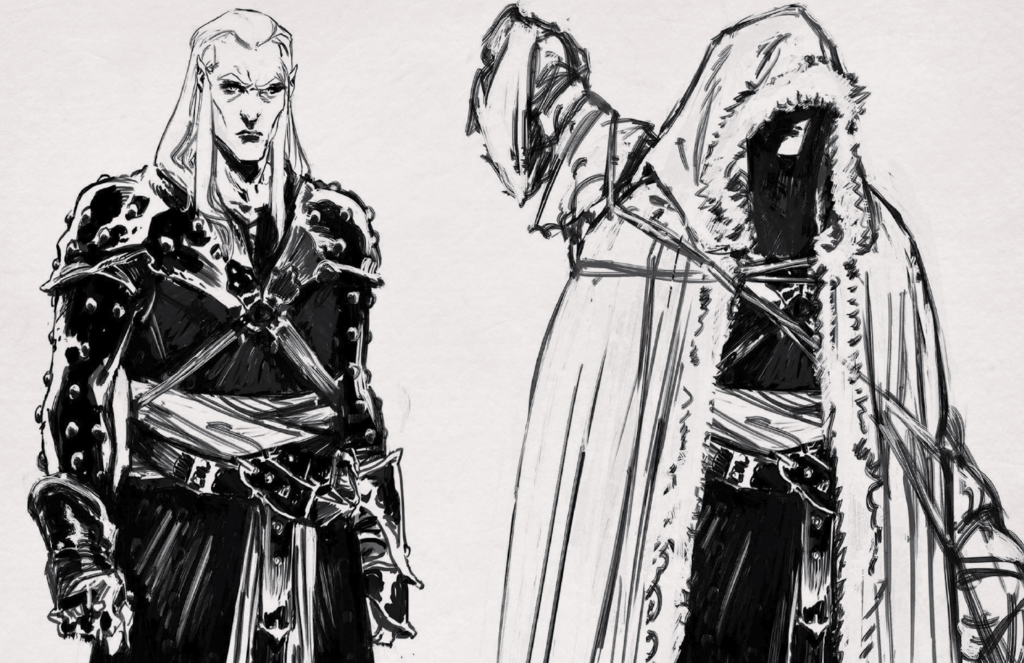 To say 'Michael Moorcock' is important would be a hilarious understatement. It's a bit like saying 'Hey, that Alan Moore guy? Yeah, he's important.' The sentence doesn't even come close to conveying the true extent of things. Moorcock has been a writer, an editor, a critic, a musician and a zillion number of other things over the course of a long and prolific career. His legacy is massive and his influence unquestionable on our pop culture landscape. He was at the forefront of the 60's New Wave Science Fiction movement, both as an editor of the vital "New Worlds" magazine, and as a writer, alongside the likes of J. G Ballard, Harlan Ellison, Roger Zelazny and plenty more. His controversial essay on fantasy fiction, Epic Pooh, criticizing J. R. R. Tolkien, C.S Lewis and writers of their ilk is well known in many circles to this day, decades later. His Starship Stormtroopers essay of criticism, similarly, but for the realm of science-fiction, is a vital thing as well.
Moorcock is the father of 'The Multiverse' notion in popular fiction, taking the Many-Worlds interpretation that had been lingering for a bit since the 50's and putting it to good use. His 1962 story The Sundered Worlds established a multiverse of fiction, wherein various 'heroes' were just emanations of a larger concept- The Eternal Champion. (And all this just a year before DC Comics even came up with the terms 'Earth-One' and 'Earth-Two,' laying out their own proper multiverse, which only arguably began to develop in 1964, despite Fox/Infantino playing with the Many Worlds interpretation in their own way in 1961's The Flash of Two-Worlds
.)
So, Michael Moorcock, a bit of an important figure. But for all of the above, for all the amazing accomplishments we've listed out, none of them are really what most people immediately think of when they think of Moorcock. Elric is.

So let's lay out what and who Elric is here. Elric comes from a race of beings dubbed The Melniboneans, who have reigned over the lands with a Ten Thousand Year old empire. They've grown cruel, decadent and are a strange people, bartering with demonic gods of Chaos. Elric, sitting on The Ruby Throne, is the 428th Emperor of Melniboné, The Dragon Isle. Except he's also the man destined to be the last of his line. He's fated to wander the lands of man, a king without a kingdom or much else.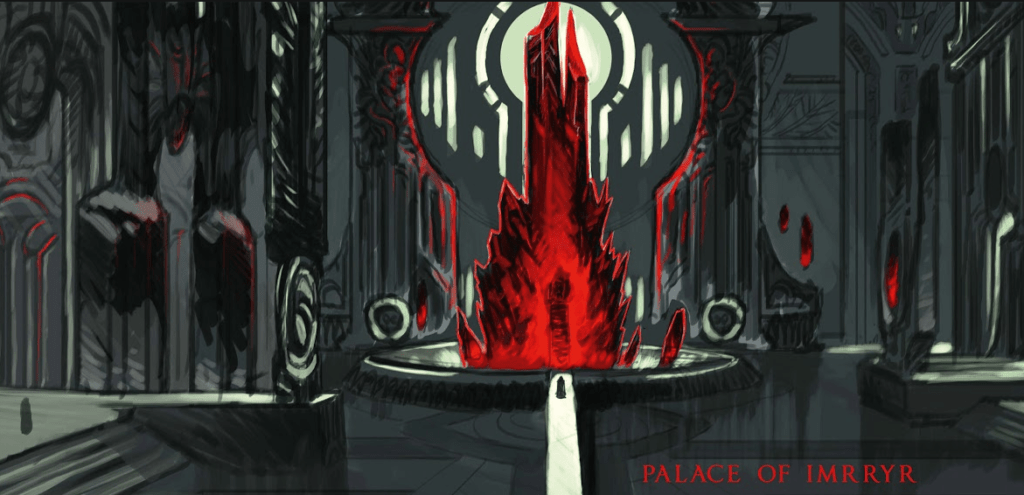 Elric is a curious figure. He's very much a response to Conan The Barbarian (1932). Elric (1961) is, in a lot of ways, the Anti-Conan. Conan's a a simple barbarian who doesn't have much conflict. Elric is this high-born, much more well-mannered figure who is constantly tortured and conflicted. He does terrible things and cannot be dubbed a 'hero' in the slightest, but he does have conflict. If Conan is the barbaric wanderer who gains a kingdom and kingship, Elric is a man that starts with one and ends up as the lone wanderer. Conan distrusts and dislikes magic, relying on a simple sword. Elric is all about magic, deals with Chaos gods and more. Conan is a big, buff, strong man that Schwarzenegger is expected to play. Elric is a pale, slender, weak man who has no strength of his own. His strength is all derived from dark dealings with terrible beings and most vitally, his cursed black blade: Stormbringer. Elric was the guy who was basically addicted, like a drug-addict, to these things. Elric isn't the tough super-muscular manly man, he's the guy you expect to see David Bowie playing, if anything.
Elric was almost the conceit of a classical Conan antagonist but as a protagonist. A witch-king, who isn't to be toppled by a barbarian, but who himself has a character arc and journey that makes him inhabit that role, to see what new thing comes of that. And a lot certainly did. Elric's tales became foundational to the tradition of Dark Fantasy, being a wellspring of tons of new ideas, twisting tropes or conventions of the old.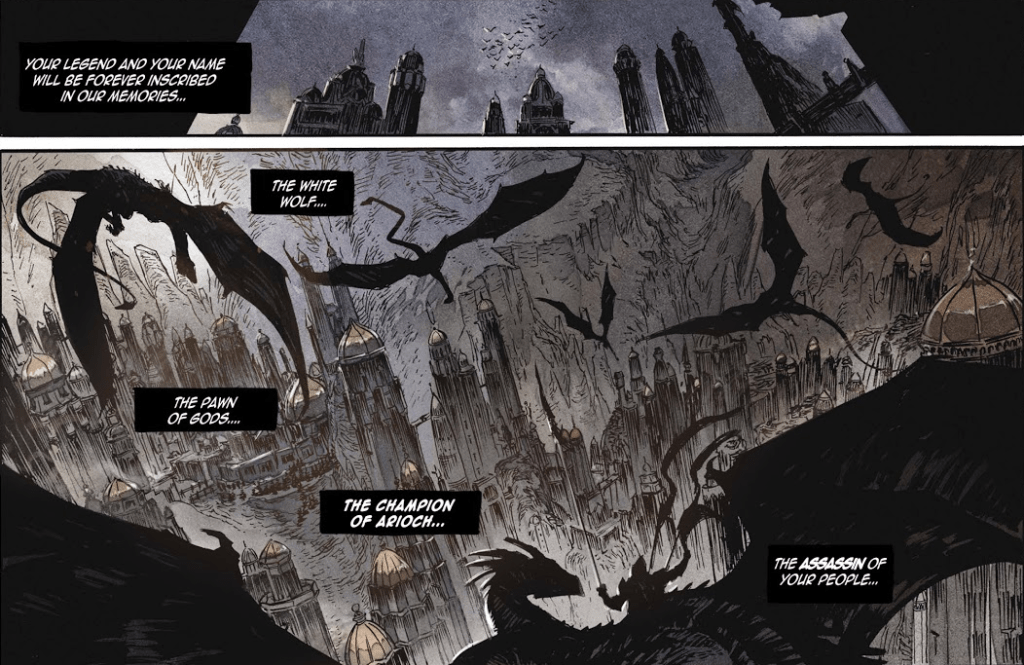 While Elric's place and recognizability has waned significantly in the modern age, there was a time when he was strikingly new and big. His character, world and stories certainly inspired a great wealth of artists and works. We mentioned David Bowie earlier and the thing about Bowie? He was an Elric fan. Elric's one of those classic figures that's been interpreted by a plethora of artists, from James Cawthorn, Philip Druillet, Walt Simonson, Mike Mignola, P. Craig Russell, Frank Miller, Howard Chaykin and plenty more. He's one that captures the imagination of many. And Elric is one of those classic icons taken for granted at this point because people are more familiar with that which he helped inspire, that which has become common, 'standard' and mainstream, when he was really the root that many others took from. Elric would go onto inspire everything from D&D, Warhammer 40K (Chaos? Chaos Gods? Should sound familiar) to the likes of The Witcher (Elric's key, defining title? The White Wolf). And you certainly don't really get George R. R. Martin's A Song Of Ice And Fire
the way you do in a world without Moorcock's Elric.
It's a world and character set against the backdrop of a wild multiverse, part of a high concept vision of an eternal conflict between Law and Chaos, wherein vital figures emerge, acting as emanations of The Eternal Champion, who arrives to restore balance. That's Elric.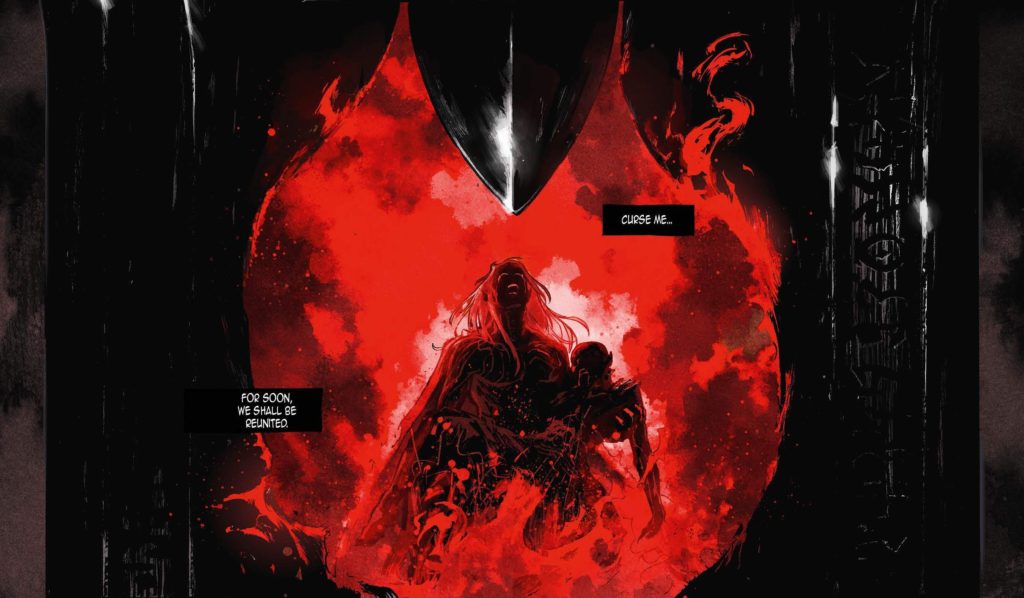 Now, the Titan Trilogy here is a really interesting spin on the material. It's essentially a full on from-scratch reboot of the entire concept. You get to see it from the ground-up, re-envisioned, revamped and tweaked. The approach is very much 'Let's do Elric as Bande Dessinée'. It's Elric as a 50-60 page oversized French Album or 'Tome', rather than a full 120-page OGN or in 20-page single issue chunks. And it very much tells a big story, with the first two volumes effectively acting as the slow-build to the moment of Elric becoming who he is, with some key tweaks and changes.
The creative team is a massive, sprawling one with Julien Blondel as sort of the lead, key writer and creative force, joined by co-writer Jean-Luc Cano. The artistic duties are performed across the three books by Didier Poli, Robin Recht, Jean Bastide and Julien Telo. Said duties on these 60-page tomes are interesting, as they're split between multiple artists, to give the books a flowing, rich look, where in one penciller will draw something, then an inker will ink that, then another penciller will do finishing touches and changes. Then it all gets colored spectacularly. It's a curious process that does bring the world of Moorcock's decadent destroyer to life in a vivid fashion.
The above design pages and particularly the panel with the black and red contrast and colors is a fantastic example of what the team is able to accomplish visually. It's the colors of Elric's blade, Stormbringer, a pitch black, covered in the blood red of victims. The background with the black is also textured in a way so that it looks like and resembles a rough, black sword blade, with cuts and lines. But the red in there also doubles as this fiery red flame, of passion and horror, this burning blood, while also strangely resembling a gem-stone on a blade. These are choices you may notice immediately on first reading, as you're just moving through story, but it's the kind of effective storytelling that really makes the book work. It makes it feel mythic, operatic and larger than life, even as it unravels this tale of a singular man. There's a commitment to really making you feel and get a sense of this dark, mythic land where the old is at an end, where the empire must fall, so that the new world of tomorrow may rise some day soon.

Now beyond that, Nora Goldberg and Edward Gauvin are the two individuals who handle the English translation from the original French writing (Goldberg just does the first) and similarly, Gabriela Houston and Kirsten Murray are the letterers who handle the lettering (Houston just does the first). They both do a fine job, though they both play to different aspects and strengths. Gauvin is a different mode of operatic than Goldberg, to be sure, but is also affecting. In regards to the letterwork, which is so crucial to storytelling, Murray's lettering ends up being much easier to read (if albeit a bit more conventional) in the long run. Though to Houston's credit, she does inspired work, particularly with SFX, such as the panel above, where what ought to be a balloon of dialogue to indicate a scream is just instead this panel-occupying, pale (bordered by black) rough scream. It feels big, it feels like an extension of the character and a proper expression of the terror and fear he's feeling in that moment. And the words are integrated perfectly into the moment in a way that they don't 'disrupt' the beat a way a balloon might, the words become just another part of the pure visuals, in a sense.
Elric is a curious cultural artifact, one that's so vital in so many ways, but is also sidelined and forgotten by many despite said vitality. And he's also not very easy to do or nail perfectly. He's this strange tortured terrible protagonist who philosophizes, who's cursed and destined to be the destroyer of his culture. Given the fact that the original Moorcock books and stories can be a bit tricky to track down and haven't aged terribly well in comparison to some peers, the modern reboot is a lovely accessible point to get started and into the world of The Prince Of Ruins. They're these quick, lovely 60 page reads, which look great and don't take much to read. They're not that giant trade you're letting sit, thinking 'One day', you can burn through these quick and they're a fun time. And if you love additional material, they come with introductions by Alan Moore and Michael Moorcock, tons of designs, layouts and just loads of process stuff. So if you're a process junkie, want notes and details on the choices and thinking of the creative team, this is a good one. On the whole, there are tweaks, expansions or changes in here that update things from the books in neat ways and they're shifts that even Moorcock admits he wished he thought of, which is perhaps the highest praise that could be granted, if not for the fact that Alan Moore has also thrown in his stamp of approval there as well.
If you're a fan of the classic Elric, there should be enough in here to intrigue and the artistic efforts that bring about the reality of Moorcock alone should be worth the admission. But if you're not, hop on in and join the strange Elric of Melniboné. The journey is bound to be dark yet fantastic.