Last night it was revealed that NBA star Lebron James has been quietly protecting America as Batman. This all became quite clear when James forgot to remove his cowl (Technical Cowl, Cowled out, Flagrant Cowl… ok, it's out of my system) prior to his game with the New York Knicks.
This raises one very important question: What NBA players double as comic book heroes?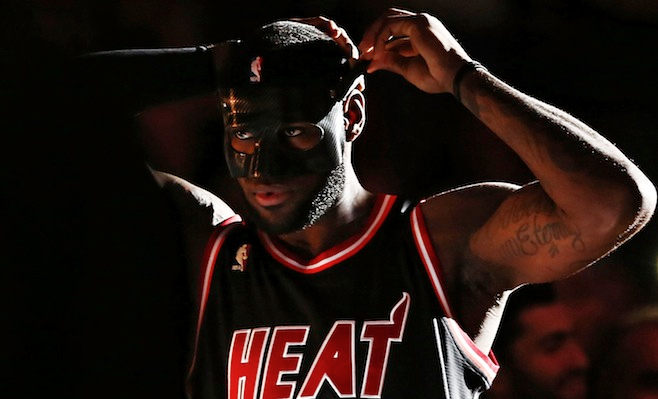 1) Lebron James – Batman
Likelihood: 5/5
In retrospect, we should have seen this one coming. Lebron is worth $185 million, and while that isn't quite at the level of billionaire playboy Bruce Wayne, it's more than often to build a crime-fighting arsenal.
On top of that, James is one of the best athletes in the world, a physical specimen straight from a Neal Adams drawing. People always overlook the fact that Batman  would absolutely annihilate a decathlon, and it's safe to say James probably might also.
James has built a heckuva cover over the years, going so far as to build a false reputation as a flopper just so the world wouldn't realize how courageous he truly is.
Support For Comic Book Herald:
Comic Book Herald is reader-supported. When you buy through links on our site, we may earn a qualifying affiliate commission.
Comic Book Herald's reading orders and guides are also made possible by reader support on Patreon, and generous reader donations.
Any size contribution will help keep CBH alive and full of new comics guides and content. Support CBH on Patreon for exclusive rewards, or Donate here! Thank you for reading!
It will be interesting to see how his enemies react now that his cover is blown. His family is a first concern obviously, but after that we have to think about his likely Robin: Chris Bosh.
2) Rip Hamilton – Moon Knight
Likelihood: 4.5/5
The NBA's original masked menace, Hamilton was unable to separate his crime-fighting life from his moderately successful NBA career.
This complete lack of separation likely indicates Hamilton's instability, suggesting he was more of a brutal vigilante along the lines of the Punisher or possibly even the multiple personality disorder of Moon Knight.
Since Hamilton wore the mask long after doctor's said it would be ok to remove it, I see little reason to doubt his extracurricular activities involved heroics. Plus, despite his God-given name of Richard, Hamilton was known as Rip throwout his career. Want to hear a cool name for a brutal vigilante?
R.I.P.
And if you're still not sold, check out this quote from Hamilton about the mask:
"It's like my Superman cape" ~ Rip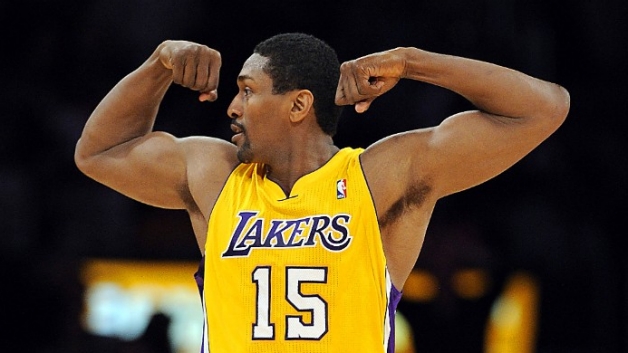 3) Metta World Peace – Wolverine
Likelihood: 5.5/5
This doesn't even feel like a guess so much as a widely known statement we're not necessarily comfortable with.
The artist formerly known as Ron Artest straight up changed his name to his super hero identity. This would be like if Oliver Queen legally changed his name to Green Arrow and walked around Star City like nothing had changed.
And speaking of giveaways, Metta is more widely associated with violence than the Hell's Angels. He's the driving force behind the Malace at the Palace and continued to have a series of violent incidents throughout his career.
The only real question is if we can consider Metta World Peace on the side of the heroes. His public persona has crafted more of an anti-hero vibe, a la Wolverine. He's the best there is at what he does. And what he does ain't pretty.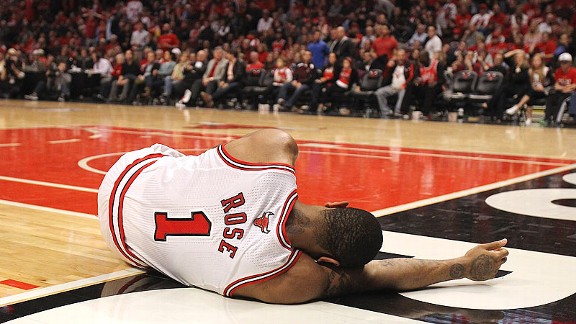 4) Derrick Rose – Oracle
Likelihood: 3/5
I mean, it's not like he's doing anything else.
#RIPChicagoBulls
5) Dwight Howard – Superman
Likelihood: .5/5
Just kidding. This is only in Dwight's mind.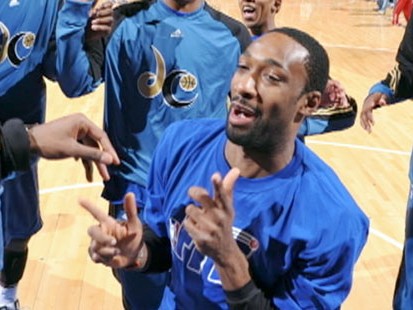 5) Gilbert Arenas – Punisher
Likelihood: 4/5
There's a chance that Gilbert Arenas is just a messed up NBA drop-out. But there's also a chance that he's the Punisher.
This is a dude who pulled 4 guns out of his NBA locker as a "joke."
You know who else would think a small armory in a workplace environment was funny? Frank Castle! The Punisher!
Add in the fact that Arenas started calling himself Agent Zero right in public and you've got a bona fide crime-fighter. Final quote:
"He is (long pause) a lunatic." – Adonal Foyle, Golden State Warriors center"
There you have it. Lebron's NBA comrades in arms. Keep fighting the good fight gentlemen, and remember, it's always darkest before the dawn.