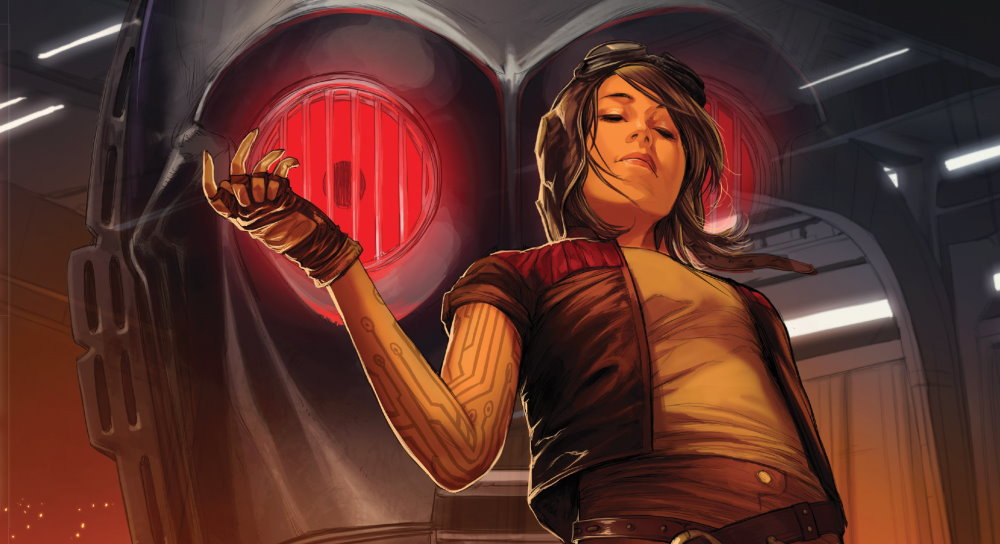 Kieron Gillen (Author), Simon Spurrier (Author), Jason Aaron (Author), Kev Walker (Illustrator), Salvador Larroca (Illustrator), Andrea Broccardo (Illustrator), Emilio Laiso (Illustrator), Wilton Santos (Illustrator), Caspar Wjingaard (Illustrator), Elsa Charretier (Illustrator), Mike Deodato Jr. (Illustrator), Leinil Francis Yu (Illustrator), Marco Checchetto (Illustrator)
Doctor Aphra is a rogue archaeologist traveling the galaxy with a pair of homicidal droids and an unhinged Wookie named Black Krrsantan. This collection details her early days as a freelancer for Darth Vader to her present-day rabble rousing around the galaxy. Aphra is not a hero and she doesn't claim to be one. If anything, she represents the autonomous galaxy traveler, not unlike pre-resistance Han Solo. She knows what her purpose is and she sticks to it, not attaching herself to a glorified hero stance as so many canon characters have. Aphra is also one of the first openly queer characters within the Star Wars canon. Sarcastic and full of zingers, Aphra is one of the best Star Wars characters, and the Star Wars: Doctor Aphra omnibus
is a great place to get to know the inner workings of the Star Wars universe.
Collects: Star Wars: Doctor Aphra (2016) 1-40; Star Wars: Doctor Aphra Annual (2017) 1-3; Darth Vader (2015) 3-4, 8, 21, 25; Star Wars (2015) 13, 19, 31-32; Star Wars: The Screaming Citadel (2017) 1; material from Star Wars: Empire Ascendant (2020) 1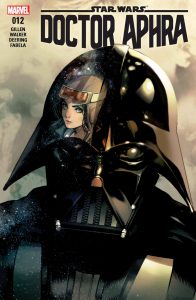 This collection begins with Aphra's introduction in Darth Vader #3. After scouring the planet to find the Triple Zero Matrix, Aphra runs into Vader, who is searching for his own personal resources outside of the Empire. She succeeds in obtaining the Triple Zero chip, being able to revive it's core memory into a C3PO model. This is the origin story of her two comrades. After Vader witnesses her intellect and savvy, he agrees to her proposition of setting him up with his own squadron of homicidal droids. The pair head to Geonosis, a soft spot for Vader (it's where he and Padme shared their first kiss).
In Star Wars: Doctor Aphra, Aphra receives the terrible news that her father has had a hand in having her credentials revoked in order to coerce her to aid in his search for the Ordu Aspectu, an ancient Jedi order. She had presently been scouring the universe, keeping a low profile in order to find artifacts to sell. Black Krrsantan is very serious about Aphra repaying her debts and she has no choice but to risk exposure.
Support For Comic Book Herald:
Comic Book Herald is reader-supported. When you buy through links on our site, we may earn a qualifying affiliate commission.
Comic Book Herald's reading orders and guides are also made possible by reader support on Patreon, and generous reader donations.
Any size contribution will help keep CBH alive and full of new comics guides and content. Support CBH on Patreon for exclusive rewards, or Donate here! Thank you for reading!
After we learn about her sketchy past in school that causes her to lose her license, she teams up with her Dad in order to get it back – by helping him search for his long lost 'religious' cause.  His search leads them to Yavin 4, where Imperial forces have set up shot post destruction of the Death Star. Black Krrsantan, the vengeful Wookie shows his warring chops as he takes on AT-ATs and storm troopers on his own. While searching for the map, Chelli (Doc Aphra's real name) laments on the lost causes of her father, who willfully neglected her and his wife in order to suss out a myth. As it turns out, the Ordu Aspectu is real and they find themselves in the Ancient Temple, Massassi crystals providing the info needed to make it to the next planet. Captain Tolvan, the Imperial Officer in charge of the Yavin 4 operation attempts to get rid of them, but fails miserably (as most Imperial officers do).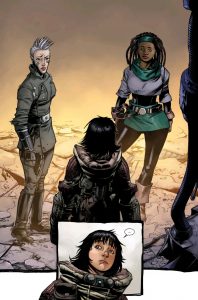 I wouldn't go as far to say that Aphra has Daddy IssuesTM, but she does harbor a lot of resentment towards her parents and the way they raised her. In #4, on the mystical planet of the Ancient Temple, Aphra pretends to be left out of options in hopes of hearing her father confess that he was wrong. It works and we are treated to a heart touching scene of accountability and redemption from her zealot Father. After she is satisfied with his admittance of parental neglect, they teeter on the brink of reconciliation. We also find out that Aphra is queer, after developing a teensy crush on Tolvan, who she spares after destroying Rur and saving everyone.
This development is one step for Star Wars to work on a character that is not heterosexual and also not inherently good. The consistent binaries of the Star Wars universe can be a bit boring to those who genuinely love a good anti-hero arc. Though Aphra is proud of her position as an archaeologist, she is also quick to recognize that a part of her job is to rob and pillage ancient cultures. I believe that this is why her snarkiness is so infectious to the reader, because she is very self aware of her mistakes and her attempts at being a good human being. This relatability begs the reader to expect more revelations from her character, as with every arc she is revealed to be more complex than we thought.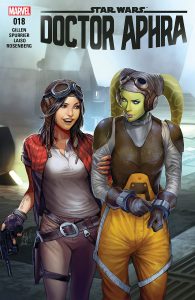 A lot is discussed within the first issues, including Aphra's sticky past working with Darth Vader, how she managed to insert herself into one of the biggest beefs of space galaxy history, and her struggle with redemption. In the Screaming Citadel, a crossover series between Star Wars and Star Wars: Doctor Aphra, we are treated to an unlikely alliance including Luke Skywalker, Han Solo, Sana Starros and Princess Leia. Sana Starros is a hugely underrated characters that should have a space in the cinematic universe. Of course, Aphra and Sana are enemies and their banter and fighting makes it obvious that there was something more to their story. Aphra and Sana were former lovers, Aphra despising Sana because she was a 'rebel sympathizer'.
This expired love affair also solidifies the character of Aphra as being aligned with no one – she is forever a lone wolf. Yes, she admits to Luke that she did work for Vader (and he also explains how his life was destroyed by the imperials) but it doesn't sway her as it should. Her viewpoint is that life is hard and she has also had a rough go. It doesn't mean that she should have to pick a side. A bit harsh, considering that she did work with fascists, but at her core, Aphra just wants to remain free – absolved from the drama of the rebels, Jedi, Siths, Imperials and the like. Hell, Han Solo made a career out of being a solo bad boy – there is no reason why Aphra can't be just as complex and confusing as well.
All in all, this omnibus reminds us that in times of war and oppression, we all have different roles that we fill. Whether some are a part of the problem, actively fighting against it or standing on the side lines, everyone has a role. Aphra's role is a bit murky at best because she doesn't become vulnerable with many of the characters within the story. Perhaps this is why so many people love her – she is the most relatable. During this very real life time of confusion and uprising, we have to ask ourselves – where do we fit in in the struggle for freedom? It can be hard to take on the world's problems as an individual and I believe that is where Aphra gets it right. Does it save your life to be self-serving or is it worth the risk to sacrifice yours for the betterment of society?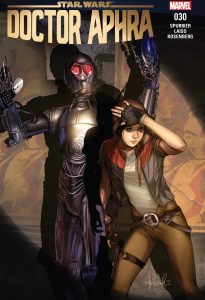 I think Aphra was created in order to give fans a moment of self-reflection on what they would do if they were in the shoes of their beloved Star Wars characters. She continues to pillage the universe for rare artifacts, she helped the literal mega-fascist Darth Vader in his quest for galactic domination, she actively helped destroy worlds and peoples, including the ones that she robbed in the name of archaeology. But still, she helped Luke, Han, and Leia with their quests despite finding them hopelessly naive. Can you play both sides and still remain unscathed?
Chelli definitely holds a lot of space for herself when it comes to being self-aware. She is not a fool and she knows when she is doing absolute wrong. She also has homicidal droids as friends, so honestly, I think that she is representative of the selfishness of the human ego. As long as her skin is saved then she would be fine. However, she would never, ever reveal herself to have second thoughts on her actions. Her willingness to be so wishy-washy on major political matters is perhaps the best way to show that within the Star Wars universe, there are no sole good or bad guys. Only people that make a willful decision to harm or not to harm. Aphra does what she wants if it helps her make it another day. And for many in this world, that can be the only way to survive.