Roy Thomas' run on Thor isn't generally considered one of the all-time greats, but it sure is long, and this is where we start to see it all wrap up. Ending with #297, it goes out on a suitably bizarre note, with countless unresolved plot threads and more questions than when we first started reading.
Jack Kirby's Eternals series ended only a year and change before this arc began, but it wasn't the first time the Eternals made an appearance in the pages of Thor. In fact, the Eternals and the Celestials played a fairly large role in Roy Thomas' run, and this edition recaps recent events involving our beloved demigods. The long and the short of it is that the Celestial Arishem has begun a fifty-year-long judgement of humanity that will wrap up sometime in the far-flung future of 2026. Considering how the last forty-five years have gone, the idea of a cosmic judge overseeing and evaluating us based on their merits sounds a bit horrifying, but we'll see how the next five years go. Go easy on us, Celestials.
Thor and the Eternals: The Celestials Saga (collecting Thor (1966) #283-301 and Annual #7) is where Thor tries to piece together what he and Asgard have to do with the Celestials, and honestly, the answer to that question is still not super clear after reading this whole story.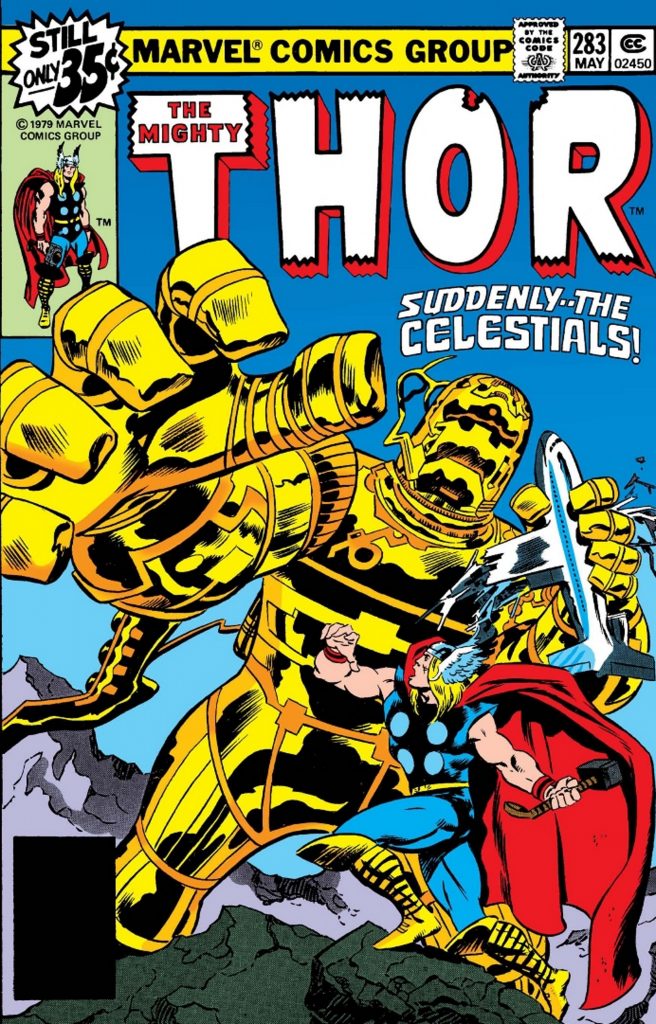 Gods Walk the Earth!
This arc begins dynamically enough, with Odin refusing to answer the basic questions of Thor's existence and Thor becoming agitated with Odin, who leaves instead of being accountable for, well, anything. Ever. Thor goes to find some answers on his own and faces down a golden Celestial named Gammenon. This is a battle he loses drastically, teleporting into a nearby plane as the Celestial hits him so hard that he transforms back into Donald Blake (this is back when Thor's civilian identity Donald Blake was a thing).
Gammenon takes the plane into the Celestial Dome and discards it as a child might discard a toy. Donald tries against all hope to explain the situation to a ragtag team of passengers who all clearly know more than they're saying, including at least one undercover S.H.I.E.L.D. agent. Blake argues with the Eternal Ajak for a bit, then ultimately gets the plane free of the Dome, saving the lives of many passengers.
Support For Comic Book Herald:
Comic Book Herald is reader-supported. When you buy through links on our site, we may earn a qualifying affiliate commission.
Comic Book Herald's reading orders and guides are also made possible by reader support on Patreon, and generous reader donations.
Any size contribution will help keep CBH alive and full of new comics guides and content. Support CBH on Patreon for exclusive rewards, or Donate here! Thank you for reading!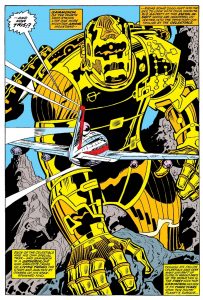 Those Zany Celestials
Thor gets into a very random, very wild brawl with Karkas, but they eventually team up when Karkas realizes that Thor is in fact not a Deviant. Though jury is still out on why he thought that to begin with, Karkas then becomes a valuable ally. They discover the location of the City of the Deviants, which on paper sounds like a place I'd like to visit, but when we get there, it's not that great. Thor, Sersi, and Karkas break in, but they're quickly discovered and a fight ensues. This leads to them all the way detonating the city, which is perhaps the rudest way to leave a party. Events continue to escalate until the Olympians (they kind of just show up?) find themselves in the middle of a brawl with the Eternals. The plot veers wildly into other subjects before, eventually, Thor bests one of the Celestials many, many issues later.
This is a tale that more or less slides right off the board after its intro, and the Eternals are in and out of it. There are a series of mostly pointless side quests that are a lot of fun to read along with, but aren't especially helpful in forming a coherent narrative. Still, there are a lot of positive aspects to this series. For instance, John Buscema's art is perfect for a Celestials arc, giving them the same epic sense they had when drawn by King Kirby himself. There is a highly weird subplot where Odin's giant dismembered eyeball floats around and taunts Thor, and while that might not have made a ton of sense, it was still pretty fun.
For my money, the best part of this entire TPB is the Eternal Sersi, and it's by a wide margin—she is a true standout among the chaos. Despite the fact that the other characters treat her with condescension and even, at times, disgust, Sersi has easily the best lines of the entire arc, and she pulls it all off with barely any time on the page. She offers to assist Thor and accompanies him on his most dangerous mission, seemingly bailing during a battle only to return to save the day after Thor haughtily dismisses her as unworthy. While the other Eternals sulk and brood over the horrors to come, Sersi shrugs it off and deems it all the more reason to celebrate the present. She always has a quip, and she dances circles around the rest of the (often pretty stagnant) cast. Long story short: Sersi rules, okay.
Not All That Glitters Is Gold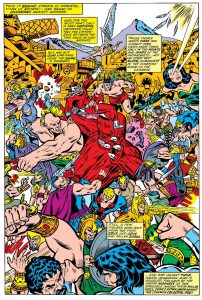 There are also some pretty strong downsides to this TPB. The overwhelming amount of bloated, occasionally self-contradicting exposition isn't exactly rare for its time, but it is still a turnoff for this reviewer, and the repetitive nature of the recaps makes certain parts of this book a bit excruciating to sit through. The epic language typical of Thor comics has its place, but a lot of the captions read as someone yelling at the top of their voice about random mythology from a limited perspective with a few twists and turns of their own thrown in for good measure. Likewise, the constant delving into the background of the Eternals rather than showing them doing something (anything) within the context of the story can be fairly exhausting.
Meanwhile, if the reductive, Darwinian explanations around the Eternals have set you on edge in the past, this is going to be a place where you see the most uncomfortable aspects of that origin compounded. The stories themselves are generally fine and sometimes even good, but the lengthy and tedious backstory overwhelms the telling multiple times throughout the story. Many of these issues are about eighty percent exposition and that just doesn't leave a lot of space for compelling character beats in the present moment. This is only exasperated by the fact that the stories that take place in real time tend to be a little flat, told in a villain-of-the-week format.
Moreover, the story isn't exactly a story, it's more a handful of arcs that overlap with one another. There are entire issues that have almost nothing to do with the Eternals or the Celestials, instead focusing on Thor fighting superhuman wrestlers and various dragons. There is a brief excursion into Brunhilde the Valkyrie's backstory, which is a pretty offensive jaunt through sexist tropes as she has her power snatched away by Odin only to discover that being powerless was the blessing she needed to find "true love!" Every female character in this arc falls into Madonna or Shrew categories, with the exception of Sersi, who, as mentioned, rules every panel she appears in with an iron fist.
I Say Thee "Okay!"
In the end, this arc has some great Marvel house style art, lots of angsty arguments with Odin, and Thor hitting a lot of big scary monsters with his hammer while yelling, "I SAY THEE NAY!" so it can't be said that this isn't a good time. In an era where the character was becoming increasingly formulaic, this managed to throw in some genuinely bizarre moments that can make a comic fun to read. The story is a bit sprawling and it's certainly way too top-heavy to be sustainable, but not every comic has to be a classic to make for a fun read. Roy Thomas' writing doesn't tend to age especially well, but he did bring the Eternals and the Celestials back into the ring not too long after the conclusion of Jack Kirby's first series. Only a few years from the conclusion of this story, Thomas would write his own Eternals series, and while it might not have lit the world aflame, his take did attempt to fit the Celestials into the greater story of the Marvel Universe. In some ways, this was the first story to do so successfully, so it's hard to judge it too harshly for its moments of excess.