Peggy Carter and Ant-Man may be most prominently flying the flag for Marvel this week but the real pound-for-pound winner is undeniably this book. Operating in some respects as twenty serialized pages as it is a cohesive narrative, the debut issue is the perfect gateway for even the most casual of comic book readers.
Structurally, a great deal of this has to be attributed to the idiosyncratic humor of writer Ryan North. Fans of his syndicated Dinosaur Comics will instantly recognize a natural through-line of his comedic sensibilities. While his previous Marvel offering, the Young Avengers segment of the Original Sins anthology, favored the "quirk" element of his writing, Squirrel Girl bombastically exudes unapologetic fun from cover to cover. The opening scene of Doreen "re-appropriating" the famous "Spider-Man, Spider-Man/ Does whatever a spider can…" song as a musical backdrop to thwarting muggers in the park pretty much sets the tone. There's a zaniness afoot that wouldn't be out of place with, say, Deadpool but it universally cuts across all demographics in a way that the Merc never could (or should).
Despite the overtly cartoony and auteur approach the creators take, there's still plenty to appease those who are comfortable only with more traditional super-hero fare as classic Marvel bits are scattered throughout. Granted, most of it's dealt with in a very tongue-in-cheek fashion but it serves as great reminder for comic book fans to maintain good senses of humor about themselves. Artist Erica Henderson makes her full-issue Marvel debut here as well, augmented by relative unknown quantity, Maris Wicks, on trading card art and sporadically-featured color artist Rico Renzi. Although a recurring in-story joke device, the notion that such a thing could exist in the Marvel Universe begs re-examination, perhaps as its own Official Handbook-style special (or side-series). C'mon, marketing department- start thinking outside that box already and throw this crew some more work!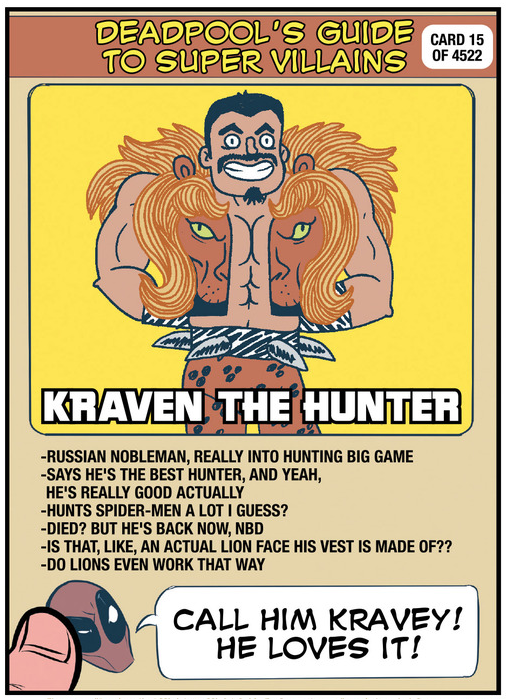 In all, there's not a lot more that needs to be said about this issue. There isn't a tremendous amount of deep plot analysis to be pored over nine different ways or herculean storylines requiring extensive annotation. Nope, this is the rarest of things: the ultimate in plug and play enjoyment that meets the reader at their own pace. And it works best when the talking heads just step aside and let it do its thing. Apparently there's a song about what some of those things may be even…