The New 52. What a ride, am I right? An attempt to reimagine the DC Universe from the ground up that was almost immediately bogged down by increasingly complex continuity and a series of retcons-for-retcons-sake that would ultimately get wiped off the board when the need for another company-wide reboot was required in just five short years. Yet, a lot of fans that are still reading today had their entry to comics during this era, and it would be disingenuous to say that there was nothing good to be found here. Crossovers may not have delivered, but there were certainly some good ideas being thrown around, and Villains Month
was one of them.
Focusing on antagonists and antiheroes like Poison Ivy, Bizarro, Darkseid, Solomon Grundy, Black Manta, and Cheetah, this crossover-within-a-crossover indicates both the best and the worst of New 52. Lacking the time and space to actually explore the new ideas they set forward, these stories range from the incredibly satisfying to the wildly disappointing, but on average tend toward the middle of the road.
Related: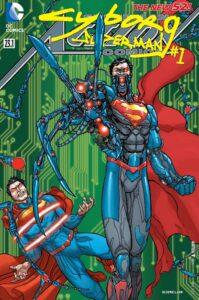 FOREVER EEEEEEEVIL
You can't get to the Villains Month without first going through Forever Evil, but that crossover is a lot so we're just going to summarize it. Essentially, the fallout from Trinity War (keep moving) led to Forever Evil, DC's first New 52 line-wide crossover. A central mini-series by Geoff Johns and David Finch told the overarching story, in which the Earth-3 Justice League gone wrong (the Crime Syndicate) attempted to overthrow our world, while a number of tie-ins littered the DC landscape from September 2013 all the way to May 2014.
Support For Comic Book Herald:
Comic Book Herald is reader-supported. When you buy through links on our site, we may earn a qualifying affiliate commission.
Comic Book Herald's reading orders and guides are also made possible by reader support on Patreon, and generous reader donations.
Any size contribution will help keep CBH alive and full of new comics guides and content. Support CBH on Patreon for exclusive rewards, or Donate here! Thank you for reading!
The vast majority of this crossover is highly forgettable, which is sadly much in line with most crossovers of the New 52 and the era immediately preceding it. Johns' tendency to interject shocking moments and surprise revelations into every issue regardless of whether or not the stories are capable of delivering on them had long since begun to catch up with him, which is exacerbated by these sprawling, months-long crossovers.
Yet, Forever Evil brought with it Villains Month, which attempted to inject new life into old villains by pulling them out of the shadows and into the spotlight. While this promising premise was full of exciting possibilities, the end result turned out to be a bit of a mixed bag. Briefly "taking over" series (so that one month's issue is billed both as Batman #23.1 and The Joker #1), most of these issues include revised or reimagined origin stories for these villains indicating a new direction. Yet, the quality fluctuates wildly from issue to issue, and few of these changes were destined to stick.
VILLAINS DOING VILLAIN THINGS
Still, the series does have it's highlights. Villains like the Riddler, Cyborg Superman, and Black Manta are granted a rare spotlight in their solo outings. In Action Comics #23.1, Cyborg Superman's backstory gives us important information around this incarnation of Supergirl, generally dismissed as "bratty" without a closer examination of the personal loss that drives her. Her father's villainy is over the top and even ridiculous, but it tells us more about our hero than anything else. For Aquaman #23.1 and 23.2, Black Manta gives us a glimpse of the incredible grief and anger that informed his decision to don the suit and embrace the fight against Aquaman, while Ocean Master shows us a character that genuinely believes that he is doing good with the many crimes against humanity that he commits.
Batman, with his exciting and always-fascinating Rogues Gallery, dominates this crossover, with no fewer than sixteen issues dedicated to exploring the fiends of Gotham. Highlights include the genuinely twisted Court of Owls story, which provides a fair amount of background and context for their ongoing feud with Bruce's ancestors. Meanwhile, Poison Ivy's tale is one of the best parts of the whole series, delving into how an abusive childhood informed not only her crimes but also her sense of outrage that practically radiates off the page. The Ventriloquist doesn't tell us much we didn't know, but it makes for a fun jaunt through this creepy character reboot.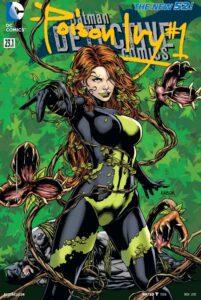 Stories like the Desaad issue of Earth 2, the Count Vertigo issue of Green Arrow, or the Black Hand issue of Green Lantern don't hesitate to give readers a first row seat to the atrocities these villains commit as part of their day-to-day lives. Though uncomfortable and occasionally upsetting, these stories fortunately don't particularly attempt to sympathize with their depraved subjects. Likewise, while Cyborg Superman's tragic (if entirely avoidable) backstory added something to his character, looking back on Brainiac and tagging him as a detached monster from day one makes him much scarier. Cheetah's story in Wonder Woman completely resets the rules of the game on her, but if you detach it from it's somewhat questionable retcon of Barbara Minerva's already questionable backstory and the bizarre choice of making a random cop the POV character, it's a fun read.
Some of Villain Month's greatest moments come from sympathizing with villains, but some simply pull back the curtain to show a rotten core. The Arcane issue of Swamp Thing is genuinely chilling as he uses Abigail's goodness against her yet again, calling to her only to hitch a ride out of his own personal Hell as she leaves. Other stand-outs include Dial E and Lobo's stories, both of which fly all the way off the rails, dropping us off miles away from our intended destination without so much as a curt wave goodbye.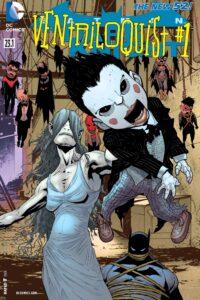 WE WERE ALL ROOTING FOR YOU
There is something to be said for the absolute commodification of violence throughout this event, to the point that random characters are regularly chopped to pieces on panel, eliciting little emotional response due to the sheer repetition. Green Arrow #23.1 takes us along for the ride as Count Vertigo's sex worker mother is repeatedly referred to with demeaning slurs before ultimately being destroyed by her son, while Solomon Grundy's story in Earth 2 #15.2 features a young woman who is apparently sexually assaulted at work and then immediately dies by suicide as she holds a knife to her throat and leaps face-first to the floor. There is not remotely adequate representation of women creators or characters, and that is grating enough, but there are also many moments that cross enough lines to zap any sense of fun intrinsic to the concept. These are major deterrents when it comes to recommending the event as a whole.
Further, showing the differences in approach among DC's villains made an unintentional point that it's unjust to persecute all of them in a uniform way. Does Poison Ivy actually belong in the same prison-hospital as The Joker and Two-Face? Has anyone ever gotten better at Arkham? Can Lobo be treated the same as Sinestro when the severity of their crimes are on completely different levels? Is the Phantom Zone even remotely regulated? These are questions that this event could not hope to resolve, but it likewise didn't have the self-awareness required to even ask them aloud.
Yet, so much of how we view good and evil as binary concepts, as if they don't have fully thriving gray areas between them, is thrown into question by an event like this by its very nature, and that is always going to be a good thing. The highs are very high for Villains Month, which makes the lows a little easier to deal with. Looking deeper into complicated foes like Cheetah while making no excuses for the depravity of characters like Black Hand and Arcane makes for an interesting series of stories that may not be perfect, but that also never totally fail to entrance their readers on some level or another.