On February 25th, 2013, the New York Times arts desk column exclusively revealed that Damian Wayne would meet his untimely death at the end of Batman Incorporated #8, a story which naturally spread like wildfire among sites like IGN, ComicsAlliance, and Newsarama. DC then announced that throughout March 2013, the Bat-titles would take part in a month-long event called Requiem, with each issue adorned with an 'R' logo in tribute to the fallen Bat-family member. It was now clear why the second volume of Batman Incorporated was in-canon; DC wanted a news story and a sales boost.
Related:
MOTHERF*CK$R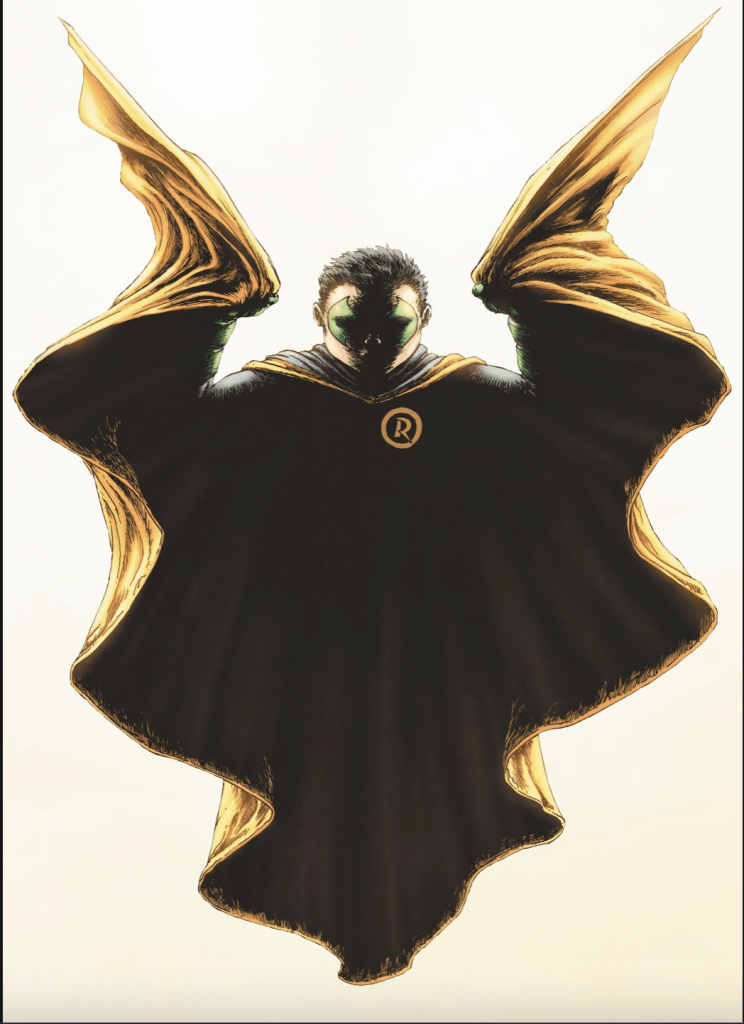 Before getting to the reception this news met, I want to take a second to point out how stupid an idea for an event this was. Outside of Batman Incorporated, Batman was starring in three titles at the time: Batman, Batman & Robin, and Detective Comics. By making Batman's mourning process a line-wide event, DC editorial forced Scott Snyder, Peter Tomasi, and John Layman to compete for space as they wrote variations on the same story, desperately trying not to have their contribution rendered obsolete. This had the further effect of forcing Morrison into competition with all three writers, as their attempt to finish their own story became one of four requiem issues starring Bruce. How'd this work out? Peter Tomasi took the uncharacteristic risk of employing a formalist trick, writing a silent issue depicting Bruce's grief. This was met with critical acclaim, and instantly erased anyone's interest in Batman or Detective Comics #18, as well as blunting the attention given to Batman Incorporated #9.
If this event was going to have any success, it would be in titles like Nightwing or Batgirl, whose writers didn't have to share their leads with anyone. Unfortunately, not a single one of these Requiem issues was remotely memorable. All the event served to accomplish was to instantly render the story Morrison was telling in Batman Incorporated obsolete. Damian's death wasn't the climax of their story; instead, it was the impactful capstone of the second act. However, by instituting a line-wide event playing out the repercussions of Damain's death, DC carelessly altered Batman Incorporated from a story in which Damian died into a story about Damian's death. This meant that after #8 was released, the story's primary function — the depiction of Damian's death — was over; its purpose had been served. With this in mind, how was any reader supposed to care about the particulars of how Batman managed to beat Talia? In one fell swoop, the final third of Morrison's story was made utterly pointless.
Support For Comic Book Herald:
Comic Book Herald is reader-supported. When you buy through links on our site, we may earn a qualifying affiliate commission.
Comic Book Herald's reading orders and guides are also made possible by reader support on Patreon, and generous reader donations.
Any size contribution will help keep CBH alive and full of new comics guides and content. Support CBH on Patreon for exclusive rewards, or Donate here! Thank you for reading!
The reaction was immediate and violently negative, because it was a terrible idea. To state the obvious, it was insanely frustrating for anyone who'd been enjoying reading Batman Incorporated to have what was evidently the most impactful moment of the series spoiled for them. However, it's worth highlighting exactly how stupid this move was. The New York Times is a daily publication. A new edition of the New York Times comes out every day. Which is to say, there is literally not a single goddamn reason why this story couldn't have been published the same day as #8, or even just a single day later! (As you'd expect, DC didn't learn a single lesson from this, pulling the exact same stunt five years later with Batman (Vol. 3) #50 to the predictable consternation of the title's writer, Tom King.)
Of course, the blame for this decision might lie in part with the New York Times (and, in fact, it almost certainly does), but in the context of Morrison's often-contentious relationship with DC, this instantly struck readers as the equivalent of DC spitting in Morrison's face. To give a brief run-down, Dan DiDio — DC's co-publisher with Jim Lee — had notoriously walked through the offices of DC talking about how much he hated 52, a critically-acclaimed weekly series co-written by Grant Morrison, which among many other threads helped to set up Morrison's Batman run. (Indeed, it's somewhat surprising that DiDio did this considering one of the four writers was his golden boy, sex pest and man-with-a-creepy-obsession-about-Cyborg's- genetalia Geoff Johns). A couple of years later, he lauded the notoriously-terrible series Countdown to Final Crisis as the right way of doing a weekly series, whose many sins included acting as a laughably awful introduction to Grant Morrison's Final Crisis, the series it was ostensibly acting as a lead-in to, up to and including actively contradicting events depicted in its first issue. Final Crisis met with a shaky reception amongst comics fans, in large part due to editorial mismanagement, and DiDio was making jokes about how bad it was mere days after the publication of its last issue. In the wake of these events, readers took the New York Times story as yet another instance of DC's higher-ups showing Morrison the bird.
All of this left a sharp, sour taste in the mouths of readers as they read #8, all the more of a shame considering that it's a very good comic. We open the issue from Damian's perspective as he flies from Wayne Manor to Gotham, slamming through the hordes of feral children attacking Nightwing and Commissioner Gordon, before beelining for Wayne Tower. On the roof, Batman struggles to escape the safe as Talia's taunts play over a broadcast system, whilst Red Robin rescues Ellie from the Leviathan agent only to be pinned down by cover fire from a squadron of Leviathan troops. Damian breaks through a second-floor window and engages with the squadron while the Leviathan-indoctrinated children descend on him, eventually finding himself taking cover alongside Nightwing. This leads to a beautiful moment of friendship between the two, wherein Damian tells Dick that "We were the best. / No matter what anyone thinks," a wonderful reaffirmation of how well they worked as a pair (as well as an extra-diegetic bit of commentary from Morrison, who's stated on multiple occasions that they would have been happy writing them as Batman & Robin for years if editorial mandate hadn't forced Bruce's resurrection just over a year after his 'death' in Final Crisis). They begin to mow through Leviathan's forces in what looks to be shaping up to be a triumphant victory… until the Heretic enters the lobby.
Morrison didn't write #8 intending for the readers to know the ending, so the moment is underplayed. Had a reader gone into the issue blind, the first few pages of the fight with the Heretic would have scanned as an unexpected escalation, as he knocks Nightwing out with a single blow before engaging in one-on-one combat with Damian, while Leviathan troops fired bullets and crossbow bolts into Damian. Readers would have been horrified as the fight steadily spiralled out of control, culminating in a gut-punch as the Heretic impaled Damian on his sword. It's a fight that takes full advantage of Burnham's strengths as an artist; readers expect him to render the violence with a sense of exaggeration, so as they watch as Damian is wounded further and further, it creates a pregnant frisson between their unconscious belief that Burnham is probably inflating the violence and their conscious understanding that Damian is being dealt wounds that he shouldn't be able to recover from. However, since readers knew the outcome of the fight going in, this sense of escalation is entirely lost; all the points at which the brutality of the fight is ramped up lose their individual impacts, becoming an undifferentiated torrent of violence. It's well-done, but much of the beat-by-beat power of the moment is lost, subordinated to the grim inevitability of events.
In the context of Morrison's story, Damian's death is an unexpected and deeply moving twist, the tragic consequence of Bruce's arrogant belief that he could set up an organization that could vanquish any foe with ease, as well as his lack of faith in his son's heroism. In DC's eager rush to capitalize on the sales opportunities of a gaudily publicized event, however, they altered the issue's context so dramatically that readers' attention was drawn away from the thematic resonances the moment had for the series as a whole: the moment was powerful, but only noteworthy as the end of the road for Damian Wayne. For all anyone who was reading it at the time cared, this was the end of the story — the actual resolution of events was surplus to requirements.
Who Even Cares Anymore, Jesus Christ
One of the reasons the amount of plot summary I've provided for each issue has been radically inconsistent is that I've tried to reconstruct what would have stood out to readers at the time. Because the shadow of #8 (and to lesser extent #13, for reasons we'll get into) looms so large over the series, in hindsight it's hard to remember what it was like reading this series on a month-to-month basis. For reasons I've explained above, everything that happened in Batman Incorporated after Damian's death felt meaningless after the hubbub of newspaper stories and the Requiem event. Therefore, instead of explaining what happens in Batman Incorporated #9, #10, and #12 (#11 was a mediocre fill-in starring the Batman of Japan, written by Burnham and illustrated by Jorge Lucas, meant to give Burnham the time to complete the art on the final two issues), I'm going to list a series of plot points that readers knew wouldn't have any ramifications on any of the other Bat-titles (which now all took place after the end of Morrison's story), and were thus rendered frustratingly pointless:
Batman blames Alfred for Damian's death and in a cool fury sends him away
Batman is labelled an outlaw by the GCPD, who are under orders to hunt him down and arrest him
The Bat-Signal is destroyed by police
A warrant goes out for Bruce Wayne's arrest, as the founder of Batman Incorporated
Leviathan bring Gotham to a halt, having contaminated the entire city's gas supply
Wayne Tower is destroyed in a massive explosion
Along the way, the Heretic is revealed to be a bastardized clone of Damian with the face of a three-year-old before being butchered by Talia for his failures, but it's not like anyone was really invested in the mystery of "who was the Heretic?" anyway. The issue ends with Batman Incorporated, in a coordinated effort with Spyral, working to undo Leviathan's requisite Gotham-destroying Macguffin, while Batman prepares for his final confrontation with Talia in the Batcave.
(Now seems like the best time to mention one last bit of salt that DC rubbed in the wound: Damian was resurrected less than two years after he died! Robin Rises: Alpha #1, the finale of a five-month storyline in Batman & Robin wherein Bruce undertakes a quest to bring Damian back to life, came out on December 17th, 2014, 22 months after Batman Incorporated (Vol. 2) #8 was released. Which brings us back to a question I asked ~6,000 words ago — why the hell was this released in-continuity? Not only did that decision curtail the cast Morrison could use, as well as their ability to reference Batman's history, but it didn't even result in lasting changes to the New 52 status quo??? If DC didn't want Damian dead, they could have just… not brought the story in which he died into continuity. It's a situation that would have made literally everyone happier. But, I guess that wouldn't have warranted New York Times column space, so screw trying to make sensible storytelling decisions.)
By this point, readers were relieved to be approaching the series' end. It felt like the series was at long last being put out of its misery. However, now that the end had finally arrived, interest piqued once more. This wasn't just the finale of a mistreated Batman story arc, after all; this was the final issue of Grant Morrison's seven-year Bat-epic, the longest sustained run the character had ever had up to that point peppered with legendary arcs from Batman & Son to R.I.P., Batman Reborn to Batman & Robin Must Die!. For better or for worse, this issue was going to be remembered. So, what did Morrison offer up?
Oh, Morrison's Pissed. Really Pissed.
The cover was the first clue. A close-up of Batman's chest, but contained within the Bat-symbol was the image of Batman leaping angrily toward the viewer, his cape filling in the symbol's outline, and his mask completing the ears. And on his chest, the same image, burrowing down and further down still, a never-ending loop, one final iteration of the ouroboros motif pervasive in Morrison's run.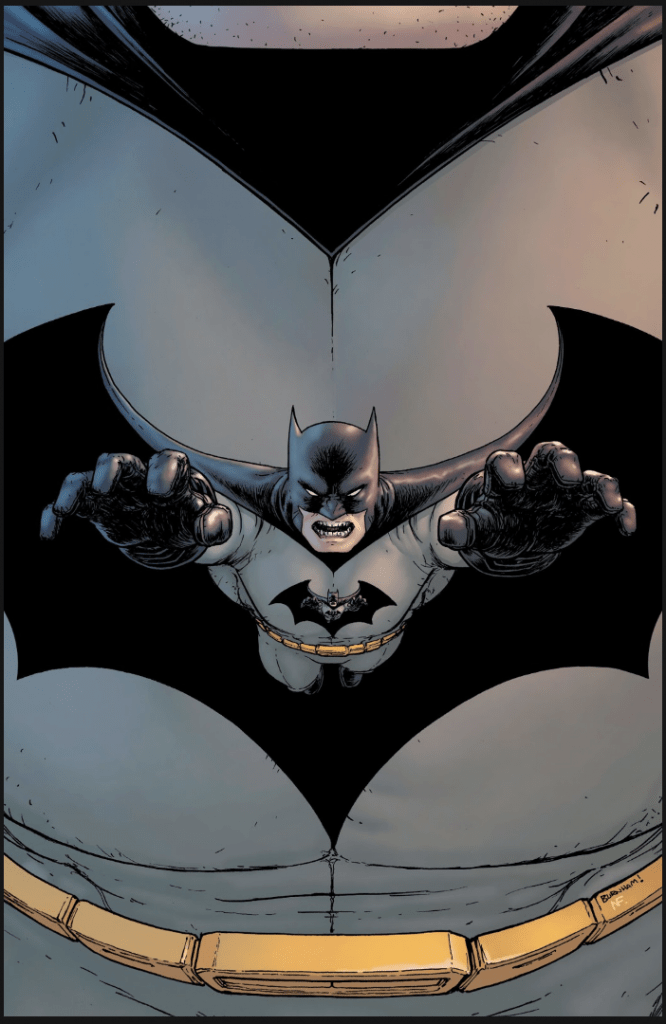 The issue begins with Commissioner Gordon's narration as we finally catch up to the flash-forward in #1, as he prepares to interrogate Bruce Wayne about his role in the Leviathan incident. Bruce gives a sanitized explanation of his role in events, before flashing back to his final duel with Talia.
Talia has adorned herself in a skintight red bodysuit and a Bat-themed mask & cape reminiscent of Thomas Wayne's Bat-costume from the '50s, last seen as Doctor Hurt's super villain getup. It's clear that this is a parody of Batman; in Talia's own words, "A flamboyant enemy worthy of Batman." She throws Batman a poisoned sword, and they begin to duel.
Throughout the issue, Talia treats the entire narrative foundation of Batman stories with complete contempt, airing out a fairly thorough critique during her fight with Bruce. It's worth quoting her at length, because the feeling that Morrison was using her as a mouthpiece was inescapable: "It was over for Damian when you dragged him into your childish game of masks, Halloween costumes, and clues." "Look, I know you like the rules to be cartoonish and the stakes to be clear." "You chose to make war. / I gave you an unbeatable villain. / I did this all for you, in my spare time." "You, with your Jokers and Riddlers, your evil doctors. / All those grotesque mental patients you choose to "match wits" with. / You'll never rise above them." "You'll play in the mud for the rest of your life." It's an utterly scathing assessment of the underpinnings of every Bat-story.
Of course, Talia's evil scheme to take over the world is beaten, but in such a perfunctory manner that the reader barely notices it happened (indeed, I'm not sure it was entirely clear to anyone that it was a scheme to take over the world, not just Gotham, until Wingman points out it failed). However, what was noticeable is that Batman loses his duel to Talia, poisoned by her blade. He only survives because Wingman tricks Talia into handing the antidote over in exchange for a useless Macguffin switch. And how does he finally beat Talia?
Oh, wait, he doesn't. Instead, Kathy Kane — the original Batwoman from the 1950s, who's revealed to be the current head of Spyral, and someone whose existence is utterly irreconcilable with New 52 continuity — shoots her in the head, revealing that Spyral had been manipulating events from the beginning to maneuver Talia (an internationally-recognized super-criminal, far beyond the petty domestic disputes of Batman's typical purview) into a trap. Before she leaves, Kathy patronizingly chastens Bruce, advising him to "Stick to what you do best." It's a perfect metaphor for Batman's limitations as a corporately-owned character: a refugee from a thoughtlessly-erased timeline appears out of nowhere to resolve the plot in a way Batman is incapable of doing while remaining recognizable as a piece of billion-dollar IP (just look at the outrage Batman v. Superman garnered when Batfleck was depicted killing goons), reminding him of how small his existence is, and how limited the actions permitted to him are.
The interrogation ends as a mystery woman (which is to say, Kathy) fronts Bruce's bail as the mayor's office ends the Leviathan investigation. Alfred drives Bruce back to Wayne Manor, where Damian's and Talia's graves have been dug up. This is presumably the work of Ra's al Ghul, who is revealed to be making plans to wage war once again with Batman in the epilogue. However, the true ending of the issue, and thus Morrison's epic, is a montage narrated by Commissioner Gordon.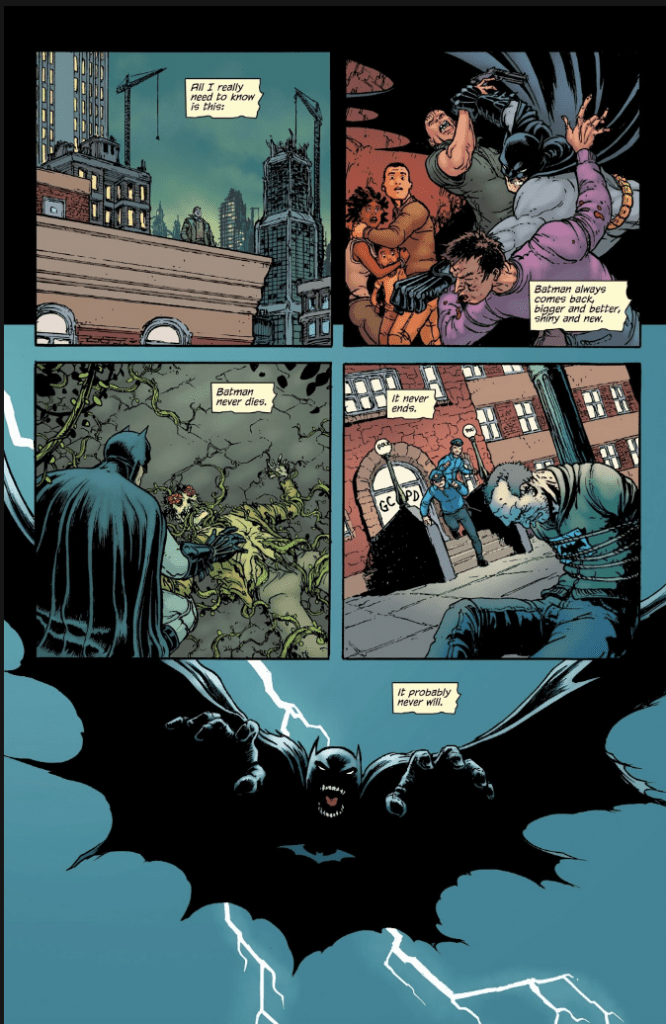 It's a staggeringly bleak ending for the run, especially coming from the writer whose work was the basis for the 'Bat-god' meme. The foundation of Morrison's project was looking at Batman as a man worthy of working alongside the Justice League, capable of beating any foe and triumphing over any adversity. And yet, for their final issue, they tear into the idea of Batman with genuine vigor and vitriol, mocking his neverending battle as childish and self-destructive, an embodiment of impotent arrested development.
This is a slightly shallow read of Batman Incorporated (Vol. 2) #13, I'll admit, but it's the read that literally every reader made at the time. In the wake of DC's disrespect toward their work, this felt like Morrison unloading every bit of pent-up anger and frustration from literal decades of disregard for them as a creator, a magnificent act of spite wherein they poisoned the well of every future Batman story on their way out. It was almost admirable in the sheer uncompromising loathing radiating off the page for the business apparatus that routinely neutered their stories. However, it wasn't much of a cathartic read; instead, it was just depressing to see Morrison's love for the character appear to have been sapped away by their mistreatment at the hands of DC.
And with that, the long and troubled saga of Batman Incorporated (Vol. 2)
was complete.
Final Thoughts
As I said at the beginning of this piece, the final chapter of Morrison's run is legitimately excellent. When divorced from its initial publication context, it's exciting, thoughtful, and dramatically fulfilling. Morrison's epic was a heady kaleidoscope of dense symbolism, multifarious thematic preoccupations, and definitive character exploration, and when read as a whole, it makes up the greatest story ever told about the character of Batman. However, as a comic published between July 2012 and September 2013, it was a flaming mess. Plagued from the beginning by confusion regarding its status within the canon, it was only beginning to find its feet when DC irrevocably kneecapped it by strip-mining its most impactful story beat to form the basis of a tacky line-wide crossover. Coupled with a venomous, antagonistic finale, the series was a profound disappointment.
The ways DC failed Batman Incorporated (Vol. 2) are perfectly characteristic of the failures in their handling of the entire New 52 initiative. Instead of putting any thought into what parts of the previous continuity they wanted to keep and what they wanted to discard, they mandated haphazard, arbitrary changes to the status quo and left individual editors & writers to figure out what they could use. Despite the stated goal of the initiative being to make the DC Universe less confusing, they allowed internal contradictions to run rife throughout their publishing line. They took every opportunity they could get to garner cheap publicity at the expense of the creative integrity of the work. And, finally, they were willing to undo the effects of story arcs on the basis of an editorial whim, as soon as they felt they'd reaped the rewards of those arcs. All of these impulses converged on Batman Incorporated, but they were pervasive throughout the entirety of the New 52, which is why, for all the good ideas and good stories told from 2011 to 2016, the initiative is remembered as an embarrassing failure.