There is nothing worse than feeling like you're not in control of your own life. Hell, there's an entire pop psychology industry dedicated to teaching us how to retake our agency when we feel ourselves at the whim of external forces. We make plans, we self-analyze, we set routines for ourselves, all in an effort to feel like we have a say in the paths our lives take.
These attempts at control can of course come in many forms, impacting our lives in big or small ways. Take me and my comics consumption, for instance. One way I like to exert a modicum of control on this small sector of my life is to wait until a series has been fully published before I start reading it. This is not to say I don't enjoy dropping into a good ongoing book, but even then, I like to hold off until a creator's run or a major arc is done. I tend to be a completionist, which means I find it a little overwhelming to start something when there's no resolution in sight. For me, it's more manageable to commit to a book once I know its entire story has been told. It's not always the most fun approach – I deal with a lot of FOMO while a highly-regarded work is still ongoing, which leads to delayed gratification while I wait for said series or run to wrap up – but I find myself doing it again and again.
But I broke my "rule" last year when I reviewed the first collected volume of James Tynion IV, Álvaro Martinez Bueno, and Jordie Bellaire's masterful horror series The Nice House on the Lake for this very website. But knowing Tynion and company were set to wrap the whole thing up after twelve issues, I told myself I'd read the first half, then wait for the conclusion to come out before reading the rest. Well, I tore through the first six issues in about an hour, and have thought about the series frequently ever since.
And now The Nice House on the Lake #12 is finally out, and despite my best efforts, I've come to see that I haven't been in control of this experience for a second. Much like the group of hand-picked survivors at the center of this story, I have only been a party to selectively revealed information and half-truths. But unlike them, I could not be more thrilled by the structure the architect of this story has created and where it leaves us at the end. Some spoilers to follow!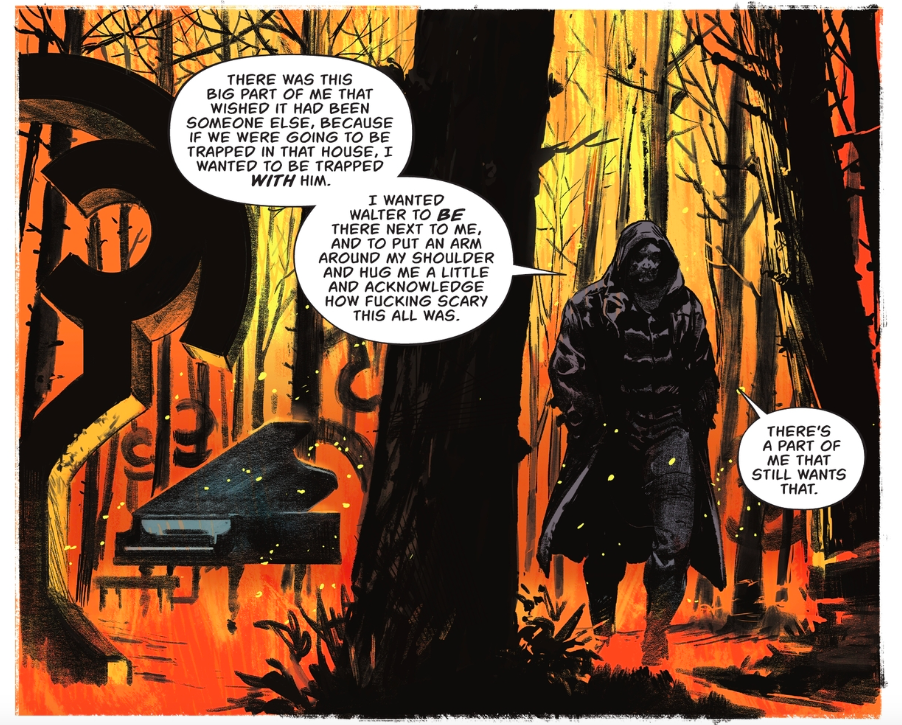 The first six issues of The Nice House on the Lake
Support For Comic Book Herald:
Comic Book Herald is reader-supported. When you buy through links on our site, we may earn a qualifying affiliate commission.
Comic Book Herald's reading orders and guides are also made possible by reader support on Patreon, and generous reader donations.
Any size contribution will help keep CBH alive and full of new comics guides and content. Support CBH on Patreon for exclusive rewards, or Donate here! Thank you for reading!
are full of major discoveries about the situation the central group of friends/acquaintances find themselves in and their friend turned other-dimensional captor Walter. The fate of the rest of humanity and the rules of the titular house are revealed in often shocking fashion, with the tension continuing to rise as these survivors learn more of the truth and that they may in fact be able to fight back. But as the group is about to unite against Walter, issue six ends with a stunning reset that demonstrates just how little power they actually have. Walter takes complete control, wiping his friends' memories of the apocalypse and his role in it and inserting himself into the group as just another innocent captive.
After my self-imposed hiatus from the book, I expected the second half of the series to be a steady escalation, an ever-intensifying ramp up to the inevitable apocalyptic conclusion. But instead, Tynion slows things way, way down and takes the time to really explore the new group dynamic created by Walter's actions. During these issues, we get a much deeper understanding of Walter and his motivations, both through his interactions with his friends (which we're seeing for pretty much the first time in the present day since the first issue) and a Silence of the Lambs-style dialogue between him and high school friend Norah, who Walter has hidden from the rest of the survivors and isolated in what is effectively a pocket dimension where she can still observe the goings-on but have no impact.
Centering Walter in these various ways adds a depth to the story that I didn't even realize had been missing. This renewed focus on Walter means we get more of his perspective, both psychologically and visually. Martinez Bueno gets moments to really let loose, deftly depicting the grotesque distortion of Walter's true form and the manifestation of his power in explosions of motion that punctuate the stillness of the surrounding panels. But even as we're given these examples of Walter's otherworldly power, we also come to see that he sincerely cares about his friends. He is desperate to keep them safe, as we learn that if this "cell" of survivors does not adapt and thrive as a microcosm of human culture that can be studied, Walter's people will simply wipe them out like the rest of humanity. He tries repeatedly for a soft touch, subtly attempting to steer the group towards acceptance of their circumstances. But when that doesn't work, he's quick to force the issue with his vast power, rewriting reality in large and small ways – a new structure on the grounds to occupy the group's attention, a quick memory wipe to reset a conversation if someone asks one too many questions.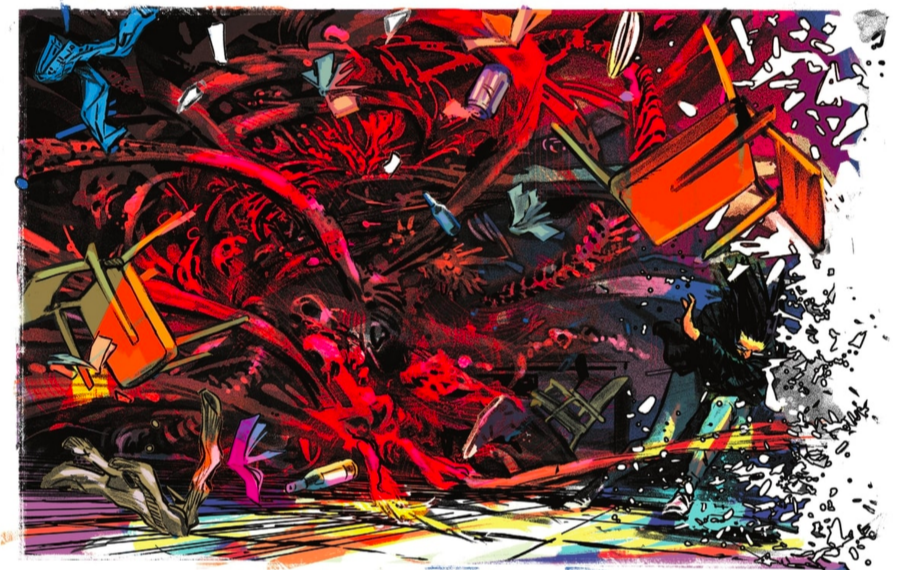 But Walter's friends continue to resist, because there might be a world to get back to; there might be a way out. But as Norah points out, the group will never move on if they think there's a world out there to return to, and if Walter restores everyone's memories, they will hate him for what his people have done, and further, they will never accept being pawns under his control. Norah, naturally, understands human nature better than Walter ever could. In conversation after conversation – revealed gradually over the course of the back half of the series – Norah reminds Walter that if his friends are ever going to survive in this place, they are going to have to believe they have made the choice to do so. And as long as Walter continues to either edit the group's memories or insist that they just play along while he is pulling the strings behind the scenes, they will continue to push against the limits of the system he has created. The only way to guarantee his plan's success, Norah tells him, is if Walter is no longer a factor.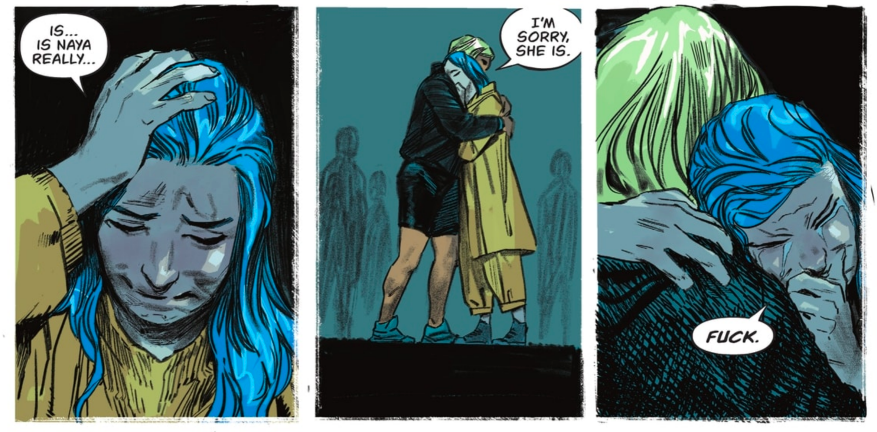 At a certain point towards the end of the series, the group's memories are fully restored. They all recall the horrors that have befallen the outside world, and critically, Norah remembers that she has been helping Walter with his plan for years. When Norah's memories flood back to her, she is faced with a choice: tell the group everything she knows and risk infighting or other destabilization that could lead to all of their destruction or guide them towards the solution she and Walter have secretly agreed upon – kill Walter and take control of the environment themselves. As only Walter and Norah know, however, Walter won't actually be dead. The group will only think they've killed him while he fades into the background. To Norah, the decision is easy – give the group the illusion of control so they have a chance to survive, even if it means deceiving them. And so the survivors take Walter off the board and are granted complete control over their fates.
Álvaro Martinez Bueno does some of his most impressive character work during these late moments of tribulation. His ability to depict intricate, layered facial expressions remains, in my opinion, unmatched. Shock, anguish, anger, and confusion are all somehow indelibly present on a characters' faces all at once, richly supplementing what is at times a minimal script in these pivotal moments. The conflicting emotions are palpable, the relief, sadness, and resignation front and center as the group realizes the gravity of the decision that will ensure their survival.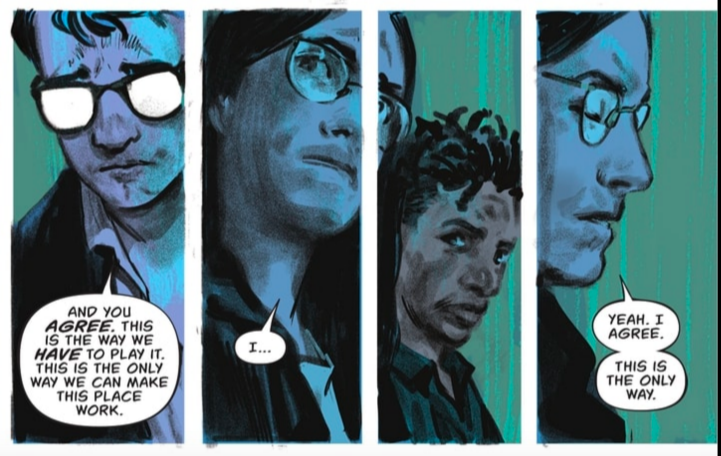 As the series progressed to its forecast conclusion, though, I began to get antsy. The pacing, I thought, was all wrong. Sure, OK, I'm glad Tynion took the time to really live with the new status quo, and the revelations about Norah and her role in this "rebellion" are crucial. But there's so much left to cover, isn't there? At the beginning of every issue is a reminder that the survivors' world is destined for disaster in some as-yet-unseen conflict, but by the final issue, the story was nowhere near reaching that future state. So as I kept reading and counting down the issues I had left until the series' conclusion, it became harder for me to see how even James Tynion IV would be able to bring things to a satisfying conclusion. There just wasn't enough time!
Or so we've been led to believe. Because as it turns out, and despite everything we think we know, the architect remains firmly in control. And in this, we the reader of The Nice House on the Lake have something very much in common with Norah and the other residents of the nice house on the lake.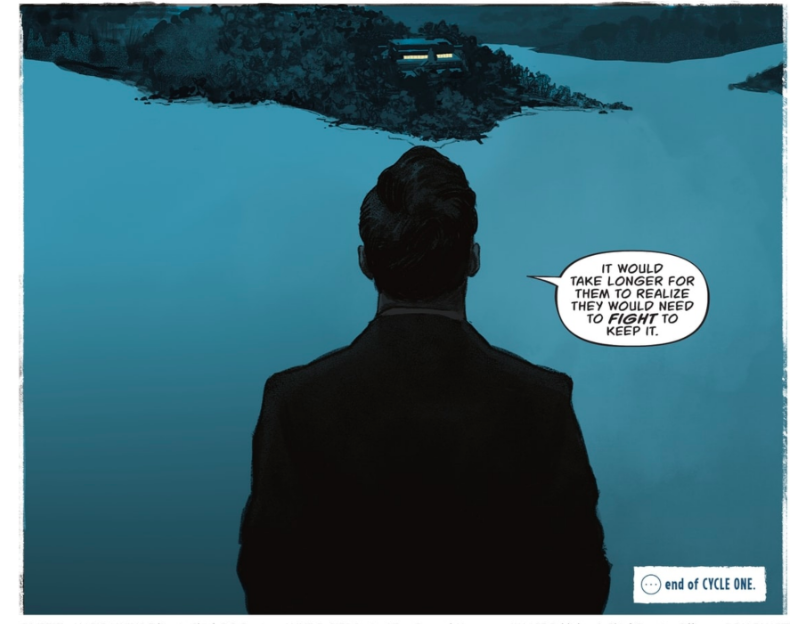 The final pages of issue #12 pull back from the action and we see Walter in his other-dimensional liminal space, speaking to us about his plan as he observes the house and his friends from a distance. And here, Walter reveals that he has not, in fact, told Norah everything. The group accepting their circumstances was never the end of their journey at the house on the lake; these were only, as Walter admits, "the early…easy days."
And then the final panel suggests that we are just getting started.
"end of CYCLE ONE."
My hand slapped my forehead. That's right – apparently, Walter's friends are not the only ones who have been deceived by the hand pulling the strings. It seems we may not have reached the end after all, and that my best laid plans to binge the rest of this story to its climax and wrap this wonderful experience up in a bow may have all been for naught. These first twelve issues have themselves been just the early days of The Nice House on the Lake, a limited series recounting the first cycle of this apocalypse with more to come.
Now I'll admit, I could be getting ahead of myself, as furious Googling has not revealed any confirmation whatsoever of plans for Cycle Two. But the prospect of more stories in this series is very exciting. Tynion and his collaborators have created something truly special that has really resonated with me thanks to a fascinating mystery populated with complicated, recognizable characters who may as well have been plucked straight out of contemporary 21st-century life. So while I'm now a little stressed by the impending wait for the next cycle of this impeccably constructed comic, I could not be happier to find myself at the whims of this particular creator.