Throughout his history, the Mandarin has risen to become not only Iron Man's true nemesis but a force to be reckoned with across the Marvel universe. He's been a criminal mastermind, an evil businessman, a powerful martial artist… many talents that have all been, at many points in time, focused solely on destroying the Armored Avenger. So much so that, decades after his creation by writer Stan Lee and artist Don Heck in 1964, he was retconned into having played a part in Tony Stark's origin story, tying the two enemies together for good.
The Mandarin is especially known for his superpowered rings (giving their name to the upcoming Shang-Chi and the Legend of the Ten Rings, in which the Mandarin will be the main antagonist), each one granting a different power from freezing rays to mind control or electricity. He obtained the Ten Rings from a crashed ship belonging to an alien dragon species. Through various retcons and flashbacks, a lot more has been revealed about the rings throughout the years (from their ability to link with the Mandarin's mind to the possibility that they might hold ancient souls). With the rings and the advanced science he stole from the alien ship, the Mandarin plots to conquer China and the entire world, which has put him at war with the Chinese army, Iron Man, other Marvel heroes, and even villains.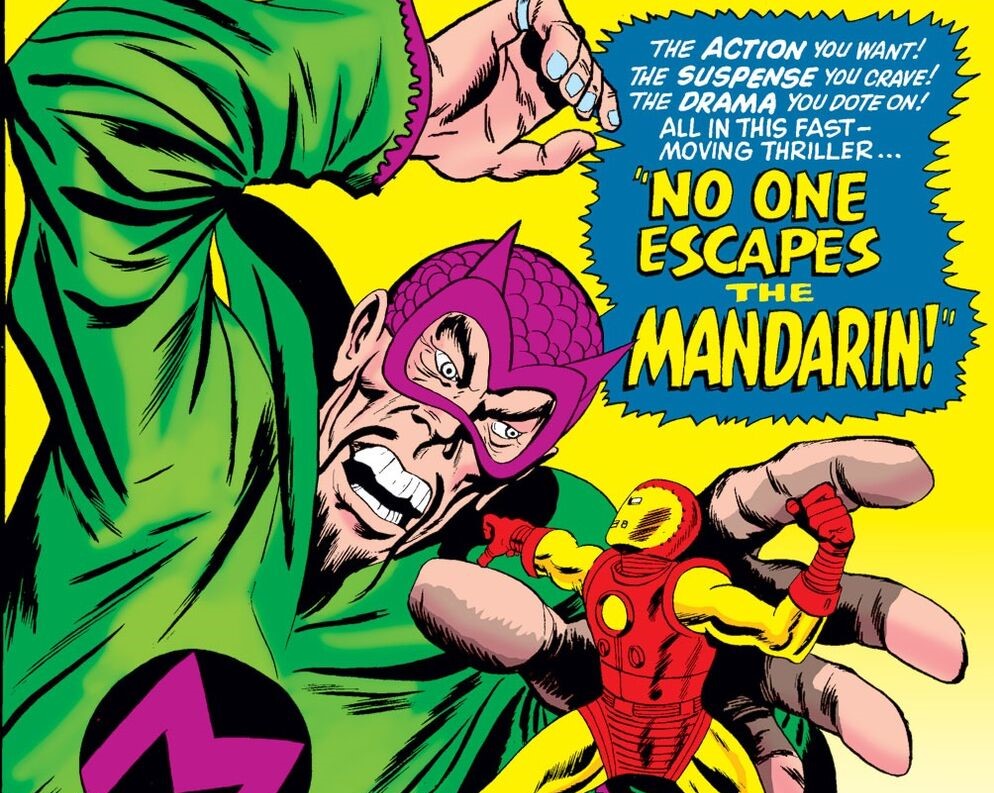 Big Trouble in Red China: From the Silver Age to the 80s
Iron Man Epic Collection: The Golden Avenger
Collects: Tales of Suspense #39-72
In his first appearance in Tales of Suspense #50, the Mandarin immediately vows to destroy Iron Man (although the two have never met before), a promise that is a bit hard to take seriously as the man who is making it is wearing a ridiculous pink mask and an oversized green bathrobe. In true 60s Stan Lee fashion, the Mandarin's debut is full of racist clichés, orientalism, and red scare hallmarks; even the villain's physical appearance is reminiscent of anti-Asian WWII propaganda.
Support For Comic Book Herald:
Comic Book Herald is reader-supported. When you buy through links on our site, we may earn a qualifying affiliate commission.
Comic Book Herald's reading orders and guides are also made possible by reader support on Patreon, and generous reader donations.
Any size contribution will help keep CBH alive and full of new comics guides and content. Support CBH on Patreon for exclusive rewards, or Donate here! Thank you for reading!
When the US army asks Iron Man to get information about the Mandarin, Tony Stark is all too happy to comply… and immediately gets into a fight with the supervillain's private guard before heading to his castle. There, the Mandarin shows off his technological power through various traps and weapons before confronting Iron Man directly with the power of his rings and karate. The Golden Avenger wins the fight by calculating how to turn his body so that Mandarin would strike it at the wrong angle (Karnak called, he wants his Inhuman powers back), leaving the criminal mastermind to plot his vengeance in darkness.
Later, during a plot to mess with Stark Industries missiles, the Mandarin captures Tony Stark and comes to blows with Iron Man for the second time. The villain gives his own take on his origin story in Issue #62: his father was a descendant of Genghis Khan and his mother a noble Englishwoman, and he was raised by his bitter aunt who taught him to hate the world. He grew up rich and was taught everything from science to the art of war. After his aunt died and their lands were taken away by the communist government, young Mandy traveled to a place called the Valley of Spirits, where he found the remains of a ship piloted by an alien dragon. This is where he found the ten rings, which were originally used as the ship's power source.
In Avengers #20, the Mandarin works with Swordsman to infiltrate the Avengers, but his ally betrays him and saves the heroes' lives.
Iron Man Epic Collection: By Force of Arms
Collects: Tales of Suspense #73-99
The Mandarin once again captures Tony Stark and unleashes an android creature named Ultimo on the Chinese army. Iron Man fights off Ultimo and escapes, leaving the Mandarin to think he'd killed Tony Stark. Later, our villain thinks Happy Hogan is actually Iron Man and captures him, but the real Iron Man comes to the rescue. In the battle that ensues, a missile strikes the Mandarin's castle and seemingly kills the supervillain. (It's revealed in Avengers Annual #1 that he actually teleported away and is now assembling a team of villains to attack the Avengers).
Incredible Hulk Epic Collection: The Leader Lives
Collects: Tales to Astonish #97-101, Incredible Hulk #102-117
In Incredible Hulk #107 and #108, the Mandarin tries to use the Hulk as his slave, but is stopped by Nick Fury. Later, in #114, he allies himself with the Sandman to once again fight the Jade Giant.
Collects: Iron Man #2-13
After attacking him with a Hulk robot, the Mandarin attempts to discredit Tony Stark with fake pictures that show him as a traitor. He also temporarily discovers Iron Man's secret identity but is soon tricked by Stark into thinking he was wrong.
In Captain America #125, the Mandarin captures Steve Rogers in Vietnam. Mandarin is working to keep the war going, using the chaos to take over the region, then the world.
Collects: Thor #146-152, Amazing Adventures #1-10, Avengers #95, Marvel Super-Heroes #15
The Mandarin faces the Inhumans in his quest for the powerful Eye of Yin in Amazing Adventures #3 and #4.
Collects: Iron Man #54-67
Under the name of Gene Khan, the Mandarin threatens to take over Tony Stark's factory and pushes his workers to go on a strike. A fight ensues, during which the villain's mind gets swapped with Unicorn's.
Collects: Iron Man #68-81
Trying to get his body back, the Mandarin uses the Japanese mutant Sunfire to power one of his machines. Iron Man comes to rescue him, and a three-way fight ensues between the heroes, Mandarin, and the Yellow Claw, causing the Mandarin's apparent death.
Collects: Iron Man #95-112
The Mandarin plots his revenge. His consciousness is now linked to his rings, allowing him to take over the body of a servant that tries to put them on.
Iron Man Epic Collection: Duel of Iron
Collects: Iron Man #178-195, Iron Man Annual #6-7
James Rhodes, the new Iron Man, faces off against the Mandarin. The battle goes poorly for Rhodes, who is forced to take his helmet off and is almost killed.
Iron Man Epic Collection: Return of the Ghost
Collects: Iron Man #233-244, Iron Man: Crash, Marvel Fanfare #22-23, #44
Now leading his own version of the Hand, the Mandarin challenges Tony Stark under the identity of Zhang Tong, a Hong Kong financial leader. The two get into a one-on-one fight, and Iron Man barely wins, even with the Mandarin only using half of his rings.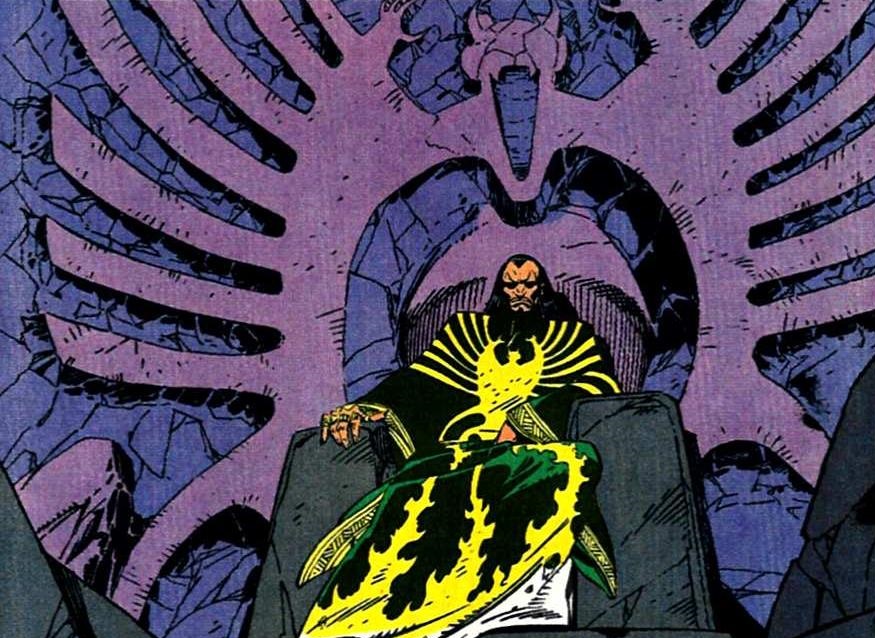 Here Be Dragons: From Acts of Vengeance to the Late 90s
Acts of Vengeance: Spider-Man & the X-Men
Collects: Amazing Spider-Man #326-329, Spectacular Spider-Man #158-160, Web of Spider-Man #59-61, #64-65, Wolverine #19-20, Alpha Flight #79-80, New Mutants #86, Uncanny X-Men #256-258
During the Acts of Vengeance storyline, the Mandarin is part of the group of supervillains assembled by Loki. Aside from fighting the Avengers in Avengers #311, he is mostly present as the reason why Psylocke's mind is transferred to the body of a Japanese assassin (attacking the X-Men under the name of Lady Mastermind) in the pages of Uncanny X-Men #256–258, in a plot involving Matsuo Tsurayaba and the Hand.
Collects: Iron Man #258-266
The Mandarin allies himself with a mysterious old man named Chen Hsu, who helps him realize that villain's mind is linked to his rings and that the loss of one of them fractured his memory. Together, they wake up and control the dragon Fin Fang Foom, using him to conquer a third of China, which forces the Chinese authorities to ask Iron Man for help.
In the uncollected issues #267, #268, and #269, it is revealed that the Mandarin was actually tied to Iron Man's origins, as the man who captured Tony Stark back then was under his orders.
Collects: Iron Man #270-275
James Rhodes and Tony Stark come to try and stop the Mandarin, but after a short battle, it is revealed that Chen Hsu is actually a dragon of the same race as Fin Fang Foom, intending to take over the world. Against ten dragons, the Iron Men have to team up with the Mandarin, who is badly injured and loses both his hands when Tony Stark uses his rings to destroy the dragons.
Iron Man/War Machine: Hands of the Mandarin
Collects: War Machine #8-10, Iron Man #310-312, Force Works #6-7, Marvel Comics Presents #169-172
In the Hands of the Mandarin event, Iron Man, War Machine, and Force Works team up to fight the Mandarin, who is more powerful than ever thanks to an artifact called the Heart of Darkness. The criminal mastermind is attempting to send China back into feudal times, and after a big battle in Hong Kong, he appears to be killed by Tony Stark's techno-organic virus.
Iron Man: Heroes Return – The Complete Collection Vol. 1
Collects: Iron Man #1-14, Captain America #8, Quicksilver #10, Avengers #7, Iron Man/Captain America Annual #1998, Fantastic Four #15
Now trying to take over Russia, the Mandarin builds a flying fortress called the Dragon of Heaven. After a fight with Iron Man, his ship explodes, and he appears to be destroyed with it.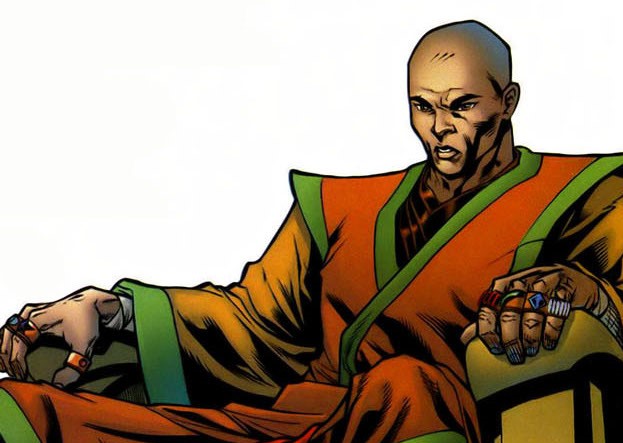 Temugin and the Legacy of the Mandarin
Iron Man by Mike Grell: The Complete Collection
Collects: Iron Man #50-69
The son of the Mandarin, named Temugin, was raised peacefully in a monastery. Now that his father is dead, he inherits his rings and is forced to take up his mantle. Although Temugin is much more a man of peace than his father, he still finds himself honor-bound to fight Iron Man. It's a fight the "new Mandarin" nearly wins before an explosion cuts the fight short.
Later, Tony Stark thinks Temugin is responsible for the bombing of an embassy. After a short fight, both realize that one of Temugin's servants, Po, was the one responsible. Tony and Temugin make peace, and Temugin decides to change his criminal empire into an organization for good (although he does appear briefly in Iron Man #89 as a much more evil version of himself).
Super-Villain Team-Up: MODOK's 11
Collects: Super-Villain Team-Up: MODOK's 11 #1-5
Temugin gets involved with MODOK's team of low-level supervillains and loses his right hand to the Puma.
Collects: Iron Man: Enter the Mandarin #1-6
In this retelling of Iron Man and the Mandarin's first encounter, Temugin is retconned into having been forced by his father to attack Tony Stark before the young monk's memory was erased.
Agents of Atlas: The Complete Collection Vol. 1
Collects: Agents of Atlas #1-6
Temugin joins Jimmy Woo's Atlas Foundation as Woo's second in command.
Agents of Atlas: The Complete Collection Vol. 2
Collects: Agents of Atlas #6-11
After a battle against the Jade Claw, Jimmy Woo gives Temugin control of the Asian domains of Atlas.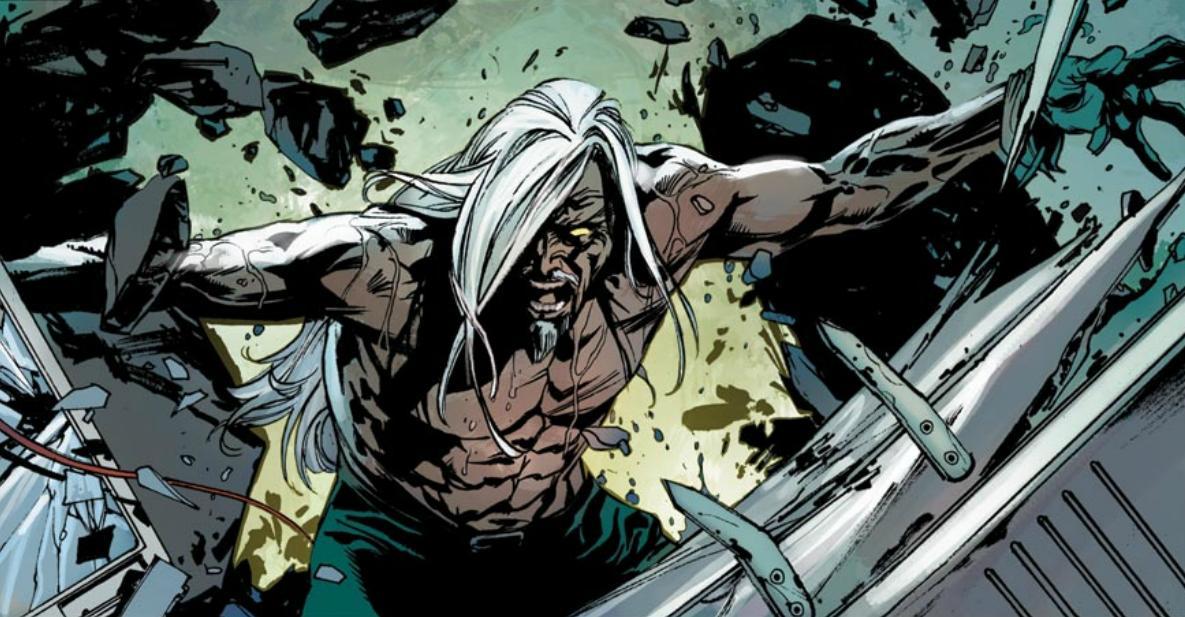 The Mandarin's New Clothes: From the 2000s to today
Iron Man: Director of S.H.I.E.L.D. – The Complete Collection
Collects: Iron Man: Director of S.H.I.E.L.D. #15-32, Annual #1
The original Mandarin is alive in a Chinese psychiatric facility, from which he escapes after his rings are burnt onto his spine. He takes on the persona of Tem Borjigin, CEO of Prometheus Gentech, and hires — and then manipulates  — Maya Hansen into giving him Extremis. "Tem Borjigin" makes his way to working with the U.S. Government before revealing that he intends to use Extremis to kill most of humanity (including himself) and leave a new race of superpowered people in its place. In the end, his plans are thwarted, and he appears to die once again, although his body disappears after the battle.
Invincible Iron Man Vol. 7: My Monsters
Collects: Invincible Iron Man #500-500.1, Annual #1
In Invincible Iron Man Annual #1, the Mandarin captures a film director and forces him to make a biopic about the Tyrannical Bathrobe. Through this raport, Mandarin reveals that he has been lying: the despot has no grand, noble heritage. The reality is far more deadly. Extemporaneously, Mandarin explains how he was raised in a brothel, killed his own mother, and stole the rings from the alien ship after killing its pilot. The director decides to film the truth and kill the myth of the Mandarin, and when the supervillain sees the final result, he has the director killed and destroys the theater.
Invincible Iron Man Vol. 9: Demon
Collects: Invincible Iron Man #510-515
The Mandarin is working with Ezekiel Stane, whom he broke out of prison in Invincible Iron Man #33. Together, they hire various villains from Iron Man's rogues gallery, using them to attack and discredit Tony Stark.
Invincible Iron Man Vol. 10: Long Way Down
Collects: Invincible Iron Man #516-520
With a hold on Zeke Stane's mind, the Mandarin forces Stane to build him giant robots. We see this mind control go further, as Mandarin bends Tony Stark's will until the hero joins his villainous cause.
Invincible Iron Man Vol. 11: The Future
Collects: Invincible Iron Man #521-527
Tony and Zeke are forced to build Titanomechs in Mandarin City, as the Mandarin now believes that his rings contain the essence of long-dead cosmic warriors that need new hosts. After an all-out battle with several Iron Man villains and various other superheroes, the Mandarin is killed by Ezekiel Stane.
Iron Man Vol. 4: Iron Metropolitan
Collects: Iron Man #18-22, #20.INH
The Mandarin is dead; long live the Mandarins. Now that their former master is gone, the ten rings start seeking new hosts, Green Lantern-style, tasking each with saving the world from Tony Stark.
Iron Man Vol. 5: Rings of the Mandarin
Collects: Iron Man #23-28
The Dark Elf Malekith gets his hands on a few of the rings, and the new Mandarins team up against Iron Man. With the help of his brother, Tony Stark has to wage war from Svartalfheim to Subterranea.
The Mandarin was last seen in 2018's The Punisher #1. Having somehow come back to life again, Mandarin allies himself with Baron Zemo only to be promptly killed by the Punisher in the middle of a UN General Assembly.