There's something innately compelling about the character of Daredevil. From his powers being the direct result of his disability to his superheroic hope often being weighed down by chronic depression, the internal contrast lived out through stories that tip back and forth between swashbuckling daring-do and grimy urban crime illustrate a flexibility that has kept the character dynamic for decades.
Daredevil is one of the most artistically consistent comics throughout all of Marvel. While the character has never reached the staggering global success of someone like Spider-Man, few other comics can boast the murderers' row of talent that has brought The Man Without Fear to life. Of course, the character has experienced some fallow periods over the years, such as the decade prior to Frank Miller's time on the title or the mid-90s, there have been so many great, long Daredevil runs over the years, each comprising a specific multi-year arc and also filled with many great smaller stories.
Related:
So for the sake of focus when trying to narrow down the best of the best, this list will exclude overarching entries like "Brian Michael Bendis' Daredevil," which tells a complex narrative over the span of dozens of issues, and instead opt for the specific short arcs or single issues contained within such long creator runs.
The following stories range from the harrowing to the hopeful, but together illustrate why Daredevil is the most compelling, most consistently successful character in Marvel Comics.
Support For Comic Book Herald:
Comic Book Herald is reader-supported. When you buy through links on our site, we may earn a qualifying affiliate commission.
Comic Book Herald's reading orders and guides are also made possible by reader support on Patreon, and generous reader donations.
Any size contribution will help keep CBH alive and full of new comics guides and content. Support CBH on Patreon for exclusive rewards, or Donate here! Thank you for reading!
There's no better way to get to the heart of a hero than to pit them against an opponent they have absolutely no chance of beating. And while this has been done several times over the decades with Daredevil, like the confrontation with The Hulk in Roger KcKenzie's "Blind Alley," the first comes in this early Stan Lee and Wally Wood tale that has The Man Without Fear fight a rampaging Namor. The premise is inherently silly, Namor gets goaded into causing a ruckus in New York and when Matt the lawyer can't stop him, Matt the superhero leaps into action to take him on solo. The sight of Daredevil, suited up in his red outfit for the first time ever, dragging himself after the powerful Namor illustrates the vulnerability of the character baked in from the start, which each subsequent writer has expanded on in different ways.
Talking about Jeph Loeb in 2020 is a tricky proposition at best following his prejudiced decrees behind the scenes of Netflix's "Daredevil," but there's no doubt that the artist duo of Loeb and Tim Sale created a run of iconic stories at both Marvel and DC. "Daredevil: Yellow" is definitely one of those, playing into the running theme of grief-stricken heroes looking back into the past seen throughout their "Colors" series. In "Yellow," it's Daredevil remembering when he and recently-deceased love interest Karen Page first fell in love, channeling the early days of Stan Lee and Bill Everett through a winsome, swooning lens. For its ability to put a more personal, bittersweet reflection on Matt Murdock's relationship with both his father and Karen, "Yellow" is a must read for anyone wanting to understand the original, lighter appeal of The Man Without Fear.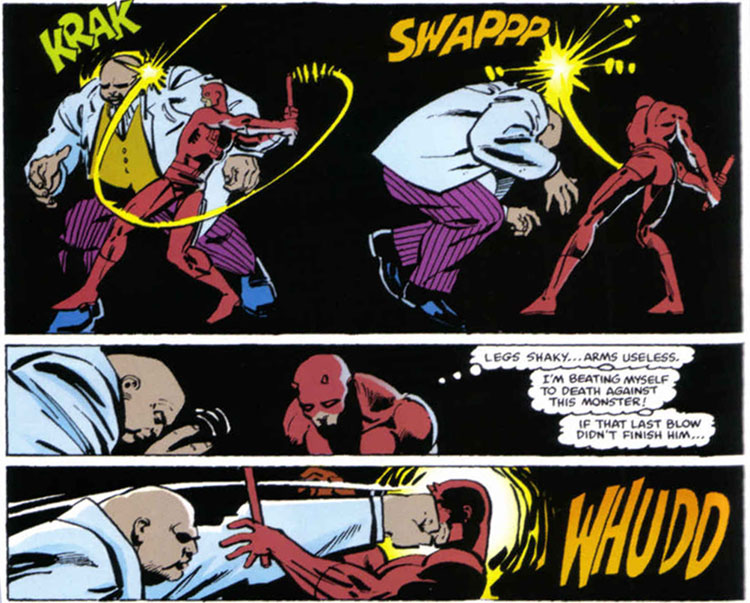 Frank Miller and Klaus Janson redefined Daredevil for the modern era with their early-80s run on the character. But even without the context of its artistic impact, the Miller-Janson stories are still a blast to read, often feeling more modern in ideas and pacing than many of their contemporaries. And a critical part of that feeling is their interweaving, stop/start approach to long-running plot threads, with "The Elektra Saga" being the most critical of them all. Even if you've never read it yourself, anyone with a passing interest in Daredevil in any form of media is likely aware of its major storybeats.
But "The Elektra Saga" is more than its seminal tragic moments. It's also a constantly engaging experience for its willingness to continually switch perspectives, tones, and genre blends. From the terse noir journalism of "Spiked" to the eye of madness propelling "Last Hand," "The Elektra Saga" remains compelling for its unpredictability and sense of doom hanging over everything. This ninja-noir tale of deadly romance still reverberates throughout Daredevil's history, but feels fresh because it is ultimately unreplicable thanks to its willingness to be equal parts bold superheroics and tragic crime drama.
Daredevil vs Bullseye is a battle that's been done by nearly every writer who's ever taken on Daredevil. But what if one of these men was paralyzed while the other made him an unwilling participant in a game of Russian Roulette? After everything that's come before, Miller's final issue in his initial Daredevil run is the true dark night of his hero's soul. But it also works as the transition to the next stage of Miller's career, with the writer/artist returning to pencilling duties after slowly giving collaborator Klaus Janson the majority of work. Miller's final thoughts on the possibly futile nature of heroism is a harbinger of the much darker, more cynical work the author would become known for later in his career, but as the coda to a brighter and more high concept run, Roulette plays as a great underbelly recontextualizing what's come before.
Typhoid Mary is easily the most well-remembered aspect of Ann Nocenti's criminally overlooked four-year run on Daredevil, but her split personality villain is the invention that kicked her story to new heights. And by creating a character who is the best and worst sides of Matt's relationship with women, Nocenti is both commenting on and using the tropes of the femme fatale. This is Nocenti's chance to have The Kingpin break Matt Murdock in a new way after "Born Again" and while this unfortunately undoes much of that story's hopeful ending, it also creates new ways for its hero to fall in both his personal and superhero life.
The Typhoid Mary story has no real ending, with Nocenti chooses to end this arc with the out and out humiliation and defeat of Matt Murdock and quickly transition to her absolutely bug nuts crossover with the X-Men's "Inferno" event. And the beauty of Nocenti's run on Daredevil is that it's basically an ongoing interpretation of one man falling down the stairs for a really long time. It just keeps going and when you think Matt might stop himself, he trips down another flight. He does, however, fight a demonic vacuum cleaner and a demon train along the way. So it's got that going for it.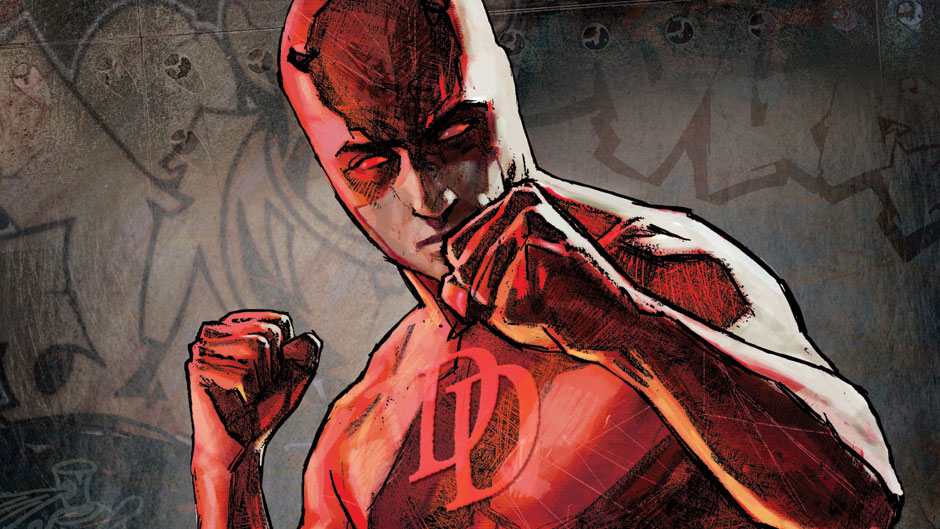 What's a Daredevil run without The Kingpin? In Brian Michael Bendis and Alex Maleev's Marvel Knights run, the absence of The Kingpin is the motivating factor for this tale of desperation, depression, and increasingly bad choices. But it's the threat of The Kingpin's return that is the specific focus on Bendis' five-issue Hardcore arc, as Wilson Fisk strategically begins to take out the competition that took over after his near-assassination.
"Hardcore" is part crime drama, part superhero slugfest, as Bendis brings in Typhoid Mary and Bullseye to present increasingly dire physical threats to Matt and his blind girlfriend Mila Donovan. But this is the tale of two men wrestling for control of Hell's Kitchen, with the 50th issue playing host to Bendis' nastiest throwdown and Matt declaring himself as the new Kingpin. It's a shocking new status quo, but an almost inevitable proclamation for a Daredevil pushed toward the breaking point by a writer who makes every past loss weigh heavy on his hero's psyche.
When Bendis ended his time on Daredevil, he left Matt and follow-up writer Ed Brubaker in a hell of a situation. Matt Murdock was in prison with his identity exposed and surrounded by supervillains itching for revenge. While Daredevil has once again found himself behind bars recently, this was a brand new scenario for the hero at the time of publication. And with it came new dangers and new emotional lows for Murdock. Throw in a mysterious new hero behind the mask and the arrival of The Punisher, and "Devil in Cell Block D" becomes a thrilling, gritty showcase for the noir-minded Brubaker's approach to Daredevil. This may be the high point of Brubaker's time on the title, but this scenario remains a flashpoint for modern Daredevil stories.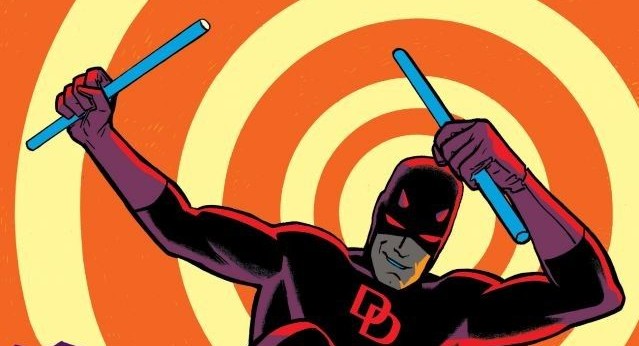 Mark Waid's first volume of Daredevil is largely a pinballing adventure moving through swashbuckling action and colorful villains who slowly push the cheerful, self-denying Man Without Fear toward his limits. As the issues stack up, we begin to realize that someone is targeting our hero and with the arrival of Ikari (a villain whose introduction alone accounts for one of the great modern Daredevil stories), we soon learn that it's none other than Bullseye who wants Matt Murdock's head. Another Daredevil vs Bullseye story? Yes, but one unlike the rest because of how our hero must resist the darkness and danger constantly brought into his life by his worst enemy.
While Waid's run would continue for a lot longer in this volume and another, this is the climax of his initial pilot thread. It's also the arc that locked in Chris Samnee as the permanent artistic partner going forward and Samnee's bright and bombastic art mixes and matches kinetic cartooning with detailed emotions. Perfect for a Daredevil story whose exterior cheer is a conscious decision of its hero.
Mark Waid's Daredevil is the story of Matt Murdock in denial of his chronic depression and constantly fighting to stay ahead of it. But "The Purple Children" is where it all catches up with him. While Waid's DD has a reputation for being a bright and cheerful respite from the darkness of past and future runs, there's a serious discussion of the weight of depression that bubbles throughout Waid's two volumes. These all come to a boiling point when Matt is forced to experience the trauma of The Purple Man's telepathic children, sending him spiraling into deep, debilitating depression. But it's the tangling with true darkness that makes Matt's triumph so much more inspiring in contrast, making a spectacular knockout punch to the villain mean far more than a great looking panel. And it's a final display of vulnerability that makes this short arc the encapsulation of why Waid and Samnee's time on The Man Without Fear was so special.
Chip Zdarsky's currently ongoing Daredevil run is all about Matt Murdock atoning for his sins both legally and metaphorically after accidentally killing a thief in this series' very first issue. And while the story has explored that through both intimate conversations and explosive action, the eight-part "Through Hell" arc may be the best encapsulation of what Zdarsky is trying to do so far. And for a story that sees Matt refuse to be Daredevil, there's plenty of Daredevil in here, from the citizens of Hell's Kitchen taking on the mantle to Matt trying to be a different kind of hero. With the addition of Wilson Fisk's attempt to go straight and the entrance of the Stromwyn siblings as arbiters of institutional corruption, you can see the larger ideas of justice on the mega-scale counterbalancing so much of Zdarsky's focus on the difference an individual makes. Add in rising superstar artists Marco Checchetto and Jorge Fornes and one of the most touching, pivotal moments in the inner life of Matt Murdock and you have a modern story that stands toe to toe with time-tested greats.
This is it. Not only the best Daredevil story ever written, but my own personal favorite comic book story of all time. The pairing of the returning Frank Miller and his collaborator David Mazzucchelli, who would go on to make "Batman: Year One" together, create a story of Matt Murdock being systematically broken down both mentally and physically by The Kingpin, who has learned his secret identity after former girlfriend Karen Page sells it for drugs. That's a dark way to start out any superhero comic, but "Born Again" is, in essence, a story of hope and forgiveness, with Miller using the Stations of the Cross as the lens to frame Matt's fall. And with the fall must come spiritual rebirth.
Once Matt has his near-death experience and is nursed back to health by his long-lost mother, our hero visits his followers, like Ben Urich and Foggy Nelson, as an almost Christ-like being, coming and going at will and destroying the people who would try to kill them. While "Born Again" climaxes in a two-issue physical confrontation with Nuke, which also illustrates a top-of-his-game Miller's ability to encapsulate The Avengers and Captain America in only a handful of pages, the true climax of this story is an emotional one. It's found in #231 and is a silent splash page of forgiveness between Matt and Karen and is the essence of what this story means. That true love is not lived out through heroic fights or beating the bad guys, but in loving and forgiving the people in our lives despite the hurt they may have caused us. The nearly 40 years of Daredevil comics that have come in the time since are both informed by and live in the shadow of "Born Again."
Daredevil is all the better for it.
Honorable Mentions:
Fog, The Kingpin Must Die, Last Rites, Love and War, Fall From Grace, Guardian Devil, Decalogue, Return of the King, End of Days, Daredevil (2011) #7, Inferno