The Russian mutant supervillain Omega Red is a remarkably distilled embodiment of the X-Men's transition out of the 1980's and into the 1990's. Codename Omega Red, real-name Arkady Rossovich is Russia's equivalent of Wolverine, Weapon X, but from the foundation of a serial killer.
Debuting in X-Men #4, in a story by John Byrne and Jim Lee, Omega Red is the very first supervillain the X-Men face after Chris Claremont's final written issue in 1991 after an approximate 16 year tenure as lead writer for all things mutant. Red looks like Ivan Drago had a three-way baby with Doctor Octopus and the spirit animal powering all of 90's Image Comics. He's also a wonderfully over-the-top vampire super-soldier with the mutant ability to secret death pheromones.
Related Reading Orders:
Below you'll find a guide to the essential Omega Red comics throughout Marvel history, with a heaping dose of fights against Wolverine, the X-Men, and eventually Deadpool! Snap on your red headband, take a swig of carbonadium, and enjoy the comics!
Support For Comic Book Herald:
Comic Book Herald is reader-supported. When you buy through links on our site, we may earn a qualifying affiliate commission.
Comic Book Herald's reading orders and guides are also made possible by reader support on Patreon, and generous reader donations.
Any size contribution will help keep CBH alive and full of new comics guides and content. Support CBH on Patreon for exclusive rewards, or Donate here! Thank you for reading!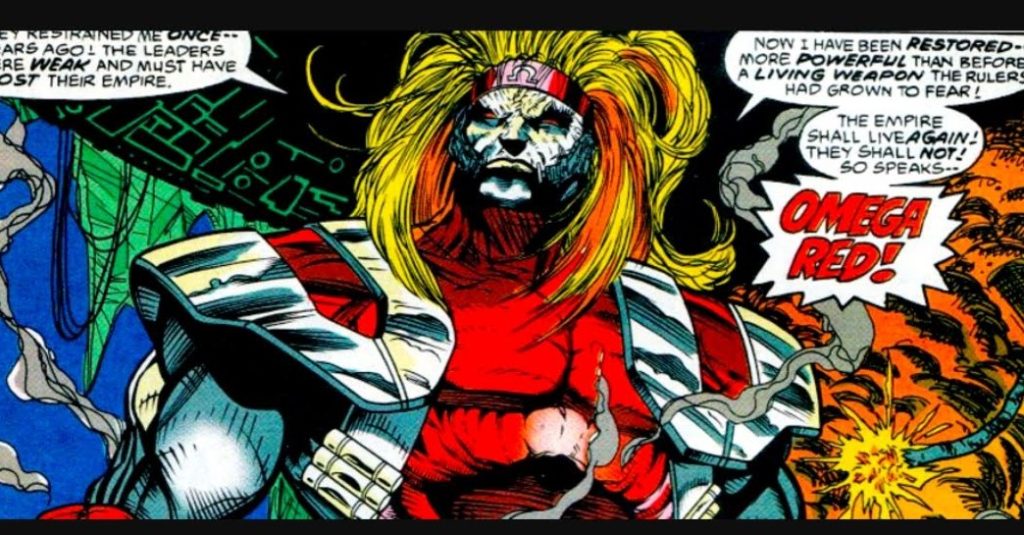 The Best Omega Red Comics!
The debut of Omega Red by John Byrne, Jim Lee, and Scott Williams. Introduces Omega Red's powerset, and his history with Wolverine, Sabretooth and Maverick's time as CIA operatives. Absolutely essential 90's X-comics, and among the most menacing appearances for Omega Red.
Definitely the most off the beaten path selection in the whole list, as the sequence of Iron Man issues include both Infinity Crusade tie-ins, and a throwdown with M.O.D.A.M. Nonetheless, the Len Kaminski written Iron Man era is quite underrated, and it's interesting to see Omega Red function as a villain outside the confines of the X-Men.
Banshee's past life as an Interpol agent hunting the serial killer who would become Omega Red is revealed! Also, in the present day, Chamber kicks Omega's butt and calls him a loser. Tough day for Arkady.
Maverick: In the Shadow of Death #1
Difficult to track down '97 one-shot written by Larry Hama. This is about as pure a 90's followup to Omega Red's debut as you can get, focusing almost entirely on Maverick, Omega Red, and more uses of "carbonadium synthesizer" and "Mutant death factor" than you can shake a tentacle at.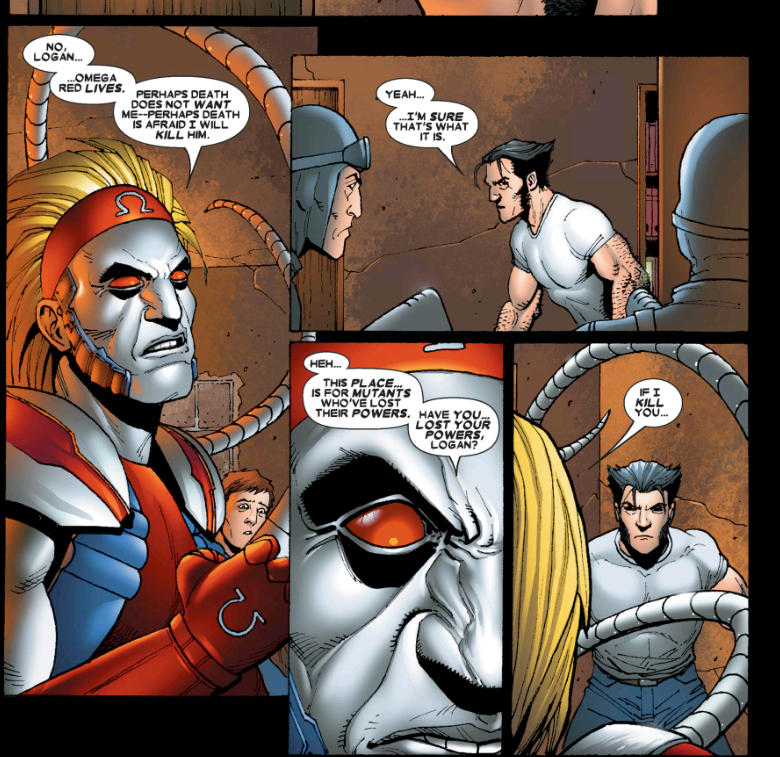 Written by Daniel Way with art by Steve Dillon, the second arc in the inconsistent Wolverine Origins is one of my favorites, with Omega hunting Wolverine for the secret location of his carbonadium synthesizer. It's a modern era favorite throwdown between Logan and Omega, even drawing in a post Wolverine: Enemy of the State
S.H.I.E.L.D., Jubilee, and of course, Maverick! Plus, the fact that the story is drawn by Steve Dillon gives it an instant boost.
Towards the tail-end of Ed Brubaker's time writing an X-Men story called "Divided We Stand," Nightcrawler, Wolverine and Colossus all get captured by Russia's "Red Room," and forced into battle with Omega Red. Worth it for the shot of Omega's face gleaming in Colossus's swinging knuckles alone.
Omega Red returns to the pages of Wolverine Origins and brings it for one of his fiercest battles with Wolverine, this time in a Russian gulag.
Rick Remender's final arc writing the excellent Uncanny X-Force is a story called "Final Execution" that adds the Omega Clan – clones of Omega Red – to the X-Men rogues gallery. It's a supporting piece to the legacy of Omega Red, but since it's part of such an essential run, it's well worth calling out.
Deadpool vs Omega Red – Deadpool #41 to #45
During the Marvel NOW! Duggan and Posehn co-written Deadpool (with art by Salva Espin), the Merc with the Mouth takes on "The Man Who's Always Whipping It Out" in a huge throwdown for the ages. Omega Red is hired by Roxxon to assassinate Deadpool, and tackles the gig with glee.
Dawn of X: Wolverine #1
Sure, it's brand spanking new as I write this, but I'm loving the emergence of Omega Red in the X-Men's Krakoa era. Omega's villainy puts the mutant nation's "all mutants" policy to the test, in ways Wolverine especially can't stomach.