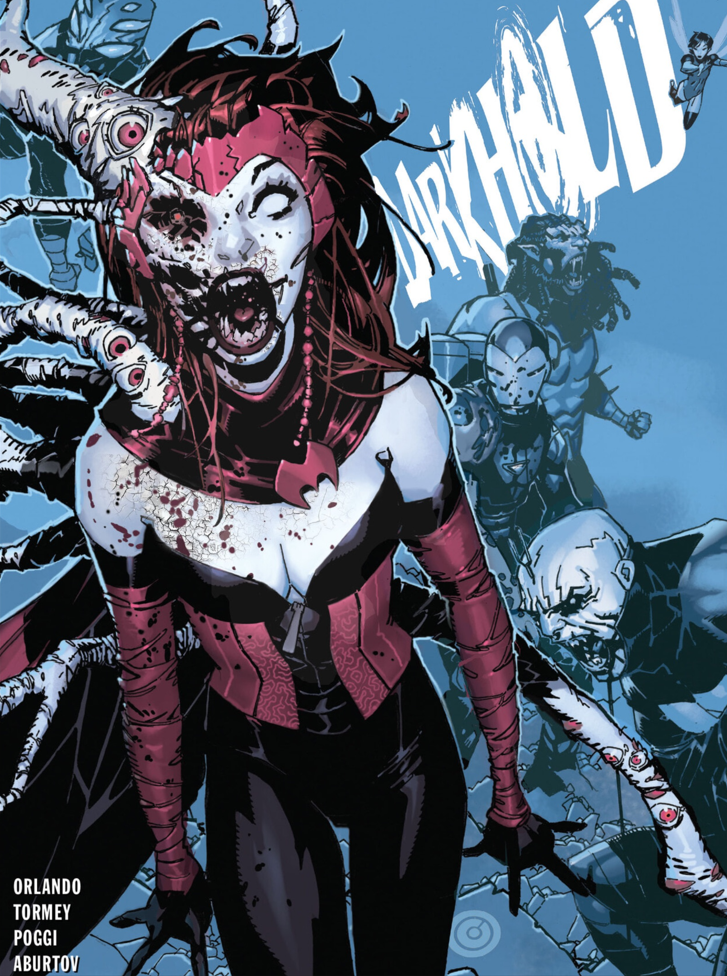 [Chris Bachalo Darkhold Omega cover]
Do you feel like you've waited for decades for the Scarlet Witch to finally get her due, exacting a price against her erstwhile manipulator Doctor Doom (hello, Wanda's curse and The Children's Crusade) and Chthon too (Nights of Wundagore)? Then this book, or rather just one(!) of its issues, delivers.
If you don't know the abovementioned classic stories—you may feel somewhat unprepared! This story will certainly be more effective if you're familiar. (Note: Darkhold definitely occurs after The Trial of Magneto
.)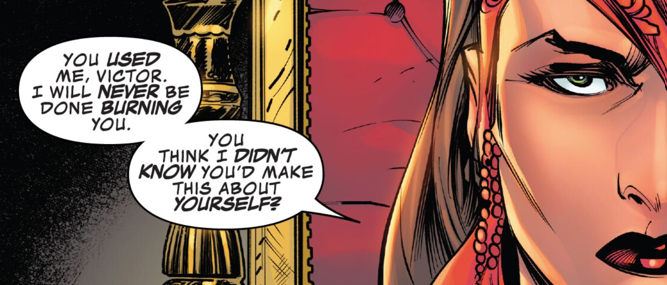 Marvel's 2021 Darkhold mini-event only feels event-like in the bookend issues, Darkhold Alpha and Darkhold Omega. Sandwiched between them are five one-shots that each tell an alt-reality biography of one of the five superheroes wickedly and retroactively transformed by reading too far into the Darkhold tome after the Scarlet Witch gathered them to prepare for a potentially apocalyptic battle in Other-Realm against its dark lord Chthon. These five stories do not carry the plot forward but are really ultimately showcases for new talent at Marvel. Uneven in terms of content, style, and quality, this showcase is of course the bulk of the collected edition. You'll primarily get a collection of unconnected short stories. The last two of these, unfortunately, really drop off in terms of interest and impact even though they're far from bad. They just don't offer much that's strikingly new or impactful regarding the lead character, in stark contrast to the bar set by both the Iron Man and Wasp installments. The Blade story is somewhere in the middle.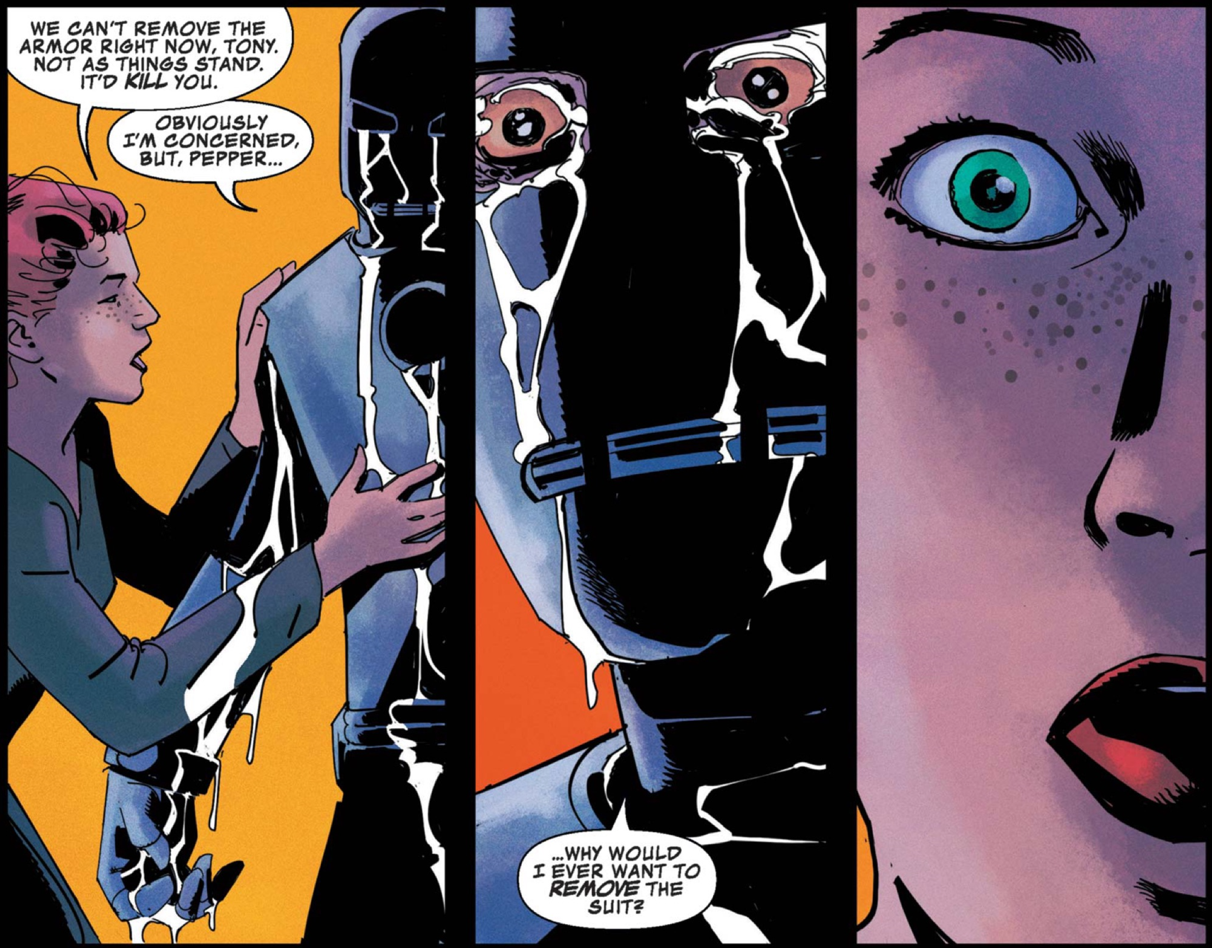 Again, these five one-shots each tell only a twisted alt-reality biography that's only meant to be a view of what each hero read of themselves in the Darkhold, as though through a mirror darkly. But those perversions or telling inversions of their true life stories do radically transform them as seen in Alpha and Omega. However, those versions are not what you'll see in the one-off nightmare stories. Only Iron Man appears substantially different in nightmare vision.
Support For Comic Book Herald:
Comic Book Herald is reader-supported. When you buy through links on our site, we may earn a qualifying affiliate commission.
Comic Book Herald's reading orders and guides are also made possible by reader support on Patreon, and generous reader donations.
Any size contribution will help keep CBH alive and full of new comics guides and content. Support CBH on Patreon for exclusive rewards, or Donate here! Thank you for reading!
The bookend issues, however, are stellar. I'll focus below on these four issues in particular, then, but up top here the bottom line is: The collected edition is not an essential purchase, yet it will stand as a showcase for rising talent at Marvel in 2021. But Alpha and Omega are awesome, and however you choose to read them, you should certainly do so if you're a fan of the Scarlet Witch, Doctor Doom, Steve Orlando, beautiful art (particularly in the bookends and the Iron Man and Wasp issues), and/or Marvel Mystic.
The Alpha and Omega penciler, inking his own work in the first issue, is Cian Tormey, quite a catch for Marvel; these are only his fourth and fifth issues for the company. He's done somewhat more for DC, but he's still very much a rising star—and it's very clear that with such a strong start, so polished and dynamic, he'll soon end up one of the superstars of the 2020s. (Currently, he's just started drawing Tom Taylor's Superman: Son of Kal-El.)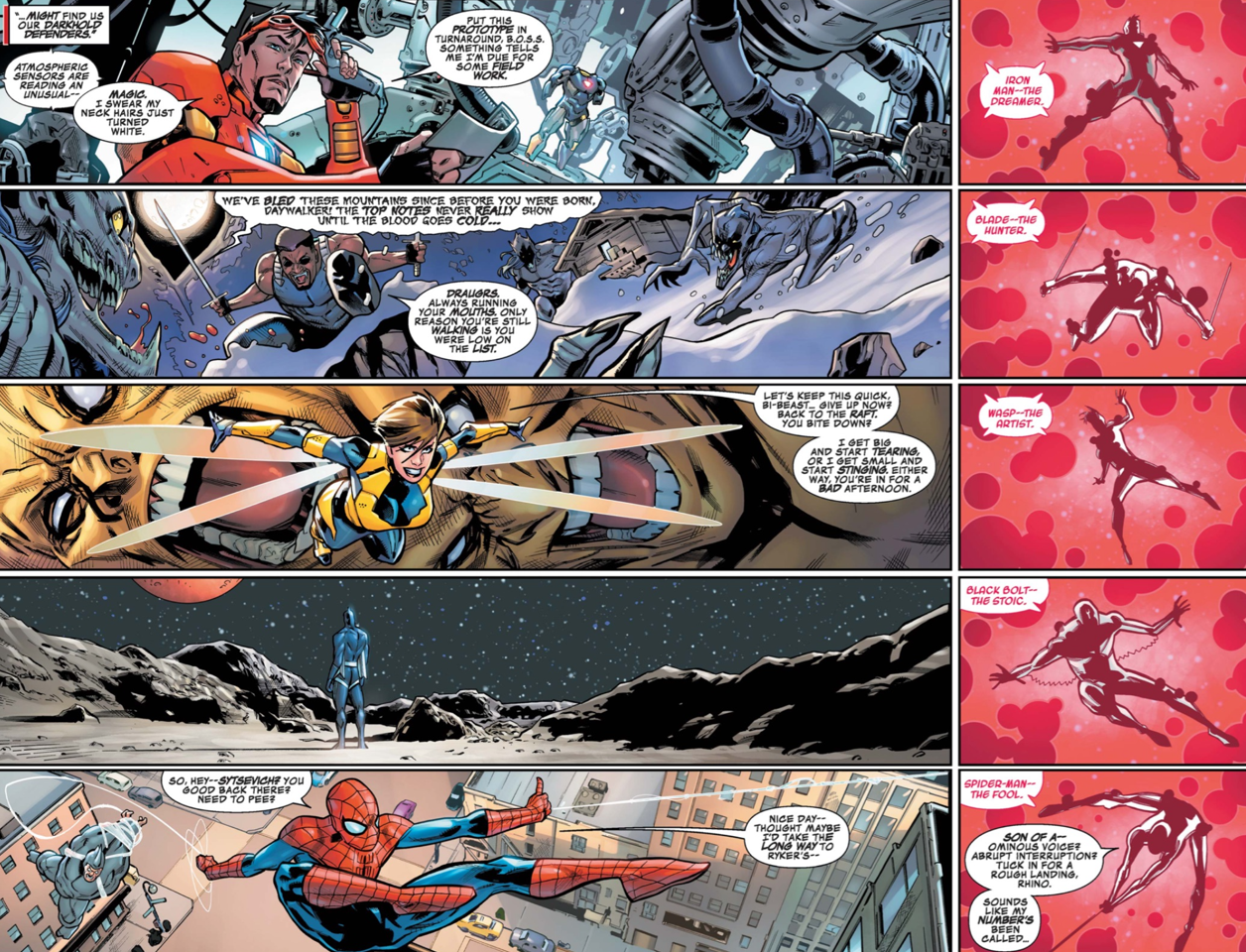 In Alpha, the "Darkhold Defiled" comes together at Wanda's behest, magically transporting them to her by force, to send them to deal with Chthon in the Other-Realm. But requesting that the heroes—Iron Man, Blade, the Wasp, Black Bolt, and Spidey—read just a little way into the Darkhold first, to steel themselves with a bit of madness before venturing into the Other-Realm's mad chaos, she discovers, unsurprisingly, that her plan here has backfired, for she's now faced with five twisted versions of her colleagues; their reading took them too far into nightmare. Omega's open picks right up with the suddenly transformed superheroes and Wanda pressing a handy button on a Doom contraption to send them hurtling into Other-Realm, where they wreak havoc there instead. Indeed, they want to kill its ruler Chthon and take his place.
Needless to say, their bloodthirsty plans go quickly awry as a new, wholly unexpected player enters and Chthon himself proves too formidable. But Doom's champion Victorious has convinced Doom (who had kicked off the whole event in Alpha by stealing the Darkhold tome from Other-Realm and its despot), to come back and help Wanda follow after her twisted "Darkhold Defiled" collection of evil-fied heroes.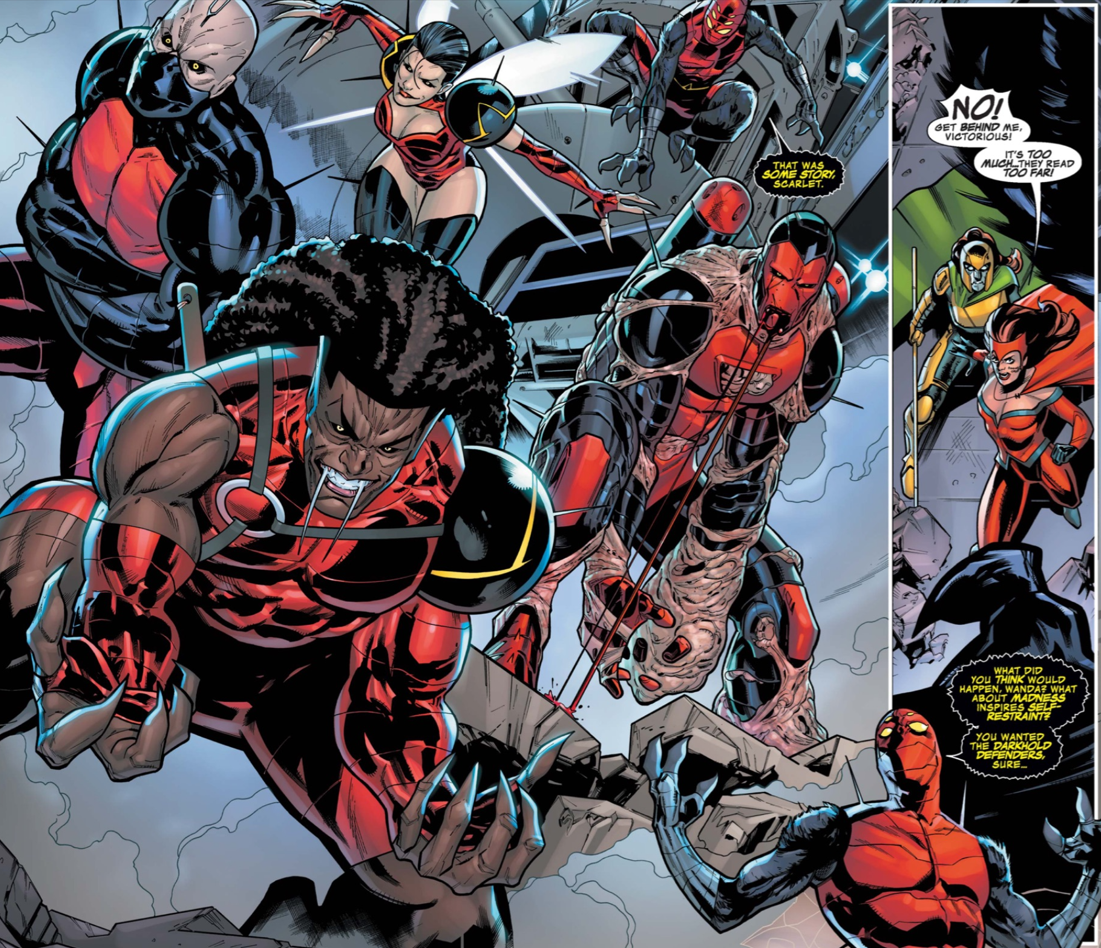 If that all sounds rather breathless, that's indeed how it reads. There are two big flaws to the bookends: Everything is so compressed, there's no time to establish how dramatic the stakes should feel (this was likewise a problem with Orlando's otherwise fascinating Curse of the Man-Thing mini-event, it's a basic flaw of all such Marvel mini-events of the last several years; they seem more like original content potentially left to future but unlikely film/TV adaptations or vaguely possible but not very urgent events further down the line—like, whatever happened with Annihilation – Scourge and 2020's 2099? I can't remember!). The other major issue is that the transformed versions of the five heroes don't act or sound anything like authentically twisted doubles. In fact, their dialogue all sounds interchangeable. But they are, after all, just murderous psychopaths. Again, the lack of decompression didn't help here.
As to the mystery guest in Omega, color me somewhat intrigued. I'll just say this is a Steve Gerber creation from the mid-'70s. Trippy.
Again, though, Wanda's transformation at the end is truly awesome, as beautifully rendered as her "death" that opened up Trial of Magneto #1 (before the series went sideways)—but the rendering and meaning here are quite different and more lasting in its impact. Her character really does get a fresh start in Omega, with new stakes to her life.
Now I'd just like to lavish a bit of praise on the two most worthwhile one-shots, remembering that these are ultimately no more than What If? tales.
The Iron Man one-shot, fittingly calling back to his pulp origins with the story title "Tales of Suspense," is written by comic genius Ryan North here turning in an intense body-horror/zombie tragedy, drawn by Guillermo Sanna and colored by Ian Herring with the perfect atmosphere for the story's genre. (The cover by Valerio Giangiordano is also something to behold.)
We get Pepper Potts's point of view, from what quickly becomes clear is not our familiar Silver Age: Instead, after Tony invents the Iron Man suit in captivity and escapes, he repurposes it to heal himself (doing much more than just keeping his heart going) and then commits his invention to medical technology, not weaponization. But there are some bugs to work out first. Suffice to say, they don't get worked out as one would expect from a superhero genius; rather, the body horror twist works out the buried psychology and perverse desires of the man who doesn't want to emerge from his shell.
Refreshingly, though, Pepper is treated as Tony's intellectual equal, making this a different timeline, indeed. And they quickly fall in love (poor Happy! 😉). Yet all too soon the worst fears, or needs, of the Iron Man are realized.
The Wasp one-shot, written and colored by Eisner Award-winning colorist Jordie Bellaire, is by comparison much more familiar, painfully so. This story is near the end of the Bronze Age, the first continuity marker being the wedding ring that Hank Pym is conspicuously not wearing, meaning he's currently Yellowjacket, nearing the end of his conventional hero career, in fact—and the beginning of the end of their marriage.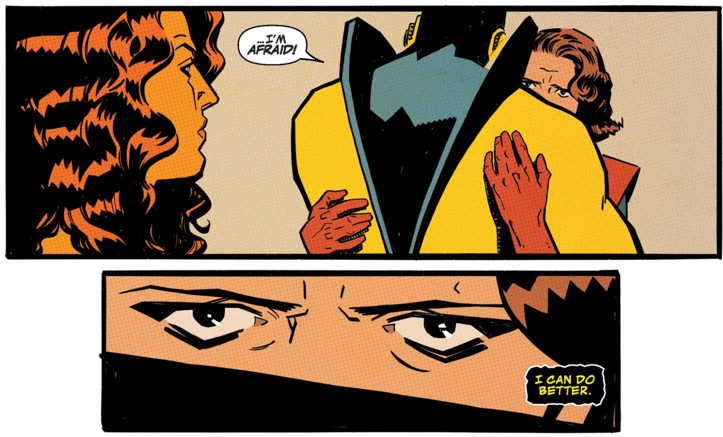 After this brief glimpse of the self-absorbed Pym, we see Jan prominently in action, no husband in sight, meaning this is after the point he's become a liability to the Avengers, and a few pages later, we actually get an editorial footnote—which I'm very happy to be seeing a bit more of these days again at Marvel! The story is set not long after Avengers #181, when NSC rep Agent Gyrich (recently offed in the pages of Al Ewing's S.W.O.R.D.; good riddance!) restructured the Avengers' roster more to the federal government's liking. (Certainly a classic Michelinie/Byrne issue worth checking out.)
You probably know what's coming if you're at all familiar with Hank and Jan's pained history. But Bellaire and new wunderkind artist Claire Roe deliver a jagged psychological noir in which Janet Van Dyne doesn't take a stand; she snaps. And we can all imagine, even if the story ends abruptly, what this would have done to the Avengers—given the fact that she's always been its heart and soul.
Still, it's a nice flipping of the bird to all the Avengers scribes who wrote her into such a terrible relationship, culminating with Jim Shooter, whatever his claims as to that one infamous, mistaken visual depiction (Avengers #213).
Beyond being a consummate and stylishly noirish storyteller, queer artist Claire Roe was an excellent choice for this one-shot detailing what is for most of its length the story of Janet Van Dyne's painfully slow awakening out of the misogyny of Bronze Age comics as represented by her marriage to a terrible man and the neglect of her male teammates. Of course, this being another Darkhold variation, the end of Jan's era of anomie is depicted much differently than the turn taken by the empathetic but quite normative Roger Stern once he took over the Avengers from the paternalistic crank Jim Shooter (ever hiding a lack of talent behind outsized pomposity).
Lastly, the covers to every issue in the quasi-event are tops. We get Greg Smallwood (Alpha); Chris Bachalo (Omega); Valerio Giangiordano (Iron Man); Juan Ferreyra (Blade); Paul Renaud (Wasp); Travel Foreman (Black Bolt); and James Harren (Spider-Man).
Apparently, the Blade one-shot, written by another comic genius, Daniel Kibblesmith, and penciled and inked by the excellent Federico Sabbatini, is fun—but it apparently heavily homages the 1998 movie and gives its story an alternate ending. (Kibblesmith's greatest notoriety is as a staff writer for Stephen Colbert.)
The Black Bolt one-shot is underwhelming, with a Maximus the Mad palace-coup plot pulled from a 2000s psychological thriller to relatively predictable effect. Nothing new is said about either character. The art, though, is nice. I'm looking forward to David Cutler's Giant-Size X-Men: Thunderbird.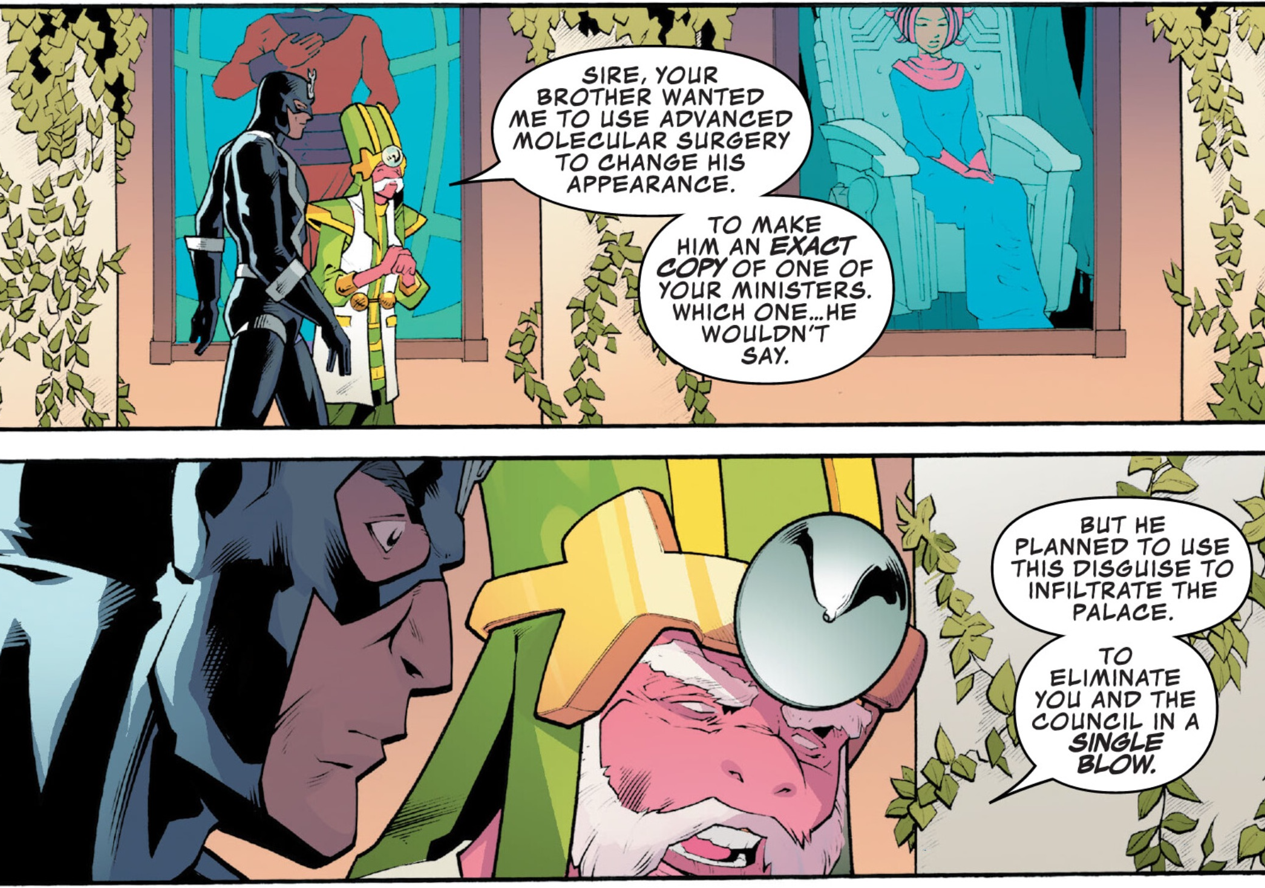 The Spider-Man one-shot is also underwhelming, a (literally) strained metaphor on the lengths Spidey could go to with the burden with his great responsibilities. There's some gnarly Mr. Fantastic body horror, though, that makes it worth checking out for some gross ideas, visual and conceptual.