I have quite the love affair with the universe's most complex symbiote. I firmly believe that Venom is an excellent example of the antihero in fiction and the numerous paths that can be taken in order to expand that character type. Formally introduced in Amazing Spider-Man #300, he is a villain, but sometimes he has a moment of reflection that compels him to do something nice for humankind. Under Eddie Brock's moral compass, Venom becomes his best friend and the antihero needed in order to expose the complexities of the human spirit.
While Venom has the ability to choose hosts (Gwenom, Carnage), the reasons I have picked these particular stories is because I wanted to highlight the relationship between Eddie and Venom. In my own opinion, outside of the mental health allegories, Eddie's relationship with Venom is one that makes the average reader reconsider the lines of platonic admiration and love. They are sorely dependent on each other in order to navigate this world – and that my friends, is the making of a true friendship of the ages. It's not all roses, but with each struggle and fight, they soon become accustomed to the fact that they cannot survive without each other.
This list of comics highlights the tender, the compassionate and highly enviable connection between man and symbiote. There are also some comics where Venom exhibits villain behavior, just to keep balance (and perspective). After all, Venom is not a human and Eddie is definitely not an angel, but their persistence to strive towards complete equilibrium and symbiosis is representative of what perseverance in our personal relationships can lead to.
Related:
Amazing Spider-Man reading order
Support For Comic Book Herald:
Comic Book Herald is reader-supported. When you buy through links on our site, we may earn a qualifying affiliate commission.
Comic Book Herald's reading orders and guides are also made possible by reader support on Patreon, and generous reader donations.
Any size contribution will help keep CBH alive and full of new comics guides and content. Support CBH on Patreon for exclusive rewards, or Donate here! Thank you for reading!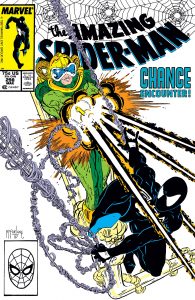 This is where it all begins! After Peter returns to earth from the Secret Wars crossover, he comes back with a goth version of his old uniform. Little does he know, the costume is actually Venom! Venom is introduced to us as an alien creature that takes over the host's abilities and mind. Peter is completely abhorred by Venom and rejects the symbiote. Enter Eddie, who has recently been fired from his job at the Daily Bugle due to his prize winning story being debunked by Parker. With Eddie being upset at the Daily Bugle and Venom heartbroken after being rejected, the pair decide to get rid of our favorite arachnid once and for all.
Todd McFarlane has always had an eye for creating characters that haunt us. Venom is no exception! When we first meet Venom, he is crass and well, evil. That doesn't necessarily slide with the wholesome Peter (though he does make a Venus joke that is…questionable) and it's a match made in symbiote heaven when he meets disgruntled Brock. In a way, Brock and Venom are very much alike and while Brock has a chip on his shoulder, he isn't a terrible person. Misguided and cranky, the symbiote and Eddie have no choice but to unite in order to survive everyday life. With his sarcasm and wit, Venom's appearance makes him a mainstay in the Marvel universe, consistently morphing his personality with each character he takes under his spell.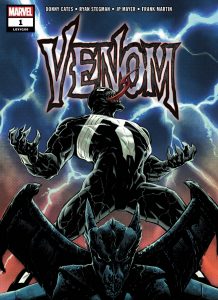 Venom (2018) by Donny Cates and Ryan Stegman is a reimagining of Venom's origin story for the new millenia. This comic also includes the beloved Miles Morales Spider-man arc, which makes for a lovely and refreshing take on the relationship between Spidey and Venom. Venom and Eddie are definitely salty about Peter Parker and are intrigued when Morales shows up to face KNULL.
Issue #1, we are introduced to Eddie and Venom in a crisis. Eddie has resorted to taking pharmaceutical pills in order to silence Venom's inconsistent and incoherent ramblings. Venom has been going on about death and murder more than usual and it's quite troubling. When Eddie gets a tip off on a criminal plot in the city, he hurries off with his pen in hand in order to get the hot scoop. Instead, Venom goes berserk and attacks policemen and criminals. Venom's appetite has gotten more ferocious and Eddie is having a hard time controlling him. The pair was captured by a vet named Rex Strickland, who requested that Brock help him in securing his former comrades who had been kidnapped. They were former soldiers who had been used in a S.H.I.E.L.D experiment involving 'samples' of symbiote particles.  This brings us to a mission Eddie is coerced into. Symbiotes who have 'lost control' and speak in a different language attack Venom and Eddie.
This is a great place for new coming Venom fans to start because it gives excellent background information on the relationship between Eddie and Venom. It also encompasses the questions that have plagued Venom's inception – Klyntar and the most metal God in the universe, Knull.
The series is not quite finished yet, so it should be fascinating to watch Eddie cope with facing his own demons without the distraction of his other.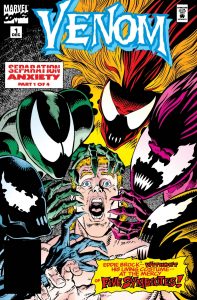 Separation Anxiety is a four-part story that follows four former employees of the Life Foundation and their symbiotes. Eddie has been separated from Venom under the pretense of 'testing' his ability to be a suitable carrier. The fabulous five (Donna, Leslie, Ramon, Trevor, and Carl) break into the facility where Eddie is being held captive. Their intent is to rescue and reason with Eddie in order to figure out how to control their symbiotes. This story is another highlight of the inability of Eddie to function without his 'other'. Despite Venom not being a part of him, Eddie displays the same amount of strength and grit as he did when they were conjoined. He vehemently pleads to be left alone and to be freed so that he may find his companion. This is where we get the full sense of Venom as a grade A antihero. Eddie is not a superhero by any means but he is not as evil as some may pitch him as. There is a vague attempt to 'control' Venom and the group trying to change Eddie have no concept of it. The symbiotes have their own will and minds, and the only way to coexist with them is to formally "give in" to each other. Eddie and Venom's relationship is strong because they have come to accept each other as who they are. Cause, love.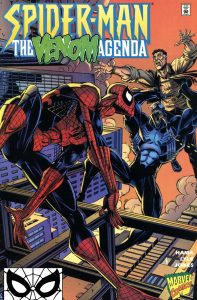 In this quirky one-shot, Venom and Spidey are back at each other's throats – only Parker has a sinus infection and is in no way at full capacity to fend off Brock and his wily other. Brock is determined to settle the score with Spidey and is given the opportunity to do so by Agent Smith. J. Jonah Jameson is investigating Bastion and Smith moves to have him equalized. Enter Brock, who is used as a puppet of the X-Men in order to take out Jameson and allow Bastion to continue his quest to 'represent' mutants far and wide.
Venom had just gotten back to the city after being trapped on the deserted island that Spider-Man led him to. Brock also has no regard for Jameson as he was the one who fired him from his position as lead investigator at the Bugle. This particular story is hilarious because we get plenty of Jameson's quirky, cliche "editor-in-chief" witticisms that make you chuckle (especially in regards to his comments on healthcare). There is also a lot of cynical wordplay that makes the relationship between Eddie and Peter seem more like frenemies instead of arch nemesis. While this is a one shot, I couldn't help but want more of this story line with the same panache and banter.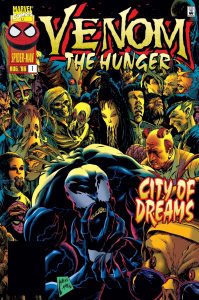 Venom: The Hunger by Len Kaminski is a dark, neo-noir adventure where Eddie has to combat the urge to give into Venom's desires of eating humans. Once you get past the outdated language and 'bad city' tropes, what is left is a heart wrenching account of Eddie's kryptonite – loneliness. After being repulsed with eating the brains of a goon at a bar, Venom leaves Eddie to his own devices.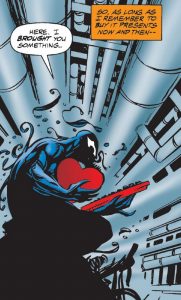 Shortly after their spat, Eddie is institutionalized in a mental health facility. The isolation only sends Eddier further down the spiral. He catches the eye of Dr. Paine, an obviously mad scientist skilled in hypnotherapy. He concludes that Eddie has not been lying about his extraterrestrial experience and devises a plan to capture the symbiote. Eddie gears up for a battle to reclaim Venom and tries to figure out a way to cure the symbiote's thirst for human brains. It ends in a delightful tribute to David Bowie that we never knew we craved!
This arc is a lot darker than most and it definitely illustrates the coldness that Eddie embraces as he navigates the world. This is also one of the strongest stories hinting at the allegory of mental health and how it is criminalized. Dr. Paine made his name by torturing numerous patients who suffered from mental health issues – and in return he is given a taste of his own medicine.
Did I mention that Eddie gives Venom chocolates because it creates phenethylamine, the chemical that creates the feeling of 'love' in our brains? LOVE. This is the medicine that Venom needed all along.