The inclination with a best of Stilt-Man list is to compile literally every single appearance of the Most High villain in Marvel's pantheon, and assume that they are all equally perfect, for they are equally raised to the heavens. This is a proper response, but I will concede some curation can help us lift up the Stilted One's most glorious appearances throughout Marvel Comics history, and help us understand what it means to walk a little closer to the sun.
You might think Marvel's Stilt-Man is basically like DC's Condiment King or Kite Man, goofy outdated villain gimmicks that play pure comedy in stories now, but Stilt-Man honestly blows them out of the air with quality comics appearances. Yes, there's an absurdity to the villain's gimmick, amazingly antiquated even during his first appearance in the Silver Age, and that inherent breathtaking lunacy is simply delightful. Honestly, in many ways Stilt-Man is the perfect examples of what makes comics so joyous, the childlike escape into a world where scorned inventors can stalk the city skylines with really really long legs and commit sky crimes on helicopters. Stilt-Man is action figure rules brought to story.
So no, it's unlikely that Stilt-Man will ever enter the realm of Marvel's A-list supervillains (obviously he's literally above such lists), but he will always have a special place in the publisher's history as one of the most memorable concepts, up there with Batroc the Leaper, Big Wheel and Paste Pot Pete for the all time great.
Raised Be! ||
Related Reading Orders:
Support For Comic Book Herald:
Comic Book Herald is reader-supported. When you buy through links on our site, we may earn a qualifying affiliate commission.
Comic Book Herald's reading orders and guides are also made possible by reader support on Patreon, and generous reader donations.
Any size contribution will help keep CBH alive and full of new comics guides and content. Support CBH on Patreon for exclusive rewards, or Donate here! Thank you for reading!
Honorable Mentions: Daredevil Annual #1,  Black Goliath #4 to #5, Iron Man #225 (Stilt-Man lasts all of two pages in "Armor Wars")
"The Stilt-Man Cometh" is the first appearance of Stilt-Man, written by Stan Lee, with pencils and inks by Wally Wood, and letters by Sam Rosen. Daredevil #8 is remarkable for a few reasons, namely that comics icon Wally Wood (with STAN THE MAN LEE) created Stilt-Man, and that it's actually a really good Silver Age story in Daredevil, a series that falls towards the bottom of Marvel's Silver Age power rankings.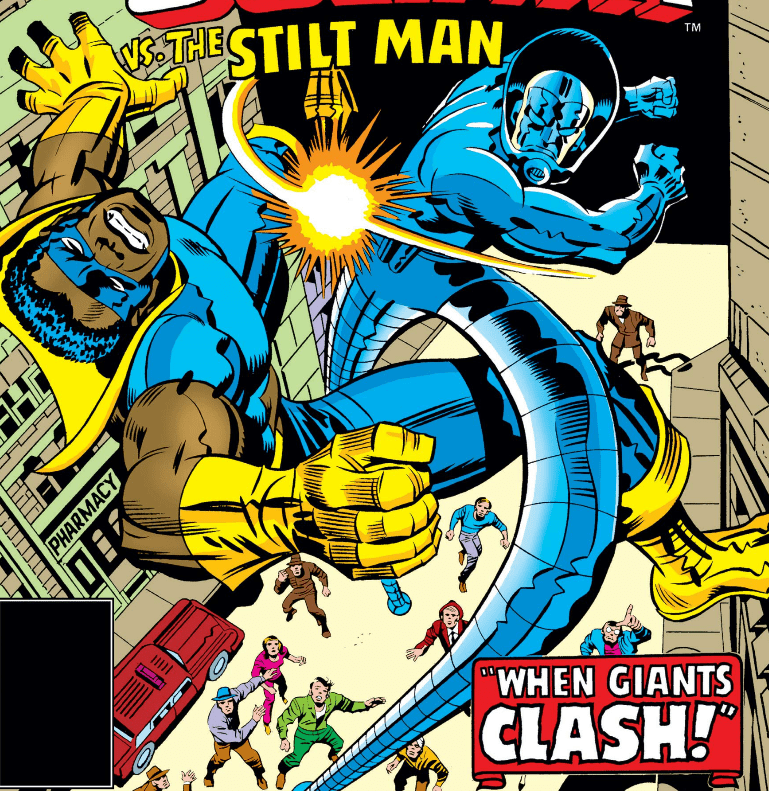 There are only a handful of good reasons to read Bronze Age Champions, and unsurprisingly a major one is a plot that involves Stilt-Man dead ass trying to become "Master of the World." Another is this quote from a Bill Mantlo script with art by John Byrne:
A startling new development! Black Goliath has just ripped off one of Stilt-Man's legs -and is beating him with it!
Stilt-Man's overblown confidence is one of my absolute favorite things about the character in the 60's and 70's, a fact solidified by what appears to be good ol' Wilbur Day writing this section of his own Wikipedia bio:
In addition to being one of Daredevil's most enduring arch-foes, he has appeared as an adversary for heroes more equally matched to his power level, such as Iron Man and Thor.
Funny but true as the God of Stilts takes on the God of Thunder in 1978's Thor #269 by Len Wein (edited Watchmen after the lessons he learned writing this story), with extremely early art by Walt Simonson (would go on to perfect Thor after working on this story) and Tony Dezuniga. This is honestly the strangest era for Stilt-Man, as Wilbur finds himself out of prison but caught up in a really bizarre alien plot that restores his new (and upgraded!) adamantium stilt-armor.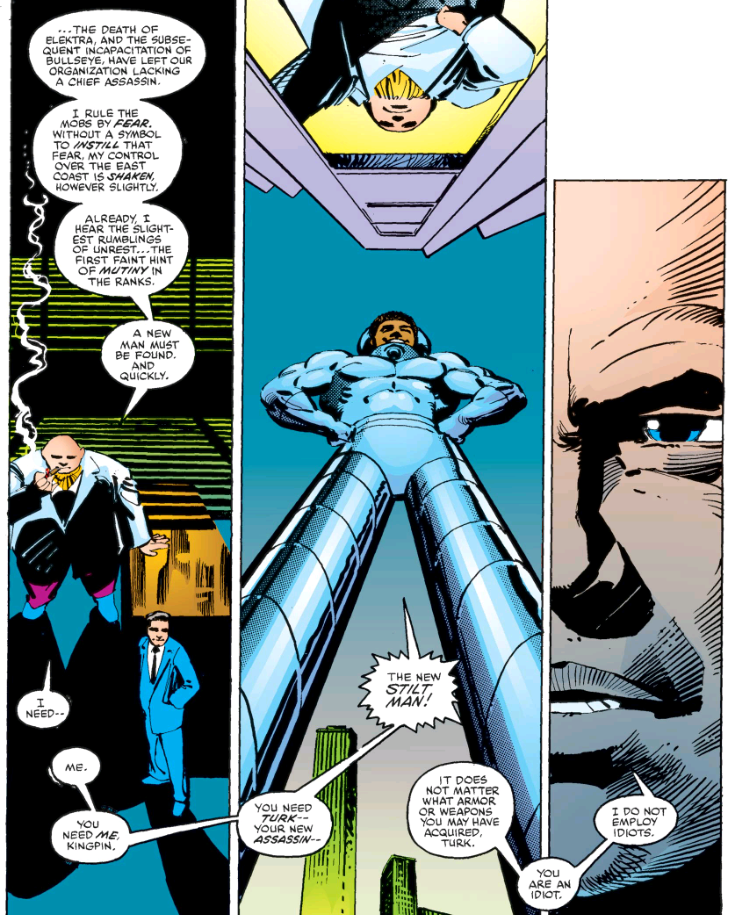 The pre "Born Again" run on Daredevil by Frank Miller, Klaus Janson and team is one of my favorite Marvel runs of all time, and despite my love of X-Men, likely my favorite work Marvel published in the 1980's. One of the enduring appeals is that Miller and Janson's Daredevil has a surprisingly deft touch of humor, rarely as clear as issue #186 and "Stilts" (although certainly issue #185 and "Guts" is close!). While committing sky crime, Stilt-Man takes a glove off to make sure he's getting paid properly, drops the glove, and watches it fall to the bottom of a skyscraper, lamenting "I'll never find it now." It's basically the Watchmen zoom out to the blood-soaked Comedian button in reverse, and with a Stilt-glove.
The best part of "Stilts," though, is that Turk, Daredevil's hapless criminal neer-do-well robs the original Wilbur Day and steals his stilts to become the new Stilt-Man. Kingpin still refuses to hire him because, and I quote, "You are an idiot. I do not employ idiots."
Written by Frank Miller, pencils/inks/colors by Klaus Janson, letters by Joe Rosen, and edited by Denny O'Neil.
Roger Stern, Bob Hall and team really capture the essence of post-modern Stilt-Man here with a Spidey story in which Wilbur Day clearly gets that the whole Stilt-Man concept might have some flaws. Naturally, his response is to upgrade his armor again and in battle with Spider-Man, Stilt-Man has the opportunity to totally crush and defeat the accursed wall-crawler (after Spidey jumps in front of a laser that would have killed Stilts). Wilbur shows some heart and honor here, though, and carries Spider-Man to safety instead of crushing him under his highest heel.
John Byrne's 1989 launch of the Sensational She-Hulk does two things very well:
Successfully reintroduces our modern understanding of metatextual 4th wall breaking characters, paving the way for the massive popularity of Deadpool
Stilt-Man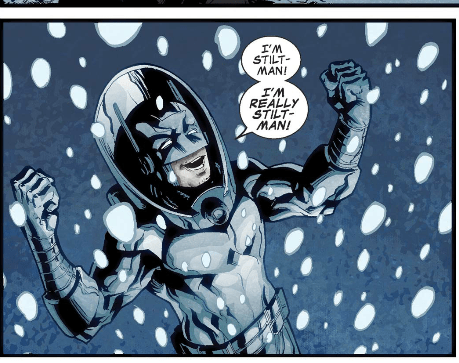 Matt Fraction, Ariel Olivetti and the creative unit on the 2000's relaunched Punisher War Journal  accomplish the seemingly impossible feat of delivering one of the best, most memorable Stilt-Man stories in existence, while simultaneously destroying the character (figuratively and literally).
I think my absolute love of Punisher War Journal #26 is further evidence that I'm just a complete sucker for stories that feature Marvel characters stoked out of their minds to possess these dope ass stilts. So yes, this run is notorious for Frank Castle absolutely wasting a Stilt-Man (I don't believe it's Wilbur!), but by the end of the run the moral is pretty clearly "Stilts are very fun, actually."
Lady Stilt-Man is inarguably the best "Lady" supervillain naming convention in existence because it takes the embarrassingly uninventive trope (Lady Bullseye, Lady Mastermind, etc), and fully embraces the comedy. The comic itself is far from perfect, but Joe Kelly sure knows how to write a Spider-Man/Deadpool
team-up, and any lady bold enough to pay homage to Stilt-Man is worthy of  recognition on this list. Plus this debut is light years better than the later attempt by Nick Spencer to reclaim Lady Stilt-Man via a Captain America: Sam Wilson plot that involved Lady Stilts getting deepfaked into a celebrity porno.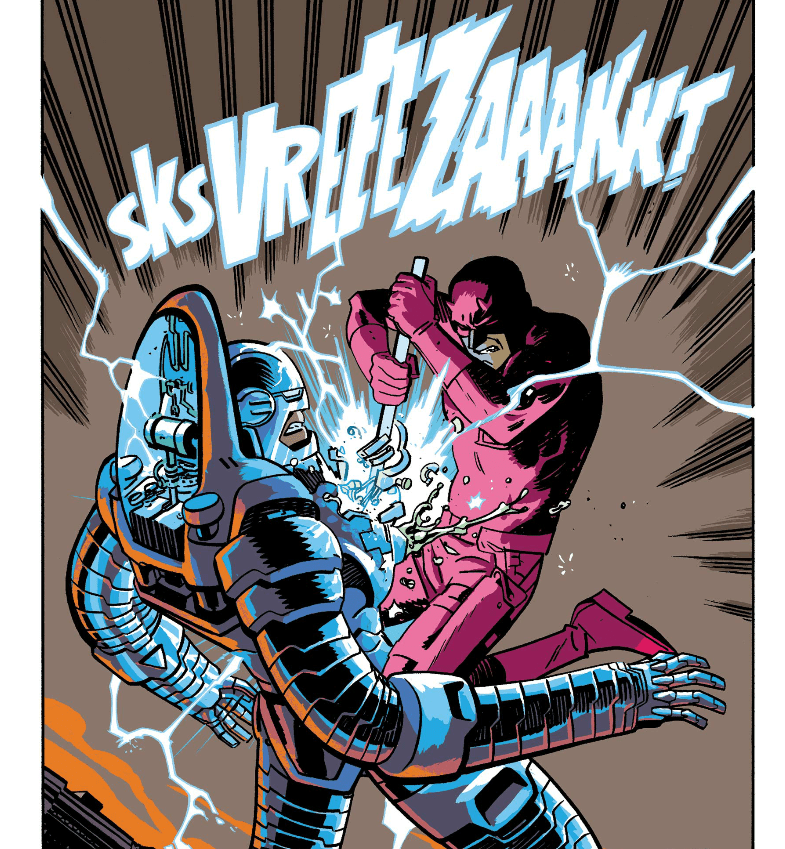 Easily the most star-studded Stilts showcase since Frank Miller and Klaus Janson, Daredevil #22 is written by Mark Waid, pencils & inks by Chris Samnee, colors by Javier Rodriguez and letters by Joe Caramagna. This jaw-droppingly good looking comic is set during Superior Spider-Man as the new Spidey and Matt Murdoch get to know each other through a classic taking down the Stilt-Man exercise.
Samnee was nominated for an Eisner for "best penciler/inker" this year, and while the award doesn't mention his rendering of Stilt-Man specifically, I think we all know what happened here.
One of my favorite comics of 2019 (and the origin of Spider-Bite!), Tom Taylor and Juann Cabal perfect the Stilt-Man gag in three pages.
The new Stilt-Man appears in what is in many ways the perfect bookend to the first 20 issues of Chip Zdarsky's outstanding ongoing run on Daredevil, and this Stilt-Man is meant to feel truly menacing. It's a tricky balance to pull off (much like, uh, walking on stilts), but with limited exposure and a callous Stilt-Man hurling bombs through Hell's Kitchen, Zdarsky and Marco Checcetto actually pull it off.
Best of all, there's plenty of mystery still around this new Stilt-Man meaning the best news of all for comics readers: More. Stilts. Man.