The Star Wars comic book universe has spanned many decades (actually debuting right before A New Hope hit the theaters in 1977). The books have gone from canon to extended universe and back again, switched publishers multiple times, and often been mostly forgotten by fans of the films. Still, there are a heck of a lot of Star Wars comics that are easily on par with the films, and, with the exception of a few times during which the franchise lost its direction, there have always been great Star Wars comics.
Some Star Wars heroes and villains specifically benefit from their comic book counterparts receiving greater focus than the movies could allow, and one of those characters is Darth Vader. Despite his heavy focus in the films and The Clone Wars TV series, there are always going to be questions left unanswered when it comes to our tempestuous Anakin Skywalker. The comics delve further into his background, but perhaps more importantly, there are a whole lot of issues where he is fully the terrifying force of destruction we saw in the films. In the fleshing-out of his story, Vader only becomes more villainous.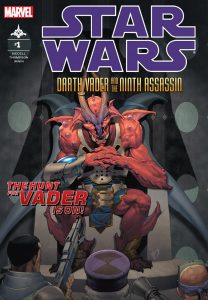 This story opens up on an industrialist telling the story of how Vader came to murder his son. But while the man praises his son's honor and decency, what we see tells a different story. Still, the man has hired eight assassins to kill Vader in hopes of avenging his son. When he goes searching for a ninth assassin in order to try again, the assassin takes his eyes as payment and vanishes into the ether. Meanwhile, Vader is on the hunt, trying to find the people behind an assassination attempt on the Emperor.
This story calls into question its victim's morality and judgment, and in doing so adds a bit of ambiguity to Vader. As always, there is a wild lightsaber battle that is easily worth the price of admission, but the story has a lot of nuance and even some humor to it. The Ninth Assassin has such a good initial premise and its cataclysmic ending does not disappoint.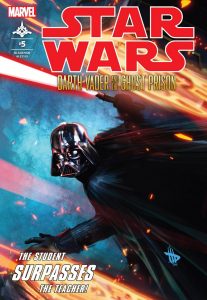 This title spices it up by giving us a story told through the eyes of an up-and-coming Imperial Officer named Tohm. Tohm was present during a violent uprising known as the Gentis Coup. While his classmates sided with the Rebel Alliance, Tohm betrayed a friend and saved the Emperor's life by taking him to the Prism, and prison. This story does excellent work setting Tohm up as a villainous character whose acts still somehow make perfect logical sense, and it's a very interesting look at Vader, who Tohm idolizes. The action sequences are incredible, with an embittered Vader showing absolutely no mercy as he and Tohm work to save the Emperor's life.
Support For Comic Book Herald:
Comic Book Herald is reader-supported. When you buy through links on our site, we may earn a qualifying affiliate commission.
Comic Book Herald's reading orders and guides are also made possible by reader support on Patreon, and generous reader donations.
Any size contribution will help keep CBH alive and full of new comics guides and content. Support CBH on Patreon for exclusive rewards, or Donate here! Thank you for reading!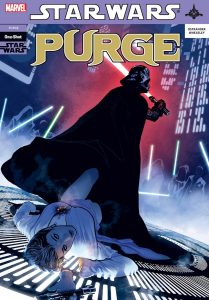 After the events of Revenge of the Sith, Darth Vader and the Empire have fully dedicated themselves to the destruction of all remaining Jedi. While many live in hiding, many more find their new life on the run intolerable. A group of Jedi meet to discuss what their next actions might be. The Jedi Shadday betrays the others by inviting Vader to the meeting in hopes that they will all be forced to attack and destroy Vader. This brings us to our next point: you saw the word "purge" on the cover, right? It probably doesn't take a lot to figure out what becomes of these unlucky Jedi, but it makes for a heck of a read. Writer John Ostrander worked on some of the best Dark Horse-era Star Wars comics, and this is a shining jewel in his crown.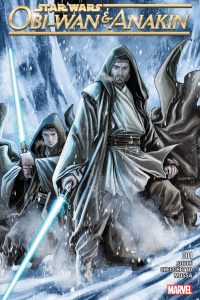 Taking us back to the early days of Obi-Wan and his Padawan Anakin Skywalker, this series shows us an Anakin who always questioned the Jedi's methods and found them somewhat hypocritical. He and Obi-Wan spend much of the series in an ongoing philosophical discussion that begins in the first issue. When they land on Carnelion IV in hopes of answering a mysterious distress call, Obi-Wan informs Anakin that the species of the planet destroyed themselves via war. Anakin asks why the Jedi didn't stop it, and Obi-Wan's reply doesn't satisfy him. Writer Charles Soule would go on to see a twenty-five issue run on Darth Vader and that is equally good, but this series fills in some of the character beats we missed between The Phantom Menace and Attack of the Clones, making it a great place to start with Vader's comic book journey.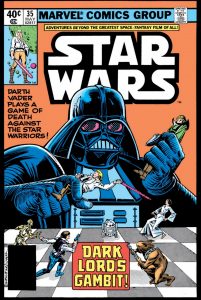 It's true that the early Star Wars comics lacked the scope of what was to come, but their creators were operating with knowledge of the first film alone. Star Wars #35 was released in 1980 ahead of The Empire Strikes Back, which means that we were still in a world where none of us knew that Darth Vader was Luke and Leia's father. As a result, the Vader we get here is a bit more cartoonishly evil than the tragic rogue Jedi we would eventually come to know and love, but that's part of what makes it so fun. Even when divorced from that greater arc, what we see here is that Vader was always going to be a compelling villain. This story shows rival envoys arriving on the planet Monastery to present their case to the Order of the Sacred Circle in hopes of convincing the long-neutral group to join the Galactic Civil War. Of course, things are not as they seem, and it all leads to Luke and Vader squaring off. If you like this story, the slightly later #49 features an exciting showdown between Vader and Leia in which both shrewdly use their powers of negotiation to get the better of the other.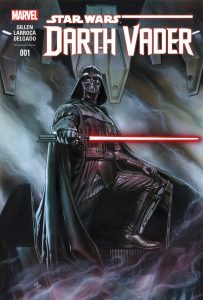 This twenty-five issue series takes place after the destruction of the Death Star and Vader's failure to defend it in A New Hope. Increasingly ignored by the Emperor and his reputation tarnished, Vader's desire to return to greatness is only heightened as he becomes more ruthless than ever before. Besides giving us an utterly remorseless Vader whose sheer spitefulness is emphasized at every turn, this series also introduced us to the incredible antihero Doctor Aphra. This is possibly the most widely referenced of all the Vader series, and it's easy to see why—by surrounding Vader with compelling characters and letting his pettiness shine, it gave us a Vader that truly lives off nothing beyond his own boiling rage.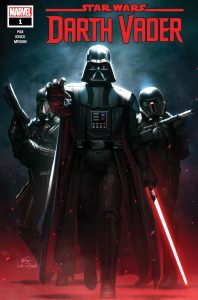 After Luke chooses death rather than joining Vader in The Empire Strikes Back, Vader books a weekend at a day spa and tries to get back in touch with what inspires him. Just kidding, he goes on a bloody mission of revenge to destroy every individual who had a hand in hiding his son from him for so many years. This leads him to Tatooine, where he learns a bit about Luke's backstory. He encounters Padme's former handmaiden and look-alike Sabe, who believes Vader to be Padme's killer. This look through some of the most painful parts of Vader's past doesn't exactly make him more endearing, but the constant agony of his life and its physical wear on him are always evident.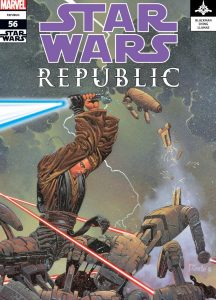 When Obi-Wan is stuck in battle on the rain planet of Jabiim, the impossible terrain works against him and he goes missing. Anakin is paired with other young Padawans whose masters were killed in battle. They quickly come under attack and are forced to hold their ground without assistance from the Jedi. Many of them die, and Anakin is forced to see the moral failings of the Jedi firsthand. The choices he makes here will ultimately lead him on the path to become Vader. One of the most interesting things about Anakin as opposed to Vader is his nuanced understanding of ethics. That understanding, more than anything else, is under the spotlight here.