The Flash! He's the scarlet speedster! The fastest man alive! One of DC's most reliable mainstays, The Flash has been a fixture of their output for 70 years now…even if the man in the red-and-yellow suit might change. Jay Garrick, Barry Allen, and Wally West have been the longest-tenured bearers of the mantle, and with hundreds of issues between, it can be a little tricky figuring out what Flash stories are worth your time. Luckily, that's what this list is for!
Related Reading Orders:
Born to Run gives the fan-favorite Wally West a definitive origin story under the care of Mark Waid (not the last time you'll see that name on this list) and Greg Laroque. Functioning as both a modernization of Wally's existing Silver Age origin as Kid Flash and a clean starting point for new fans, Born to Run is a perfect intro for people looking to jump into The Flash in general or Wally West in particular. Some of its timeliness has faded in the decades since it's release, but if you're willing to overlook (or enjoy for the cheese it has become) some anachronisms, it is a genuinely engaging comic.
Flash stories can be tricky, by and large. When your hero can move at the speed of light and vibrate his molecules through reality itself, coming up with a credible threat can be a challenge. Luckily, Bill Messner-Loebs and Greg LaRocque figured out a solution: throw him out of a plane. A stand-alone tale pitting Wally West against a gang of meta human terrorists reaches true classic status when Wally leaps out of an airplane to save an innocent woman. With nothing to ground himself on, he is forced to use his powers and creativity in ways he never imagined, all while considering the woman whose life rests in his hands.
This story is a two-for-one as it manages to be both a great Wally West and Jay Garrick tale, with equally engaging emerald co-stars. An adventure spanning two eras and two pairs of heroes has drastic consequences for both the veteran heroes and their younger legacies.
Support For Comic Book Herald:
Comic Book Herald is reader-supported. When you buy through links on our site, we may earn a qualifying affiliate commission.
Comic Book Herald's reading orders and guides are also made possible by reader support on Patreon, and generous reader donations.
Any size contribution will help keep CBH alive and full of new comics guides and content. Support CBH on Patreon for exclusive rewards, or Donate here! Thank you for reading!
While Kyle Rayner and Alan Scott's stories are perfectly enjoyable and well made (written by Ron Marz with art from Ron Lim, Bart Sears, and others), the real spotlight is on the Flash-centric second half of the tale from Mark Waid, Bryan Augustyn, and Val Semekis. Showcasing the more headstrong and arrogant side of Wally that comes from being a superhero since he was a teen, along with Jay Garrick's Greatest Generation grit and refusal to admit weakness, it isn't afraid to show the flaws that make the pair two of the most relatable heroes in DC's pantheon.
The highlight of Grant Morrison and Mark Millar's sadly short-lived stint on the title, The Human Race, puts Flash in a race across all of time and space with Earth's fate riding on his victory. The Human Race is as imaginative and straight-up weird as you would expect from a story co-written by Grant Morrison, aided by the humor and charm that early-career Mark Millar was known form. The Human Race manages to juggle both the bizarre sci-fi limits of Flash's powers, the nature of imagination and friendship, and the importance of Wally's very human connection with those he loves into a fun, satisfying 3-parter than doesn't overstay its welcome.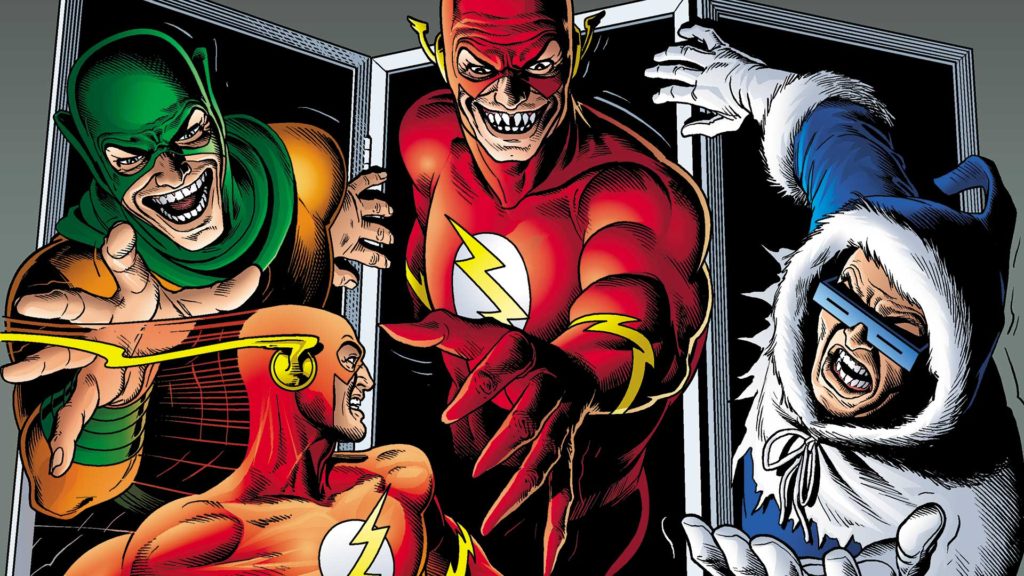 Rogue War (The Flash #220 – #225)
Considered by many as the height of Geoff Johns' long tenure on The Flash, "Rogue War" pits two factions of Flash's rogues gallery against each other with Wally West caught in the middle. Paying off on threads established across year's worth of storylines, "Rogue War" is an action-packed blockbuster of a comic highlighting Flash's outstanding collection of villains while spotlighting the close connection Wally has with his home and the people who live there. While some details might be lost on someone just jumping in with Rogue War, it remains a thrilling read on its own merits.
This entry is a bit of a strange one because Flash isn't actually the primary focus for most of Crisis on Infinite Earths' 12 issues. However, the importance and legacy of the moments where Barry Allen takes a lead role are so monumental that it still earns a spot on this list.
The iconic series from Marv Wolfman and George Perez, Crisis on Infinite Earths is the original DC crossover event. It pits the heroes of the DC multiverse against the nightmarish Anti-Monitor and his ploy to wipe out all of reality. While Barry Allen appears in the series from the first issue, his role's true scope did not become apparent until issue #8. Facing the potential destruction of the remaining 5 Earths in creation, Barry makes the ultimate sacrifice and dies to stop the Anti-Monitor's schemes. His fate set the standard for superhero death in crossovers and managed to last for nearly 30 years before being undone in the pages of Final Crisis and Flash: Rebirth.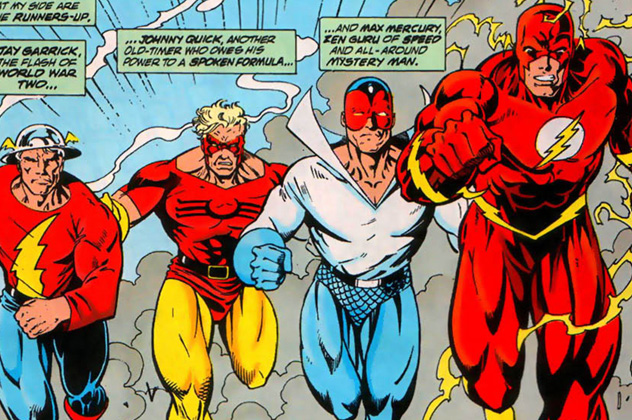 The biggest blockbuster story in Mark Waid's beloved run, Terminal Velocity brings in not only Wally West but the entire extended Flash Family against the speed-siphoning villain Savitar. The story succeeds both as an exciting superhero tale, helped by gorgeous art from Mike Wieringo, Salvador Larroca, and Carlos Pacheco, and as the birth of the Flash Family as we know it. The alliance of Flash, Impulse, Jay Garrick, Max Mercury, Johnny Quick, and his daughter Jesse Quick grew beyond the normal superhero team-up into a cohesive and supportive family unit that has become a fixture of The Flash's unique appeal in the DC Universe.
Part of the experimental Wednesday Comics anthology, Karl Kerschl and Brenden Fletcher's Barry Allen tale is maybe the single most gorgeous Flash comic ever to be printed. Playing with the anthology's newspaper comic stylings, Wednesday Comics: The Flash blends together Sunday newspaper strips, romance comics, and pulp sci-fi, even giving Iris West a rare co-starring role. Jumping genre, tone, and style while never once dropping below absolutely stunning, Wednesday Comics: The Flash tells a satisfying, if a little clunky, tale elevated by jaw-droppingly impressive art.
The most recent entry on the list, Death Metal: Speed Metal is a genuine surprise on several levels. A tie-in to the bloated and messy Dark Nights: Death Metal, and written by Joshua Williamson, whose 100-plus issue mostly mediocre stint on The Flash just wrapped up before its release, expectations were…not exceptionally high. Yet the extra-sized one-shot managed to overcome the odds and deliver a genuinely heartfelt and exciting love letter to The Flash as a legacy and Wally West as a character.
The ties to Death Metal and the convoluted events that befell Wally in the last several years are quickly explained and set aside, so the real highlight of the issue, four generations of Flash, running together to save all reality, can take focus. Thoroughly enjoyable on its own, it's the easy highlight of Death Metal and sets the stage for the 2020s to, hopefully, be a much better decade for The Flash than the 2010s were.
The peak of Mark Waid's run, The Return of Barry Allen sports a misleading title as Wally West, not Barry, is the real star of the all-time classic. When Barry Allen seemingly returns from the dead, Wally West questions his time as The Flash and whether he ever lived up to his mentor's legacy.
Of course, there is more to Barry's return than there initially appears. Waid, alongside Greg LaRocque on art with some of his best work, tells the definitive Wally West story and proves that he not only has lived up to Barry Allen's legacy, Wally has surpassed his childhood hero and is unquestionably the greatest Flash of them all.