Editor's Note: Tarot Readings are a major thematic and stylistic component of the 2020 X-Men comics event, X of Swords. Since it's not a field I know, I'm excited to bring in a specialist to provide unique readings based in the Tarot connections of the story. We'll be running these Tarot examinations following each of the event's 22 parts. Enjoy!
Marauders #13
is the fifth chapter on X of Swords, and as I stated in my previous tarot readings it should correspond with a Major Arcana card from tarot, in this case that card is number 4, The Emperor.
* Spoilers For Discussed Comics Follow! *
Related Reading Orders:
Support For Comic Book Herald:
Comic Book Herald is reader-supported. When you buy through links on our site, we may earn a qualifying affiliate commission.
Comic Book Herald's reading orders and guides are also made possible by reader support on Patreon, and generous reader donations.
Any size contribution will help keep CBH alive and full of new comics guides and content. Support CBH on Patreon for exclusive rewards, or Donate here! Thank you for reading!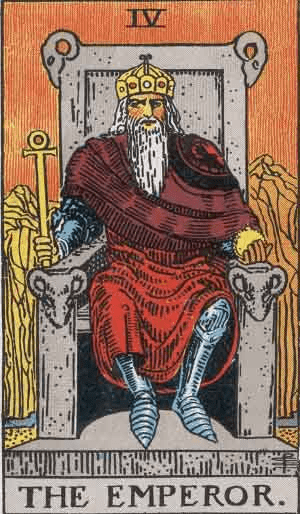 The Emperor is about power, dominance and authority. If you look at the card you can clearly see the harshnesh of the land where he sits, sterile and barren. This serves as a contrast to his counterpart, The Empress, in which the land was fertile and full of vegetation. At the same time it serves as a nice point of comparison between Krakoa and Arakko. In my previous analyses I talked about how Krakoa is a prosperous land where mutants can thrive, but its other half, Arakko, is a whole different story.
We don't know how much time the ancient mutants of Okkara have been trapped on Amenth, but we do know it has been at least three thousand years, and time hasn't been kind to the Arakii population. The Horseman of Apocalypse described the experience as a living Hell, and we know from Summoner that they had to raise ten towers and live inside the land between them because outside there was only a wasteland of daemon hordes. Despite all of that, they survived. The Emperor's throne symbolizes stability and endurance, that's why it is card number 4, like the strong four legs of a table, or the four walls of a house.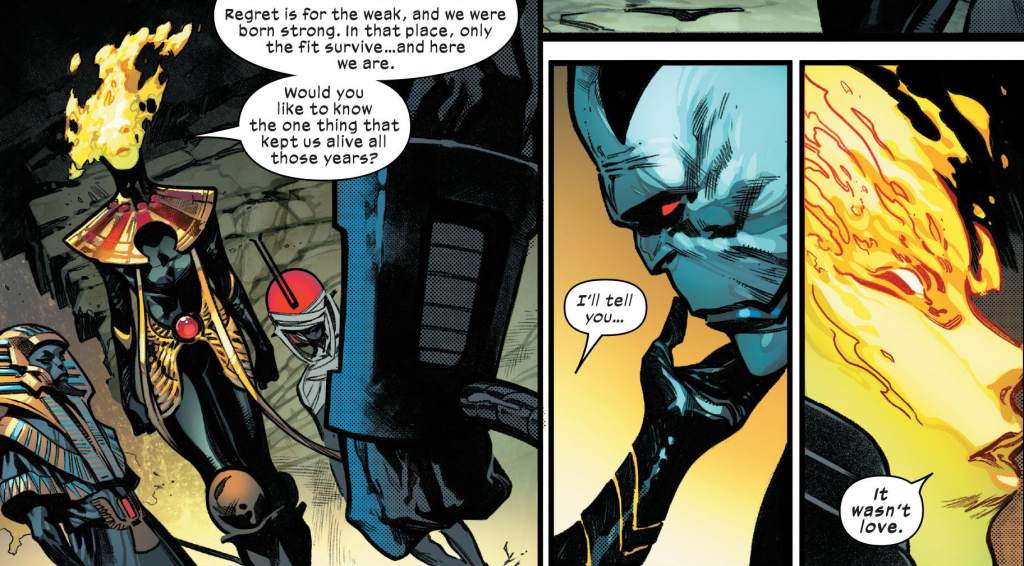 Hierarchy and leadership are also themes represented by The Emperor. This issue displays the struggle between two powerful nations, which despite their alliance, collide because each seeks the best for their people and that represents a conflict of interests. Storm needs Skybreaker or else she wouldn't be able to participate in Saturnyne's tournament and that would mean a dimensional invasion which would doom not just Krakoa, but the world. But if Wakanda gives her the sword, their people would revolt because only the King can use it.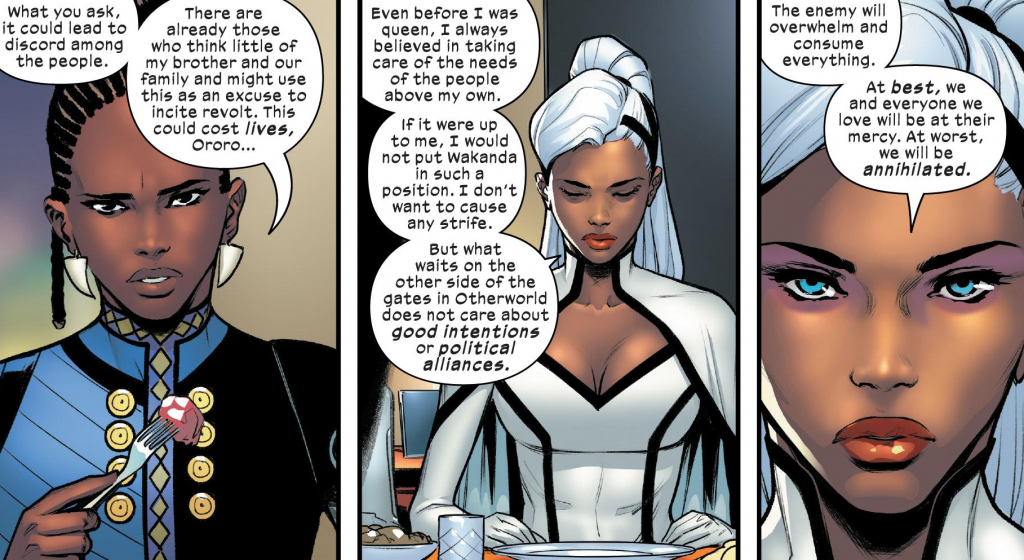 Speaking of the sword, Skybreaker also fits the meaning of the card. This is a weapon wielded by the first wakandan King and has been passed down from chief to chief ever since. According to the data page, it absorbs any kind of energy and amplifies it, and while it damages living tissues, it only strengthens non-living materials. No wonder Storm was meant to wield it in the tournament.

Remember this is the fourth state in the Fools' journey, after getting to know himself and using that knowledge to create and express, now he must take action. The Emperor is about claiming your autonomy, exercising authority over yourself. Storm has only three days to get the sword, meanwhile Shuri and Ramonda refuse to give it to her, and T'Challa doesn't respond to her messages. She doesn't have the luxury of waiting because there's too much at stake.
This is the same Storm who wouldn't let the technorganic virus kill her even though she could be resurrected later (In Giant-Size X-Men: Storm). The same Storm who would still lead the X-Men even though she lost her powers. She is and has always been a person of action, that's why she has to claim Skybreaker by her own means, she couldn't risk being at the mercy of others.