Editor's Note: Tarot Readings are a major thematic and stylistic component of the 2020 X-Men comics event, X of Swords. Since it's not a field I know, I'm excited to bring in a specialist to provide unique readings based in the Tarot connections of the story. We'll be running these Tarot examinations following each of the event's 22 parts. Enjoy!
On this occasion we will examine another card people usually fear, that is major arcana number 15, The Devil as it relates in many ways to Wolverine #7
, chapter 16 of 22 in X of Swords.
* Spoilers For Discussed Comics Follow! *
Related Reading Orders:
Support For Comic Book Herald:
Comic Book Herald is reader-supported. When you buy through links on our site, we may earn a qualifying affiliate commission.
Comic Book Herald's reading orders and guides are also made possible by reader support on Patreon, and generous reader donations.
Any size contribution will help keep CBH alive and full of new comics guides and content. Support CBH on Patreon for exclusive rewards, or Donate here! Thank you for reading!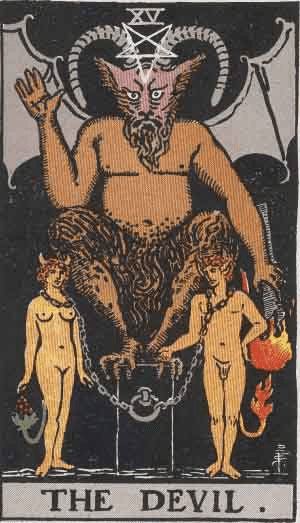 When you compare this card to The Lovers you can see how similar yet different they are: a superior figure stands above two characters, one male and one female. If The Lovers was about choices and the loss of your innocence, this one is about succumbing to temptation and not being able to decide by yourself. The Devil is a symbol of your fears, which paralyze you and take control of your ability to be free and make choices. As anyone who studies tarot knows, there's no bad or good cards, but I can see why people can feel disturbed by this one.
Wolverine made a pact with the devil when he accepted Solem's conditions in order to obtain the Muramasa blade. The Devil represents your personal idea of an adversary, most of the time that is yourself and the limits you impose because you're afraid. But in the case of Wolverine, it could be the seductive Solem, his personal devil and counterpart. When Wolverine agreed to fight for him he was restrained like the characters on the card, with little choice but to say yes, and now he's paying the price.

Manipulation is not just a weapon of the adamantium-skinned mutant. The one who orchestrated this whole tournament was none other than Opal Luna Saturnyne, and it became evident in this issue, more than any one before, whose side she's on by making sure that when Krakoa wins they also lose through unfair and biased challenges. The Devil is also about controlling others and exerting power over them, but it is also about excess. It wasn't enough to decide through her cards and her prophecies the fates of everyone, she also wanted to make sure the Arakki side would stand triumphant in the tournament.

Speaking of excess, this is a very sexual card and its diverse meanings include hedonism (does "make more mutants" ring any bells?) and exploring sexual taboos. The previous major arcana, Temperance, was about balance and peace of mind, but what happens when that is disturbed by the temptation of the pleasures of the physical world? There's two major outcomes, you could succumb and that's not bad, especially if you overcome your fears and decide to explore your sexuality. But if the card is reversed it could show a strict person too involved in trying to be moral and unable to break their self-imposed chains to satisfy their inner desires.
During the drinking challenge, Storm and Wolverine flirt a little and they're about to kiss right before he's snatched away to fight against War. They wouldn't be breaking any sexual taboo except Wolverine's in a relationship with Jean, who also happens to be Ororo's friend. Remember The Strength card? It was also about controlling your passions, while one of the more positive meanings of this card is to embrace them. The Devil is trying to tell you to accept the darker parts of yourself, there's no spiritual growth if you deny them but I wonder how Jean, who appears to be involved with both Wolverine and Cyclops, would feel, if Ororo's attitude was because of Death's machinations and how the whole thing will affect the pertaining mutants.