Editor's Note: Tarot Readings are a major thematic and stylistic component of the 2020 X-Men comics event, X of Swords. Since it's not a field I know, I'm excited to bring in a specialist to provide unique readings based in the Tarot connections of the story. We'll be running these Tarot examinations following each of the event's 22 parts. Enjoy!
Let's unveil the secrets of Excalibur #14
by comparing it to Major Arcana number 14, Temperance.
* Spoilers For Discussed Comics Follow! *
Related Reading Orders:
Support For Comic Book Herald:
Comic Book Herald is reader-supported. When you buy through links on our site, we may earn a qualifying affiliate commission.
Comic Book Herald's reading orders and guides are also made possible by reader support on Patreon, and generous reader donations.
Any size contribution will help keep CBH alive and full of new comics guides and content. Support CBH on Patreon for exclusive rewards, or Donate here! Thank you for reading!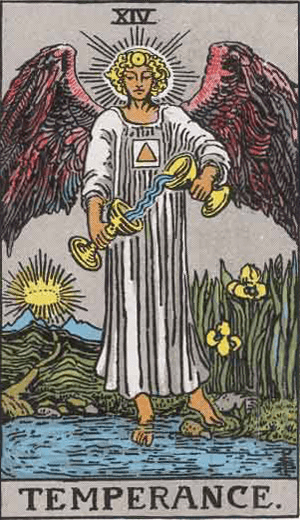 After enduring pain and coming out the other side changed, The Fool has acquired peace of mind. Without anything keeping him from evolving, he's in a peaceful state of equilibrium. Notice how the angel on the card has one foot on the ground and the other on the water, representing harmony between the physical world and the spiritual world. Maybe that's why the first challenge is a physical fight and the second challenge is an emotional one. Also there's a contrast between the two Krakoan challengers, Betsy is a warrior while Cypher is a linguist.
This card also has links with two others, first there's The Lovers from the Major Arcana, representing relationships, also depicting an angel, and there's also the Two of Cups from the Minor Arcana which Saturnyne gave to Doug, announcing love and union. Temperance is about two extremes finding each other at a common point, much like Bei and Doug who come from opposite sides and despite being completely different people decide to get married. On one hand we have Cypher who is a mediator, his job on Krakoa is to be his voice, while Bei the Blood Moon is a hunter, as we saw in Stasis. Also, Blood Moon is the name of the October full moon because that's the time for hunting.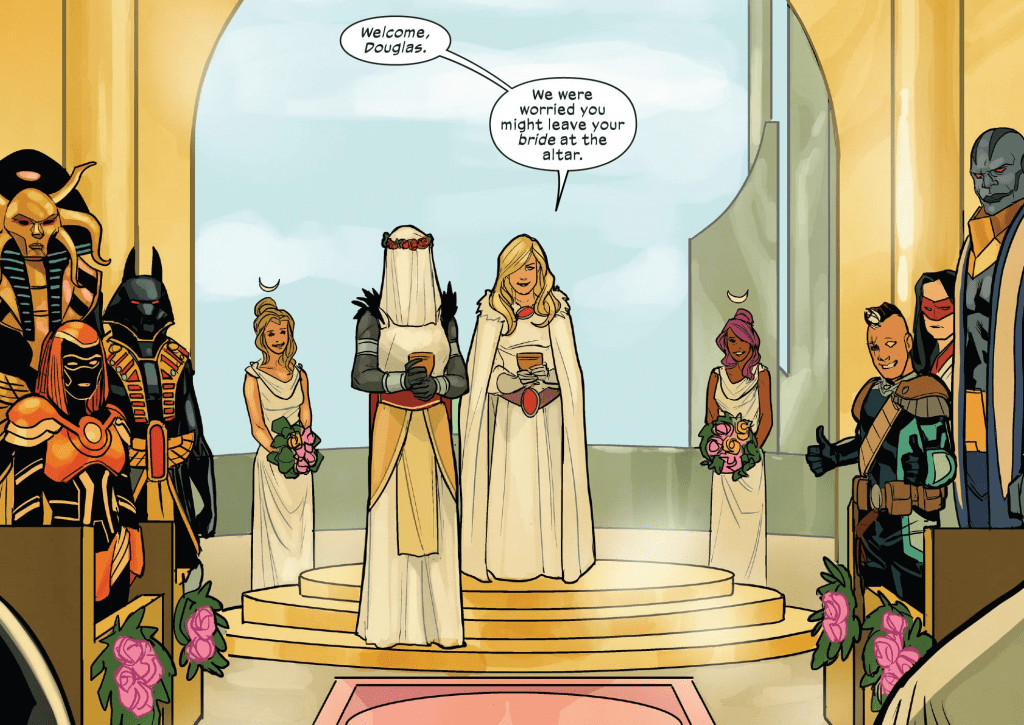 Speaking of Bei, her power is referred to as the Doom Note, she can use her voice to create powerful concussive force blasts and that's why she can't speak. Instead to communicate, her Doom Note creates a psychic connection with other people so they can hear her, except Cypher who, despite being able to translate and understand any language, can't understand her since she's not speaking any language.
The Temperance card is representing one of the Four Cardinal Virtues, like Strength represents Fortitude, so that could also be why Betsy's and Doug's respective confrontations take place in the same chapter. Anyways, temperance was the practice of discretion and moderation, that's why the angel on the card is mixing the water in the cups; it was a symbol of this virtue. So I guess that's how it relates to Bei since she didn't speak a word for fifty years until the first time she did when she leveled a mountain with her Doom Note and the warriors she commanded died because of it.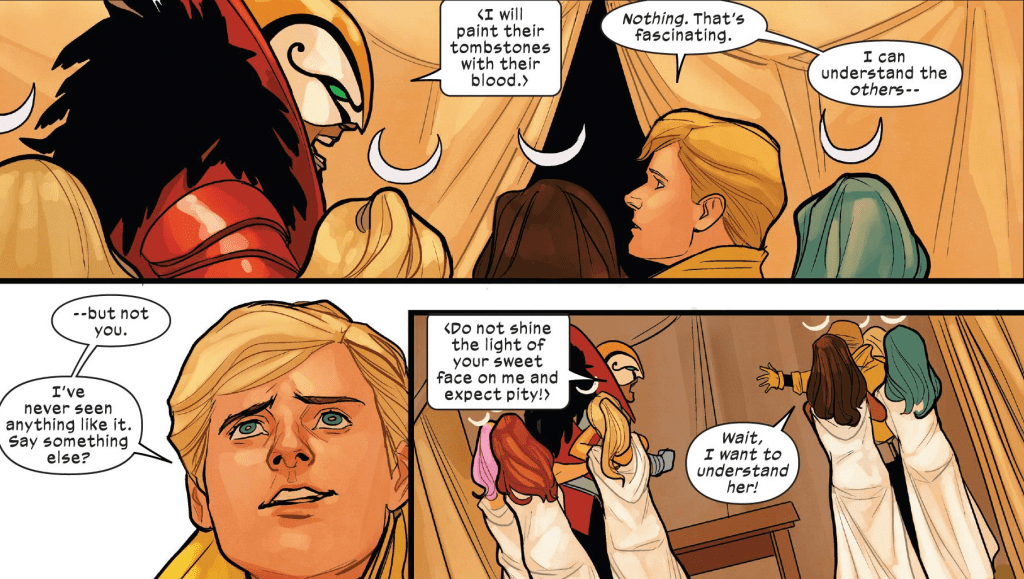 When it comes to Betsy, one could say her card, The Nine of Swords, is the complete opposite to this major arcana. The suit of swords is about the mind and ideas, and the person on this card looks disturbed, like they're waking from a nightmare. Their fears and anxieties are taking a toll on them, and they can't get the balanced state of mind of the Temperance card.
If Temperance is reversed it shows an existing lack of balance, maybe someone isn't being fair. It appears Saturnyne didn't expect Doug and Bei to marry each other, maybe she thought they wouldn't accept because of their differences and maybe she even predicted their powers would stop them from communicating instead of becoming fascinated. Also, it was clear from the start that Betsy's match against Isca was never in favor of Krakoa's champion. And I'm not even sure it was meant to favor Arakko either.