Editor's Note: Tarot Readings are a major thematic and stylistic component of the 2020 X-Men comics event, X of Swords. Since it's not a field I know, I'm excited to bring in a specialist to provide unique readings based in the Tarot connections of the story. We'll be running these Tarot examinations following each of the event's 22 parts. Enjoy!
Marauders #14 marks the next step on the Fool's Journey, and as such, it relates to the major arcana card number #12, The Hanged Man.
* Spoilers For Discussed Comics Follow! *
Related Reading Orders:
Support For Comic Book Herald:
Comic Book Herald is reader-supported. When you buy through links on our site, we may earn a qualifying affiliate commission.
Comic Book Herald's reading orders and guides are also made possible by reader support on Patreon, and generous reader donations.
Any size contribution will help keep CBH alive and full of new comics guides and content. Support CBH on Patreon for exclusive rewards, or Donate here! Thank you for reading!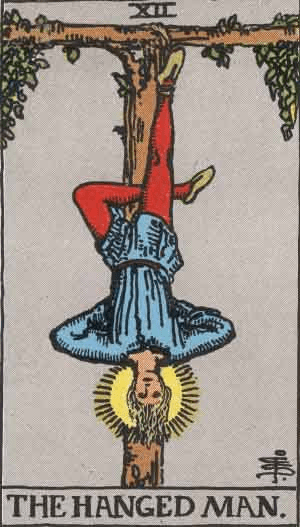 In order to keep moving forward, a pause is required on this voyage. This moment of suspension allows for enlightenment, notice the halo around the hanged man's head. This card reminds me how people often seek knowledge from outside sources, traveling to find meaning, like Dorothy from the Wizard of Oz, when the answers were inside them all along, all they needed was a little perspective. That's why the character depicted on the card is upside down, because from his perspective things look different.
In the previous reading we saw how the Justice reversed could be about rejecting other points of view. This time you surrender the ideas you already conceived in order to gain new insight. Unlike Genesis who judged the Krakoan mutants without knowing them, various other champions take the opportunity to intermingle and learn who their opponents are, and maybe discover that they're not so different.

Another interesting point of comparison is The Lovers card. That one is about what you choose, while this one is about what you sacrificed when you made that choice. Losing something for a great cause. Sometimes people compare it to how Christ sacrificed himself in order for humanity to gain eternal life, exactly what the Krakoan champions are willing to surrender as long as they can protect their land.
The card is also compared to the Norse myth where Odin hung himself from Yggdrasil, the World Tree, to gain the secrets of the runes. After all the wood on the card is alive, as proven by the leaves. Curiously enough, as those who follow the Thor comics must know, Yggdrasil has 9 branches, for each of the 9 realms and, at least for now, there are 9 swordbearers on the side of Krakoa. When the card is reversed it could mean you're feeling stuck and instead of relaxing and letting things follow their course, you're struggling to escape without success. I think that's how Wolverine is feeling when he suggests Brian give Saturnyne what she wants and later when he stabs her.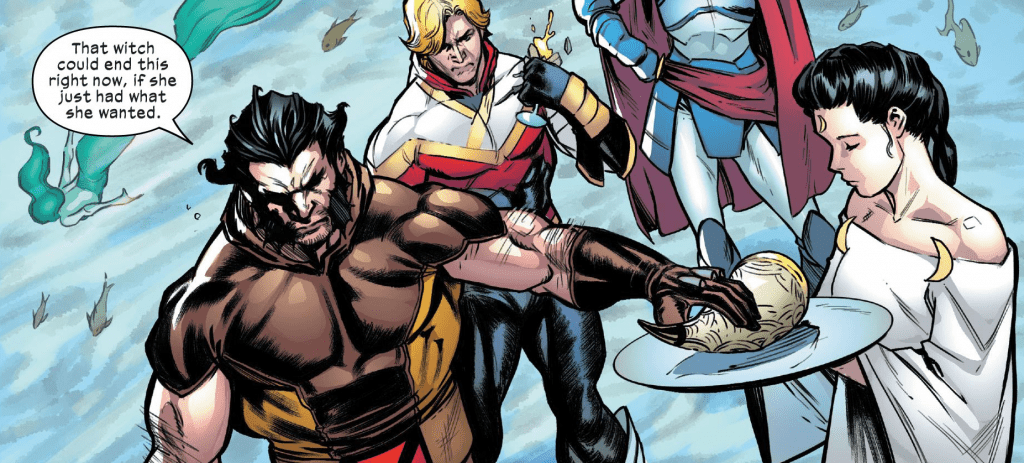 I think this is the ultimate X-Men card. To sacrifice means "to make sacred" and there's nothing more important or sacred for them than Xavier's dream of coexistence between humans and mutants. They constantly put their lives on the line and sacrifice themselves and their own interests to protect a world who fears and hates them. When the card is reversed it could also show a person who is an idealist and needs to put their feet on the ground.
Maybe that's why we see one of the most prominent leaders of the team, Storm, challenging Death. The pittura infamante was a genre of paintings resembling that of the Hanged Man, which depicted traitors or thieves, like Storm, hanging upside down from their ankles. In his book "The Pictorial Key to the Tarot
" A. E. Waite, the designer of the RWS deck, wrote "the figure, as a whole, suggests life in suspension, but life and not death"