Editor's Note: Tarot Readings are a major thematic and stylistic component of the 2020 X-Men comics event, X of Swords. Since it's not a field I know, I'm excited to bring in a specialist to provide unique readings based in the Tarot connections of the story. We'll be running these Tarot examinations following each of the event's 22 parts. Enjoy!
X-Men #14's major arcana card is none other than number #11, Justice, which marks an inflection point, since it divides the cards in two parts, the first and second half of the Fool's Journey.
* Spoilers For Discussed Comics Follow! *
Related Reading Orders:
Support For Comic Book Herald:
Comic Book Herald is reader-supported. When you buy through links on our site, we may earn a qualifying affiliate commission.
Comic Book Herald's reading orders and guides are also made possible by reader support on Patreon, and generous reader donations.
Any size contribution will help keep CBH alive and full of new comics guides and content. Support CBH on Patreon for exclusive rewards, or Donate here! Thank you for reading!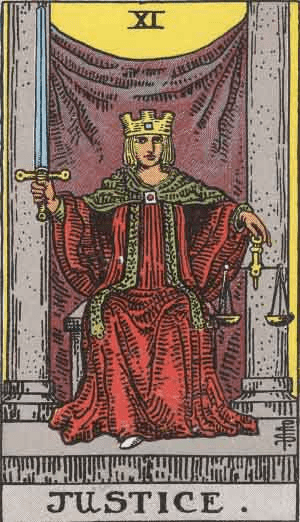 Like the name of the card suggests, it is connected, to a certain point, with legal matters such as marriage, contracts, negotiations etc. Maybe that's why near the end of the issue we see the laws of Arakko which serve as another contrast between the two sides of the coin. Also, if it weren't for Saturnyne's tournament, the conflict between Krakoa and Arakko would be resolved through an all out war but she intervened so the differences would be dealt with in a much more diplomatic manner, at least for now.
Justice though, is a subjective concept. What is legal is not necessarily what is fair. So it could be about taking justice into your own hands or to resolve a wrongdoing by your own means and do what you consider is right. This is the third time we see the same series of events. Only this time it is Genesis' version of what happened. It is only fair we get her side of the story right? Sometimes the justice card is about discernment, using your logic to judge well and discover the truth.

Speaking of judgment, I wrote about how the Wheel of Fortune could be about Apocalypse's past coming back at him in a karmic way, with the tables turned where now he's being tested. When they parted ways, Genesis told him to judge other mutants in order to see if they were strong enough to stand against Annihilation and Amenth. This time, according to her "survival of the fittest" philosophy, she doesn't think Apocalypse or Krakoa are fitting and she considers them weak. When the Justice card is reversed it could represent a critical person with a one-sided perspective. She doesn't even know the mutant champions of Krakoa yet her prejudice compels her to form opinions about them without knowing them.
The sword that the character in the card is holding stands for the logical mind, notice how despite most of the Major Arcana cards displaying some type of water there's none here. Water stands for feelings and empathy, there's no water in this one because in order to be truly fair, justice needs to be impartial. From their side of things, the Arakki mutants think they are getting the justice they deserve, their feelings are clouding their judgment.
The scales on the other hand represent balance. By this point of the Fool's Journey he has recollected the sufficient logical data to decide what to keep and what to leave behind. To measure what serves him and what doesn't. This card also deals with division, be it literal like the split of Okkara into Krakoa and Arakko, or metaphorical, like the chasm between Apocalypse and Genesis.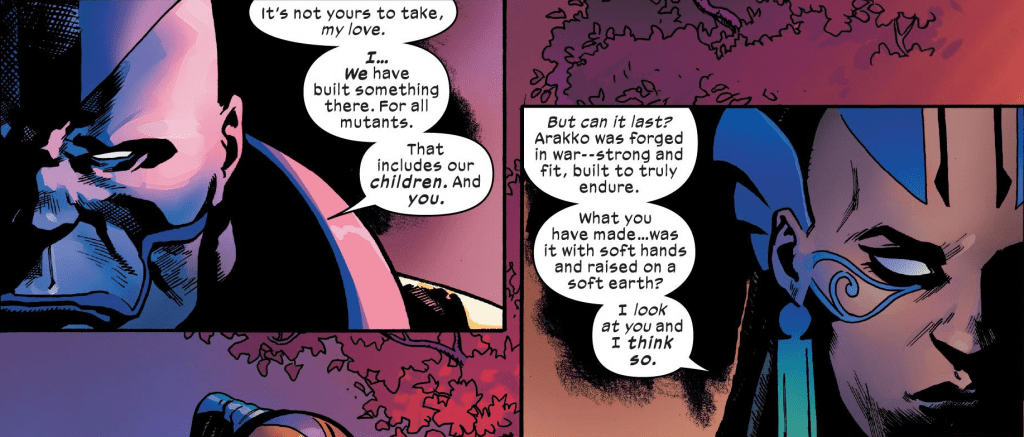 It is time for Apocalypse to decide whether his loyalty lies with his family, or with the nation he helped to build. Idyll's prophecy also talks about judgement and division. I think the first part is about the reunion and marriage of Krakoa and Arakko, and the last one about the divorce between Apocalypse and Genesis.