As anyone who knows me learns sooner or later, my first ever fresh-off-the-stands new comic was 2000's The Amazing Spider-Man (Vol. 2) #17 by Howard Mackie, John Byrne, Dan Green, Joe Rosas, Richard Starkings, and Troy Peteri when I was 4 or 5 years old. Aside from getting me to think Venom was the coolest supervillain ever (not entirely borne out) and that Mysterio also ruled (ENTIRELY borne out), the issue was mostly notable for Peter Parker getting arrested because unlikely circumstances caused a pair of cops to think he was a cokehead yuppie, and then losing out on a job interview. The centerpiece though was the lingering death by slushification of the Sandman, and a bit involving what I as a small child thought was a bottle of ketchup that lingered in my mind for decades: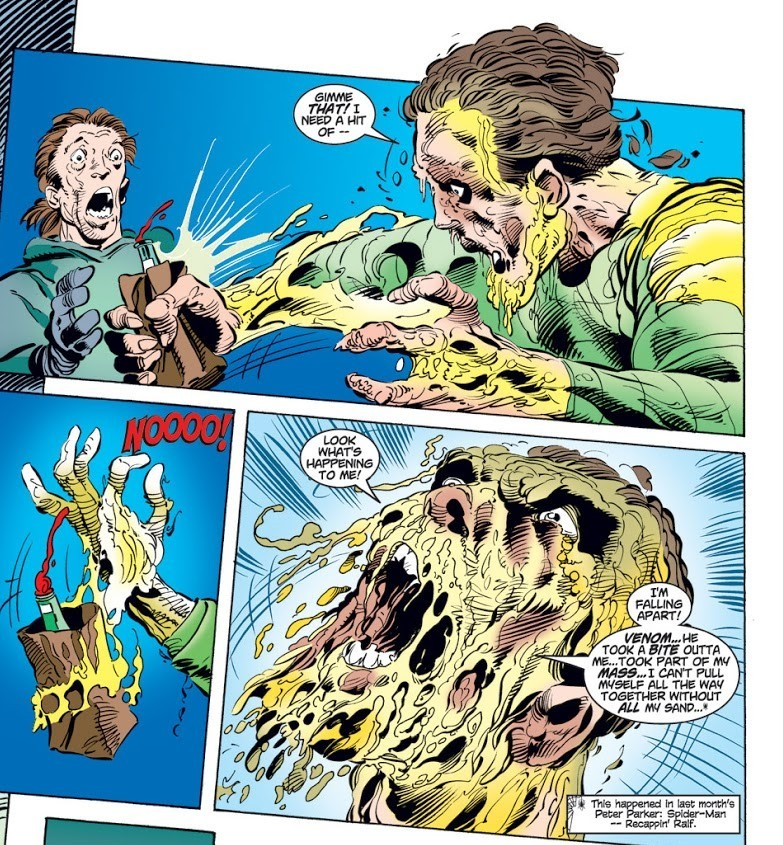 Looking back, the actual panel of the booze falling through him isn't that severe, but in my young mind it was a gut-churning visual metaphor for blood as Flint Marko's body grotesquely failed him. It didn't have an immediate impact on me; I didn't get into slasher films and in fact tend to be a big weenie regarding cinematic horror, I didn't dig up EC backlogs, and this was soon followed by the far more age-appropriate Superman & Bugs Bunny and the Essential Spider-Man TPBs. Still, it established a trend: my third grade teacher Mrs. Reed got an Amazing trade for the class's book-nook for me without paging through and realizing this was JMS and Romita Jr.'s initial Morlun arc
where Spider-Man's hunted down and beaten to a semi-sensate lump of gristle and pulp, and I ate it up.
Years later my introduction to weekly comics was Batman R.I.P.
, a comic featuring an amnesiac heroin-addicted Batman wandering the streets of Gotham in a stupor (despite its triumphant climax), a Joker with carved cheeks and a split tongue, and a threatened lobotomy upon the former Robin the Boy Wonder, rooted in the drug and sex-fueled fetishistic casual cruelities of the untouchable monstrously wealthy. It all took Gotham to a tonal limit I hadn't previously imagined and made the climax all the more triumphant. Not long after came Irredeemable, a comic that would make me interrogate my love of the Superman archetype in ways that would eventually lead to my future in comics criticism, with its tales of a hero's desperate need for validation giving way to finding bliss in the unthinkable horrors he can rain down upon the defenseless populace that once loved him.
[Read more…] about Severed Limbs and Soiled Capes: The Place of the Super-Macabre in Comics