After the fervor of the Hellfire Gala and the Twitter shattering announcement that Jonathan Hickman is leaving the X-Men following Inferno later this year, many fans of Marvel's Merry Mutants are left in a panic. The playground of Krakoa is still open with no shortage of titles exploring this new status quo. From exploring culture in Way of X
to corporate strategy in X–Corp, the very reason for Hickman's departure is that there's just so much to explore.
While the conceptual diversity of the Krakoan era is excellent and offers a variety of talents to tell compelling stories with a number of characters, I do feel for the loss of focus. The themes and conflicts Hickman proposed in House of X and Powers of X were incredibly compelling to me and I was hoping to see them built on for longer towards a larger conclusion (some of which may come from Inferno). And while it's true, the momentum of the line is not solely propelled by Hickman but by the X-Writers as a whole–it's difficult to see what the next driving goal of the line will be.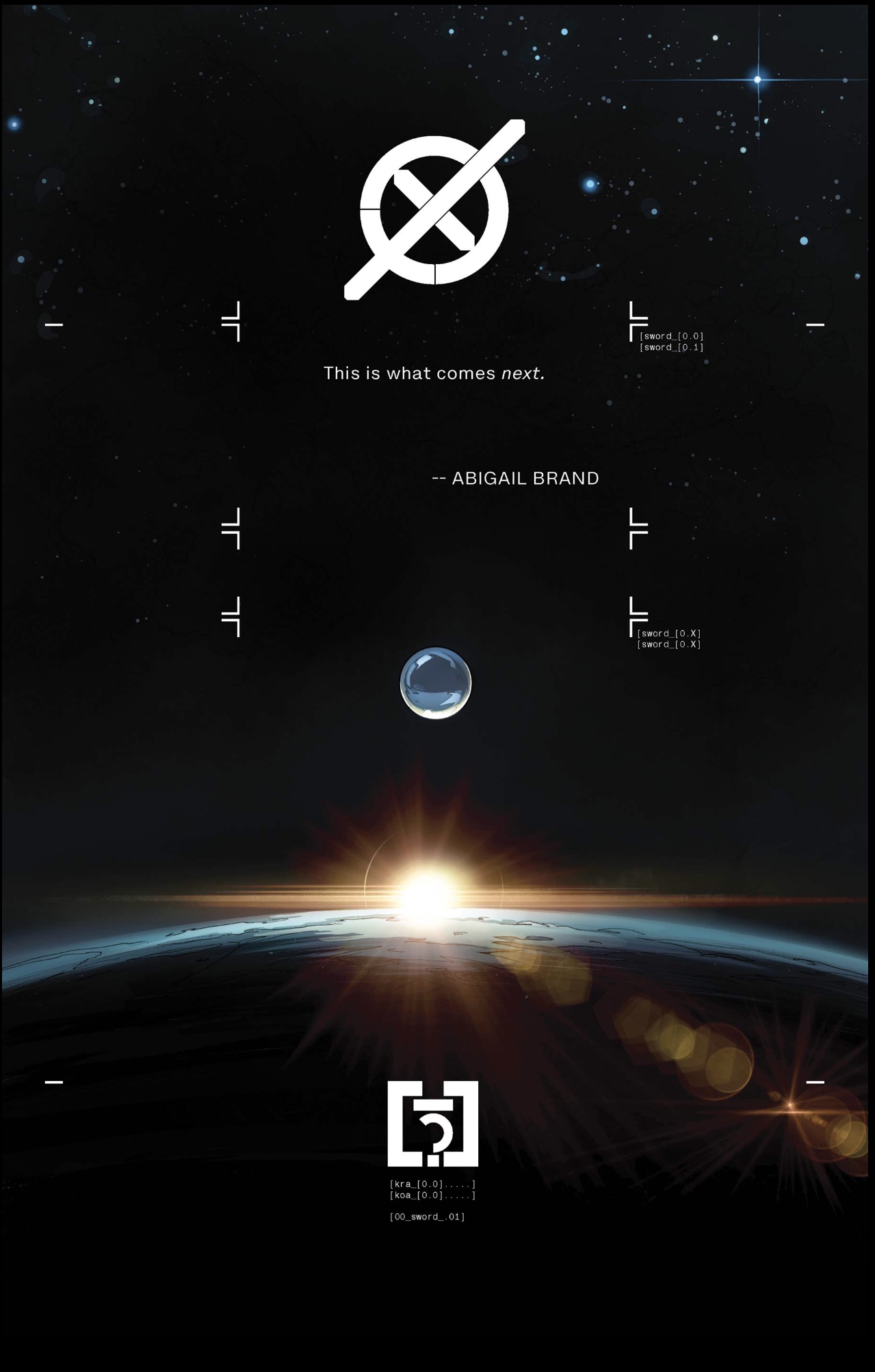 That is until I reread SWORD where Al Ewing gently took my hand and told me "this is what comes next."
SWORD #1 is arguably the best first-issue debut of the Krakoan era in how it recaptures the ambition and scope of those first issues of HoXPoX. Building on the threads of Empyre
and X of Swords, Ewing's opening salvo provides a brief glimpse into "what comes next" with Abigail Brand reigniting S.W.O.R.D. as the mutant space program, uniting the new Krakoan era with the cosmic side of the Marvel Universe alongside a compelling cast of character that rounds out Ewing's cast.
Support For Comic Book Herald:
Comic Book Herald is reader-supported. When you buy through links on our site, we may earn a qualifying affiliate commission.
Comic Book Herald's reading orders and guides are also made possible by reader support on Patreon, and generous reader donations.
Any size contribution will help keep CBH alive and full of new comics guides and content. Support CBH on Patreon for exclusive rewards, or Donate here! Thank you for reading!
Speaking of the cast, Ewing's love of continuity deep diving has made this book an incredibly satisfying "Where's Waldo" of favorite mutants not only in support roles but within the main cast. Alongside Magneto, Kid Cable, and Brand, we get Manifold, Frenzy, Fabian Cortez, and the legend known as Wiz Kid. All of whom are written in a way you can feel the care (or hatred in Cortez's case) that Ewing has for these characters–they are at their best and pushed to interesting new spaces. Balancing this character work with such high concept sci-fi is one of Ewing's great strengths and what makes SWORD such a joy to read. 
One particularly great character-focused issue looks at Eden Farsi, Manifold, or as the book dubs him "The Everywhere Man". In SWORD #3, Ewing–along with a handful of artists including series mainstay Valerio Schiti, Bernard Chang, Ray Anthony Height, and Nico Leon–follows Eden as he operated under the then current King in Black crisis. We see him visit his uncle in Australia in a very warm scene that touches on Eden's aboriginal heritage, we see him negotiate within the S'narrk War, and happen to gather the intel on Alpha Flight's new leader, Henry Peter Gyrich, being in league with Orchis, the overarching anti-mutant group that Hickman introduced early in his run. And most notably, Ewing issues a clarification on Manifold's abilities. He's not a teleporter: he asks the universe to bend around him. Simply excellent stuff and another example of Ewing's ability to blend thoughtful sci-fi and excellent character work that I'm looking forward to going forward from this volume.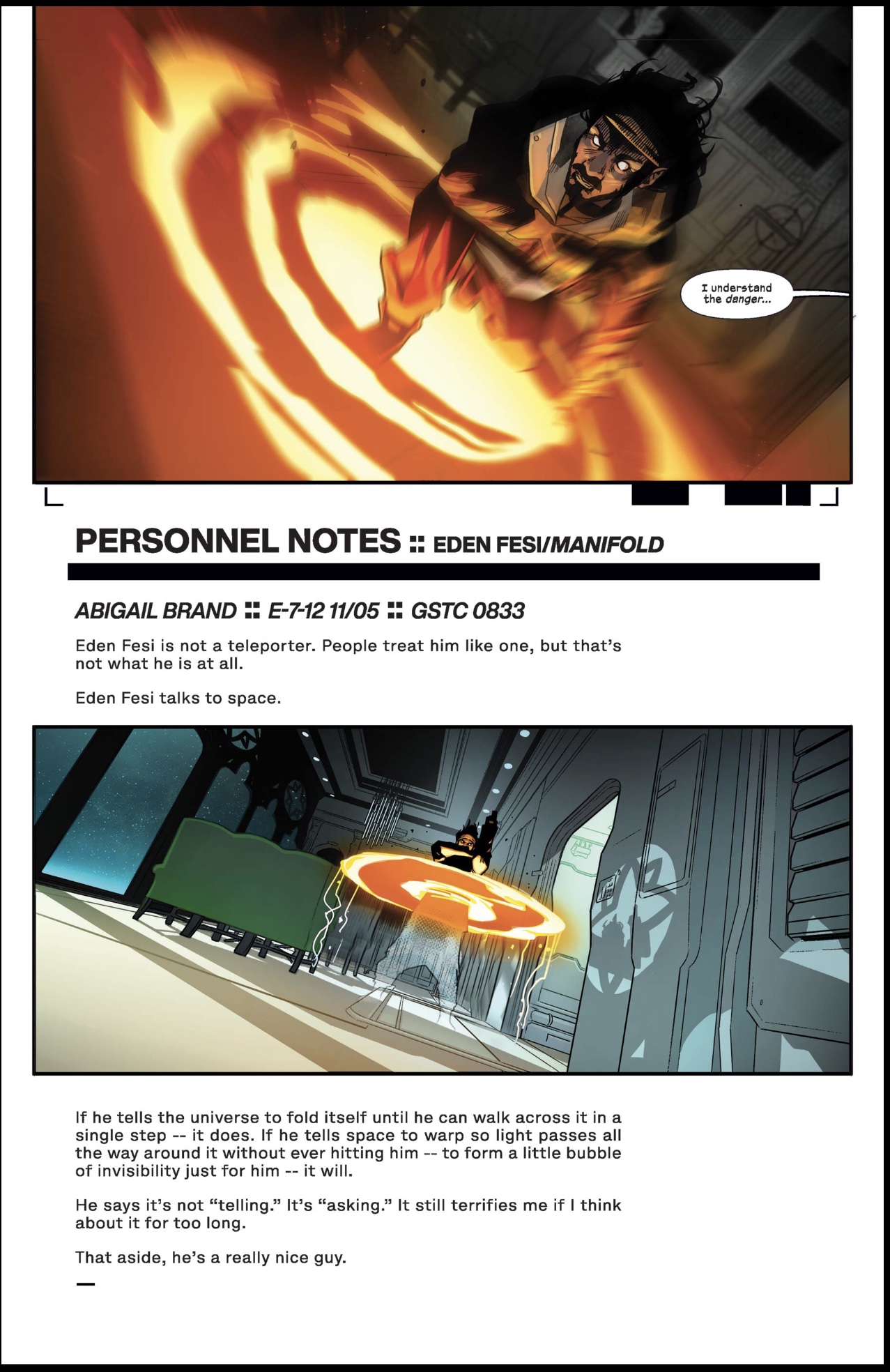 Another element of SWORD that scratches my Hickman grand concept itch is the way Ewing utilized data pages. Data pages have been such a slippery slope in this era. Oftentimes, they are used to provide a little extra context, sometimes there are full pages of "transcribed" dialogue or, in Benjamin Percy's case, just some space to flex prose skills. However, Ewing and Muller manage to strike a very good balance between exposition and storytelling. Every data page in this book is at the very least interesting. Primarily looking at Abigail Brand's logs on the characters, providing information on mutant technology or giving wider context. Ewing pulls at the nuggets we haven't seen in the story and adds them there and even sometimes teases new evidence. The build-up of Khora of the Burning Heart was built up by the censoring of her info in data pages as early as issue one. Just one way of building up the mystery and intrigue in this book and makes the reveals and developments all the more exciting.
Another data page trick is an extension of Hickman's use of them in the way the design blends with the artwork. Looking back to Manifold's issue in the third chapter–blending the data of what Eden is doing by asking space to make him invisible while he's doing is not only highlighting what a flex Manifold is doing right now but what a flex the unique storytelling capabilities of this era. 
The other all-star of these early issues of SWORD is Valerio Schiti, whose designs alone make this series stand out from the pack and feel like something new and important. The Sword uniforms feel modern and functional and objectively one of the best-looking team uniforms in comics (with X-Factor in a close second). When it comes to interior pages Schiti shines as the primary artist in these first six issues. His layouts remain clear and concise while maintaining solid energy throughout by using a relatively simple array of panels but executed very intelligently keeps pages feeling fresh and with room enough to build for the grand concepts Ewing introduces. Marte Gracia complimenting Schiti and others on this book and marks it as feeling *important* by adding the same flair to Schiti's line work that he does to Pepe Larraz in all of the milestone eras of this book.
Additionally, Ariana Maher helps execute on a staple of Ewing's books that I personally am a mark for: "text in a unique font from an unknown narrator". It's used in the first issue and I was obsessed with it when it dropped and I'm obsessed with it now. Maher also continues the visual trend in modern Marvel books of giving the Skrull, Paibok, a speech balloon in a satisfying shade of green and extending this to the black and gold balloon of the new character, Arrakii mutant, Khora. The creativity and ambition of this title feel infectious in bringing everyone on the creative team's biggest flex's they can. 
The discussion of the post-Hickman Krakoa era has been a bit fatalistic and I'm not going to say I've been wholeheartedly optimistic about it either. Despite this, it's a denial to say the X-Line isn't in a creative boom. While a handful of books really haven't hit for me, there's another handful that has my full attention and SWORD is at the top of that list. Al Ewing is a writer more than suited to scratch that high concept sci-fi itch that Hickman left us craving and is a writer who can pull it off with just as much style and even more attention to character.
The threads of Orchis and the prelude to the Trial of Magneto all happen in this book, not to mention setting the stage for the terraforming of Mars. All of which for sure wasn't in the playbook of Hickman's master plan. The real exciting thing of this era is how these titles feel in conversation with each other with the creative teams supporting and building up each other's ideas. So while it is sad to see Hickman go, he leaves behind a confident machine of talented writers pushing the line to new and interesting places. SWORD is one such title leading the charge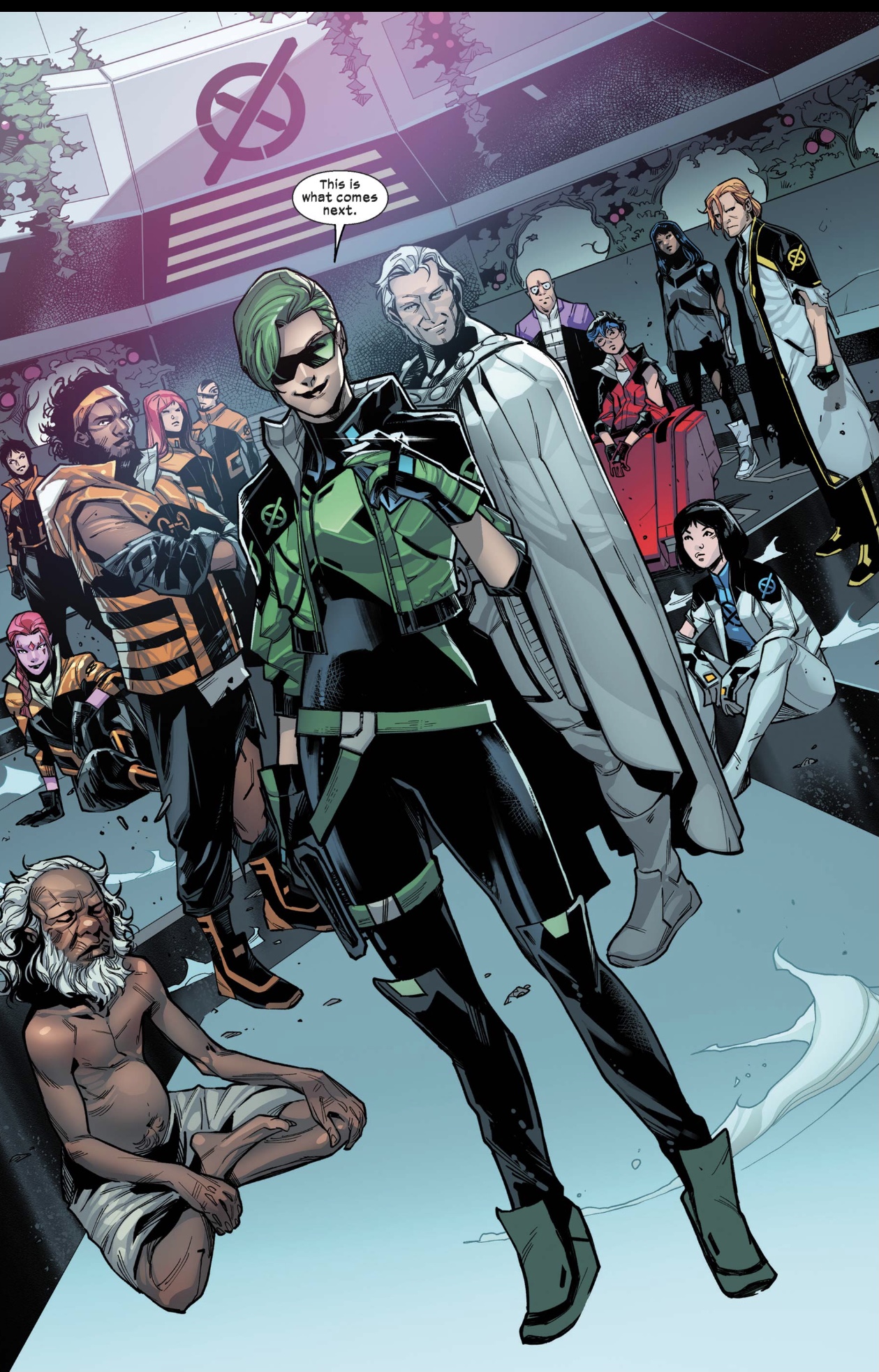 So X-Fans can calm down knowing "this is what comes next."