A diva is born! Paprika is an instant girl-boss icon of the demonic and erotic! Those cat-eye glasses! That toothy smile and long forked tongue! Those pepper-red legs and the free curve of her beautiful bra-less breasts! Comic fans are going to treasure this fiery-colored babe for the future of comic history, forever. So, what's her story?
'Sweet Paprika
' is a romantic-comedy set in the same world of angels and devils as introduced in 'Un/Sacred' more specifically localized to New York City and is entirely its own story, not a direct sequel. Mirka Andolfo writes real heart into all of her lasciviously illustrated characters, filling-in a world with compelling detail, with each issue maintaining that over-the-top charm and fun pace of a short cartoon.
Mirka Andolfo is one of the incontestably coolest artist-storytellers working in comics today. Andolfo's interior art is very animated yet detailed, the line work is clean, unhurried and the panel layouts very efficient. Andolfo's stories have revitalized an interest in the erotic romance genre of comics, featuring some of the most memorable hotties ever! Her incredible skills as an artist and storyteller culminate beautifully in 'Sweet Paprika', and any reader can see how much Andolfo clearly adores her own characters. Similar to 'Un/Natural' and 'Un/Sacred', 'Sweet Paprika' has characters seeking sexually romantic freedoms from conservative social rules, characters easy to root for. The art in 'Sweet Paprika' pushes the boundary of what's allowed in comics yet it's vaguely censored enough to dodge a warning label. There are obvious sexual situations, implied masturbation underneath full clothing, sexually creative perspectives, pleasured-expressions, excitable posing, and an abundance of boobs with partial or full nipple. Thank you, Mirka! Paprika's mature themes might not be appreciated by parents, but teenage readers are safe to enjoy it.
The US-printed interiors are gorgeously colored by Simon (twitter-user @Ci__m0n) who also occasionally does live-streams where viewers can watch them digitally color the panels. Those colors pop on the glossy paper and add a lot of beauty to this particular edition. The first-printings of 'Sweet Paprika' are released by 'Arancia Studios' in Andolfo's native Italian language (collectors take note). English localization by Steve Orlando, who has written on 'Batman', 'Wonder Woman' and 'Commander in Crisis'. Lettering is attributed to Fabio Amelia, working with 'Arancia Studio' who likely had to letter both Italian, English translations.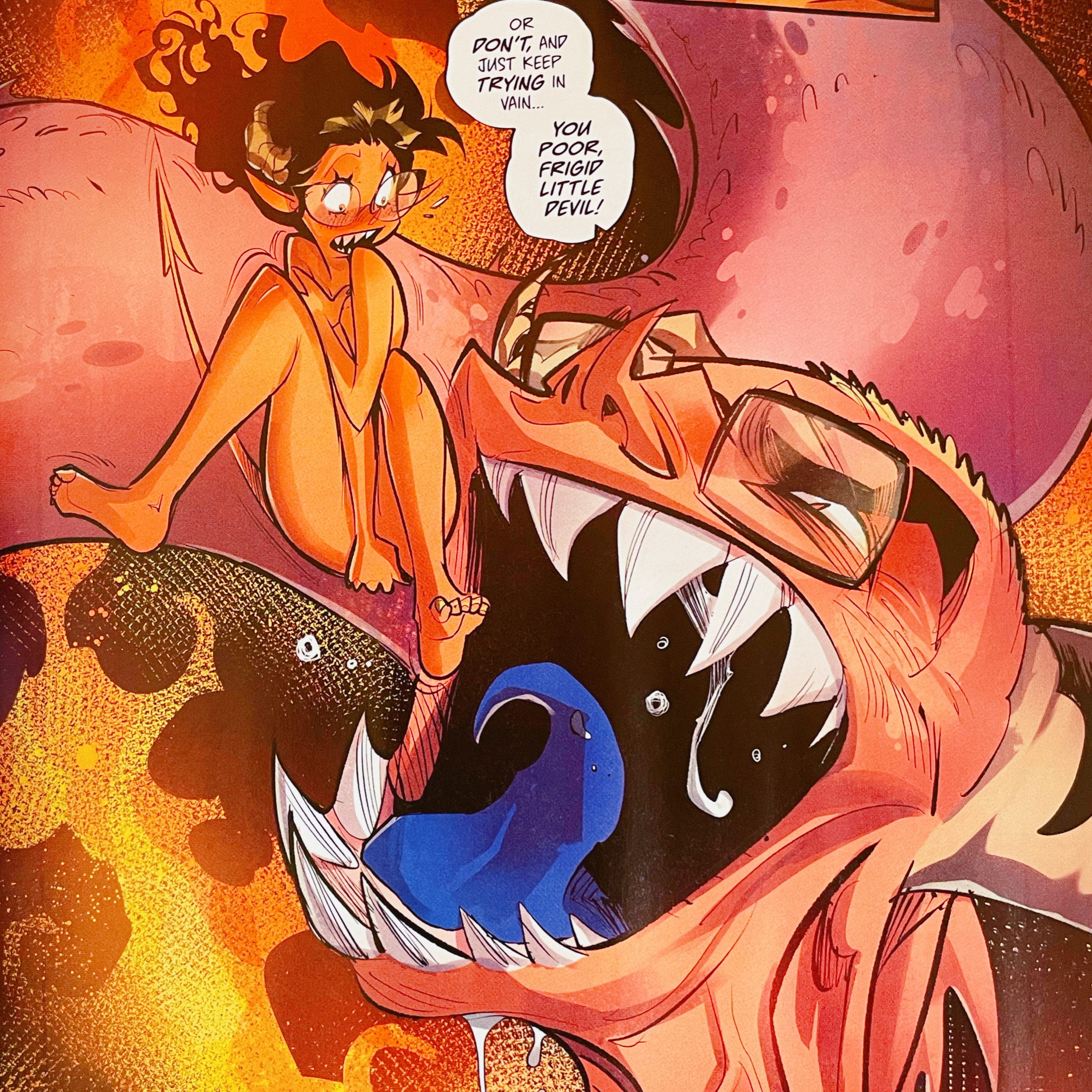 Who is Paprika?
Paprika is chief editor and creative officer of Infernium Press, a queen bee at the height of her professional power, publishing a line of wildly popular romance genre books that she selects. As a woman with a rich sexual imagination, she has a sharpened ability to recognize a good fantasy when she reads one. Poor girl is so sexually repressed in her personal life though. As prone as she is to erotic day-dreaming, every single fantasy she has for herself is interrupted by instrusive thoughts of her father showing up and interjecting his sexist judgments concerning her sexuality. It's the usual double-standards and slut-shaming to be expected from conservative men used to control their young daughters. For Paprika, being able to experience and cultivate the highly-polished fantasies packaged by romance writers is a refreshing breeze, in comparison to this personal torment. Go to therapy, girl! Or don't and be the center of your own tragic comedy of errors, go off.
Support For Comic Book Herald:
Comic Book Herald is reader-supported. When you buy through links on our site, we may earn a qualifying affiliate commission.
Comic Book Herald's reading orders and guides are also made possible by reader support on Patreon, and generous reader donations.
Any size contribution will help keep CBH alive and full of new comics guides and content. Support CBH on Patreon for exclusive rewards, or Donate here! Thank you for reading!
As fate has it, the current run-away best-seller 'Spice It Up' was written by her ex-fiancé, Bournet, whom Paprika left standing on the wedding altar seven years prior! She still lives in the shadow of this event and hasn't dated or had sex with anyone since. Her father still adores him. Racked by the guilt left over from that relationship, Paprika has become entirely focused on her professional life. Paprika derives personal satisfaction from demanding the highest quality work from her employees and blowing up when they fall short. She's also developed an expensive taste for exquisite foods prepared exclusively for her. Paprika describes herself best, "I expect from others what I expect from myself. That's all. Because I am a young woman and a devil in a world of demons and warrior angels, all locked in an eternal dick-measuring contest."
While courting the film rights for her ex-fiancé's book with a popular film studio, Paprika becomes enamored by the handsome studio executive Za'atar. He's as demanding and impossible to please as Paprika, and after a flirtatious encounter with him she becomes convinced that a relationship with him would be a necessary reflection of her success. By all appearances, he's the perfect match for her.
Enter "Dill-do" or that's what Dill likes to call himself anyway. A strong Himbo of the Year Contender, Dill is literally a hunky angel, the mail man loved by every woman in the offices of Infernium Press for delivering them packages literally and figuratively. Every woman, that is, except for Paprika who sees Dill for what he is: a himbo with dark sunglasses and a heart of fool's-gold who thinks he is God's gift to women, complete with a chick-magnet puppy, the adorable Bean. Dill is not the kind of guy Paprika goes for, especially since she has never healed from her last failed relationship with an angelic man, but Paprika begins to suspect that he may be useful to her after all.
Paprika clearly can't see how awesome she is, and doesn't feel as sexually confident as she could. Expecting perfection from herself she wants to be able to impress Za'atar in bed, but she's been sexless for seven years. The handsome idiot Dill keeps offering his services, so Paprika concocts a plan to use him like a sex doll to practice sex. Dill is beyond smitten by her and agrees, so she sets some boundaries with him – no kissing, no cuddling, no vaginal sex with other women – as Paprika aims to keep the fun with Dill strictly platonic no matter how good he makes her feel. Things heat up between them fast, and while Paprika tries to keep a cool head with her eye on Za'atar, complications arise.
'Sweet Paprika' features a handful of other spicy characters thrown in the mix. Paprika's boss, and CEO of Infernium Press, is a shadowy arch-demon known only as "His Great Darkness" and Paprika is one of the only people that can claim to have his favor. Anisette is a voluptuous she-devil with back-turned succubus horns and large pouty lips. She's a hottie with a lot more sexual confidence than Paprika and my imagination kept running away with her. As one of the girls working under Paprika she doesn't have the best view of her boss and she's intuitive enough to know that something is up between Dill and Paprika.
Za'atar is the opposite of Dill, he's a suave looking demon that holds himself to the highest professional standards. It's cute to see sparks fly between Paprika and Za'atar, and easy to imagine how spectacular they'd look together, but as the usual plot of romance stories go there's a guy who is a perfect catch and then there's a suitor with little to no station in life who becomes "the right man" for a suddenly love-drunk and irrational woman, so we'll see if this sticks to the formula or tries something unique in upcoming issues.
Paprika's ex-fiancé, the best-selling romance author named Bournet, is also good friends with Za'atar. Has he really healed from Paprika's emotional betrayal all those years ago? Does he still have feelings? Will he be the cool guy who hooks his friend up with his ex, whom he respects as a woman, or will he become jealous of Paprika and Za'atar and try something dastardly to keep them apart?
Then there's Chamomile, the executive assistant to Paprika that has the difficult job of chasing after her list of ever-so-specific demands. He is kind of mediocre, so his failures are often met with Paprika's impatient rage, reminiscent of lady boss Meryl Streep in 'The Devil Wears Prada'.
Paprika's parents are both the typically conservative folk, with her father being a well-respected judge in the city. When Paprika is exposed to a raunchy sex video of her dad going to town on some sex workers, she learns he is a philandering, manipulative, hypocrite with lustful needs. His judgments about her own sexuality have made her feel debilitating shame, and while it's not fair, she still has to come to terms with that herself. Seeing how flawed parents are is not easy, but this acknowledgment does allow for children to grow out from under their parent's fears and limitations, and likewise Paprika begins to feel less inhibited about her sexual desires and physical needs.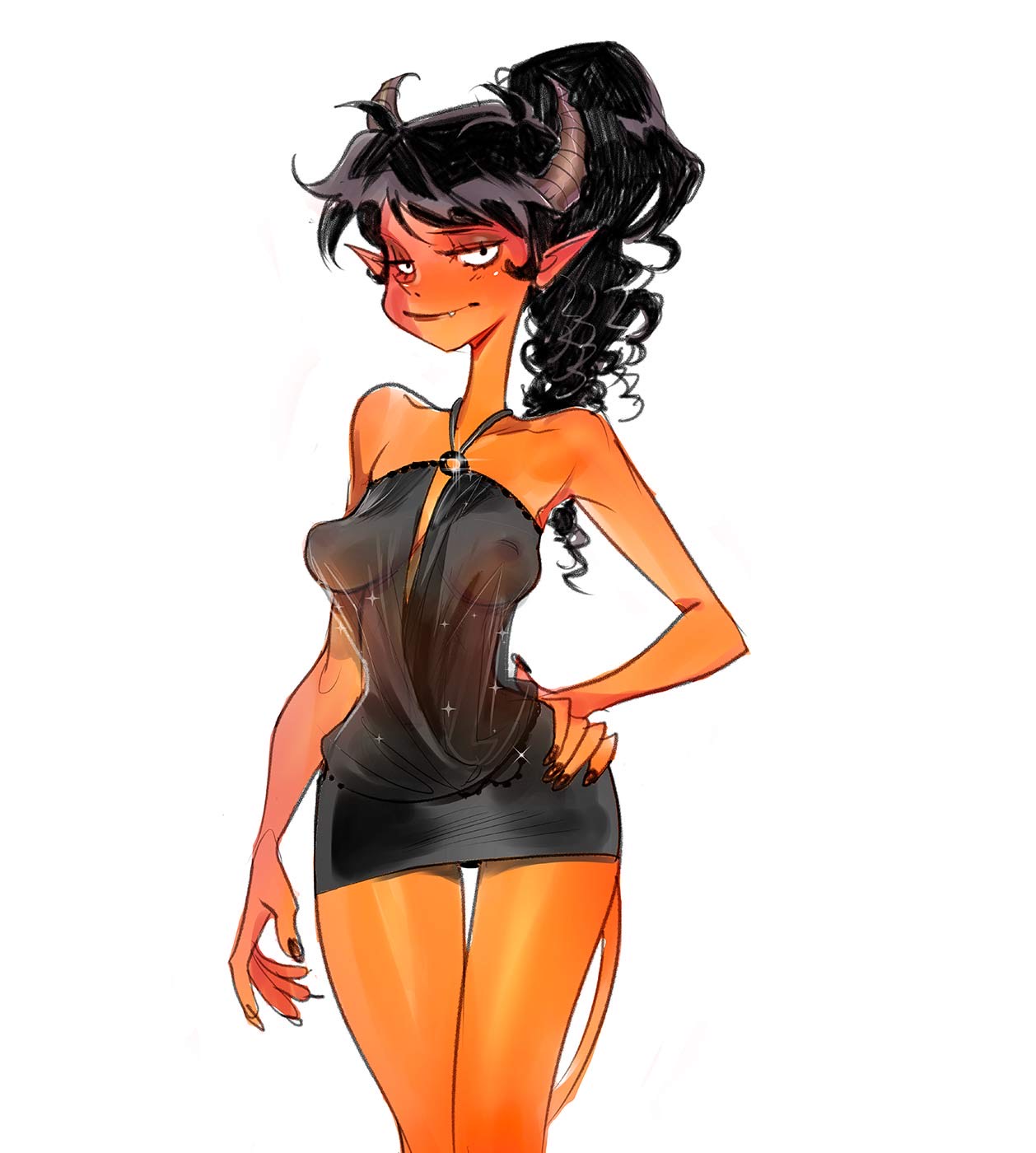 Paprika's story unfolds as an engrossing but simple soap opera on its surface – Crossed love interests, unlikely couples, and petty jealousies – yet it is also the deeper story of a woman overcoming the misogynistic double standards of the patriarchy and learning to enjoy sex. There are cinematic tones of popular romantic-comedies films like 'Down With Love' (2004), 'Sabrina' (1959), 'Breakfast at Tiffanys', and 'She's All That' (1998) but it stands out a something unique that would look really fun fully animated on a screen. As with all romance there is always the greater possibility that Paprika could connect with something even more intimate and vulnerable than sex: real love!! Will Paprika find her groove and redefine the terms of success? You'll have to read to find out and Andolfo certainly knows how to titillate her readers with surprises! So far the story and characters are as straight as dry spaghetti, but there is enough hot tea for lgbt readers, such as yours truly, to enjoy! There's no openly gay, lesbian, or trans character, no same-sex sub-plots. Anisette does have bi-sexual vibes and Paprika should, but she seems intimidate by Anisette's lack of sexual inhibition.
When Paprika suspects that Dill may be sleeping with Anisette, despite their arrangement to be exclusive, she creeps on them and says something vaguely homophobic, she says "never will I be penetrated or touched by a penis that's been inside Anisette or anyone like her… Just think of me indirectly kissing Anisette's vagina or even her – yuck – lips! Her cursed tongue! Could anything be more revolting?" Despite this she listens to Dill and Anisette heavy petting while helping herself to some personal touching. This may be Andolfo trying to pin down Paprika's sexuality as a straight woman who is not remotely bi-curious, but how this reads to an legit reader is: statements like this are the typical thing repressed straight women tell themselves when they are extremely attracted to the very idea they find so "revolting" with the same gender. There is a subtext of woman-on-woman resentment, and by Paprika mentioning Anisette in this context creates the opposite effect it intends, and I have not stopped imagining Paprika and Anisette kissing.
Paprika is a hot-pot of cuteness and her remarkable story, will stand-out as one of Andolfo's career defining characters. This series should not be missed. 'Sweet Paprika' Volume One collects issues 1-6, of a planned 12-issue series, and will be released February 19, 2022 so make sure to pre-order and pick it up at your local comic book store. The story continues in issue seven, which comes out February 2, so you might get it so that you can follow it's final issues monthly.
(Oh and check out Mirka Andolfo's curated playlist for 'Sweet Paprika' inspired on Spotify)