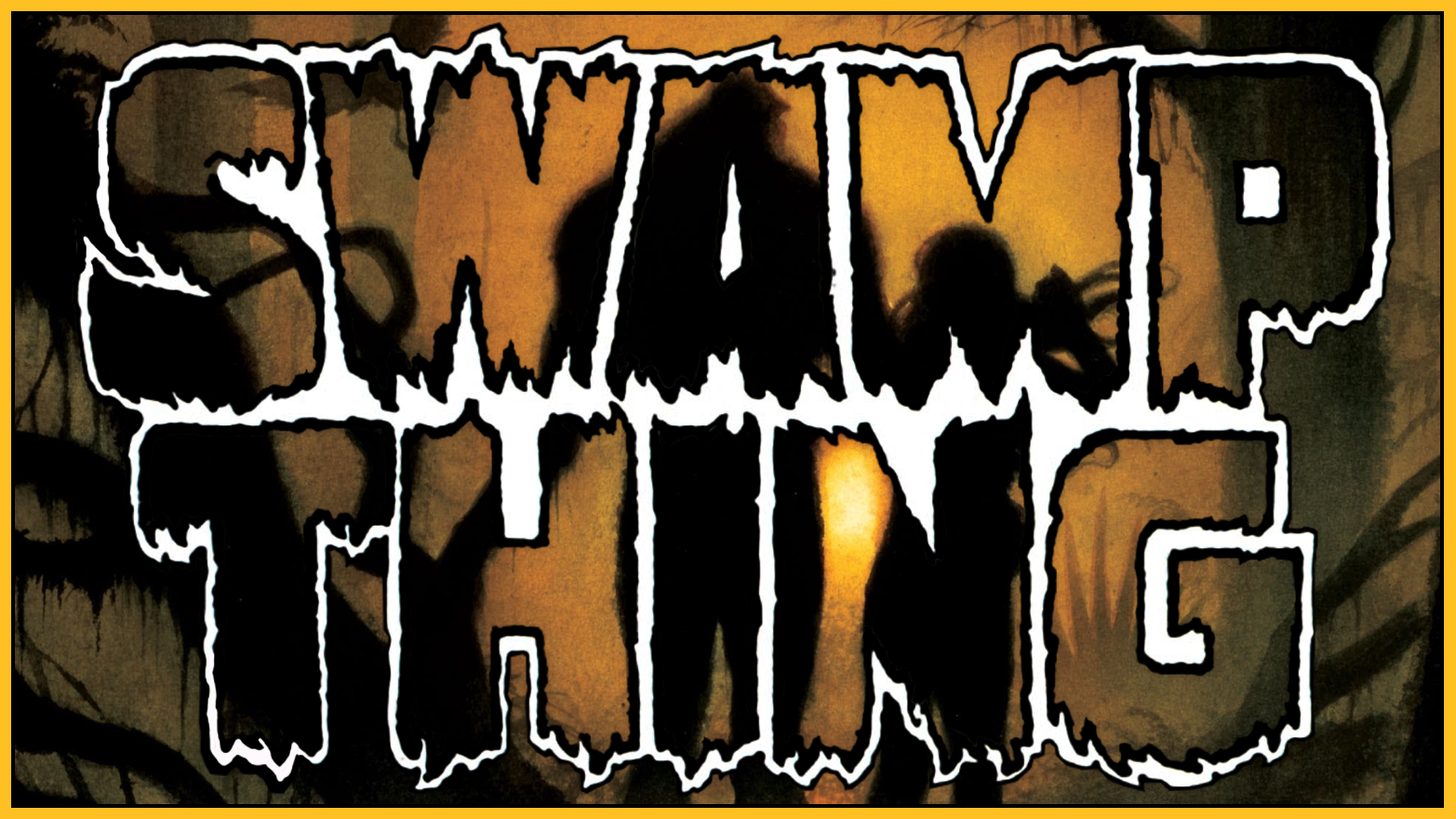 Through hell, war, and madness, the love between Abigail Arcane and Swamp Thing has only grown deeper. But can it withstand a world that hates them? And even worse, can it stand being separated by light years apart?
After taking over Saga of the Swamp Thing with issue 20 in 1984, Alan Moore and collaborators redefined and expanded the character of Alec Holland in ways that not only permanently changed the meaning of Swamp Thing, but influenced generations of stories at DC Comics. But while his long-running "American Gothic" storyline would reach a massive climax in issue 50, there were still more stories to tell, even as original artistic collaborators Stephen Bisette and John Tottleben would leave the title and be replaced by penciller Rick Veitch and inker Alfredo Alcala. But by 1987, Alan Moore would come to the end of his time in the swamps and soon after leave DC Comics forever.
After storylines that saw his central character discover his true self through an existential crisis, go to hell and back, fall in love, and face a threat older than time, Alan Moore would close out his time on Swamp Thing with two storylines that would deal with earthly hatred and cosmic strangeness. And in the midst of it all are two lovers desperate to reunite but separated by both man and the universe.
These are the stories of Swamp Thing in Gotham, covering Saga of the Swamp Thing
issues 51 through 55, and Swamp Thing in Space, stretching from issues 56 through 64. This is how Alan Moore says goodbye to the comic that both defined him as a writer and redefined Swamp Thing forever.
This is Alan Moore's final odyssey.
Support For Comic Book Herald:
Comic Book Herald is reader-supported. When you buy through links on our site, we may earn a qualifying affiliate commission.
Comic Book Herald's reading orders and guides are also made possible by reader support on Patreon, and generous reader donations.
Any size contribution will help keep CBH alive and full of new comics guides and content. Support CBH on Patreon for exclusive rewards, or Donate here! Thank you for reading!
Swamp Thing in Gotham
Picking right up where Moore's climactic American Gothic left off, issue 51 switches its focus to Abigail Arcane's subplot that had been slowly boiling for the past several issues, as Abby is charged with "crimes against nature" due to her sexual relationship with Swamp Thing being exposed. But when Abby is freed on bail, she flees to Gotham, only to be quickly picked up by the police, with Commissioner Gordon and Detective Harvey Bullock planning on extraditing her back to Louisiana to stand trial. All of this has happened as Swamp Thing's journey to stop The Great Darkness has taken him away from the world for months, and when he discovers the charges against his love, he storms Gotham, turning the urban wasteland into a wild jungle and essentially holding the city hostage until Abigail is freed.
After dozens of issues that have slowly helped Alec to understand his true nature as Swamp Thing, to blossom and consummate a relationship with Abigail, and to subsume the reader into the psychedelic world that Moore has created, Swamp Thing in Gotham is a cold slap in the face from the regular world uncovering Swamp Thing and Abigail's love. There's not only a refusal to understand but an outright disgust expressed by the common man at the idea of a human woman and a plant creature becoming intimate, and its this collision between a romance that has been grown in the insulated world of "Saga of the Swamp Thing" and the external world around it that gives Moore's story its drama and real world parallels.
The conflict not only brings established characters like Gordon, Bullock, Lex Luthor, and various Arkham inmates into the story, but it also brings Batman, representing the larger world of DC superheroes that Moore has mostly avoided throughout his run. And while Batman isn't here to judge Swamp Thing's romantic relationship, his fight against him turns Batman into a representative of the condemning mainstream. If Swamp Thing is the avatar of nature, the Green Man whose best way to destroy civilization is to cover it in peaceful plantlife, then Batman is the avatar of modern civilization, using giant machines and defoliant to destroy the nature that has disrupted his city.
But even Batman is quickly defeated by the overwhelming power of Swamp Thing and turns sympathetic to his cause. As countless Gotham residents embrace this new Eden in their city, we see a split in the public's outlook, as those in power condemn Swamp Thing and Abby and many others embrace them as folk heroes. With this being the rare Swamp Thing story to take place in an urban landscape, Moore and Veitch highlight the division inherent within a civilization where fear is propagated by those in power to control those that have none. Nature's sudden disruption to the literal and metaphorical systems quickly upends the ideas of control. What is civilization really when the simple appearance of a jungle causes people to abandon it?
With its publication in 1986 and much of its central conflict centering on the courts and the public condemning a romantic relationship for being out of the ordinary, its very easy to see Moore's story as a metaphor for the Gay Liberation movement and the discrimination faced by members of the LGBTQ community in America at this moment in time. And with the AIDS crisis in full force and the federal government led by Ronald Regan in complete denial at the time, the choice to either accept or reject another's sexuality is also the choice between life and death. And 1986 was a difficult year for gay rights as the Supreme Court case of Bowers v. Hardwick upheld a Georgia sodomy law by ruling that the 14th Amendment's promise of due process doesn't prevent states from criminalizing private, consensual sex between people of the same sex, with the court making it clear that the case applied to LGBTQ people, despite the fact that the law didn't refer to the genders of the people involved. With Swamp Thing and Abby's story being published in the midst of all this and previous stories like "American Gothic" making it clear that Moore was intent on examining all aspects of the United States through his comic, the connection is undeniable.
See, it's easy to think of Swamp Thing as male prior to Moore's reinvention as this was a man given new form, but Moore's revelation that Swamp Thing is a new being with the memories of Alec Holland means that our hero is gender ambiguous. Given that Swamp THING is a THING and not a MAN, the queerness that is hardcoded into the character becomes much more textual when the courts condemn their relationship. And since Abby and Swamp Thing's version of intercourse is a psychedelic merging of two souls, the queerness of the relationship is even further illustrated.
Horror as a genre often pulls its terror from the fear of the other. That can include an othering of people, ideas, and spaces that lie outside an audience's everyday life, but it can also include an othering of the self – the identities and even body parts that reside within us that we cannot reconcile with. So much of Saga of The Swamp Thing is a horror story, with Alec's own existential horror of The Anatomy Lesson giving birth to continued horrors throughout the early issues. But once Alec is able to reconcile with himself and form a new identity, the existential horror is gone. In its place lies enlightenment and that enlightenment leads to a stronger self and a beautiful romance with Abby. If Moore had chosen to continue Alec's existential torment and self-othering, then the citizens of Gotham would be justified in their hate. Alec would remain a monster, seemingly deserving of persecution. Instead, Moore's Saga is firmingly, unwaveringly on the side of Abby and Alec. In this perspective, Gotham is rendered as the monster, hateful and horrifying in its ignorance.
While only lasting 3 issues, with issue 53 being giant sized, Moore and Veitch create a story brimming with emotion and high stakes as both Swamp Thing and Gotham become more and more desperate to defeat the other. But after dozens of issues that have facilitated their transcendence, Swamp Thing is essentially a god. And its Swamp Thing's continued illustrations of power, with a giant form made out of redwood trees being a stunning splash page example, and Batman's case to the mayor that non-human beings like Superman would also fall under the government's prosecution if the case against Abigail stands, that finally force all charges to be dropped.
But this is a tragedy. And government forces given new insight by Lex Luthor are able to trap Swamp Thing's consciousness within its body and disintegrate them with napalm just as Alec reunites with Abby. Swamp Thing's death here, after so many times of being seemingly destroyed across this run, seems final, echoing Alec Holland's fiery death at the start of the series.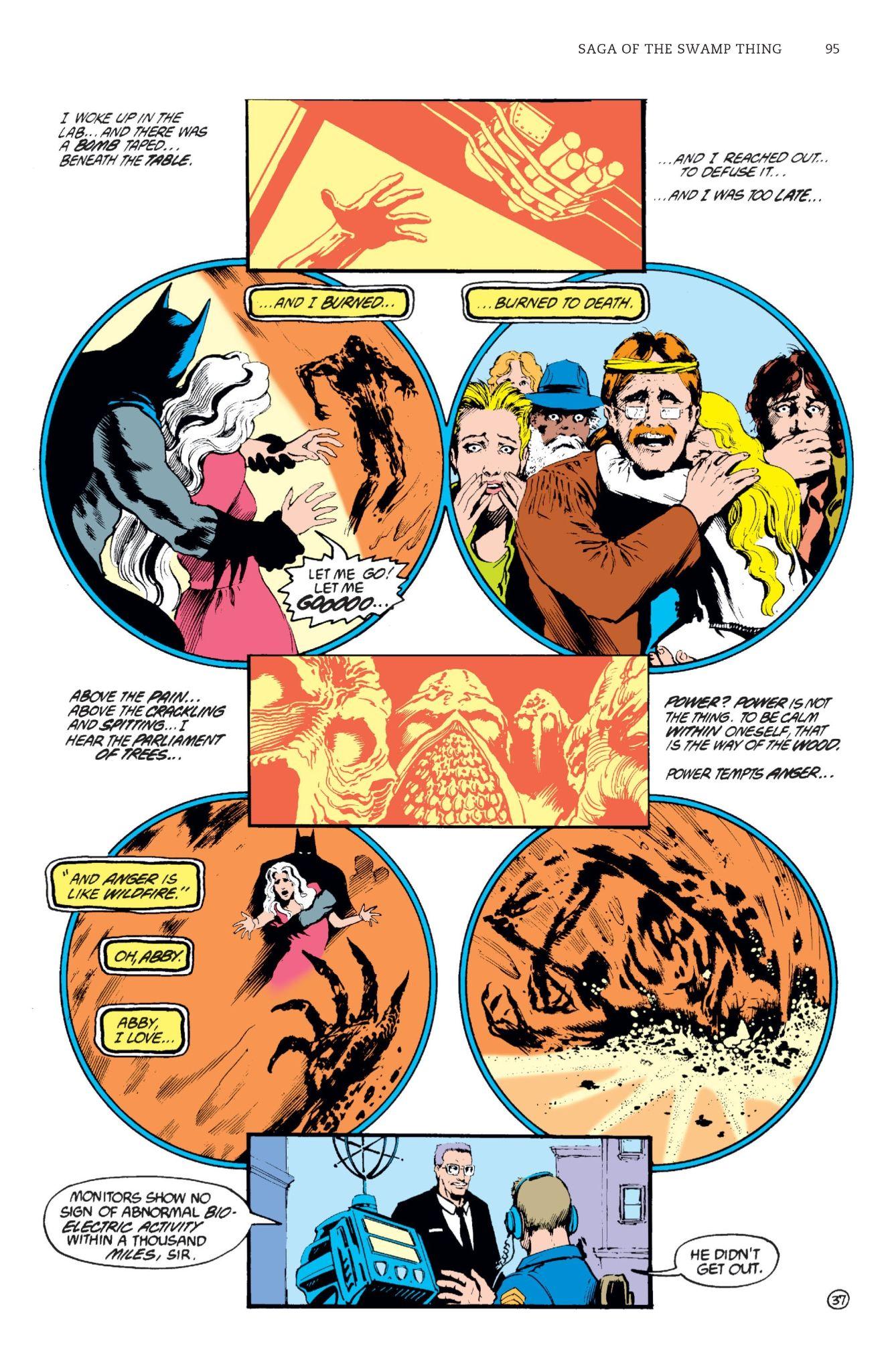 Moore's next 2 issues – "The Flowers of Romance" and "Earth to Earth" are ruminations on love and loss. "Flowers" contrasts Abigail and Alec's tender romance with returning characters Dennis Barclay and Lizabeth Tremaine, who left the series as Moore took over in issue 19. Dennis' manipulation and years-long abuse of Lizabeth is based on a real life distant relative of Moore who was broken down and isolated for decades by her husband. Abby discovering her own inner strength to stop Dennis helps her to begin to mourn Alec in "Earth to Earth," embracing her loss, just as we realize that Swamp Thing didn't die, but was reborn light years away on another planet as their consciousness was flung across the cosmos.
Swamp Thing in Space
After travels that have taken him across the world and throughout planes of existence, these final issues are Moore's final frontier. Along the way, this new stage of Swamp Thing is brought to life by Rick Veitch.
Starting with issue 51, Veitch took over as the primary penciler on Saga of the Swamp Thing with Alfredo Alcala on inks as Stephen Bissette and John Tottleben left the title. And with Veitch's collaboration, Moore's Swamp Thing stories leave behind the outright horror of past arcs and embrace a science fiction approach, and no issue is clearer in this distinction than issue 56, "My Blue Heaven."
Here, Swamp Thing exists alone on an alien planet where everything from the plants to the soil to the bugs are blue, without a scrap of intelligent life in sight. All given brilliant varied shades through colorist Tatjana Wood's work, who helped bring all this horror to life across the run. Left alone on the only planet that could support his altered consciousness, Alec's loneliness leads to him recreating Abby and the entire town of Houma in a desperate bid for companionship. But every recreation is filled with his own consciousness. Eventually, Alec rejects his creation and flees the planet before he can be overcome with madness.
Specifically, Swamp Thing's final act of smashing his Abby recreation was altered by Veitch. Originally, the act would have caused Abigail to scream in terror and bleed in a grotesque recreation of human death, but Veitch refused and instead illustrated Abby as a lifeless shell exposed by the destruction. This removes the horror and pushes into a meditation on loneliness. From here, Swamp Thing's cosmic odyssey will explore sci-fi more than horror and reflect Homer's own Odyssey, with Alec playing the part of Odysseus, journeying across space and propelled by his desire to return to his love.
Over these issues, Alex will spend less and less time in his familiar form and will instead take on the properties of the many different alien planets he uses to form a body and, eventually, be exposed as a incorporeal spiritual being represented by 7 abstract symbols, possibly representing the 7 chakras. This is essentially what Moore has been driving at for dozens of issues – the essence of a person is not their flesh and blood (or plant) but the soul, which defies physical definition.
Alec's time on the blue planet and escape is akin to Homer's 7 years on the island of Calypso, and their escape sets off the true journey home. Like Odysseus, Swamp Thing's journey is a reflection of life's obstacles brought about by both fate and our own actions. The despair that comes from life in a dangerous, unpredictable world, the love that strengthens us to carry on, and the inevitable changes that reshape a person in the world – all of them are inherent in both of these stories.
"Men are so quick to blame the gods: they say

that we devise their misery. But they

themselves – in their depravity – design

grief greater than the griefs that fate assigns."
In issues 57 and 58, Swamp Thing travels to Rann where he meets Adam Strange. And while Strange was inspired by Flash Gordon and sci fi heroes of old, here he stands in for Alec's romantic and sexual frustrations. Like Swamp Thing, Adam is continually forcibly removed from the woman he loves – Alana of Rann. Adam's opening search for the Zeta beam feels like sex nearing orgasm and the constant demands that take him away from her are coitus interuptus. Like Swamp Thing, he's an exile, only subjected to the bonds of love being broken over and over while Alec endures one long odyssey. By the end of the arc, Swamp Thing has discovered a power to give life back to an entire planet and Adam is once again separated, this time from his wife and unborn child.
It's important to note several things that were happening with Moore during the final issues of his Swamp Thing run. Of course, 1987 saw the final issues of Watchmen published, with Moore and Gibbons falling behind schedule and facing increasing pressures from both publisher and readers. And after years of simultaneously writing various projects alongside the monthly demands of Swamp Thing, Moore was burning out and so something happened that you'd never think possible – Alan Moore needed a fill-in writer. And not just once, but twice before his run was over. So enter Stephen Bissette, returning to the title to write issue 59, "Reunion," and Rick Veitch for issue 62, "Wavelength," giving Moore time to finish Watchmen.
"Reunion" in particular is as tragic and horrifying as any Moore issue, as Abby encounters her long-dead father, brought back to life by the evil Anton Arcane as the Frankenstein-esque Patchwork Man, falling apart just as they reunite. As for Veitch, a mind-bending encounter with Metron and the Source Wall temporarily shatters Swamp Thing's mind and centers him on the most important thing in his life – Abby. Veitch would take over Swamp Thing after Moore and center his story on Alec and Abby giving life to a daughter, Tefe. While Veitch's run would prematurely end due to DC censoring his story of Swamp Thing encountering Jesus, the seeds for his parental saga are planted here.
Between these issues are Moore's stories of "Loving The Alien" and "All Flesh Is Grass," which see Swamp Thing as both the victim of an all-consuming sentient planet and the victimizer as an all-consuming monster in a planet where all vegetation is sentient life.
Alec's journey across the universe is, like his very nature, constantly shifting form in both storytelling structure and perspective. After coming to understand our hero from years of stories, Moore chooses to tell this Odyssey from the perspective of the various characters that Swamp Thing meets. The sexually frustrated heroic counterpart of Adam Strange, the living planet Technis, which uses Alec's body for procreation in one of the series' most sexuallly horrifying stories, the plant Green Lantern Medphyll, who finds redemption and closure by turning what could be body horror on a planet-wide scale into a chance to learn and grow.
Throughout these adventures, Swamp Thing encounters lovers that act as a reflection of his love for Abby, some for the better and many for the worse. Adam and Alana have an intense physical relationship, but his duties as a hero and a misfit in her world keep them from fulfilling more than their base needs. Technis is a lonely, incomprehensible traveler that sees its forceful breeding with Swamp Thing as love and not violation, the harmful inverse of Alec and Abby's consensual and metaphysical lovemaking. The plant people of Disma and Locliss are considering marriage, but their sudden, forced complete mental connection when they become part of Swamp Thing's body exposes their hidden innermost thoughts to one another, and unlike Alec and Abby's mental connection, this exposure immediately breaks them apart.
When at last Swamp Thing is able to reconfigure his essence to live on Earth once again through the help of Medphyll, this long journey is brought to a close. But much like Ulysses and the slaying of Penelope's suitors, Swamp Thing has one final violent task.
Issue 62, "Loose Ends (Reprised)" is a book of death. The death of the men responsible for trying to kill Swamp Thing in Gotham as Alec kills them one by one, using seemingly harmless bits of nature to strangle, choke, and explode them. The death of Wallace Monroe's wife, poisoned by the chemicals spread by her husband during the Nukeface Papers. The death of Abby's last scraps of love for Matthew Cable, still comatose in the hospital after Love & Death. This is the winter, wringing the last vestiges of life from the world before spring can bring renewal. And with Alec and Abby at last reunited, that spring can begin again.
Return of the Good Gumbo
And at last we come to Alan Moore's final issue, "Return of the Good Gumbo" in issue 64, with Stephen Bissette, Tom Yeates, Rick Veitch, and Alfredo Alcala all lending a hand for the sendoff. And like so much of this run, it's a story of love, meditation, and finding your place in the world. Because for all its horrors and evils, The Saga of the Swamp Thing has been a romance.
"I'm far too sentimental for the job," said Moore when reflecting on Swamp Thing. "I really don't like giving my characters problems. I don't want to pile agony upon agony. As far as I'm concerned, the Swamp Thing and Abby are going to be in love forever."
And for all the dangers faced on both a personal and global scale, the solutions have never been to physically dominate for might to make right. It's truth that defeated The Floronic Man. Enlightenment that saved Abby from Hell. Understanding that calmed The Great Darkness. Yes, there was that time that Swamp Thing killed a bunch of underwater vampires with a super cool massive flood, but I think my point still stands.
Reconnecting, making love, and building a home, Swamp Thing and Abby decide to leave everything behind and knit their lives together. And for Alec, who has become godlike in his capabilities but fundamentally altered in his outlook by traveling across the cosmos, a decision comes to not interfere in the future of mankind and the shape of the planet, but to instead let nature take its course and lead where it may. Every good and terrible thing Alec has experienced has led to this decision.
Retiring from the larger world in the hope of enjoying love and peace, Abby and Swamp Thing's new life together recalls the reunion of Penelope and Osysseus.
"Come then, put away your sword in its sheath, and let us two go up into my bed so that, lying together in the bed of love, we may then have faith and trust in each other."
This is the natural occurrence of spring renewal in both the home, as our two lovers grow closer than ever, and in the world, as Swamp Thing's return brings a new growth unconsciously noticed by everyone. It's in the children's laughter. It's in the swaying of the trees. It's in the pot of food that brings life. It's the hope that in the throes of Winter, Spring is inevitable.
The Saga of the Swamp Thing is Alan Moore's most sprawling work for DC Comics, touching on all the themes that would be given greater focus in his other works. The self-realization turned existential crisis of The Anatomy Lesson is a more positive version of Miracleman's self-discovery. Moore's desire to both homage and repurpose his literary influences in Pog would be given unbridled life to varying success throughout The League of Extraordinary Gentlemen. The blood-curdling trip to Hell in "Love and Death" would be revisited in his single issue of Spawn. His uncovering of modern America's long-buried sins in "American Gothic" has a lot in common with his hallucinogenic extrapolation of Jack the Ripper and the 20th Century's corruptive patriarchy in "From Hell." So much of Swamp Thing's metaphysical exploration of the soul and the latent connections between all life in the universe predates Moore's adoption of ceremonial magic, his exploration of the works of Aleister Crowley and the Qaballah, and pantheistic beliefs, but it's all there, inherent within the world of Swamp Thing and the central powers of its Green Man myth.
The Saga of the Swamp Thing under the vision of Alan Moore, Karen Berger, Stephen Bissette, John Tottleben, Rick Veitch, Tatjana Wood, and more is the story of contant loss and constant rebirth locked in an endless cycle. These are stories of living, finite, earthly beings whose lives are marked by loss and pain, with many violently cut short. It's a dark story, a story of how our lives must all inevitably end.
"The great leveler, Death: not even the gods can defend a man, not even one they love, that day when fate takes hold and lays him out at last."
Spring turns to summer turns to fall turns to winter. New life grows old, withers, dies, and is forgotten. But the cycles must repeat. The love we make and the lives we create are the brief turning back of the tide, but the tide is inevitable. We all die yet deny that very nature.
It's all told through a creature whose nature is to perpetuate the cycles of life and death within himself. Alec Holland, The Swamp Thing, is essentially immortal, dying many large and small deaths but always returning like the spring.
Swamp Thing is the myth that propels us forward. The nature of the world that works within us. A glimpse of eternal renewal that will live long past us and our children and our children's children.
And with Abby and Alec finally reunited, this long, winding and often horrific story ends on the belief that renewal is inevitable.
All good things must end, but good things can begin again.
"Now from his breast into the eyes the ache

of longing mounted, and he wept at last,

his dear wife, clear and faithful, in his arms,

longed for as the sunwarmed earth is longed for by a swimmer

spent in rough water where his ship went down

under Poseidon's blows, gale winds and tons of sea.

Few men can keep alive through a big serf

to crawl, clotted with brine, on kindly beaches

in joy, in joy, knowing the abyss behind:

and so she too rejoiced, her gaze upon her husband,

her white arms round him pressed as though forever."
Sources:
https://time.com/5694518/lgbtq-supreme-court-cases/
https://arcade.stanford.edu/content/monstrous-relationalities-horrors-queer-eroticism-and-thingness-alan-moore-and-stephen
https://www.simoncarless.com/2018/07/longread-the-lost-alan-moore-interview/
https://jchutchins.net/site/2019/12/26/interview-with-alan-moore-1999
https://londonhollywood.wordpress.com/2016/09/22/if-you-read-only-one-alan-moore-jerusalem-interview-make-it-this-one/
https://neotextreview.com/culture/in-magicians-mysterious-sleeves-rick-veitch-and-the-censoring-of-swamp-thing/