There's a darkness spreading out from the heart of America. A darkness that finds its roots in the past, but whose evils are a reminder of our present suffering. It's a darkness that Swamp Thing will discover for himself, even as he learns truths that will reshape his entire world.
Alan Moore's run on Swamp Thing from 1984 through 1987 redefined the title as a modern existential classic that touched everything from the nature of identity to the legacy of comic books. From the internal reformation of "The Anatomy Lesson" to the cosmic love of "Rite of Spring," the first half of Moore's Swamp Thing run is intensely focused on the creature who once thought himself to be Alec Holland gaining a greater understanding of his true self and finding love with longtime friend Abigail Arcane. It's a series of stories that slowly push into the mystical nature of reality and consciousness, and it's that mysticism that violently collides with modern societal issues in a 14-issue arc known as "American Gothic
."
Related Reading Orders:
The "American Gothic" storyline of Moore's time on Swamp Thing runs from issues 37 through 50, which spanned across 1985 and 1986, interacting with and bypassing DC's multiverse-destroying "Crisis on Infinite Earths" for its own story of the horror within America and a monolithic evil that supersedes time and reality. Here, Swamp Thing comes into contact with occult investigator John Constantine, debuting after a single panel appearance earlier in the series, who guides our central hero into a journey across America and beyond to stop dark mystical forces from summoning an ancient evil. From the vampiric depths of a forgotten lake to the insidious caves of South America, Swamp Thing and Constantine seek to snuff out a rising tide of evil before it can bring about the end of everything. And along the way, the creature that once thought himself to be Alec Holland will learn his true place in the world's history.
Support For Comic Book Herald:
Comic Book Herald is reader-supported. When you buy through links on our site, we may earn a qualifying affiliate commission.
Comic Book Herald's reading orders and guides are also made possible by reader support on Patreon, and generous reader donations.
Any size contribution will help keep CBH alive and full of new comics guides and content. Support CBH on Patreon for exclusive rewards, or Donate here! Thank you for reading!
Here, we'll discuss how Moore and his artistic collaborators use a series of stories pulling from classical horror to examine deep-rooted issues in the United States, how Moore continues to evolve his central character through a journey of self-actualization, and how Moore's conclusion to his "American Gothic" storyline both succeeds and fails in interrogating the nature of good and evil in the world.
Travels With Swamp Thing in Search of America
"American Gothic" picks up right after the conclusion of "The Nukeface Papers," where Swamp Thing was dissolved by a radioactive wino (long story) and here, Moore slowly tracks his regrowth, willing himself back into existence from small seedling to complete person. Alongside this slow regrowth, we're introduced to John Constantine, who works his way into the life of Swamp Thing and Abby, promising to reveal critical truths to the hero in return for his help. If it's not obvious, Constantine's appearance is basically a direct copy of Sting due to Stephen Bissette and John Tottleben's love of the singer, directing supporting artist Rick Veitch to draw the character according to their designs.
And it's here where Moore establishes Constantine as equal parts selfish rogue and begrudging force for good and as the co-lead for the entirety of "American Gothic." Throughout the course of this story, it's Constantine who best understands the underlying threat that will need to be fought and Swamp Thing who tries to keep up. Issue by issue, Constantine directs Swamp Thing to a different part of the country, and in each, an evil has suddenly risen to prey on the unsuspecting public.
First is a group of underwater vampires in Rosewood, Illinois, their origins tied back to one of Swamp Thing's first stories. Next is a woman whose menstruation cycle suddenly turns her into a werewolf in Kenescook, Maine. This is followed by a zombie outbreak at an old Louisiana plantation, then a prolific serial killer who believes himself to be the bogeyman, and finally a mansion haunted by the ghosts of everyone killed by the founding family's line of guns.
Each of these horror stories takes a classic element of the genre and smashes it together with a real world issue, creating social commentary on what Moore and his collaborators saw as a pressing concern within the nation. In each, the repressed past of America reasserts itself through supernatural means in a modern world willing to turn a blind eye to, but never resolve, the issues that have hurt and killed millions over the centuries. Some of these are more successful than others, some more haunting, some more obvious. Together, they increase the social commentary already present in Moore's earlier issues, despite some missteps along the way.
Most often, these stories serve as a pointed critique of America still living out the sins of the past today. The werewolf of "The Curse" may be a monster on the outside, but it's the abuse she suffers from her husband that drives her to become a terrifying figure driven to vengeance against societal misogyny. The voodoo zombies of "Strange Fruit" and the cast of actors suddenly reliving past lives reflect how America's legacy of slavery and racism is still felt today. The haunted mansion of "Ghost Dance" is lifted in everything but name from the story of the Winchester Mystery House, continually built by Sarah Winchester to keep her safe from the spirits of everyone killed by a Winchester Rifle.
The points that some of these stories are trying to make are vague, possibly to the point of being easily misinterpreted. The difficult thing in unpacking such complex, historical issues in the pages of only one or two comics is that American corruption, prejudice, and abuse are way more complex than what could be said in 22 pages. Moore and team raise an issue, resolve the direct supernatural threat, and move on. The issues addressed remain messy and, most effectively, haunting to the reader. I suppose if Swamp Thing could solve systemic racism or gun violence in a single issue, the statement would seem trite and unrealistic. It's only that our hero moves on with little regard or reflection until the very end of this arc.
To quote James Baldwin, "American history is longer, larger, more various, more beautiful, and more terrible than anything anyone has ever said about it."
Baldwin also said, "To accept one's past—one's history—is not the same thing as drowning in it; it is learning how to use it. An invented past can never be used; it cracks and crumbles under the pressures of life like clay in a season of drought."
To varying degrees, Moore's Swamp Thing acts as an almost complacent observer of the chaos and evil that unfolds in each story, often being moved out of the spotlight in favor of characters introduced in each new chapter. Sometimes, our hero barely even makes an appearance, with Moore instead focusing on the purveyor or victim of some new evil, only for Swamp Thing to put an end to it by the close. Because he's being led by Constantine, Swamp Thing is less proactive and more reactive than ever, with Constantine instead being the decisive hero of the story.
That focus reshifts to Swamp Thing by the second half of "American Gothic," recentering on the hero and the greater conflict that has slowly been building. That notable shift truly happens in issue 46 – "Revelations," which serves as the obligatory tie in with "Crisis on Infinite Earths
." But instead of throwing out the ongoing story in favor of the event, Moore uses it to force his hero to understand Earth's suffering. And, unsurprising for the series, the cataclysm of the Crisis is made far more horrific in these pages than in the event itself, with Bissette and Tottleben showcasing the horrors being inflicted upon people as reality loses its structure.
The chaos that shakes the very core of the Earth is the wakeup call for Swamp Thing to look toward the greater issues affecting the world. The deep evil inflicted upon man and, in turn, by man. But to change the world, Swamp Thing must become something greater than he's ever been.
An Appointment With the Parliament
In an interview in 1985, Moore described a large portion of superhero comics as being "boy's power fantasies," finding issue with violence being the ultimate arbiter of right and wrong within the genre. In Swamp Thing, we can see Moore move toward a more philosophical approach toward pursuing justice. And that's an approach that reaches its peak at issue 50, but Swamp Thing must evolve to meet that challenge.
As we've discussed, Moore's narrative slowly recontextualized Swamp Thing into a modern incarnation of the mythic Green Man – a supernatural avatar of nature seen in cultures and myths around the world for centuries. The hero who was once in search of an identity became something greater than a man restricted by physical limitations, instead becoming protector of all plant life on Earth – her "guardiner." However, this also fundamentally changes the character from being a man of wants and needs to an almost godlike being whose consciousness is intertwined with the greater world. Through this redefinition, Moore makes Swamp Thing more powerful than ever, but also further disconnected from humanity.
If that sounds familiar to you, it should. "American Gothic" was published right before Moore debuted Watchmen
with Dave Gibbons. In Watchmen, Moore pushes even further into the idea of a passive, almost immobilized watchmaker-like god in the character of Dr. Manhattan. Existing outside of time and subject to all temporalities at once, Manhattan is completely subject to destiny's whims, becoming a passive observer due to his omniscience. Swamp Thing is not nearly so far removed from reality, as he still exists in the present. He is, however, removed from the constraints of existing within one body. And as he reaches the upper limits of his powers, we can see Swamp Thing transcend the limitations of perceived consciousness.
In his book "On Becoming a Person: A Therapist's View of Psychotherapy," therapist Carl Rogers said, "The mainspring of creativity appears to be the same tendency which we discover so deeply as the curative force in psychotherapy—man's tendency to actualize himself, to become his potentialities." For a creature like Swamp Thing, unbound by physical and mental limitations, the potentialities that can be reached by self actualization are even greater.
It's the next obvious step in Moore's progression of the character. Not bound by the natural limitations of physical death, able to send his consciousness out of his body and into the afterlife, and perceiving a greater consciousness and sharing it with Abby through hallucinogenic lovemaking. And here, we see how the protector of the green is not only able to completely grow his body back, but travel through the earth and regrow himself anywhere there is plantlife. It's a slow process at first, with the entirety of "Growth Patterns" showcasing Swamp Thing's regrowth over the course of 17 days. But now that he knows what he's capable of, it's only a matter of Swamp Thing self-actualizing, eventually taking less than a minute and then becoming almost instantaneous.
Swamp Thing's move beyond the definitions of the self puts him on a greater plane of cosmic awareness and makes him the ideal hero to fight against the ancient ideas of evil.
However, Swamp Thing's move toward transcendence is further complicated in issue 47 – "The Parliament of Trees" – and it's here where Moore reveals the full truth he's slowly been hinting at ever since issue 33 – "Abandoned Houses" – and its canonization of the original Swamp Thing story told by Len Wein and Bernie Wrightson in "House of Secrets #92." What was once ambiguous is now made clear as Swamp Thing enters the Parliament of Trees in the Amazon Rainforest – our hero is only the latest in a very long line of plant elementals. Over the centuries, humans have been turned into elementals out of necessity for the planet's wellbeing and, in time, each grew tired and joined the parliament, partaking in an eternal rest that forms a collective consciousness.
It's here where Moore expands the smaller heroics of Swamp Thing into a millenia-spanning spiritual quest that connects the character to a vast and mythic lineage. That not only gives the author the chance to canonize all of the character's publication history, including Alex Olsen, but also connect him to The Heap – comic's first swamp monster originally published in 1942 – and for artists Stan Woch and Ron Randall to slip in a visual reference to Marvel's Man Thing, a similar conceptual descendent of The Heap.
But what's most important is that while Swamp Thing has gone to the Parliament for their aid in the coming fight, The Parliament has moved beyond the simple concept of good triumphing over evil. This is Moore's story moving beyond easy moral definitions, setting the stage for his mystical conflict.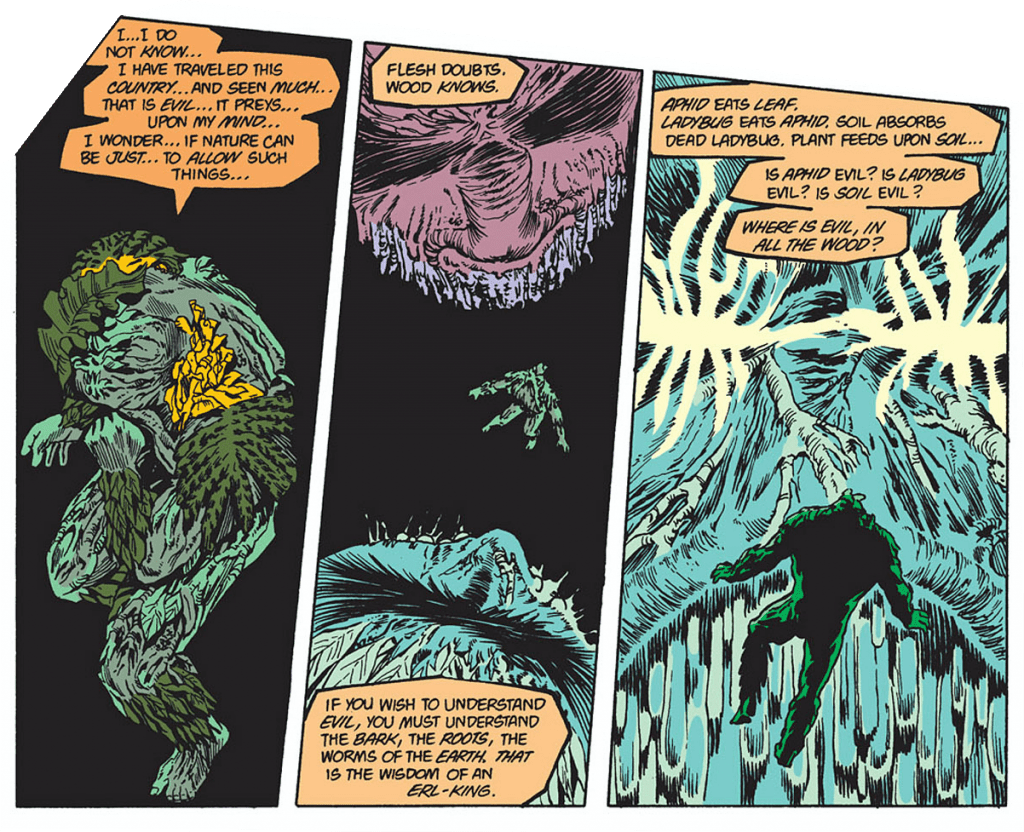 Facing the Face of Evil
As "American Gothic" progresses, we eventually learn that the rising tide of supernatural evil is caused by an ancient cult of male witches from South America known as the Brujeria. The group wishes to raise the evil force known as The Great Darkness, which existed before God created light, from its ancient slumber to destroy the world, bringing about a new existence of pure evil.
For all the complex societal issues that Moore and company have been raising, this larger conflict is disappointingly simple. Despite the more sinister horrors that the Brujeria bring about, none of this desire for a world of evil has any deeper resonance or metaphor. And despite the horrors of "American Gothic" specifically commenting on the United States' societal issues, Moore chooses to blame these supernatural ills on a group with no real connection to America. The lackluster, unmotivated tie between American society and South American mysticism feels haphazard and lazy. In the scope of Moore's carefully curated, meaningfully created horror stories, the central conflict of "American Gothic" might be the biggest disappointment in his entire run.
It does, however, act as the stepping stone to the climax, as the Brujeria, despite being killed by Swamp Thing, succeed in awakening the Great Darkness, which slowly pushes through hell on its way to destroy heaven. Swamp Thing and Constantine recruit a group of mystical heroes to fight the darkness, but despite their strength and sacrifices, it's clear this war can't be won with power. In the end, it's Swamp Thing's understanding of the nature of good and evil gained from the Parliament of Trees that stops the Great Darkness' rampage.
This understanding causes The Great Darkness to unite with the light – symbolized in a shaking of two hands turning into the yin-yang symbol. Darkness needs light, good needs evil. Together, they bring meaning to the world.
Moore has been seeding several critical ideas leading up to this climax – the collective unconscious, self actualization that moves beyond self-imposed limitations, and a deeper understanding of good and evil. Consider the dueling hallucinogenic trips of issue 43 – "Windfall" – where two different people eat Swamp Thing's hallucinogen tuber, only for one to find cosmic peace and the other to be tormented. Where is good and evil within this? There is only perception and inner harmony or disharmony that brings about either a peaceful or painful cosmic existence.
If we go back even further in Moore's run to "Love and Death," we can see hell itself as a product of our own design, with the demon Etrigan revealing, "Think you God built this place, wishing man ill and not lusts uncontrolled or swords unsheathed? Not God, my friend. The truth's more hideous still: These halls were carved by men while yet they breathed."
In some ways, Moore's ruminations of good and evil being a matter of our own perceptions reflect the author's approach to writing the series, with Moore revealing:
"A lot of people are convinced of their own worthlessness and so they tend not to admit to the areas inside them where they are noble, and big, and strong. Those areas are in people and if you can bring them out, write them large: then you can come up with almost anything. I believe that each human being has got the potential of every other imaginable human being inside themselves."
The issue with Moore's climatic conflict for "American Gothic" is that the author chooses to move from pressing allegory about real issues and toward larger, vauger ideas regarding good and evil. What was once clearly defined evil within the world that should be addressed and ended has now been lumped in with the larger concept of darkness and light, leaving room for people to dismiss outright societal wrongs as "necessary evil" – a clear fallacy. Still, Moore's larger ruminations on the cosmic nature of existence allow his series to move beyond the simple idea of punching what is wrong until it's right, and instead grappling with deeper tenets of existence.
This is the eternal cycle of life and death, good and evil begetting one another. There is no meaning, no struggle, no purpose in one without the other. Gaining awareness of this helps Swamp Thing better understand his world and grant the darkness an awareness that brings peace.
The end of "American Gothic" closes out the greatest threat that Swamp Thing has faced, however, Moore has seeded a stranger, more personal conflict, with Abby arrested for sexual indecency over her relationship with Swamp Thing. The fight for Abby's freedom and what it means to freely express love that does not conform to mainstream normativity will be the focus of the next arc, and its repercussions will shape the end of Moore's run. In place of ancient, enormous evil, we face real world discrimination and hate. Instead of keeping the universe alive, we fight for equality and the freedom to love who we love.
Much like the American evils we've explored, it's a fight still going on today.
Sources:
https://www.tor.com/2012/01/30/the-great-alan-moore-reread-swamp-thing-part-2/
http://imagetext.english.ufl.edu/archives/v5_4/beineke/
https://www.youtube.com/watch?v=fpYPOfv08F8
https://www.simoncarless.com/2018/07/longread-the-lost-alan-moore-interview/
https://believermag.com/an-interview-with-alan-moore/
https://jchutchins.net/site/2019/12/26/interview-with-alan-moore-1999