In the early days of Comic Book Herald, I'd occasionally get promotional Kickstarter emails teasing a "queer sci-fi saga" (or some such), and I'll fully admit, I did not understand what sexuality had to do with the promotion. What did the "queerness" of this work have to do with selling me on the story and artistic vision of the comic book?
I'm not a part of the community, and there's a lot I still don't understand, but I see now that there's inherent value in marginalized perspectives in story, and there's worth in supporting the voices that aim to tell them. So many of my favorite comic books are either directly or indirectly about queer people, relationships, and community, and vast amounts of my favorite comic book creators identify as gay, lesbian, trans, bisexual or other identifiers in the LGBTQIA+ range. The simple reality is that the more queer stories and creators at the forefront of comics, the better variety of new, exciting works we get to enjoy.
It's a dangerous time to be queer in America. We don't get to simply solve that by supporting queer comics creators. But in addition to substantive solutions, here's one of the many ways to aid those voices in comics, and to approach marginalized perspectives with curiosity, empathy, and an open-mind.
Essential Queer Comics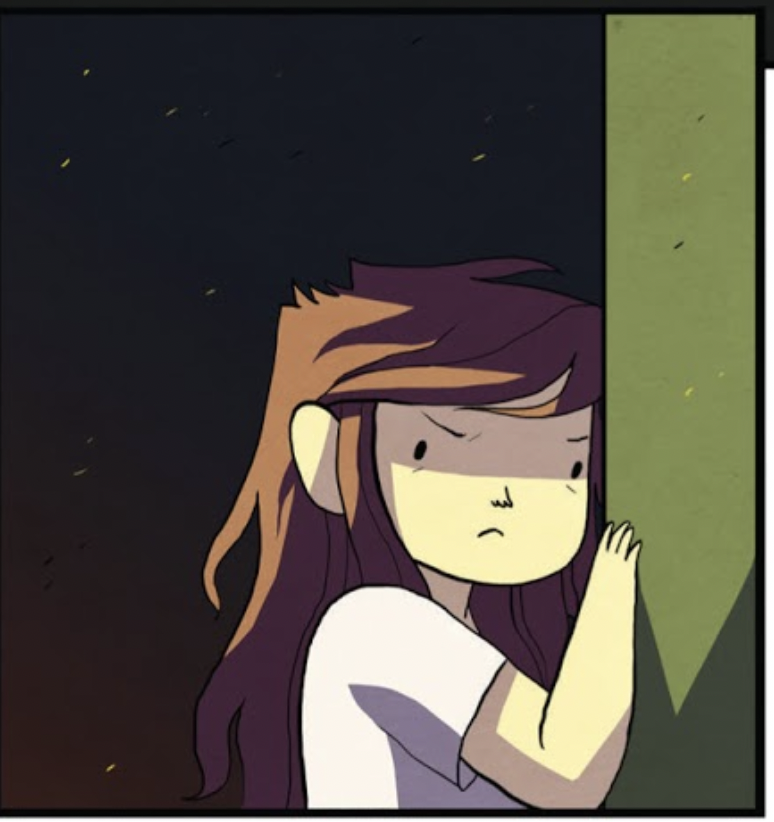 Sean Dillon: There's something about shapeshifters that appeals to genderqueer people like myself. The ability to shift from one form to the next and the next with ease marks a sharp contrast to the difficulties of transitioning in our current age. In many regards, Nimona is an early work of one of the great comics artists of our age. You can see ND Stevenson grow as an artist with each chapter. But the heart of the story– that of an abused child and a supervillain teaming up to overthrow the monarchy, of the nature of heroism being questioned via a point of view– can be seen echoing throughout Stevenson's later works. This is perhaps overemphasizing the darker side of the narrative. Nimona is an absolutely charming comic full of amazing gags, heartwarming specials, and even some queer love. But every time I read it, I come back to the idea of shapeshifters. The desire to be someone other than yourself as a means of expressing yourself. I often have queer thoughts like that.
Dave's Bonus Pick: If you love Nimona by ND Stevenson, I also highly recommend checking out the ongoing Substack comics I'm Fine I'm Fine Just Understand.
Support For Comic Book Herald:
Comic Book Herald is reader-supported. When you buy through links on our site, we may earn a qualifying affiliate commission.
Comic Book Herald's reading orders and guides are also made possible by reader support on Patreon, and generous reader donations.
Any size contribution will help keep CBH alive and full of new comics guides and content. Support CBH on Patreon for exclusive rewards, or Donate here! Thank you for reading!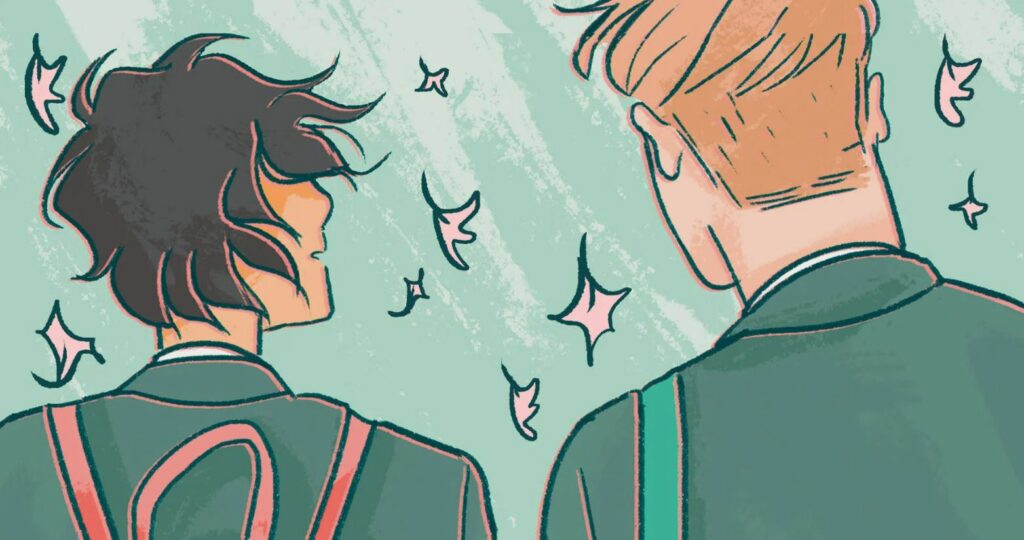 Charlotte Fierro: At this point, most people are at least slightly aware of Heartstopper with the release of its Netflix adaptation last month; and hopefully the show's success means that more people will check out the graphic novel that inspired it. Originally a webcomic published by British writer Alice Oseman on their Tumblr, the graphic novel has grown to be a fan-favorite among queer readers, especially younger ones. It tells the story of Charlie Spring, a 14 year-old with a crush on his definitely-straight friend Ben Hope, and the evolution of their relationship. Heartstopper is a sweet queer teenage love story that, despite tackling themes of mental health and toxic relationships (among others), always makes you feel like smiling and hugging your friends or significant others; and it's a must-read for any young readers wanting to get into comics.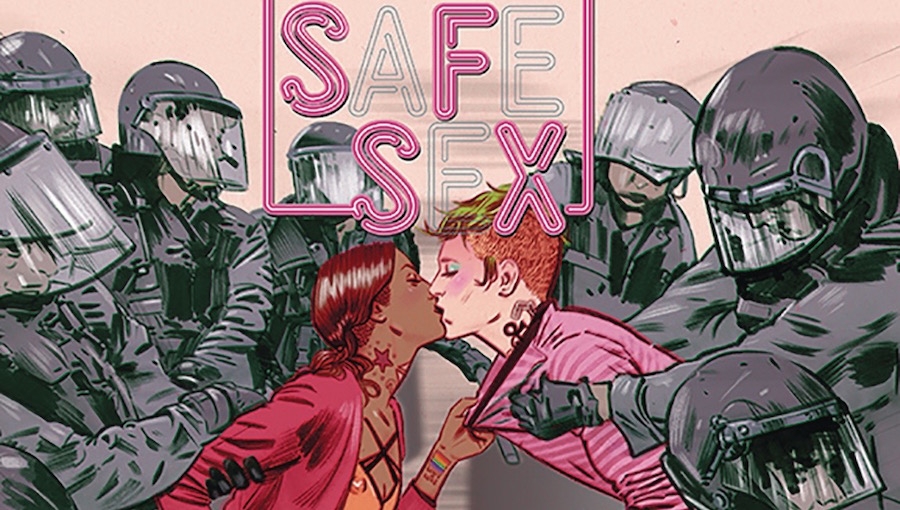 Sara Century: Avery is an erotic filmmaker and a part of The Dirty Mind, a collective and gathering space that is seized by police and transformed into the Pleasure Center. Controlling this underground queer space gives a highly conservative political party the ability to hold different sexualities and fantasies over people's heads as collateral, ultimately imprisoning Avery and many others within the walls of a space that was once their source of freedom and empowerment. A dystopian future that uses the intrinsic hardship of everyday life for poor, queer sex workers in the here and now as a foundation upon which a critique of present-day systems is built, SFSX uses the tropes of the sci-fi and cyberpunk genres to create a comic that is unlike any that came before it. A number of artists have lent their talents to SFSX, and each one brings a distinctive flair to the book, creating an active partnership that comes through on the page. Gentrification, conditional allyship, conservatism, and colonization are all major themes for SFSX, making it disturbingly familiar to anyone who has watched several essential human rights be stripped away over the last couple of decades.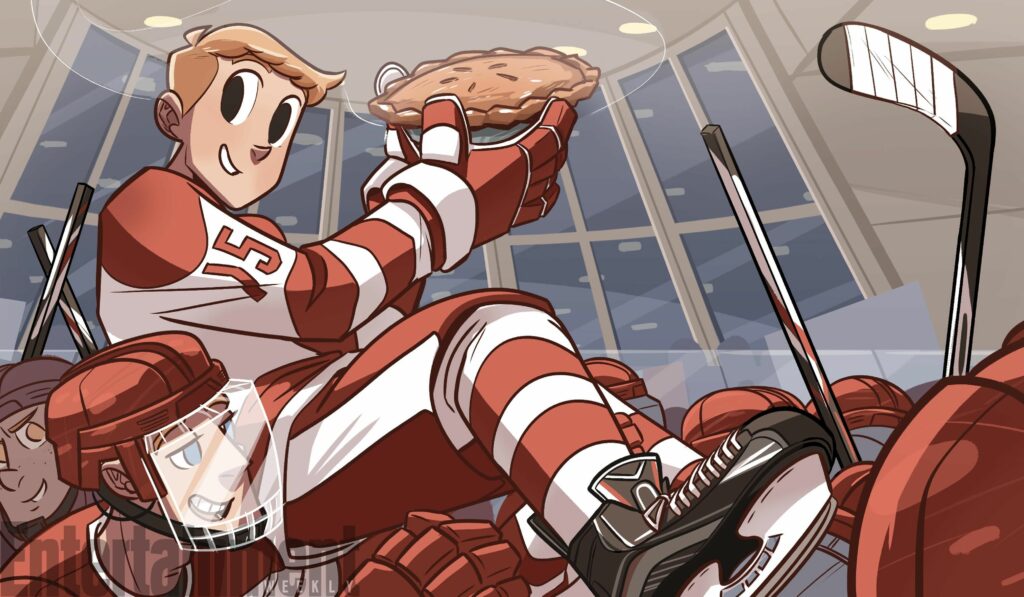 Dave: One of the funniest comics of the past decade, Ngozi Ukazu's Check, Please! combines college romance, a frat/hockey team, and the unassailable charm of Vlogging, constantly baking Eric Bittle. Delight gets thrown around a lot to describe any story with a degree of positivity, but in the case of Check, Please! it's an understatement. I don't even really like hockey, but I can't get enough of this team, these characters, and everything in between. Everything from Bittie's pies to the anti-toxic masculinity of the hockey team is Grade-A Deeeelight. Since it started as an incredibly popular webcomic, you can also check out the series for yourself for free.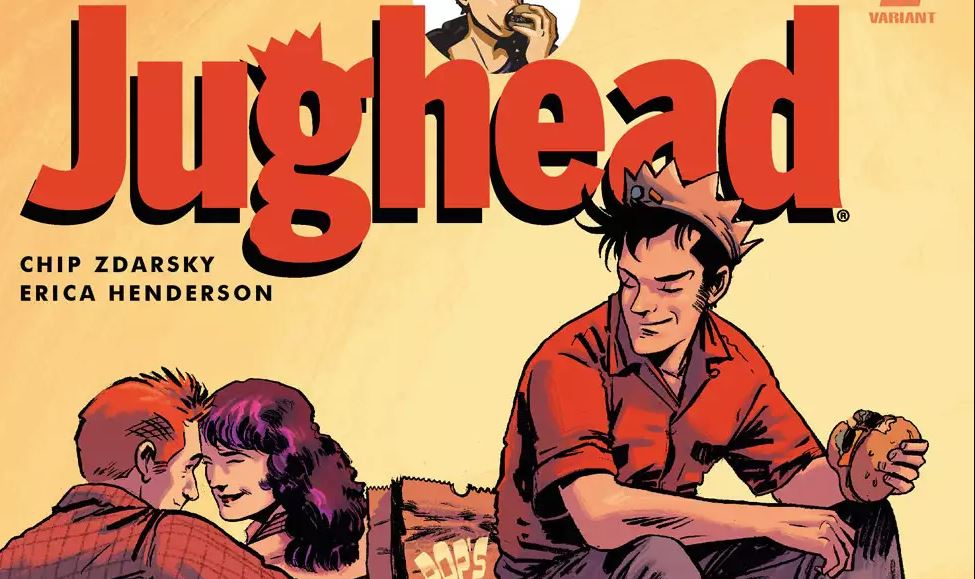 Gabriel Rodrigues: This comic is made up of an all-star team that won't disappoint you. Chip Zdarsky, Ryan North, Mark Waid, Ian Flynn, Erica Henderson, and Derek Charm finally confirm Jughead is asexual, making him one of the first and most popular ace characters. It's one my favorite comedy books and it even won the Eisner award for Best Humor Publication. Reading Jughead makes you feel like you are hanging out with friends. It is the perfect comic if you want something relaxing, fun, and easy to read.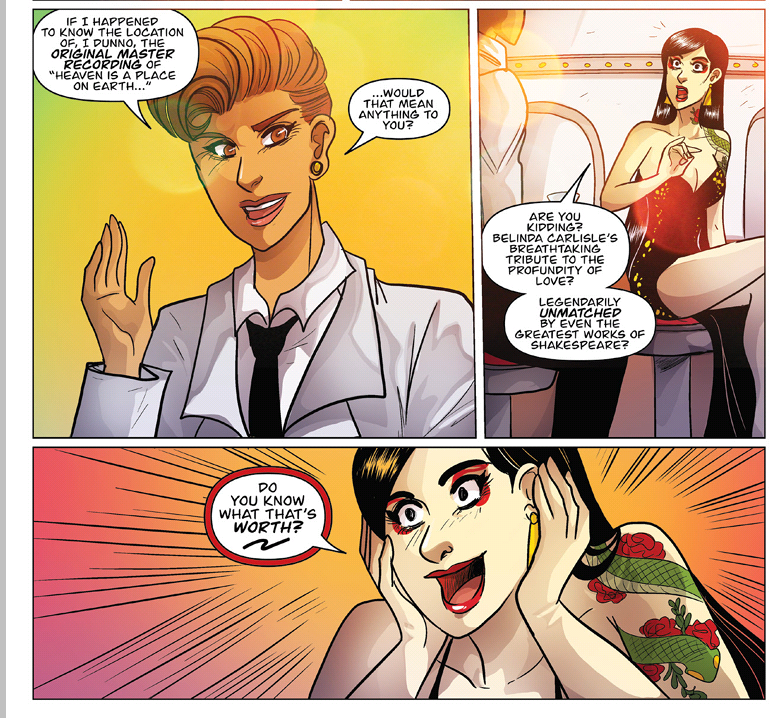 Chelsea LaLicata: Kim & Kim by Magdalene Visaggio, Eva Cabrera and team is an incredibly fun punk rock space romp that everyone, LGBTQIA+ or otherwise should check out. I personally love that one of the titular Kims happens to be trans, and the book simultaneously does not obscure that fact in any way, but also does not dwell on it. We need more of this: characters who can just 'be' trans and don't need it to consume their entire story or be justified by the narrative in some other way. It also happens to be such an excellent read in its own right too!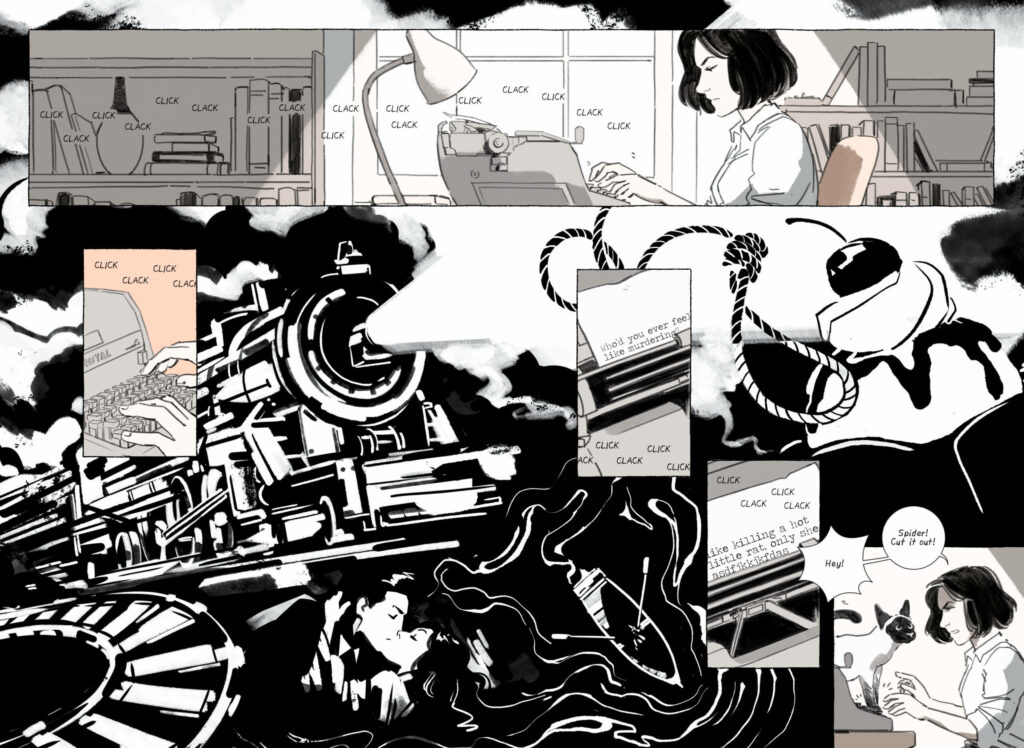 Sean Dillon: Based on the author Patricia Highsmith, Flung Out of Space explores the isolation of writing, the desire for human companionship and notoriety, and the fallibility of people. Grace Ellis' script pulls no punches when it comes to Highsmith's failings and Hannah Templer reorients the entire field of comics in such a way as to make it obvious. A tragedy, a romance, and the single best comic of this year.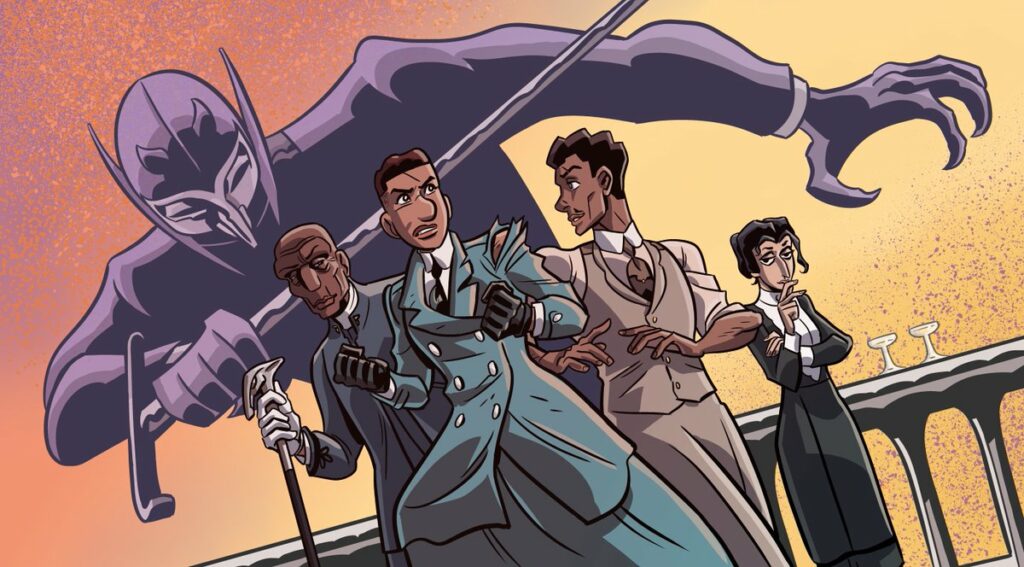 Charlotte Fierro: Dan Schkade's Webtoon is one of the best current ongoing superhero comics, and follows the adventures of vigilante Sir Mimley Bastrop, aka Lavender Jack, in the fictional 20th century city of Gallery; fighting with tech and style to protect Gallery's population against the rich and powerful. Schkade's distinctive style helps the series stand out both from other Webtoons and from other superhero comics, and gives it a strong identity halfway between Will Eisner, Agatha Christie and Gotham City.  Lavender Jack is a story full of action, mystery, and some of the most endearing characters in current comics, a lot of them casually shown as being queer, from its bisexual hero to the sapphic detective Theresa Ferrier or trans love interest Johnny Summer.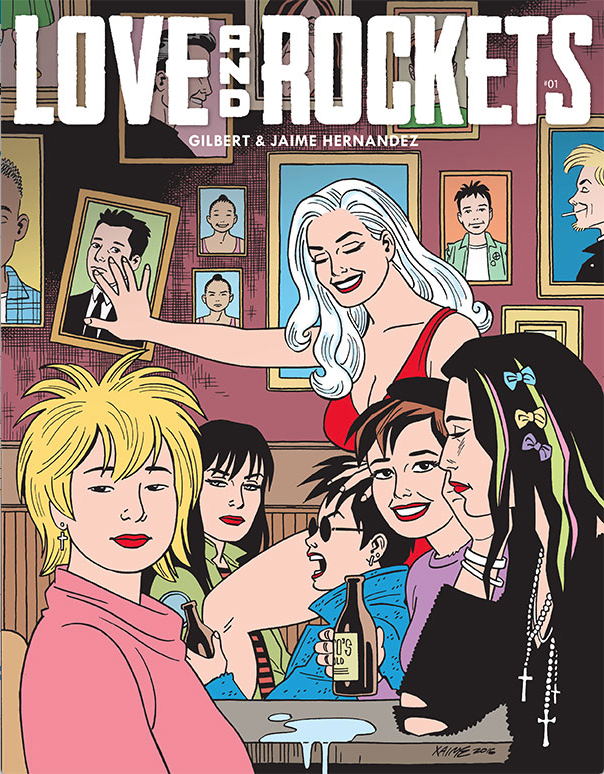 Sara Century: Today, the queer themes of Love & Rockets might not immediately jump out to readers that are accustomed to LGBTQ+ stories being openly marketed for what they are, but that only makes the intrinsic nature of the queerness all the more vital. Taking cues from the LA punk scene of the late seventies and putting complicated, messy characters at its center, the LGBTQ+ friendly nature of the series is so baked into its subjects that it fully lacks the branding factor that we so often see today. Sprawling across decades and formats, Love & Rockets takes equal cues from soap operas and Charles Schultz comics as it does from the gritty punk underground. The lovable Maggie and Hopey are central protagonists for the Locas story arc, but more problematic characters like Israel, Fritz, and Pipo in the Palomar branch feel equally vital and important observations on what the queer community actually is, which is not always perfect. Love & Rockets has been published by Fantagraphics since 1982 and has a lot of issues to back it up, so recommendations for introductory greatness include Jaimie's Is This How You See Me?
and Gilbert's New Tales of Old Palomar
.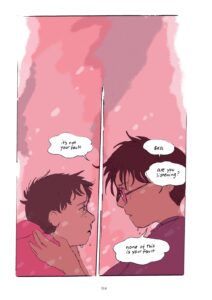 Sean Dillon: Tillie Walden made a road trip comic. For those who need more than that, it's a road trip comic drawn and colored by one of the most brilliant artists working in the medium today. A gorgeous, heart breaking, uncomfortable story about two childhood acquaintances driving around West Texas with a magic cat. It captures the feeling of being on the road late at night with no real plan beyond driving and it makes me cry every single time.
Dave's Bonus Pick: Tillie Walden's comics are all worth checking out, but my personal favorite (as of today) is On a Sunbeam
, a remarkably gorgeous queer love story set in space!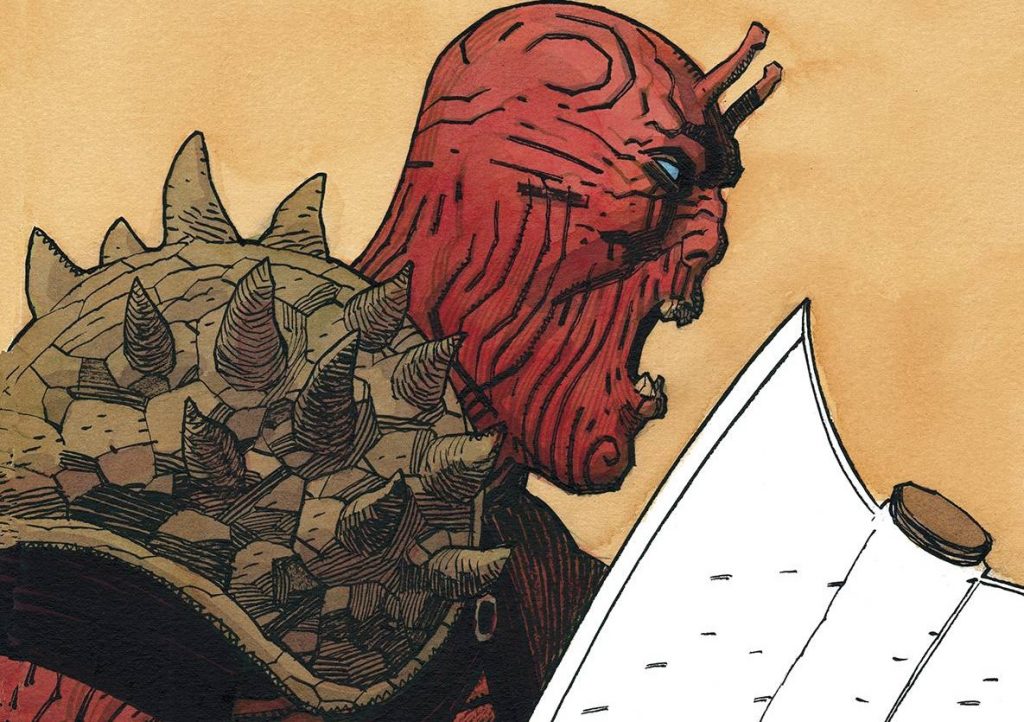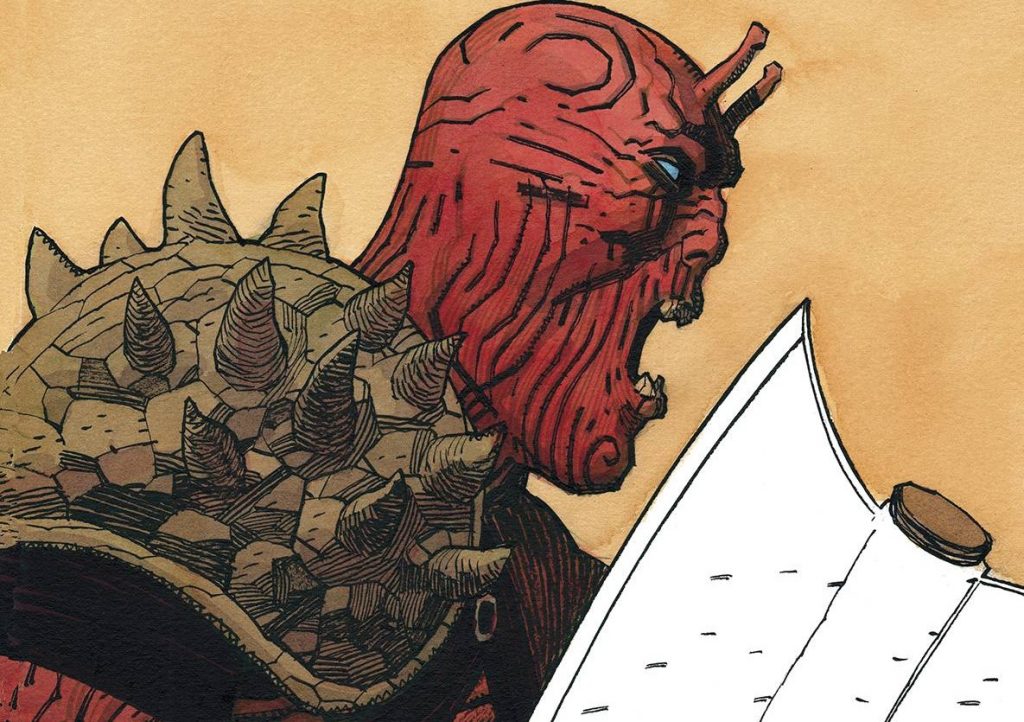 Dave: One of my favorite comics of 2021, Barbalien takes the promise of Black Hammer – the earnest desire to treat the history of superhero comics like it was made for adults, not so much Watchmen's mature deconstruction as shading in the the brushed-off nuance – and delivers a harrowing, empathetic and educational story through America's AIDS Crisis. Tate Brombal and Gabriel Hernandez-Walta deftly mix Barbie's metaphorically closeted shape-shifting with a real-world history of protest, police brutality, fear and hate.
For an even deeper dive into this excellent work, check out our review!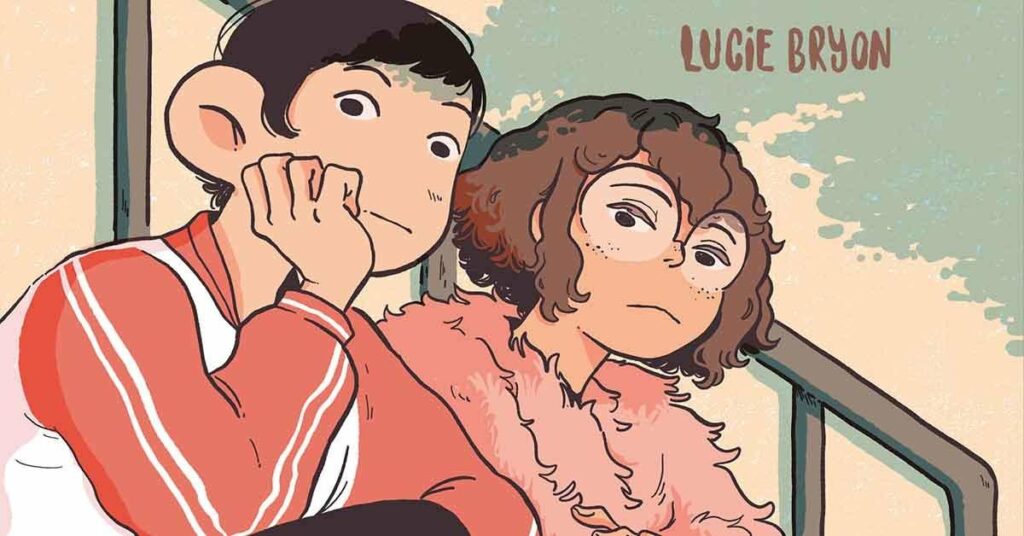 (DISCLAIMER: Thieves won't be published in English before October. In the meantime, it is available in French under the name Voleuse, and will be published in Spanish as Ladrona in late August.)
Charlotte Fierro: When she wakes up after getting drunk at a party, Ella finds herself surrounded by objects she seems to have stolen from the house the party was at. And just to make it worse, she realizes that the person who organized the party and whose house it was is her crush Madeleine. This extremely cute comic about a blossoming relationship follows Elle and Madeleine going from party to party and learning more about each other; and Lucie Bryon's art, all in black inks and pink colors, perfectly encapsulates feelings of youth and blossoming teenage love.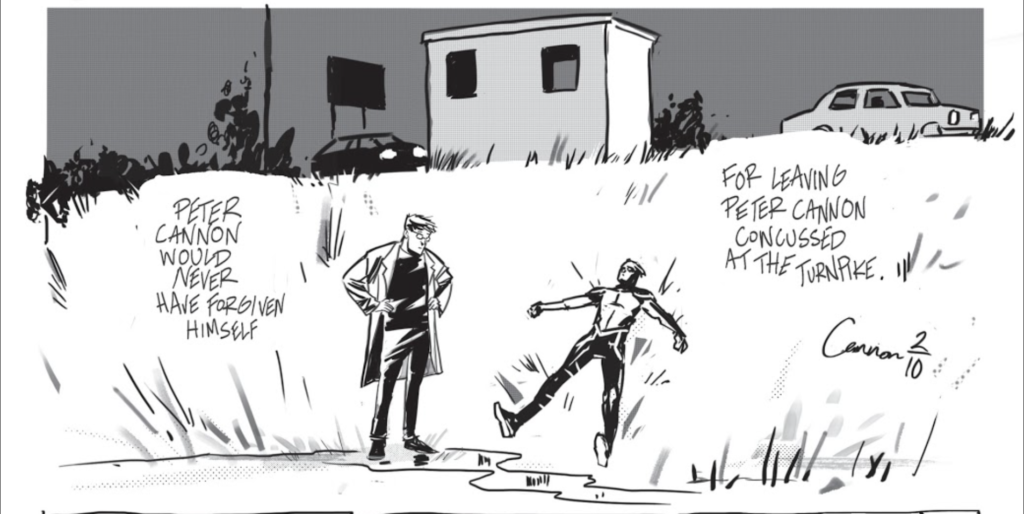 Sean Dillon: Kieron Gillen and Caspar Wijngaard's Peter Cannon: Thunderbolt is often viewed through the lens of comics criticism (and Watchmen criticism at that). But at its heart, it's the story of a queer man learning to be a better person by seeing himself from the outside. About the bitter adolescent boy who has mistaken pessimism for realism getting out of the house and meeting some boys. Or, at the very least, being kinder to the boy he's dating. It's an extremely clever, moving comic about being better.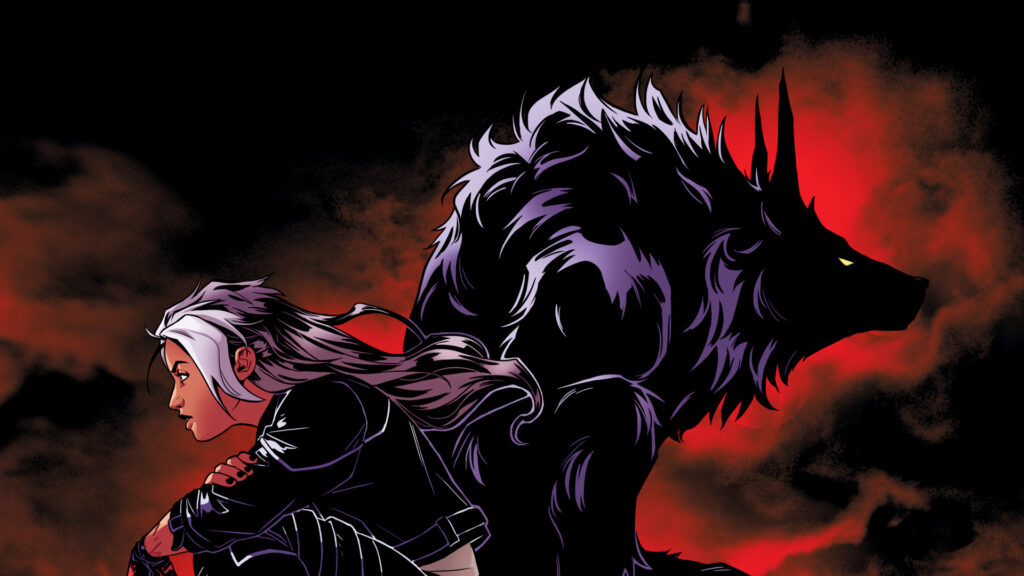 Sara Century: Werewolf mage Sin is trying to put distance between herself and her checkered past, but she gets yanked back in when the mage Zac Zero steals part of a magical blade. The two end up on the run with POV narration flipping between them. Their mutually mysterious pasts and unclear motivations reflect one another in some innovative ways, ultimately creating a comic that blends classic pulp stories, fantasy novels, B-movies, and cyberpunk aesthetics with impressive fluidity. Gio Esposito's heavy-lined, straightforward art and the brilliant character design are a major selling point, creating a dynamic and sleek sci-fi layout for the fast-paced action sequences. Danny Lore's knack for subtly revealing dialogue works overtime to unfold elements of each character's past as we go along. Salty exes, futuristic tech, complicated queer characters, and the strong underlying theme of letting go of regret in order to move forward combine to make this one of the most inventive werewolf stories of this or any medium.
Sean Dillon: The single greatest comic about the power of ideas. While starting out as a rather simple story of a girl being offered the chance to be a hero, the web comic expands into more complex, stranger aspects of the premise until things start to go completely metaphysical. Sarah Jolley is one of those once in a lifetime artists who deserves all the money to do what they want. A jaw dropping artist who is constantly doing new and interesting things with the medium. That, and it's also a comic full of queer supporting and main characters is icing on the cake.
Fundraiser for Vol 3 Physical Edition currently ongoing.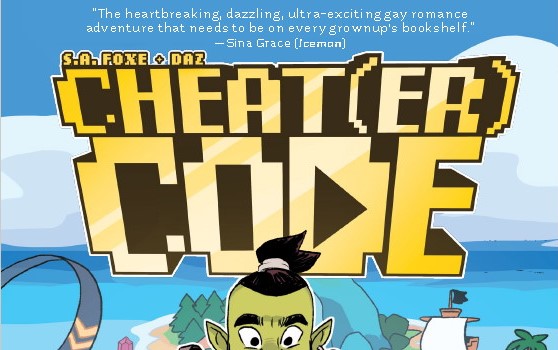 Dave: There are two ways you might describe S.A. Foxe and Daz's Cheater Code. The first is as a classic tale of heartbreak set inside the cyber-realities of various famous video games. Think Forgetting Sarah Marshall meets Wreck-It Ralph. The more likely description, though, is as a vividly erotic gay graphic novel, stuffed full of completely uncensored gay sex.
The reality of course is that it's both things, and a wonderfully enjoyable blend. It's a funny, emotional, and yes, sexy book that is absolutely for mature readers only!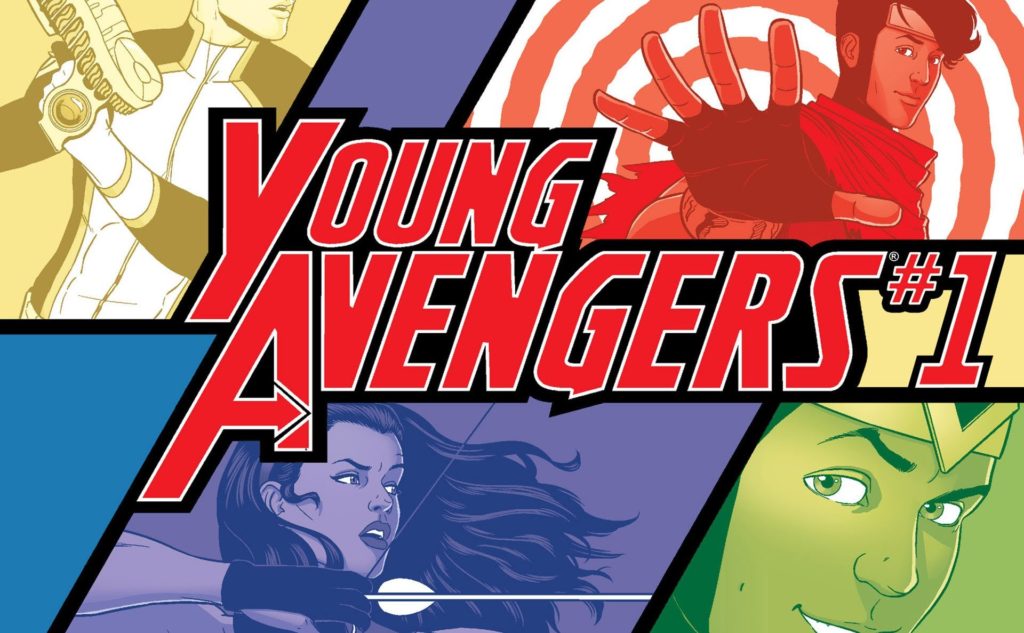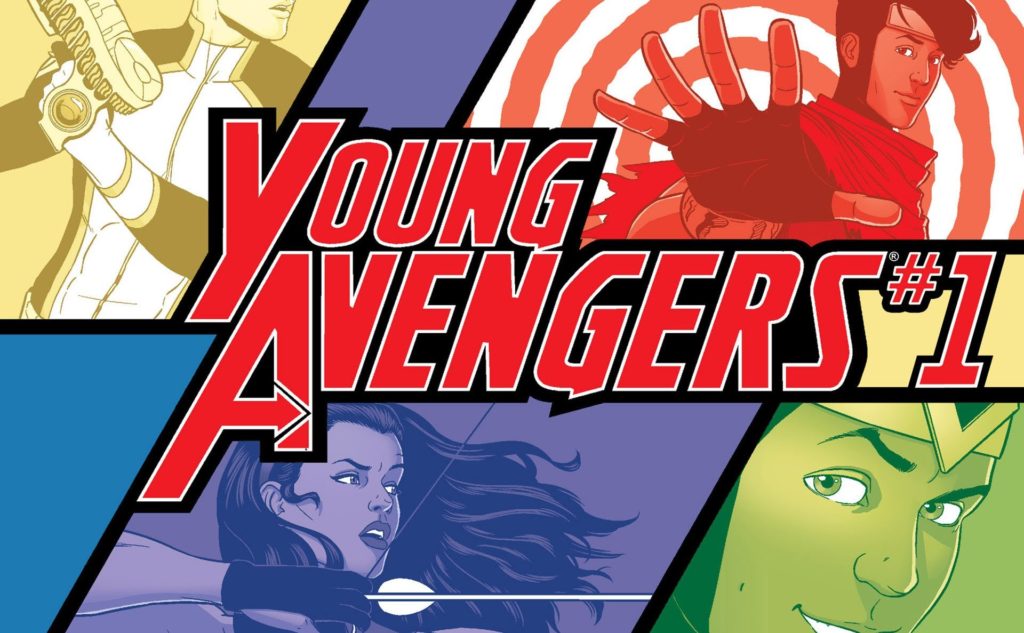 Charlotte Fierro: As far as depiction of queerness in Marvel Comics goes, Kieron Gillen and Jamie McKelvie's  Young Avengers stands out with its cast composed of only queer characters and one (1) token straight friend (although to quote America Chavez, maybe not that straight), which is practically unheard of at Marvel before or since. Young Avengers is a book about being 17 and kicking butt, and it is a statement that Marvel's teen generation (the Young Avengers themselves, but also their whole network of teenage heroes) is here, queer, and ready to fight. But beyond its casual queerness, Young Avengers is also an extremely fun teenage superhero story that sees its heroes struggle with both extra-dimensional threats and their annoying exes; and it is all the more fun to read thanks to McKelvie's art standing out by having fun with the comic's form and giving it a visual personality that you won't find anywhere else at Marvel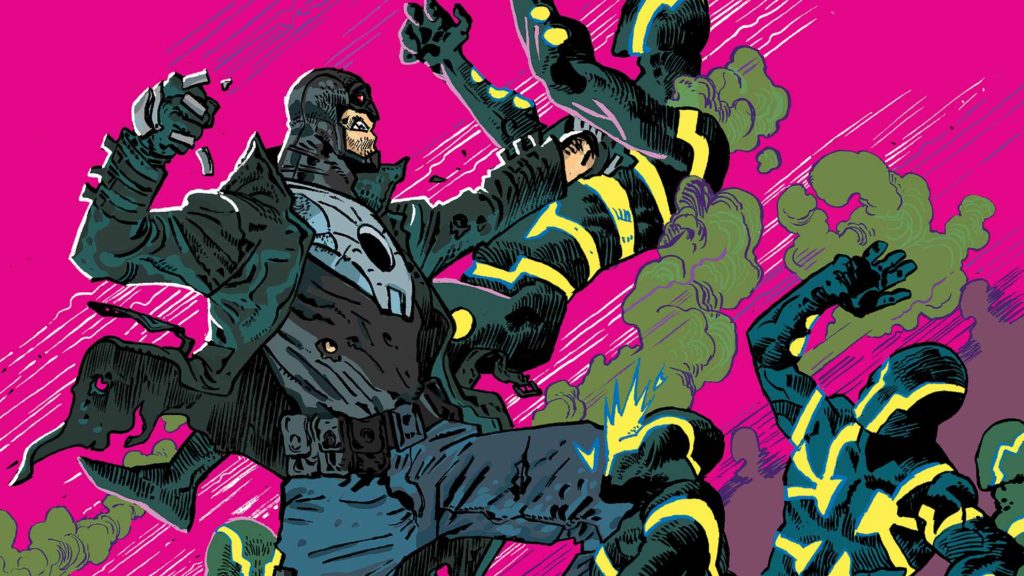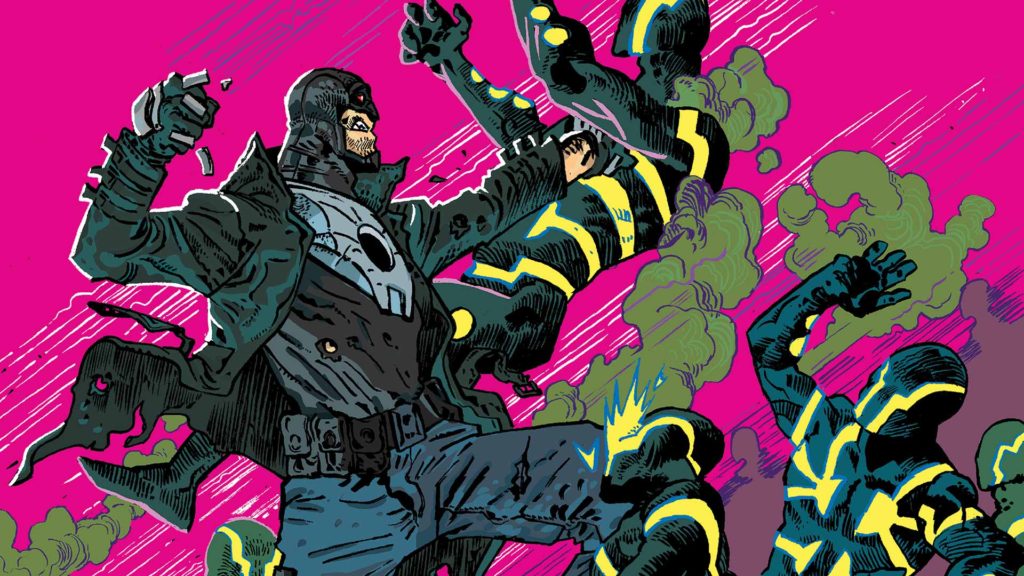 Sara Century: The first solo book following the adventures of a gay man released by Marvel or DC, Midnighter followed up a number of questionable choices made with the character by giving him a definitive 12-issue run under the creative team of Steve Orlando and artists Aco, Stephen Mooney, and Alec Morgan. Taking the foundational character beat of the fighter whose life has been defined by how hard he can punch, this take did significant work in developing Midnighter beyond that. Previously almost always seen in context to his relationship with Apollo, this book showed a younger Midnighter, broken up with "the perfect man." This freed him up to define himself on his own terms and try new relationships while likewise finding his role in the larger, New 52-era DC Universe via team-ups with Dick Grayson. A wonderfully violent and surprisingly self-reflective comic, this remains a seminal work for queer superheroes and paved the way for much to come, but its biggest accomplishment is humanizing an intriguing and complex character that was so often viewed only as a Batman analog.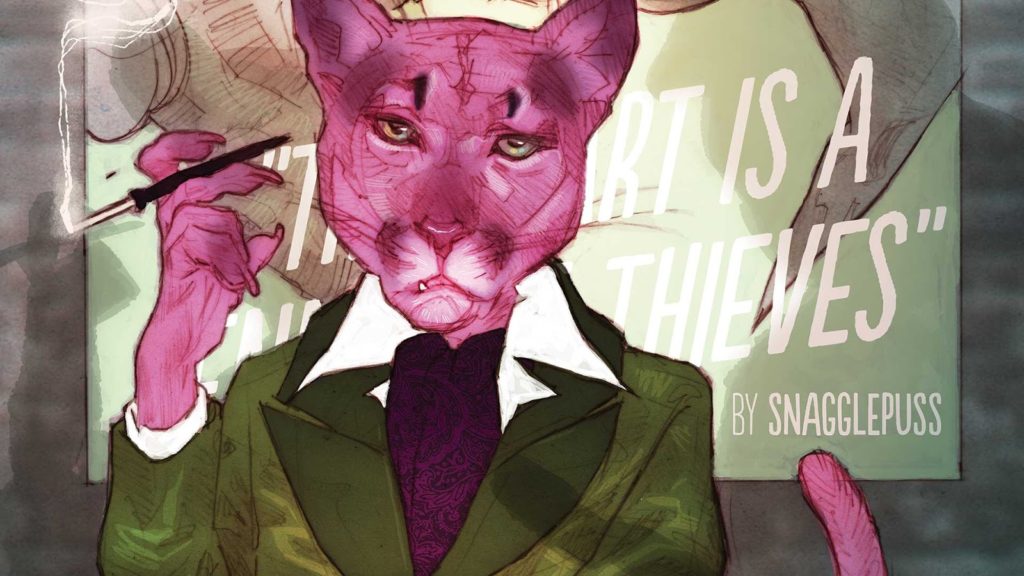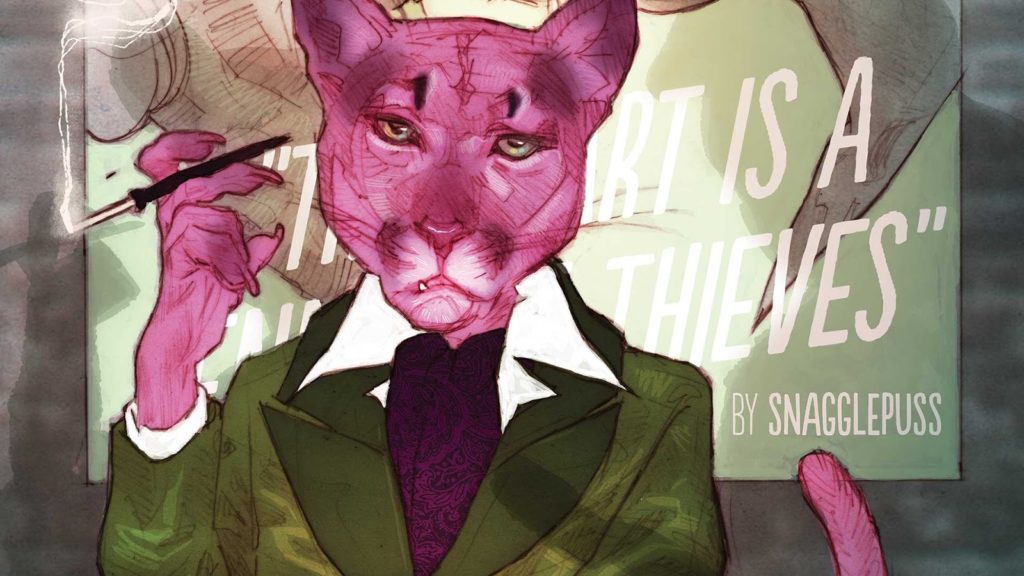 Dave:
Nobody made better use of DC and Hanna Barbara's crossover comics than writer Mark Russell (Batman/Elmer Fudd
 notwithstanding), and although Flintstones
 is the more revelatory of the works with its own satirical commentary on bigoted attitudes, with Mike Feehan, Russell turned Snagglepuss into a GLAAD media award-winning take on playwright Tennessee Williams during America's 1950's Red Scare and House of Un-American activities era. In the wrong hands, the Snagglepuss Chronicles could easily have relied entirely on the gimmick of taking the pink cougar any kind of serious, but Russell and Feehan fully commit to the deep, enveloping sadness that comes from being shamed and hunted for your identity.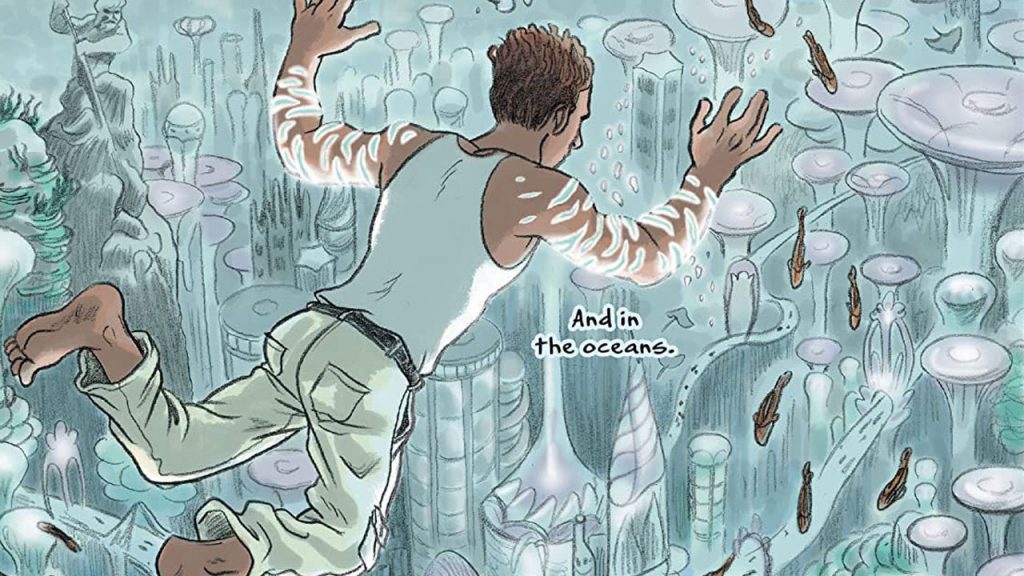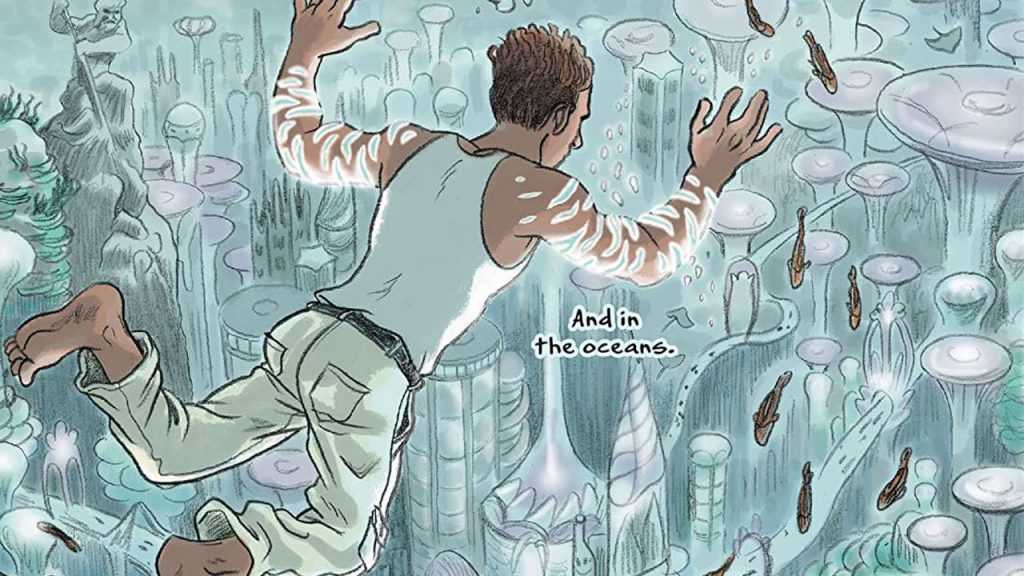 Nathan Payson: So many books try to tell queer coming-of-age stories that focus on being warm and sappy without dealing with the tougher emotions that come from figuring yourself out. No two gay teenagers are alike and every person discovers themself and figures out who they are at different times. You Brought Me the Sea is an example by which most superhero queer coming-of-age stories should try to live up to. It's honest, real, and forces its main protagonist Jake to make difficult choices that get to the heart of the mess that often comes with self-discovery. It isn't as simple as kissing a guy and saying "I'm gay" like media tries to portray and this book nails that in ways that reflect my own personal journey of self-discovery. There's a reason that HBO Max is adapting this book to a TV-series and if it's anything like the source material, it has the potential to be an all-time gay coming-of-age story.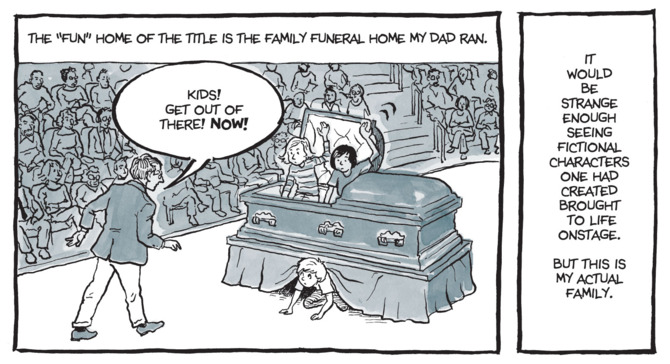 Fun Home
Dave: Alison Bechdel's Fun Home is one of the first graphic novels I ever read, as part of a college course on autobiography, and ranks right up there with Watchmen and Maus for comics that showed me the literary merit in the medium (a thing snobby English majors sometimes need convincing of!). It's equal parts tragedy and discovery, as Bechdel wrestles with unearthing her father's semi-hidden homosexuality and the early days of her own. More than that, though, it's a near perfectly crafted memoir, illuminating the nostalgic hues of memory and how adult returns clarify the peripheral details, changing the picture significantly.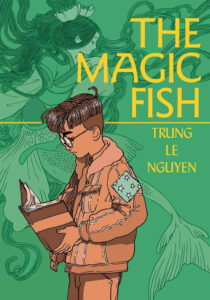 Sara Century: Trung Le Nguyen's debut graphic novel introduces us to the young Tiến Phong, a second-generation Vietnamese teen. Utilizing a number of fairy tales to help his mother learn English, the two learn a new language of understanding between one another as Phong comes to grips with his sexuality. Inventive color changes to signify changes in time and perspective while Nguyen leans all the way into a love for storytelling in its many forms. This is a comic that is hard to imagine in any other medium due to its clear reliance on the strengths of the medium. Outside of Lynda Barry, there are few other comic creators that bring the level of heart-crushing love and forgiveness for others that Nguyen puts into The Magic Fish, particularly alongside a desire to push comics into new, unexplored worlds. Observing the power that stories have in shaping our lives, there is something both universal and highly personal in The Magic Fish, making it one of the most groundbreaking works of the last decade.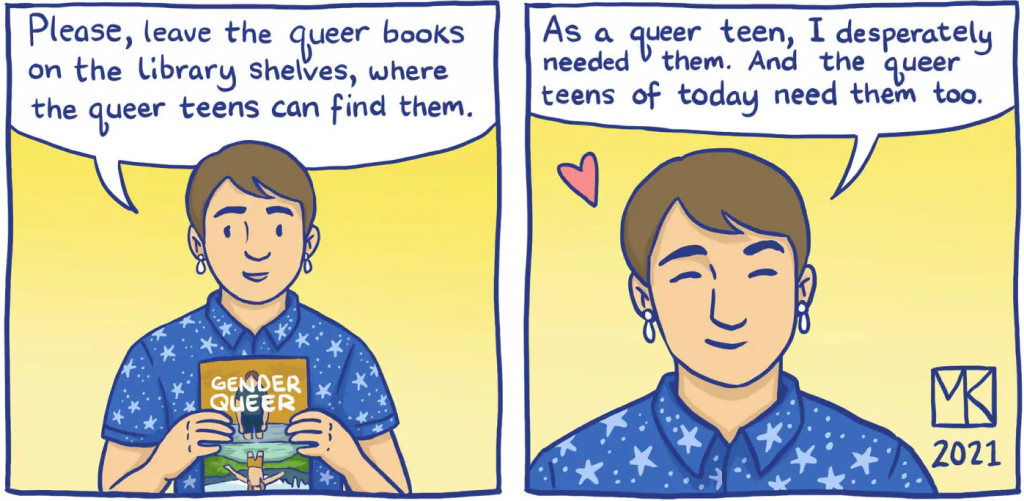 Dave: If you'd told me after reading Gender Queer that Maia Kobabe's frank, lucid memoir about coming out as non-binary would become the most banned book in America, I'd have been a bit shocked. And honestly, in some ways, I still am. My primary takeaway from Kobabe's journey was appreciation for eir ability to explain the challenges of gender, the importance of pronouns, and developing relationships through the entire journey. I picked up the graphic novel on a whim, and a half hour later realized I was going to finish the work in a single read-through. I can't make heads or tails why the frank discussion of sexuality in Gender Queer is any more censorable than say Shakespeare, but I do see why bigots and fear-mongers would be scared of the work: It's incredibly effective!
Sara Century: Mariko Tamaki's works are often queer and always worth reading, but many consider Laura Dean the best among them to date. Featuring stunning line art and inventive color work by Rosemary Valero-O'Connell, the story follows a teen named Freddy as she tries to understand the captivating Laura Dean and why their relationship runs so hot and cold. Utilizing everything from a psychic medium to an advice columnist, it becomes clear that Dean needs someone to be on call for her whims, forcing Freddy to make a choice about what kind of person she wants to be in life. Complicated or even toxic relationships and love stories that don't immediately lead into a forever love are underrated in the world of queer stories. However, perhaps more importantly, the way Freddy learns to prioritize the people that keep showing up for her is a major driving force behind this tale and the pro-choice subplot is vital to the heart of the book. In the end, Laura Dean is overall not very much about Laura Dean at all, and it's all the better for it.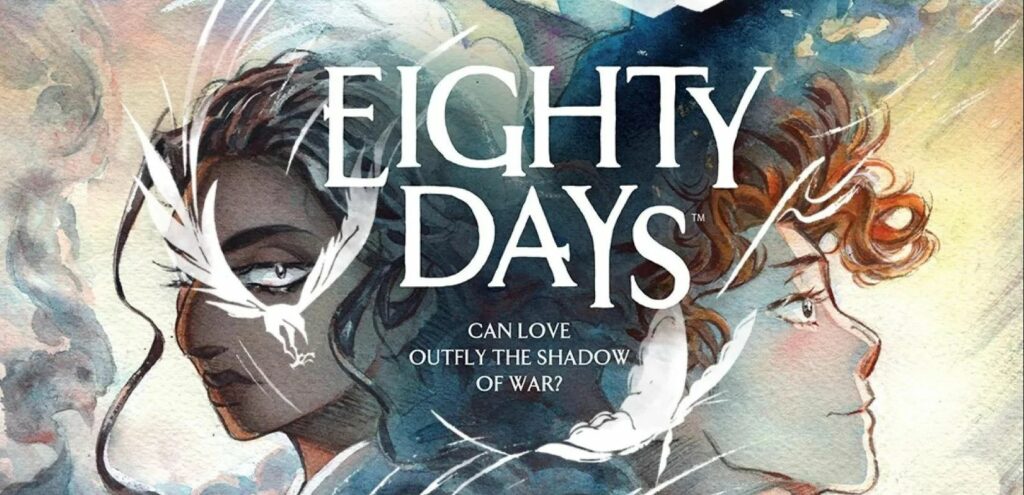 Dave: I have to give credit to The Beat's excellent guide to comics by trans creators for introducing me to this one, as Eighty Days is one of the best looking comics of 2021. A.C. Esguerra is an incredible artist and storyteller, with a unique queer love story about 1930's pilots during a familiar yet fictionalized war. Eighty Days was 7 years in the making, and the heart and passion can be felt on every page.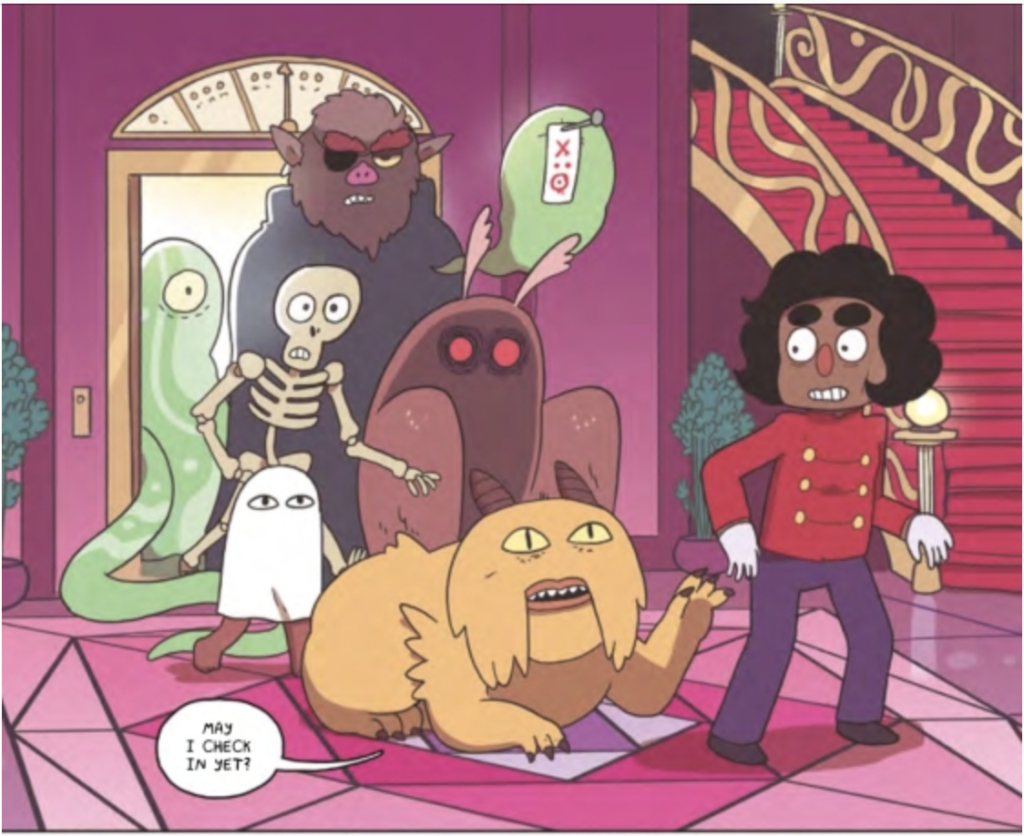 Sean Dillon: Deadendia is the story of an amusement park full of demons, ghosts, and various queer people. What starts out as a story about a runaway trans boy finding his place in a strange world of romance, pro-wrestling, and magic quickly shifts into a horror story about the evils of borders and how small personal connections can save and/or damn us. As well as how we would burn gloriously against those who would chain us to someone else's vision of ourselves. Hamish Steele has a delightful art style that complements both his wicked sense of humor and the gut punching moments.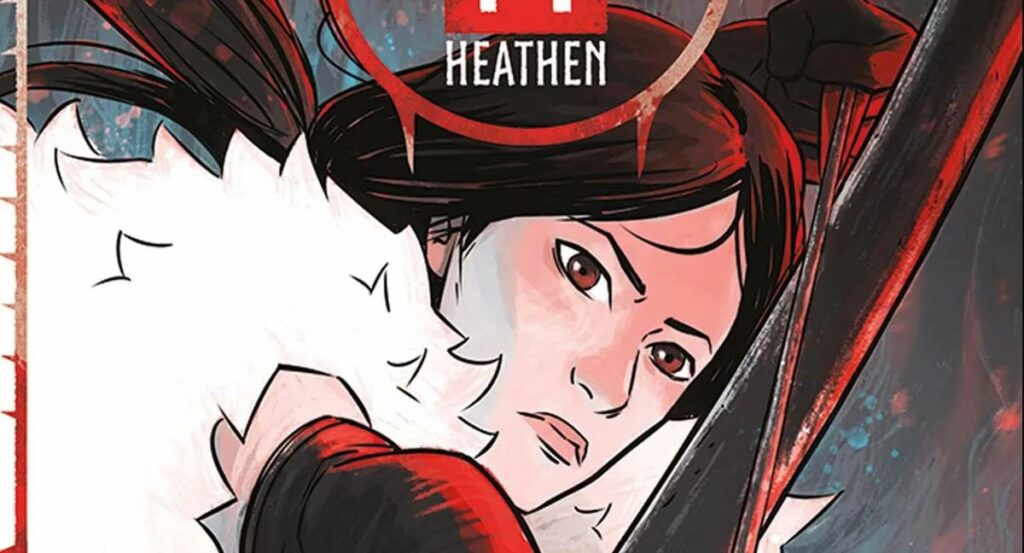 Dave: There's honestly a plethora of popular story aligned around the mantra of "Oh F&** Off, Odin!" (What's up God of War and Jane Foster/Thor), but Natasha Alterici, Rachel Deering, Ashley Woods and team's Heathen is your best bet for a lesbian viking with a literal ax to grind against that cocky one-eyed sucka MC. The 12 issue saga is one of Vault Comics' earliest successes, a gorgeously illustrated and conceived world from Alterici that if anything only suffers from that recurring crime against ongoing comics known as "concluding". Allegedly this one's going to be a movie, and if anything is right with the world, it'll be a huge hit.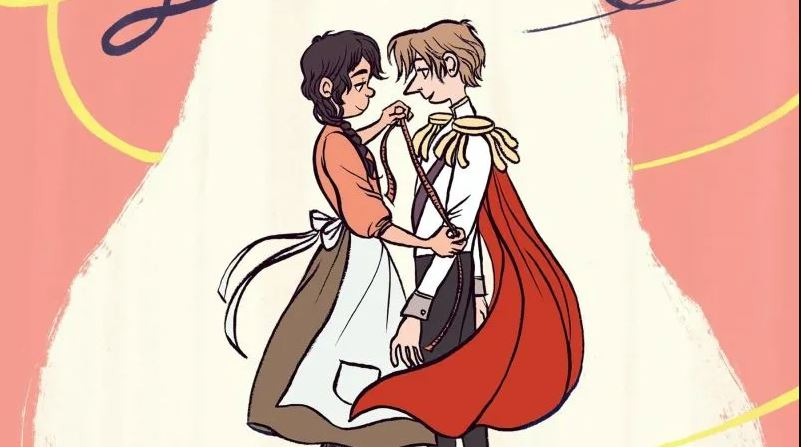 For Young Readers / All Ages
To round out our picks (and again, there are so many more good examples!), I've listed three incredible comics that tackle issues of gender, identity and acceptance. I'm a weird old dad, and I loved these, but they're also deliberately written for all ages, and I've seen plenty of stories from parents of younger readers about these works helping their children navigate feeling out of place because of who they are.
Jen Wang, First Second
Molly Knox Ostertag, Scholastic Graphix
Kat Leyh, First Second
There you go – 30 essential reads starring queer stories or creators! Check these out, and let us know in the comments about other comics we should read and consider when the list is updated!