For many, Christmas time is a season that's equally comforting and cold, both a time of giving and togetherness, and a constant reminder that someone, somewhere, is going without. There have been countless stories that explore the tragedies and triumphs of the holiday season, but lately, there is only one story I keep coming back to for comfort and guidance: the story of a man giving everything to achieve the impossible, and trying to make the world a little brighter…if only for a day.
In 1998, legendary creators Alex Ross and Paul Dini released Superman: Peace On Earth
, a story that set the boundless optimism of the Man of Steel against the ever-present struggles of the real world. Published to mark the character's 60th anniversary, Peace On Earth was the first step in a grander collaboration between Ross and Dini, as the two creators used each graphic novel to explore the real-life power of DC's greatest heroes.
"The genesis of the books was something I was building up to doing from coming off of Kingdom Come," recounts Ross. "I put together this pitch that was based around what I felt were the four icons of DC: Superman, Batman, Captain Marvel and Wonder Woman. I had this burning desire to return to Superman above all."
Casting the hopeful image of Superman against the more somber backdrop of Christmas, Peace On Earth serves as Ross and Dini's ultimate critique on the character as both nuanced man and inspiring myth; exploring humankind's capacity for compassion and evil, and whether we can use that potential to truly find peace on Earth.
Like any great myth that's told and retold over the years, the larger continuity of DC Comics and its characters has had new additions with every creator, era, and decade. Superman in particular has had a unique role in DC's continuity, with writers like Grant Morrison making the hero's history the bedrock for stories like All-Star Superman and their run on Action Comics (which you can learn more about in my video on it). This would become the de facto approach for the character, with subsequent creators using Superman's continuity to frame him as a transcendent monomyth, connecting every iteration of DC's history.
Both Ross and Dini had experience with the Superman mythos, with Dini iterating on it through Superman: The Animated Series and Ross using DC's fiction as prelude to Kingdom Come. But instead of adding on to an increasingly complex mythology, the duo began reducing the character to his core elements, crafting a timeless version of Superman that could exist at any point in his career (a fitting choice to mark his 60th anniversary).
Support For Comic Book Herald:
Comic Book Herald is reader-supported. When you buy through links on our site, we may earn a qualifying affiliate commission.
Comic Book Herald's reading orders and guides are also made possible by reader support on Patreon, and generous reader donations.
Any size contribution will help keep CBH alive and full of new comics guides and content. Support CBH on Patreon for exclusive rewards, or Donate here! Thank you for reading!
"There's a lot of emotions I'm trying to connect with the reader; the way I want you to feel about my version of Superman," reflects Ross. "This is my first version of Superman that I did after Kingdom Come. I wanted to keep a lot of that sensibility alive while making it grounded in the here and now. This is the eternal Superman, the classic that will always be. You can almost refine the icon down to this alone."
In place of previous designs, which added or interpreted details in forced attempts to make him more "trendy" (looking at you, Electric Blue Superman), Ross's art took Superman's archetypal design and literalized it, with his lifelike style rendering the Man of Steel's costume in cloth and spandex. While Ross's unique style helps Peace On Earth stand out against its contemporaries, it's also the key to understanding the story and the message it's trying to tell. Superman might be at his most iconic, but he's also beset by a world where truth and justice are scrutinized and debated by powerful people with their own agendas. By placing this eternal version of the man of steel in the here and now, Ross and Dini ask a question that's hounded the character since his origins: does Superman have what it takes to solve the problems of our world?
Opening on a quiet December night, Peace On Earth follows Superman as he tries to bring joy to the people of Metropolis, decorating a massive Christmas tree for the city and reflecting on the inherent goodwill of the season. While the character's sincerity has always framed him as a beacon of relentless, almost naive positivity, Ross and Dini use the story to highlight a wistfulness in Superman, with the hero's genuine desire to help set against the shinier, shallow trappings of the holiday season.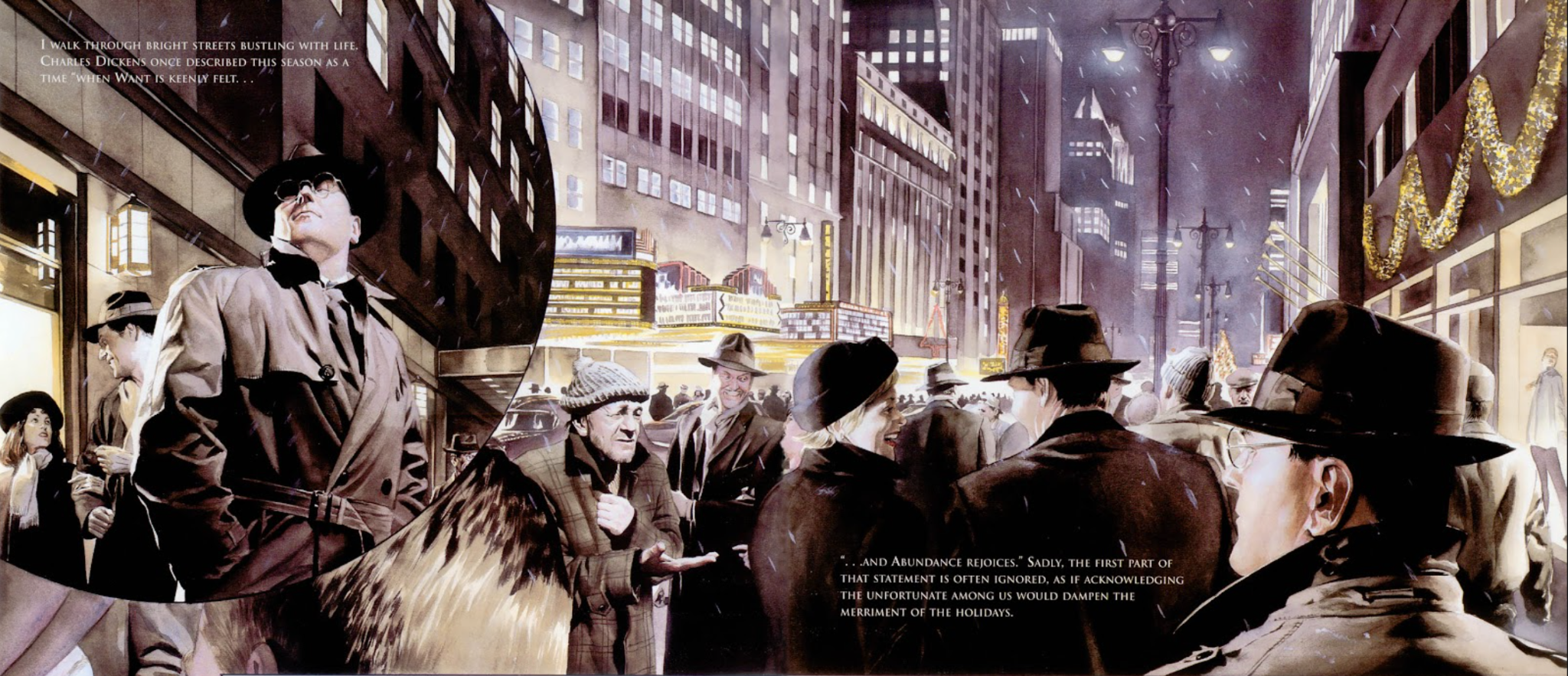 Responding to a cry for help, Superman is finally brought face-to-face with a darker truth of the holiday, finding a young woman nearly dead from hunger at the heart of a busy crowd. It's a pretty pointed metaphor, one that Dini and Ross use to catalyze a new mission for the Man of Steel: to use his gifts to fight hunger, not just in Metropolis, but across the globe.
Since his creation at the hands of Jerry Siegel and Joe Shuster, Superman has always been a kind of aspirational figure; a fantastical solution to the problems of the real world. This isn't the first social issue the Man of Steel has had to face, but it's Ross's attention to realism and Dini's deliberate pacing and monologue that make Superman's mission in Peace on Earth feel more tangible than ever before.
Through Ross's intricately-detailed paintings, the story transforms into a series of double-page vignettes, lingering on the hero as he petitions Congress, gathers the resources, and treks across the globe distributing food to those in need. While Ross makes sure to depict plenty of skeptics on this mission of goodwill, they are ultimately dwarfed in the presence of the hero, who dominates every frame and is bathed in a bright, saintly light. If you're starting to see parallels to another mythic figure, you'd be right. Across his history, Superman has been compared to countless religious figures, with varying degrees of depth. But instead of simply transplanting the character into another figure's story, the creators use Superman's inherent goodness to make the Christian message of goodwill toward all into something more universal: a call to action to use our collective gifts to help those around us. It's this message that elevates Superman into a near-omnipotent figure, growing more mythic as he continues his mission.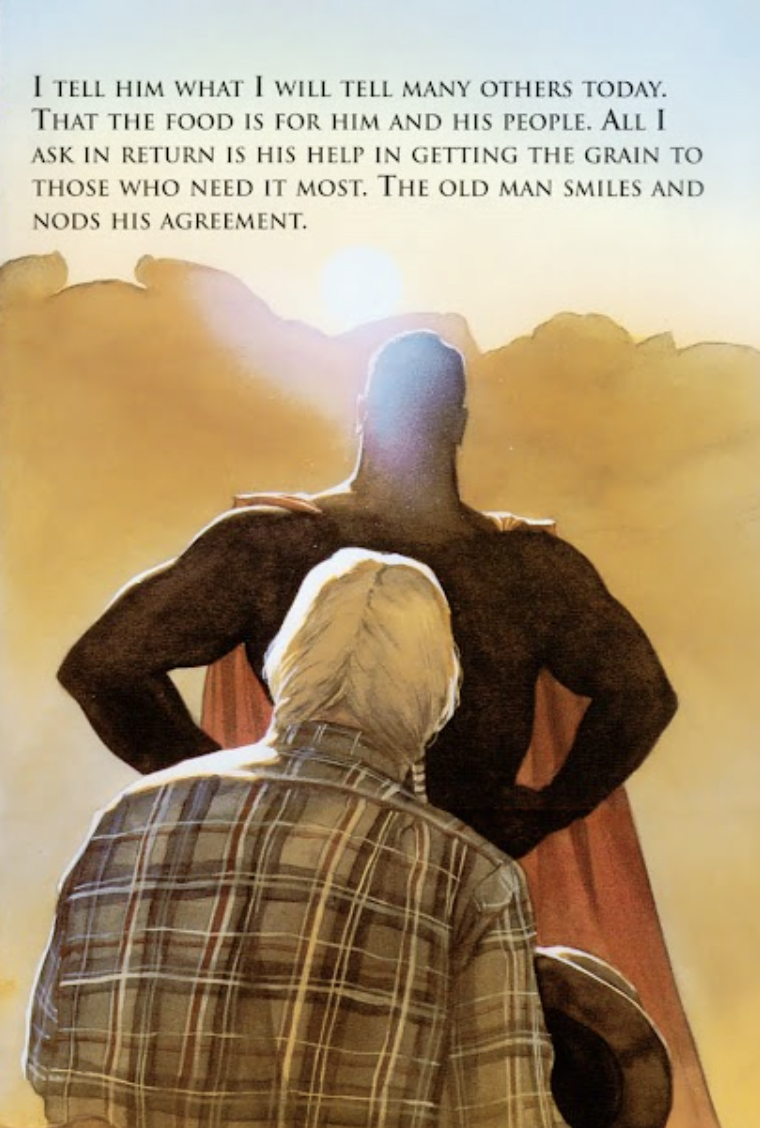 However, if the first half of the story builds Superman up as a higher power we can look to for salvation, Dini and Ross spend the latter half of the book deconstructing that figure, laying the groundwork for a more nuanced message. As Superman continues his trek across the planet, innumerable forces start to threaten his mission. Mass gatherings lead to brush fires and stampedes, warlords threaten against Superman's actions with violence on their own people, and countless others are too afraid to accept the gifts of a stranger.
In sharp contrast to the godly figure seen before, each step of the journey ends up humbling and isolating the hero. Warm golden tones give way to a colder, harsher palette, as the idealistic image of Superman begins to clash against the murky realities of the world around him. By the book's midpoint, Ross and Dini's message finally comes into focus: Superman isn't just fighting hunger, but a larger sense of hopelessness and greed, one so deeply rooted that it dwarfs even the strongest heroes.
This battle between hope and hopelessness culminates in the book's lowest point, as a military convoy standing against Superman's intervention destroys the last of the supply, halting the hero's mission. But while Ross and Dini use this moment to wholly deconstruct Superman as a godly figure, they also use it to impart a more hopeful, humanistic message. We can't rely on fantasies or ideas to save us, but we can let them inspire us into action. The power to save the world has always been in our hands.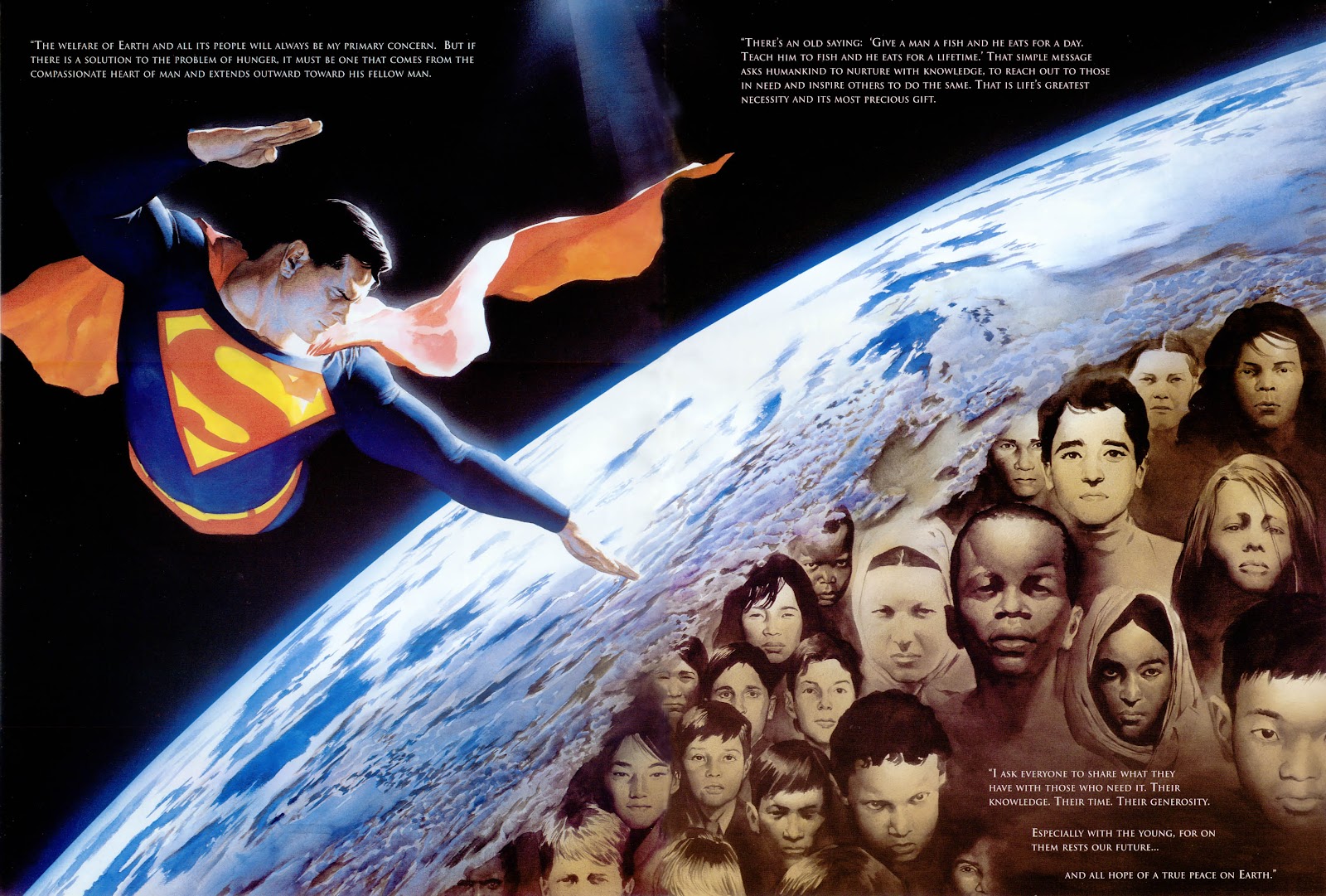 Acting as the culmination of 60 years of storytelling, Peace on Earth is much more than a celebration of the Superman' history. It's an examination of the character's impact as a real-world icon, and how that icon can be used to enact positive change in the world. In the end, Ross and Dini frame Superman's ability to inspire as his greatest strength, looking back on Pa Kent's words and using his human identity to spread his message of doing what you can to help those in need.
The book itself would ultimately inspire action, namely through donating the proceeds from Ross's art to charities like UNICEF and Harper House in Chicago, but also by using Superman's appeal to impart its message to readers of every age, something that Ross was adamant about when developing the story with Dini.
"Several people I talked to over the years asked why I formatted it toward that direction…I just wanted to create something that felt sort of like it was something that would appeal to a kid as well as to an adult," recounts Ross. "The feeling that most comics take with the real world is such an extreme that it never feels that real. I wanted to ground it to where the problems are much more human-based. The superhero solution isn't necessarily for solving that problem in a way that we can't, but through using their colorful representations or iconic status, we show how difficult that problem is to confront, and maybe at least the intentions of how they would handle these things."
Revisiting Peace On Earth in this day and age, I can't help but feel a powerful sense of hope for the future. The last few years have tested us in ways we never could have imagined, but they have also brought many of us together as friends and communities, each trying to better our own little corners of the world. And those bonds are built to last. In the end, a better world isn't built with one grand gesture, but countless small examples of compassion. By giving our neighbors the chance to grow, to learn, and help others to do the same.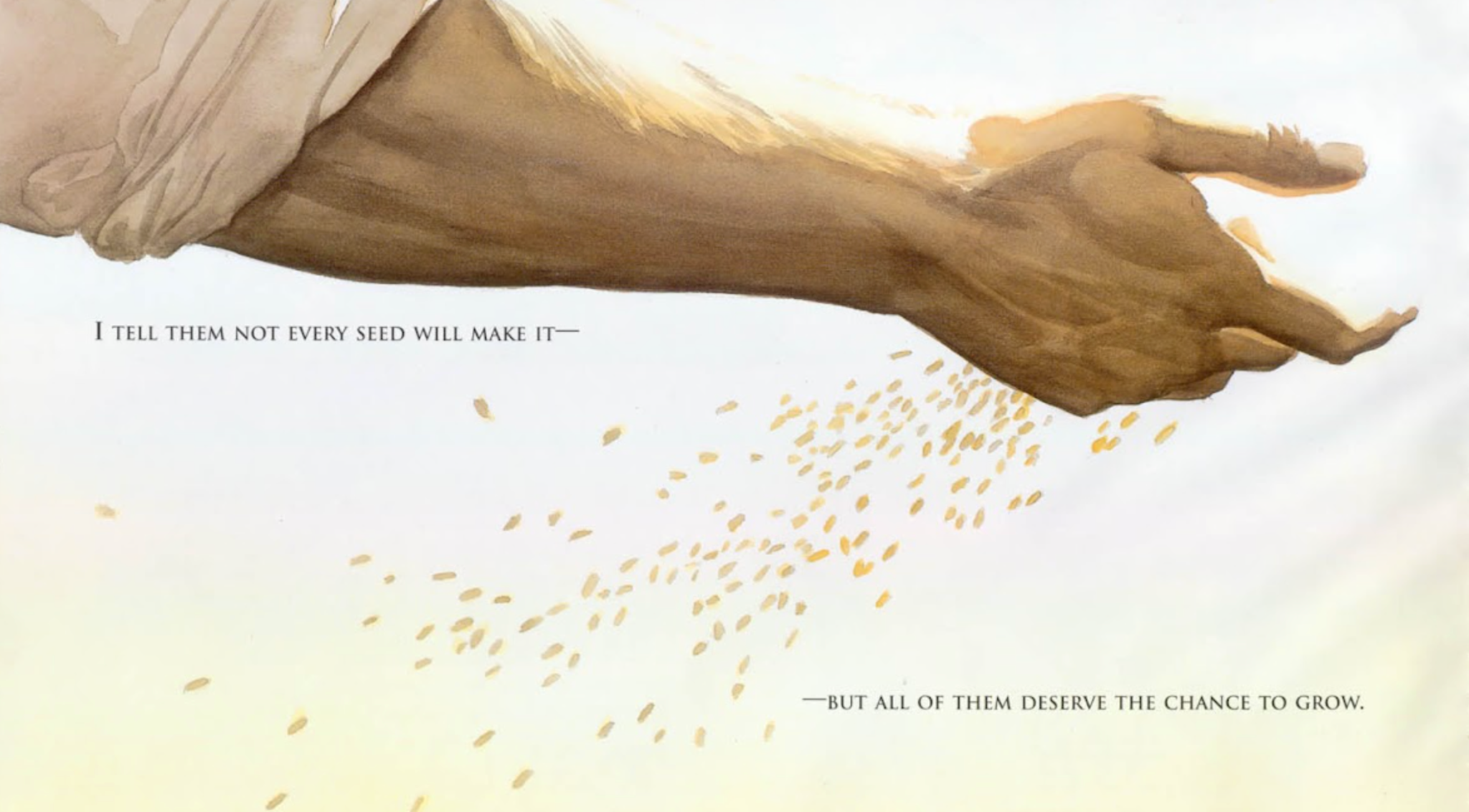 Sources:
https://www.youtube.com/watch?v=wTiJqF-VnsI
https://www.nerdteam30.com/creator-conversations-retro/an-interview-with-alex-ross-martian-manhunter-and-other-influences