In Task Force X, even the worst villains in the DC Universe can serve a higher purpose. But what happens when that purpose is called into question, and these villains are forced to strike out on their own? How do you redeem the irredeemable?
The team of antiheroes known as "The Suicide Squad" has been a part of DC Comics history for over 50 years, though most of its fame is credited to John Ostrander, Kim Yale and Luke McDonnell's spectacular 6-year run on the title. Re-envisioning the squad as a team of villains forced to work for the US government, Ostrander and company were able to re-tool the title into something much more nuanced, tackling themes of exploitation and trauma while hammering home the life-and-death drama behind the team's missions. While Ostrander's run was widely celebrated for how it humanized its characters, the title began to stagnate after the end of his run, leading to a re-introduction in DC's "New 52" that many saw as an all-time low for the series. With a growing reliance on bigger names, shallower stories, and high-profile movie tie-ins, the title was practically dead. That is, until 2019.
Fresh off a myriad of hit series for DC, including Injustice
and DCeased
, writer Tom Taylor teamed up with an all-star roster of artists, inkers, colorists and letterers to breathe some life back into the book through the 11-issue maxi-series Bad Blood
. Bringing in a new cast, story, and tone, Bad Blood serves as both a return and reinvention of Ostrander's vision, putting this scrappy band of supervillains on an exciting new path. As long as they can survive it, that is.
(MINOR SPOILERS AHEAD!)
Support For Comic Book Herald:
Comic Book Herald is reader-supported. When you buy through links on our site, we may earn a qualifying affiliate commission.
Comic Book Herald's reading orders and guides are also made possible by reader support on Patreon, and generous reader donations.
Any size contribution will help keep CBH alive and full of new comics guides and content. Support CBH on Patreon for exclusive rewards, or Donate here! Thank you for reading!
WELCOME TO THE SUICIDE SQUAD
Following a team of captured supervillains forced into government wetwork, The Suicide Squad has always been built on the strength of its characters: some as villains trying to turn over a new leaf, others trying to do some good in a terrible situation, and all of them trying to survive near-impossible odds. This revolving cast staffed almost exclusively with C-and-D-Listers like Slipknot, The Enchantress, Nightshade, and Doctor Light, were the key to Ostrander's tenure, allowing him to delve deep into the complexities of each character, and failing that…clear the board and start fresh. This approach not only elevated the series from its Silver Age spy team roots, but proved strong enough to carry the title for 6 years.
However, the end of Ostrander's run in 1992 marked the beginning of a shift within the book. Though the squad would appear in a number of tie-in events, along with limited runs by Ostrander and Keith Giffen, their next ongoing series in 2011 was a far cry from what came before. Instead of a deeper look into lesser-known characters, the series became a showpiece for more popular characters like Harley Quinn, Deathstroke, and mainstays like Deadshot and Captain Boomerang. While the roster would staff even more B-and-A-listers later on, the real appeal behind the title was gone: these characters felt static, shallow, and pretty much indestructible. So naturally, that's what Taylor went to work on first.
The run's first issue introduces an entirely new team, dubbed "The Revolutionaries," who act as the Squad's Karmic opposites. Each of the team's members have been harmed by Task Force X in a way, and have dedicated themselves to undoing the damage made by the "entrenched evils" that gave rise to the program. Meanwhile, the facilitators behind the squad grow into something more aggressive, with the morally-relative Amanda Waller ousted by the psychopathic Agent Lok, who pushes the squad into more imperialist missions, the first being the forceful recruitment of the Revolutionaries.

In plain terms, this isn't a group built for a noble purpose, or even a necessary evil. They're pawns who die at the whims of their masters. While the run begins as a return to form for Task Force X, the addition of new characters and deepening of others let the book's creators lay groundwork for something much bigger: a chance to redefine the Suicide Squad and the world they inhabit.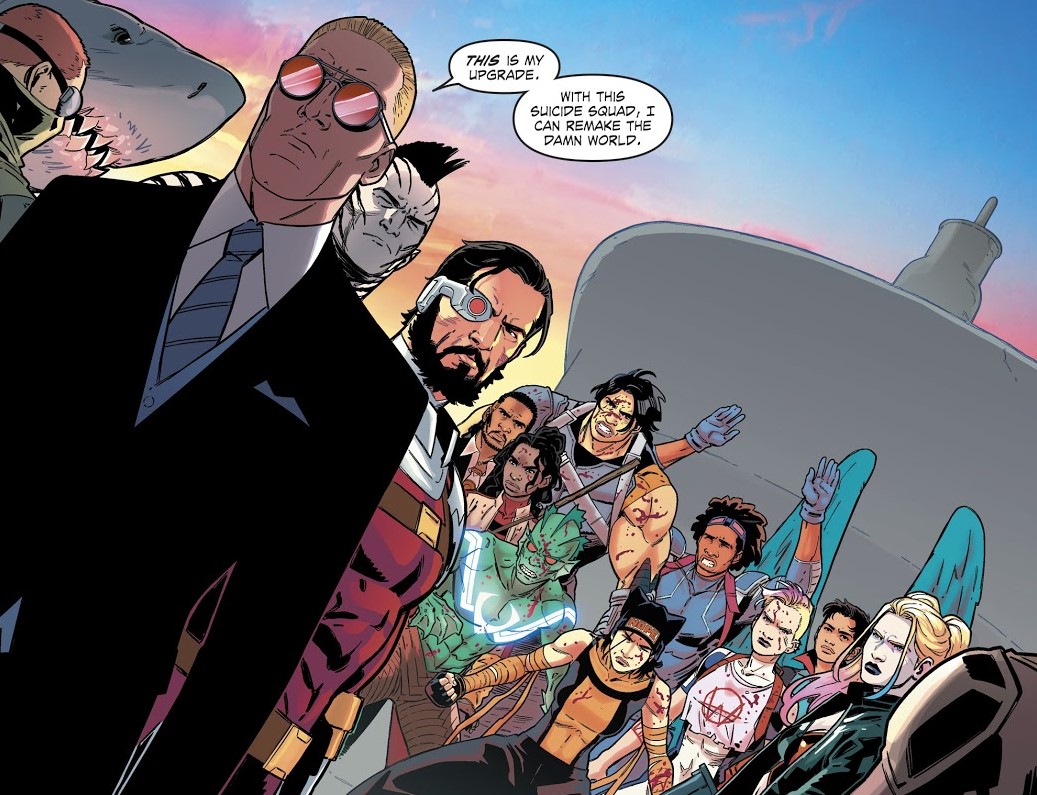 HOPE AND HELPLESSNESS
Along with their new cast, the book's creators took the opportunity to bring an all-new tone to the Suicide Squad. Every iteration of the book has had a kind of "gallows humor" to it, balancing the darker elements of the team's missions with the eccentric characters in its roster. But through Bruno Redondo's robust, adaptable art style the world of the Suicide Squad feels more heightened than ever before.
Exaggerated, cartoony expressions, coupled with Wes Abbott's brilliant lettering and Adriano Lucas's vibrant colors make for a playful, inviting world; one that subverts, and is subverted by the subject matter of Taylor's story. Moments of levity can erupt into gruesome violence, epic fights can stop on a dime, well-known heroes turn antagonistic, and any member of the Squad can meet a glorious or embarrassing end.
"…Unfortunately, this really is a book where you have to kill your darlings," muses Taylor.
"The reader has to realize that there's no firm footing here. Really, anyone can die in this book, anyone can get taken away. Anyone can go on a mission and not come back. And unless the readers believe that, then they're not part of the story. They're not caught up in what we're trying to do here."
It's this renewed sense of vulnerability and helplessness that Taylor uses to define and humanize both halves of this new squad. Characters like Harley Quinn and Deadshot have earned a kind of indestructible reputation through their time on the title, but over the story that invulnerability slips away, giving readers a deeper glimpse into the real toll of life on the team. Harley, who Taylor re-establishes as a psychiatrist, constantly points out the abuses the inmates endure under Lok, usually at the cost of her punishment.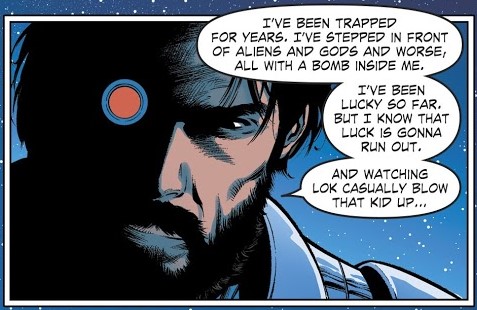 While she manages to stay resilient throughout the title, Deadshot has been deeply scarred by what he's witnessed over the years, taking on a messier appearance and suffering an extended breakdown over the course of the book. Witnessing and executing countless missions for Task Force X has left Floyd Lawton feeling broken, and questioning his sense of worth in the world well after serving his time. The senior members' experience lays the hard truth of the Suicide Squad bare: it doesn't rehabilitate its prisoners, but exploits them, leaving them with little hope to move beyond the lives they've known.
While Taylor uses the evils behind Task Force X to illustrate the hopelessness surrounding its characters, he is also able to rebuild that hope for survival and redemption through their new teammates, the Revolutionaries. Initially the two factions are completely incompatible; with the Squad attempting to keep order while the Revolutionaries carry out their own secret objectives. However, through shared experiences, and the willing empathy of characters like Wink and the Aerie, both groups begin to accept and influence each other, namely through Deadshot reconnecting with his family and the group coming together with a new mission. While the Suicide Squad is a team with a grim legacy, the run's colorful, optimistic presentation is its greatest strength, charting the team's transformation from reluctant antiheroes to driven agents of change.

WE ARE NOT CONTROLLED
Through radical reimaginings of the title's cast and world, the real purpose of Taylor's Suicide Squad comes into focus: this is the story of Task Force X evolving beyond its origins, finally confronting the themes of the prison industrial complex and military exploitation seeded in Ostrander's original run. While earlier outings touched on these elements, it was always in a limited fashion: Perspective was often balanced between the prisoners and their handlers, with the squad's insubordination and selfishness serving as the basis for a number of stories. These are supervillains, after all.
But through Bad Blood, Taylor and his team work to subvert that dynamic entirely. Replacing Waller with the overtly monstrous Lok, the creators highlight the trivial, harmful nature of the team's missions, as well as Task Force X's willingness to bend or even break the rules to keep exploiting its prisoners. The squad's members have undergone some changes of their own, and while still supervillains, are more human and relatable than ever before. Once an unrepentant loner, Deadshot becomes the emotional core of the book through his desire to move beyond his past and raise his daughter. Harley, who's grown further beyond her abusive past, comes to love her new teammates as family, and even Silver Age "joke" characters like Zebra Man are given new depth and purpose as they find their footing in this developing team.
Instead of a band of outcasts thrown together out of necessity this new team becomes a kind of surrogate family, with their sense of community letting them outgrow their past, and fight to dismantle the system that used them. As a result, the book's third act becomes a cathartic payoff to what feels like decades of build-up, following fully-realized characters that could be taken off the board at any moment.
"I think it's just about making sure that the characters are real on the page, that you have their voice, that you understand what makes them tick," states Taylor.
Whatever they regret, or whatever piece is buried in the past, you bring it to the surface and you show glimpses of it.It's about putting people in a position of safety…and then pulling the rug out from under them. And with something like the Suicide Squad, you can do that better than almost anyone."
Ultimately, Taylor and Redondo's vision of the Squad wasn't meant to last, with the release of James Gunn's 2021 film prompting another soft-reboot for the series that placed Waller back in control of a team full of familiar characters. Still, in a time where the title is at its most popular, Bad Blood stands as one of the deepest explorations of the title and its characters. By seeing the worth in each other that society ignores, The Suicide Squad proves that it's never too late to become something better. There's always hope for the irredeemable.
Sources:
https://www.cbr.com/suicide-squad-tom-taylor-interview/
https://www.comicbookherald.com/reading-dc-comics/suicide-squad-reading-order/
http://www.multiversitycomics.com/reviews/suicide-squad-1/