Sure, Stumptown is a new show on ABC-TV but like so much else in mass entertainment these days, it also has a life in comic book format. Originally debuting in late 2009 as a four-issue mini by Oni Press, Stumptown
is the creation of writer Greg Rucka and artist Matthew Southworth.
As creators working on big name superhero books and juggling assuredly intensive workloads, these sorts of "on the side" endeavors are, by nature, "get in, get out" types of collaborative affairs. It's where the real "art for art's sake" gets to shine and the truest artistic voices can honestly be heard.
I truly believe Greg Rucka knows how to write serialized crime drama. His body of work thoroughly reflects it but there's also a downside to steeping everything in so much "noir"- it's hard to gain any lasting traction to build a mounting franchise when an inherent part of the beauty is the incomplete puzzle.
Stumptown (the comic) delivers equally well in frustration as it does in entertainment. I will agree to meet halfway that my lifetime of reading superhero comics has perhaps skewed my perceptions of more grounded, reality-based bodies of work in the medium- I admittedly need to constantly retrain my brain that Dex Parios isn't Jessica Jones
without superpowers (there are definite similarities, though).
Counterbalancing, it is always a treat to open a book and say, "Hey! I know where that bridge or that restaurant is" as Southworth's photorealistic artwork literally captures the streets I walk down. It's one thing when you see Spidey swinging by the Empire State Building in Manhattan but a whole 'nother when it's legit depictions with exacting references of crunchy-yet-still-crusty Portland, Oregon. This series also comes from a time preceding Portlandia and America's love-hate affair with our fair "sanctuary city" (so, points for getting ahead of that curve also, guys…).
Support For Comic Book Herald:
Comic Book Herald is reader-supported. When you buy through links on our site, we may earn a qualifying affiliate commission.
Comic Book Herald's reading orders and guides are also made possible by reader support on Patreon, and generous reader donations.
Any size contribution will help keep CBH alive and full of new comics guides and content. Support CBH on Patreon for exclusive rewards, or Donate here! Thank you for reading!
I also grew up on a steady diet of The Rockford Files and Magnum, p.i.– influential TV material from back in the day that Rucka points to often in the additional materials of this series- so, yeah, either I'm totally qualified or just too close.
Let's examine the collected cases.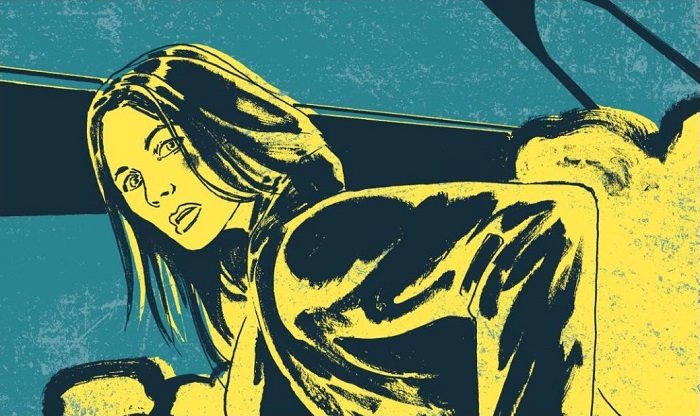 Unwieldy title aside, this debut volume gets off on a good note. Any opening scene depicting the private investigator getting forcibly removed by thugs from the trunk of a car has my full attention. Again, probably a Rockford thing (James Garner and I also share the same birthday).  Also add points if you are a fan of the whole Tarantino-esque "start in the middle of things and work your way back before going forward" style of storytelling.
Our protagonist, Dex Parios, is established as a private eye with a bit of a gambling problem. At the moment, she's in the hole about 18 large with a local casino. Fortunately, there's standing rapport with the house and all debts will be waived if Dex can locate the casino head's missing granddaughter.
It's also worth noting in just these few short sequences how much Dex differs from J-Jo. Even though the genre trope is played up that the protagonist is going to be far from an open book, Dex is easily more "noir" than the decidedly "retcon" Jessica. There's never going to be extended flashbacks to transparently spell out how the character got to where they are today. They're here, what you see is what you get and maybe they'll play one of those close cards and tell you a little bit more. Maybe. If you're lucky. But, again, see that whole thing on the beauty of the incomplete puzzle…
Dex's supporting cast is also with its share of questions that never quite get fulfilled. She lives with her younger brother, Ansel, who works at a New Seasons grocery store- an actual Northwest chain. Due to his Downs Syndrome, Dex has some sort of guardianship over him and/or is just overly protective, as his age is never quite drilled down.
There's also a next door neighbor, a skinny musician dude named Grey, who is often called upon to babysit Ansel. There's a distinct vibe between Grey and Dex but it's hard to say if the classic "will they or won't they" or "they did once and now they're just trying to be friends"…
Another sibling is introduced in a later story: Fuji, a flighty, artsy dilettante skirting any real life responsibility or obligation. Basically the Lindsay Bluth of the family (we all have one). Aside from going three for three with the really colorful proper names (Dex's full name is Dexedrine!)- you really are left guessing as to what's up with Dex's parents. Again, a line here and there teases some stuff but sooo many questions!
Anyway, the mysteriously missing/ possibly kidnapped granddaughter, Charlotte, is an archaeology grad student with a bad news boyfriend. She discovers he's up to no good selling her dig finds to black market buyers and disappears on everyone. Complicating things, the boyfriend's father is also a local mob boss who is fully aware of and thoroughly embarrassed by his son's career of screw-ups. All the old man wants is to just make the whole thing go away as quietly and quickly as possible.
Complicating it even further, the mob daughter is also friends with Charlotte/ is harboring unrequited feelings to take their friendship further and is operating as an independent flywheel player through all this.
Of course, Dex gets in the middle of the whole affair and really only puts it all together by having these different factions come at her one intimidation after another.
Even though Mob Dad succeeds in getting to Charlotte first, his goons are less than thorough in acquisition, overlooking her note-filled laptop. Dex, of course, gets ahold of it and makes copies, sending one to her friend on the police force- to be opened on condition of her mysteriously turning up dead or missing. 
In the big crescendo, Dex bargains to get Charlotte back and their silence, very plainly spelling out the contingency already in possession with the police. However, the screw-up son thinks he can save face and still fix things by shooting both the women. 
Realizing the checkmate, Mob Dad shoots and wounds his own son and tells Dex and Charlotte to leave. It's not the cleanest win in the world, but hey, nothing like a little trauma in exchange for no more gambling debt.
This first collected volume also features an eight-page black and white bonus story. Quite frankly, this quick snapshot does more to concisely depict Dex working a case than anything in the sprawlingness of the previous offering's cinematic world build. Sure, again it shows Dex working for trade and not actually getting paid but there's such a satisfyingly gritty "day in the life"-ness of the piece that you can't help but feel that this is what's probably closer to business as usual in her world.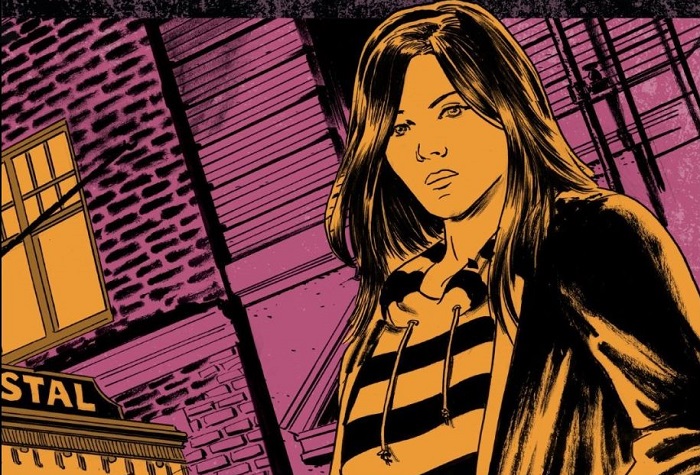 In late 2012, Rucka and Southworth reconvene for another five-issue outing. This one also sports a much more intriguing title with the overall piece's rock and roll backdrop really hitting some of my personal hot buttons.
Dex is hired by the guitarist of a local rock band made good to recover her missing prized instrument. It's not that straight-forward as the stolen guitar is only part of a larger drug smuggling operation occurring unbeknownst in the shadows of the band's touring gear. Not only does this get the attention of the DEA but it also sets Dex up for that classic "private eye sticking their nose in an official investigation" dynamic.
There's also a skinhead element established as antagonists throughout. They don't get to be truly menacing until the last chapter- up until then it's kinda hard not envisioning their sudden interjection as the German nihilists from The Big Lebowski.
Although the underhanded party in the road crew is never revealed or exposed, it's by far a much cleaner "win" than the first collection. However, the story's biggest action sequence easily goes to Issue 4's extended car chase that culminates in Dex jumping her classic Ford Mustang over a raised drawbridge. Surely, this is one of the things you get into the biz for, right?
Rico Renzi of Unbeatable Squirrel Girl
acclaim is also brought on board as new colorist. It's a literal night and day contrast to Lee Loughridge's flatter, darker palette from Volume One as Renzi offers more warmth and vibrancy. Part of that's probably due to more daytime scenes this time out as well. Maybe some of it's implied synesthesia from all that rock electricity!
In terms of continuity, this story operates largely independent of the previous work- something that could almost work to its advantage. Really, if Dex reset after case, it wouldn't be the worst concept for keeping the series fresh. Except there are nods and cutaways to the Marenco Family and Dex's prior interaction with them. It seems like there's designs for an arch-villain ramp-up.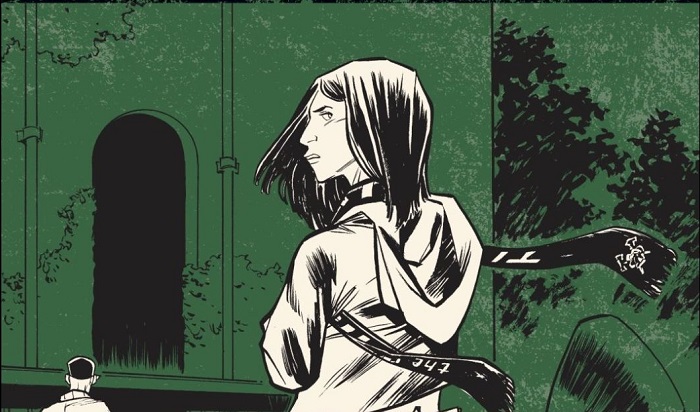 In September 2014, Rucka embarks on another volume without Southworth as Stumptown becomes a regular (albeit short-lived) monthly series. This time out, collaborators include artist Justin Greenwood and colorist Ryan Hill.
It takes some adjustment to the formula change. The characters all talk and "feel" the same but the look is not what it was and, honestly, that's a tremendous part of this series. That's not to say that Greenwood's work is subpar by any means but he's kinda coming on after the Beatles a bit here.
Anyhoo, the plot of this one centers around the Portland Timbers, the Major League Soccer team and an altercation outside the stadium leaving a friend of Dex's in a coma. Again, it looks like she's working for free but this one is really personal.
The obligatory genre trope this time out is the "reluctant buddy cop schtick" as Dex begrudgingly takes on an impromptu temporary partner in CK Barnes, another p.i. visiting from Seattle, who just can't seem to stop sticking her nose into Dex's business. CK's main function seems to be showing Dex a bit of herself in the metaphorical mirror and getting her to open up more about her past. Again, it's just snippets here and there but ultimately nothing more than allusions without any real substantiation. You get so close to peeling back that next layer and then it never quite happens.
In some kind of "small world" coincidence, though, the Marenco Family is once again involved. It seems overzealous goons working for Oscar the idiot screw-up son put the beat down on Dex's friend for seeing something he shouldn't have. 
After sussing out the extent of the Marencos' racketeering operation and wagering that any blowback looking like soccer hooliganism will probably be bad for long-term "business", Dex leverages her pre-existing dirt over Oscar's head. Again, not the cleanest victory but knowing you have something on a tool like that for a rainy day is worth something, though. Right?
Also, add/subtract points for super-intensive use of sports culture and lingo.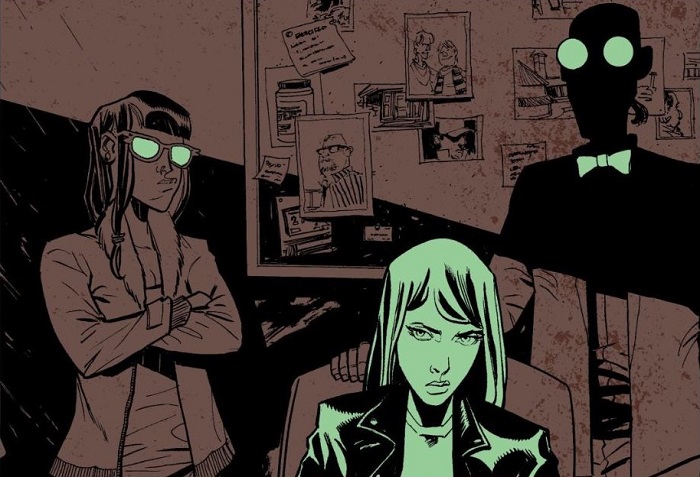 Issues 6 through 9 of the ongoing comprise the next case in which Dex has to babysit arriving shipments of high-end coffee for some rich guy and fend off dude's rivals looking to intercept. If you said it sounds like the premise of an indy video game, you wouldn't be wrong.
It's at this point that Dex's sister also makes her way into the picture and instead of just being a naggy little subplot, Fuji decides to spin the whole bougie "cat and mouse" game into her own personal gold-dig. Very much like Thor seeing through Loki's regular routine in Ragnarok, Dex is presciently steps ahead and gets to play all the players.
She even gets paid in this one!
Also, add/subtract points for the "sausage factory" tour of where those expensive beans come from.
Capping off this collection is Issue 10, a stand-alone tale entitled "The Case of the Night That Wouldn't End", which is curiously ironic as this proves to be the final Stumptown installment to date.
Very much like the black and white eight-page bonus comic in the first collection, this done-in-one does more to compel Dex and her world more than any of the longer arcs. It's not exactly action-intensive either as it primarily focuses on Dex doing a stake-out in her car on a rainy evening but the new team really comes together on this one.
It's too bad that they lean into this less-is-more economy only here at the end but Greenwood and Hill hit their stride with lots of well-executed storyboard mechanics and scene setting that effortlessly move the action forward with a modicum of actual dialogue.
It even ends with a nice twist ending that is surprisingly warm and fuzzy. It's a high note but it doesn't really resonates as the "final note". There is a lingering incompleteness to this body of work. Perhaps the TV show will bring around another comic book volume or perhaps, again, it's just the beauty of the incomplete puzzle…