They tell me you are wicked and I believe them, for I have seen your painted women under the gas lamps luring the farm boys.

And they tell me you are crooked and I answer: Yes, it is true I have seen the gunman kill and go free to kill again.

And they tell me you are brutal and my reply is: On the faces of women and children I have seen the marks of wanton hunger.

And having answered so I turn once more to those who sneer at this my city, and I give them back the sneer and say to them:

Come and show me another city with lifted head singing so proud to be alive and coarse and strong and cunning.
— Carl Sandburg
"
Chicago"

0. The Preface
Brian Azzarello, Eduardo Risso, et al
Collects: 100 Bullets #1-58, Vertigo: Winter's Edge #3; 1376 pages total
$150.00
History loves its monsters. Our mad kings and queens; our despots and serial killers; tyrants, butchers, madmen, and thieves; these are the people who leave the most indelible marks on nations and people. Good men and well-behaved women, as the saying goes, don't tend to make history in the same way. 
This is true everywhere you go. But nowhere more so than America, with our love of frontier outlaws, true crime podcasts, and gangsters. And nowhere in America is that more true than in Chicago.
Support For Comic Book Herald:
Comic Book Herald is reader-supported. When you buy through links on our site, we may earn a qualifying affiliate commission.
Comic Book Herald's reading orders and guides are also made possible by reader support on Patreon, and generous reader donations.
Any size contribution will help keep CBH alive and full of new comics guides and content. Support CBH on Patreon for exclusive rewards, or Donate here! Thank you for reading!
We are Capone's town. Blagojevich's town. Big Bill Haywood's town. Chicago is Rev. Billy Sunday playing center field in the "beer and whiskey" before cutting out on his contract to make more money as a temperance preacher. Chicago is its beating subway heart, a joint venture between a ruthless monopolist and the mob. It's Richard M. Daily's name in brass on every bridge (especially the ones he didn't make).
It's Brian Azzarello's town. That's why the story opens here… but it's not the reason.

I. The Premise
100 Bullets was, for a time, Vertigo's flagship book. A grim and gritty noir story that scales at a breakneck pace.
At the center of the premise is the Case. It's the criminal attache — a twin lock, black leather executive — and belongs to Agent Graves, who looks ancient, governmental, and terrifying. Each person who gets a Case gets the same speech. Each briefcase contains the name and photo of the person that ruined your life, irrefutable evidence supporting it. You're also given a gun and the titular 100 rounds of ammunition, all of which is untraceable. Whatever you choose to do, you're legally untouchable.
II. Content Warning
100 Bullets won 4 Harvey Awards and 6 Eisners. It is deserving of those awards, but it is hard to reconcile them.  Even now, it's a shocking book, even by category standards. Its characters are some of the worst people imaginable, and they fill the pages with murder, bigotry, torture, rape, and worse. 
It is an ugly, graphic struggle, and that's hard to square with the words "award-winning." More importantly, this book is going to be hard simply to accept (let alone praise.) This is a lot. I want to give this warning now so each reader can decide upfront if they wish to proceed.  
But I feel there's no other way to talk about this series. These acts of violence and hate are in the text of the book. I could only do more harm to pretend otherwise. I certainly cannot justify or excuse these matters, in the book or in real life. I can only shed light. 
III. Core – Characters and their Cases
The Case
The case is a challenge. Graves' arrangement reveals that at least some of our moral foundations are simply logical, pragmatic excuses, not frightening answers. The case dooms people to a kind of omniscience and omnipotence — removing doubt and legal consequence — which means any action, inaction, or even consideration is purely owned by the recipient. They're given the power to truly choose, but denying the truth is made harder.
But, like addicts moving from one lie to another, the book simply introduces bigger obstacles and larger things to blame. The Minutemen are all about de-personing the characters, taking away their names, and giving them cool, Tarantino-esque code names. From there, the story shows how little this solves. And, like an immune response, the Trust is introduced as a new, larger obstacle. From there, the story becomes an endless escalation between stakes and agency.
And most of all, violence.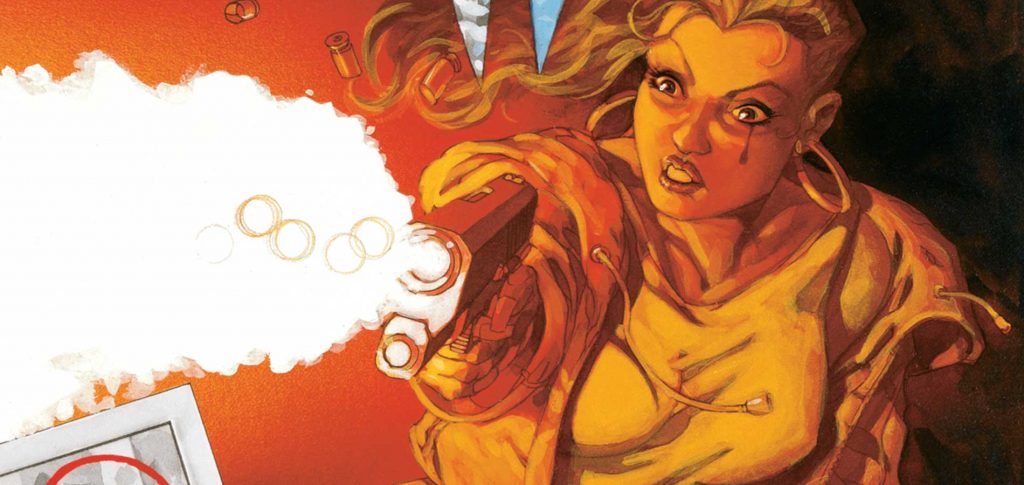 Isabelle "Dizzy" Cordova
(
The Girl
)
Dizzy is our first subject, making her tale the most straight-forward. We watch as she gets out of Joliet prison, still mourning the deaths of her husband and child, both taken in a senseless act of revenge by a rival gang. Graves appears on her L train like the ghost of the Bay of Pigs, the old, ashen face of America's dirty secrets.
We know so much simply by these two sitting next to each other. But when the attache opens, the story turns into a tight thriller that seems all too familiar now: Dizzy's family were the victims of police violence who seem beyond the reach of justice. All of that changes as the story runs headlong through a tidy, straightforward bad criminal, worse cop revenge story that starts with two dead and one behind bars and ends the same way.
Wrath
It's worth saying again how uncomfortable this book can be. And that's putting it mildly. It's confrontational in how it shows and discusses murder and rape, presenting in moments something that is trying to be an unfiltered and sickening way that's not always accurate but is often alarmingly real.
The book presents these horrors, which (even now) are pretty unusual for comic books. And it knowingly juxtaposes them with the conventional stylized violence the medium is known for.
When that balance is struck, it's because of just how good Brian Azzarello is at the craft of writing. Like the briefcase metaphor itself, the book removes the convenient defenses for our cultural attraction to violence. Still, it goes so far as to craft the absolute stereotypes of the killers, stories, and visuals we're seemingly programmed to enjoy.

Cole Burns
(
The Wolf
)
Cole Burns typifies the late-90s male heartbreaker. A kind of Johnny Depp look, circa The 9th Gate/Chocolat era, though for my money is probably much closer to Mike Patton's vibe at the time (and the musician's unpredictable temper.) In fact, so many of the characters in this book fully embody that disturbing Hollywood ideal, suggesting that callousness, sex appeal, and an extreme capacity for violence are the same.
Put another way; Cole Burns is the Dick Grayson's butt of this comic.
Issue 38 is dedicated to him that truly tells the tale. In it, a group of robbers is trying to boost a bar safe and screwing-up. Not least of which because these idiots have mistaken reality for movies, going so far as to wear matching animal masks and have code names (for a bar robbery!) However, those details don't get the job done, and the whole affair devolves into a tense, violent, potentially deadly comedy. Then Cole, fresh off being rejected by his ex-girlfriend, walks into the bar and slaughters the robbers. We only see the terrifying results as Cole shows compassion to the victimized bartender by asking for permission to take a bottle. Sorta. Fiction slams into reality, which slams into fiction. There's no justice, no point, just performances.
III. Transformation – the Minutemen and the Trust
The series burns through its initial premise by issue 20. Characters of every description have been given cases. To some, the pistol and ammo mean a sad, pulp ending. But for a select few, that case means being a part of the Minutemen, a team of killers who were/are enforcing the fragile peace inside of an unbelievably powerful criminal syndicate called The Trust.
Or in other words, Azzarello leans on an obvious comic book solution: 100 Bullets becomes a "team book." It's a smart move. While the book's initial single-focus approach is fun, it can limit satisfaction as the excitement of each story runs together, but the consequences don't build in kind. As individuals, the Minutemen were just a perpetual story of desperate people and doomed by power. But as a group, the members are functionally superheroes — only instead of super strength or heat vision, they're just preternaturally good at savaging other human beings.
And where before their enemies were placed theoretically in reach, there is now the Trust, the organized crime version of the Legion of Doom. There are singular members of the Trust that not only can topple world governments but have done so. This is a crime book, but these are supervillains.
III. Art
The book makes many quiet references to classic film noir, including M, Touch of Evil, Dark City, Asphalt Jungle, and more. Whether you love this stuff or you're unfamiliar, these films are great to watch beforehand, along with the original Manchurian Candidate.
Dave Johnson
(Covers)
Johnson's cover work on this series is simply iconic. It's clean, clear, and bold, refreshingly non-literal covers. They virtually never depict an actual scene in their issues, nor do they look like they're trying to. Instead, you get these designed, romanticized short-hands similar to Saul Bass's work on The Man with the Golden Arm along with geometric blocks and divisions like Reid Miles's for Blue Note records.
The resulting covers feel like James Jean, Public Enemy EPs, and jazz/mod era title sequences from the 50s and 60s. And more than a little Robert McGinnis.
Eduardo Risso
(Pencils, Inks)
For many readers, Risso's hard, high contrast work is influenced by Frank Miller and Mike Mignola. And it most certainly is. But it's also steeped in Argentina's own grand comics tradition. Artists like Héctor Oesterheld & Francisco López (El Eternauta); Hugo Pratt (Corto Maltese); and even DC's own Jose Delbo (Batman, The Spectre)
That said, Risso's inking feels wonderfully like the harsh, deep shadows and obliterating highlights of 30s black and white classic films. Notably, Fritz Lang who had the same knack for finding eyes in shadow.
Grant Goleash & Patricia Mulvihil
(Coloring)
Grant Goleash colors the first 14 issues of the series, with Patricia Mulvihil handling the bulk of the rest. Goulash's pallets tend to run pale, cool, and restricted. Mulvilhil goes the opposite with more saturated, warm, something new: graded. The two approaches end up matching the changing aesthetics in the genre: from the classic, trench coat climate of classics like The Third Man to the warmer, "California noir" of Reservoir Dogs.
Clem Robins
(Letters)
The lettering is solid, technically well done but in a way that feels unremarkable. Robins' slant emphasis text and sizing hierarchy tend to feel less dramatic than one's used to, which gives the dialogue a little more deadpan. Great for snappy genre dialog, but not quite as startling as the mediums at play in this title.

IV. Escalations – Conspiracy, Intrigue, and Wheels within Wheels
But the book doesn't stop there. Its story becomes a self-perpetuating engine, obsessed with growing bigger and wilder. Sometimes slowly, sometimes all at once, Azzarello adds conspiracy, intrigue, machinations, and even straight-up McGuffins. All of which necessitates more violence. Which necessitate more and more detailed plots and stakes.
100 Bullets is far from the first comic to have to always outdo itself. Some of these growth choices — like having every party betray every other party — are practically required by the crime, noir, and pulp genres.
"The things that motivate human beings, they don't change, emotionally

."
— Brian Azzarello
Since this is only the first half of a larger story, I can't get into how all of these things pay off. But I can say that the creative team straddles the line, delivering a story that seems both wildly out of control and yet entirely in hand. The work feels well-crafted, following that hard to define but easy to recognize sweet-spot all good genre stories have.
Which takes the sickening reality of this book and makes it harder still. The more the fiction builds, the more at odds we feel with its brutality.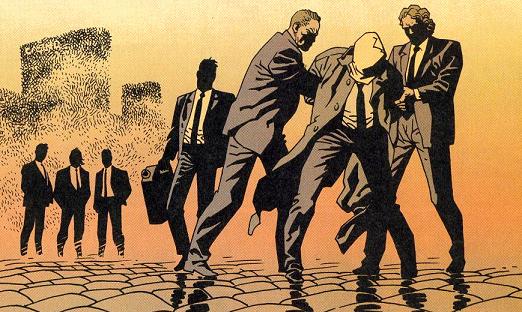 V. Fiction and Nonfiction
I believe that the discordance we feel between "enjoyment" and "repulsion" isn't accidental but intentional. In fact, I firmly believe it was the plan from the first issue. I think this book uses the incredibly familiar languages of its genres to build an actual conspiracy against its readers. Metaphorically speaking.
Lono
(
The Dog
)
A single, novel name. All muscles, hair, scars… a wild exaggeration of the male physique. His utterly depraved smile juxtaposed with his cheerful Hawaiian shirts. Lono becomes the stand-out favorite of this series, for the same reasons serial killers get mail on death row.
Like the other characters, Lono is scripted and illustrated with such exacting detail and such utter fealty to entertainment traditions that it's almost impossible not to find him compelling. 
This is horrifying because the book is also explicitly clear that he's a rapist. And yet, he's the only character thus far to get their own mini-series.
The book seems outright confrontational about talking about our worrisome obsession with violence as entertainment. And I think it takes engineering a character like Lono to make that kind of point not just impactful but literally unavoidable. His popularity isn't the problem; it's the excuses we make in order to not be accountable for our own moral discrepancy.
Escalation
The same can be said for the build of the book, how everything aims endlessly at revenge. It's inescapable, ever-growing, never sated. When their cases are empty, each character turns to the Minutemen rather than stop going. And where the case could have empowered, now every step makes these highly-skilled, legally-untouchable power fantasies more and more trapped.
The horrors only keep mounting. At times, the whole thing feels like it could have been a Crisis story with only a little work. And that's what makes them more true to life portions grab all the more. The book strains against itself.
"[A town] where somebody is always forgetting to touch second."
— Nelson Algren

Chicago: City on the Make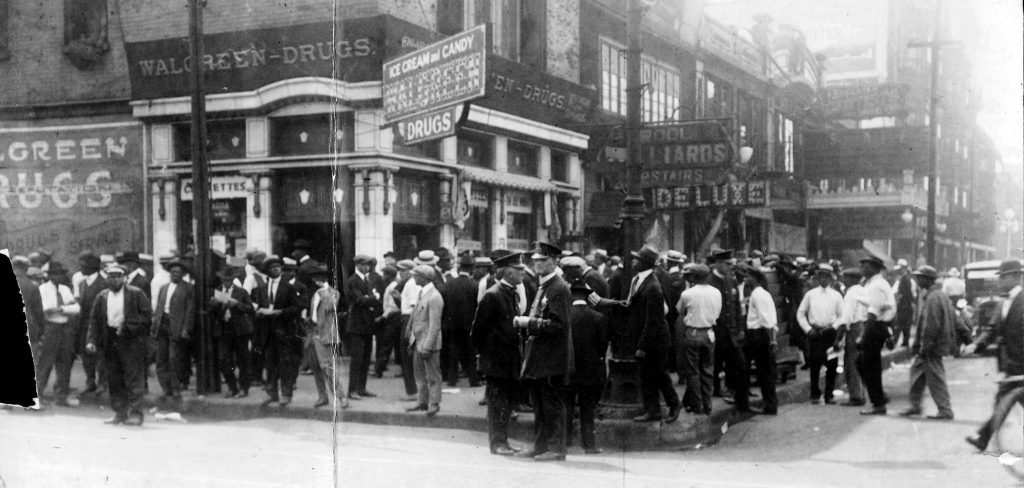 VI. The Stark Reality of 100 Bullets
What struck me the most on this re-read was how much I hadn't paid attention to the beginning. The truth is, I missed the entire second story of this book.
This book has its fiction, the line of gunmen and bodies that make up its narrative. These stories are quintessential genre fiction, from the Frank Capra rim lighting to the quippy dialog. The stories are the same, following the classic suspense or detective structures that are a second language to most of us.
But the cases, the Minutemen, the Trust, they all makeup just half the tale. The real world of the book is so much bigger and far closer to our reality. The Minutemen barely fill the mid-ground of the shot.
Before them or behind them lies a flat, stylized, realistic America. A world we don't focus on because it has no three-act structure, no iconic suits, no electric personalities. And yet, in each arc, readers will see a moment of violence playing out through these "extras" in the scene. We see the careless savagery of young siblings. A bar turns into a brawl as two grown adults try to kill one another over a joke. We're watching Lono and Graves have coffee while a stranger pulls a gun on another over their dog (above).
These scenes often have no beginning and no end, only passing across our gaze. I felt almost guilty when I realized I hadn't noticed these scenes happening besides the tale of "super hitmen vs. super mobsters." Maybe it was the comparative normalcy of those anonymous interactions. Or maybe I didn't see them, the way we don't see people that sit beside us on the train. But then, you might not have noticed the train either…
Sixty-Tray. All Day.
When the first issue dropped, this line caught everyone's eye. The speech in the book felt different, tapped into something. As a long time Chicago Southsider, I can tell you it was the first time I'd read an author actually trying to work with the city's unique AAE. Someone who was trying to say something, not just sound like it.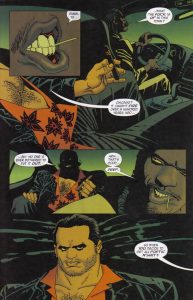 63rd ("sixty-tray") is the end. The furthest point on the Chicago Green Line L, and a train most people were afraid to use at the time. The Green Line is a monument to Chicago's segregation, originally designed to connect black and working poor communities like Garfield Park, Chatham, and Englewood and connect them to their jobs at the stockyards and other hard labor without letting them near the "nice neighborhoods." In fact, such a strict corridor system was so intent on sealing these communities up that the line connects the Harold Ickes and Robert Taylor projects directly to a federal court building downtown (which is probably where Dizzy was dropped off after leaving Joliet Women's Correctional).
Sixty-Tray. All day. Mean the end of options. It means being stuck like a train on its tracks, going between the drug, gang, and police violence of these communities to other slaughtering houses and back.
It makes great foreshadowing when Graves steps on, but it also makes it downright hallucinatory when he sits down next to Dizzy. To see him open something as important as a business case, right there, on that train. 
It's a shockingly racial statement—about genuine problems in this world and the fantasies of solving them. The 100 bullets, in that case, don't kill the two crooked cops responsible for her family's murder, nor does it bring that family back. What it takes a moment to realize is that perhaps they don't do anything: they're not what kills the crooked cops (she is), nor bring her family back to life. In fact, without the threat of jail and offering no benefit to the community, it's hard to say the deaths exist at all. Unsettlingly, it all just leaves the audience wanting more…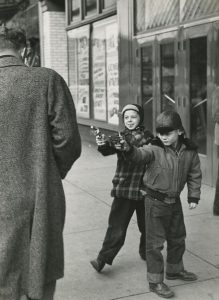 "The slums take their revenge. And you can take your pick of the avengers among the fast international set at any district-station lockup on any Saturday night. The lockups are always open and there are always new faces. Always someone you never met before, and where they all come from nobody knows and where they'll go from here nobody cares.

(…)

[Chicago] always gets this look of some careworn hustler's tomorrow by night, as the arch of spring is mounted and May turns into June. It is then that the women come out of the summer hotels to sit one stone step above the pavement, surveying the men curb-sitting one step below it. Between them pass the nobodies from nowhere, the nobodies nobody knows, with faces cut from the same cloth as their caps, and the women whose eyes reflect nothing but the pavement."
— Nelson Algren

Chicago: City on the Make