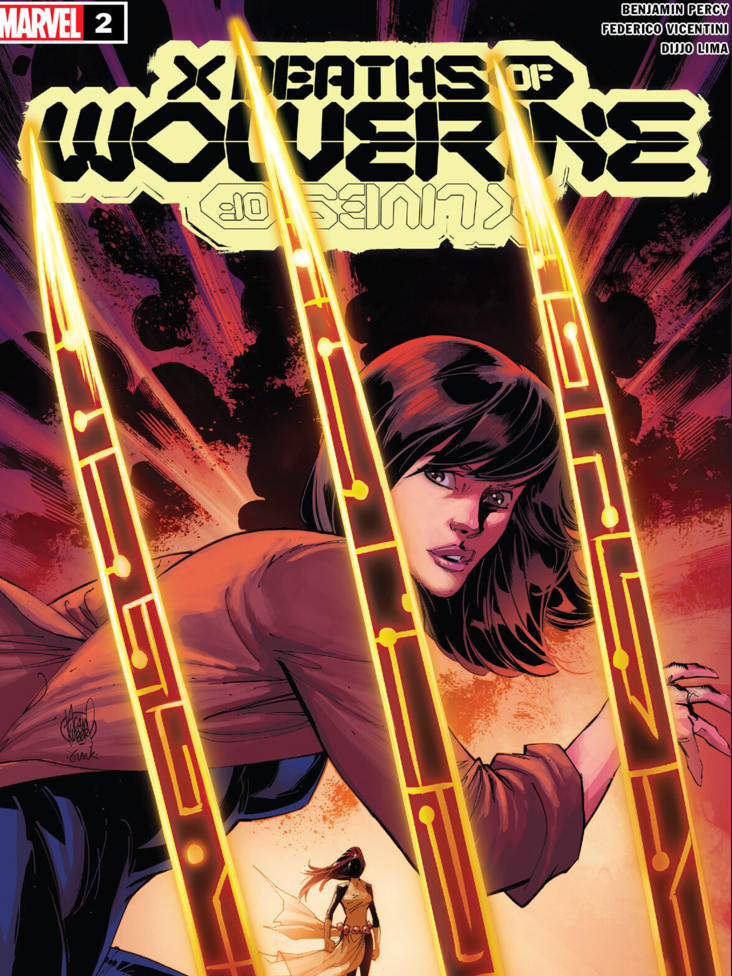 [cover: Adam Kubert and Frank Martin Jr.]
With X Deaths of Wolverine #2, Ben Percy and Federico Vincentini go full James Cameron; this issue is swift and savage, a grim and tense cinematic ride that will definitely tug at the heartstrings of lifelong fans of the OG Terminator. Suddenly, we're seeing T-O Wolvie as closely analogous to Arnie's iconic killer cyborg and sent back in time by Skynet to stop Sarah Connor from—oops! Oh, yeah—we're talking X-Men, but impressively, the Terminator homage really is masterfully done, not actually distracting but additive and invigorating. Where X Lives continues to revolve with comparative slowness like a poisoned spiral, almost hypnotically suspended at certain key moments in Logan's deep past, this second installment of X Deaths promises a relentless momentum that will leave the burning collateral wreckage for others to clean up—while the devastating hunt drives on to its inevitably apocalyptic end.
And I mean apocalypse as world-shaking revelation.
So before we go haring off into Logan's past again, with Life of Wolverine #3-4 (down below), we'll start off alongside the traitorous Moira looking into that abyss that will not be denied. As she realizes by issue's end: "I've seen the future. I just didn't think it would get here so fast." And his name is Death.
Now cue Brad Fiedel's 1984 dark synth classic, The Terminator (OST).
Support For Comic Book Herald:
Comic Book Herald is reader-supported. When you buy through links on our site, we may earn a qualifying affiliate commission.
Comic Book Herald's reading orders and guides are also made possible by reader support on Patreon, and generous reader donations.
Any size contribution will help keep CBH alive and full of new comics guides and content. Support CBH on Patreon for exclusive rewards, or Donate here! Thank you for reading!
I. Hunted
So, Moira has comic-book super-science cancer, a terminal floronic* disease picked up from her erstwhile No-Place biome. But while she feels everyone who knew about her continued existence has betrayed her, what does that actually mean here? It doesn't seem like Xavier and Magneto would've wanted to kill her, so it's hard to imagine them as the culprits here. Maybe, perhaps even unbeknownst to Doug, it was Krakoa itself? After all, the sentient island seems to be up to something with Victor Creed that no one knows about (over in Sabretooth #1). As for Raven and Destiny, they've displayed no knowledge about Krakoa's biology or biotech. Warlock would be more likely to know what's happened.
*Portmanteau from DC's Floronic Man (1976), presumably of flora and bionic; first used in the Krakoa era as part of Terre Verde's telefloronic biotech back in X-Force #6.
The neat/creepy surveillance idea of singing stones was introduced back in Wolverine #8 (but hasn't been mentioned since, I think).
Another surveillance device, or at least so Moira believes, is her T-O arm. Ouch! But hey, in Inferno #4, Doug didn't directly answer whether it was his way of keeping track of her; all he said was, "I don't care where you go. I just figured, wherever you're going, you'd probably do better with two hands." So, really, who knows. Still, given the nature of the T-O, it seems unlikely this brute amputation would remove all of it. ☹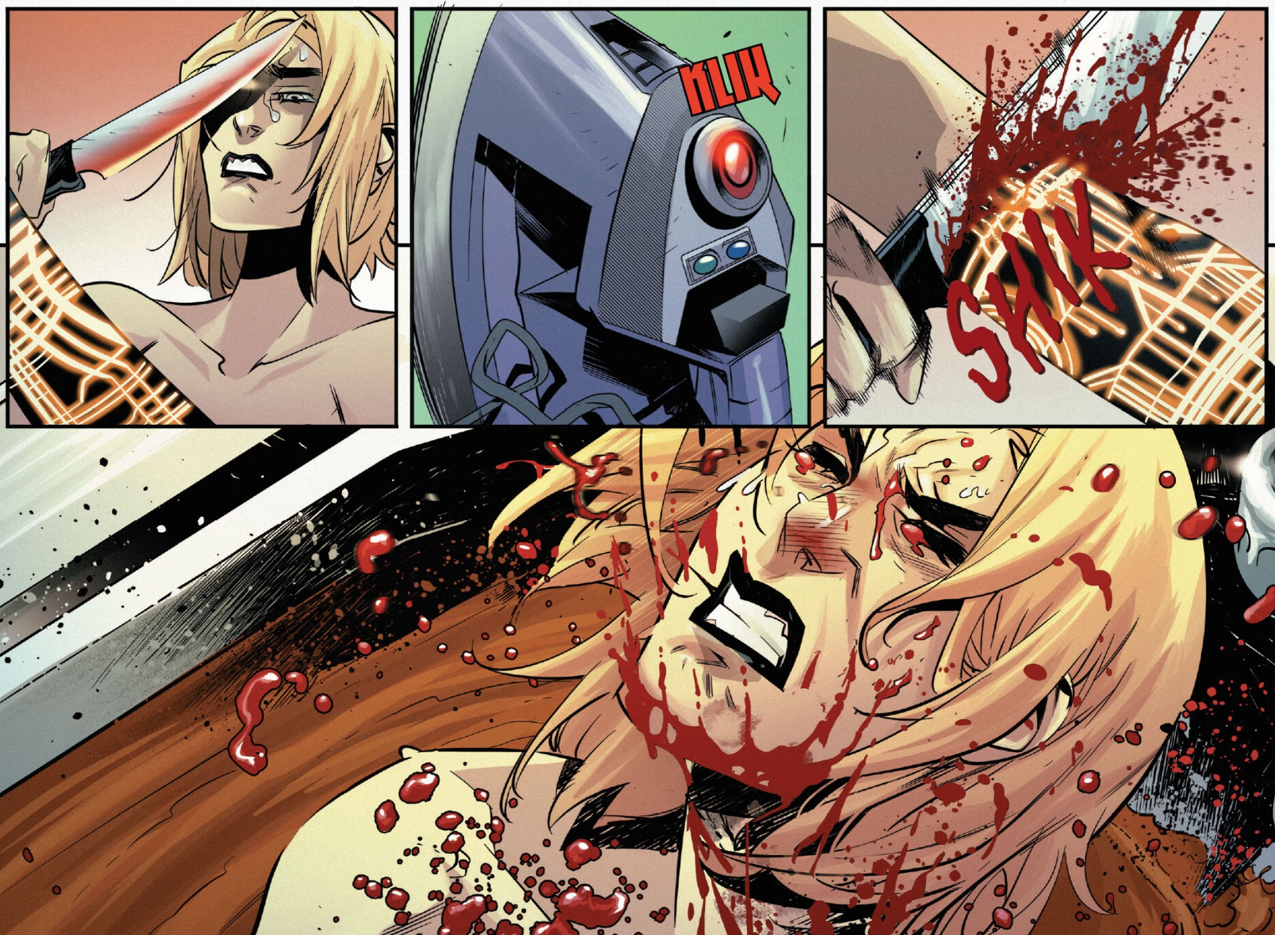 If it is a tracking device, I guess it's not that precise since Mystique didn't know what room she was in (ending with an innocent man in critical condition, of course). Also, it's interesting to see T-O Wolvie later locate the "Phalanx signal" and identify the arm as (a piece of) Warlock. (Note as well on that later page Mystique's decorative brow skull, lol.)
But recalling that there was a like device in Moira's severed arm back in Inferno #2, a decoy placed there by Destiny and Mystique, Moira doing the same here, resulting in Mystique's death, is a crafty little echo from Mr. Percy. It's also attracted the Terminator (again, somewhat echoing the robot enemy's dread entrance for the Inferno #2 cliffhanger).
There's no reason to think T-O Logan isn't an indiscriminate death machine. After all, while he doesn't gut the fishermen, he leaves them in the ocean for a much slower death.
With Forge's investigation revealing that the Krakoan egg is a thousand years older than it should be, this means it's from a millennium into the future, a time analogous to the far-future end state of Moira's Life VI. (Funny, though, that T-O Wolvie requires a physical connection to hack the motel's modem/router! Here, somewhere in New Mexico, we see that Moira has gradually been making her way toward Epiphany HQ—but maybe hasn't been taking the most direct route to Silicon Valley?)
Now, there is a canon problem with this T-O Wolvie being a mutant assimilated into the Phalanx given that the very logic of 1994's Phalanx Covenant event was that they couldn't assimilate mutants, only make simulacra. So, is what we're seeing in X Deaths merely a simulacrum? And from Powers of X, we know that the machine overlords don't want Homo superior, anyway; they want to completely replace/eradicate biology. However, (mutant Technarch) Warlock's T-O has always been easily capable of infecting anything biological. (And yes, the Phalanx/Technarchy dynamic is still a confusing mess of retconning; see also Marvel Cosmic's excellent 2008 Annihilation Conquest.)
But surely, a thousand years from now, the Phalanx would be capable of much more than they were in '94, so who knows at this point! Even now, Skynet is certainly more advanced than it was 40 years ago 😉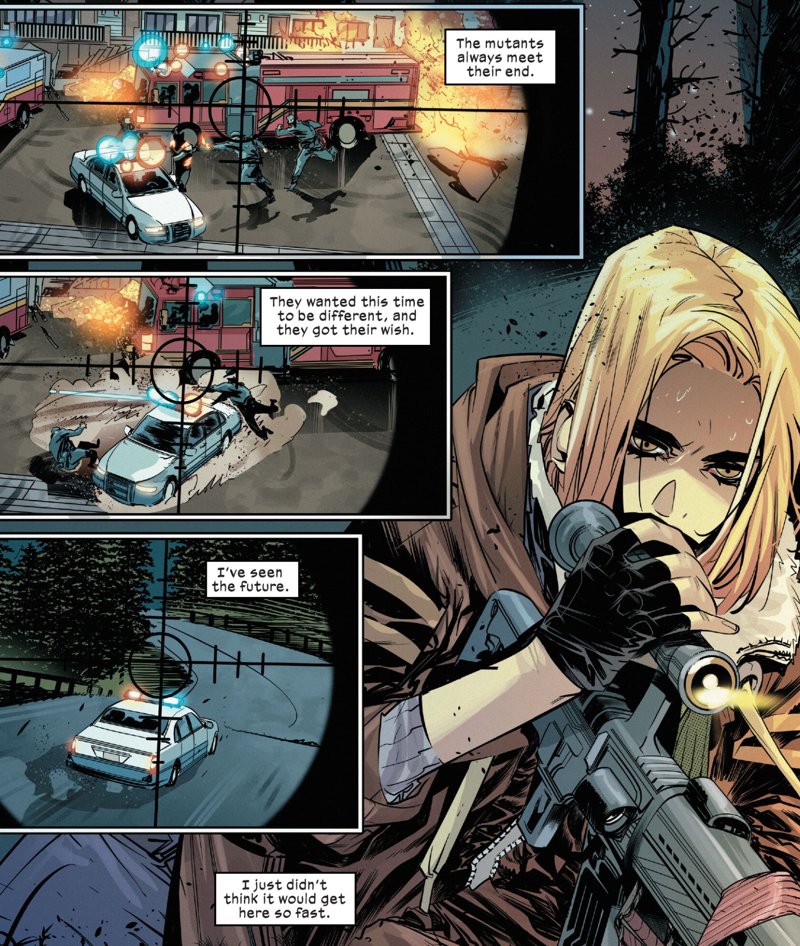 However, what's most fascinating this issue is that Destiny appears to find her vision of "Death himself" rather hopeful: "I sense that all may not be lost." Through the proxy of Omega death Wolvie, these two "Fates" (Moira being Greek for fate) continue their epoch-making quiet war.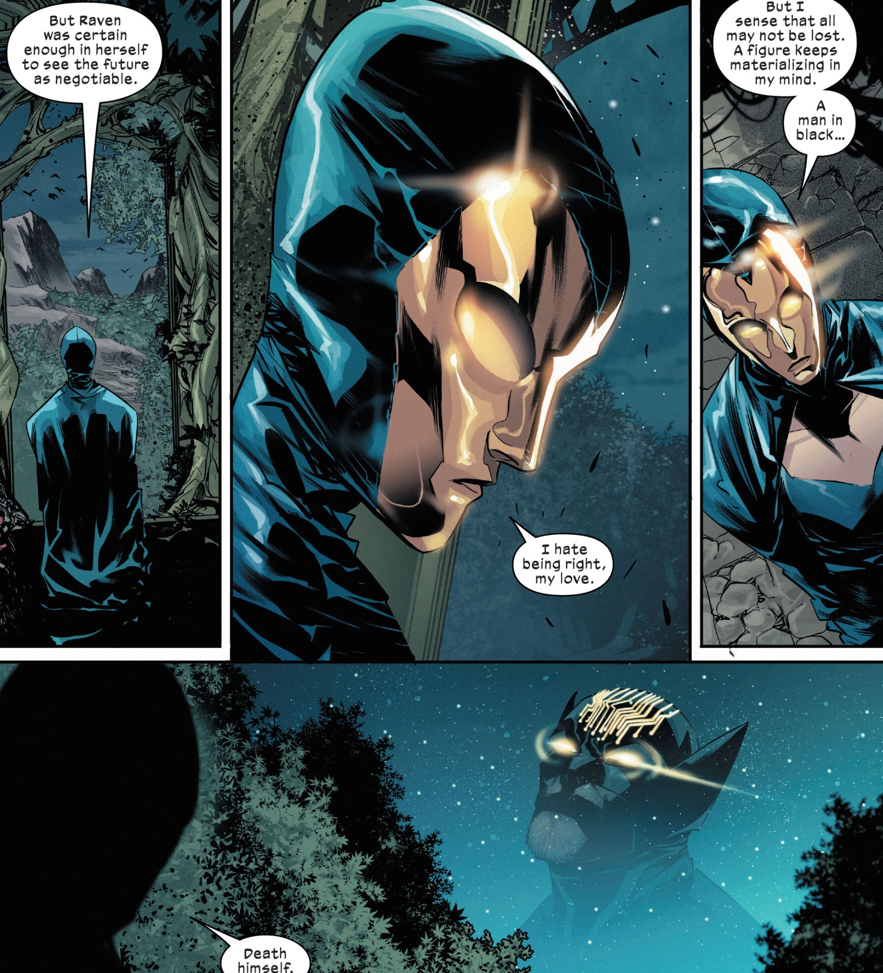 II. Wandering through the Past (with blessed brevity): Life of Wolverine #3-4 – Lives III & IV
Turning now to the week's two new chapters in the Life of Wolverine Infinity Comic, from Jim Zub, Ramon Bachs, Java Tartaglia, and Joe Sabino, all we're going to do here is cite the original source material and how that scattered patchwork is streamlined into a linear summary that nails the essence of each stage of Logan's life while necessarily skimping on details that are, depending, better left forgotten, too fraught for tackling in this format, or (much more rarely) truly evocative of '80s/'90s pulp nostalgia.
First off, it's clear that each super-short chapter of this Infinity Comic defines the parameters of one of Wolverine's lives as explored in kaleidoscopic timey-wimey fashion over in the pages of X Lives.
In issue #3, we find the creators willing to acknowledge the most prominent players and moments that have (however ill-advisedly) defined each of Logan's lives. So, we get a brief glimpse of the dreaded Romulus, of whom I have nothing more to say than previously. (Thankfully, he hasn't made his way to Krakoa!) But just to be clear, no writer since his creator Daniel Way (introduced him in 2006's Wolverine: Origins #2) has displayed the least interest in this bozo except—unsurprisingly—Jeph Loeb, but only in his dull as dust "Sabretooth Reborn" arc (Wolverine vol2 #310-313). So don't expect him to pop up again; X Life is just trying to be thorough (while redacting the unseemliest bits…).
There aren't any fun tidbits to research for Life III here, though, at least not for me after my review of Victor LaValle and Leonard Kirk's Sabretooth #1, which I'll not rehash here. But suffice to say that we shouldn't be at all surprised about the "airbrushed" version of Sabretooth we get here. There was never going to be an open acknowledgment of Creed's nature as a serial-killing sexual predator whose career as the scummy flotsam of an imperial society has seen him preying on the most vulnerable of women. And while this problem is impossible to address in a primer-style Infinity Comic, it's unclear how it should be addressed elsewhere when Marvel is not going to drop this character; thus, airbrushing him into palatability for modern audiences seems to be their answer, however dodgy.
Regardless, here we see events in 2014's Origin II (Logan killing the younger Creed brother) explaining Creed's presence in Tokyo in 2007's Wolverine vol3 #52-53 (wherein a still-shadowy Romulus orchestrates the meet-cute of Logan and Creed in Tokyo)—without the lurid details. So, it's somewhat interesting to see these seemingly randomly published retcons set down in linear fashion, one threaded into the next.
Jeph Loeb's 2007 story, however, was already meant to lead into 1989's infamous Wolverine vol2 #10, wherein Creed (rapes then) murders Silver Fox. But while the original euphemistic suggestion of her rape is redacted, many readers will still clearly see the potential of such an assault here. Still, Sabretooth's persona of scummy lasciviousness is entirely missing here. He is simply portrayed, abstractly, as a brute maniac.
Madripoor has also always been a bit of a racist problem, hasn't it? Especially, in early depictions, by which I mean up until, oh, just a handful of years ago. Unfortunately, this look back in time to the 1900s gives us exactly what we don't need more of: An Asian city-state is of course a den of iniquity and hedonism. Orientalism at its worst. It's Logan here who really looks like the creep finding himself in "A perfect place to lose [himself] and satisfy hedonistic urges."
But at least his sexual lusts appear to be entirely satisfied here by Seraph, a white woman born in Madripoor and a powerful figure in its underworld. She debuted in one of my early favorites, 1990's Uncanny X-Men #268, most of which is a WWII-era flashback story featuring the first depiction of a past Madripoor, which wouldn't be seen again for almost two decades. It's really an excuse to have Cap meet Logan in 1941, outside the grimmer setting of the actual Axis-invaded countries—and teaming up to rescue a young Natalia Romanova from a Hand/Hydra (axis) alliance. It was the Princess Bar's savvy proprietor who encouraged her lover into the team-up, to be in the good graces of America's super-soldier, and thus the United States, for the rest of this long world war. (However, 2007's Wolverine: Origins Annual by Daniel Way, adding absolutely nothing of value here, gives us a much more lurid version of both Seraph's earlier life and Logan's Patch identity, in 1932, with his nod to their first encounter before WWI. Primarily, the issue is just another piece of Way's dull-as-dust Romulus puzzle.)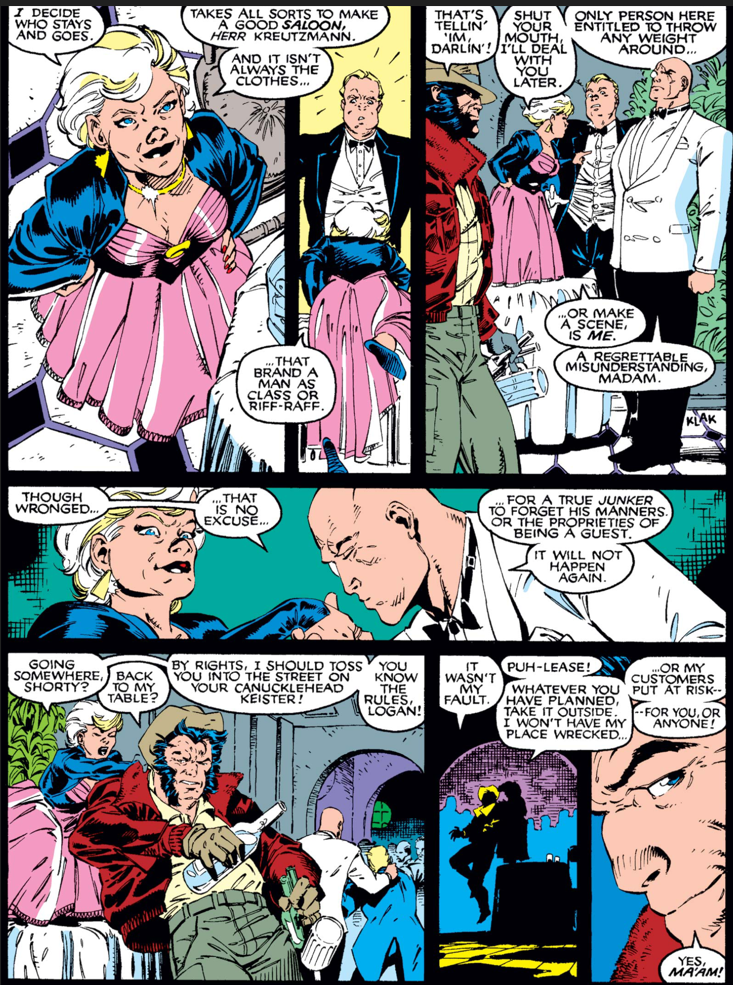 [Uncanny #268 art by Jim Lee, Scott Williams, Glynis Oliver, Tom Orzechowski]
Zub and Bachs depict Cap and Logan's classic first handshake at the very end of Life #4, straight out of Uncanny #268: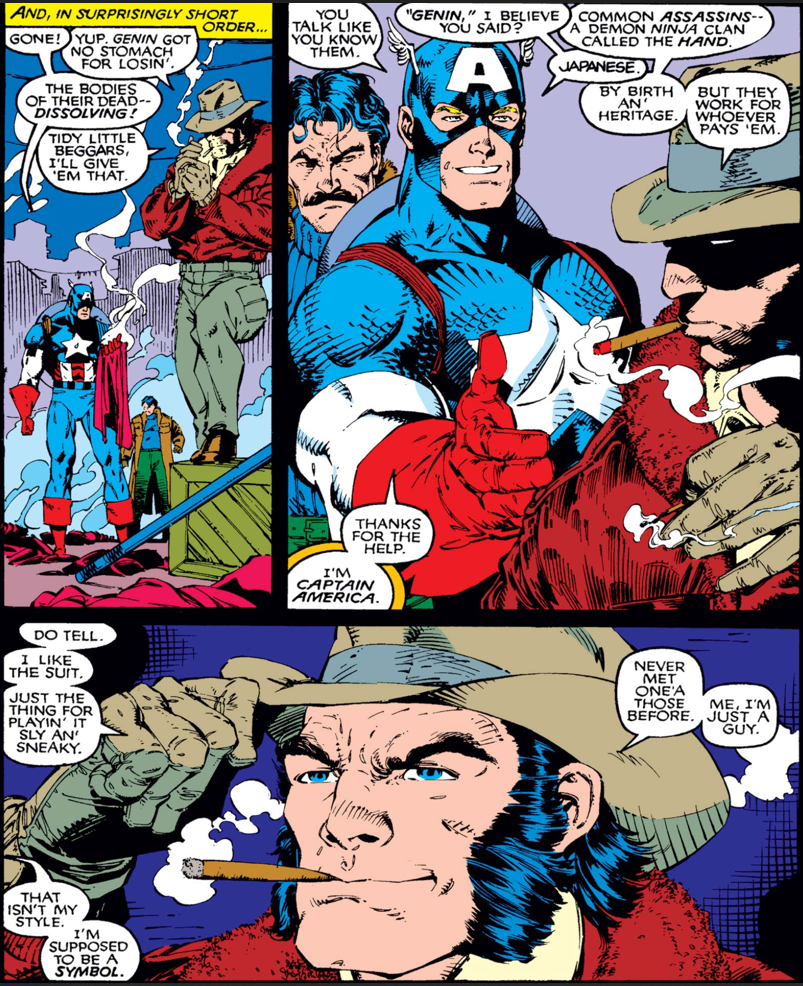 Simple childhood nostalgia aside, though, Madripoor on a closer look is bizarre, even damning, as representation. Since its debut in Claremont's 1985 New Mutants #32 (which is also painfully fat-phobic and probably the worst story Claremont ever penned), Marvel's main East Asian venue (or really, Asian period)—next to Tokyo, which has had a longer history of (again mostly not great) representation at Marvel, but Madripoor's number of appearances will soon quickly outstrip it. So, regardless of intention, this fictional city of sin largely defines Marvel Asia. And what's so weird—but yes, maybe unsurprising—is that this is not DC, where fictionalized versions of cities (mostly American) are everyday; Marvel is meant to be "the world outside your window," but obviously not the windows of everyday Asians. But of course, this failure in worldbuilding and representation is worldwide for Marvel; beyond Latveria and Symkaria somewhere in the vague Eastern European map Marvel uses for occasional Old World/Ruritanian-style crises, and the more recently built-up Wakanda, there are very few made-up MU countries of significance in their own right. (And of course, while Wakanda is a wonderfully idealized representation for Africa, readers are left with nothing really African, between the super-science fantasy and the worst media clichés.)
Life IV – What Is Honor?
Turning now to Life IV, in the mud-and-blood deathscape of World War I, Zub and Bachs briefly present a slightly deeper cut from 2007—Azrael, a literal Angel of Death—featuring in a past/present story arc by Marc Guggenheim and Howard Chaykin called "Logan Dies," in Wolverine vol3 #57-61. The reveal here is that this reaper of the battlefields, shocked and humiliated by the undying mutant, will now haunt Logan every time he's near death, in a kind of spiritual struggle with the quasi-metaphorical entity. (This spirit has not actually appeared in any other Marvel comic since 1953.)
Oddly enough, Zub skips out on Logan's WWI drill sergeant Silas Burr, much later known as Cyber, but back in these early days simply another ordinary sadist as a secret agent of the too-clever Romulus.
Of much more relevance is Ogun, but Zub has him entering Logan's life here before Mystique does, while in the source material this chronology is flipped: Ogun's earliest historical appearance is a 1930s flashback from Larry Hama's Wolverine vol 2 #113, wherein a couple of Japanese Imperial Army soldiers threaten both an old scholar and his young white apprentice (taken by fans to be Daredevil's mentor Stick as a child) before then-merchant marine Logan rescues them—and the most threatening soldier is suddenly executed by his (unnamed) captain, for disgracing the Japanese Imperial flag and uniform. The officer monologues an aristocratic lament over the uncouth rabble infesting the Emperor's army while conceding there are a few (like himself) that still honorably serve the Emperor as true samurai. He then raises his sword (because, obviously, there's no honor in a gun) and commands his other subordinate to experience one moment of dignity and nobility in his life before his execution.
Again, however, Logan intervenes, here pointing out the captain's hypocrisy—killing a defenseless youth is not the act of an honorable man. The captain suddenly discovers respect for this hairy little gaijin. Here, Ogun—for readers are clearly meant to understand that it is he—extends the invitation that Logan refuses, which is all we get of their interaction in Life #4. (Logan also declines the old Chinese man's offer, and if the apprentice is Stick, his master is supposed to be the Ancient One*, later Dr. Strange's mentor.) Notably, the executed officer's slurs are only ethnically chauvinist when directed at the two white people in this scene.
*He was running off with a box containing "arcane secrets" that must be kept from evil men's hands (presumably, those in the Japanese Imperial Army).
All of this surrounding context is absent from Life #4 for obvious reasons, and by inserting this moment before the much more well-known 2008 Jason Aaron story of Logan and Mystique's initial 1921 meeting (Wolverine vol3 #62-65), well, it's either an awkward mistake or a further attempt to distract from the fact that what Hama was depicting was analogous to something like Captain America winning the respect of some hypothetical honorable captain, of Prussian aristocracy, say, in the Nazi army. Either way, this has never been the typical American view of the Japanese Imperial Army's relationship toward the countries that it brutalized during WWII. The average white American then and now sees that era through the lens of Pearl Harbor, less so Japan's thoroughly racist and genocidally careless attempts at dehumanizing those whose lands they invaded. I don't know what Hama's own views are here, but American from birth, he's also Japanese-American and would've faced a different kind of discrimination domestically. And in the '90s, when he was the only Asian-American writer at Marvel with a yearslong presence (and without a co-plotter), he provided the closest thing to what would have appeared an authentic take on the East Asian venues that were central to the franchise's (second?) most popular character.
And while it was Claremont who introduced Ogun in the modern day as Logan's old samurai master (in 1984's Kitty Pryde & Wolverine mini), Hama developed an interest in historically chronicling this era. But he must've had some fascination with a Japan that rapidly disappeared after the Emperor's surrender. Maybe to make the training period feel authentic, he felt he had to set it not too long before that, especially since no one at Marvel then assumed Logan was already approaching a hundred years of age. Regardless, it's always been really weird that Wolverine has been the Marvel Universe's emissary for Japanese culture. That's a whole other problem!
As a white person, I'm not going to try to untangle this, but suffice to say that presenting Ogun as once having been an "honorable" captain in a genocidal invading army would now spark a controversy that Marvel undoubtedly wants to avoid. But of course, American pop culture is still rife with what are for many cultures brazen symbols of white supremacy and the Euro-chauvinist genocide of both indigenous American and enslaved African peoples.
And then drifter Logan runs into Raven Darkholme in 1921 Mexico. Everything about this is dumb, but taken on its own, I suppose it's whatever. Ron Garney's art is great. But Raven's gay, people; she has been since Claremont introduced her and her wife Destiny—we just couldn't get confirmation on that until homophobe EIC Jim Shooter was long gone and Destiny's return to life was imminent.
At least the Ogun or Raven stuff has remained free of the Romulus taint.
But hey, where's Claremont and Leonardi's 1999 X-Men: True Friends three-issue mini, wherein 1936 Logan saves Moira's grandad at Destiny's behest? These overstuffed three issues feature two time travelers, Kitty Pryde and Rachel Summers, and a Nazi-allied Shadow King. Wild times. Surely worth a stopover for Percy's take on Life III over in X Lives 😉
The only "Life IV" Hama material that I really recommend is the minor classic "Blood and Claws" (Wolverine vol2 #35-37). This 1991 time-travel jaunt sees Logan's consciousness inexplicably shunted into his 1936 self, living dangerously in Spain in the early days of the Spanish Civil War, drinking buddies with Ernest Hemingway, no less. This was my first encounter with a story of rugged-individualist Anglos allying with mostly salt-of-the-earth Spanish commies to fight against homegrown fascists stacking the odds against freedom and solidarity with money and armaments pouring in from Nazi Germany. (Of course, the truth was that the Republican-communist-anarchist alliance attracted freedom lovers from all over the West, including German antifascists, to fight in the volunteer International Brigades. Mexico was critical too, proactive against fascism at a time the fascist-curious US was on the fence, to no small degree enamored with the likes of Hitler-sympathizer and "America First" figurehead Charles Lindbergh.)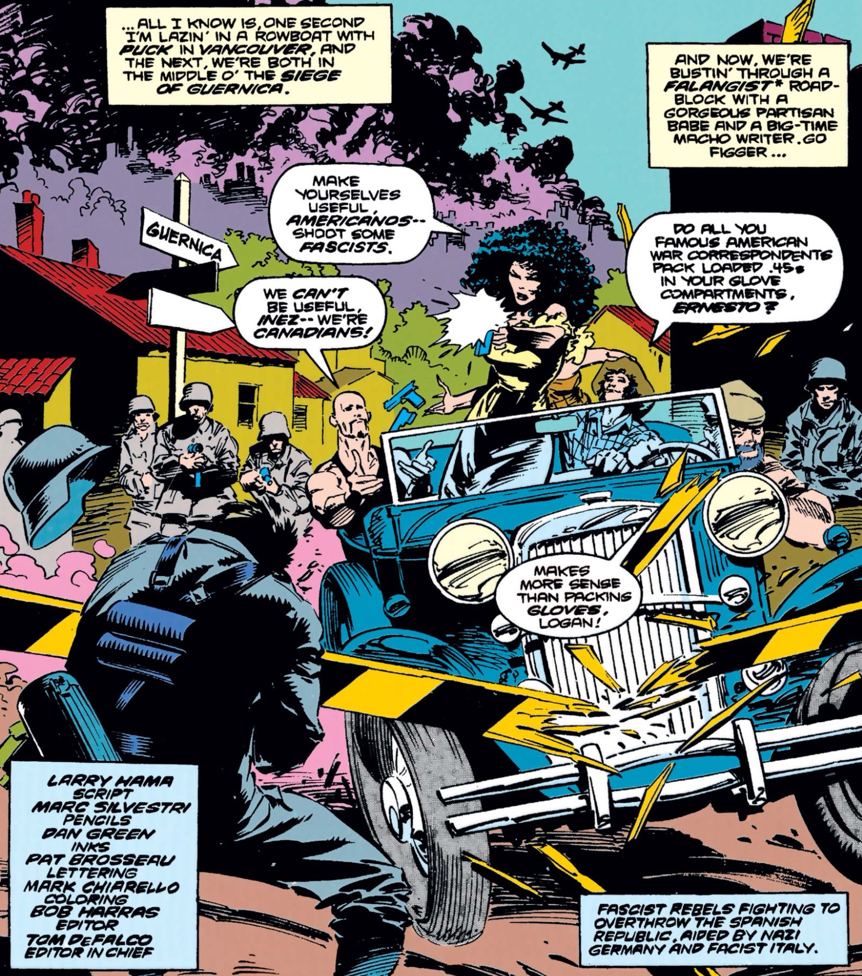 [Wolverine vol2 #36—"For Whom the Bell Tolls"]
NEXT: X Lives of Wolverine #3 – "Blood in the Water"