Early in her career, Colleen Doran did some fill-in work on the legendary Wolfman/Perez run of Titans. And while it's just the one issue, it's hard to imagine that the work didn't either inform something in the young artist or else reinforce it.
Even in the 80s, Perez was famous for his layouts and his expressive faces. And to be sure, the artist does a fine job of replicating both of those things here, but what I find most fascinating is in the way she departs from Perez's established formula.
Note how in Perez's illustrations, the face is made "soft" by giving half circles to describe Starfire's apple cheeks. See also how her eyes are enormous and high up, showing that she's innocent, intelligent, and curious.
Now, look at Doran's. She gives the subtlest hint of the cheeks through her use of laugh lines around the mouth and distorting the lay of the top lip. Then she makes your eye focus on those tiny details by downplaying the nose until it's just nostrils. See how she keeps the eyes higher, but she puts them further back in the head by using that little divot shape. This not only ads realism, but it scales back the innocence rather than remove it entirely. Even at rest, Colleen's face feels capable of closing up just like that.
It's that balance between Perez's masterful cartooning and a classic illustration/printmaking that we'll see again and again.
Support For Comic Book Herald:
Comic Book Herald is reader-supported. When you buy through links on our site, we may earn a qualifying affiliate commission.
Comic Book Herald's reading orders and guides are also made possible by reader support on Patreon, and generous reader donations.
Any size contribution will help keep CBH alive and full of new comics guides and content. Support CBH on Patreon for exclusive rewards, or Donate here! Thank you for reading!
The thing I love about the comic book medium is that they allow absolutely anyone a chance to recreate the whole medium. And in a very quiet way, that's exactly what Doran achieved when she wrote and illustrated this 42 issue series. During the rise of Reagan's "Family Values Conservatism," this book dared to be openly and overtly queer-friendly.
It achieved this partly by using science fiction and fantasy to make a world where readers could see how being inclusive wasn't merely possible, but important. But for me, what it really did was present a story that plugged right into our earliest memories of stories.
I mean this as the height of compliment when I say that Doreen's story perfectly captures my memory of a young imagination. Big stories that borrow from everything – Dune, Arthurian Legend, Space Pirate Captain Harlock, everything – and kept humming by some irresistible force, some gravity that can be felt but not seen. The book, with its stories of corrupt politicians and twisted, false angels seems like the perfect metaphor for its time… but it never quite gives in to pessimism. 
Maybe this is because of Doran's illustrations, which take on a little more naïvety here. Maybe Henri Rousseau or Wendy Pini? Or maybe it's just Doran capturing how it feels to draw as a kid, before formal training hasn't shackled you to rules. That would make sense, given that she started this when she was 12…
Before 2016 and the rediscovery of A Distant Soil, this would probably be the Doran book most familiar to comic fans. And that's thanks in some part to Warren Ellis.
Orbiter came out of Ellis' hot streak in the 2000s and combines many of the man's hallmarks. Subjects like space race nostalgia, hard science fiction futurism, and incredibly unsettling body horror. But before you think this is an Ellis vanity project, there's a secret you should know:
The reason Warren makes great books is that he tailors them to his artists and never the other way 'round. And when Doran popped up on the Warren Ellis Forum, he not only knew what kind of script to give her but realized she'd be the only one good for it. Which lead to the mad Englishman with a heart of melted-down Red Bull Cans to fight hard to get Vertigo to pick it up and for them to accept this older female artist most known for her non-traditional aesthetic and stories. (That DC needed this explained seems sadly hilarious. Who else would you want drawing a hopeful story about a shuttle made of living skin?!)
Doran's background in both cartooning and far-out space stories transform's Warren's script. From the way she separates objects through texture to her coloration of "strange" objects like the ship is truly something to behold. Even her cover is a breath of fresh air, using vintage, earthier pigments like a Richard Dadd piece. Or maybe it's Winsor McCay…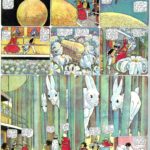 Speaking of McCay, Little Nemo in Slumberland is sort of the Talmud of cartooning. It is so foundational to comics that either it or McCay himself should just be the free space in inspiration bingo. Without it, you get no Disney, Looney Tunes, or Betty Boop. No anime or manga. No Kirby, Shuster, or Moebius either.
Which makes the idea of making not only a "sequel" to the strip but one with an adult protagonist seem completely certifiable.
By now, you've already come to the conclusion that Alan Moore did precisely this. And since I'm saying so here, Colleen Doran probably was an accomplice. Both of these are true.
As for the reason you don't know about it? That probably has to do with the fact that the two released it as a webcomic back before Moore really knew what those were. Honest. The second part has to do with the fact that this book is, flat out, a celebration of a 100-year-old comic strip which was made without any regards to "mass market" readership.
Like McCay's original before it, Big Nemo is a blindingly clever cartooning exercise that's masquerading as a disposable newspaper strip. There are no plants who think they're Alec Holland, no Gods come back to kill their sidekicks, nothing obvious to hang on to. Also, it's not available on Amazon (and I believe is still only available through Moore's Electricomics). All that makes it a real tough sell.
Doran's work is exceptional here with an uncanny ability to make the book feel like McCay drew it himself… and yet not at all like that. Of course, Jose Villarrubia's coloring and Erica Schultz's letters help greatly in both respects, but it's Colleen's restraint that's powering this ride.
So if you're a big fan of cholera-era cartooning and the fine art of the doodle, you need this in your life. Otherwise, maybe save the room on your shelf.
Doran pulls out every stop on this adaptation of Gaiman's celebrated inverted fairytale.
The book is filled with classic cartooning (McCay in particular,) and some spectacular use of Art Nouveau. But what's really spectacular is that she didn't stop at Mucha the way most everyone else does. Alphonse is in desperate need of a break. Klimt too, actually.
Instead, the artist uses the botanical framework's pioneered by Horta, using them as a kind of skeletal scaffolding. From there, she's using bits of Beardsley and dare I say Disney? And I'd swear that this book's coloring learned something from My Favorite Thing is Monsters.
But, as always, it's her expressive faces, smart cartooning choices, and that darling, youthful energy that really makes the book exciting. Everything else is just lovely set-dressing to those three skills of hers.
A moment on her inspirations.
In or around 1860, the French got their first glimpse at Japanese prints and illustrations. And the shock of learning that other people could create amazing art essentially sent France (and much of the rest of the world) into an existential panic.
Art Nouveau is the name of that panic. A reaction that said, "if we did all this formalism and study, and we can't make anything this fresh or interesting, then why don't we push all schooling into the ocean?"
I bring this up because it occurs to me that Snow, Glass, Apples is based on Germanic stories, but Doran has depicted them here with a kind of Russo-Eastern European flair. A half-way point between France and Japan. I also bring Art Nouveau up as it seems to echo what brought A Distant Soil to life.