Dan DeCarlo co-created Sabrina the Teenage Witch with writer George Gladir in October of 1962. The character followed the classic formula set forth by all Archie Comics titles: teenagers getting into romantic hijinks in an impossibly wholesome America.
Most of Sabrina's adventures in the 1960's either involve Sabrina secretly helping people through magic or trying to get through normal kids stuff like bullies, boys, and bizarre magic worlds.

And that stayed pretty much status quo until Archie comics released Afterlife with Archie, a parody involving zombies, in 2013. It became such a hit that it spawned a number of spin-offs including The Chilling Adventures of Sabrina. That limited series that ran from 2014-16 and was then turned into a Netflix series of the same name.
Both versions of The Chilling Adventures of Sabrina are created by Roberto Aguirre-Sacasa, which you'd think would make them work in lockstep, but as you'll see, Aguirre-Sacasa the comics writer can be a lot different than Aguirre-Sacasa the screenwriter.
Sabrina and the Plot
The through-line is always this: A young girl named Sabrina is born to a warlock father and mortal mother. She is raised an orphan by her two Aunts Zelda and Zelda, cousin Ambrose, and Salem (her cat familiar), all of whom help teach young Sabrina about being a "half witch." On the eve of her 16th birthday, Sabrina must choose between the witching world of covens and the devil, or the mortal one containing her boyfriend, Harvey. That's the formula, but there's a lot to be done with it.
Support For Comic Book Herald:
Comic Book Herald is reader-supported. When you buy through links on our site, we may earn a qualifying affiliate commission.
Comic Book Herald's reading orders and guides are also made possible by reader support on Patreon, and generous reader donations.
Any size contribution will help keep CBH alive and full of new comics guides and content. Support CBH on Patreon for exclusive rewards, or Donate here! Thank you for reading!
In the 2014-16 The Chilling Adventures of Sabrina, the story takes place primarily around the early 1960s, and it really feels that way in every single panel. It's just the outfits, the hairstyles, or the crippling small-town nostalgia… it's in the way Hack draws everything to feel like something out of an old EC Comics magazine. The neutrals and earth tones he brushes on really capture the uneasiness alive in Aguirre-Sacasa's script.
Sabrina herself is a bit more balanced, a normal, every-day sort of girl who the world will occasionally concede is a magical power-house. We see her from birth, where the focus is primarily on the dad (the head witch, partner with the Dark Lord, and guy who literally cursed Sabrina's mother to an insane asylum.)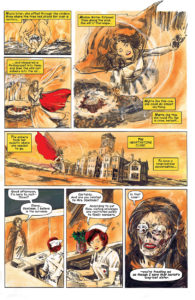 The Netflix series keeps the moody lighting of the comic and mostly throws out the comic aesthetic, opting instead for a modern-day setting (albeit with the occasional anachronistic outfit or dialog). Sabrina's parents are somehow in this version even less, which seems impossible for a story about an orphan. When they are in it, the focus is more on the Mom because of – and I'm not joking – her gorgeous dress. All the rest is spectacle.
Verdict: Ultimately it comes down to this. In the comics, you fully believe that Sabrina Spellman is destined — and indeed intends — to give herself over to the Path of Darkness. In the Netflix series, it feels very much the opposite. This makes her choices in the comic feel more meaningful, while the Netflix series feels… safer.
The Cost of Magic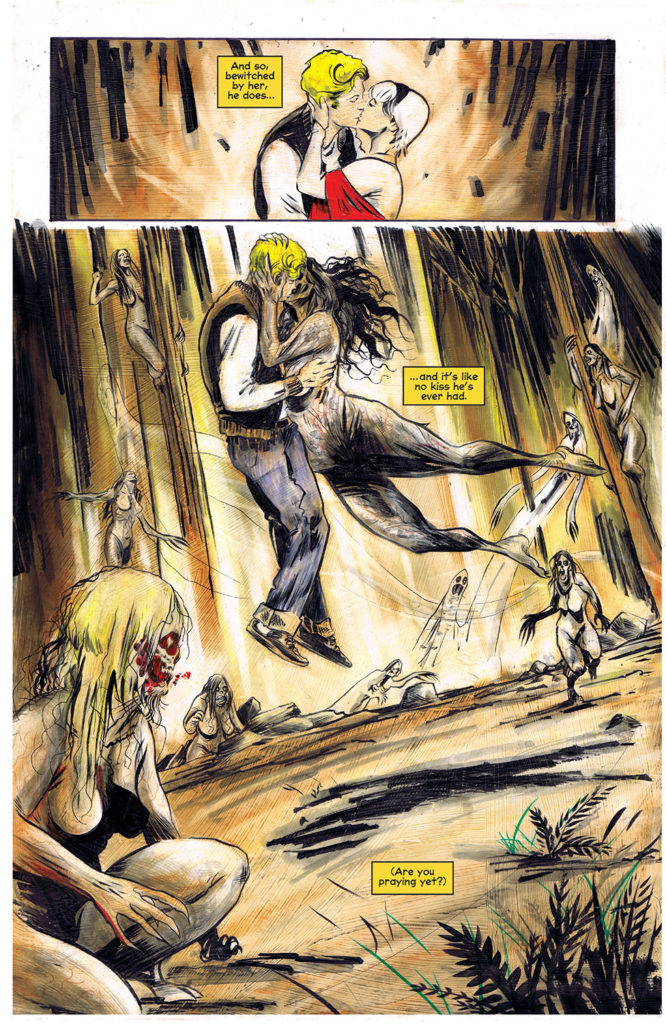 One of the most interesting things a writer can answer about magic isn't its morality or its history, but instead a much simpler question: "how much does magic cost?"
In the 2014 comic, magic is shown to cost a lot. There are animal sacrifices and human casualties early on in run and it only gets worse by the half-point. For this reason, magic is used much more sparingly in the comics and almost always to big effect (with the only contradiction being the comic relief of Ambrose and Salem)
On the other hand, the Netflix show has an inconsistent view on the cost of magic. Sometimes Sabrina is throwing it around liberally, sometimes she's averse to the stuff. Sometimes resurrection is a funny trick between two sisters, other times it's a terrible thing done by total accident (in an almost direct lift from the classic tale The Monkey's Paw from 1902).
Verdict: Of the two, it's the Netflix series that really leans towards the comedic take on mysticism. So if you like magic but hate latin, swing by Netflix.
Mature Themes
Magic makes for a great metaphor; The Twilight Zone, Bewitched, and I Dream of Jeannie all proved that you could have characters address big social issues so long as you made someone spout a few words of Latin or turn their neighbor into a cat first.
The 2014 comic treats sex as an actual thing. Not only something confined to provocative dress and turn of phrase, but an anxious, important thing that teenagers both struggle with like kids and negotiate like adults. The book does a great job of being mature about this side rather than relegating it to base titillation. It also touches on the social concerns of the 60s  — sexism and racism most specifically — and reflects them through the witch scares of earlier centuries. Thankfully, Ambrose and Salem are there in their usual sarcastic comic relief forms.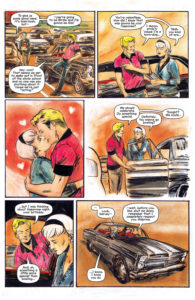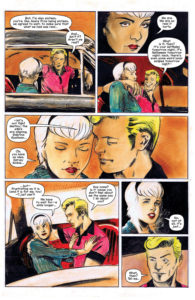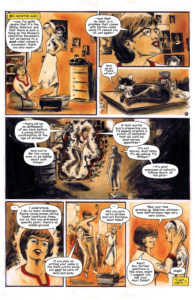 This is in stark contrast to the Netflix series, where Aguirre-Sacasa — creator of tv's Riverdale and its "David Lynch but with Clearasil" look  — uses magic primarily as a metaphor for the groundbreaking social commentary of "teens look hot." The characters in this show are very sexy and very chaste. They also seem to do as much sauntering as they does spell-casting. For all it's teasing, the show feels more conservative than does the comic book. The series makes a few attempts at social commentary, but it's treated with the same subtly as the sexuality and only half the success. Aguirre-Sacasa pulls a lot of punches here, flattening characters, softening dramatic hits, and toning down anything that might be seen as "straining credulity" or going "too far." Even Salem is quiet in Season 1, which seems like such an odd place to draw a line in a story about a girl possibly pledging her life to the Devil.
Verdict: If you're after a girl's journey into womanhood, grab the comic. If you want Hormone Potter, check out the show.
Final Thoughts and the 2019 Series
This is one of those rare occasions where comics get to be the grown-up medium for a change, by delivering a clearer, more resonant story that seems deeply informed by both the past and the present.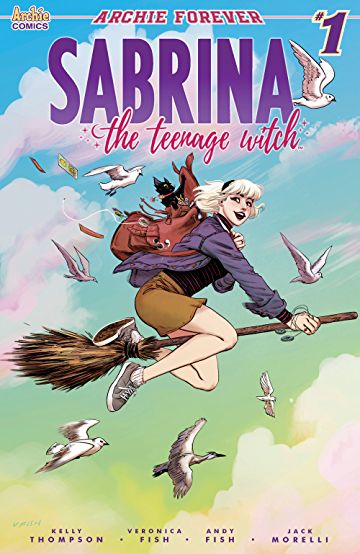 This makes the changes in 2019 so interesting. This year, Archie is returning to Sabrina The Teenage Witch, the no longer chilling tales being told this time by writer Kelly Thompson and artist Veronica Fish. We're only on issue 1 of 5 at press time, so we don't know much of anything for certain, but so far it seems like a return to the 1960s / Nickelodeon era of the character set once again in a modern age with the character back to her sassy-cat having, boy crazy self (although Thompson's take hasn't completely given up on the lessons of 2014, if Satan's early appearance is anything to go by).
This feels solidly in keeping with Thompson's work on Captain Marvel which has a similar premise — enormously powerful hero is the new girl on campus — and a rath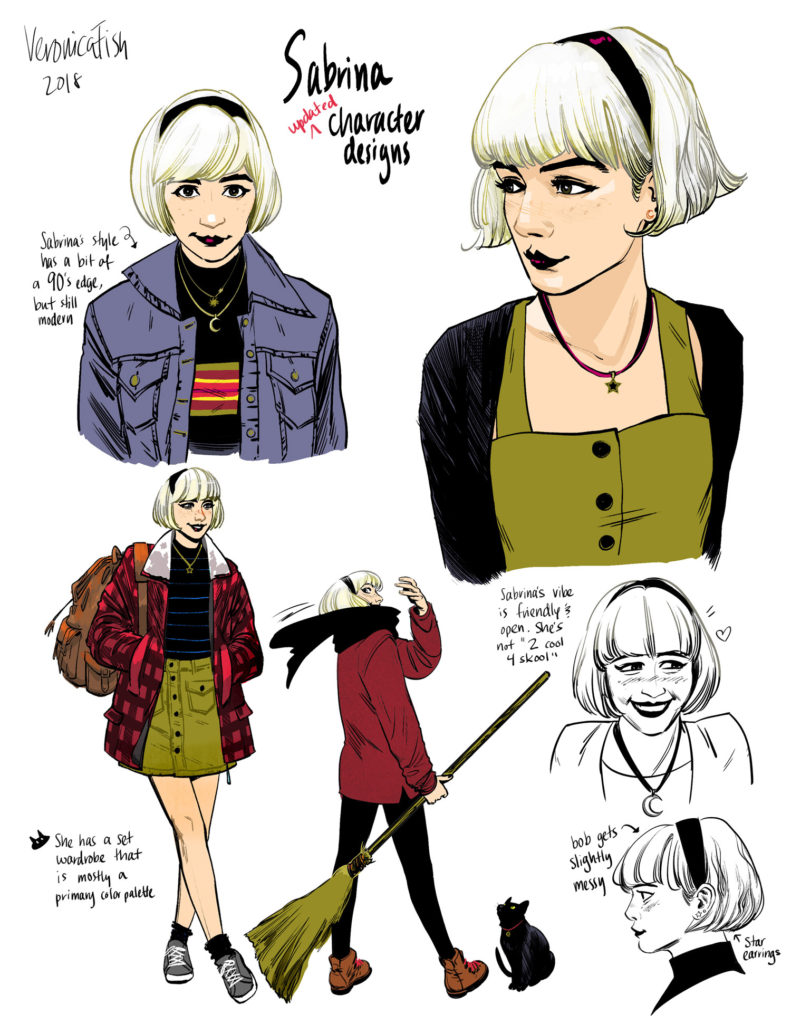 er similar tone (giant monsters and cute quips!) If I have one complaint it's that Sabrina The Teenage Witch
#1 (like Captain Marvel #1 before it) feels like it was intended to be read all together in a trade than followed monthly as floppies.
On the other hand, Fish's artwork is bright, bubbly, and absolutely the kind of thing I want to snatch off the shelves. I'll miss Hack's loving tribute to 60s horror magazines, but I love that Fish had the confidence to do a fantastic job at her own take rather than try an homage to an homage.
Time will tell how this newest incarnation measures up to its elders, so if you're looking to get into some teen witch action, I'd recommend grabbing The Chilling Adventures of Sabrina in trade paperback form first, then go with the 2019 comics. And if you've got time left over, sit down to binge the Netflix series. It's good, but it's not fetal-skull-eyed witches and zombie boyfriends good.