By Ed Brisson, Flaviano, & Marco Failla.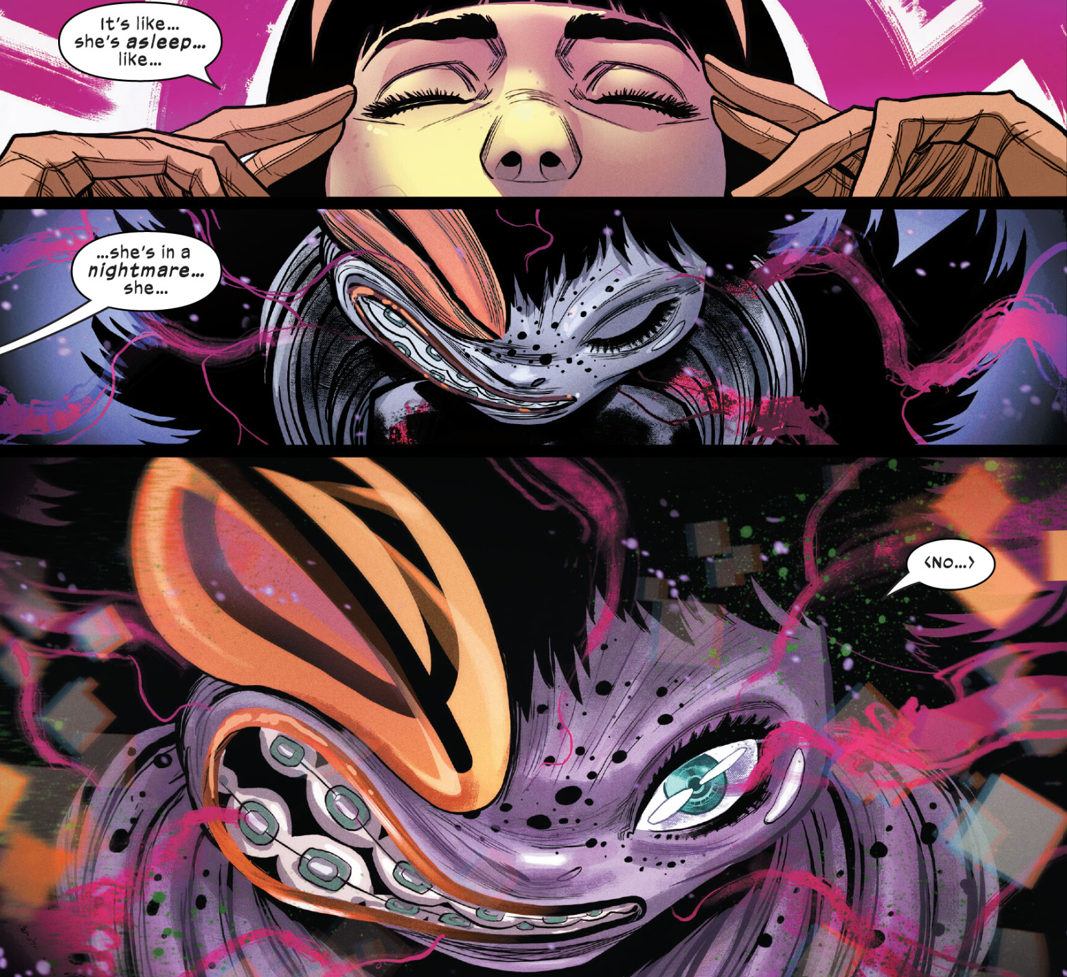 Ed Brisson (story), Flaviano (pencils/inks, NM 9-11), Marco Failla (pencils/inks, NM 12), Carlos Lopez (colors), Travis Lanham (letters), Mike Del Mundo (covers), Jordan D. White & Annalise Bissa (editors)
These issues actually take place before X-Men #8, since Magik here has just returned from Shi'ar space along with the other OG New Mutants and the King Egg—before the Krakoans knew what they'd stolen!
"Really," they must've come back before X-Force #4 since Doug's there, unspeaking, at the Quiet Council. This era's continuity has been very confusing to keep track of! See my provisional DOX continuity order below, after the article.
Related:
Support For Comic Book Herald:
Comic Book Herald is reader-supported. When you buy through links on our site, we may earn a qualifying affiliate commission.
Comic Book Herald's reading orders and guides are also made possible by reader support on Patreon, and generous reader donations.
Any size contribution will help keep CBH alive and full of new comics guides and content. Support CBH on Patreon for exclusive rewards, or Donate here! Thank you for reading!
I. The Newest New Mutant: Cosmar (New Mutants #9-11)
A breached perimeter fence around what appears to be some kind of refining facility; across the snowy yard a lumpy trail of what looks like undulating viscera, leading to a large outflow tunnel where hides a figure whose form and outline are psychedelically distorted and vague. Flaviano's art here is beautiful and unsettling, depicting, as well, several impossible creatures surrounding the huddled girl; they turn out to be the ephemera of this reality-warping mutant, Tashi Repina—codenamed Cosmar ("nightmare" in Ukrainian, naively transliterated) as of New Mutants #11.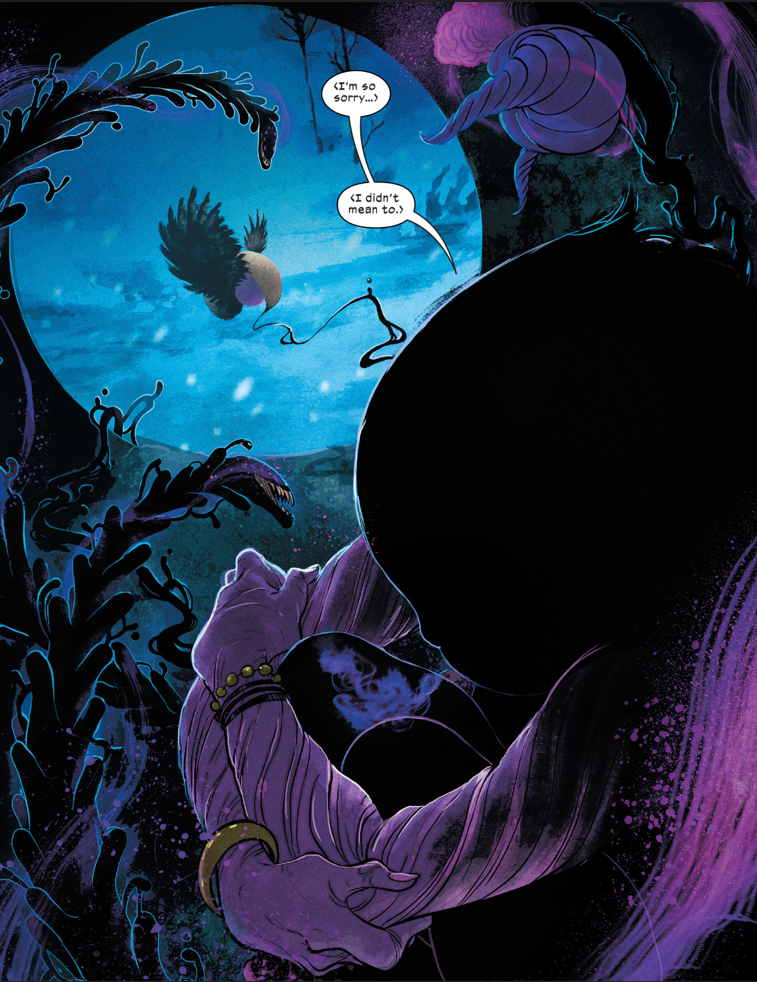 We open on a snowy night in what must be the outskirts of the capital of the Eastern European country of Carnelia—introduced as a fictional place in Iron Man in the late '70s, mentioned only a few times there and then twice more at random, until these issues, where it makes its first full and unenticing debut.
The tiny country of 3 million has three major languages, none of which is Carnelian, which doesn't exist (except as a pretty red gem or shade of red). Ukrainian makes sense as the dominant language, then, but anyone who really knows their geography would have Hungarian, Czech, Slovak, Polish, and Romanian well ahead of both Russian and English in this category. Oh well! (Blame the error on 2007's Marvel Atlas.)
In our world, this would be the Zakarpattia Oblast (province) of Ukraine, known to be quite religious and thus, were it its own country, unlikely to support a wealthy island nation of idolatrous godlike freaks.
(Somewhat famously, Tony Stark in his Iron Man armor publicly greeted Carnelia's ambassador, a big fan of Iron Man, only to look on in terror as Stark's classic nemesis Justin Hammer seized control of his suit and assassinated Ambassador Sergei Kotznin via repulsor ray; it was a dastardly ploy to tank Stark Int., with a nasty side of character assassination, and to win Hammer Industries a defense contract with Carnelia; see Iron Man #117-128, the still excellent Demon in a Bottle saga.)
On Krakoa, the OG New Mutants, plus Magik, have just returned from Shi'ar space. Boom-Boom is bummed she didn't get to come along on that adventure; indeed, it would certainly have been less traumatic than the tragedy in Nebraska. (Note also that Chamber's in a sad state if he's pining after Magma; meanwhile, Husk (Paige Guthrie), his ex, is vastly more interesting.)
The tete-a-tete between Magik and Cyclops here is gold, really brought home by Flaviano in emphasizing Magik's boldness in the face of Scott's tepid censure, despite his obvious seniority. (But let's not forget, Scott's never displayed the kind of fierce leadership embodied by Claremont's classic dames—and Illyana, these days, since 21st-century writers like Bendis allowed her to mature into the kind of bold woman who would fit perfectly in a Claremont X-Men title.)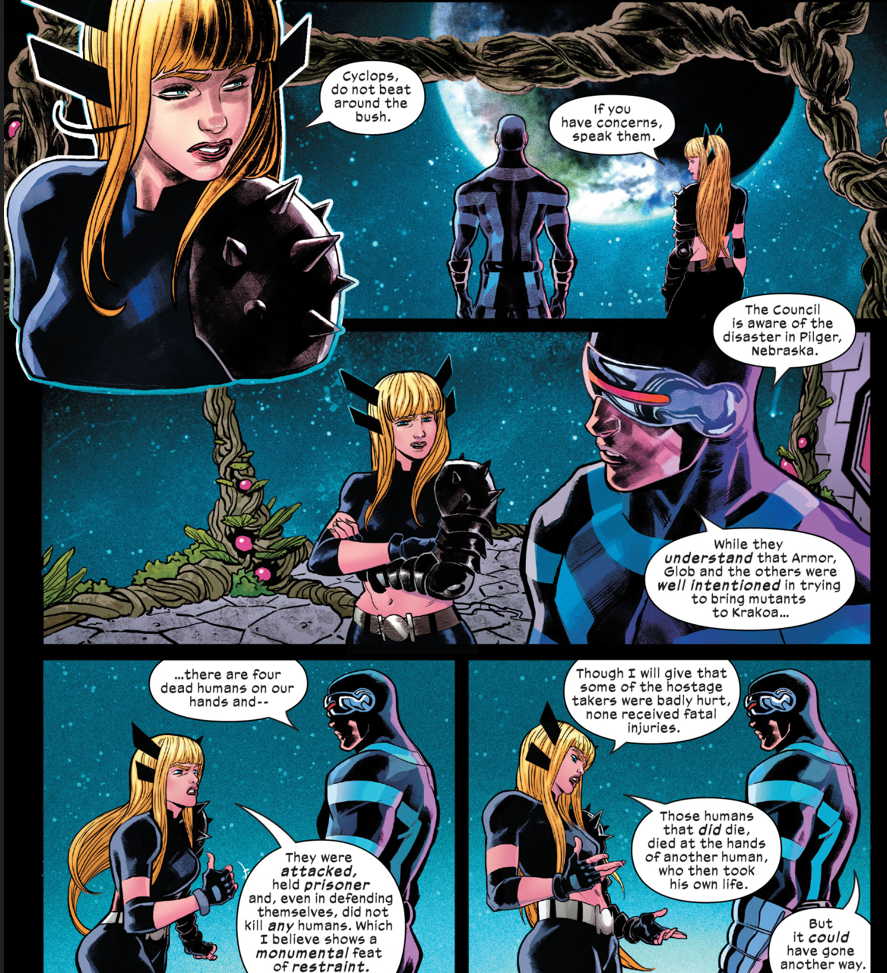 However, Illyana's apparently unaware that the twins Maxime and Manon manipulated two of the gangsters into killing each other and another into firing on his compatriots. It was self-defense, albeit reckless, but saying the Nebraska massacre was a purely human affair isn't correct. But as will be confirmed in issue #12, Beak's family would have been terrorized even if the Krakoans had never come calling. Regardless, it's odd that Scott's laying the blame at her feet when Illyana wasn't even on the planet, which she shouldn't have had to point out.
Maybe he's feeling the competitive heat from his fellow Great Captain, who is much younger than he and yet probably much fiercer as a warrior and leader. (Certainly, Storm has finally eclipsed him, as Empress of Sol, during the Reign of X—now we just need to see her as much as we do Cyclops!)
Meanwhile, Boom-Boom has urged on Dani, Xi'an, Amara, and Jono to head for Carnelia via jet (since there're no gateways there) to rescue a newly activated mutant in distress. Somewhat to Dani's dismay, Tabby offhandedly dismisses the need to get permission from the Quiet Council for this mission
But once faced with the "nightmare" in Carnelia, things quickly go south for the small maverick team. Initially faced with the usual antimutant bigotry from Carnelian cops, who even seem cavalier about the lives of their own local citizenry, the overconfident youths suddenly find themselves overwhelmed, afraid enough that Dani slips for a moment in calling Tashi Repina "it"—perhaps distracted by the dark void around her.
Though the team is totally overwhelmed, physically and mentally, by issue's end, backup is on the way, along with a nasty surprise in tow: Wildside, from the Mutant Liberation Front—which is certainly a choice. This wouldn't have been necessary had Dani not been sucked into Tashi's pocket dimension, and given that nothing much is done with this clownish '90s bad boy beyond being utilized as incidental plot device, it's kind of an odd pull on Brisson's part.
A. Wildside
I previously covered Wildside and the MLF briefly in our look at House of X #5 earlier this year:
Forearm and Wildside first appeared in New Mutants #86 (1990) and have remained members of Stryfe's Mutant Liberation Front ever since, even after Cable's clone Stryfe had abandoned the team of disaffected mutant youth, who had merely been tools of chaos and distraction as Stryfe pursued his own agenda. But the loose affiliation eventually continued on without him, and it's safe to say that their clique will remain close as they mix with the general Krakoan population. [And of course, we see them sharing housing now.]

[NM #87 by Louise Simonson, Rob Liefeld, Bob Wiacek, Mike Rockwitz, Joe Rosen, 1990]
Forearm, a superhumanly strong, four-armed mutant has already been dead and mysteriously reborn, before being depowered by M-Day and then inexplicably regaining his powers well before the Krakoa era (perhaps due to Mothervine, which I'm sorry, I just don't care about! Wildside was similarly repowered). Gee—C-list obscurity sure can make the permeability between life and death quite porous!
The other, mildly more interesting Liefeld creation here, Wildside is a savage fighter who can also psionically distort others' senses and induce hallucinations. (Exposure to the Mothervine virus apparently caused a secondary mutation allowing him to seemingly solidify his hallucinatory ideations. Again, though, Mothervine was ridiculous and, worse, overly convoluted—and Wildside's new powers are silly.) The 2000s saw him captured by the reincarnated Weapon X program and given retractable techno-organic claws.
(The other MLFers we see in their Sextant house are Samurai, who's barely ever been seen (after his debut in the 1992 Cable – Blood and Metal mini), Dragoness, and Strobe (also a virtual unknown).)
B. Mutant Proto-Circuits
Looking back at Brisson's run after the conclusion of Vita Ayala's yearlong New Mutants/Shadow King arc, these issues seem to belong to a simpler, earlier era that just doesn't work that well now—although I'm glad he created Cosmar, who became an interesting character, once Vita was on the title.
But there are a few other things Brisson introduced that seem to have been permanently dropped. First, we again have Doug depicted in a morally ambiguous manner, persuading Mondo to ingest a bit of Krakoa, which makes neither party happy. This was Hickman's idea, and while the recent reveal of Warlock himself similarly feeding on Krakoa's body in a HOX/POX flashback in Inferno #3 is clearly more consequential, it's not clear that we'll ever know what's going on in the case of Mondo. I guess that even though Doug can talk to Krakoa, Krakoa might not be able to tell him who all is on the island, so only Sage has that recorded. And if Doug doesn't trust her, being an agent of Xavier, then maybe he wants his own system in order to keep track of, you guessed it—Moira X. Again, though, it's not a very interesting puzzle as yet as to why Mondo is necessary here, especially with him getting sick as the only apparent effect so far. Oh well!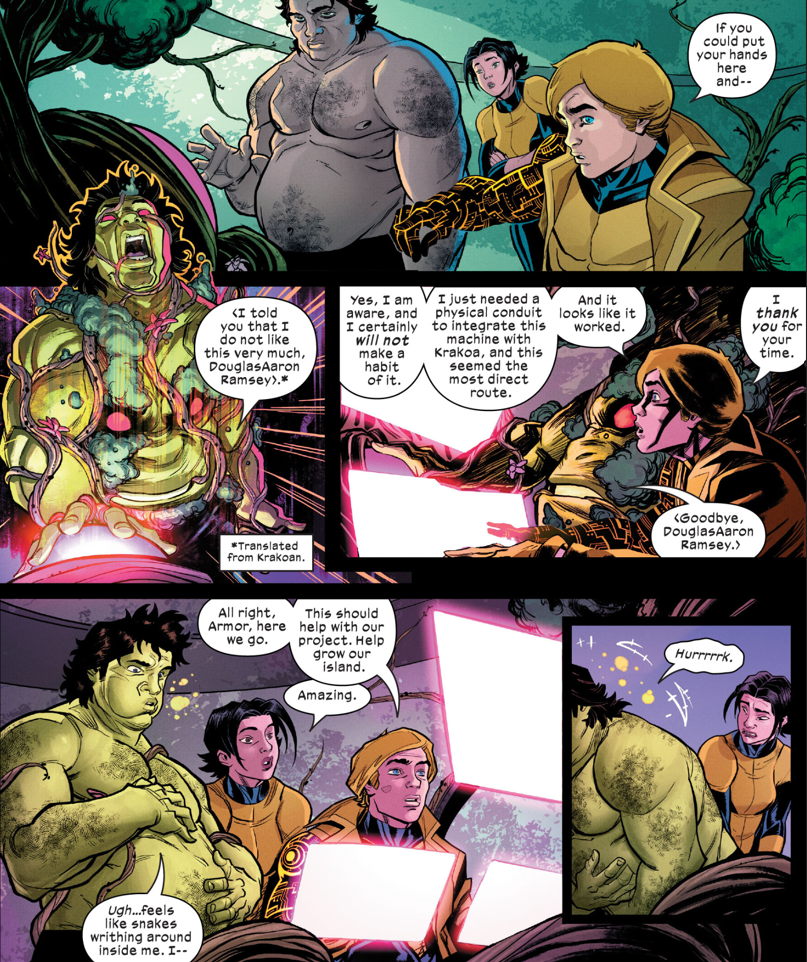 What is pretty neat is Cypher's four-person team navigating Tashi's nightmare pocket dimension via Armor's armor connected by cable to the everyday world. It's a neat but brief psychonaut adventure, making for some great art. There's something like a mutant circuit at work here, but it's just a one-off—Mondo absorbing not Hisako's power but just her psionic energy, since that is what her exoskeleton is, meaning the logic here doesn't really add up; again, though, it makes for a cool visual.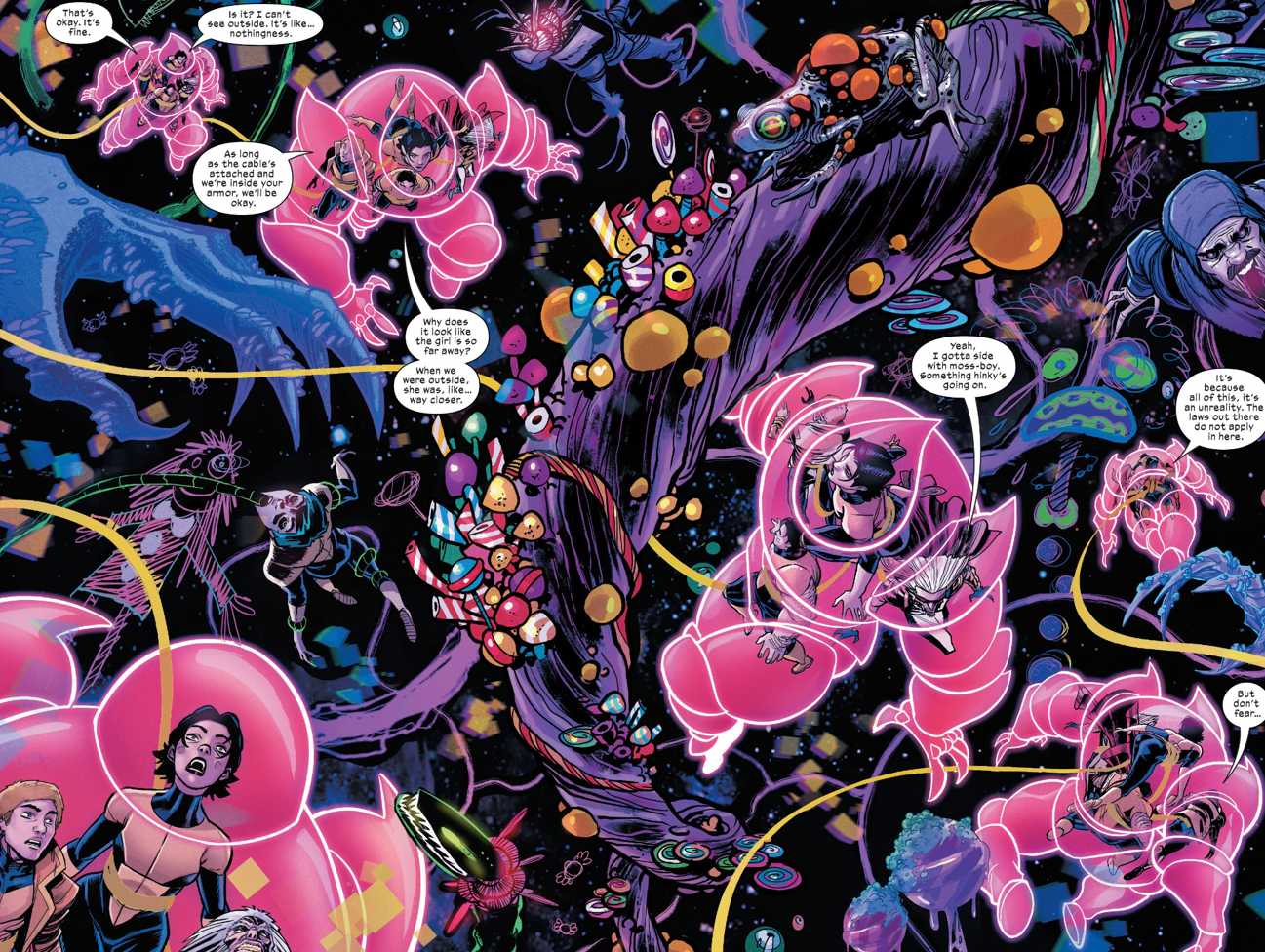 Once Mondo recovers Wildside, he guides the unconscious mutant toward Tashi. The nightmare ends with just one touch. It's all a bit too pat, but at least this wraps things up quickly and neatly.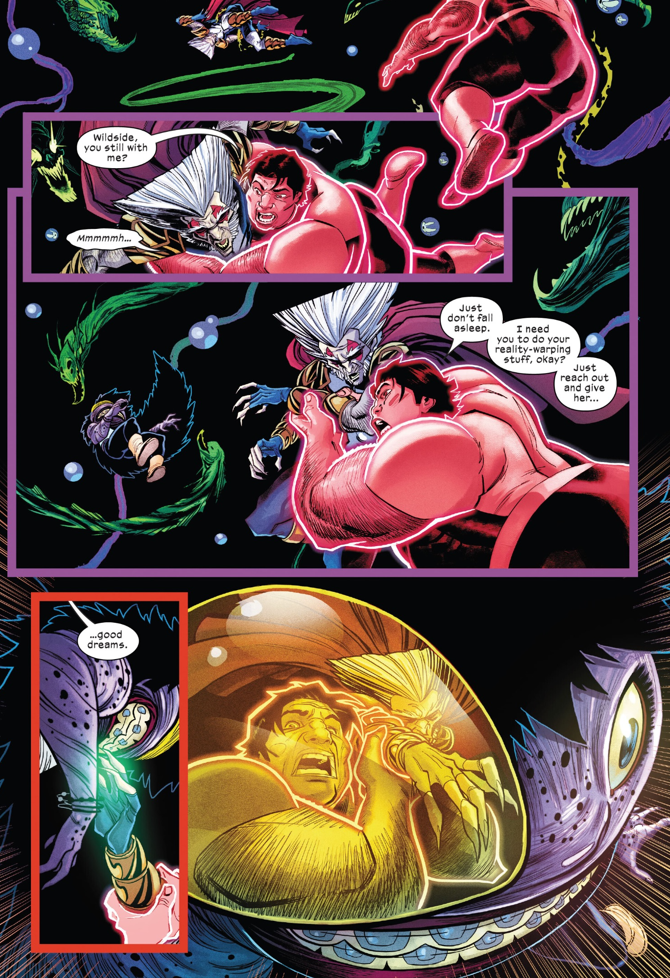 C. Glob Treat
Along with Flaviano's art, one of the few highlights of this short arc is Glob's surprise culinary skills, probably a delight to his friends too: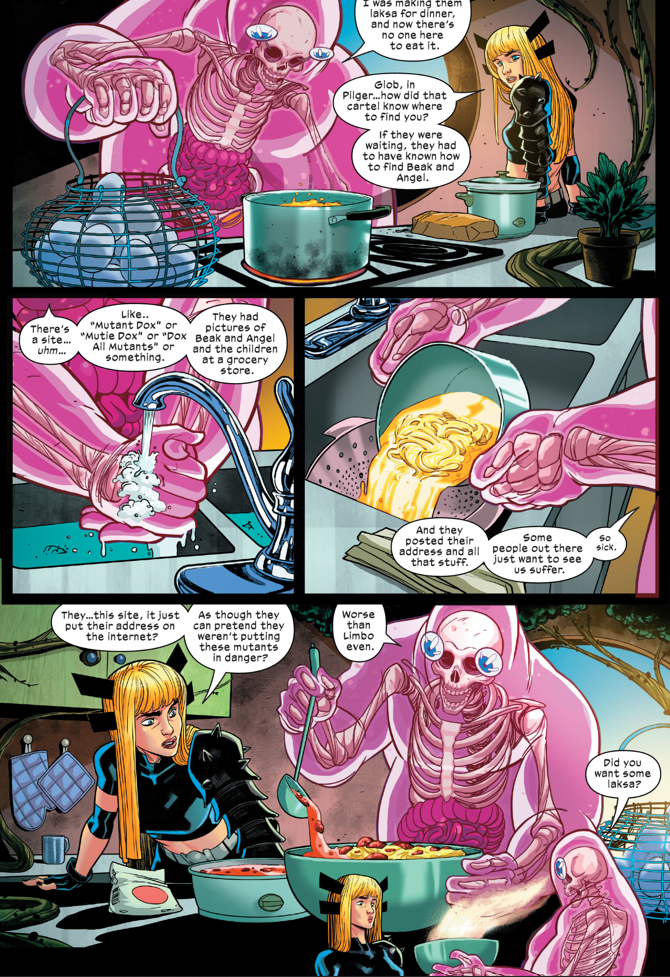 II. A Lesson on the All-Too-Human Evils of Doxing (New Mutants #12)
Speaking of Glob, issue #12 has an even more touching Glob moment, which is all I really got out of it. Essentially, Brisson is wrapping up his brief run here, not shutting down the American doxing operation, which would of course be illegal—as is acknowledged in the story—but having Magik and company threaten this everyday scum with a taste of their own medicine if they continue. It is wild that this sort of thing hasn't seen a crackdown in our own real world—given the always harmful, sometimes deadly consequences, which are also touched on here, in dramatic fashion.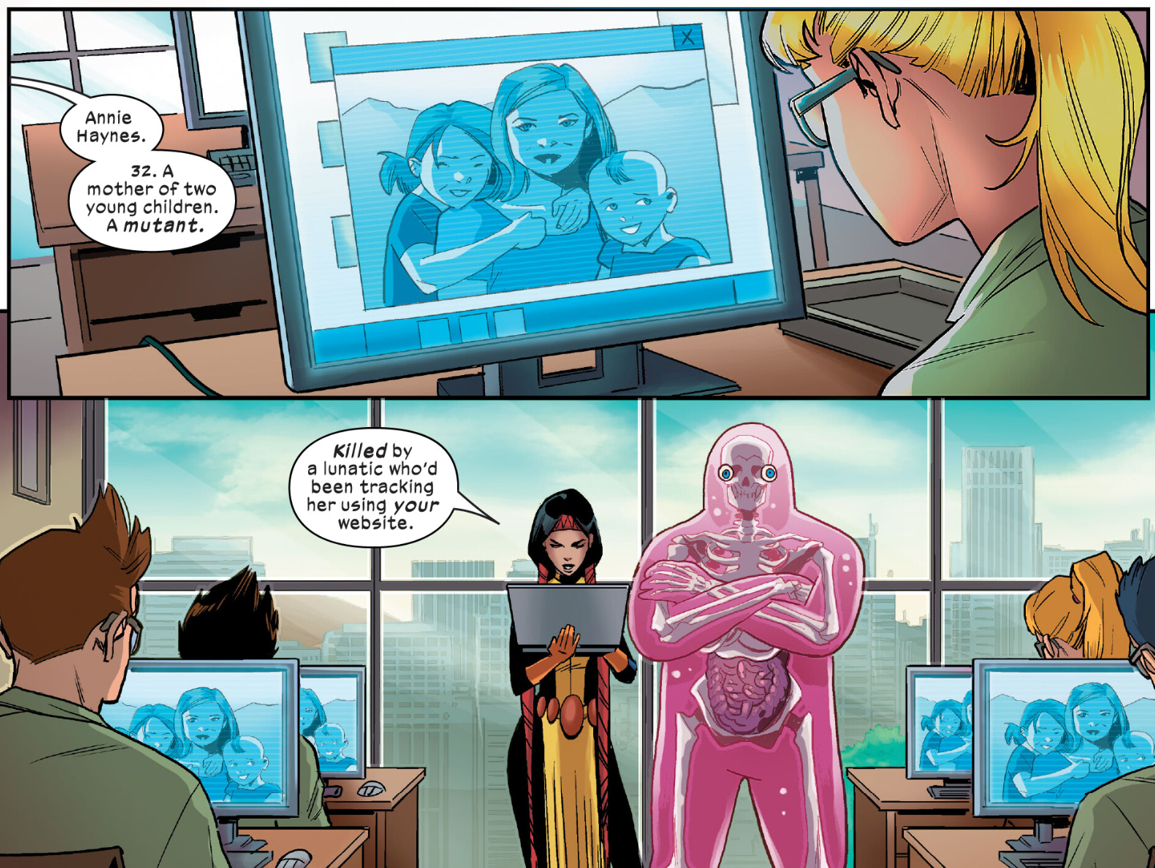 The everyday bigotry the Krakoans are fighting against here is very triggering for Glob, which allows for some good character work with this fan-favorite who even so hasn't been given much of a backstory. But this is where we finally get it.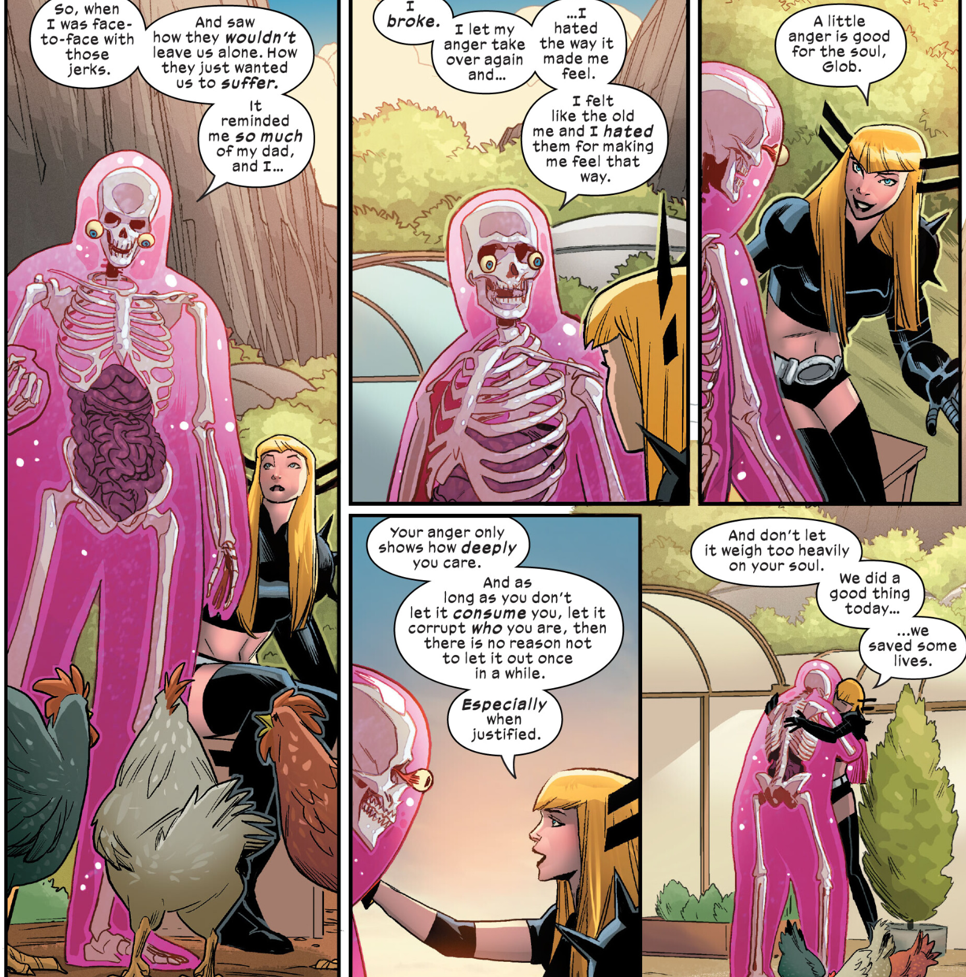 However, seeing Magik taking on a sentimental, big sis tone is a little jarring!
A. The Dangling Nova Roma Plot
This is the other thing that really dropped off the proverbial cliff. We last visited Nova Roma in issue #8, and the cryptically human "mother" of the mutant-hunting quadrupeds Duggan introduced in Marauders #1 does something awful to Amara's dad here—presumably, this little green horror is still simultaneously eating and healing his insides as of January 2022! Doesn't it disturbingly (uncannily) recall those small tentacles Blob skewers on toothpicks for martinis at the Green Lagoon?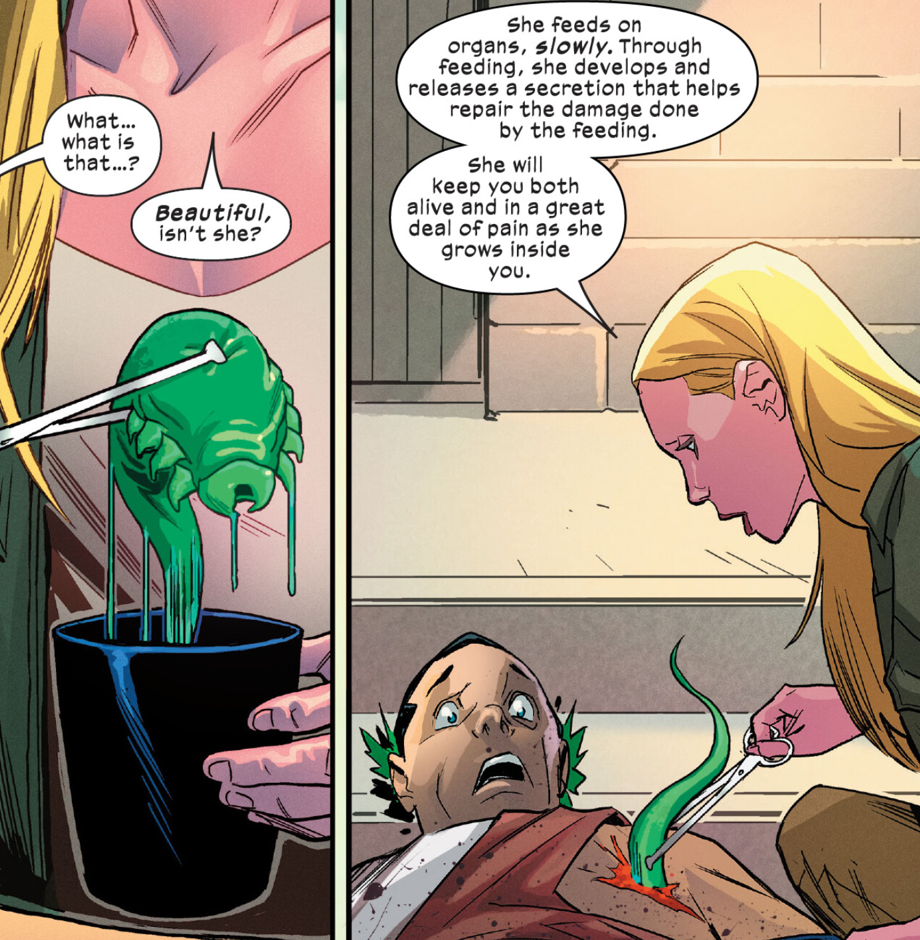 Provisional DOX continuity: X-Men #1; New Mutants #1-2; Marauders #1; (X-Men/Fantastic Four #1-4) Excalibur #1; Fallen Angels #1-6; X-Force #1-2 (Xavier's assassination and aftermath); Marauders #2; Excalibur #2-3 (Kate's sailing boat in issue #2 makes no sense); X-Men #2-3; Marauders #3; New Mutants #3-4, 6, 8 (first Brisson arc); X-Force #3 (Xavier returns); X-Men #4; Marauders #4-6 (Kate's assassination); Excalibur #4-6; New Mutants #5, 7, 9-11; X-Force #4-6; X-Men #5, 6; Giant-Size X-Men: (Nightcrawler) Magneto, Jean & Emma, Fantomex, Storm; X-Force #7-10; Wolverine #1-3; Marauders #7-9 (Kate's death confirmed); X-Men #7, 8-11; Empyre: X-Men #1-4; X-Men #11; Cable #1-4; Marauders #10-12 (Kate's return); New Mutants #12; X-Force #11 (Cuckoo dating confusion); Wolverine #4-5; X-Force #12; Hellions #1-4; Excalibur #7-8; X-Factor #1-3; Excalibur #9-12; Free Comic Book Day 2020: X-Men; X-Men #12
COMING UP: The opening arcs of Percy's Wolverine and Duggan's Cable—and then the return of Captain Kate!