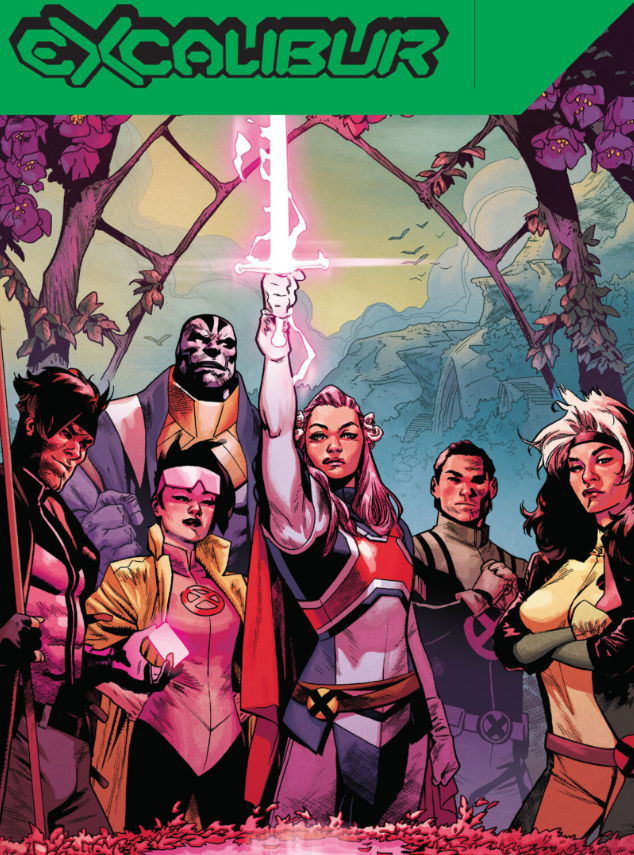 Somewhat like Marauders, Tini Howard and Marcus To's Excalibur reinvents a familiar X-franchise name, though in this case the new Excalibur retains strong ties to the beloved classic team of the 1980s. Their base will still be the Lighthouse, and their leader remains Captain Britain—and a Braddock—but their roster is otherwise entirely different. Missing, too, is Claremont and Alan Davis' signature gonzo satire on the title, but Omniversal Majestrix Opal Luna Saturnyne will see her grandest showing yet, while the Braddocks, Pete Wisdom, and Merlyn and Roma play increasingly prominent supporting roles as the series continues. In fact, as a hub or nexus of the multiverse, Otherworld will be far more prominent in the new series—and so will its province of Avalon.
Related:
Because there's so much background to cover here, we're dispensing with the single-issue deep read here, looking instead at each major player and venue relevant to the classic title and the new. Next time, we'll return for a shorter piece for playback of Excalibur #1.
Support For Comic Book Herald:
Comic Book Herald is reader-supported. When you buy through links on our site, we may earn a qualifying affiliate commission.
Comic Book Herald's reading orders and guides are also made possible by reader support on Patreon, and generous reader donations.
Any size contribution will help keep CBH alive and full of new comics guides and content. Support CBH on Patreon for exclusive rewards, or Donate here! Thank you for reading!
I. The Old Excalibur (in brief)
A. The Captain Britain Corps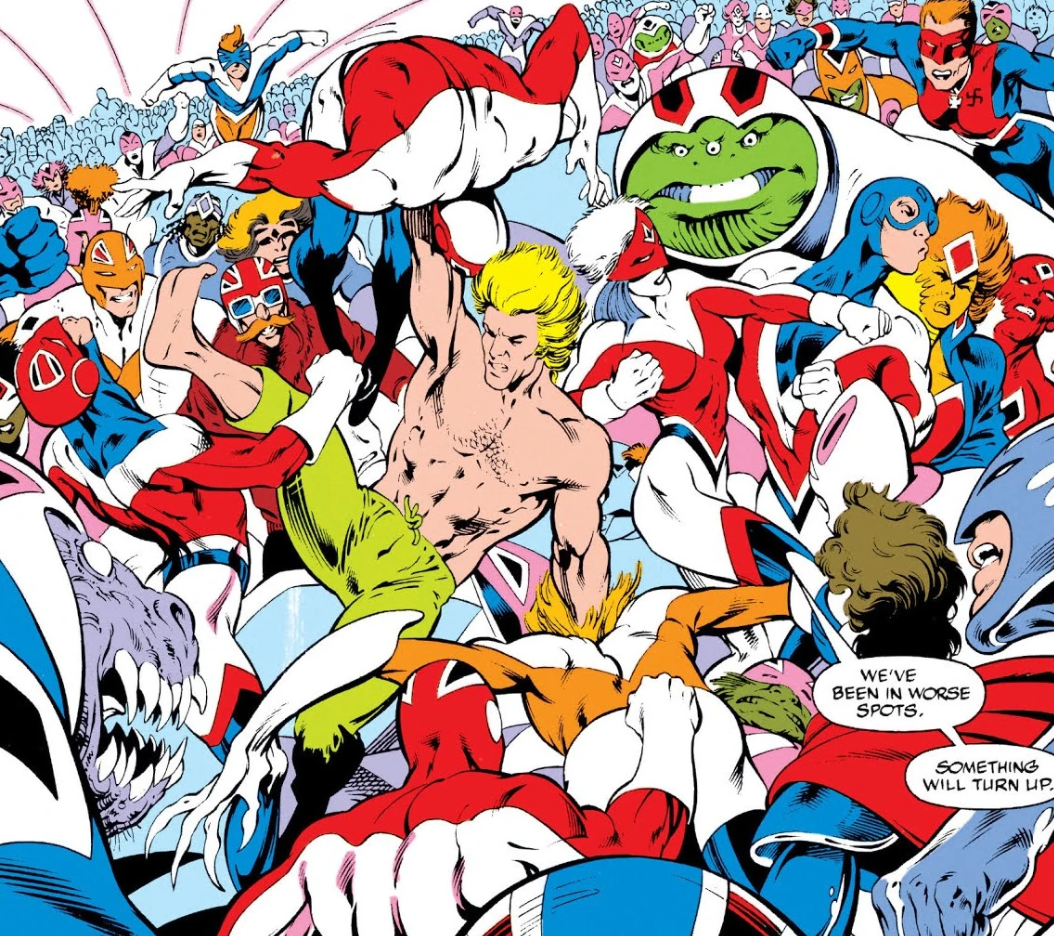 [Excalibur #45 (1991), art by Alan Davis, Mark Farmer, Glynis Oliver]
Each parallel Earth in the Marvel multiverse has a Captain Britain headquartered in a "Lighthouse"—regardless of whether its structure is actually a lighthouse. They act as protectors of their home realities and each other's in times of dire need—sometimes coming together as a whole to face multiversal threats. Collectively they are the Captain Britain Corps coordinated by the Omniversal Guardian of Otherworld, who was initially the Corps' creator Merlyn, himself perhaps an Otherworld native. Considered human, he's descended from natives of Atlantis who survived the island's destruction; one refugee colony was Avalon, where the veil between Earth and Otherworld's faerie realm was negligible—though the isle has long been synonymous with Otherworld itself. Ages ago, Avalon must have retreated somehow from the Atlantic, grafted into the fey dimension of Otherworld. Thus the wizard directed his Captains Britain from Avalon, one of the mythic places integral to ancient British legend and identity (as found in various varying forms across Wales, England, and northwestern France). Merlyn's current form is a kind of pan-universal avatar linking his variants across the multiverse; this occurred millennia ago when he became Otherworld's ruler and thus mirrored—as above, so below—the nature of Otherworld itself. This could also easily make of him a panoptic spy. The Lighthouses host official gates to Otherworld, and there's only one for each Earth, but we'll see that there are other mystical modes of entry and exit.
(I'm trying to make everything here more consistent than it necessarily reads across the decades. Maybe Merlyn's Otherworld incarnation is the original, and his endless parallel iterations are mere avatars. Who knows. Otherworld itself might've been created Gaea—or not.)
In Alan Davis' classic Excalibur #46-50 (1992), it's revealed that (a variant) Merlyn's mentor, Necrom, desired to establish an alignment of all parallel universes allowing for sorcerous access to boundless power in the form of a matrix of inexhaustible magical energies. Necrom's other student at the time, Feron, obsessed with the Phoenix*, prayed to his revered firebird to project a stone tower across the multiverse, sited on each Earth at the same spot. For many Earths, the site compelled the construction of another kind of towering stone—a lighthouse. (*Apparently Feron's worship of the abstract entity inspired it to shape itself to its now signature phoenix guise.) However, upon this event Necrom revealed that he sought sole mastery over the newly created multiversal Matrix. While Necrom battled his Phoenix-possessed pupil, Merlin leapt into the Matrix, whose energy he harnessed for himself. This would allow him to rule Otherworld, establishing his role as guardian of the multiverse, and create and control the Corps—all for his own benefit, which has proven only sometimes benevolent.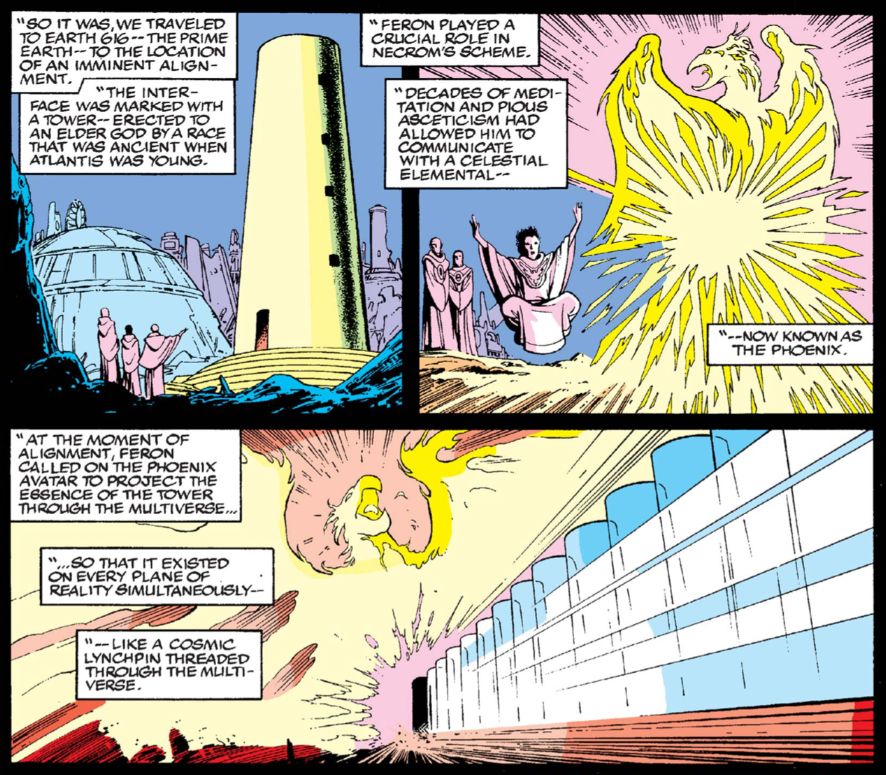 [Excalibur #50 (1992), art by Alan Davis, Mark Farmer, Joe Rosas]
(Now this ambivalent portrayal of Merlyn is rooted in actual Arthuriana. In benevolent readings, he simply manipulated events so that Arthur would be born, his right to kingship would be proven by the drawing of the mystic blade Excalibur, and the king would then bring together the Knights of the Round Table to protect the realm against marauders. However, Merlyn's ruthlessness can be read into the same narrative, especially in how the ageless wizard on the night of Arthur's conception disguised the future king's father as another man, tricking the man's wife into believing Uther Pendragon was her husband; the genuine article meanwhile was mysteriously killed off-stage as it were. The mage has always been a dubious trickster.)
Revered British comics creator Alan Moore was the first to fully develop the notion of Marvel's multiverse, following on from the ideas of Dave Thorpe, his predecessor on Captain Britain's monthly adventures and inspired by classic SF/Fantasy author Michael Moorcock's "Eternal Champion" concept. Mark Gruenwald later expanded on Moore's multiversal Captain Britain stories in applying the notion to the Marvel cosmos in its entirety.
However, though readers occasionally come across the descriptor "Omniversal," it's primarily in Excalibur, especially as part of the job titles of Otherworld's keepers and in describing Otherworld itself as the nexus of all realities. But outside of proper nouns, I'm going to use only "multiverse" instead. Arguably there are some differences between the two, but they don't currently appear relevant to the X franchise.
That said, while the Captains Britain—the ones that have actually been introduced on the page at least (which is surely just a drop in the bucket)—have largely been variants of a Braddock or some other character recognizable to Excalibur fans, there are also numerous nonhuman and talking-animal versions. Otherwise, they're invariably connected to Britain in some way, even if it's as a postcolonial (or colonial) subject—depending on the timeline!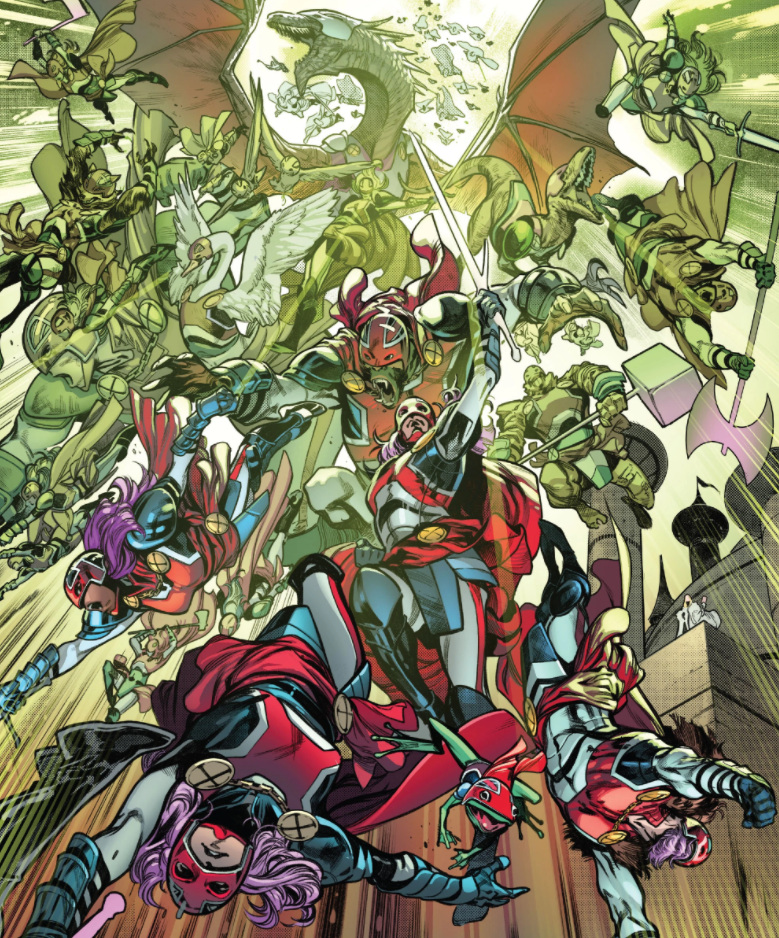 Appropriately enough, they're all subject to a strict moral code that neither Merlyn nor his two successors feel compelled to adhere to themselves.
B. The Family Braddock
Not only was James Braddock Senior the Earth-616 Captain Britain before his son Brian he was also native to Otherworld; he was a Corps member before Earth-616 became his adopted home, where he pretended to be from among the landed gentry and purchased what would become Braddock Manor. (This property would eventually become Braddock Academy under Brian and his wife Meggan's care.)
And yet: Ben Raab's 2000 X-Men: Hellfire Club #4 established James Sr.'s father as a British-born member of the Hellfire Club. Years later, James Sr. himself joined its Inner Circle, which Brian eventually inherited (Excalibur #96, 1996). But maybe the eldest Braddock here is just native to Earth-616 but not the others?
In his first appearance and until Alan Moore's later work, Brian seemed to have inherited his role as Captain Britain by random violent chance (Claremont's Captain Britain #1, 1976). (We'll look at Betsy shortly, and then Jamie.)
Thus the initially very modest title transformed in time into an elaborately embroidered but self-contained mythos within the larger Marvel universe.
We'll look at Brian's siblings Betsy and Jamie separately (one this time, the other next week).
C. The Sword Is Drawn—Miracle Team of the Halcyon Days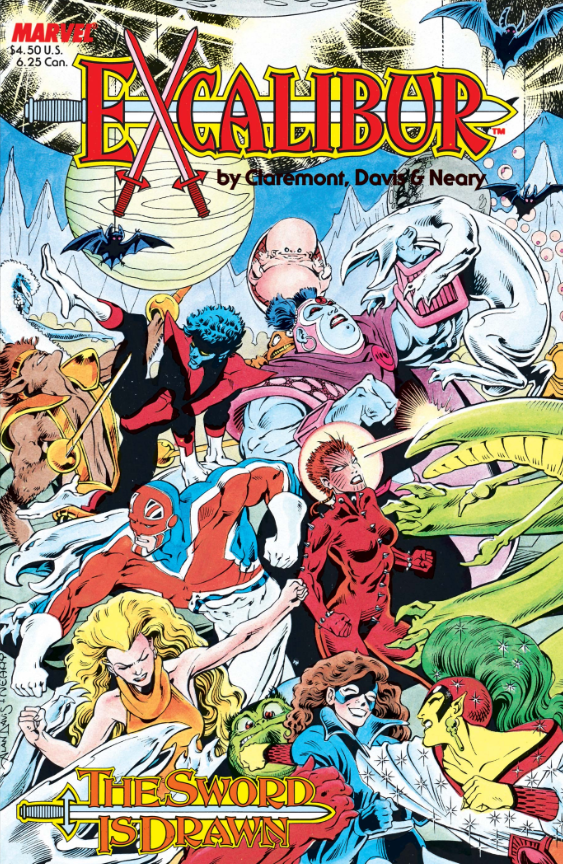 [Excalibur Special Edition (1988), art by Alan Davis, Paul Neary, Glynis Oliver]
The Excalibur team came together in the double-sized Excalibur Special Edition, "The Sword Is Drawn," with gorgeous pencils by Alan Davis in one of his earliest publications for the US market. Of course, he was already well established in the UK as the long-running artist for Captain Britain's adventures. Meanwhile, Claremont had created and written the earliest Captain Britain series in the '70s, but Thorpe and Moore had completely altered the character and his venue through darkly satirical stories much more reflective of the contemporary Thatcherite Britain these creators actually lived in. But Claremont was perfectly happy to re-inherit the revised Captain Britain mythos, starting six months after the cancelation of Brian's UK title with New Mutants Annual #2 (1986), where his sister Betsy is introduced as Psylocke—the first link connecting the Braddocks to the X universe (see below). In 1988, after the X event "Fall of the Mutants," preliminaries had been well enough established for the X franchise's newest and very oddball series.
If successor titles like New Mutants and even O5 nostalgia trips like X-Factor were inevitable following Uncanny's spectacular popularity, no one could have predicted a title like Excalibur, not even its creators—until they realized the opportunity. And how astounding it must have been! The title's early surprise success assuring a much-beloved decade-long series is even more impressive in retrospect: no other super-team after the Bronze Age (ending by the mid-'80s) and before the current cinema-driven era developed anything like the devoted fan following enjoyed by this odd collection of misfits.
Okay—to qualify: Excalibur's cult fan following was for the most part a loyal base that stayed with the team from launch. Undoubtedly, the X-Force franchise has proven more commercially popular, but that outfit has primarily retained only tonal and thematic consistency, darkening predictably over time.
Why was this team so odd and unlikely? When you consider the circumstances, it's hard to avoid concluding that this quirky cult success story was indicative of how expansive, nay, how infinitely adaptable the X-franchise had become as shaped by Claremont's experimental but increasingly self-referential vision.
In 1986's "Mutant Massacre" crossover, Shadowcat and Nightcrawler sustained serious injuries leaving Kitty in her phase state unless she focused herself solid, and Kurt remained in a coma for months. The X-Men put them both in the care of Moira MacTaggart on Muir Isle. In 1987's "Fall of the Mutants," it appeared to all the world that their teammates had died in combat. Leaving these two rudderless in the UK would prove opportune for new connections and diverse adventures.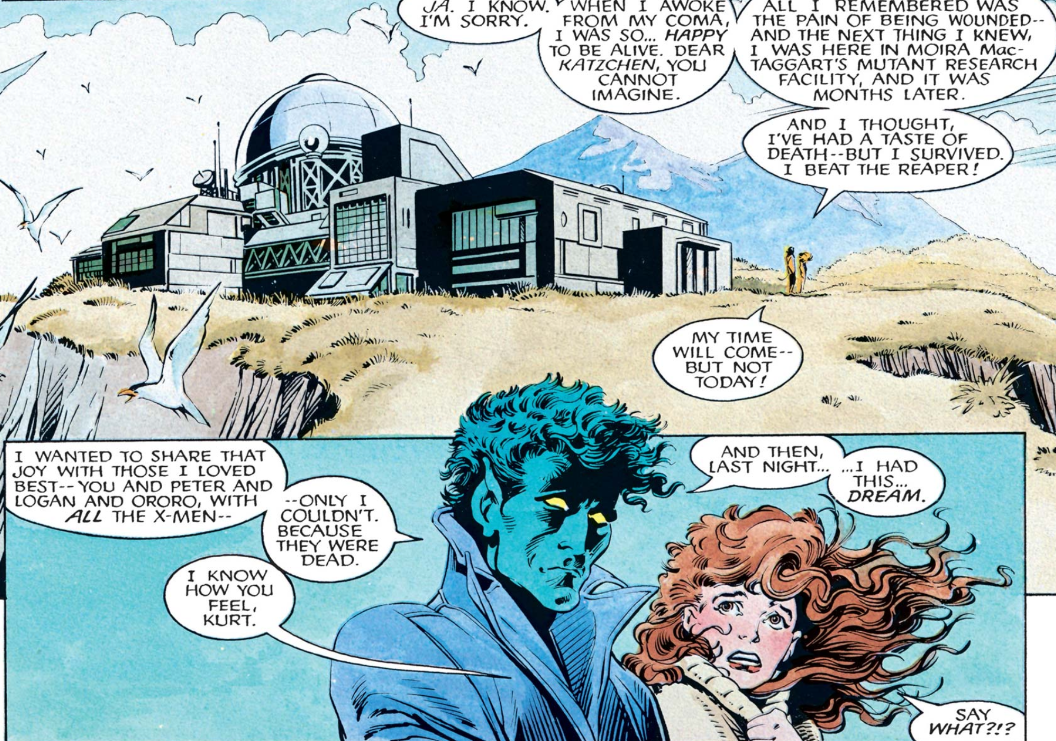 Having faked their deaths, the other X-Men were about to enter into a darker period than before, so it made sense that the two more lighthearted members, Kitty and Kurt, would be left available for a book where Claremont would invest his quirkier sense of humor—with the help of Davis' natural satirical edge.
Meanwhile, Rachel Summers, who'd been mysteriously abducted by the interdimensional teleporter Spiral in Uncanny #209 (just before "Mutant Massacre"), suddenly reappears in the Excalibur Special on the run from Mojo's Warwolves tracking her from the Mojoverse where she'd been held captive for many months. Unfortunately, Rachel's Mojoverse period has never been presented in the comics. The story as planned just didn't get the editorial commitment it needed. Regardless, everything Mojo as envisioned by creator Ann Nocenti is an opportunity for over-the-top satire of our media-saturated era. Naturally, Claremont adapted this for Excalibur's brand of humor.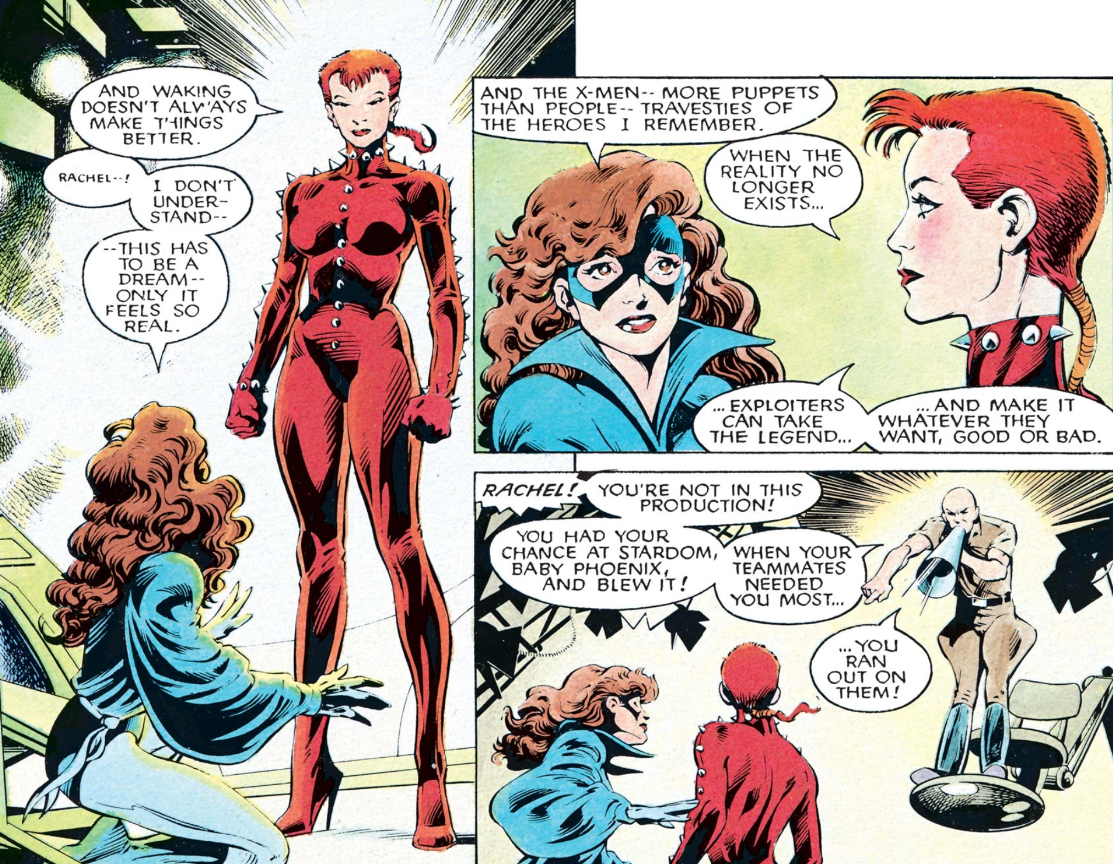 To bring Excalibur's future members together Claremont has Rachel perceived as a cosmic threat* and pursued by Opal Luna Saturnyne, assistant to the current Omniversal Guardian (Merlyn's daughter) and the magistrate overseeing a number of parallel Earths including the 616 (implying that there should be other such magistrates managing diverse realities accessible via Otherworld). With Brian depressed and drinking heavily upon news of Betsy's death, his Otherworld girlfriend Meggan flies from the Lighthouse for Moira's, knowing Kitty and Kurt currently reside there and hoping they can help their dead teammate's brother. Saturnyne's minions arrive simultaneously, looking for the mutants' other supposedly deceased friend.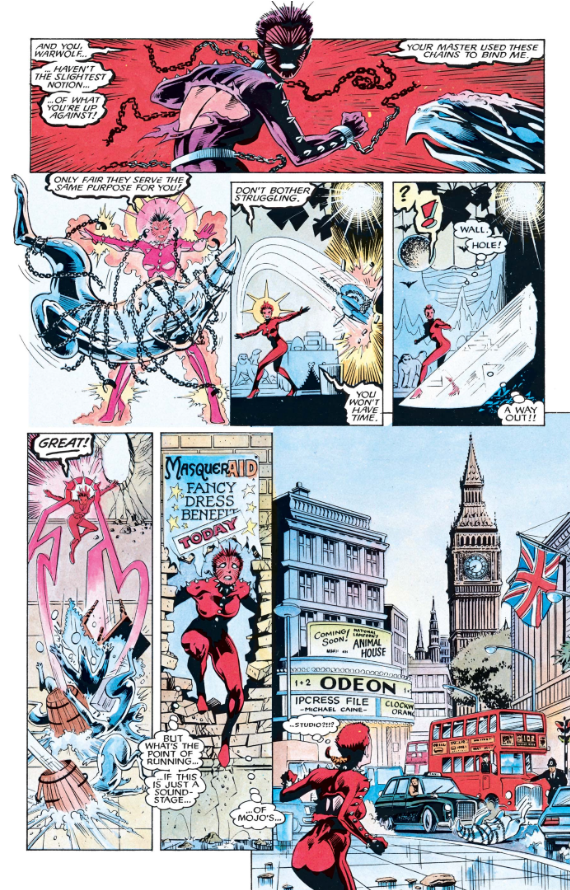 (*In Rachel's native continuity, a Phoenix-bonded Jean Grey gives birth to a baby girl who inherits both Jean's powers and access to the boundless power of the Phoenix—which years later made it natural for Davis to connect Merlyn's mythos with the Phoenix Force's.)
The ensuing series seamlessly meshed elements of Captain Britain's mythos with that of the X-Men. Unfortunately, after Davis abruptly left the book with #67, its quality cratered for over a year, and eventually as sales kept falling, editorial decided Kitty and Kurt needed to get back with the X-Men and so canceled the title.
Fortunately, the recent podcast Oh Gosh, Oh Golly, Oh Wow hosted by three jolly X-obsessed academics (including J. Andrew Deman) is covering one issue of Excalibur at a time, digging into its satirical nature, especially its sexual politics, which motivated the title under Claremont and Davis perhaps more than standard superheroics. Unfortunately, this quirky and at the time edgy aspect is missing from the new series (which is more than anything else is more of a knock on contemporary America's paradoxical prudishness).
II. The New Excalibur (as above, so below)
Forget Claremont's Excalibur titles time-capsuled in the aughts, the Krakoan revamp is still closer in spirit to the Claremont original.
A. The Forgotten Warrior Princess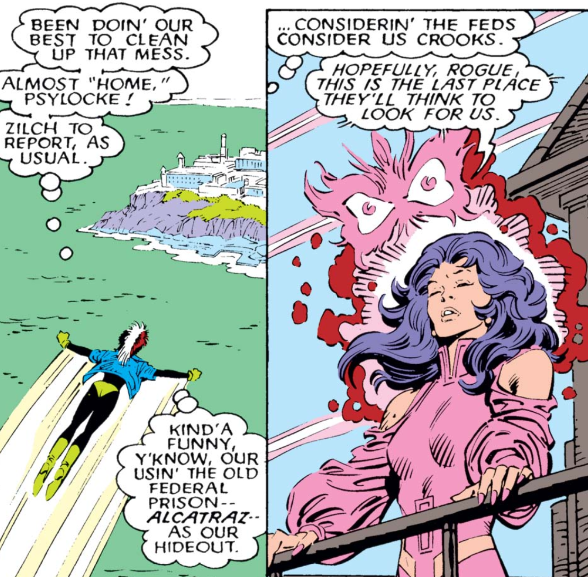 [Uncanny X-Men #223 (1987), art by Marc Silvestri, Dan Green, Glynis Oliver;
Rogue and Betsy along with Storm and Dazzler were prominent leading ladies in this era]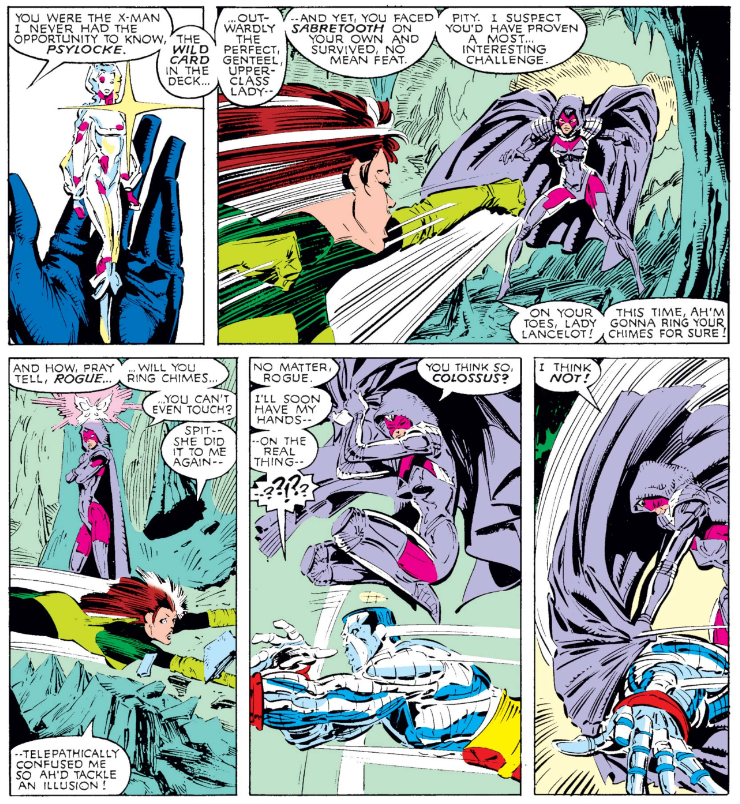 [Uncanny X-Men #239 (1988), art by Marc Silvestri, Dan Green, Glynis Oliver;
Sinister muses on Betsy from afar]
Initially debuting as merely Brian's pretty twin sister, Betsy returned after a six-year gap for Moore's run, working now as an agent of S.T.R.I.K.E. (the UK's S.H.I.E.L.D. analogue), utilizing her telepathic powers (inexplicably awakened) for their Psi Division where at least four of her nine colleagues were also mutants, one of them her lover. Immediately on the run from an inside hit job as soon as she reappears, Betsy was soon embroiled in her brother's conflict with Omega-level reality-warper Jim Jaspers, leading to her captivity in a British concentration camp for metahumans and their allies in Jaspers' warped reality. After this trauma came others, and for a short time Betsy donned the guise of an alt-Earth "Captain UK" while her brother was furloughed. Her brief tenure as Captain Britain ended when her old S.T.R.I.K.E. enemies blinded her. Thus ended her Moore and Davis period.
Traumatized all over again, Betsy was kidnapped from her posh convalescence by Mojo's servant Spiral, who surgically implanted Betsy with new eyes—cameras unbeknownst to Betsy, recording for the pleasure of Mojoverse's perverse audiences. But Mojo had also made her his puppet and renamed her Psylocke for Wildways, one of his sadistic TV shows, this one seeing Psylocke kidnap children to turn into his puppets as well.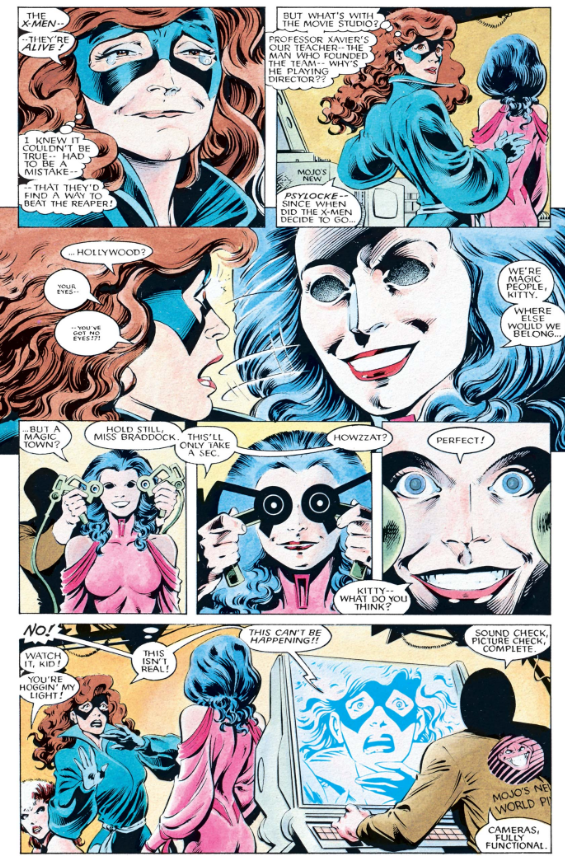 [Excalibur Special Edition (1988), art by Alan Davis, Paul Neary, Glynis Oliver]
Thus, she ran afoul of the New Mutants—who rescued her from Mojoverse. (See New Mutants Annual #2.) But Betsy stayed on at Xavier's to become an X-Man—memorably holding her own against Sabretooth during the "Mutant Massacre" (Uncanny #213, where she joins up).
Undoubtedly, Psylocke was an exceptionally hard-edged hero compared to other X-Men at the time—putting her in company with Wolverine and Rogue, both increasingly popular characters.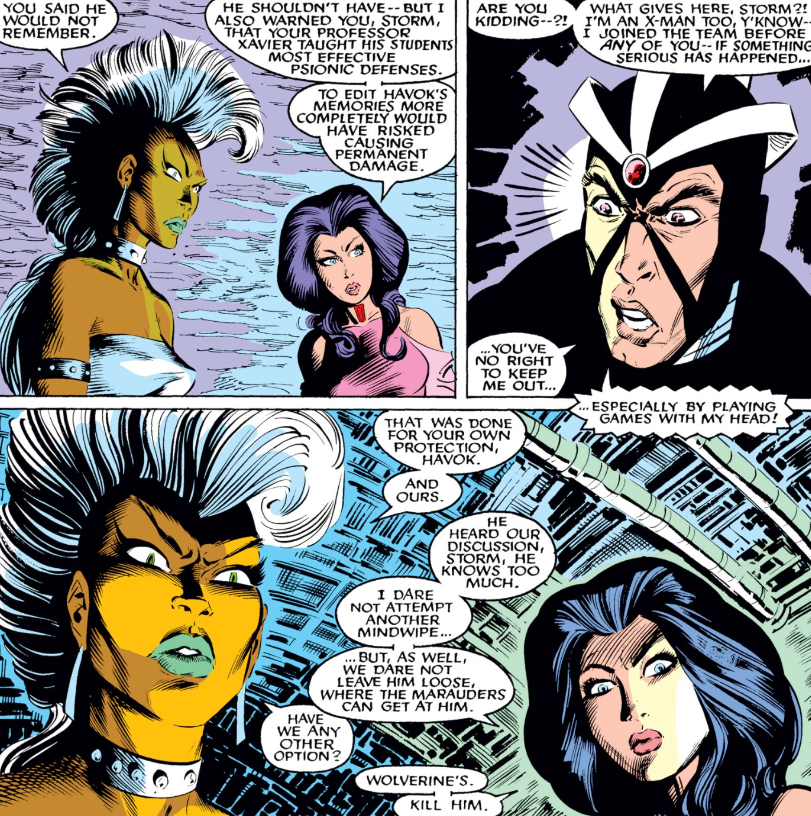 [Uncanny X-Men #219 (1987), art by Bret Blevins, Dan Green, Glynis Oliver]
After faking their deaths in "Fall of the Mutants" (they were actually resurrected by Merlyn's daughter Roma!), the X-Men hid out in the Australian Outback for two years, left there with a mute mutant teleporter (Gateway) and Roma's gift of a mystical portal. Anyone stepping through the Siege Perilous would be transported to the life they secretly desired—or deserved (given those repressed desires or urges); however, in Betsy's case, this proved a boon to her future X-audience popularity but also a disaster to her integrity—literally. (See Uncanny #250-251.)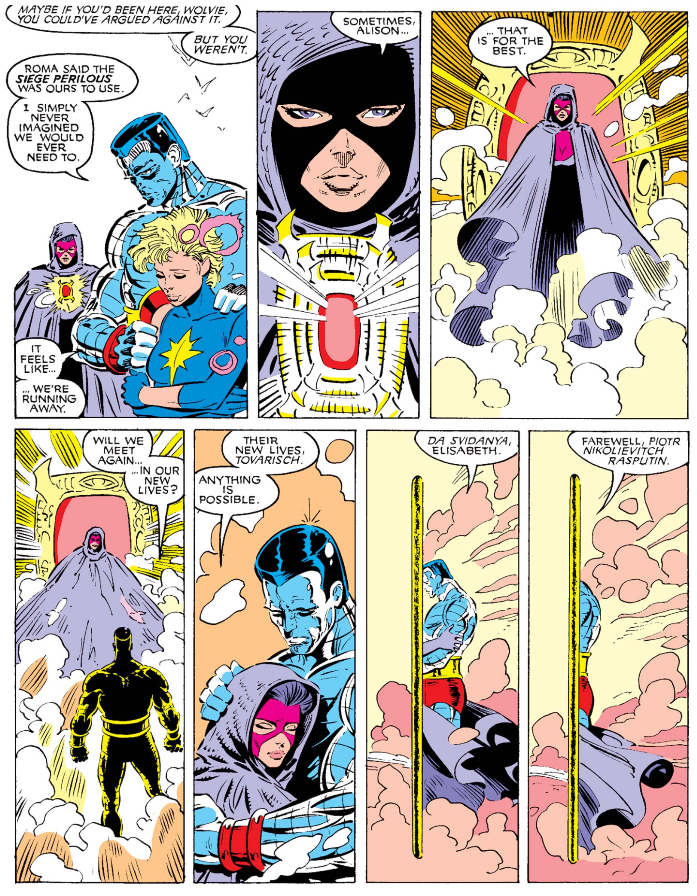 [Uncanny X-Men #251 (1989), art by Marc Silvestri, Dan Green, Glynis Oliver]
Reemerging in Southeast Asia as an amnesiac, Betsy was discovered by Hand assassins and taken before their local higher-up Matsu'o Tsurayaba, who recognized her as the presumably dead X-Man. He had recently mortally wounded his longtime lover and recent rival working for an enemy crime lord and surmised that he could use the helpless Betsy to save his love. He sought aid from Spiral's Body Shoppe and accepted the cyborg sorceress's diagnosis that Psylocke's telepathy could restore Kwannon's mind, but he remained unaware for some time that Spiral instead swapped their minds and rewrote their genes, memories, and personalities to make the two virtually indistinguishable (including making Betsy's body ambiguously Asian—I guess?! This is where things get really messy, for Betsy, Kwannon, and fandom).
Why would Spiral do this? Don't forget: Mojo and Spiral could still spy on Betsy through her artificial eyes, which even then nobody else on Earth knew about—three years after the fact. Presumably, Spiral thought revamping their unwitting ratings boon (Betsy/Psylocke) would help spice up their Mojoverse programming (or something? Since in Claremont's original story, Betsy was 'merely' transformed into an Asian woman and not body swapped, and Claremont had intended this transformation to be temporary, the whole thing could've been meant to be some kind of satire on contemporary action movies. But intention didn't survive execution.)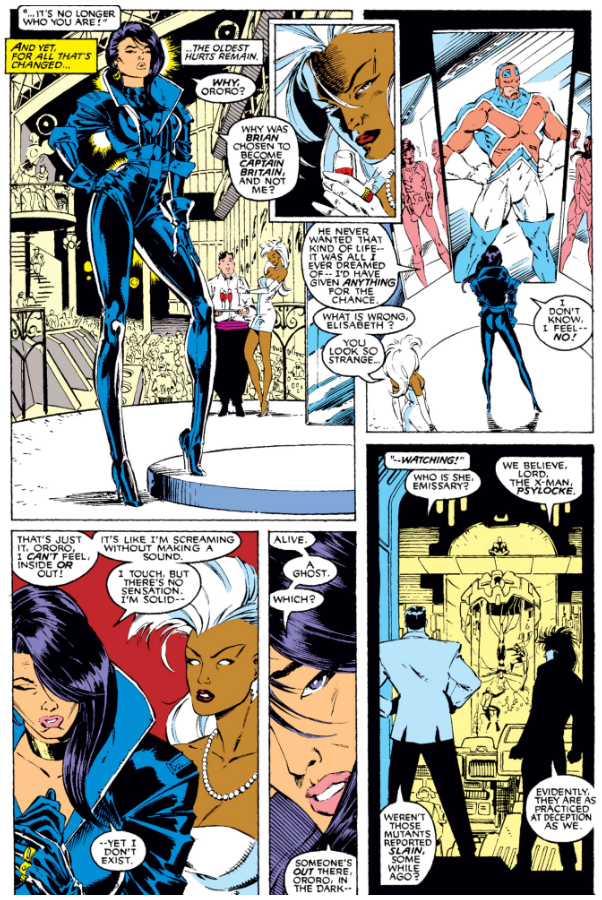 [Uncanny X-Men #256 (1989), art by Jim Lee, Scott Williams, Glynis Oliver]
To summarize what happens here, we have to mash together the original events in Uncanny #255-258 (1989) and Fabian Nicieza's later (serendipitous) misinterpretation in X-Men vol2 #17-32 (1993-1994)—borne out of Nicieza not having access to at least one of the above Uncanny issues. Oh, how the world turns on such little mistakes! 😉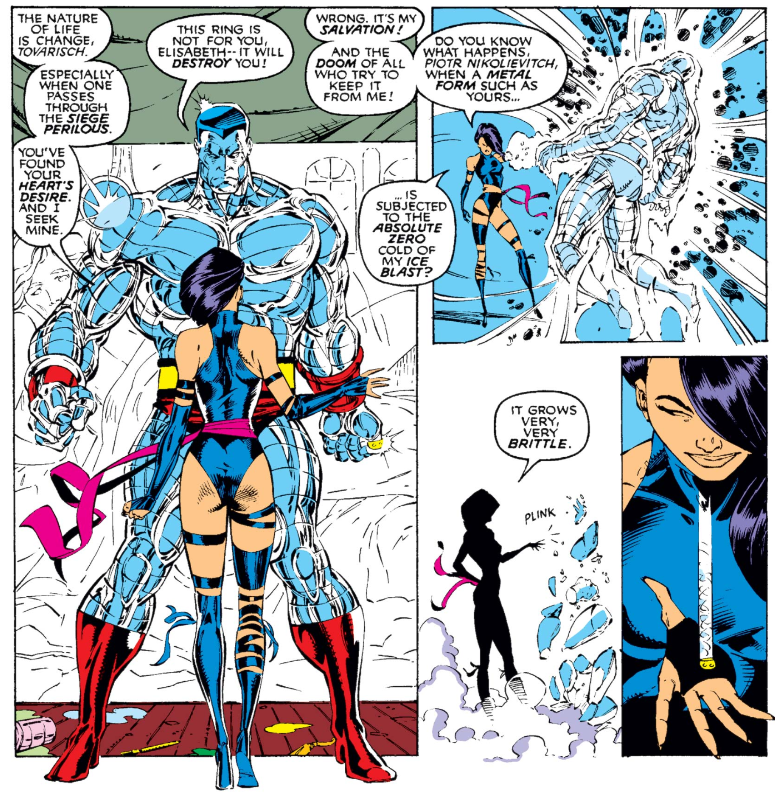 We'll leave off here with Betsy and Kwannon for now in the interests of space and sanity—returning to this next week.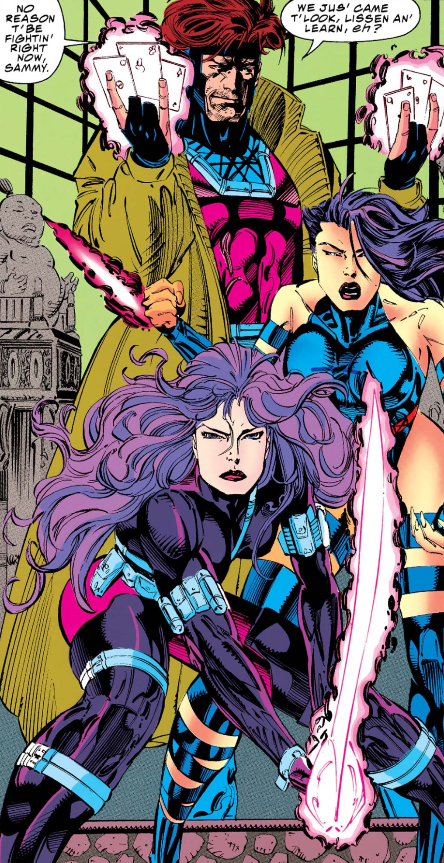 [X-Men vol2 #22, art by Andy Kubert, Mark Pennington, Joe Rosas]
Meantime—since there's so much else to dig into with this rich but problematic character, you can start getting into it with the Cerebro podcast's very first episode, featuring current Excalibur scribe Tini Howard.
B. Richter
We'll get to Julio Rictor with Excalibur #3, but I'll say here that he's the new team's most essential member after Betsy/Captain Britain. (Meanwhile, check out Cerebro's excellent recent episode on him.)
C. Jubilee & Shogo
Before Krakoa, Jubilee was cured of her vampirism by Quentin Quire—of all people. She and Chamber had also started dating, but that relationship seems to have been completely dropped in the new era. Initially debuting as a California mall rat, she's an odd choice for Excalibur, but maybe that's the point? However, while the first X-Man Jubilation Lee met was Logan—in the Outback, where she nursed him back to health after severe torture at the Reavers' cybernetic hands—the second she encountered was Psylocke when she and Wolverine left Australia and landed themselves in Hong Kong, where a brainwashed assassin had been hired out from the Hand to manage the Mandarin's new territory… (Uncanny #256-258.) Also, Jubilee's adopted human baby boy Shogo will prove useful as—bizarrely—a dragon when in Otherworld.
D. Power Couple
Having Rogue and Gambit in this title and not really fitting in is to me its only real stumbling block, but it is significant—though understandable. Stepping back, we might wonder where else these beloved veterans might've been placed (and yes, it's Rogue who justifiably gets far more love). There was also just no one equal to their popularity not needed elsewhere. It'll be interesting to see how Remy fares with Rogue leaving in 2021—thankfully—to join the X-Men, where she can really rock the house.
(To riff off Xavier: It wasn't perfect, but it was a start, and still a good one.)
E. Apocalypse

and the Coven Akkaba
Never before has

expressed an interest in the study of magic. However, it does make sense even without an explanation from Tini Howard, given how old this ancient mutant is, his range of experiences, his origin in Ancient Egypt, and his familiarity with so many different types of technology. After all, sorcery was seen—or is seen, in modern fantasy—as a rule-bound technique or techne (Greek for "craft" or "art")—the origin of the term "technology." This is clearly why the terms "mutant technology" and "mutant magic" appear to be used interchangeably in the Krakoa era (the former primarily in S.W.O.R.D., the latter in Excalibur, while the similar notion of mutant "power circuits" can be seen throughout the team books).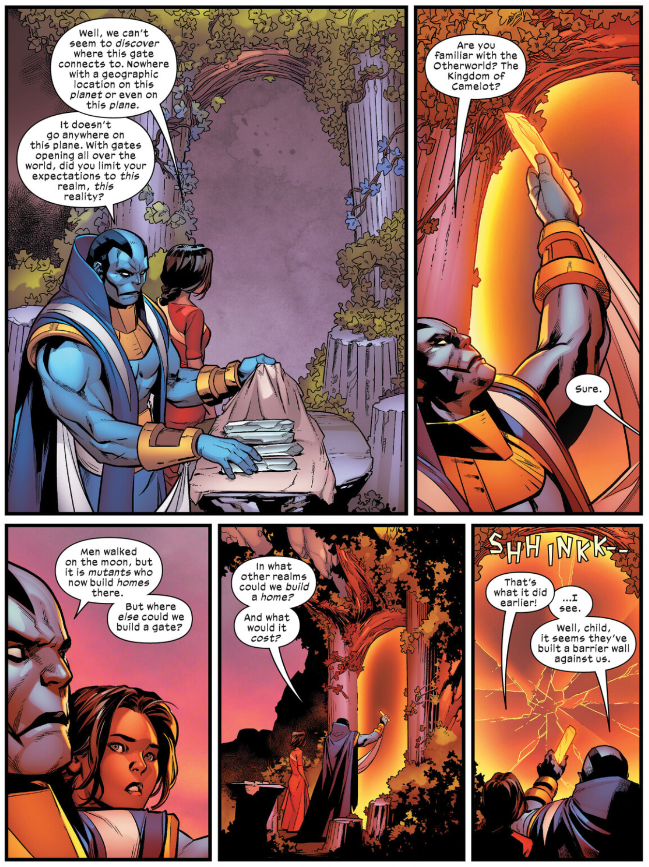 The Grove of Theoretical Gates is also an interesting notion, but we haven't seen much of it to date, and I'm not sure it's been revealed where the other portals there lead to. The ancient columns covered in vines are an appropriate touch—bringing a sense of slowly decaying ruins out of deep time, an Ozymandias feel (recalling both the Shelley poem and Apocalypse's erstwhile servant).
Did Apocalypse design the place? Did he make a request to Krakoa for it? Did the island itself create it without any input? None of this has been answered so far—but hopefully, we'll get something about this before the Krakoa era ends, along with the rest of the critical happenings that must've occurred before House of X.
We also have no idea where Apocalypse's magic crystal shards come from—but gee-wiz, they sure do recall the data crystal Logan plunges into Moira's chest at the end of her ninth life, as seen in POX 3…
The antimutant Coven Akkaba appears for the first time in this issue, but we'll see that they claim descent from the humans who lived in Akkaba in Ancient Egypt. This is in deliberate antagonistic contrast to those belonging to Clan Akkaba—descendants of Apocalypse.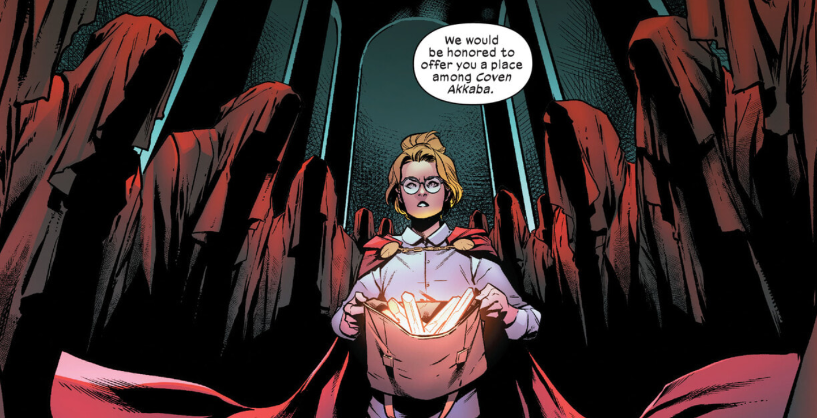 Next time: Further Background on Otherworld, the Omniversal Guardians, Morgan Le Fey, and Jamie Braddock; Slicing the Gordian Knot of Betsy and Kwannon (or trying to!); and Why Camelot Anyway?