A Primer for 2019's New Mutants by Jonathan Hickman (#1-2, 5 & 7)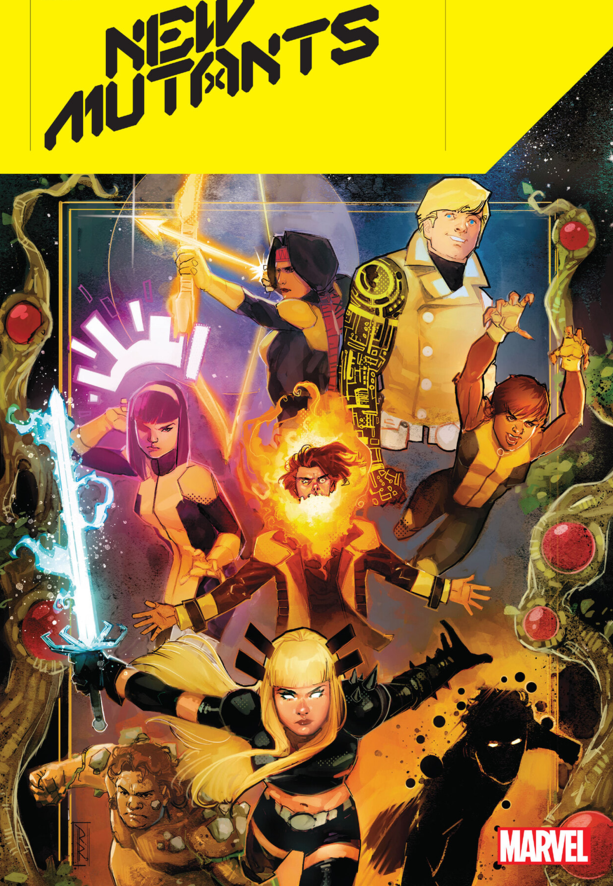 One of the best things about the current New Mutants
series is that Rod Reis has been its semi-regular artist with 10 of 20 issues so far. Another is that this is the first ongoing title featuring the original New Mutants since 2012! Such a crime.
Unfortunately this fourth New Mutants series was hampered early on by the odd sequencing of its first two story arcs, one by Hickman, starring the original New Mutants, the other by Ed Brisson with art by Flaviano, spotlighting a motley crew led by the much later New Mutants addition Boom-Boom (better known from her X-Force days) and Armor from Whedon's Astonishing X-Men.
Related:
Support For Comic Book Herald:
Comic Book Herald is reader-supported. When you buy through links on our site, we may earn a qualifying affiliate commission.
Comic Book Herald's reading orders and guides are also made possible by reader support on Patreon, and generous reader donations.
Any size contribution will help keep CBH alive and full of new comics guides and content. Support CBH on Patreon for exclusive rewards, or Donate here! Thank you for reading!
However, since Vita Ayala took over with issue #14, New Mutants has become one of the top two or three X titles. Under their hands, beloved New Mutants who've generally gotten short shrift for decades have really started to come to the fore, along with younger mutants left out of the spotlight in recent years (or entirely neglected since their creation) promising better and more sustained attention—which future creators will hopefully continue and amplify.
Indeed, New Mutants vol4 #1, written by Hickman and Brisson in collaboration, opens with Wolfsbane and Karma, two OG New Mutants who've needed a serious revamp for years. So, these fans turned creators who also grew up loving these initially teen characters are saying from the start: We know Rhane and Xi'an haven't fared well under various hands for a long time now. This is a promise to change that.
But—never mind. Hickman and Brisson won't be the ones ringing in those changes. We have to wait until Vita Ayala. And the wait is well worth it**!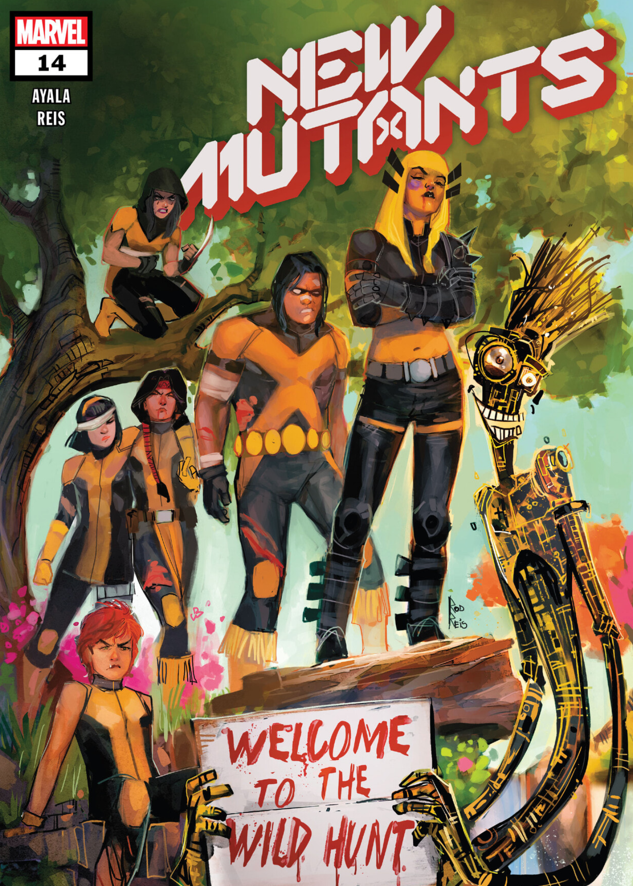 [Ayala's first issue; note the roster change]
Still, the opening scene between Rahne and Xi'an is, on its face at least, a bit of whitewashing—merely to be taken as of a piece with the Krakoan era's policy of a clean slate for all comers. Hickman would've likely complicated things himself if he'd stayed on the title, but Ayala is such a better fit, and twenty issues on, Wolfsbane and Karma will find themselves at loggerheads over long-neglected tensions that need resolving.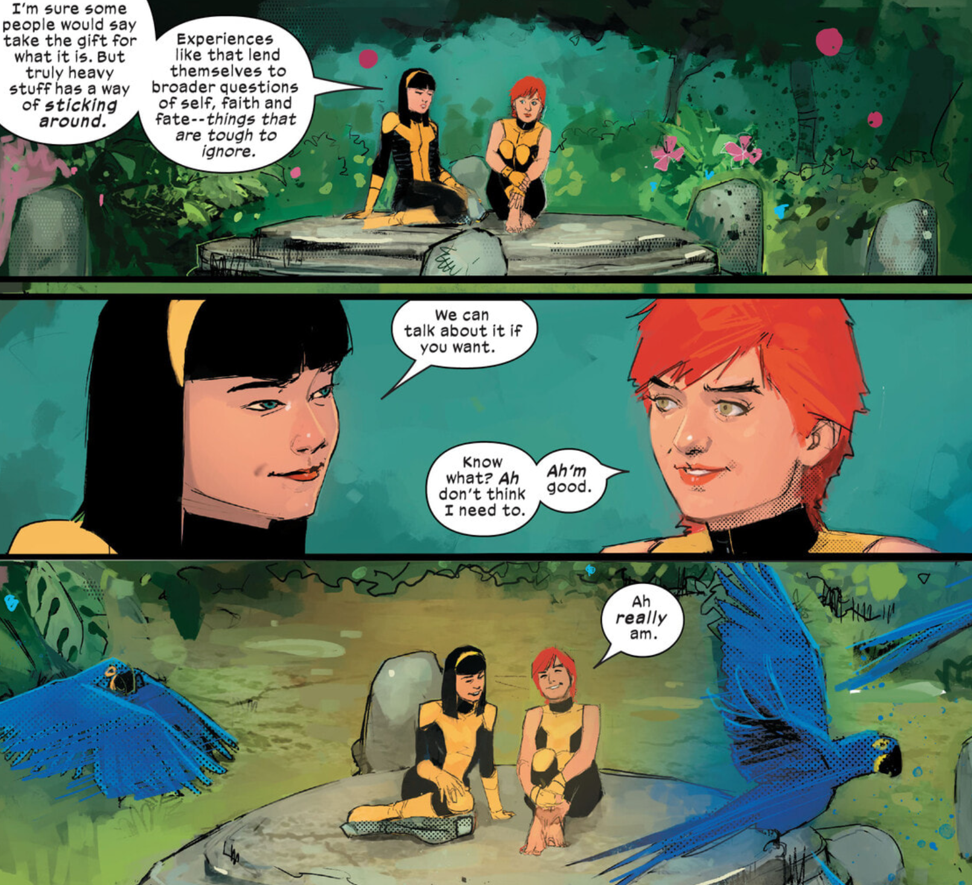 [New Mutants vol4 #1]
Alas, what this title later blossoms into highlights some of the drawbacks of its opening story, most especially the fact that Hickman doesn't juggle team dynamics as well. His focus is on his two favorite New Mutants, Cannonball and Sunspot*, the former requiring that the team journey to Shi'ar space, where Sam's life is happily domestic and free from earthly mutant troubles. It feels like their peers are just along for the ride, and worse, the erstwhile Gen Xers Chamber and Mondo are almost completely out of place, simply there out of Hickman's nostalgic love for them. Still, everyone finds something to do when trouble strikes from within the Imperium itself.
And mutants getting in trouble is what we love—so for starters, let's find out who these troublemakers are!
*What's interesting here is that these two were the least explored and invested in during the Claremont era when the clear favorites were Moonstar and Magik. This is where Rahne and Xi'an come off poorly, neither particularly loved by Claremont nor uninteresting to him—they got all the Claremontian trauma, always operatically reserved for his heroines, but nary a moment of personal triumph, much less self-realization.
** Ayala will also continue Dani Moonstar's development. Depowered after M-Day, Dani wrestled against obscurity, but it was Zeb Wells' excellent 2009-2011 run in New Mutants vol3 #1-21 that brought her back as a serious force even without powers—akin to the power-zapped Storm as the fierce team leader in the 1980s (after Storm's knockdown defeat of Cyclops in their competition for leadership in the classic Uncanny #201). Dani and Sam's own relationship has always paralleled their elders' competitiveness.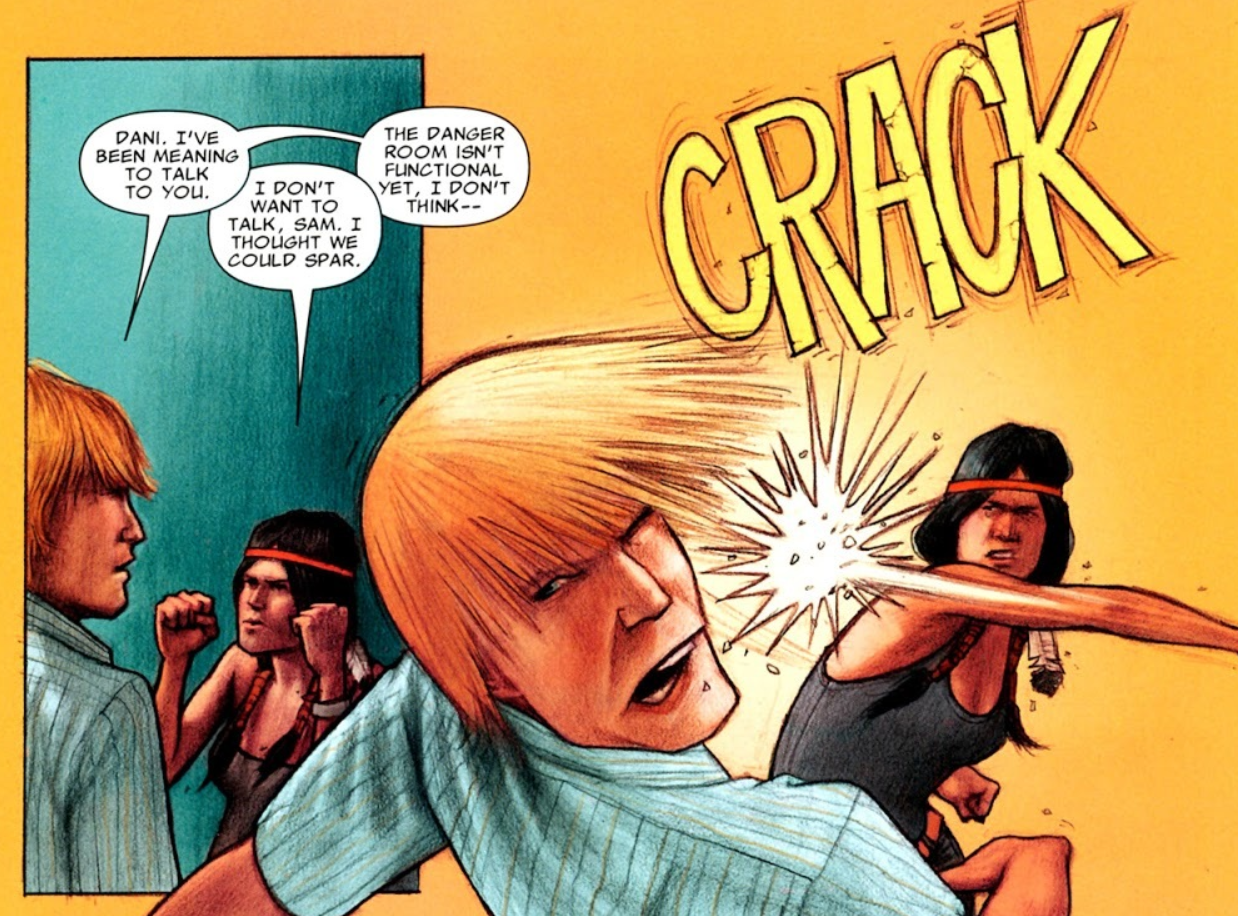 [New Mutants vol3 #5]
I. The O5 New Mutants
In 1982, while the X-Men were off in space battling the Brood—a heartbroken Xavier believing them to be dead—this super-student team debuted in Marvel Graphic Novel #4 (or The New Mutants Graphic Novel as it's listed in Marvel Unlimited). And Hickman surely knows what a neat reversal it is, that in this relaunch it's the New Mutants who're the ones leaving for Shi'ar space with the Starjammers.
Unlike the classic Claremont epic, though, this mission feels strangely contrived. Why, for instance, would the Quiet Council allow the one mutant who can communicate with Krakoa, Doug, to take such a journey? Doug's presence isn't critical to this leisurely "mission." It's also weird Scott's father Corsair didn't swing by the Orchis Forge in the Starjammer with its Shi'ar-grade ordnance and finish off the human supremacists who murdered his son and daughter-in-law. Oh, well. On with the show!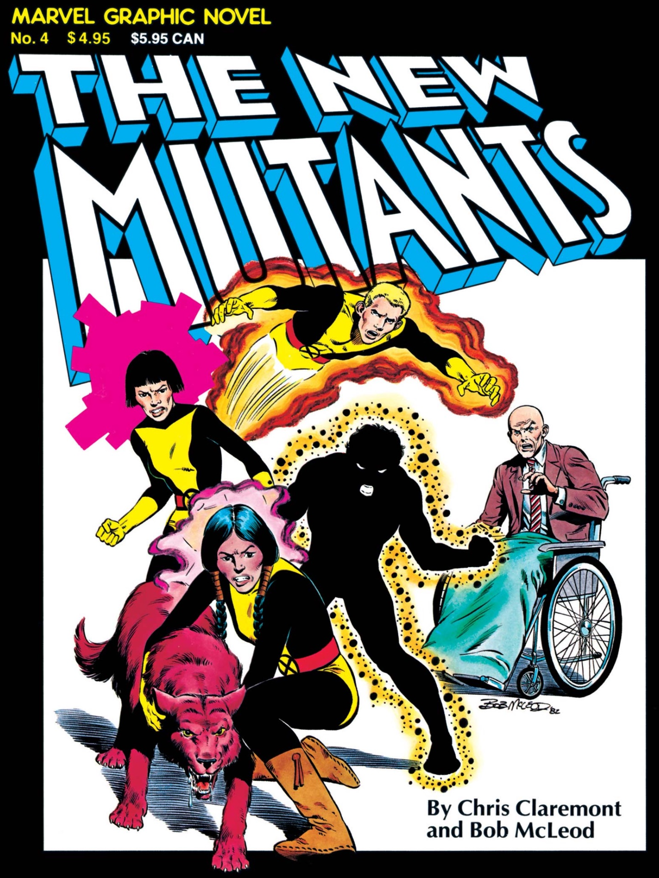 This time, we cover the three ladies of the O5 NM. Next week, we'll look at Roberto and Sam, and briefly, Magik, Mondo, and Chamber.
Why look back closely at the New Mutants' salad days? New Mutants as a title is now inherently nostalgic. Only childhood fans of the original five, or eight really (including Magma, Doug, and Magik), would want to write them as the New Mutants, much less manage to do so successfully.
So much depends here on reading the unspoken past, the ineffable bonds between these young heroes.
A. Karma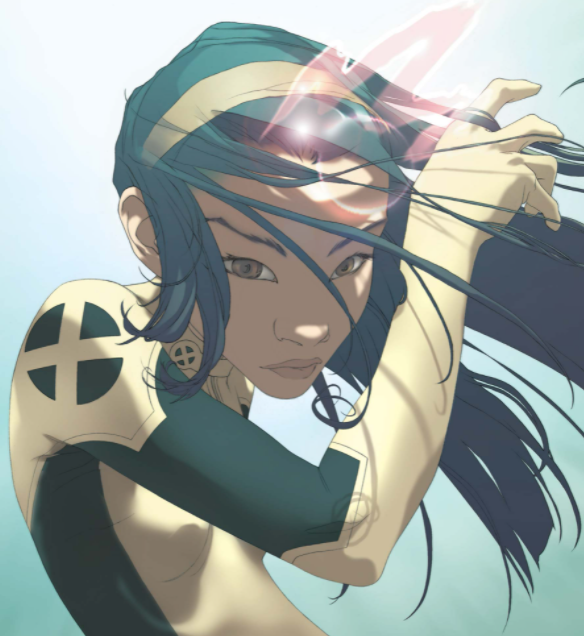 [New Mutants vol2 #4]
While the other New Mutants debuted in the 1982 OGN, South Vietnamese refugee Xi'an Coy Manh appeared first in the 1980 classic Marvel Team-Up #100 by Claremont and Frank Miller (starring Spidey and the FF). She was 19 when Xavier recruited her to his school, making her the eldest among her peers. (Second oldest is Sam, three years younger.) Sadly she's also the one who's been most MIA, disappearing from the title after issue #6 for two full years—the first of Claremont's two worst mistakes, both regarding this character.
Her Vietnam War origin is as essential to Xi'an's character as the Shoah is to Magneto's identity. These are rare examples of such historical specificity being inextricable from a superhero's fundamental backstory. But while Captain America can perpetually be updated to have been thawed out a handful of years ago, Karma and Magneto don't have that out. They'll both be increasingly difficult to not age convincingly—unless, you know, Krakoan Resurrection Forever! (She suffered the loss of her left leg, though, much later in an X-Men battle.)
Like her classmates—except Wolfsbane—Xi'an's power is quite unusual: She's a psionic puppeteer who can commandeer others' minds and thus hijack their bodies, twist their perceptions, edit their memories, and pilfer from them whatever information she finds useful—all while protecting herself and her "puppets" from assault from another psionic.
Except for the above-mentioned publication gap, whenever Xi'an is absent, we can assume she's taking care of her two much younger siblings, twins Leong and Nga (nonmutants). Xi'an's own twin brother, Tran, had the same power as hers but reveled in it with sadistic delight from the beginning—both of them activated when a Viet Cong soldier attacked him. He went on to work as a ruthless enforcer for their corrupt uncle who ran a criminal enterprise behind his front as a respectable businessman and retired general.
But these two war orphans had very different fates as the Viet Cong conquered South Vietnam. Tran was protected by their uncle and escaped to America with him. Thanks to her powers, Xi'an boarded a boat with her parents—whose subsequent deaths at the hands of Thai pirates weighed heavily on the mutant girl, sick with thirst and hunger—and her two much younger siblings. While Tran's talent helped Gen. Nguyen establish his underworld bona fides in the US, ashamed of her brother, Xi'an turned to an old family friend. Father Bowen had already been helping South Vietnamese refugees find a home in the country responsible for South Vietnam's tragedy (gee, that doesn't reflect poorly on our modern apathy, fear, and hatred at all!). With Father Bowen's aid, Xi'an managed to secure housing and a job to care for herself and the twins—who were then kidnapped by her uncle's minions.
Despite her commandeering of Spider-Man's body to save them and then losing control of him, Spidey—whom she in some fairness believed a villain—both Spidey and the FF helped her get back the twins. But during the heat of battle, to save Spidey's life, Xi'an had no choice but to kill Tran, absorbing his psyche into her own—where it/he's remained ever since (referenced as recently as New Mutants vol4 #20).
Afterward—as seen in the New Mutants' debut—grappling with this heroic but painfully regrettable act, Xi'an codenamed herself Karma, keeping in mind the complicated relationship between intention and action and hoping she can outweigh bad outcomes with good. One beneficial outcome of joining the New Mutants was Xavier giving her a secretarial job at the school, allowing her to continue caring for the youngsters. Another was getting to be team leader.
Unfortunately, a mission to rescue Dani led to Xi'an's apparent death, but two years later it was revealed that she'd simply slipped away after falling under the sway of the Shadow King. Xavier suspected the truth from the start, but let the New Mutants believe she'd died to protect their feelings or something. Obviously, this kind of behavior from the kindly professor no longer surprises fans long gone sour on old Chuck.
In the same way that Tran used his mutant power to build his uncle's criminal empire, the Shadow King possessed Xi'an's body to do the same for himself. (Remember Xavier had killed the Shadow King's body in the classic X-Men #115.) Perhaps Claremont wanted Karma to learn a harsh lesson about the dangers inherent in her own talent? As if she needed another one! Instead, the drama of Xi'an's return in issues #29-34 remains as nearly unreadable as the first time I read it thirty years ago.
Why? Because the Shadow King's avarice and gluttony—without any physical consequence to his astral self—led to Xi'an transforming into a grotesquely obese villain. That Claremont's careless fat-shaming here was perfectly acceptable by the standards of the time makes it all the more disappointing given that so many fans admire and are inspired by Claremont in his having been uniquely against the grain and joyously subversive. The worst crime the Shadow King committed while inhabiting Xi'an's body was kidnapping mutants and pitting them against each other to the death in an underworld gladiatorial arena.
Ultimately, however, Xi'an won free of the Shadow King's influence with help from her former teammates. Sadly, though, she sought death to escape dealing with her changed body. And yet her friends once more came to Xi'an's aid, encouraging her to be strong and live another day. But she remained ashamed, anxious about letting her younger siblings—who'd at least had Father Bowen—see her new self. Thus she continued to suffer through suicidal ideations.
However, before returning to Westchester, Storm treated the teen team to a vacation on a Greek isle, where, oddly, the Asgardian Enchantress—in Loki's employ—mistook the New Mutants for the X-Men and kidnapped them to Asgard. But the Enchantress's magics disrupted Magik's attempt at teleporting the group to safety, scattering her compatriots far and wide across that mystic realm—except Xi'an. She ended up, instead, stranded in a desert, lifeless but for a vast, demonic sand-worm and its quarry, a lost child who reminded Karma of her younger siblings. In the process of defending and leading the child out of this hell, she was rewarded with the loss of all the weight she'd gained as the Shadow King's thrall. This lonely ordeal lasted for months of subjective time, but almost everything about it turned out to have been an illusion cast by Queen Karnilla with her Norn Stones. The sole exception? Karma's weight loss (see New Mutants Special Edition, 1985).
Xi'an's publication career simplified thereafter, but much of it remained intermittent, with fans assuming she'd simply go off now and then to take care of the twins and at one point put herself through college, becoming a librarian. She finally returned to Xavier's school to teach the Academy X students in the 2000s. When Rahne, also a teacher at the time, was caught in a sexual affair with one of her students, Elixir, Dani fired her, and Xi'an had to manage Rahne's student squad as well as her own and the dead Northstar's. Always, Karma has been the reserved adult in the room amidst her tempestuous peers.
But from the moment Xi'an met Dani, these two have been thick as thieves, and despite Xi'an's absences, their bond has never frayed. At this point, most fans are waiting for them to finally kiss—it's long overdue!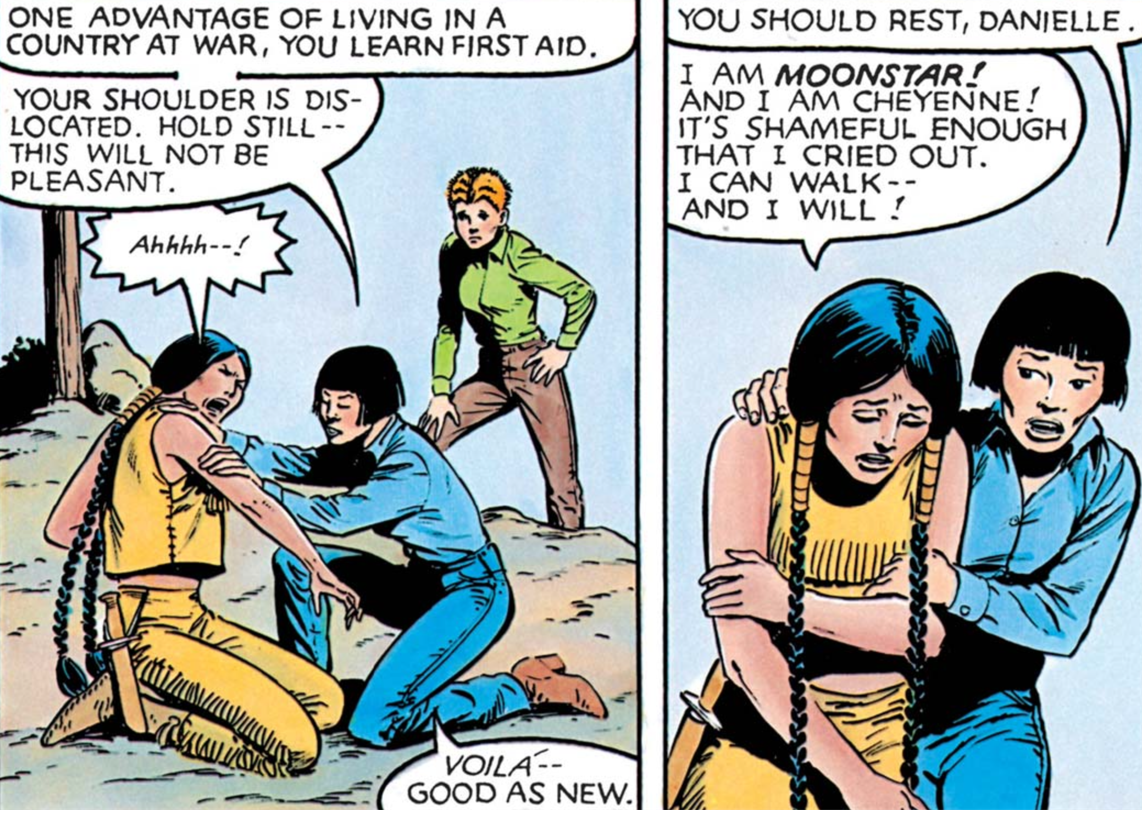 [Marvel Graphic Novel #4 (not saying they should've been kissing all the way back then, given the age gap!)]
B. Wolfsbane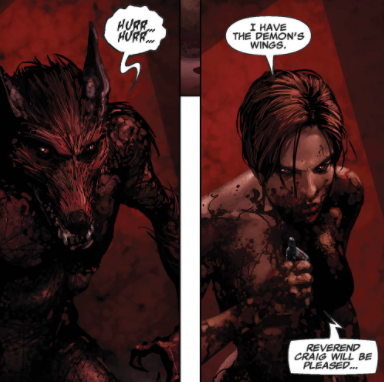 [X-Force vol3 #4]
Rahne Sinclair is such a mess, especially when set next to Xi'an. The youngest New Mutant and six years Xi'an's junior, the Scots orphan has ping-ponged across four decades of publication between fundamentalist-influenced anxiety and repression on the one hand and willful heedlessness and selfishness on the other.
Born in a small Highlands town near Moira MacTaggart's own ancestral home, Rahne was in fact delivered by Dr. MacTaggart, who could do nothing for the mother, a town prostitute got with child by the local priest Reverend Craig. This is fully revealed in 1996's Excalibur #93, but Craig's role had long been established as Rahne's adoptive father, to which the Excalibur story gives a twisted motivation: Never revealing to anyone the fact of his sexual "sin"—and thus his responsibility for the newborn—Craig adopted Rahne in order to give her a harsh fundamentalist upbringing that he believed would absolve himself and prevent the girl from the same "sinfulness" in which her parents had indulged. Needless to say, Rahne's first fourteen years of life were lonely and miserable.
However, in Rahne's debut, we only know of Moira's role in delivering her and then protecting her from Reverend Craig's violent wrath upon witnessing her transition into a wolf, a sure sign he believed of her being a witch under demonic possession. Despite his hot denials, it's clear he and his followers pursued her through the moors that night ready to murder his own daughter. But he and his men wouldn't cross Moira, protected by the prestige of her family name. She took Rahne in and introduced her to Xavier.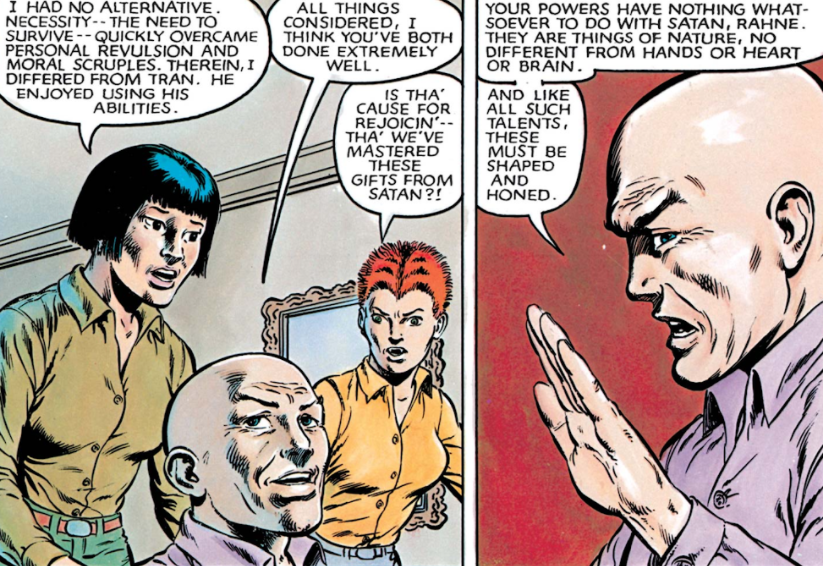 [Marvel Graphic Novel #4]
On the team's first mission, rescuing Xavier from the cyborg Donald Pierce, Rahne healed in wolf form from a punctured lung. She soon discovered another ability of her animal state: Psychic rapport with Dani, given Dani's talent for communicating with animals (yes, Claremont was playing into a racial stereotype, which certainly came out of positive sentiment—just not a very thoughtful one). This provided an opportunity for the older girl to act as a loving sister and quasi-mentor even as the two became best friends.
In my own reading experience, Rahne's adolescence is by far the most melodramatically angsty I've seen. Her natural state seemed to be startlement at anything that could be read as a sign of the devil (so, practically everything?) or curled up and weeping over fears of eternal damnation and loneliness—this last sadly a result of her negative self-involvement and the fact that no one could reach her when she started up with her worries over sin and deviltry.
Every negative thing she's become notorious for since then has worked to alienate her even from readers who're typically empathetic Claremontian fans. But deep trauma is never done with the body and mind, and it's clear that Rahne Sinclair is always reacting from a broken childhood.
And yet in many ways, she's always been the most loyal member of her adopted pack. Sadly, she's the only one of the original five who hasn't formed a close lifelong friendship. Think Dani and Xi'an; Roberto and Sam—Rahne's unrequited first crush. But when Warlock crash-landed from deep space, it was her open empathy and earnest vulnerability that convinced the unexpected visitor to stay with its/his newfound friends. And while Reverend Craig's presence was rare in her life after she left Scotland, his hatred had been as present as her team's lovingness at least until, after being abducted and brainwashed by the antimutant Purifiers, she slew her father—who'd been trying to gun her down for good. This girl is best friends with trauma.
Still! She experienced physical romance before her female peers when Magik's faulty teleportation scattered the team across Asgard, and Rahne met and fell in love with the literal wolf prince Hrimhari. Nothing but a broken heart came of it at the time—but should the lupine prince's royal attention have been seductively fixated on a 14-year old???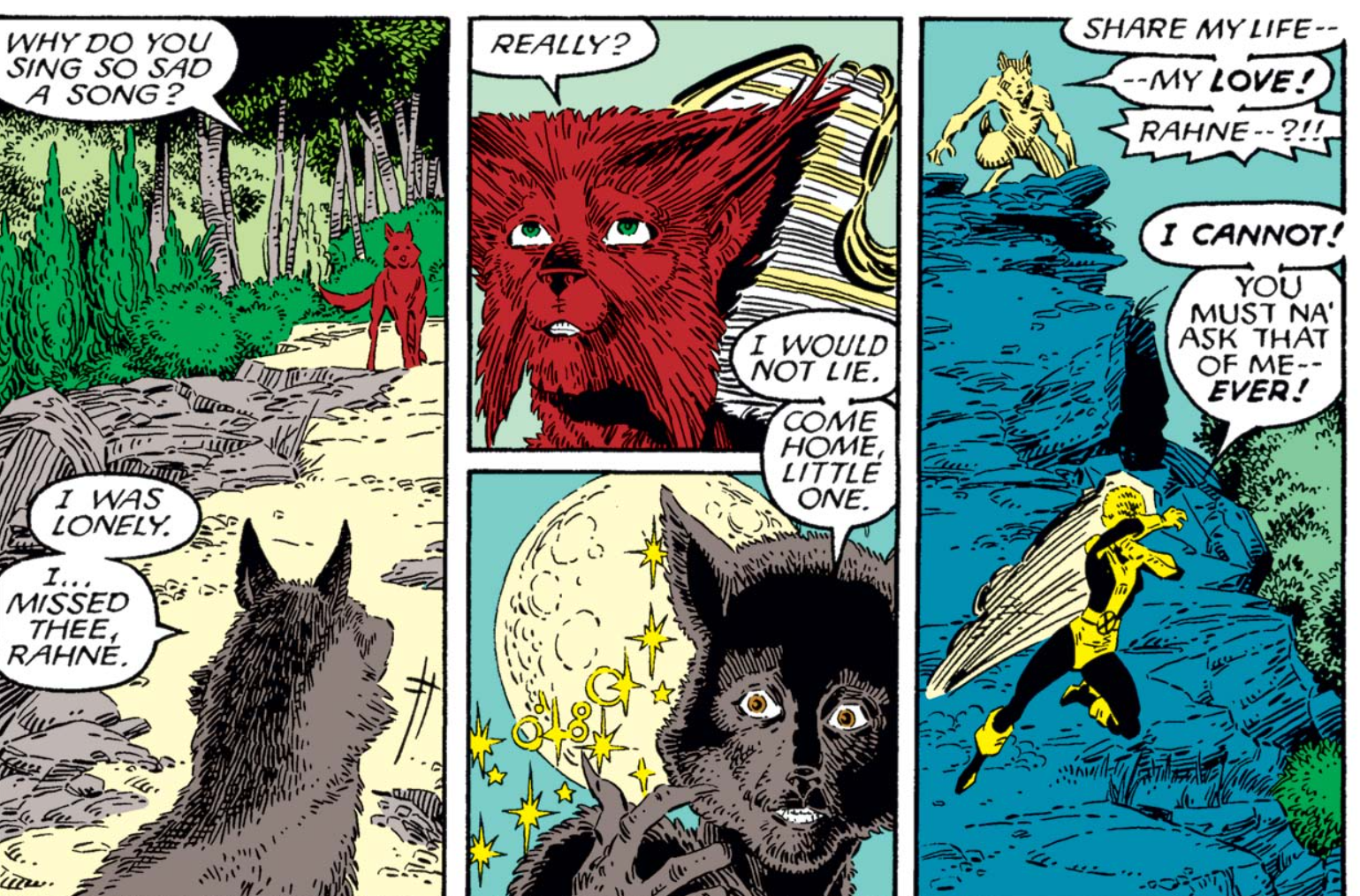 [NM Special Edition again]
Years later, they met a third time. Hrimhari could now transform into a human shape. So they made a baby, or rather a cub—whose unnatural state caused Rahne to start dying. Hello again, trauma! But her mystic love called on the death goddess Hela to trade his life for the recently comatose Elixir's, meaning the healer would rescue Hrimhari's dying beloved in time. In fact, in the process, Elixir gave her a big boost in strength to allow her to carry the Asgardian embryo to term. (This was well after his and Rahne's affair.)
Having the rare distinction of having been a member of every big team in the franchise, including Excalibur, Rahne at the time of her pregnancy left X-Force to return to X-Factor Investigations (she was a member of both the second and third iterations of X-Factor*). Arriving at their HQ, she found her ex-boyfriend Rictor being intimate with Shatterstar and reacted with hateful melodrama and homophobia. Thinking she could "save" Rictor's soul, she convinced him the baby was his. This deception, inevitably, didn't last.
*She was even briefly a member of the first X-Factor's trainee team, the X-Terminators—which was where she met and fell into a relationship with an adolescent Rictor.
Lucky her, Rictor's a great if very broody guy; he not only vowed to help her even after the truth was out, but he assured her his being gay wasn't her doing. What a guy! 😉 (So she has narcissistic tendencies without the self-aggrandizement of an actual narcissist.)
But still no consistent romantic relationships so far—which doesn't make her uncommon in the comics. Even so, let's look at the other two: In New Mutants #55, she hooked up with Doug—who died in issue #60 because the teen team snuck out on a mission woefully unprepared. Her subsequent romance with Rictor didn't last long either, as having kidnapped her, Cameron Hodge, now working for the Genoshan state, turned her into a brainwashed mutate servant—a dog on a leash. Yet changing into her wolf form, her mind and will returned, and her powers were amplified as never before. Hodge's defeat wasn't long in coming.
Rictor was brokenhearted when she decided to stay on Genosha, as she believed it was her place now. Unbeknownst to her and her fellows at the time, this decision and others were later revealed to be influenced heavily by her Genoshan brainwashing, in which she was "linked" as a sub to her master—Havok, or rather "Magistrate Summers," for Alex like his teammates in the Outback had stepped through the portal of the Siege Perilous and embarked upon a new destiny. In Alex's case, waking up to a life on Genosha, serving as an agent of its police state, not remembering who and what he'd been before.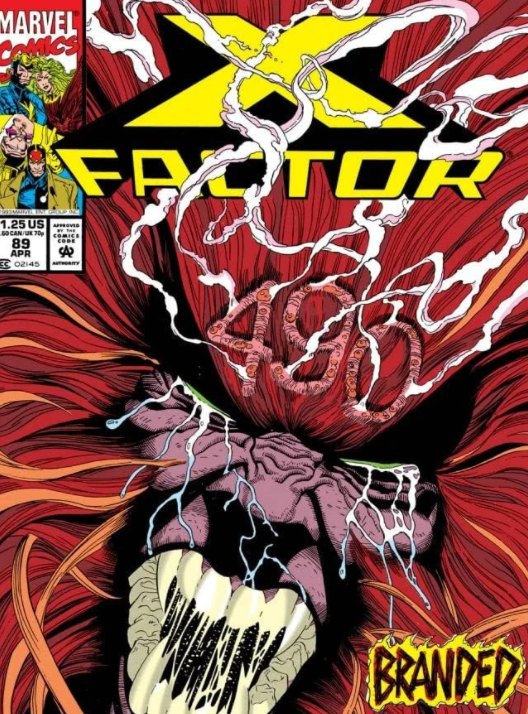 [the story revealing the extent of Rahne's Genoshan trauma]
Next to Rahne, Alex, perpetually falling victim to younger brother syndrome and having his mind warped, comes off looking even-keeled.
Before her resurrection here in the Dawn of X, she was murdered in Central Park by antimutant bigots who initially approached her in her human as a gang of misogynistic thugs. Their aggression triggered her, but thereafter she refused to fight back, having just that day turned her back on the X-Men and her own nature, believing it as ever a dire sin. (Uncanny X-Men vol5 #17, 2019.)
C. Dani Moonstar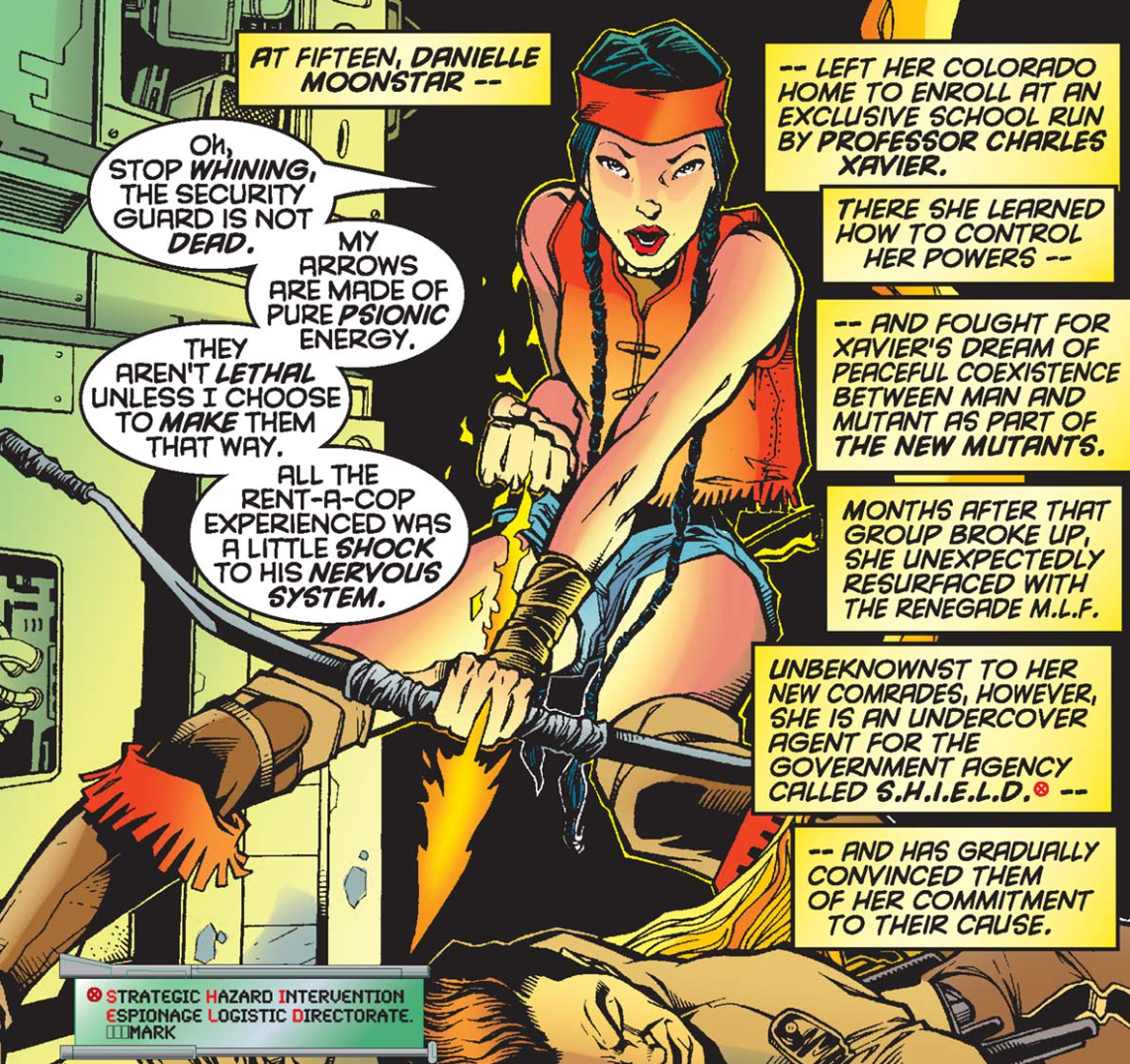 [X-Force #67]
Dani's the only New Mutant whose given name is more immediately recognizable than her codename, Mirage. But it's an apt description of her unique powerset: Casting illusions drawn from the thoughts and emotions of herself or others nearby. Initially, these vivid images were only of objects of fear and terror, so when Xavier accompanied by Xi'an and Rahne came to her family ranch to recruit Dani—while unbeknownst to them she was being hunted by Pierce's minions—she attacked all three new visitors with immersive imagery of a Vietnam battlefield drawn from Xi'an's mind—a traumatic mirage indeed. Also, she could attack several people at once, with each person besieged only by their own private terrors.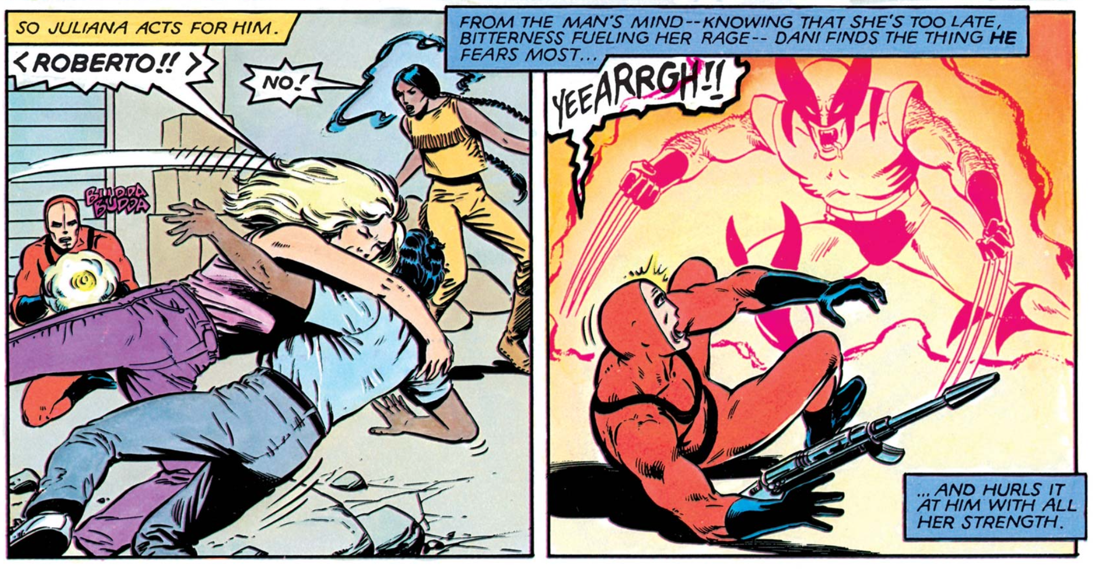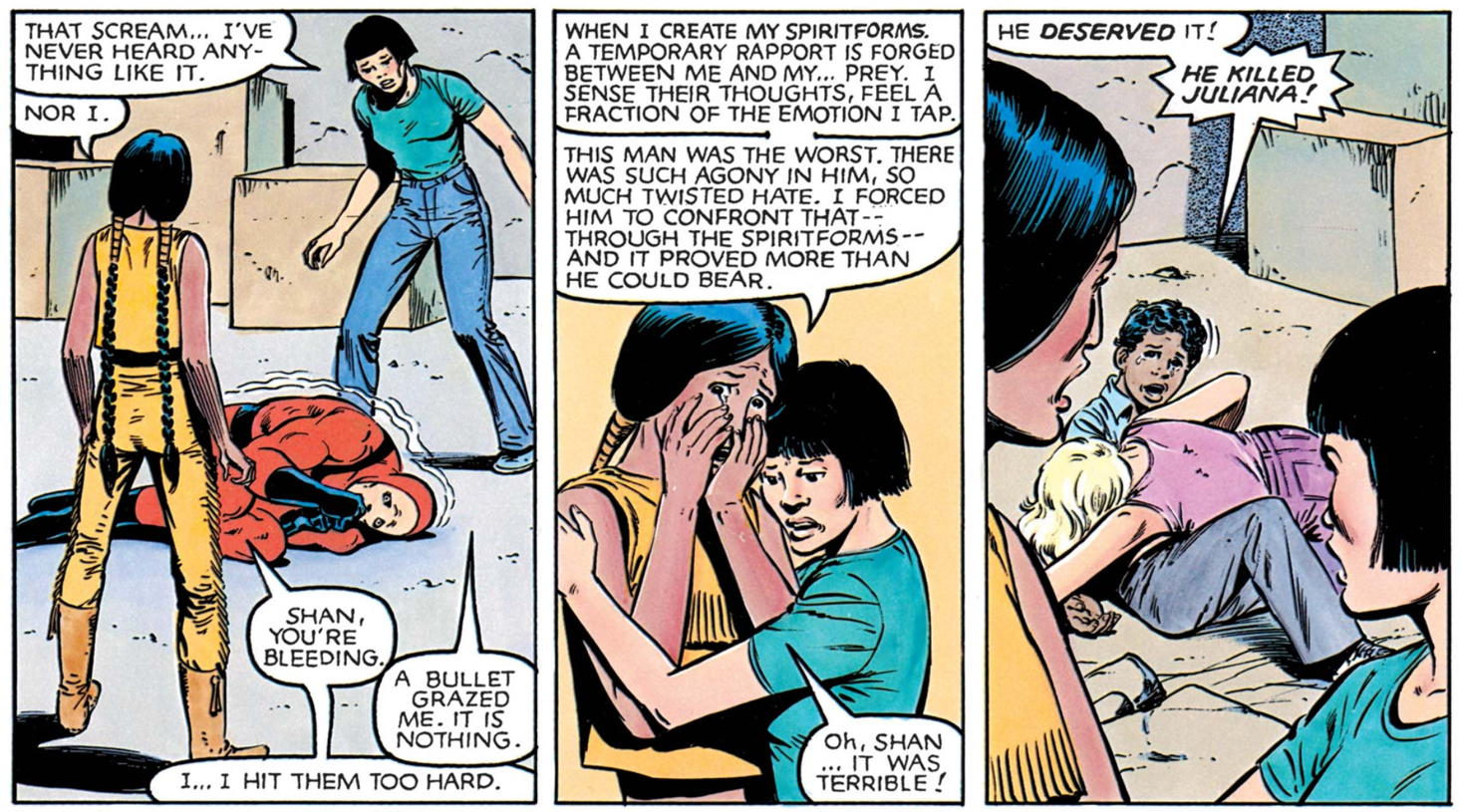 [Marvel Graphic Novel #4]
But she soon learned to cast imagery drawn from the wishfulness and desires of herself and others, conscious and subconscious. Gradually, under Xavier's mentorship, Dani learned to create images drawn from more specific, less emotional thoughts—congruent with her limited talent for telepathy, more akin to subconscious probing than the conscious intent of a true telepath. She was then also able to illusorily alter and disguise her own and others' faces and appearances. This maturation occurs within the first three years of the original New Mutants.
Later, Dani learned to forge her psionic power into energy arrows for use in her lifelong skill as an archer. They disrupt the nervous system of their targets, plunging them into reliving past traumas.
Initially, though, she was something of a limited precog, for the early activation of her X gene resulted first in nightmares about other people's deaths. Dani envisioned her parents dying in the mountains, mauled by a demonic bear, which then came to pass. A few years later, she saw her grandfather's death at the hands of Pierce's minions, her grandfather himself watching this translucent illusion in confusion and fright.
After her parents' deaths, she went to live with her grandfather deeper in the Colorado wilderness, where she healed and immersed herself in her other awakening mutant gift—a psychic, nonlinguistic rapport with animals. Grandfather Black Eagle was himself a respected Cheyenne elder and shaman, and as a precog also, at least while dreaming, he'd already seen in dreams the vision of his death that Dani later manifested hours before the horror was finally perpetrated.
When Xi'an was presumed dead, she and Sam were made team co-leaders in Xi'an's stead. They're both, after all, the next oldest, agemates destined to be the best of platonic friends—despite an awkward romance, blessedly brief, ten years ago now.
However, their rivalry for leadership quickly became intense, and too often Sam both presumed too much and simply seemed unable to acknowledge Dani's accomplishments and seriousness. Too many writers have been guilty of this as well in regard (or lack thereof) to Dani, so I suppose that'd be Sam's meta-excuse.
Still, only in the late 2000s was Dani finally allowed to show how she felt about all this lack of respect when she got to punch Sam full in the face, a satisfying moment. This occurred after she ably proved herself worthy of the team and more despite the loss of her powers on M-Day.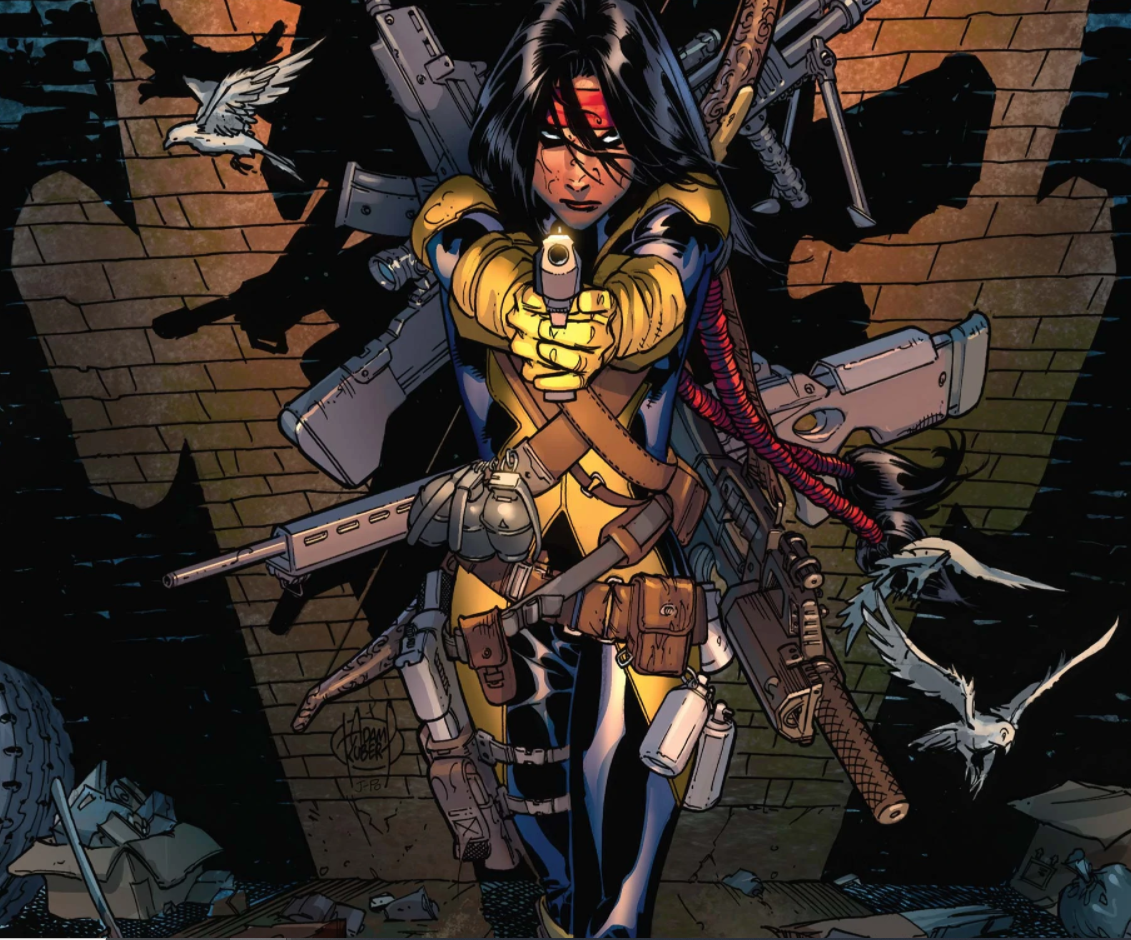 [New Mutants vol3 #3]
The most popular mutant to lose her powers to Wanda Maximoff's curse, Dani Moonstar has always been formidable as a warrior, trained from childhood in wilderness survival, hunting, tracking, knife fighting, hand-to-hand combat, archery, and horseback riding—which came in useful in her time as a Valkyrie (starting with the above-mentioned classic, New Mutants Special Edition. Remember: Valkyries, too, can see others' deaths before they occur, making this unusual destiny surprisingly appropriate).
So, given this stunning array of abilities, was Dani well-served by this Hickman's New Mutants arc? Hell no! This isn't in itself a deal-breaker given the story's focus, but Dani's natural role is as a leader, and it's time she stands free of the shade cast by Beto, Sam, and especially Magik, all of whom post-Claremont writers—except Zeb Wells—favored more since they didn't know how to write a powerful Native American heroine.
Next time, we'll get into Hickman's bigger interest here: Beto and Sam—as well as his other quirky loves Mondo and Chamber, also touching briefly on Magik.
Maybe we can squeeze in a brief sketch, too, of Beto's new surprise paramour—Deathbird…