The Stressor Points of an Unsustainable Paradise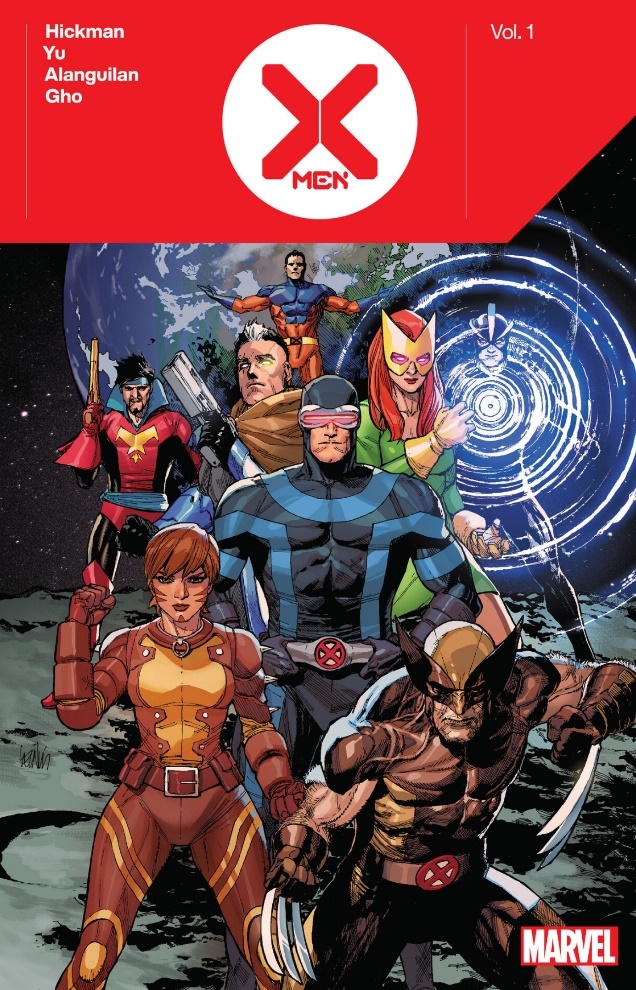 We have arrived at the Dawn of X! After our exhaustive coverage of HOX/POX, it'd be nice to look back with a piece on general takes on the whole maxiseries—even just looking at Hickman's overall patterns of timelines, narratives, and imagery would be interesting. But. We spent a long time on the opening of this new era…
So, for now, let's renew our momentum by diving right into the Dawn of X.
Related:
Support For Comic Book Herald:
Comic Book Herald is reader-supported. When you buy through links on our site, we may earn a qualifying affiliate commission.
Comic Book Herald's reading orders and guides are also made possible by reader support on Patreon, and generous reader donations.
Any size contribution will help keep CBH alive and full of new comics guides and content. Support CBH on Patreon for exclusive rewards, or Donate here! Thank you for reading!
Previously: More in the Hickman X-Men Re-Read!
What's interesting about the cover of this first issue not just of the new X-Men series but the Dawn of X itself is that it's a Summers clan portrait, with Wolverine as the odd duck out. But then we remember that he's part of a throuple with Scott and Jean. And they're clearly on the Moon. Ergo: The Summers probably call that Krakoan outpost we saw there in HOX 3 home.
(However, moving forward, we don't see much Logan/Summers interaction—the consistent connection here being Logan and Jean, where Scott is very much not in the picture. An odd kind of throuple. Meanwhile, Jean's time with Scott is more about being a parental figure for Kid Cable.)
But the biggest surprise here is also, oddly enough, the most distant figure in the image: Vulcan—who's supposed to be dead! (We'll return to this mystery and the family generally in our second entry. Damn these oversized debut issues 😉)
I. An Easily Dismissed But Quite Tricksy Flashback (pgs1-2)
For longtime readers, it's pretty clear by the second panel of this first page from the perspective of someone with their eyes closed—seeing only dim patches of red in the blackness—that this is Xavier encouraging Scott to open his eyes. Scott's trepidation here clues us into the fact that this must be very early on in their shared history. What's so cool about this right away is that Hickman is already subtly calling back to HOX/POX, specifically Xavier's wake-up speech to the world.
And we get a reference in this early-day flashback to Xavier's evolving outlook as seeded by Moira, referring to nonmutant humanity merely and pejoratively as "they"—with quite a bit of justification. But that arrogance has always been a trait of Xavier. It's just that the us/them rhetoric is definitely being more highlighted here.
"But choosing to keep your eyes closed because you're scared? That's what they do."
Arrogance, you say? "I have no small measure of experience in those who are extraordinary." Indeed! Like Moira, who is at this point far more extraordinary than Xavier himself.
On page two, more subtle yet more unsettling, Xavier repeats his request of Scott more emphatically: "Open your eyes." Again subtly, there's no response from Scott here; he just opens his eyes.
Now did Xavier mentally coerce Scott? The ambiguity is deliberately unsettling. (A reminder here too that Scott's vision is monochromatic.) Also, note the Cyclops visor in the top and bottom panels of this page. Funny how spot-on Xavier's foresight is here, given this is one of their earliest interactions. Not surprising, though, considering the Moira revelations of HOX/POX.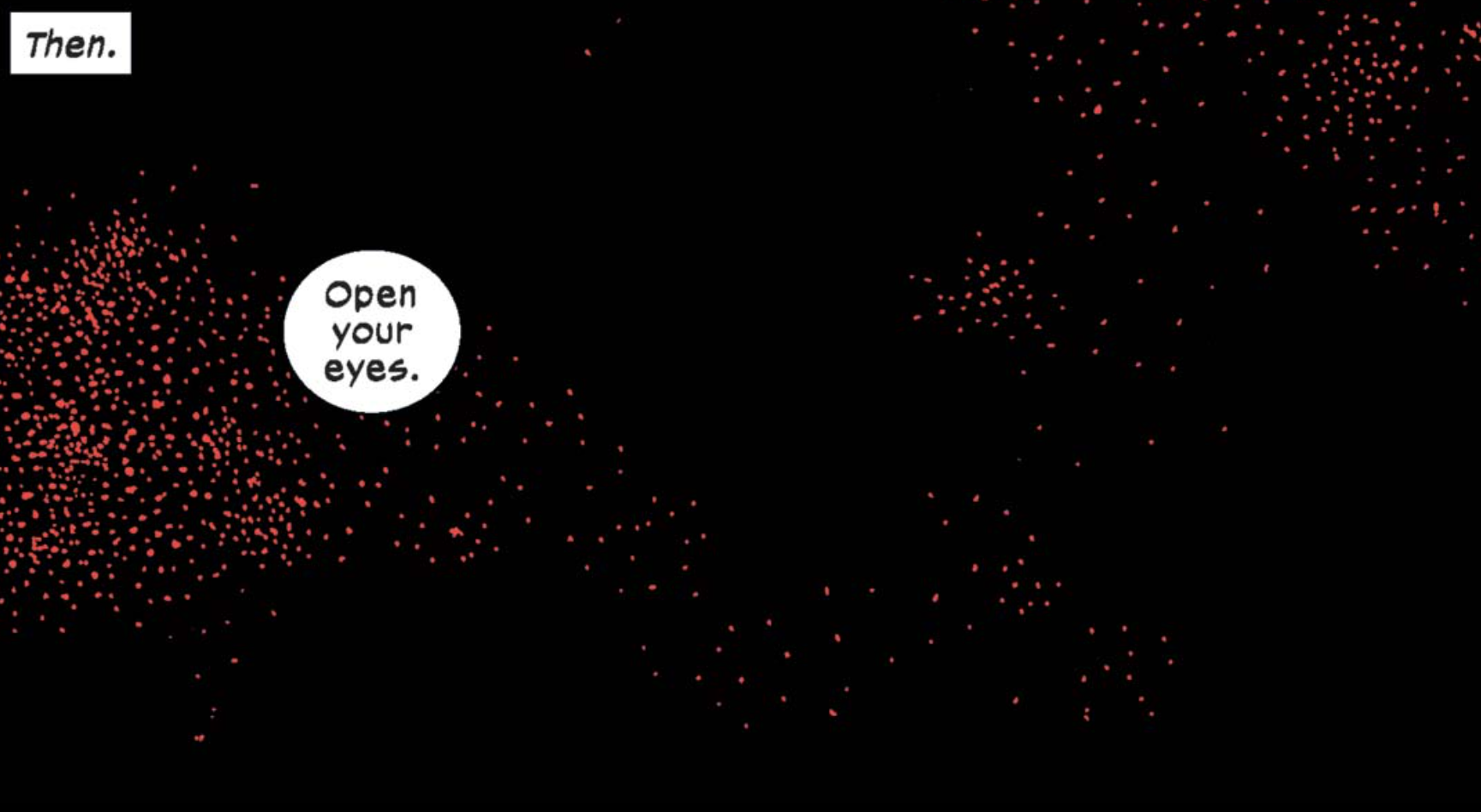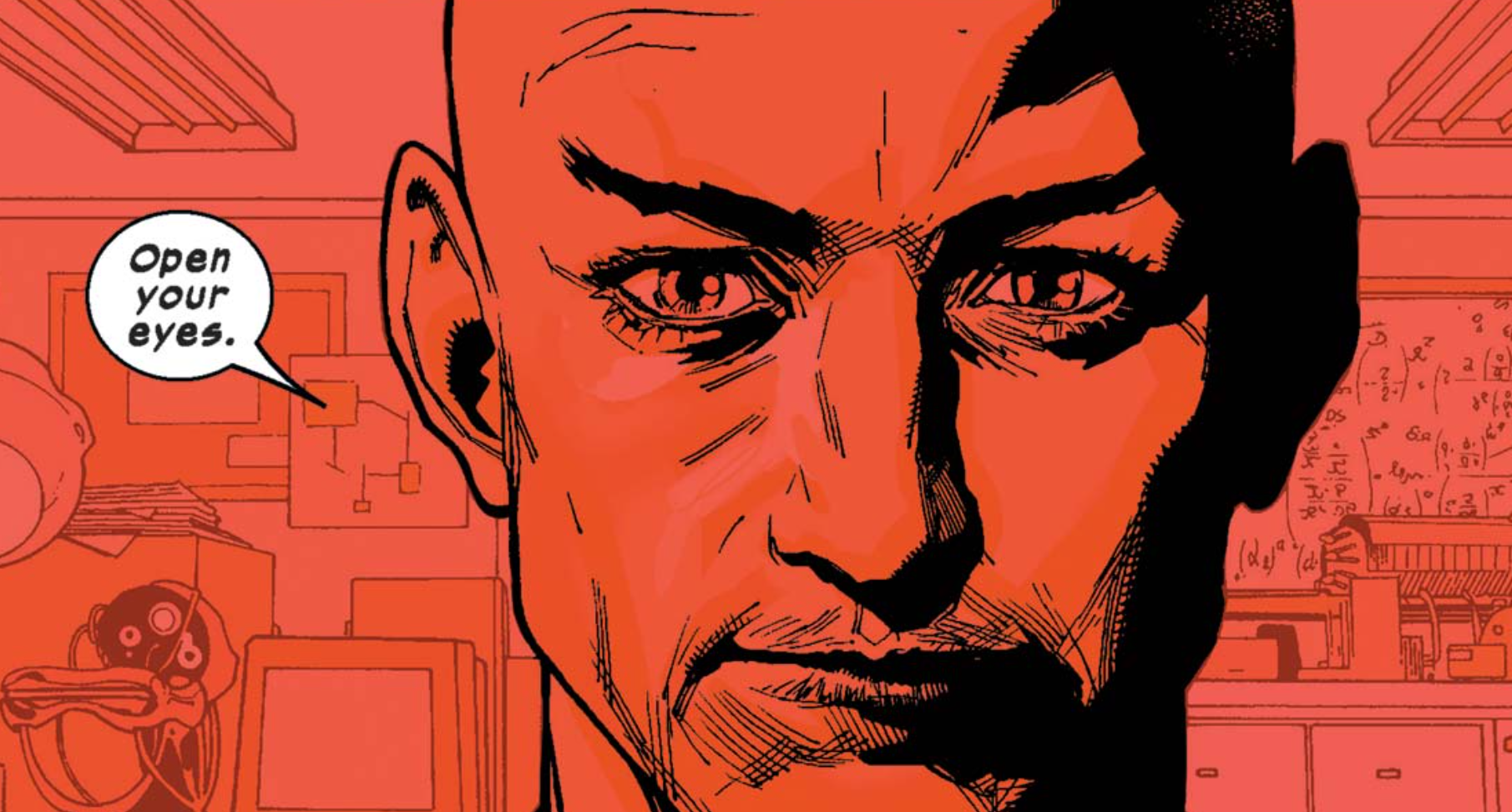 So this teen Scott has just been given a pair of ruby quartz glasses that he's surprised actually work to contain his powers. But remember: Mr. Sinister passing as an unnamed optometrist (as 1967's X-Men #39 backup origin tale for Scott was retconned) made him such a pair well before. (See also X-Factor #39, 1989, for further details on Sinister's Summers obsession.) In fact, the glasses' design was his, not Xavier's. Thus, is he pretending that they were his idea, and/or does Scott not remember those earlier shades?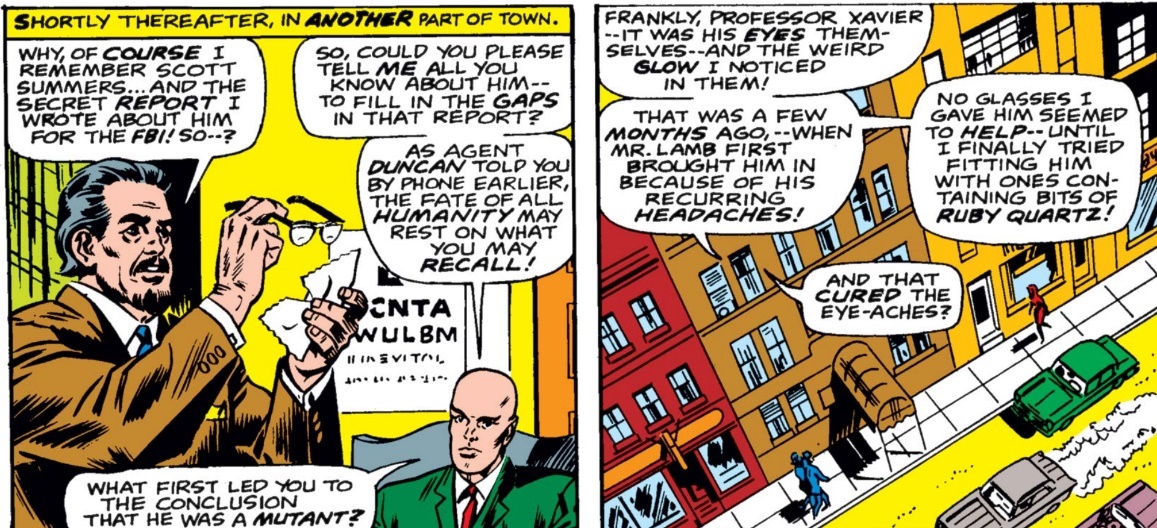 Earlier shades? We never see him get a new pair from Xavier at this early date. Does Scott not remember these backup adventures from X-Men #38-42, which showed him to be Xavier's first recruit? This scene would have to happen before the end of #42's backup, where he first dons his visor.
Anyhow, does Xavier really believe Scott sees "better than most"? Or is this him flattering his new student—malleable, uncertain, impressionable—to more easily lead him to all the mysterious things he wants to show the young teen from Nebraska?
II. A Brave New World (pgs3-4)
Those on the roster page here who weren't seen at all or beyond a cameo in HOX/POX: Cecilia Reyes; Havok; Kid Cable; Prestige (still waiting for a new name for Rachel!); Corsair—and, surprise of surprises, Vulcan?!
But let's consider the literary allusion on this page by going back to my comments on Emma's assertion in HOX 3 that "It's a brave new world, darlings":
[T]rue to the utopia/dystopia literary tradition, someone's utopian paradise is always someone else's dystopian hell. So, anyone coming from AOX to the Krakoa era is going to be wondering: Is this Eden hiding some hellish secrets? Worse, is it an Eden founded on some scheme or even atrocity that would be unbearable to its citizens if discovered? Is potential dissidence being covertly suppressed through drugs or other means? Is there something narcotic/enthralling about Krakoa itself? Some of these insights have been well described elsewhere.
Now, this issue's title amps up the ambiguity here even more: "Pax Krakoa"—as in Pax Romana and later, modeled off the Roman Empire, Pax Britannica, both phrases used, respectively, during the heyday of these massive empires and meaning peace through imperial conquest and overwhelming state security. Of course, the latter-day empire was founded on virulent racism and religious bigotry; the earlier was motivated by merely pompous notions of an underdog state turned militaristic and bureaucratic behemoth, though it did embrace a kind of multiculturalism, managed with the universalizing notion of citizenship in the imperium. Regardless, a strange way to present this new mutant utopia.
(Also, let's take a moment to acknowledge the sad Dec 2019 loss of Yu's longtime inker Gerry Alanguilan, an important figure in indie comics as well, especially for Filipino creators.)
III. Freedom Fighters of Krakoa (pgs5-16)
At last! We see Storm in action for the first time in this new era, taking down her own bevy of Orchis agents and not getting spectacularly killed doing it 😉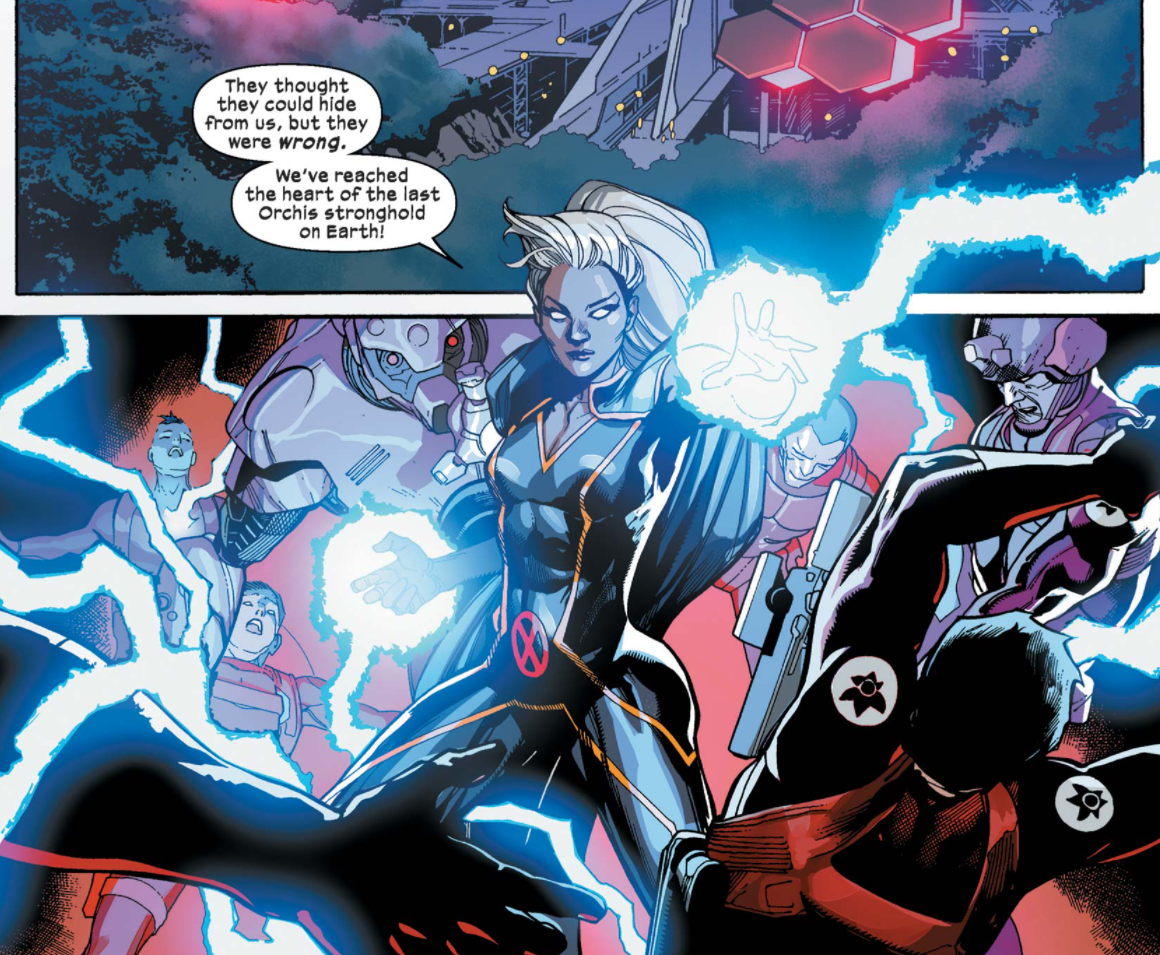 Her opening words make clear the Krakoans* have already cleared house on all other Orchis strongholds—those that are on Earth, anyway. Of course, that's an important distinction. So moving forward, all battles with Orchis will be in space…
(*Just Krakoans here because despite the series title, there is no official X-Men team for the entirety of volume five. X-Men vol6 will, beginning July 2021, feature a distinct, democratically elected X-Men.)
But let's pause a moment to consider the framing here: We didn't get to see the Krakoan takedown of Orchis' other strongholds, and we don't know where this last one is. So the question is how did they raid these places that are presumably extremely secure and primarily within Western nations? Furthermore, while we know Magneto kills a bunch of Orchis agents here, what about elsewhere? Were there prisoners? Interrogations? Deals with local authorities? Nations filing complaints with the UN about these raids? There are so many questions that aren't even hinted at here unless you start thinking about the context of the bigger geopolitical picture. I wish there'd at least been a data page on some of this.
Now, back to Storm: I love her and her combination of firm compassion and fierce heroism, but here Storm's comment on their cornered foes' tactics is loaded: "Suicide bombs and serving the greater good are always the last refuge of a conquered people."
Of course, in-universe this might recall the Sapien League and their twisted use of mutants as bombs. But—in our own real world, "suicide bombs" make most people think of media reports of radical Islamists, or more specifically, Palestinian "martyrs" in the '90s and '00s, and then the Iraqi civil war following America's disastrous invasion. And it's weird here because we don't see any suicide bombers in this scene. Also, Storm's usually not dismissive of people who come to such a place of desolation and desperation that they're willing to blow themselves up. Again, I don't know if her phrasing in this is just a Hickmanism that to me falls flat, at best, or if he's really trying to get us to feel ambiguous about Storm. (It might not matter too much since Duggan will mostly be writing her, and then Al Ewing in 2021.)
How about "serving the greater good"? This is really interesting because it's the argument for ends justifying means that every government uses to some degree, like suppressing civil liberties in national emergencies, real or manufactured, and weapons testing that destroys the health of a few poor, rural towns.
The necessarily vague concept of "national interest" has been successfully deployed for centuries to justify otherwise unimaginable atrocities. So is Storm saying there's no such argument on Krakoa, at all?
What Storm doesn't know is Xavier and Magneto are treating Krakoans in a way that's no different in kind. They have terrifying state secrets and have always used their pupils and followers as child soldiers and paramilitaries—thankfully usually not murderous in Xavier's case.
Moreover, Storm sits on the Quiet Council with "men who insist on making [engines of death]": Sinister and Apocalypse. So maybe her look of surprise on the bottom of page five isn't just for Scott's laser beams coming for her, seemingly—it could be a subtle hint that her words here will unexpectedly haunt her once she inevitably discovers the truth(s) about Krakoa.
Scott meanwhile speaks of the need for revolution, using the classic language of a 20th-century revolutionary, interesting because he's dissing the enemy as being stuck in the past, despite their engineering brilliance—but will the Krakoan experiment provide an initial roadmap to a sustainable future when its leaders are stuck in old ways of thinking, as well? (I.e., Xavier and Magneto are philosopher-kings—as archaic a form of governance as you can get.)
Storm wants to underestimate their foes, as well ("Yes. Man should know when he is beaten.") but smartly realizes they're holding together in order to protect something vital, the stronghold's "beating heart."
So Scott calls in Magneto—who rips the place open like a tin of sardines. At his side in the evening sky, Polaris does likewise to the floor of the corridor outside the main lab, using the sheet metal and cabling to clear the Orchis agents aside.
What's weird and off-putting, though, is Magneto requesting her to do this. His arrogance and disregard for his daughter as a partner here are irritating* to a reader who's still waiting to see Lorna come into her own—after all these decades. (We're getting there slowly, don't worry.) But Hickman has been playing up Magneto's more unsavory aspects without painting him an obvious villain—and a lot of readers haven't picked up on that, weirdly.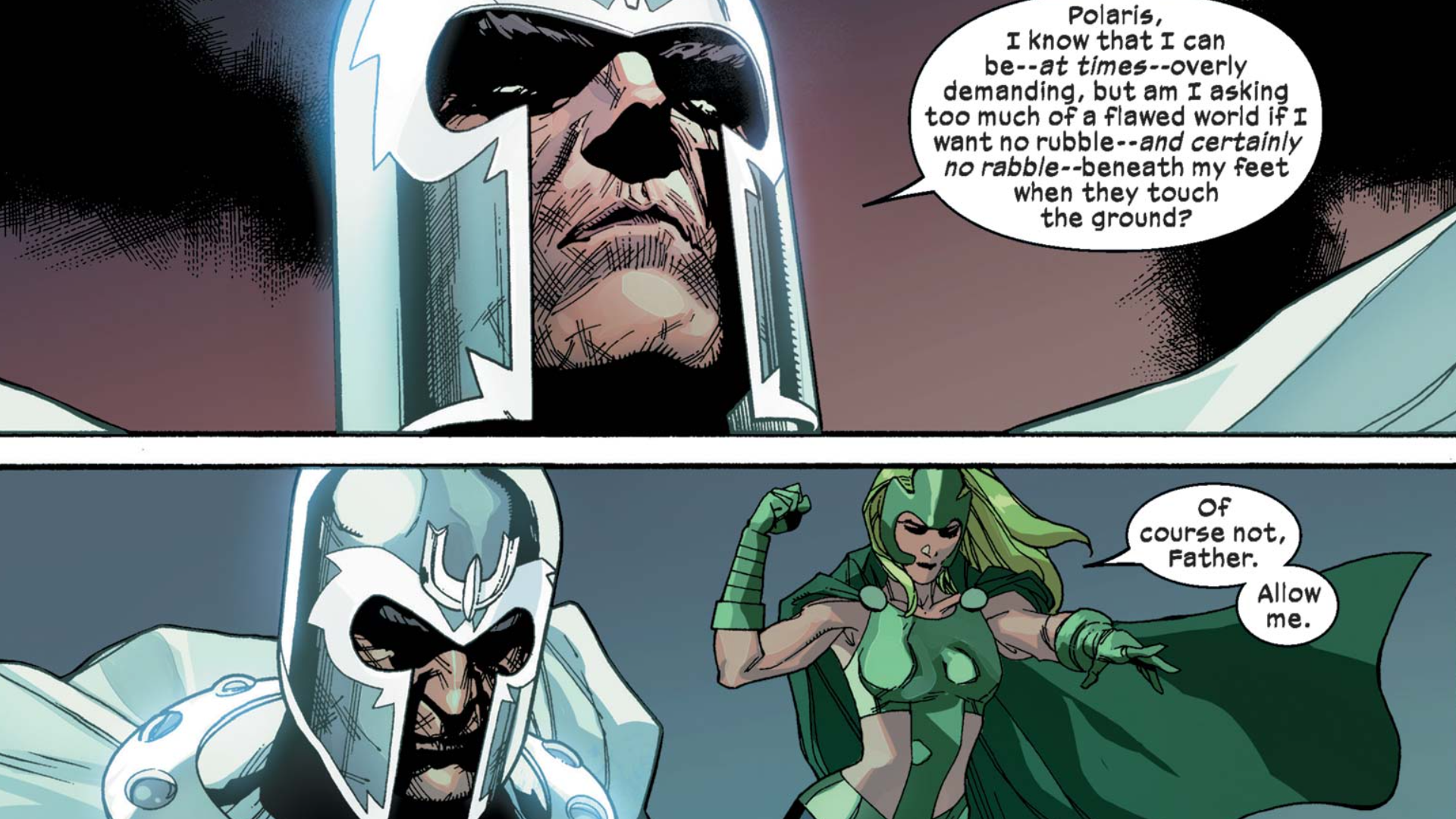 (*Dude, you're not "asking a flawed world"—you're just dissing your daughter. And why the hell are you talking like an insufferable aristocrat in the middle of a fight??? A lot of readers have been liking the new Mags, but I'm not a fan so far. I haven't enjoyed his characterizations since Cullen Bunn's Magneto series.)
He takes the tougher job for himself—busting through the lab's huge vibranium doors—which remind us also of Orchis' impressive, dark-money resources.
Inside is a wonderfully named kook, Dr. Mars, who rather than destroying their lab's data, most of which is already held by the Forge, demands his people "make the ultimate sacrifice" ("serving the greater good" indeed). Hickman's irony is a little painfully obvious here: These people weren't ever really civilized—similar to terrorists everywhere, they're not interested in how the average person lives their daily life, which is what the institutions of civilization are supposed to be for at a minimum. So of course they're no better than—oh dear, oh my—killer apes! (I'm glad this was a brief, one-off thing.)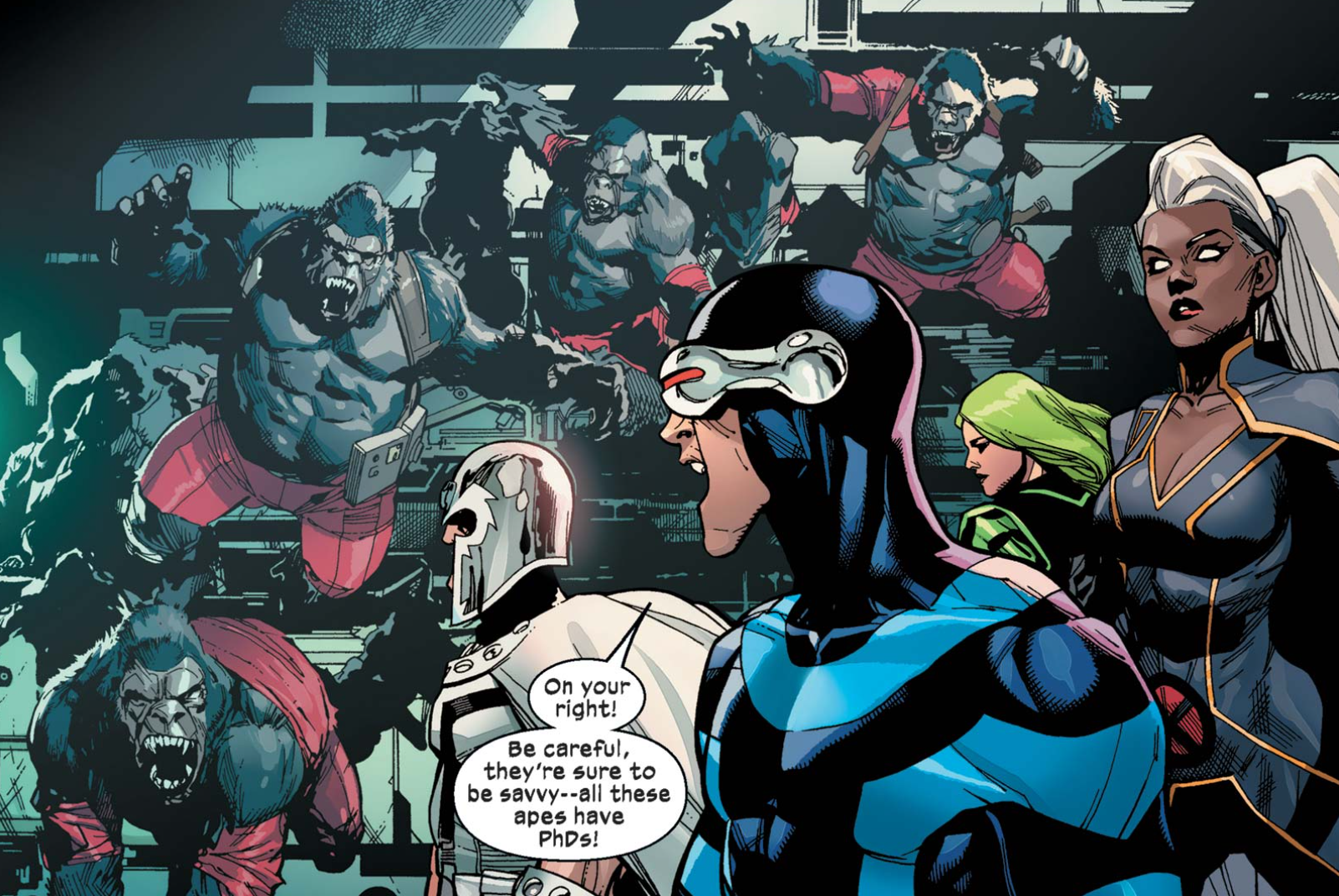 But Mags is clearly amped to clean house—which he does swiftly, as we find out three pages later without having to witness his own brutality. That's right, it's more than a little off-putting how much, how obviously, he enjoyed himself.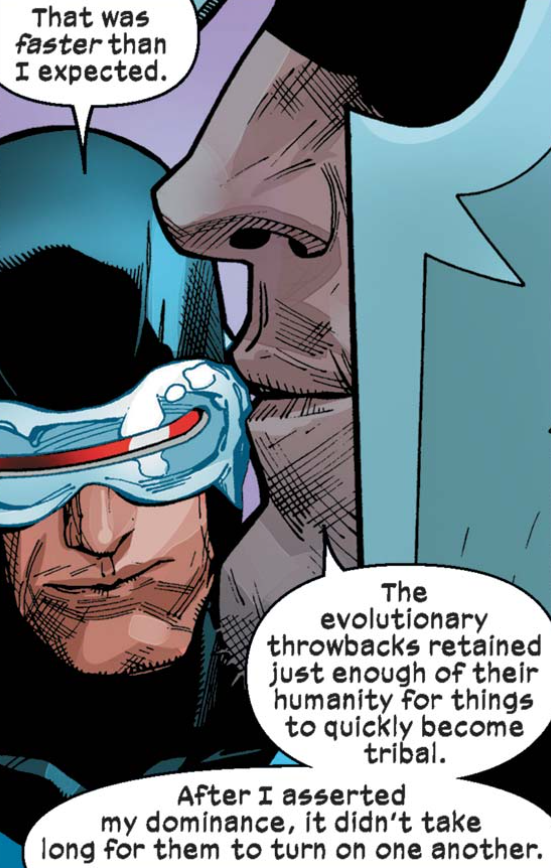 Meanwhile, it's Storm who's the voice of conscience—yes, in contrast to Magneto—looking at the prisoners held in stasis tubes, wondering at their abductors: "How little they must think of themselves to treat others this way."
Then everything threatens to go delightfully sideways: Ferrying the tubes through a Krakoan gate, they discover one holds an old foe, a Child of the Vault, the posthuman—as Lorna herself says—Serafina, surprisingly unseen since 2010! (At the end of Carey's second Children of the Vault story, X-Men Legacy #238-240.) Which is surprising, because the Children of the Vault were so fascinating. But we know Hickman loves the Carey run—and here we get that explicit posthuman connection tying this present-day story to the Year 1000 of Moira's sixth life.
It's certainly impressive that Orchis caught this powerful being, but encountering the Krakoans, she's weak, as she discovers, unable to influence their minds, one of her main powers. So it's wild that she's able to teleport away when I don't think that was ever in her powerset. Would she have managed to hide a device upon her capture and immurement?
Interesting, again, that it's Storm who interacts with what's destined to be mutantkind's greatest enemy. She wants to talk, to discover information without being aggressive. And so maybe that's why the Child doesn't realize she's talking to the foe she was created to fight: "There are wild gods loose in the world."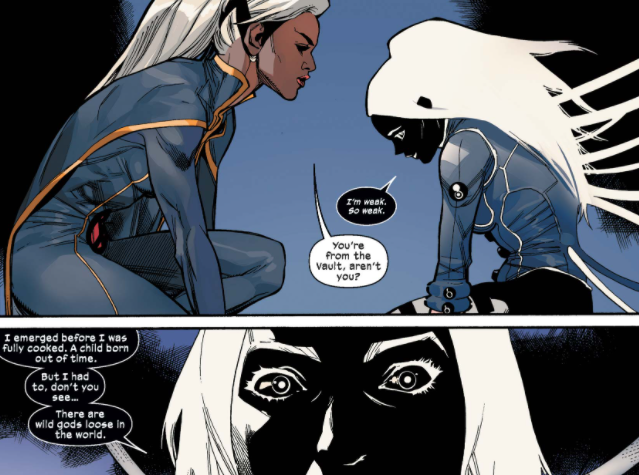 Or she's referring to something else entirely, which would be maybe more troubling 😉
But Mags, making his smug entrance, negligently assumes she's indeed speaking of mutantkind. (Way to get intel, dude.) Whatever the case, she teleports away. Unsurprisingly, he wants to pursue. However, Cyclops orders him down, dragging the councilman back to what democratic procedure exists on Krakoa and making clear the real humanitarian priority here: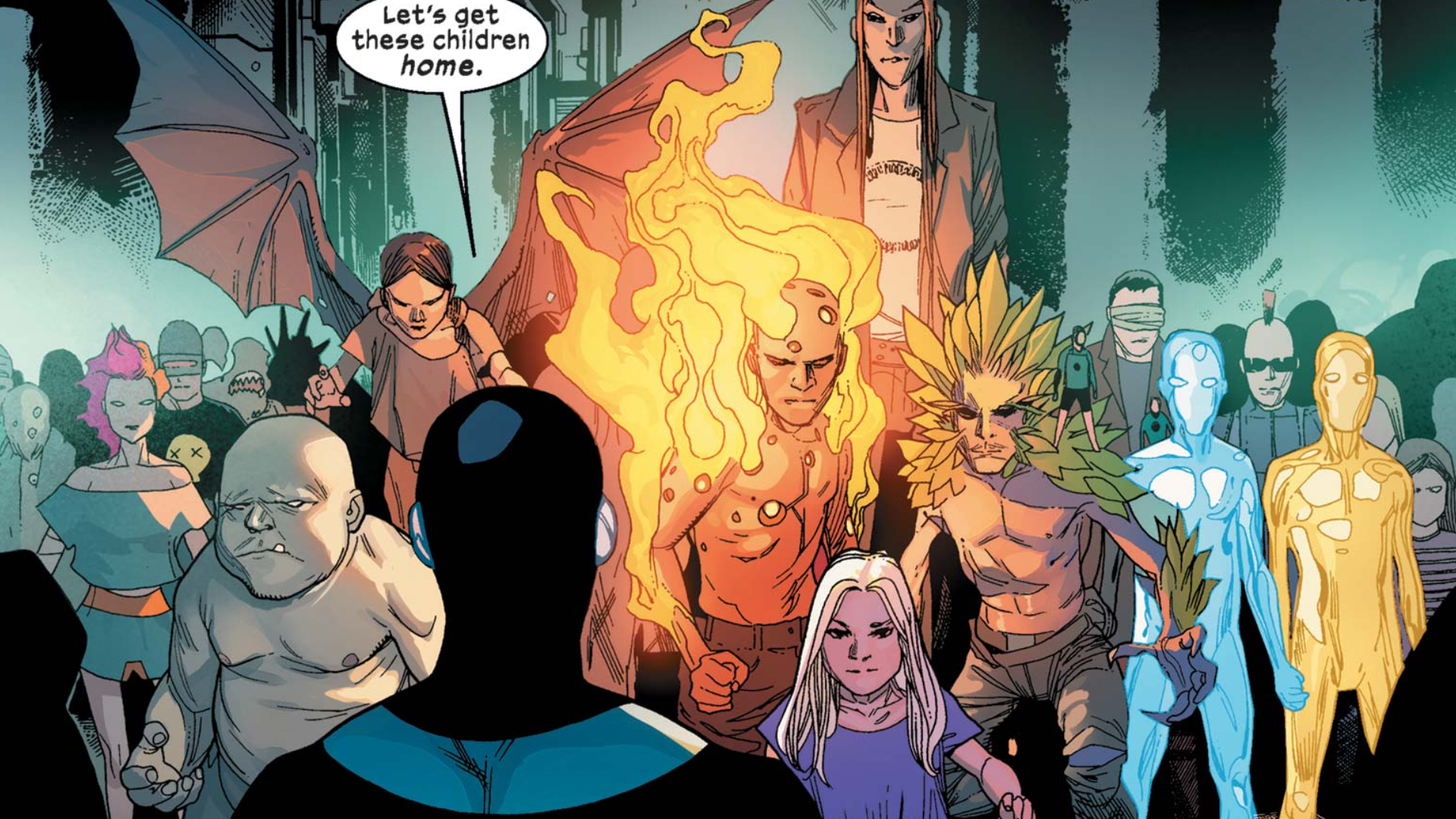 IV. Call It Home: The Krakoan Oasis, or "Rain in the Desert" (pgs17-21)
And so the children are brought to Krakoa and put in the care of Dr. Cecilia Reyes—whose appearances during this new era still don't quite match her two other notable runs as an important supporting character (that following her first appearance in X-Men vol2 #65, 1997, and Marjorie Liu's Astonishing X-Men run). The healer she mentions will turn out to be the Morlock Healer. This is where we also get the first mention of mutant therapists—empaths—but we still in 2021 don't know who they are. I'd love to meet with one!
But regarding Cecilia, she's the only medical doctor who's been an X-Man. That's crazy! Her ex(!), Beast, might be self-taught in doctoring but his adjacent degrees, I believe, are only in genetics and biophysics. Cecilia's training was a surgeon. Her mutant power is similar to Skids'—a protective biological force field—and she much prefers her healing arts to getting anywhere near a battle zone—though she's no coward, certainly. After all, she survived the Weapon X program's mutant concentration camp, Neverland.

We also haven't seen any more of these two shining youths "radiating" with energy. Another curiosity abandoned in the rush of events?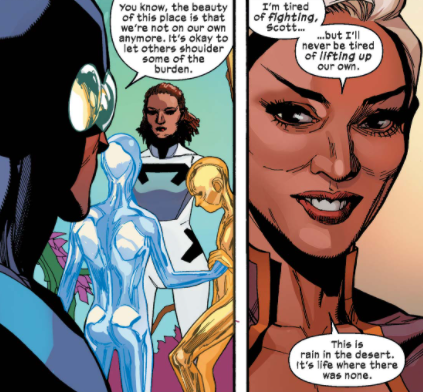 Anyhow, the subtle character work between Cyclops and Storm is an all too brief joy. I like that she takes barely concealed umbrage at Scott's suggestion that she take a break. But that leads into a short discussion that's everywhere explicit at Marvel nowadays—though it's always been a central theme: teamwork and solidarity.
But this particular exchange makes for a stark though subtly portrayed contrast, again, between Storm and Magneto, for on the next page, the aging rock star has arrived before his adoring fans. And at first glance, Magneto's pep-talk to the young boy is straightforward and encouraging. But is it really?
At this point, I just don't trust Xavier or Magneto, and here the latter tells this naïve youth: "Krakoa is all you will ever need." Really? Absorb enough of this kind of thinking, you'll get a head-in-the-sand mentality, maybe even a nationalistic youth movement among the young—perhaps with Exodus as camp counselor…
It feels like Yu's image of Magneto on panel four, page 19 is deliberately drawn to read as potentially fashy, like he's a majestic, martial statue of himself—and that's how he looks from the kids' adoring perspective. And he's clearly enjoying it; as Lorna notes, it makes her father seem young again.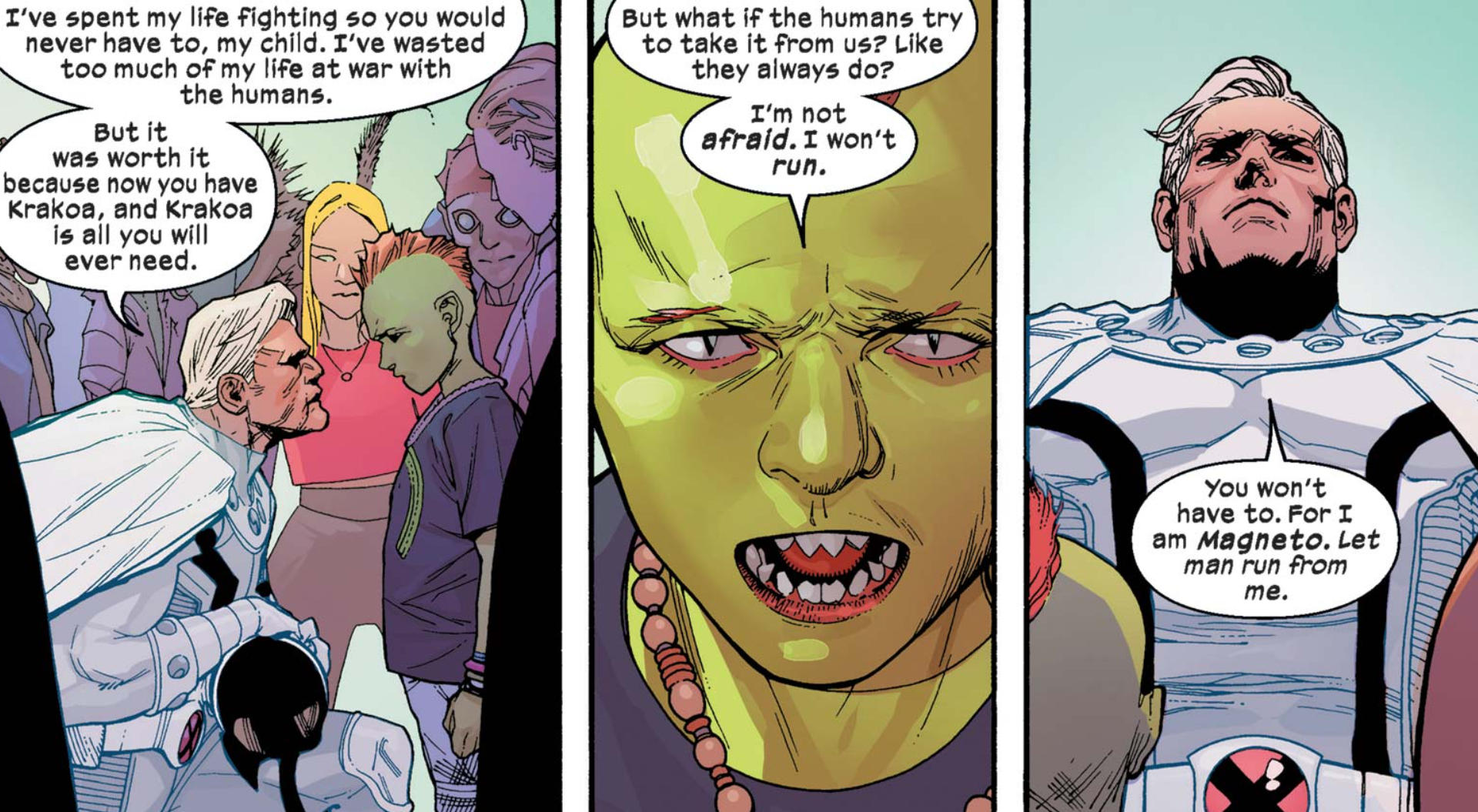 Note also this chiastic pattern so far: Magneto as an ape slayer; Storm as a cross-species communicator; Storm as caregiver and guardian; Magneto as a rock star warrior. There's no doubt Hickman is constantly making intriguing character contrasts through narrative patterning and imagery. That said, I've seen criticisms of Hickman's portrayal of Storm. I agree with this regarding her dialogue, but then I'd say the speech patterns of most of his characters suffer from some indistinguishability—the notable exception are his villains (though come Hellions, Zeb Wells will make Sinister his own like no one ever has before). On the other hand, Magneto provides a perfect opportunity for pompous speechifying, like endlessly.
However, I do believe Hickman really knows these characters, their histories, and their internal dynamics. And we'll see that in a moment with Lorna.
Interestingly, Magneto's age will come up occasionally during this new age. It's subtle in S.W.O.R.D. (2021) but artist Valerio Schiti makes him look older than most artists. (And even his camp Silver Age persona, mostly unacknowledged since Claremont's run, will be explicitly acknowledged in Way of X #1, 2021.) Interesting because, unlike any other major mutant, Magneto is tied to a specific historic atrocity, the Shoah, without which his characterization would lose its true gravity. The problem will eventually become, let's say, in 20 years: How much does a young reader suspend their disbelief? Or maybe he's already been dosed with the Infinity Formula that slowed Nick Fury's aging? More importantly, have any Jewish authors even written this character?
Regardless, we see here Scott tolerating Magneto's relishing his rock-star moment, but I'm sure he'd be much less so if he knew his and Xavier's secrets. That knowledge would ruin much of the pride he feels for this new nation—or it'd spur him to take it from the grasp of the Council. (Which will begin to happen by the end of X of Swords, without any Moira-related revelations.)
Moving on, Scott and Lorna head through a gate for elsewhere on the island, though the exotic structures ahead of them are unexplained. I'm not sure that it shows up again!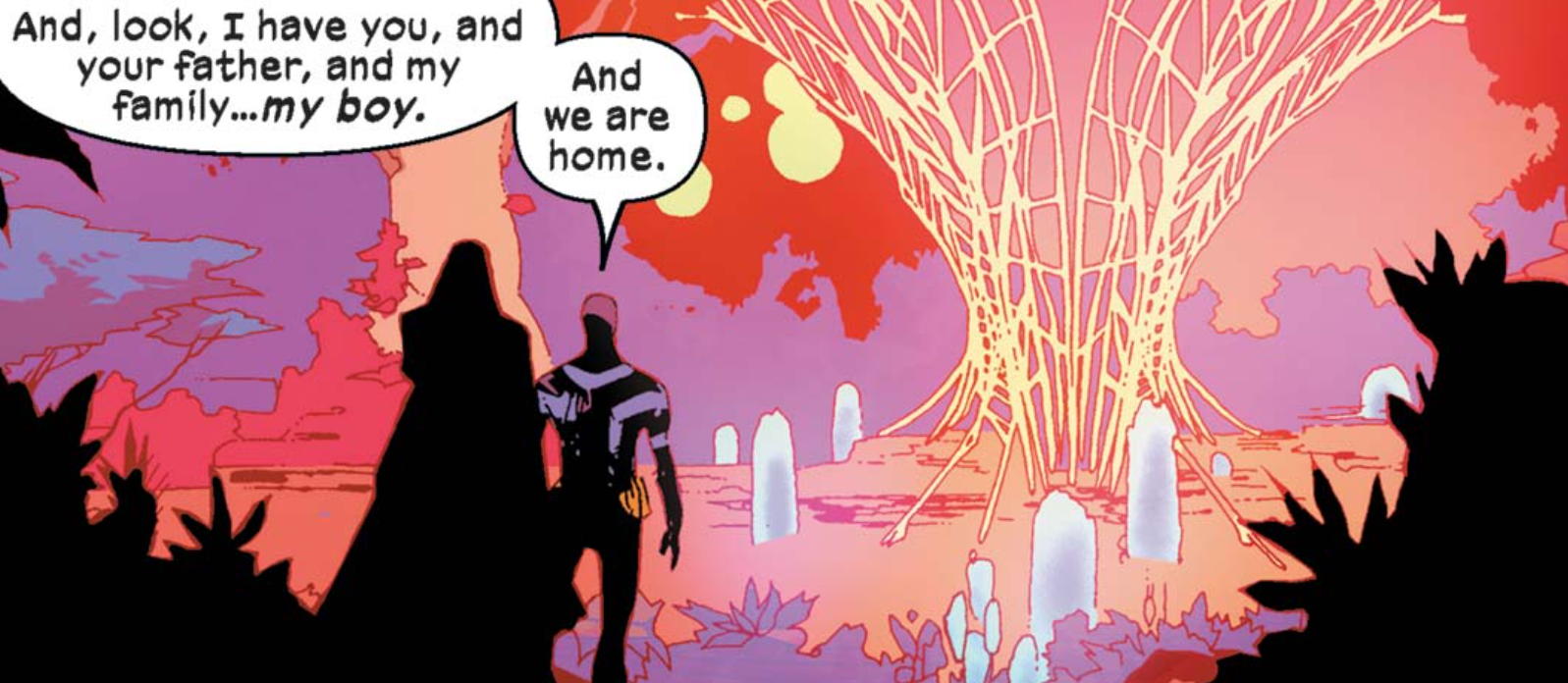 But what matters here is, first, Lorna's clear but subtle statement establishing her boundaries: She's asserting her still uncertain state of mind—which is in a newish step for her. We're talking about a character who has never been portrayed well except in brief moments (like Morrison's iconic New X-Men #132, 2002). However, not only the fact that she's firmly saying she's not ready to see her ex Alex, especially when surrounded by his family, but that there's nothing dramatic about her assertion—this a sign of maturation for those who've written Polaris, beyond the character herself. We'll have to wait for Leah Williams' X-Factor (2020) to see her really come into her own without reference to a man, when she'll also have a better outfit, one that's not trying for Magneto-style majesty (and without headgear that gets into her field of vision).
Next here, Scott speaks to a favorite Hickman theme: fatherhood. It's totally in character that Scott always wanted to be a father. What's complicated is that he felt trepidation over bringing a child into a world that was so manifestly unjust.
Of course, there are countless people in the real world who've always had such fears. The difference with Scott is that he, Maddie, and baby Nathan could've passed for ordinary, nonmutant white people without any suspicion (except Sinister would've crashed that vanilla party regardless). "Surrendering to the world" would've been very easy indeed. Mutants like Storm and Karma or, in a different way, Beak or Glob, would never have that easy out.
Also, it's interesting he mentions only his son here, not Rachel—who, granted, he never knew before she arrived from an alternate future as a teen. Still, that consistently missing acknowledgment will be—again, subtly—highlighted later this issue, at the Summer House.
But here, Scott is simply a Krakoan patriot, firm in his belief that it was the power of his commitment and of those like him that brought this nation into existence. Again, if he knew the truth… would that patriotism be shattered, or would he take power away from those who would undermine that faith?
Without the revelations of how Moira, Xavier, and Magneto laid the groundwork long, long ago for shattering the faith of those who heeded their call to the grand Krakoan experiment, Scott will still take back power from the Quiet Council based on his suspicions about Xavier and Magneto's antidemocratic tactics, as those doubts emerge during X of Swords.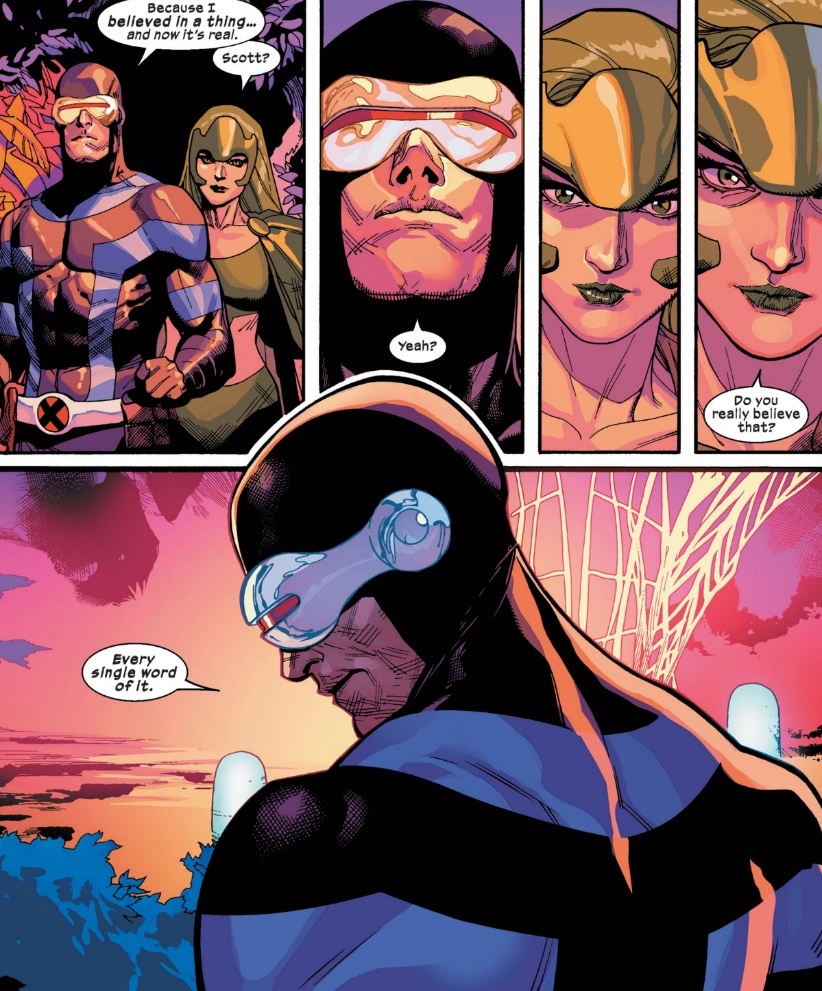 Again, Polaris' uncertainty is subtly portrayed here (and thankfully not melodramatically as had become so habitual with her character!).
Yet this is primarily Scott's moment, and it is so critical to the framing of the Krakoa era moving forward. He is a believer. He believes that he helped create this new society with his fellows. And when he learns that his mentor (Xavier) and his oldest adversary, someone he struggled over years to learn to respect and even admire (Magneto) have used him and his peers as tools—well, inferno indeed.
Next time, we'll wrap up the rest of X-Men #1. Most of the Dawn of X debut issues are oversized, but hopefully, we'll manage at least Marauders #1 and X-Force #1 in one entry each because they're less dense. Fallen Angels will come later, but we'll cover the entire limited series in one go. But New Mutants #1 and especially Excalibur #1 will be more greatly appreciated with a bit more context/background.