A Companion to 2019's New Mutants
#3-4, 6, 8.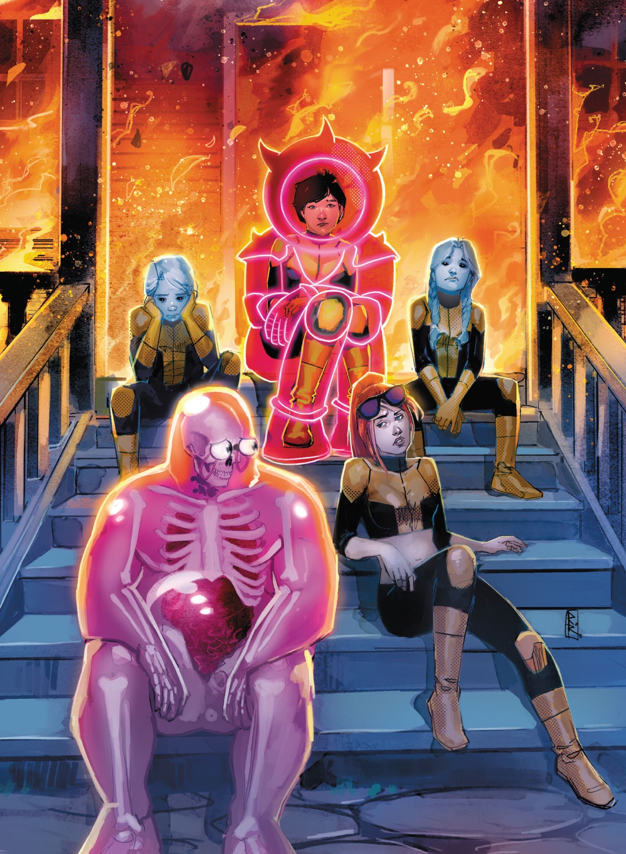 Ed Brisson's short eight-issue stint on New Mutants isn't as memorable or relevant as the other X stories coming out at the time—with the exception of the entirely forgettable Fallen Angels. But it's nice to see Brisson faithfully depicting these beloved younger mutants, who otherwise aren't getting much play. And Italian artists Flaviano and Marco Failla are a perfect fit for the material, with each handling distinct stories except for sharing this first arc, which was, along with the switch-up with Hickman's issues, a little jarring.
(The second Brisson arc, issues #9-11, is the more memorable one.)
Related:
Support For Comic Book Herald:
Comic Book Herald is reader-supported. When you buy through links on our site, we may earn a qualifying affiliate commission.
Comic Book Herald's reading orders and guides are also made possible by reader support on Patreon, and generous reader donations.
Any size contribution will help keep CBH alive and full of new comics guides and content. Support CBH on Patreon for exclusive rewards, or Donate here! Thank you for reading!
In this first Brisson arc, Beak's loving parents are murdered in front of his wife and grandchildren. This horror is supposed to show how vulnerable mutants and their loved ones now are due to Krakoa's existence. After these murders, Angel Salvadore has the heartbroken realization that human harassment was inevitable even in remote rural Nebraska. But when she says, "You win, we're going to Krakoa," it's unclear if she's addressing the other Krakoans or the cartel thugs.
Almost as senseless as the murder of Beak's parents, their murderer then kills himself, merely, as he says, to frame the Krakoans for his death and have someone else from the cartel sent in his place. What?! Sure, this might be de rigueur for extremists like the Purifiers, but cartoon thugs are typically more self-interested. Regardless, nothing past issue #8 has come of this awkwardly topical Central American cartel.
The biggest miss overall in these four Brisson issues is the lack of any connection or chemistry between Hisako (with Glob) and Tabby. These two widely separated generations of younger mutants have never really meshed—and it doesn't happen here either! They simply remain strangely separate. To be fair, this is a problem few creative teams have successfully tackled. (At best, the more popular OG New Mutants and breakout Gen Xer Monet level up to the big leagues, sometimes acting as teachers or mentors to the youth. Otherwise, when you leave aside the Silver and Bronze Age X-Men, there's little intergenerational dynamic; it's like each generation is siloed, connected only in the way they revere or react to the "elders." However, Vita Ayala on New Mutants currently appears to be bucking that trend.)
In retrospect, Bisson's eight-issue run feels like Marauders with neither the fun nor relevance of that title.
By far the most interesting element in this first arc is, to me, the alt-reality twins Maxime and Manon—and their delightfully and distressingly unsettling personalities. (More on them in Section I!)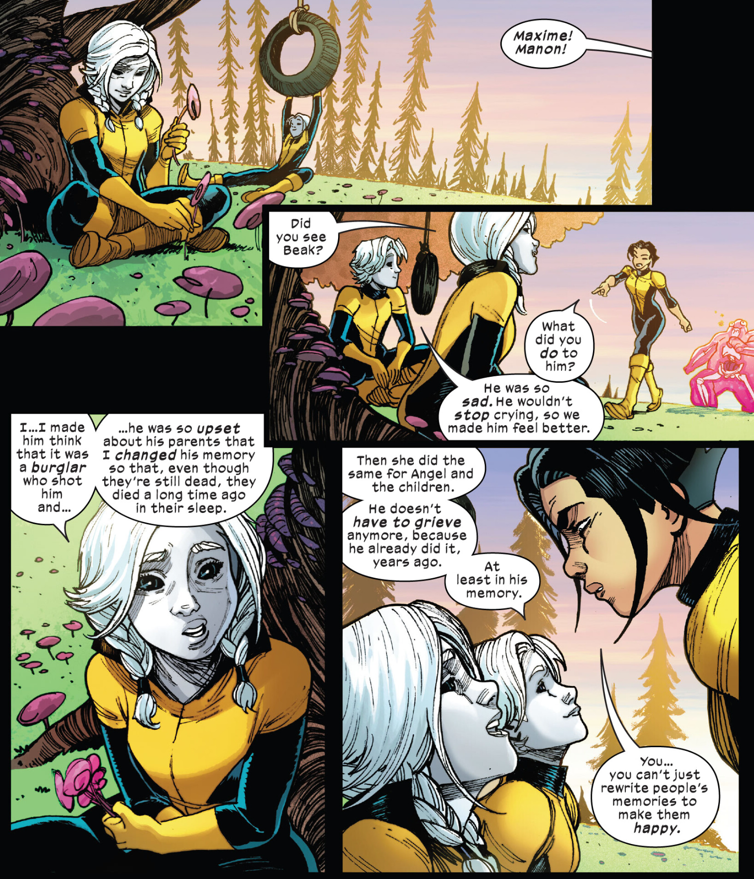 And the above panels are the last we've seen of the twins for now. But boy howdy, what a doozy! So now, should we be worried they're going around radically altering people's emotions and memories? There's obviously something lacking in the too-pat resolution here.
I. More Mutant Youths from the Akademos
This entire cast of characters is dropped from this title following Brisson's departure. Subsequently, Armor's the only one who's enjoyed more than a few appearances, mostly as background elsewhere.
A. Morrison's New X-Men
Glob Herman and Barry "Beak" Bohusk debuted in 2001's New X-Men #117 by Grant Morrison, and Angel Salvadore came on the scene in the next fantastic issue of this most punked-out of X-Men eras. Morrison's innovation with these students was that as a whole they seemed more like Morlocks—that is, mutants who could never pass as humans. (Glob's powers are super-strength and -durability; his waxen flesh is also highly flammable! Angel's are all shown in the image below. Meanwhile, Barnell can glide but not fly on his own.)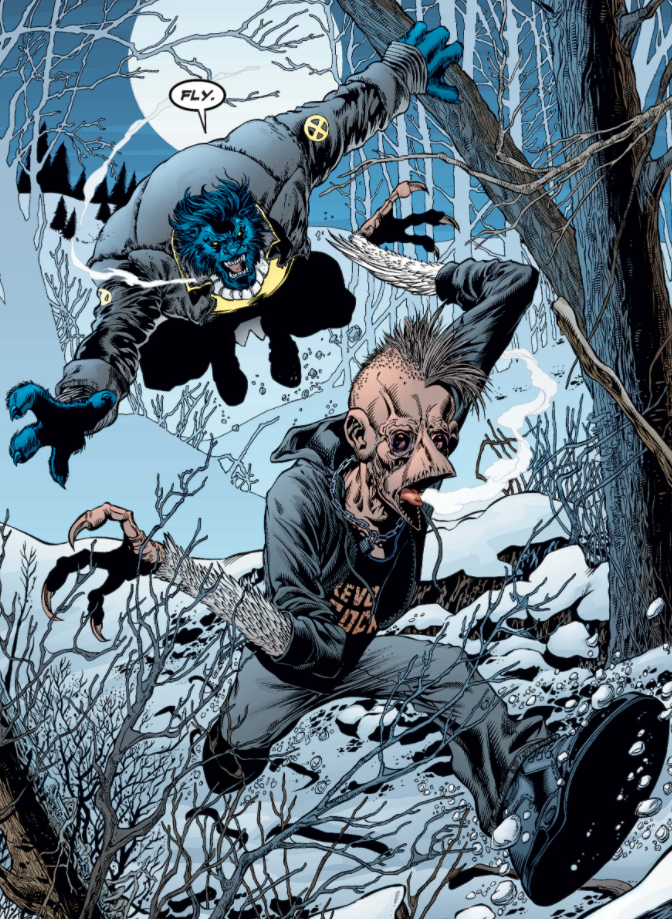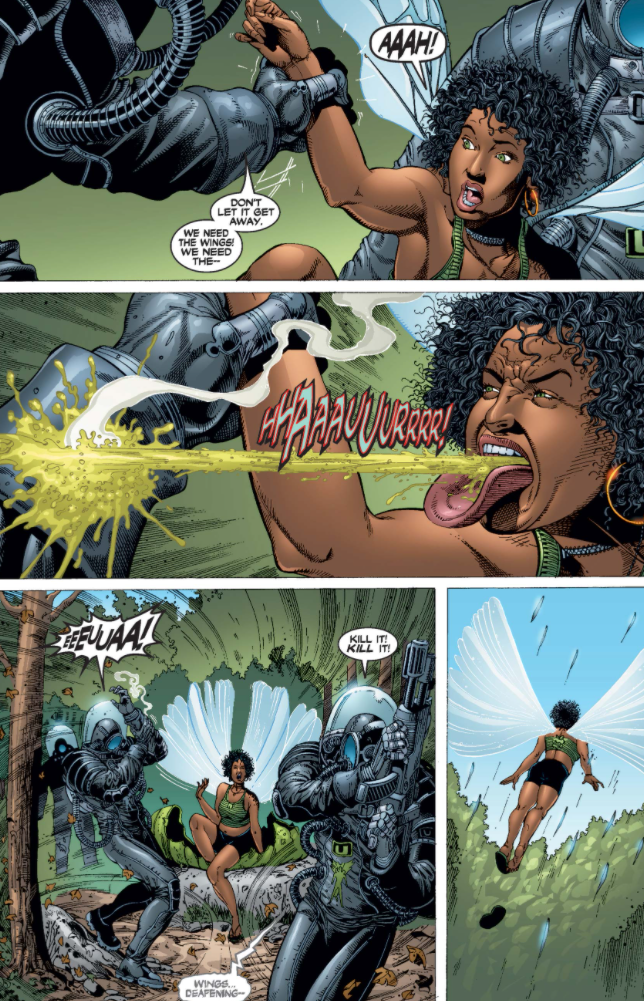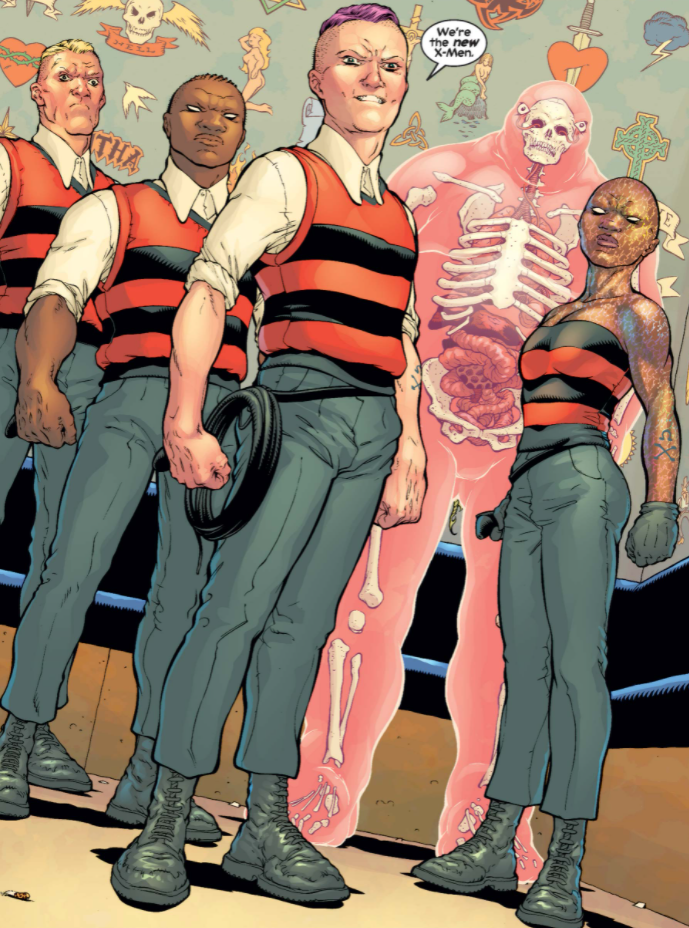 [New X-Men #117 and 118 with pencils by Ethan van Scriver, and #135 with pencils by Frank Quitely—where we see Glob under one bad influence]
(A short time later, writers DeFilippis and Weir introduced the next class of mutants at Xavier's and showed no interest in following Morrison's lead here—and these sightly characters have proven endearing to a wider readership. So much for X fans celebrating the unsightly and the outcast: the truly mutant! 😉 But hey, apparently even Sage doesn't want Armor to rush in bringing Angel and Beak to Krakoa. Charitably, she's probably just too busy being X-Force's desk-jockey Athena.)
It's nice to see their heartfelt reunion, though Armor's never really shared page-space with Beak or Angel. (And while three of their older children were first seen way back in Morrison's run, the others debut here, and their early childhood mutations are a rarity. One of them was even depowered on M-Day!)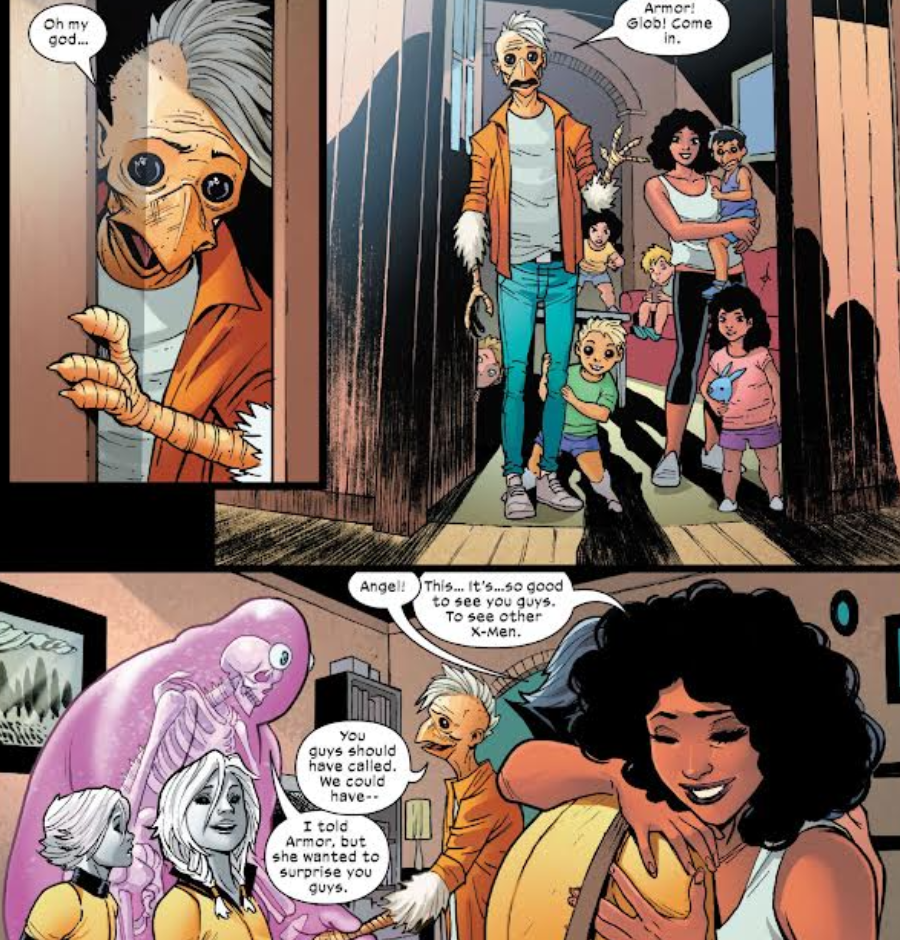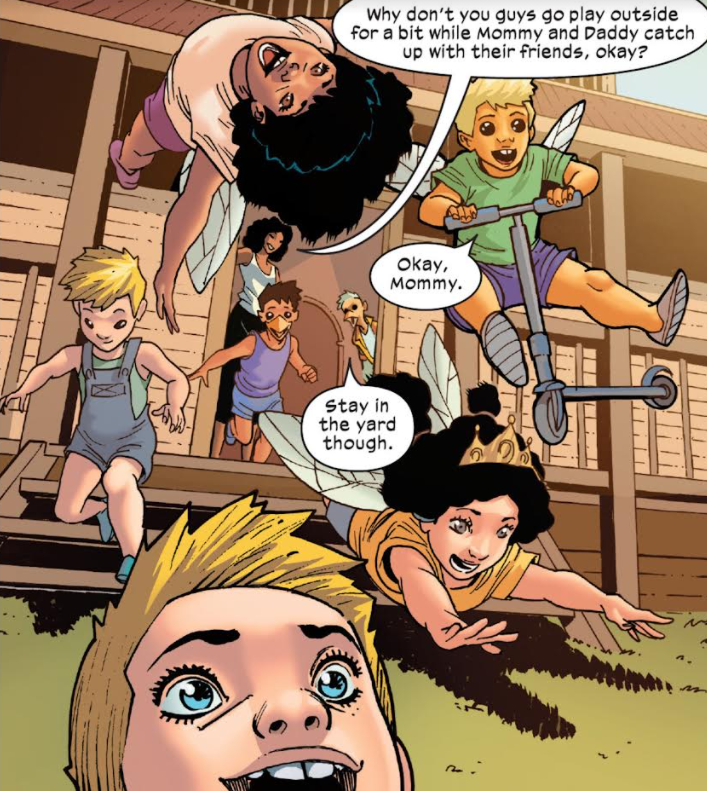 B. Armor
Perhaps only slightly older, Armor (Hisako Ichiki) debuted in Joss Whedon's 2004 Astonishing X-Men #4. One of the more popular younger mutants of the 21st century, she's able to generate a large exoskeleton that's super-strong and impenetrable. In extreme situations, she can make it huge, as tall as Fin Fang Foom (as seen in Astonishing X-Men vol3 37). But even in less trying conditions, maintaining this armored form can be exhausting for her.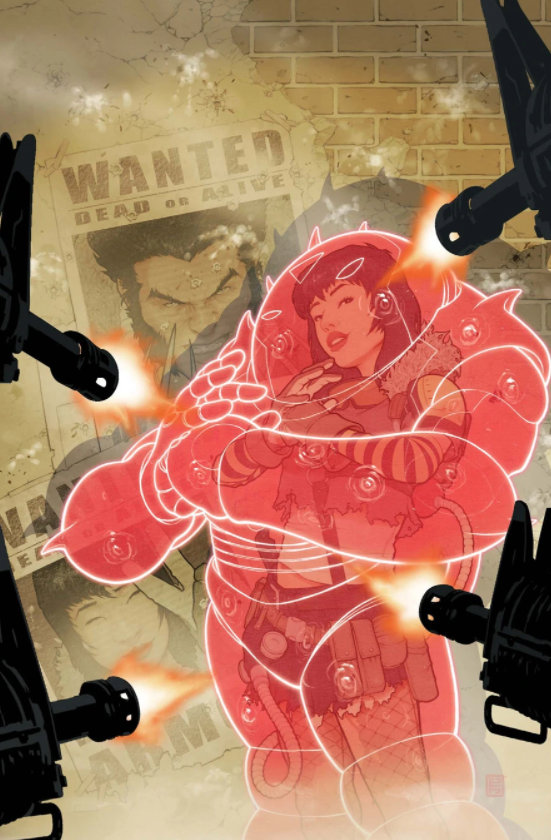 [Wolverine and the X-Men: Alpha & Omega #3 cover by John Tyler Christopher]
A key supporting player throughout Whedon's Astonishing and sticking with the title for over a year after his departure, Armor soon found herself joining the official X-Men team—only to be pushed back into studentdom in Aaron's Wolverine and the X-Men. But she continued to be spotlighted, in X-Men: Gold and then Rosenberg's Uncanny X-Men #1-10 and Age of X-Man.
From the start of Rosenberg's Uncanny run, Armor has mentored a group of active reserve students, which included Glob and Pixie. And while it's nice to see the kids dancing here, Glob's romantic hopes will likely go unfulfilled here.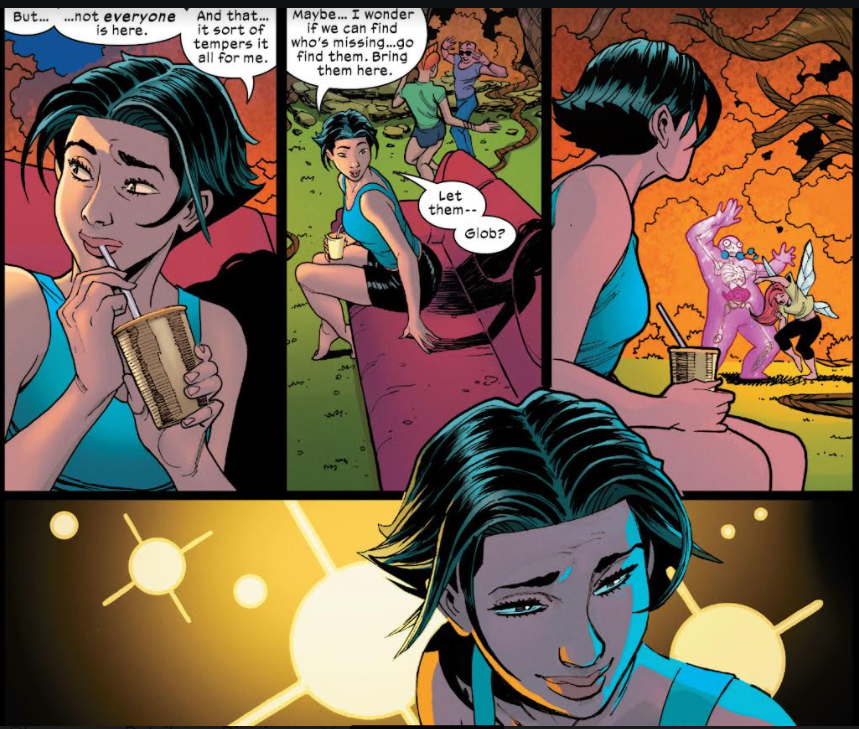 Armor's trainees also include "New X-Men" peers Rockslide and Anole and Oya, who was a Jean Grey School student. This tight-knit squad remained together even in the Age of X-Man alt reality, where Glob and Armor were secret dissidents inspiring other students (see the NeXt Gen mini—also written by Brisson). It's disconcerting, though, that Hisako hasn't kept a closer eye on her trainees while the Shadow King lurks in the gloom of Krakoan forests, preying on these increasingly disillusioned youth.
C. Tabitha Smith—of the many costumes and codenames, the best being Boomer!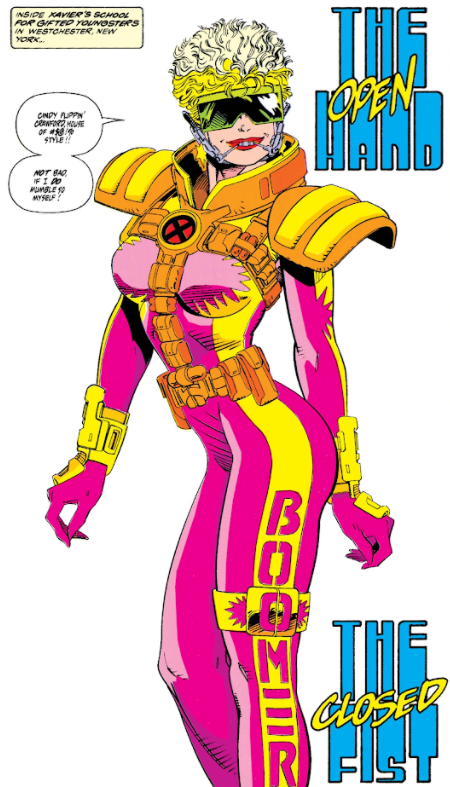 [X-Force #19, pencils by Greg Capullo, 1993]
Debuting in Jim Shooter's execrable 1985 Secret Wars II, Boom-Boom had an awkward time of it early on. In these early appearances, she'd been hitchhiking her way toward Xavier's School after getting kicked out of her Pennsylvania trailer-park home by her abusive and bigoted father. But she ran into the Beyonder and believing him to be a mutant too, fell in with him for a while. Frankly, the Beyonder's dangerous whimsy offered the kind of fun dissociative adventure the typically fun-loving Tabby probably needed at the time. Really though, with all the blasé talk of ending or radically rearranging reality itself, "he" soon ended up completely terrifying her. She regretted ditching this cosmic entity whom she considered her only friend. Even more sadly, she ended up homeless then. In later issues of X-Force, it was strongly hinted that she had turned to prostitution and drugs during this time, but this never received further elaboration.
It was the criminal mutant teleporter the Vanisher, of all mutants, who took her in as one of his thieves, like a modern-day Fagan (Oliver Twist). But when X-Factor (the OG X-Men) came to bust their old nemesis, they took Tabby in instead. From X-Factor #12, she stayed on as a trainee and remained a staple of the title up until Inferno, at which point she transitioned (by way of the X-Terminators mini) into New Mutants (with issue #76)—finding a more fitting peer group there. She would stay on for the first volume of X-Force.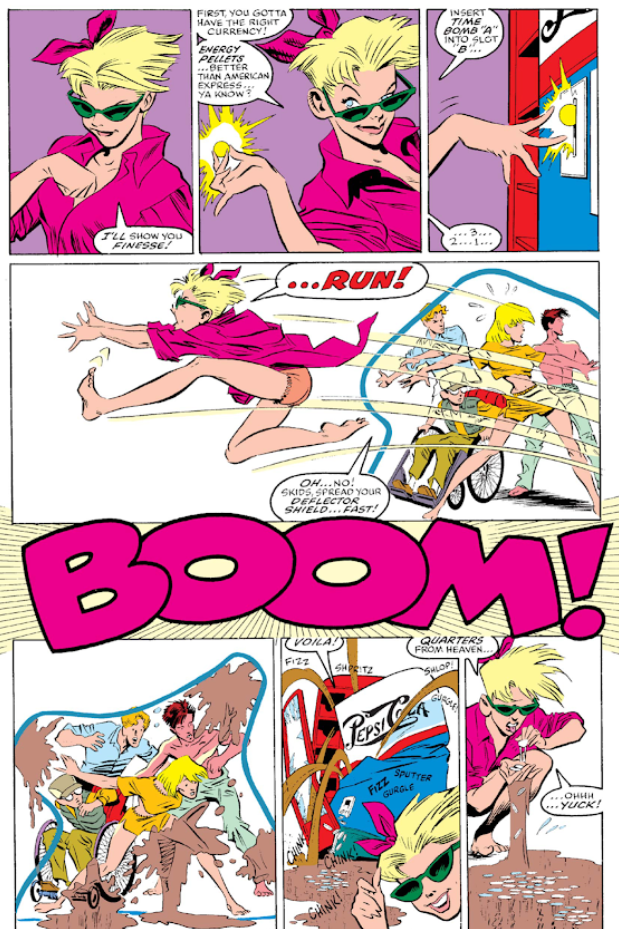 [X-Terminators #2, pencils by Jon Bogdanove, 1988]
In the 21st century, she's been best spotlighted in the 2006 Nextwave maxiseries, a one-off outfit or misfits, where Tabby fought alongside two other cult-hit ladies—Monica Rambeau (formerly of the Avengers) and Elsa Bloodstone (a monster hunter like her ancient Silver Age father). She also appeared throughout Dennis Hopeless' 2013/2014 Cable and X-Force series and Brisson's 2018 X-Force.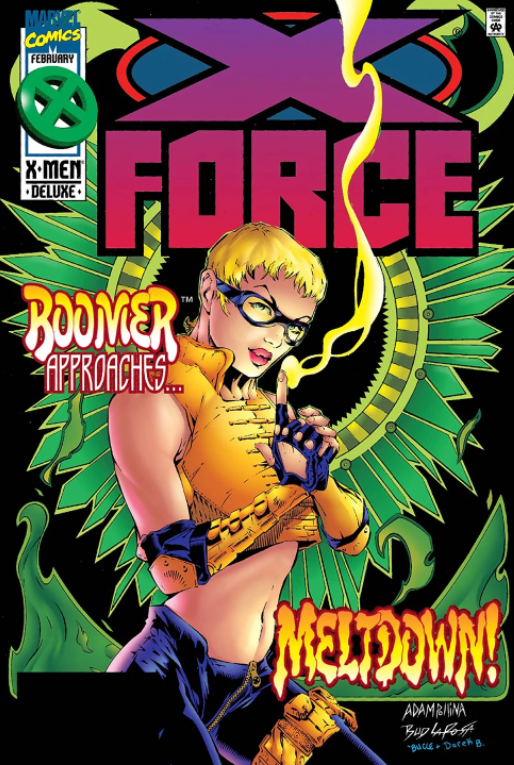 [X-Force #50 cover by Adam Pollina; "Boomer" renames herself "Meltdown"!]
What is she doing snooping in Sunspot's room? They were an item once, a very long time ago*, but it's unlikely she holds a candle for him. No, we later find out Tabby was looking for shiny objects to make hers, figuring Bobby would have the goods because he's filthy rich.
*This relationship was, publication-wise, a hopeless one-year fling in the latter days of X-Force, and probably more about Tabby and Bobby's respective feelings toward Cannonball, her boyfriend going back to the penultimate issues of New Mutants—but entirely absent from his X-Force family after joining up with the X-Men over two years before (in issue #44, which also saw the departure of one of her closest friends, Rictor).
But, as ever, what adrenaline-junky Tabby really has a yen for is adventure fun-time.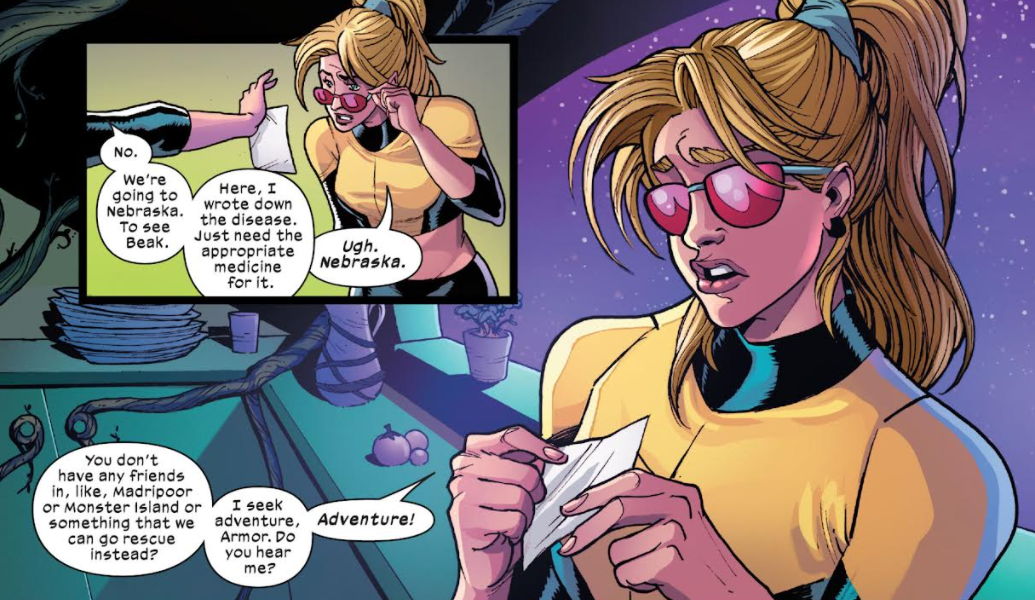 Unfortunately, this brief arc is ultimately tragic and traumatizing.
Tabitha's powers are refreshingly uncomplicated. She can make explosive balls of plasma. Sometimes they're like grenades, others are "time bombs," and she's able to make little harmless ones too, for funsies.
D. Magma (and Nova Roma)
The least popular New Mutant by far, Magma (Amara Aquilla) debuted and joined the original team in New Mutants #8. Claremont himself never seemed to figure out what to do with her. Her backstory seems much more like a silly and unoriginal pulp idea from the old-school cartoon brain of John Byrne. It's just bad. She hails from Nova Roma, a bizarrely isolated colony of the early days of the Roman Empire—hidden deep in the Amazon. Later, Incans fleeing Spain's conquistadors found a home there, presumably still under Romanizing hegemony. Through craft and guile, Amara's immortal ancestor Selene ruled over this unlikely backwater for centuries, until the OG New Mutants put a stop to her—Selene's first encounter, supposedly, with other mutants (see New Mutants #9-11; I'm not sure if this is still canon, with how often Marvel retcons the 616's deep past). Carrying on Roman traditions as if frozen in time, the city is run by wealthy senators like Magma's father. Apparently, it was primarily the Incan portion of the citizenry who had fallen under Selene's sway, with the sorceress having disguised herself as one of their number, becoming their death-cult priestess. If all of this seems useless and ignorant—you got it!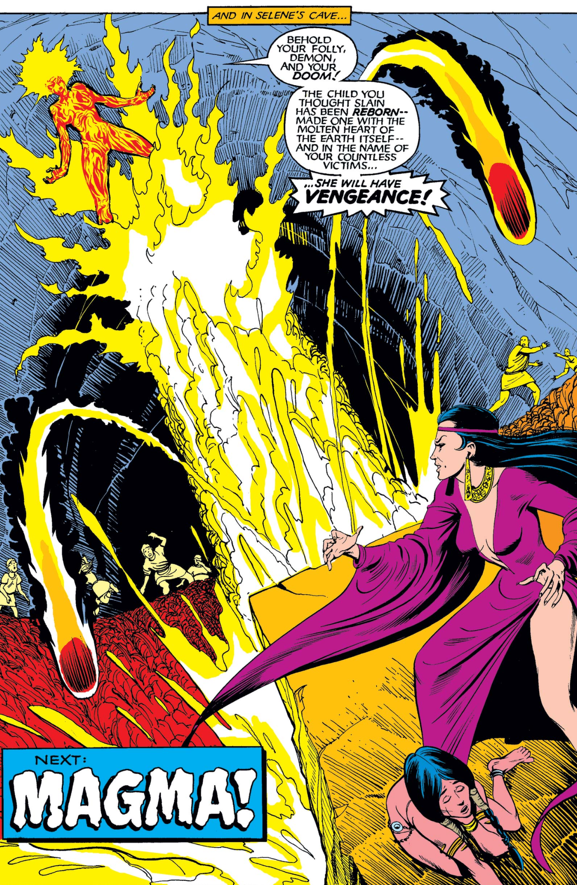 [New Mutants #10: Magma's challenge to Selene; pencils by Sal Buscema]
In any case, a senator's daughter with refined airs and a very sheltered upbringing, Amara isn't that likable, but her geothermal powers are really cool—allowing her to move and manipulate the earth's magma (at least whatever's relatively nearby), fire magma blasts, and turn fiery herself. That's all you really need to know!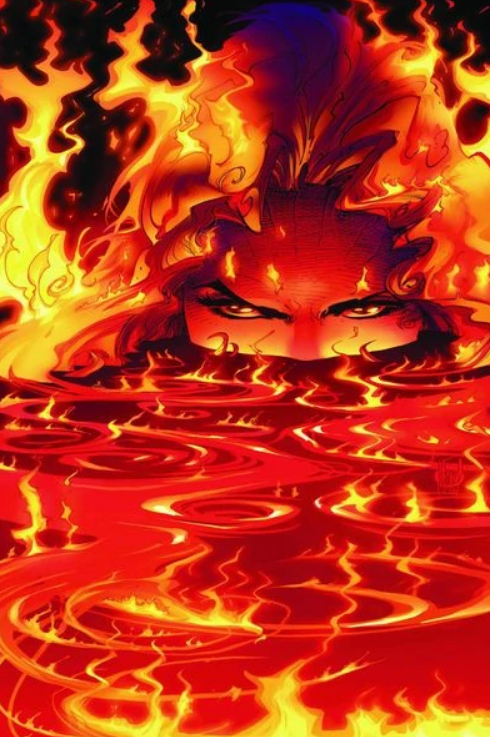 [New Mutants vol3 #8 cover by Adam Kubert]
A year after Louise Simonson dropped her from the title, the much hipper Boom-Boom replaced her as resident blonde girl with less powerful energy projection abilities. But she simply had the cool punk factor that would be everything by the early '90s (by which time "punk" itself was of course an empty signifier, bought and sold).
E. Maxime and Manon (no last name!)
Maxime and Manon are from Brisson's 2018 Extermination quasi-event miniseries and haven't appeared anywhere else until now. In fact, they originated in a future timeline also introduced by Brisson, in X-Men: Blue #27, which has also never been mentioned outside his own work. In this (of course) dystopian future, mutantkind is nearly exterminated by a manmade virus (yikes). This was a consequence of the O5 X-Men being displaced as young teens into our present and never returning to their own time. Presumably, this reality winked out of existence after teen Cable showed up and sent the kids back to the Silver Age. However, these strange twins found themselves marooned in Reality-616—for Days of Future Past* villain Ahab had kidnapped them, turning them into Hounds. Jean freed them and at teen Cable's request adopted them.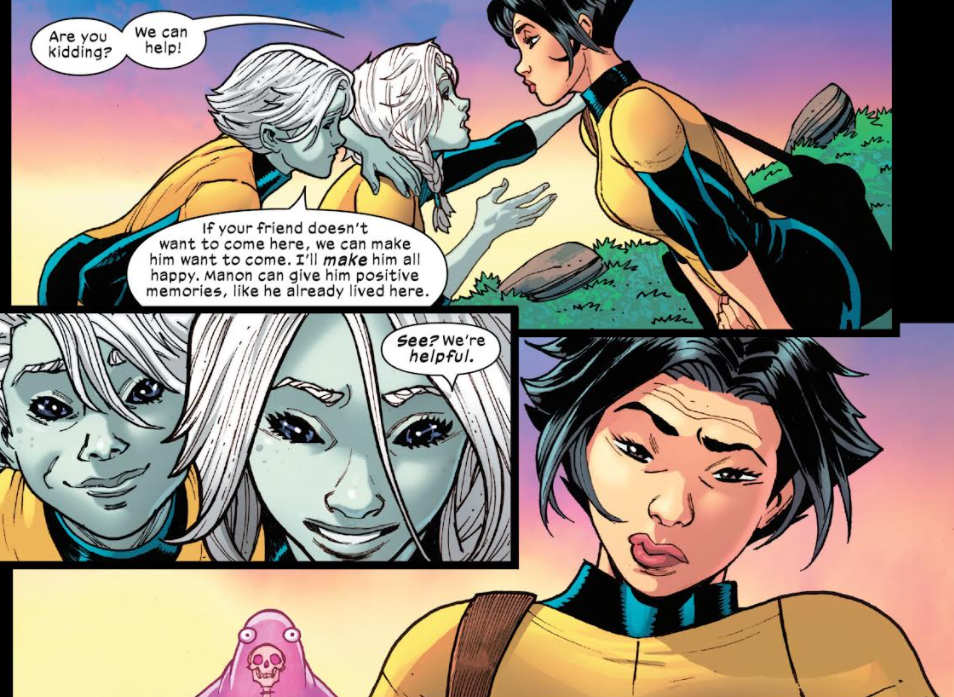 Born to French mutants, the twins saw their X-genes activate early in life. Until their abduction, they were emotionally healthy. Even after Ahab's influence left them, they retained unpredictable streaks of cruelty. Their powers, as seen in this arc, are somewhat like Empath's—manipulating emotions and perceptions. But they seem potentially more powerful considering what they did to Beak's memories. Perhaps someday, we'll find out who their parents are; we know only that they were students at the Xavier Institute.
*The DOFP future, Reality-811, hasn't disappeared because it was never Reality-616's future. Reality-616 cannot prevent it since it's a separate parallel timeline. The ontological status of the twins' reality is uncertain.
F. One-Off Baddies
The Bohem Cartel are one-off villains, standard callous thugs looking to ransom these mutant youth for Krakoan drugs they could then mark up for sale on the black market. We see Sebastian Shaw of all mutants take them down a peg in issue #8. (Did he really destroy them with a rival business deal? Meh, maybe.)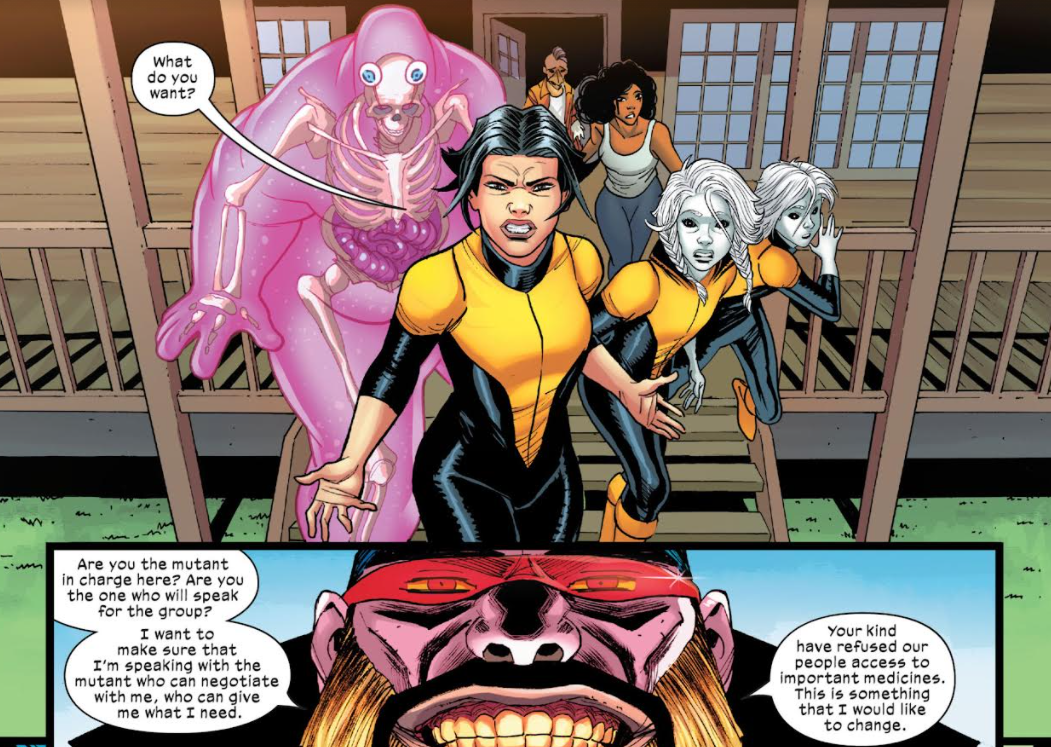 Incidentally, his insincere anti-big-pharma sob story does hit some relevant points, but with 2021 hindsight much of this topical monologue has become household knowledge, with much higher stakes in our reality.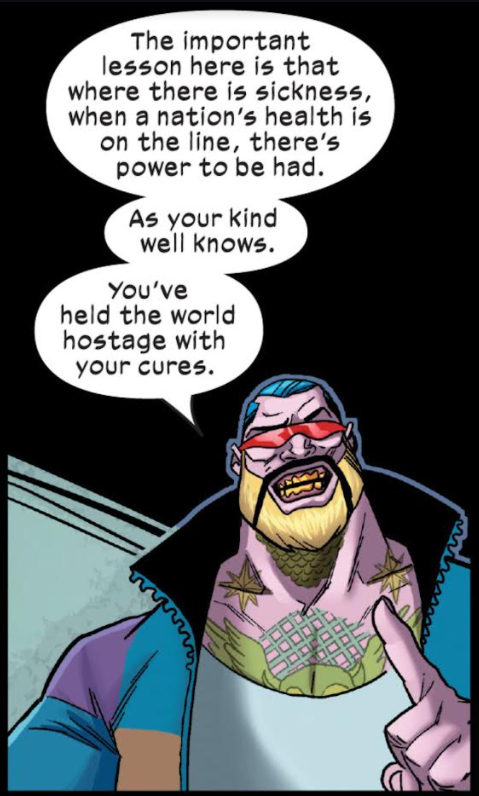 Issue #1 gives us the first in-depth, though still cursory, look at the Akademos Habitat. Oddly, the Five have the smallest domicile—the ambiguously/suggestively named Pod—while Gen X's Delta House is the biggest. Presumably, Omega House houses younger omega-level mutants. The original Hellions live in Beta House.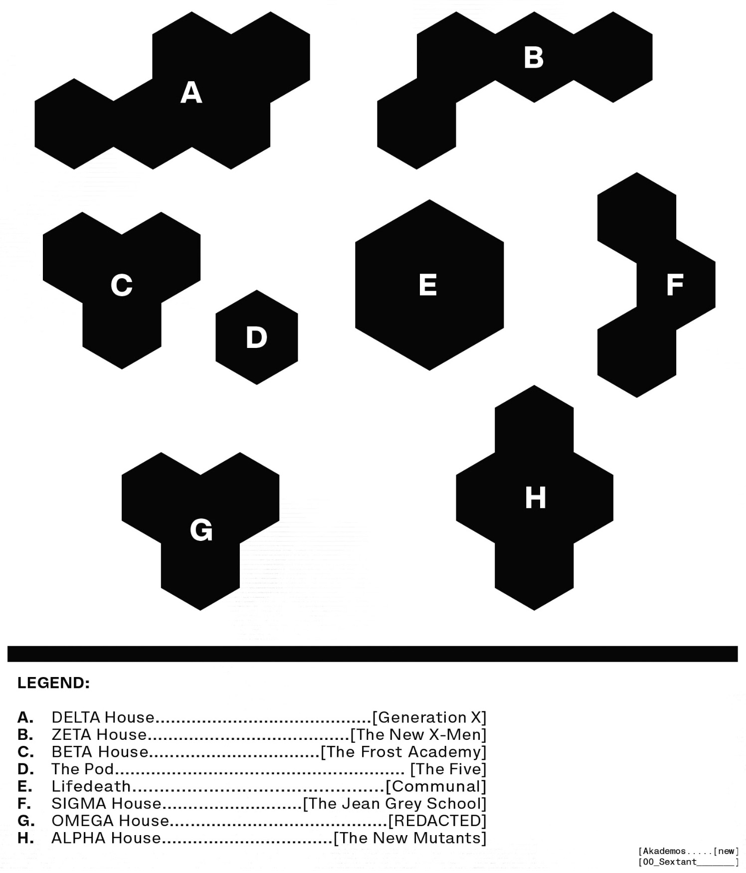 II. The Story
So, why isn't there more planning for these kinds of excursions into potentially dangerous human territory, like notifying Wolverine? I mean, he's not one of the scary creeps on the QC.
Well, especially ever since Rosenberg's Uncanny, these kids have not trusted their elders, with good reason. And maybe since Sage is busy with grown-up matters, she negligently leaves it to Tabby to check on the kids or not, she can't be bothered!
Unsurprisingly, while Tabby does help rescue the missing Krakoans, she arrives without any kind of plan.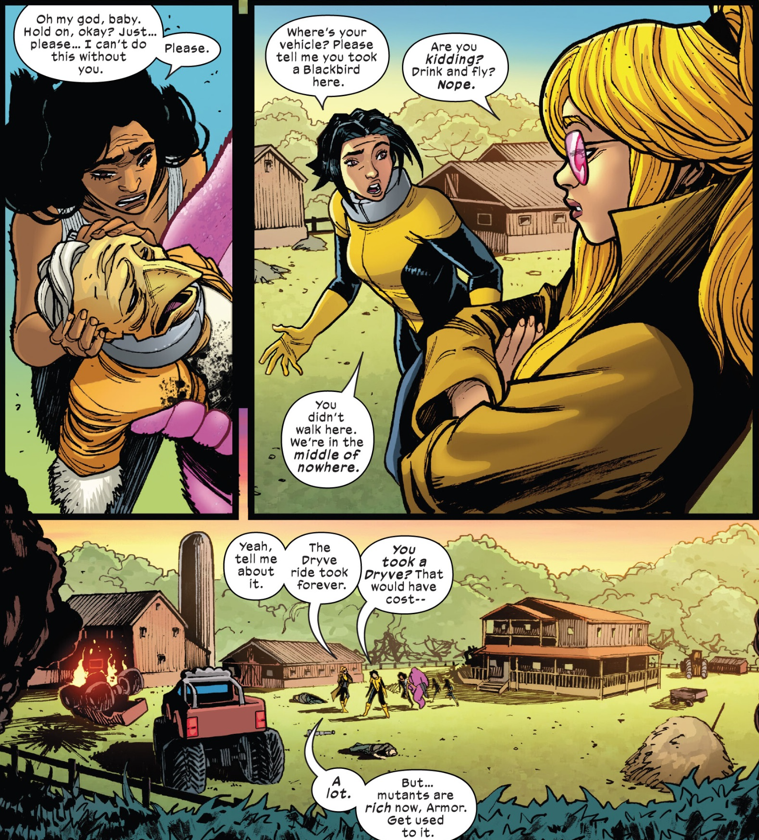 The most immediately relevant beat in this arc is the topical revelation that bigots are doxing mutants, which we'll see more of in Brisson's short run here.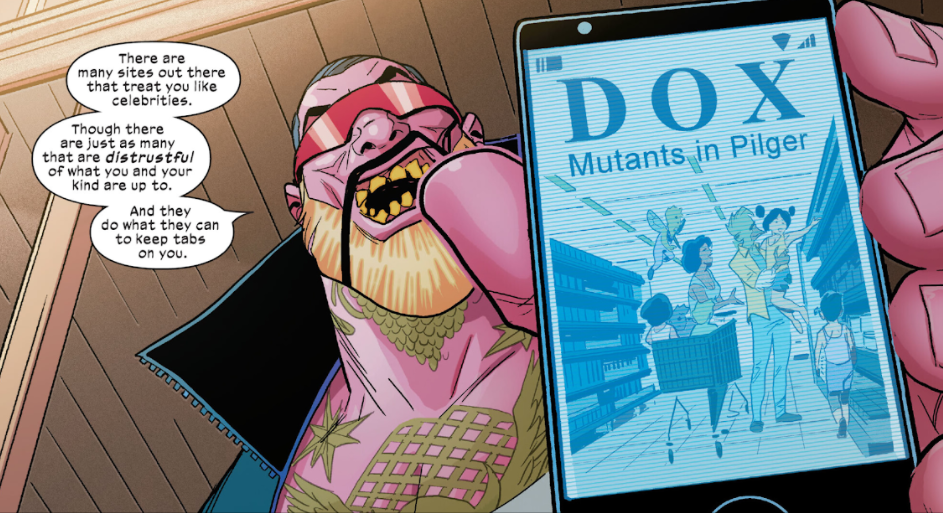 But what readers will certainly want to see more of is a closer look at Brisson's intriguing creations Maxime and Manon, who though the youngest Krakoans here prove themselves the most unthinkingly ruthless. Yes! Glob is correct that they might've gone about escaping with less violence—without endangering the kids and alerting the other thugs outside. Still, it's a very effective scene (until the senseless culmination in issue #6).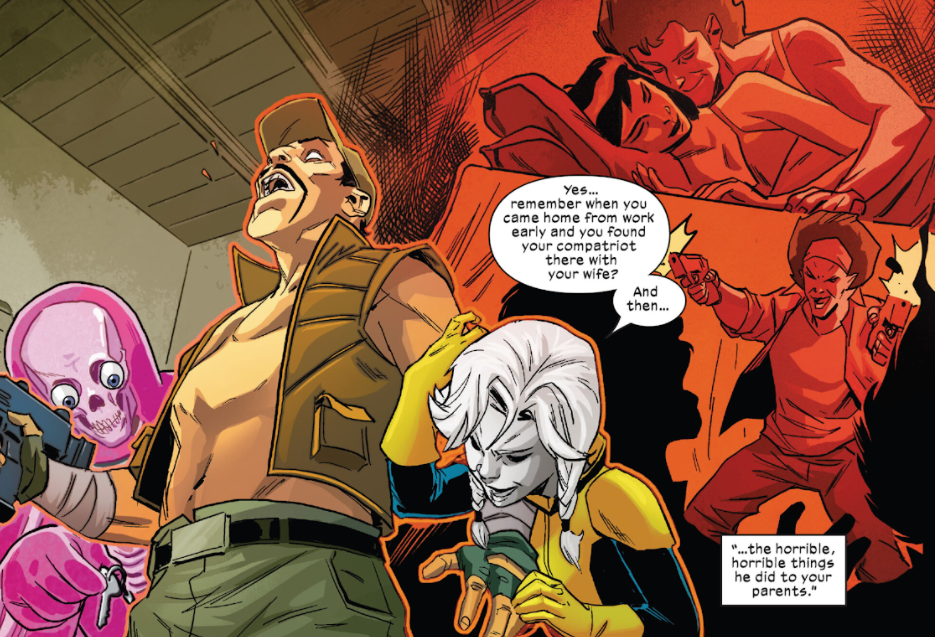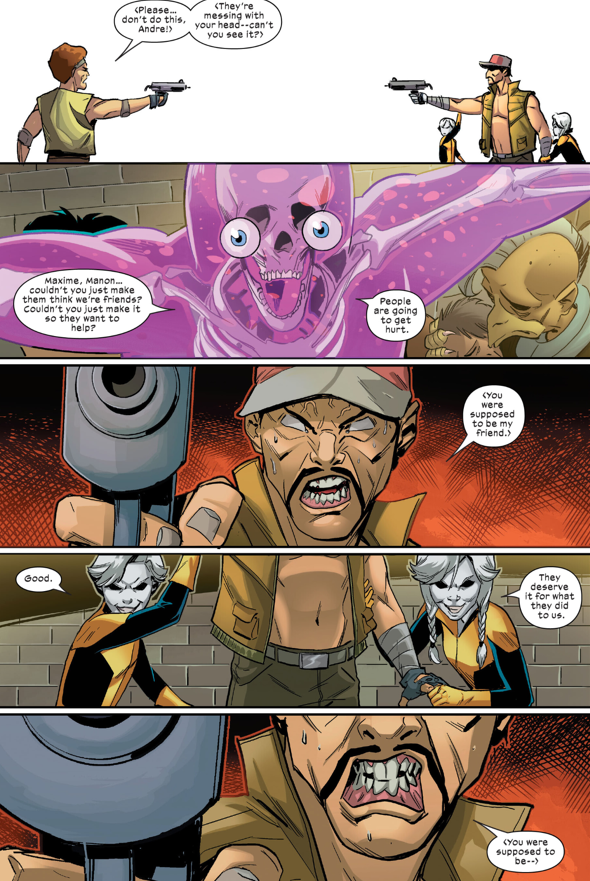 These bigots killing each other kicks off the violence leading directly to the murder of Beak's parents—and his own critical injury, keeping Beak from witnessing his parents' demise, though not his children!
Issue #8 is very underwhelming, but it did give us a closer albeit too brief look at those manmade beasts stalking the Krakoan gates in rural Brazil—as seen in Marauders #1. But once again, nothing more has developed from this, even though Brisson dramatically closes out the story by introducing a mystery woman promising death to mutants.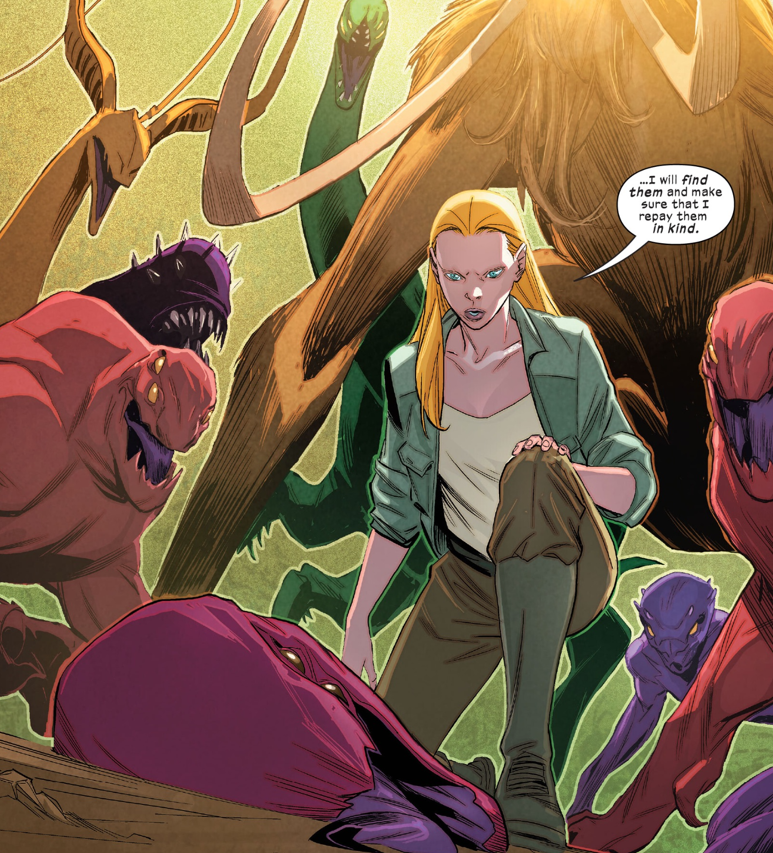 NEXT: X-Men #2-5