A Companion to 2019's X-Force
#1-6!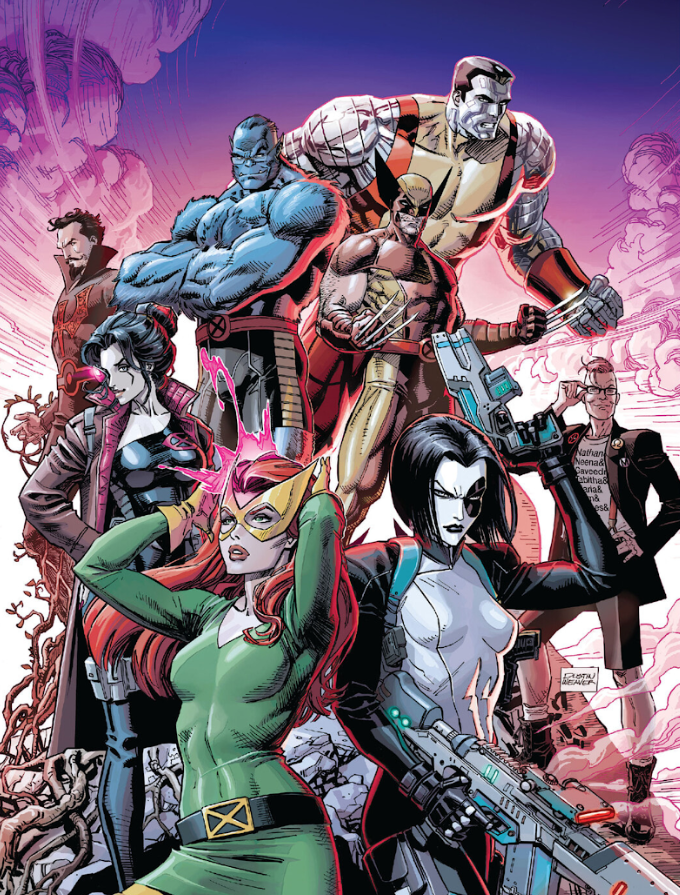 Benjamin Percy's X-Force dives right in from the first page, opening the dark vein this violent sub-franchise has tapped into since its 1991 inception—growing darker and bloodier with every iteration. Or seemingly so. Certainly, each volume after the initial and longest-running one has been grim, dark, and brooding—except Ed Brisson's relatively light 10-issue run* immediately preceding House of X. While we're looking here at the sixth X-Force series, we shouldn't forget the grimmest iterations—the two volumes of Uncanny X-Force written by Rick Remender. And there was the underwhelming Cable and X-Force, as well.
Related:
Support For Comic Book Herald:
Comic Book Herald is reader-supported. When you buy through links on our site, we may earn a qualifying affiliate commission.
Comic Book Herald's reading orders and guides are also made possible by reader support on Patreon, and generous reader donations.
Any size contribution will help keep CBH alive and full of new comics guides and content. Support CBH on Patreon for exclusive rewards, or Donate here! Thank you for reading!
*Brisson's series is very timey-wimey and focused on teen Cable—following on from 2018's Extermination, the mini where Brisson introduced him. For the conclusion of teen Cable's arc, read Duggan's Cable title, which just wrapped up at issue #12.
But what exactly is X-Force?
I. X-Force
A. Classic X-Force
First, there was X-Force led by (old man) Cable, taking in the pitiful remnants of the New Mutants, just Sam and latter-day addition Boom-Boom, as well as Warpath (until Dawn of X, one of two surviving Hellions, Emma Frost's Massachusetts Academy students) and Rob Liefeld's ultra-90s newcomers Shatterstar, Feral, and Domino. Whereas the X-Men had always been a reactive super-team, Cable's was proactive. And perhaps unsurprisingly, this anti-mutant-terrorist strike team soon looked to many like a terrorist cell itself. Nowadays, you'll find half of these characters back in the New Mutants title—here and there.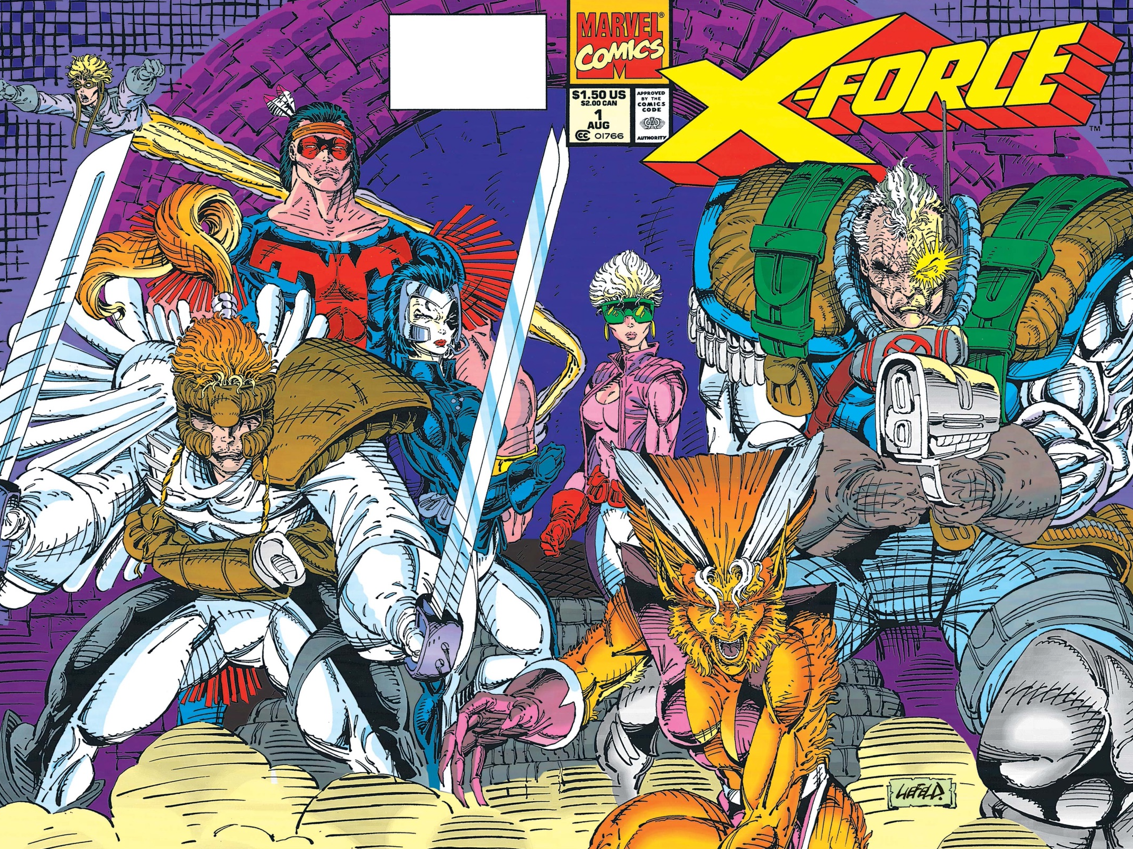 The only holdover is Domino, the most consistent member—even more than Cable! (More on her below.)
Then there was the X-Force strike team, which is more how we should understand the current iteration. While their first outing was supposed to be a one-off—hunting down mutant-baby-stealing (old man) Cable at Cyclops' request, amidst the 2007/2008 Messiah Complex event—Scott continued in secret to send them on black ops missions, thus instigating the hyper-grim and -serious era of X-Force volume 3, which primarily featured Wolverine, Archangel, X-23, and later Domino.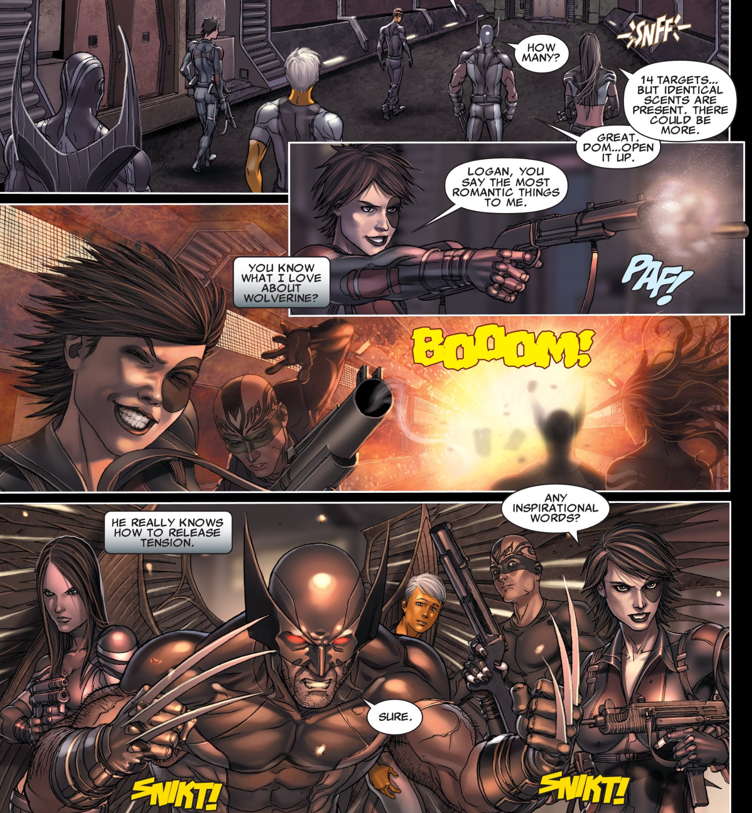 [X-Force vol3 #9, 2009]
She always arrives mysteriously late to these team books, though, probably because she's usually been off having her own, much more fun mercenary adventures!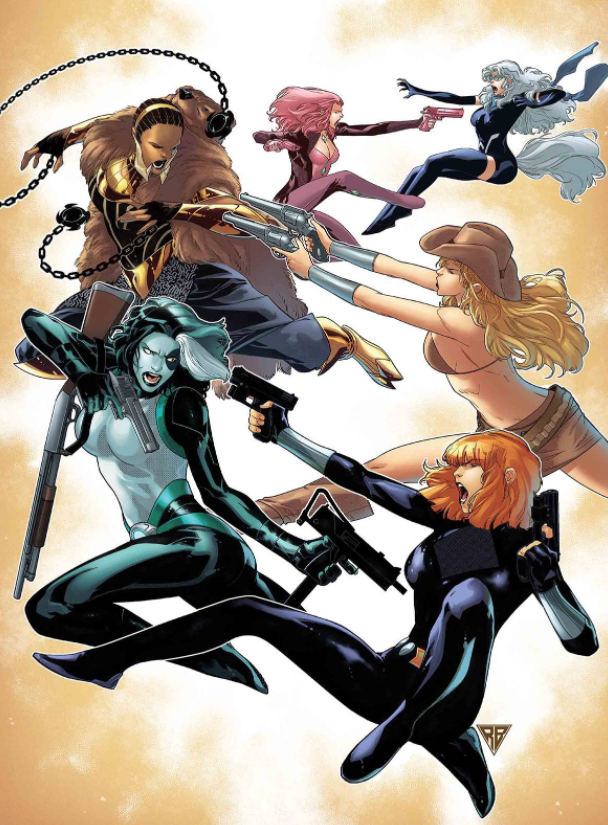 [Domino: Hotshots #4, 2019]
Minus X-23 and Domino, plus (Betsy) Psylocke and Fantomex, this strike team continued its misadventures and general descent into a nihilistic abyss in Remender's Uncanny X-Force.
B. The New X-Force—Krakoan Security & Black Ops
So, Percy's X-Force will be anchored by the two X-Force mainstays: Domino and Wolverine*, who impressively share equal space here. This series has boosted not only Domino's profile in the X-verse (while her previous outings were solo or with non-X friends)—but that of Sage as well. If nothing else, it will influence future creators to spotlight these largely peripheral but uniquely bad-ass ladies, as well.
*While it doesn't seem like they've ever been in a serious relationship, in the past these two have been friends with benefits—fitting for a pair of hardcore black ops lifers.
The book is anchored as well by the shocking megalomania of Hank McCoy and his captive audience—Sage. Hank's nihilistic pomposity has created a lethally toxic work environment, and her counterpoint is that of a serious, dedicated professional put upon by the erraticism and secrecy of her idiot superior. (Undoubtedly, we will see Sage's payoff for putting up with the Beast's distressing mania. Until then, she'll certainly maintain her poker face.
(And if Sage gets her man, Domino too should end up getting hers—"the Man with the Peacock Tattoo.")
Now, in the Krakoa era, the Quiet Council—namely, Xavier—has decided the fledgling state needs this team more than ever before. Of course! What government doesn't employ a secret security apparatus? Not that things should be this way, but hey, if you want to get into the business of state-building … you've got to be more than willing to wade nose-deep into the moral quagmire that comes with securing and holding power, understanding that the stain that comes from merely dipping one's toes in that bottomless morass can never be washed away.
C. Themes and Structure
Stain. Quagmire. Morass.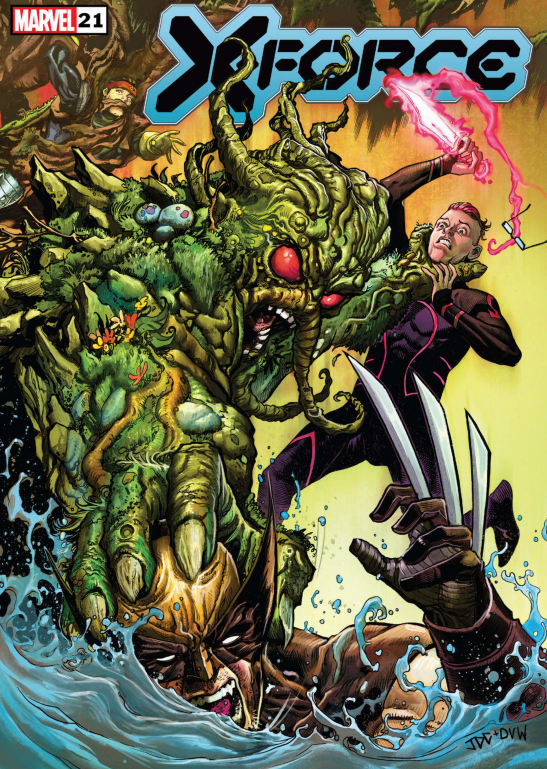 Taken both figuratively and literally, these descriptors are baked into Ben Percy's X-Force. Anything evocative of a swamp or swampiness are also fair game for getting thrown into this meat- and veggie-grinder.
This is both a compliment to Percy's unique vision (think grim-dark X-Force meets classic Swamp Thing) and a criticism covering the general narrative structure—or rather messiness—of the book. The atmosphere wrought by what visually feels like very humid settings, primarily in Krakoa, and the hypertrophic vegetation that seems to abound from every issue, as if ravenous for prey, is grimly evocative of the moral quagmire that X-Force is forever embroiling itself in, thrashing deeper with each mission, into the murkiness.
Oddly enough, Percy's singular and gradually deconstructive focus on the inherent seediness of X-Force—root and branch—so consistently weaves its fascinatingly noxious subject matter through every page and issue that the overall design of this monthly title can feel blurred and inconsistent—at worst, erratic.
What I would like to argue is just a perceived flaw certainly finds its justification in the four crossover issues for the Excalibur– and X-Men-centric X of Swords event (#11-14). (But on a second readthrough the quality of X of Swords redeems what felt in the monthly releases like missteps.)
There is a perception problem, too, shared by most comics at this point: While we saw nine X-Force issues in less than five months (#1-9), there was that COVID gap, only three months in this case, but awkwardly splitting up the two-issue story introducing the title's secondary conflict (first previewed in issue #6). Then came the four months of X of Swords.
In fact, it's a full year before the title gets back to the focus of its primary antagonists, XENO and "the Man with the Peacock Tattoo," whose true nature and threat level remain both seriously distressing yet murky and unresolved.
There are probably more than a few readers out there for whom this isn't an issue, as long as the title remains a regular monthly font of violence, mayhem, and gore rendered in all its dark, kinetic beauty courtesy of artist Joshua Cassara, colorist Guru-eFX, and the occasional Cassara-emulating fill-in artists.
But like any title worth your while, it does read better as a whole, and Ben Percy's rich narrative weave emerges clearly on the reread.
D. Who's Domino?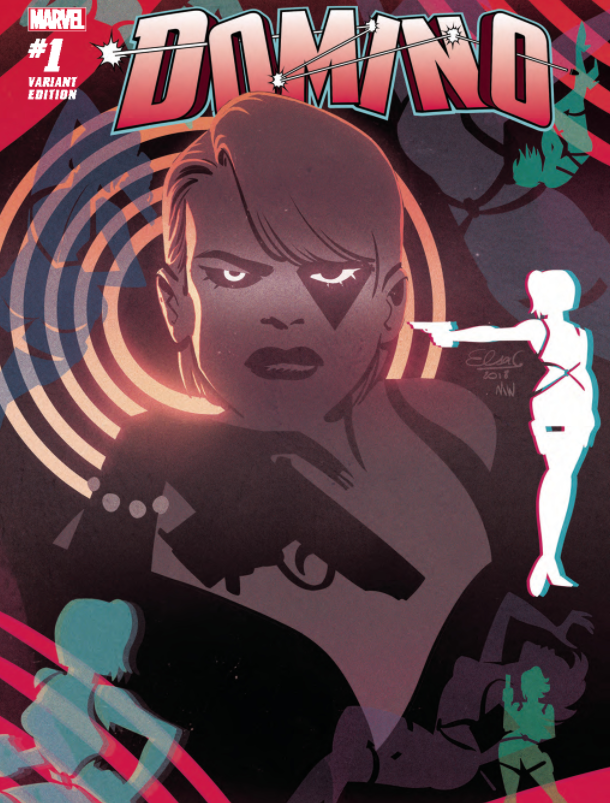 Ex-NSA agent and mercenary, Neena Thurman is a probability-altering mutant, analogous to Black Cat but much more powerful at manipulating luck, the source even of her metahuman agility and reflexes. Extensive combat training helps too. Maybe hanging out with and fighting alongside fellow mercenary Cable, also now her ex, helped too.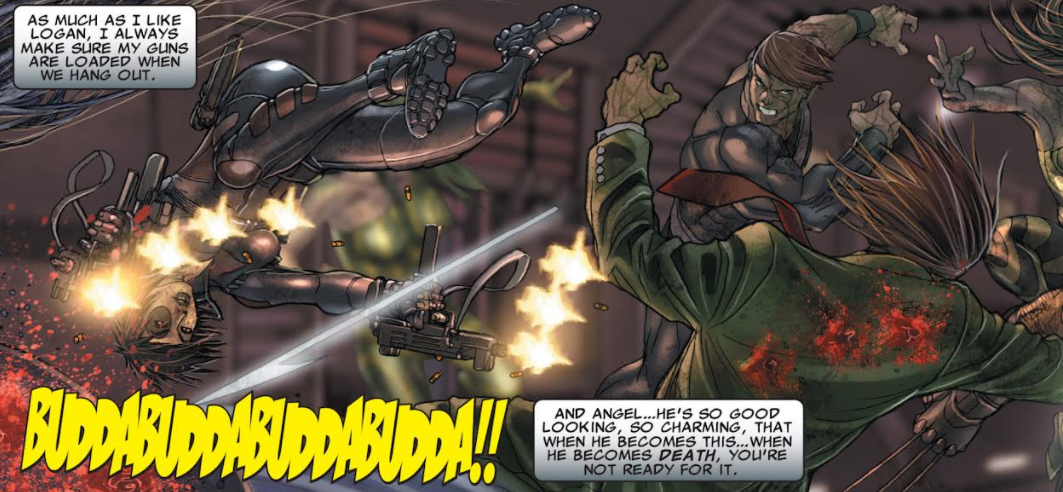 [X-Force vol3 #9 again]
Domino debuted in 1992's X-Force #8 and also went by Beatrice, derived from beatus, the Latin word for "lucky." (Her given human name wasn't revealed until I believe 1997's Domino miniseries, at which point indie cult-hit actress turned Hollywood superstar Una Thurman was quite famous—so yeah, these ladies are pure '90s phenoms).
Before she became a mercenary who ran with Cable's heavily armed, for-hire crew, Neena Thurman was subject and captive to US government experimentation into engineering mutants solely for national security and thus the need for monopolizing the use of violence. A perfect fit, then, for Krakoa's X-Force, right? (This background is detailed in the later Domino miniseries, from 2003 and 2018 respectively. The second is quite the romp, from a superstar of comic violence, Gail Simone of Birds of Prey fame.) In both, we find a cleverly made connection between Domino's traumatic childhood in captivity and the all-but-forgotten Project Armageddon, the government-funded brainchild of the villainous Steven Lang—all of which is introduced and apparently concluded in one of Claremont's earliest X-Men stories, issues #96-100 (1976).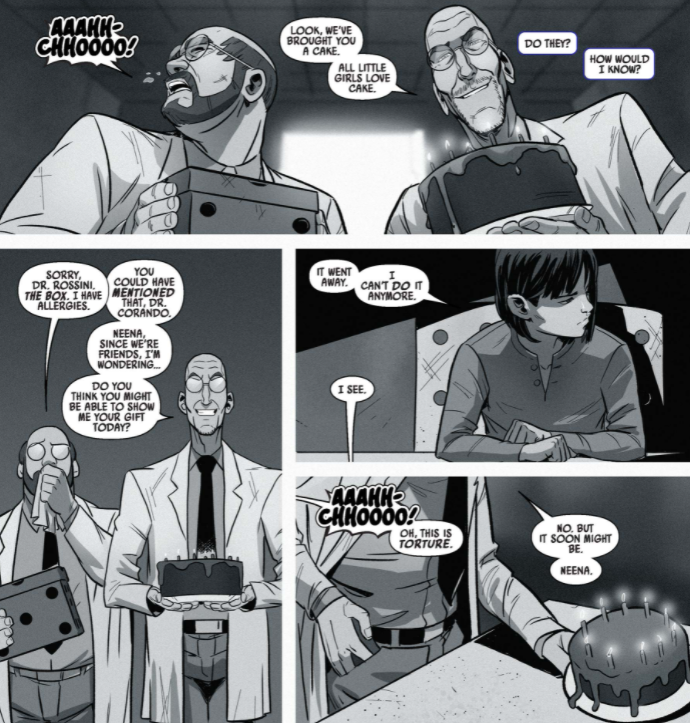 [Domino vol3 #3]
Domino's stint as an NSA agent was sandwiched between bouts of mercenary-living. Post-NSA, she fell in with Cable's Six Pack merc company. (See the fun two-issue Cable – Blood and Metal by Fabian Nicieza and the pencils-and-ink team of John Romita Jr. and Dan Green at their career peak!) She joined X-Force initially at the request of Cable, not out of any sense of duty or allegiance to the concept of mutantkind.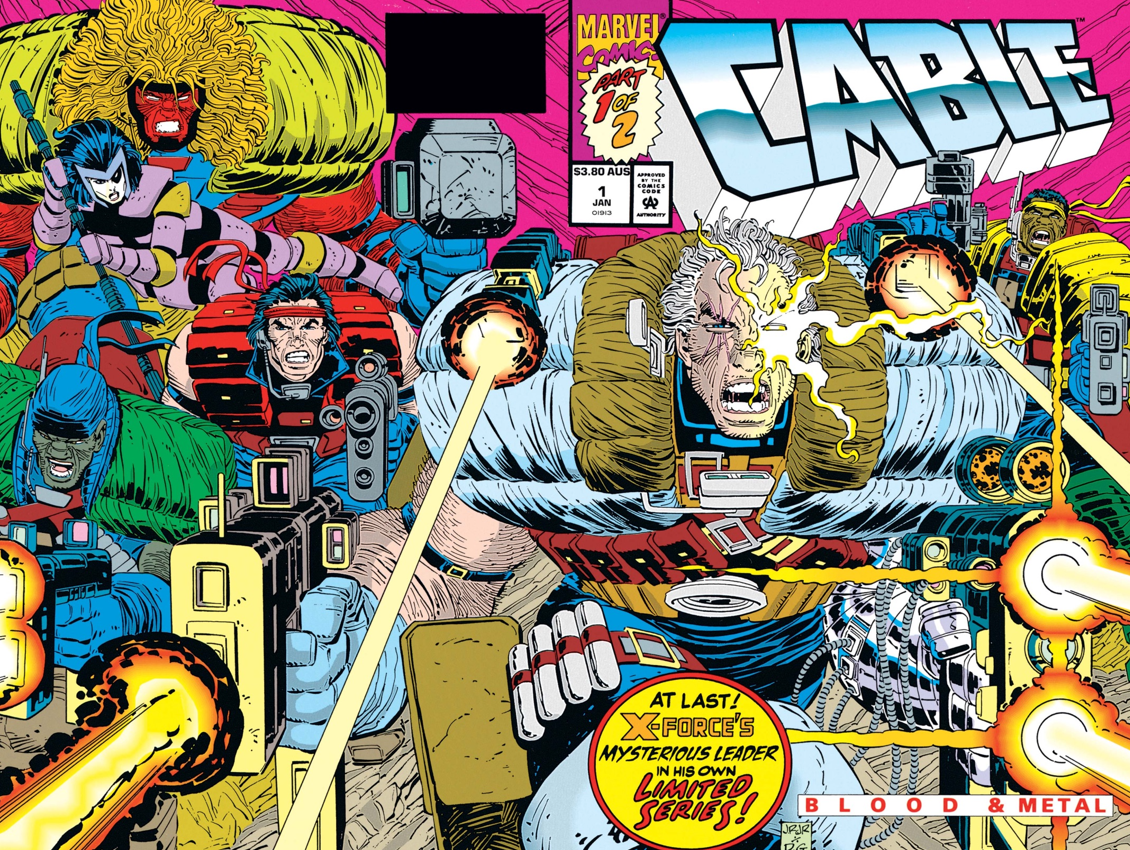 Once on the inside, she found a new family, however much she'll always prefer keeping them at a distance. This is subtly tied into the central themes of Percy's X-Force.
With Gail Simone's recent Domino titles, Domino became something of a hit just before the Krakoa era. While not without its flaws, this treatment of her character was by far the fullest, richest, and most human and insightful to date. Percy's portrayal of the ex-merc will be much darker, but so far he's in the running for best Domino storyteller—not the lack of competition here diminishes the compliment, seriously.
II. X-Force #1-6: Recap & Critique in Brief
A. XENO
1. Hunting Ground
From the first page, masterful suspense: Who will inevitably fail this creepy man's "purity test"? Will it be a newly introduced mutant? Wolverine? Maybe—to the delight of some no doubt—Quentin… Nope! We're starting with serious tragedy, instead. It's Domino—devastatingly out of luck.
The gradual reveal of her identity here captures the darkly cinematic quality of the storytelling throughout and the considered visual tells that deepen its suspense.

There's another wordless reveal later on, showing the attentive reader what horror must have been perpetrated upon Domino.

And despite his seeming surprise that she's been missing for a week, Xavier it turns out knew that she was walking into a trap (see issue #2)—to invite the traumatic spectacle of his own assassination.
Cassara and Guru-eFX's depiction of the Krakoan jungle is beautiful and even now, two years later, unique in providing a glimpse of the island's wilderness—which we really don't get in any other title, outside a few pretty but tame and unremarkable forest-backdrop settings. However, this scene in X-Force is also clearly a savage intimation that something's amiss with Krakoa or Beast, or both. But whatever the nature and status of Krakoa's carnivores after this brief sequence—there's been no further revelations.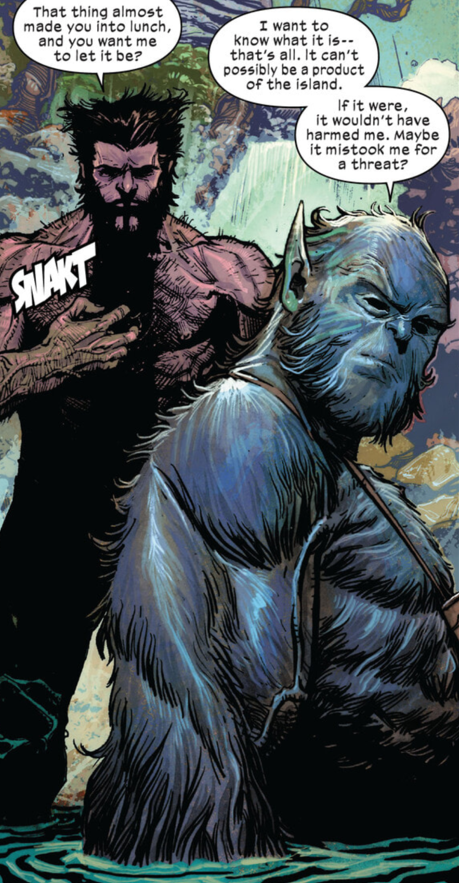 Unless! Krakoa's infection as seen in issue #17 is the cause of these free-ranging carnivorous symptoms. But I don't believe a direct connection has been made.
Figuratively, we see Beast getting out of his depth in the dank wilderness—odd, given his name, but appropriate given his actual character—while these wilds are more comfortably Logan's stomping grounds. And the scene allows Logan to give a brief motivational speech ("When you're safe, you're soft"), incidentally showing why he's always been prime X-Force material—if not in the style of Beast's M.O.
Hank's leadership of X-Force is the worst ever. X-Force's very existence has always been questionable, but it's Beast who tries his utmost to make it completely untenable.
We next get a closer look at how the island's "ward" (as Xavier calls him) Black Tom surveils and communes with Krakoa's vegetal existence. If that sounds Swamp Thing-creepy and fetid as it does serene, then you're getting the intentional creepiness of the book. He now speaks in the first-person plural, which Forge worries about (see Forge's itinerary in issue #4).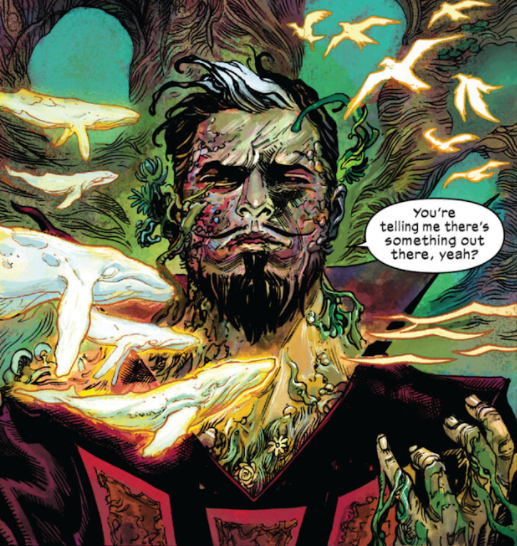 The deepest—and most fetidly poetic—dive yet into his expanded being, hybridizing with Krakoa, is found in issue #5's first data page.
Kate's Marauders make an appearance; such cross-pollination is relatively rare during the Dawn of X (before X of Swords). This mutant liberation team arrives without their eponymous ship, so this occurs between Marauders #1 and 2. They must've gone back to Russia, for it's revealed that their dying passenger, Colossus, had been operating there at Xavier's request as a low-profile Krakoan extraction agent. Perhaps he wasn't regularly in his metallic form until met with whatever severe crisis left him at death's door. And what catastrophe exactly did he suffer? It's still something of a mystery.

(Further, what "tactical response" has been visited upon the Russian state? Crickets?)
Issue #3 sees Xavier's dying assassin killed by a big mysterious hand. I suspect it was Colossus—but it's still a mystery!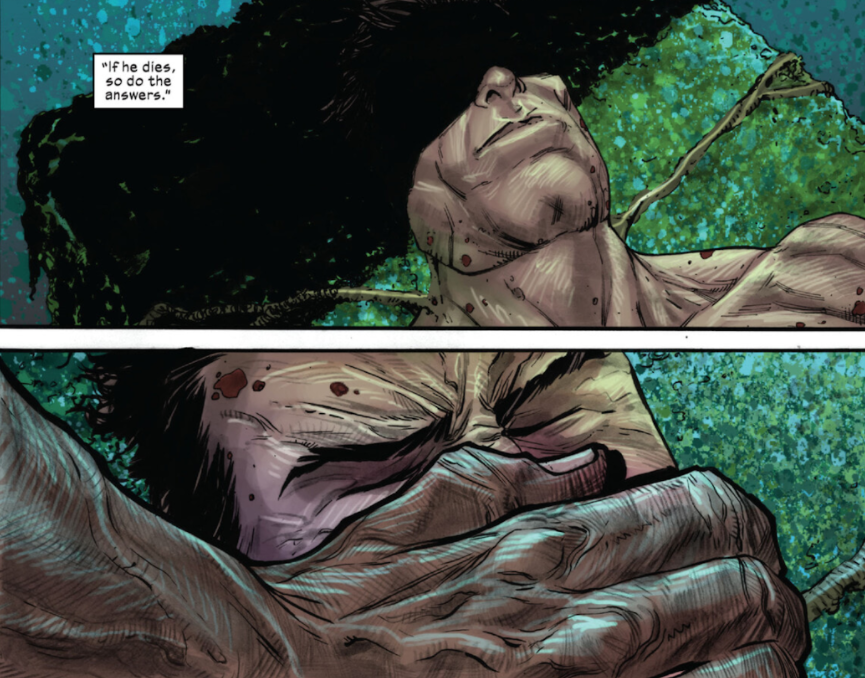 First appearing here and remaining primarily an X-Force venue, the Healing Gardens are a nice touch appropriate to the medical needs of this wetworks team and the gloominess of the title generally. (It seems too dark and unsanitary to have a serious operating room!) Along with Dr. Cecilia Reyes, the Morlock Healer is a sensible addition—making for an extremely spare medical team of two. (Maybe Elixir pops over sometimes.) Healer's publication history amounted to five appearances in nine years before he gave his life to save fellow sewer-dweller Callisto. This issue marks his return.
Xavier himself is on a world tour signing treaties. We see here his fateful visit to the fictional Sokovia (famous from the Civil War movie), where surprisingly he doesn't hesitate to down the champagne—revealed later to have been tampered with by XENO agents to get a homing device into Xavier's body.
Black Tom's fervent speech could for the reader be in reference not just to the obvious enemy but to Beast, Colossus, even Xavier. (I love how Black Tom's become less comically flamboyant and more intensely fervid and vegetally grotesque and hermit-like.)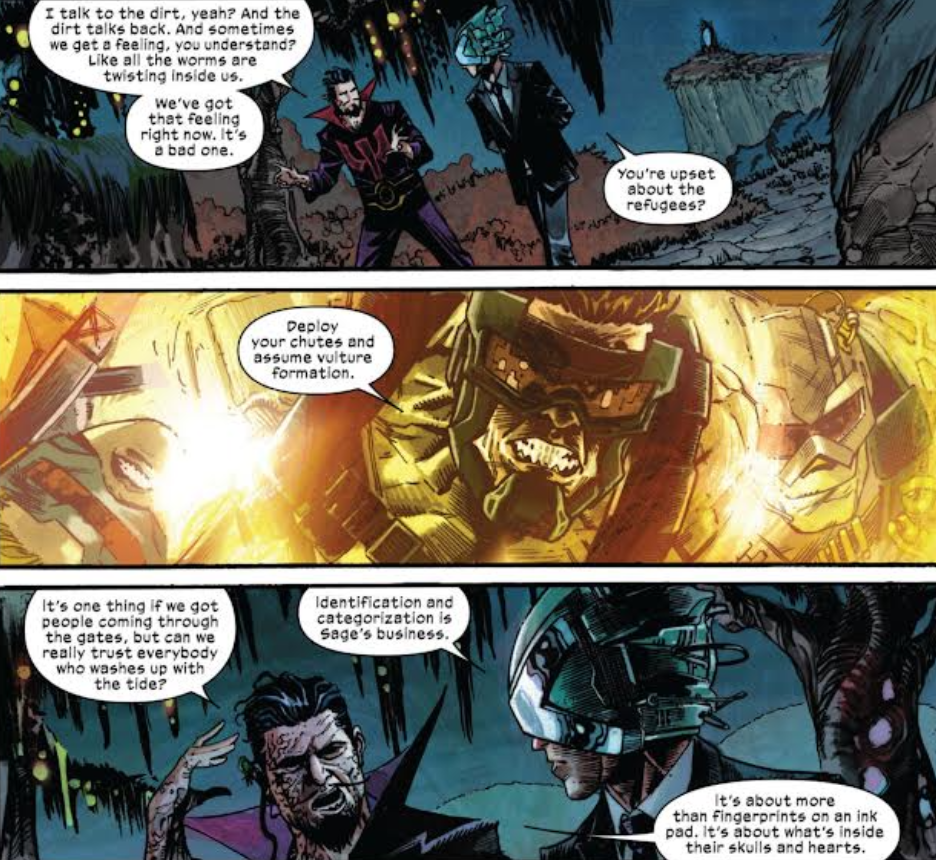 He's at his best ever, poignant, rowdy, furious, in issue #3: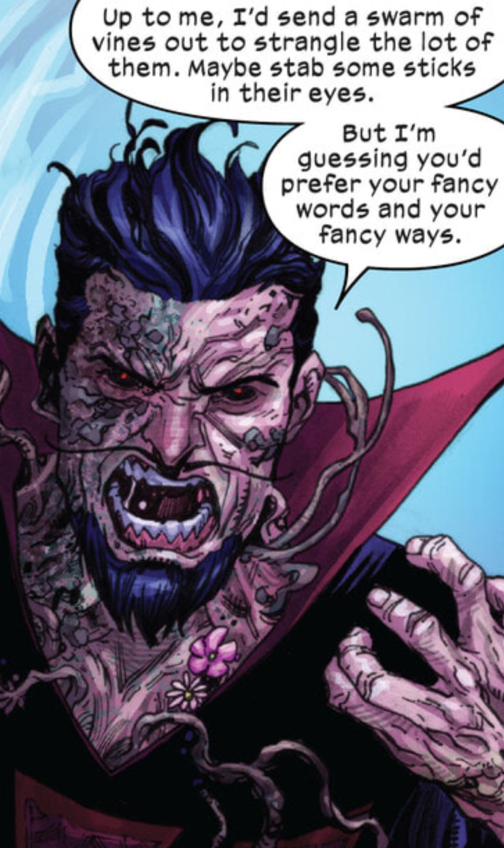 Oh, Xavier. Even from the instant of his murder, it felt reasonable to assume he allowed it to happen—thus also allowing a young mother (and 32 others) to be shot dead, leaving her daughter splattered in gore. The Professor is making a Machiavellian point by permitting the maximum allowable damage to mutantkind's new utopia. The difference between this and Logan's earlier comment is that Logan isn't forcing his beliefs on anyone, especially not through such reckless duplicity—which for Logan the guinea pig is just about the worst sin.
(If the baddies are, ugh, wearing Domino's skin, why didn't they just step through a gate?)
It was shocking at this point to see Hank kill without hesitation (and immediately thereafter preventing Logan from killing Xavier's assassin. The nascent X-Force stupidly not taking any useful captives.)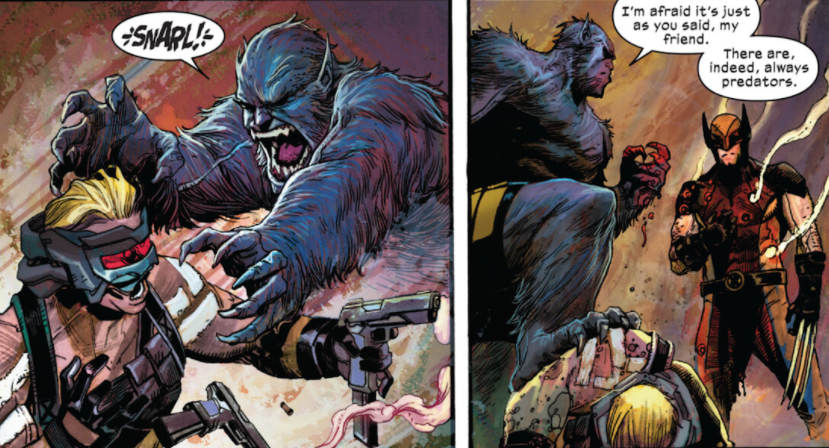 Nevertheless, this is the first major event since the Forge raid. Recall that the wider world doesn't know that Krakoans can be resurrected.
Percy's title here is an excellent fit for Xavier as well as X-Force. Those who would keep paradise safe or secure their own abundance are unlikely to fully enjoy the pleasures of their plenty.
Xavier himself may have already cracked beneath his burden of state, and X-Force #3 will provide us the most serious glimpse at Xavier's interiority since his return in 2018 until the present moment. Elsewhere, we're treated to a vaguely sinister or simply goofy caricature of the venerable Professor.
Magneto forges the Cerebro Sword from Cerebro's shattered remains. This strange evocative device will reappear briefly in X of Swords, only to be stolen and returned much more pointedly in X-Force #23.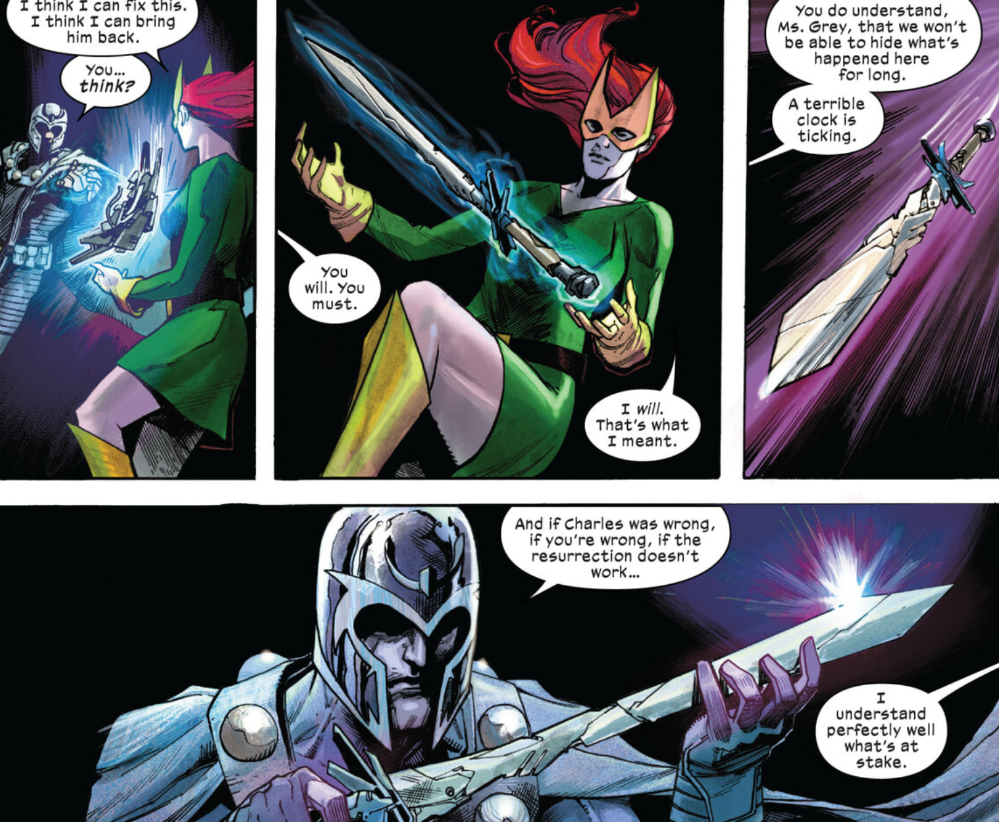 The baddies as first suspected of being connected with the cyborg Reavers, but they're not cyborgs—or not in the customary sense, having been re-engineered or fully engineered with biotech.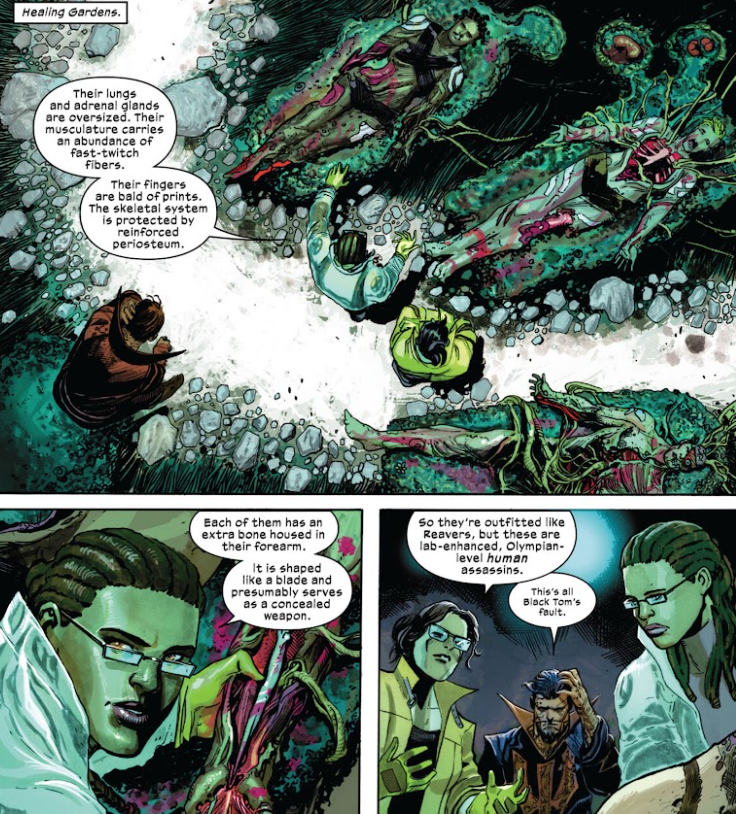 They're more thoroughly weaponized than any previous human supremacist outfit (see also issue #3's first data page).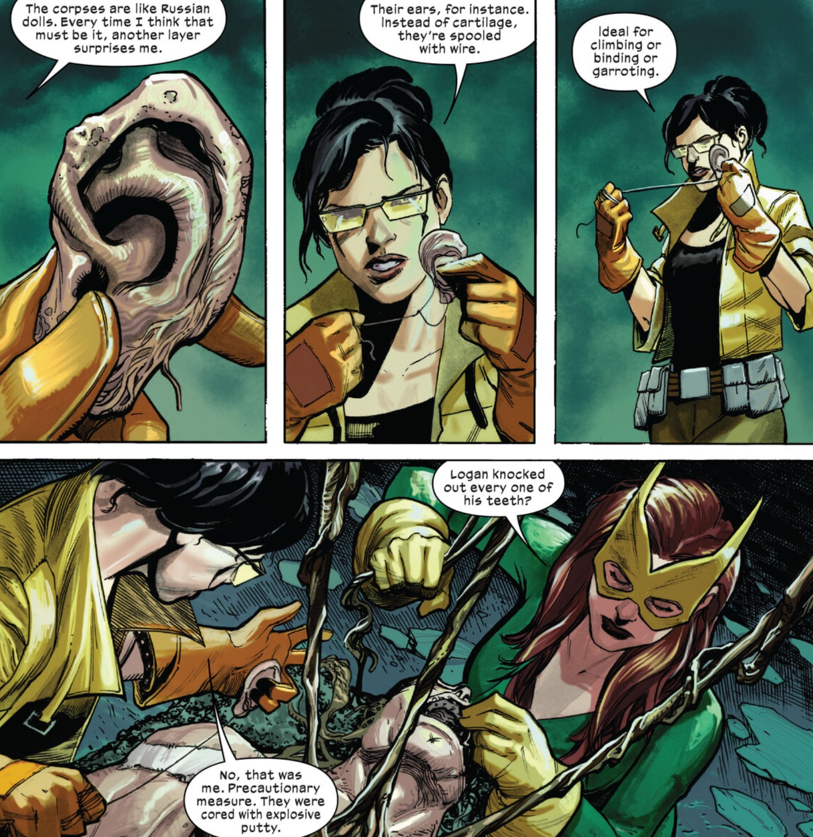 I'd forgotten the Quiet Council approved a "daily EMP blast"! That's no way to run a modern nation. Sheesh. Would this even work with what we've seen since? Nope!
Meanwhile, Logan delivers grim-dark quips at once provocative and silly, fully in his classic vein and perfect for X-Force: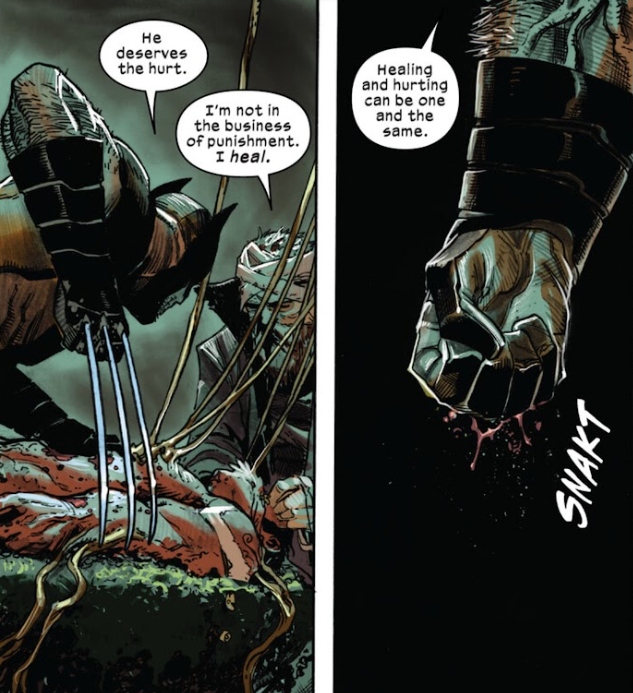 Logan's unintentional parody of a Batman mission leavens this poisoned mince-pie of a book: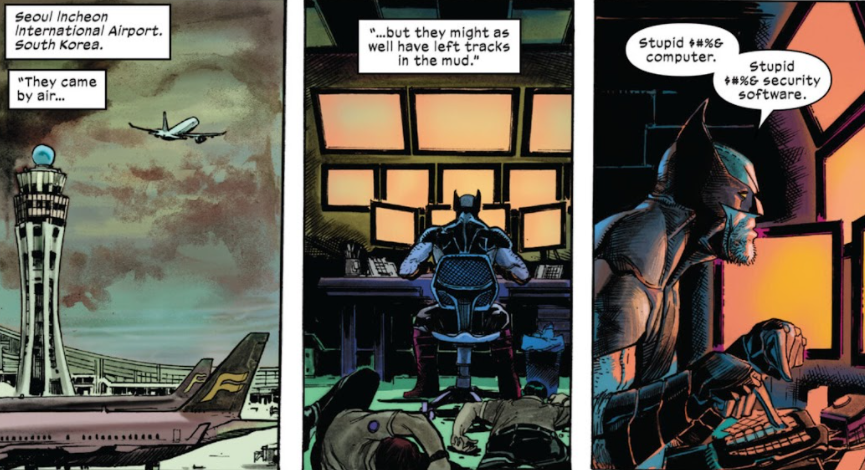 And runs into his once and future pupil: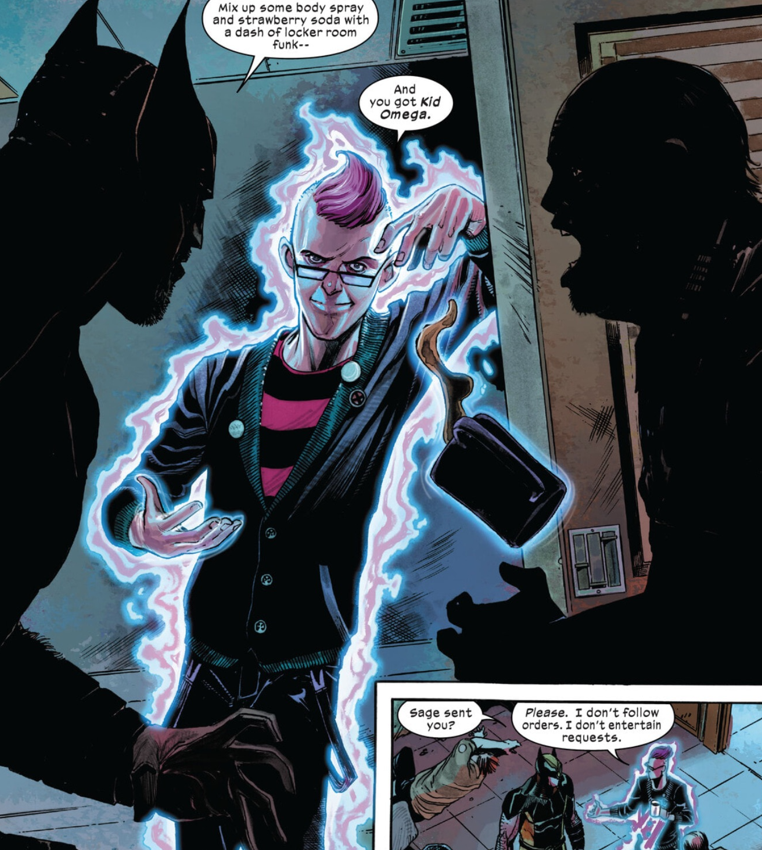 See also: Quentin's time as Logan's worst headache student when Logan was, bizarrely, headmaster at Xavier's, in Jason Aaron's Wolverine and the X-Men. (Quentin is still most famous for his debut story arc, the Quentin-centric "Riot at Xavier's," in Grant Morrison's New X-Men #134-137, 2003.)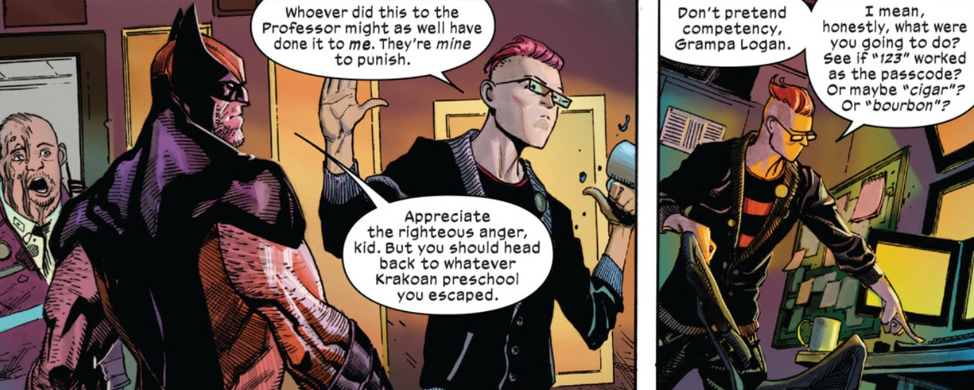 Wonder how Quentin will feel upon learning of Xavier's deceptions! An insecure teen (forever, probably), Quentin really seems more interested in showing off as offensively as possible: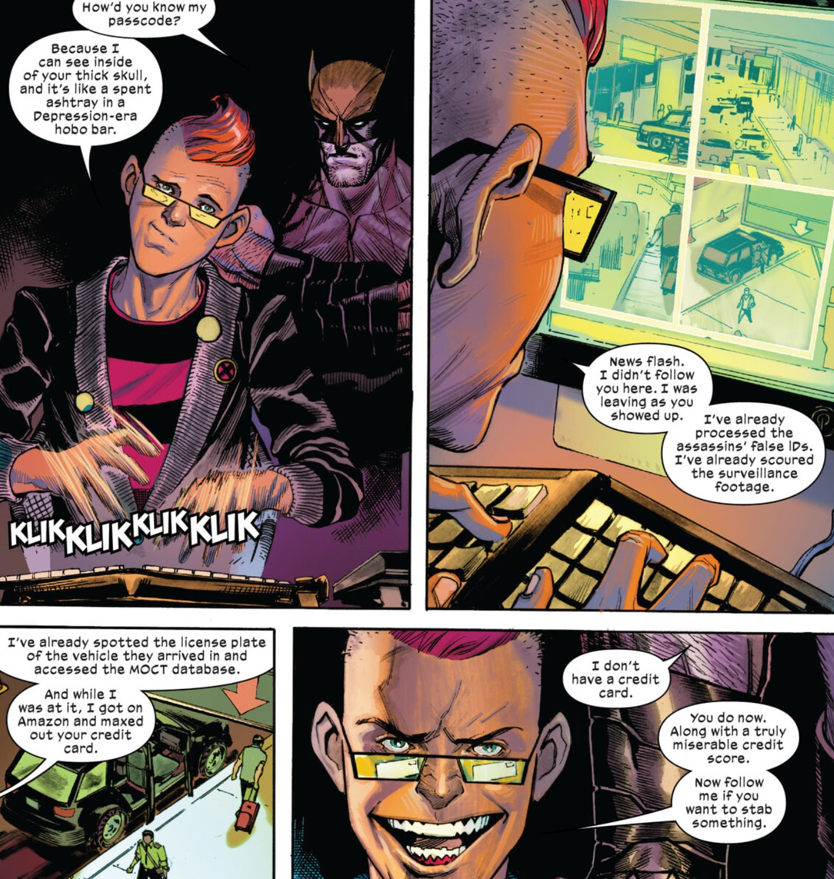 But his gross insults do sometimes start from a kernel of truth, which other questionable characters distort in their own ways as well (re: half the QC!):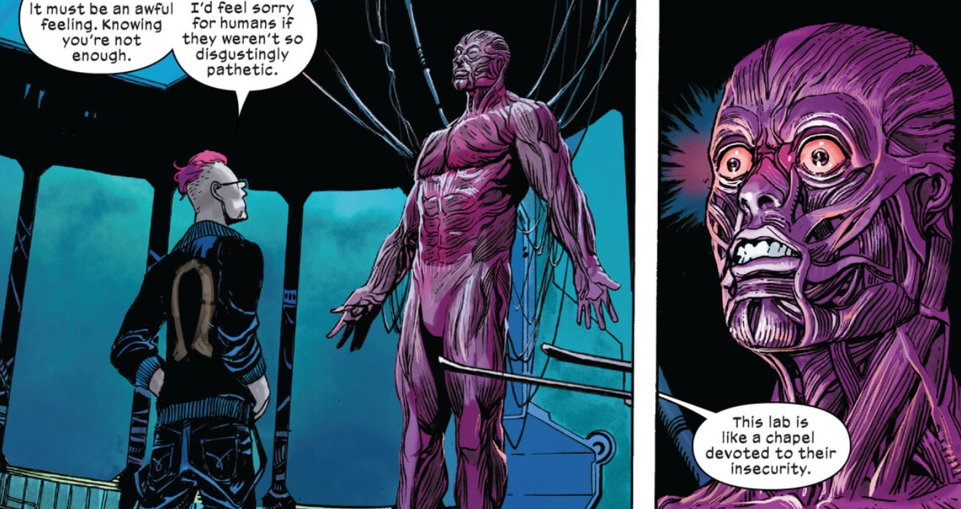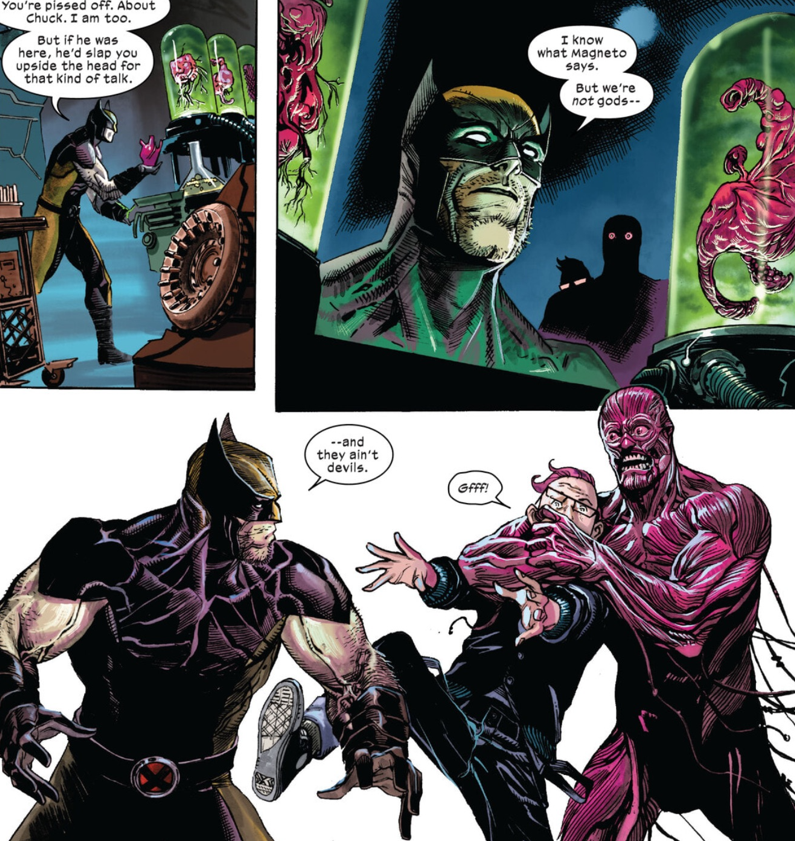 *

If Logan's a good harsh mentor for Quentin, he's equally a savage spectacle on mission. But even then, Percy is giving us a Wolverine who knows his business as a uniquely atavistic detective.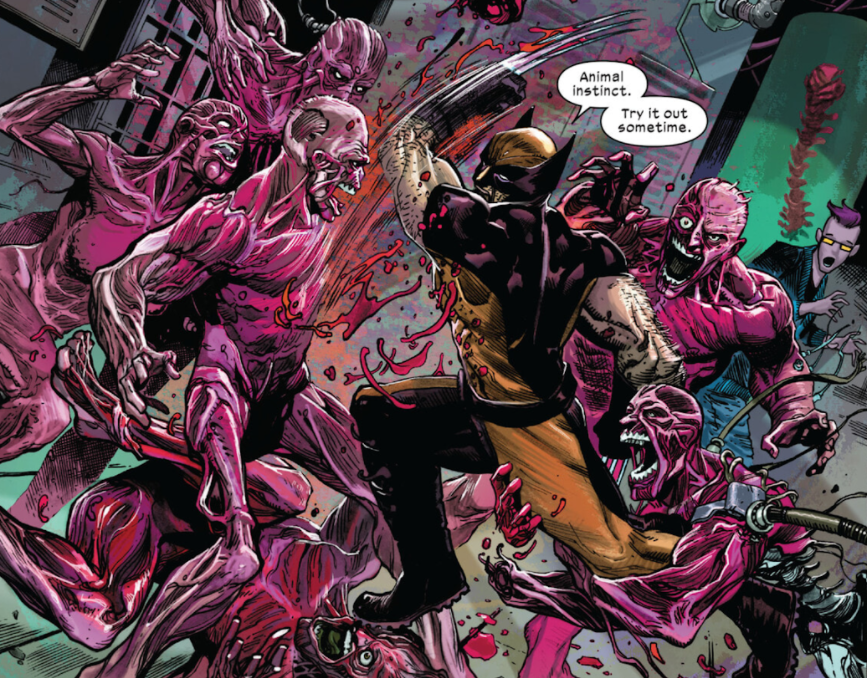 *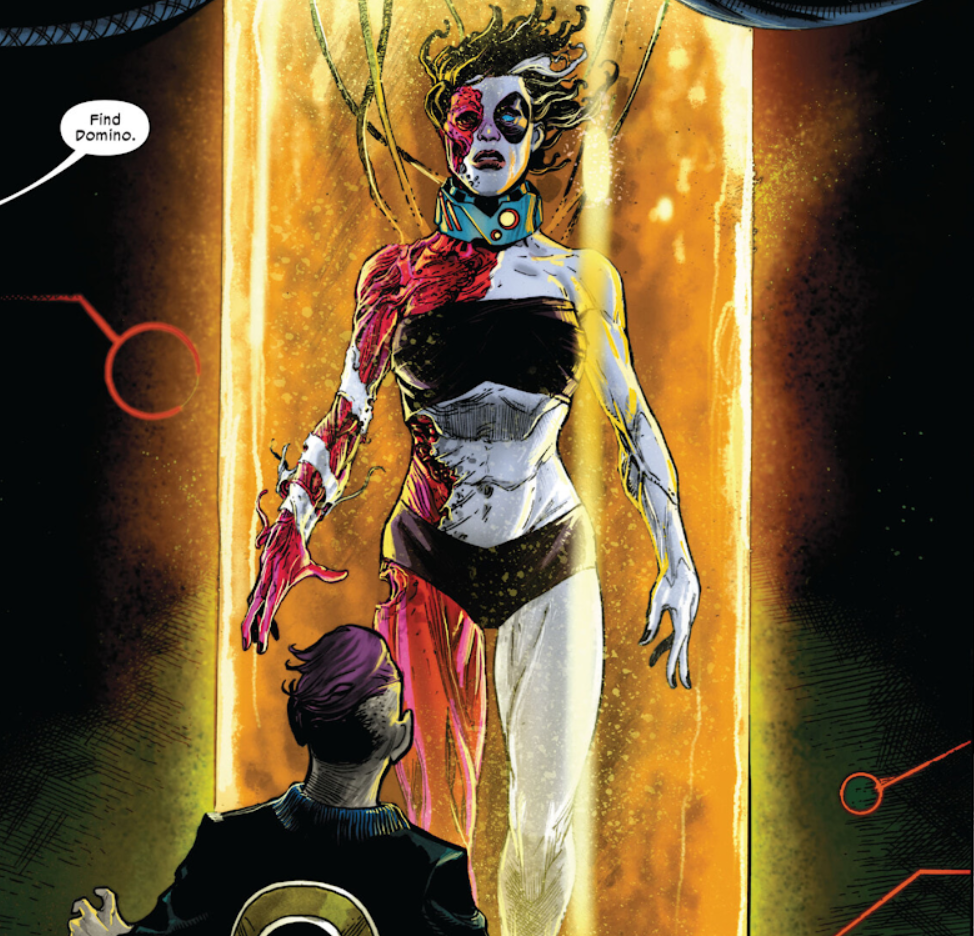 While we see Quentin slowly, fitfully evolve throughout X-Force, Hank follows the opposite course. That makes his glimmer of humanity here all the more distressing: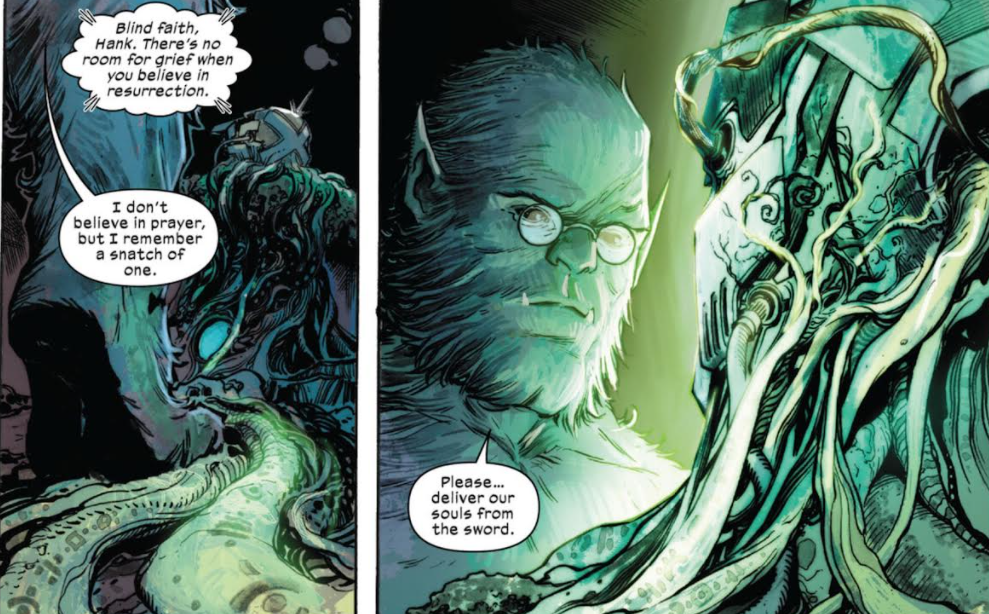 "Deliver our souls from the sword": We'll see how that goes in X-Force #23.
All Jean can glean from the nearly dead assassin is an inchoate mindblast of intentionally warped visions of the Man with the Peacock Tattoo. The minds of these living weapons are heavily secured.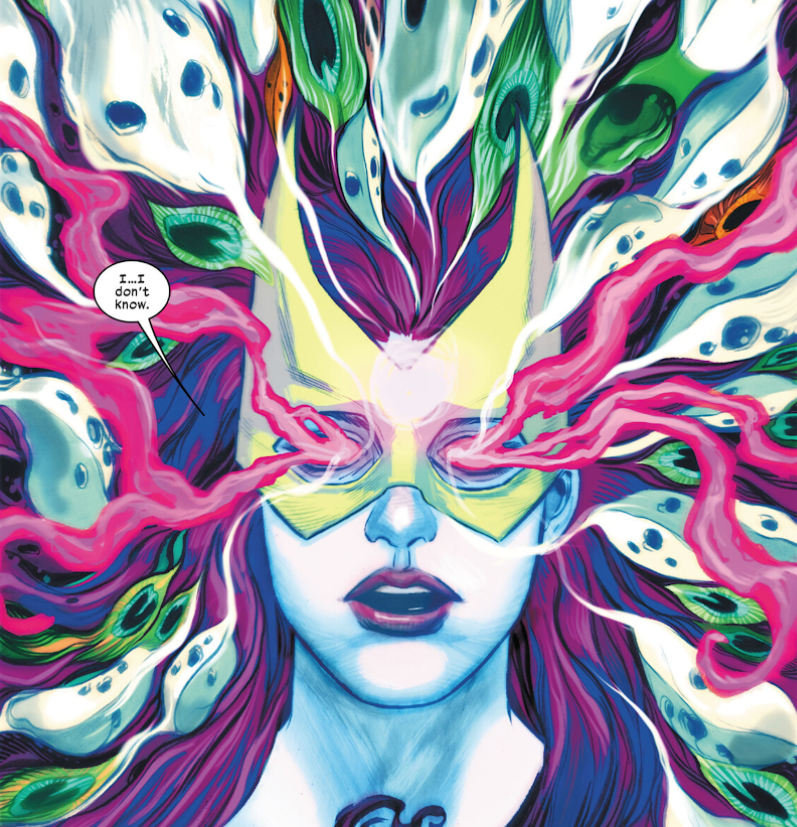 3. The Skeleton Key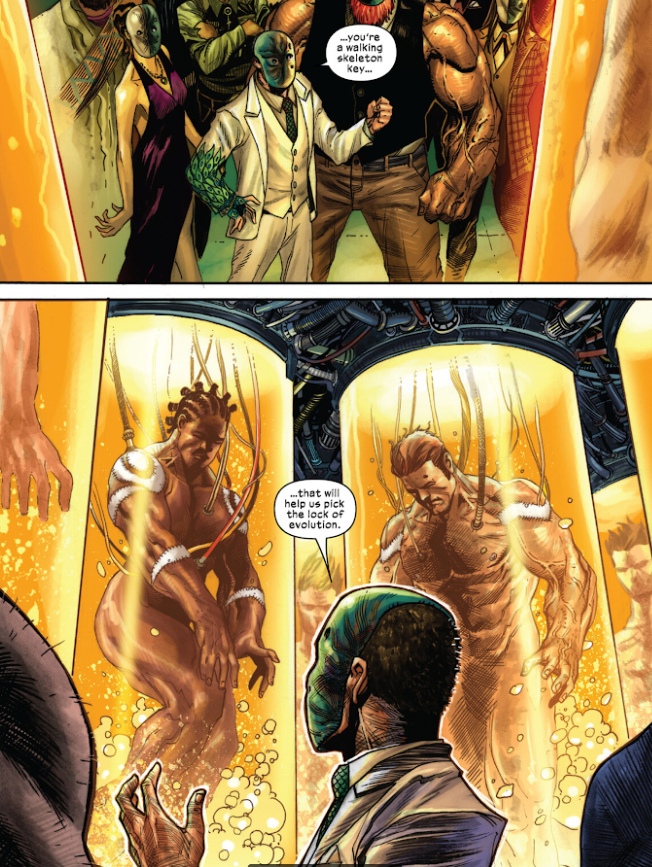 Mr. Peacock opens here with his motivational biotech-cyborg manifesto, although they'd be no match for the Children of the Vault, much less Krakoa's omegas—unless they manage to capture one.
Jean's manifesto in the face of Hank's valid quibbles, which again are strange to see in retrospect.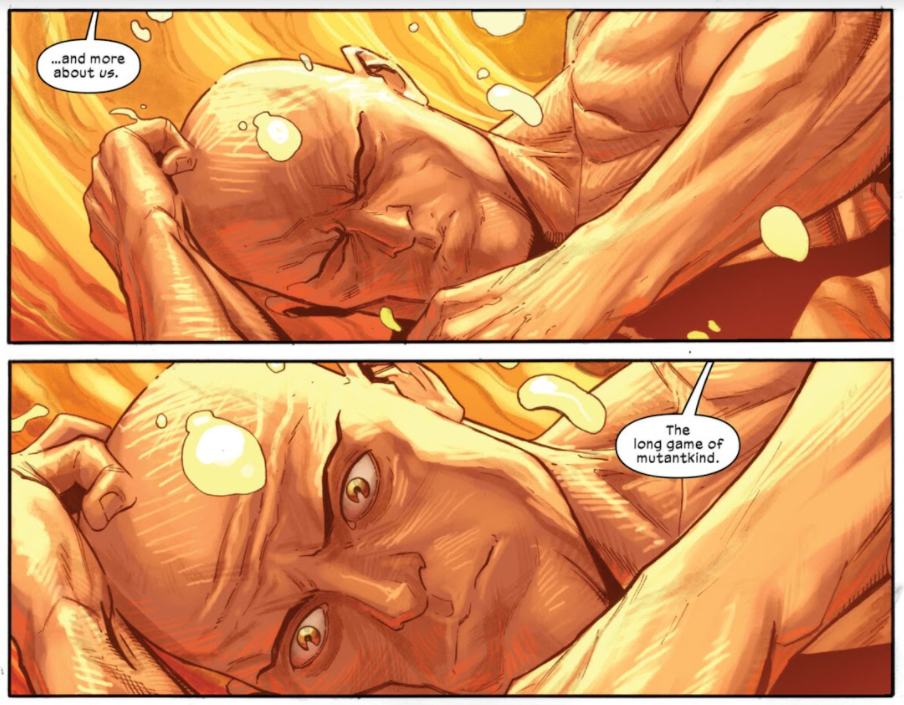 X-Force has some of the more fun and clever action sequences of the Dawn of X. We see Domino regain her powers to great effect, and then Quentin later returning the favor to her.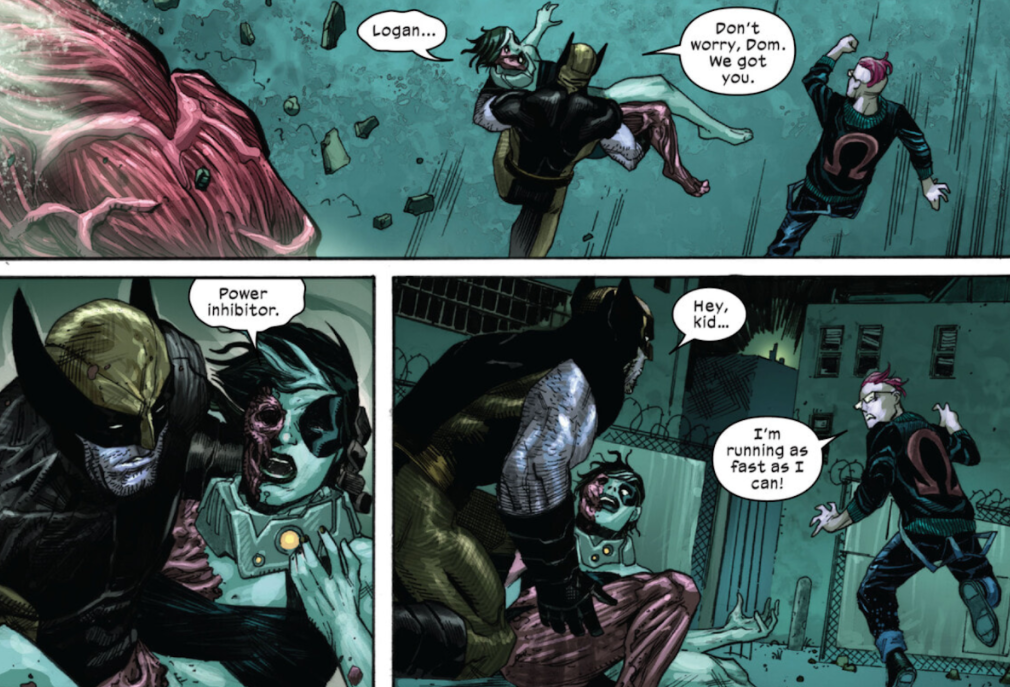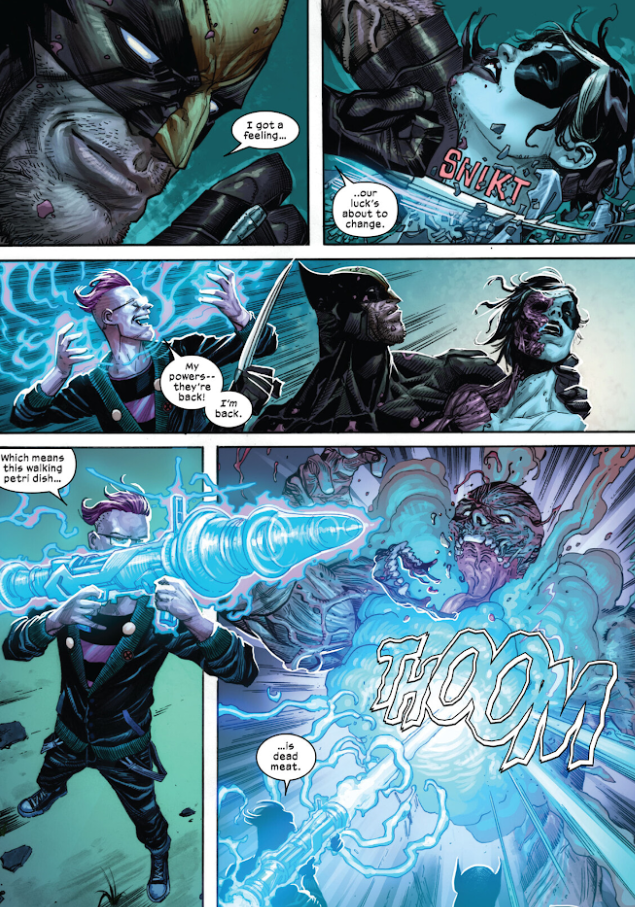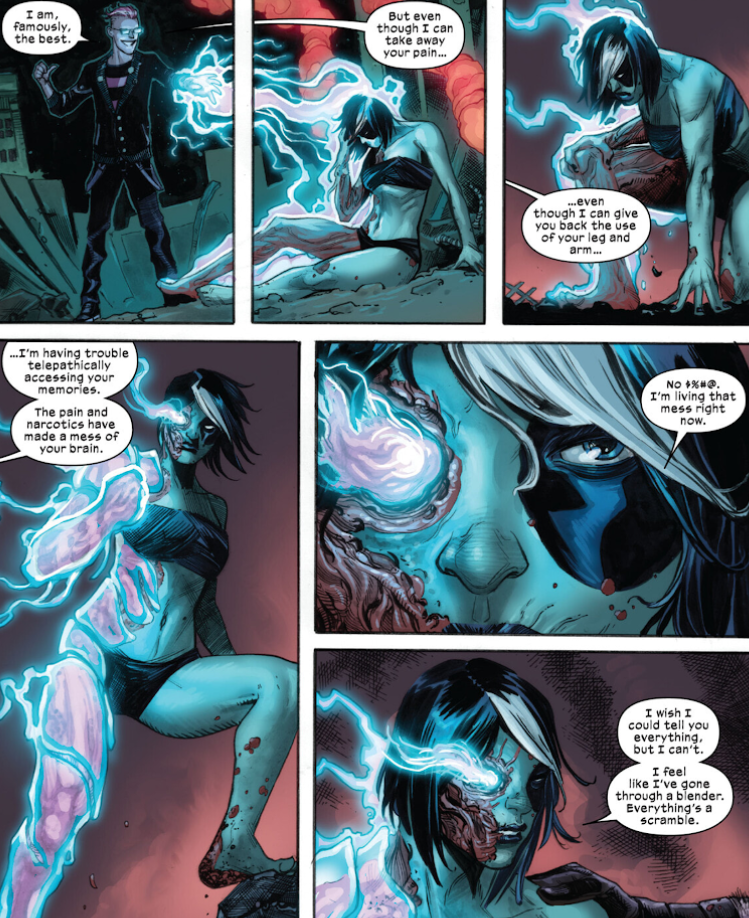 What he doesn't understand is her trauma—though Logan certainly gets it.
Xavier's timely and triumphal though ambiguous return raises an interesting question: Does it matter if this buckethead is really Xavier?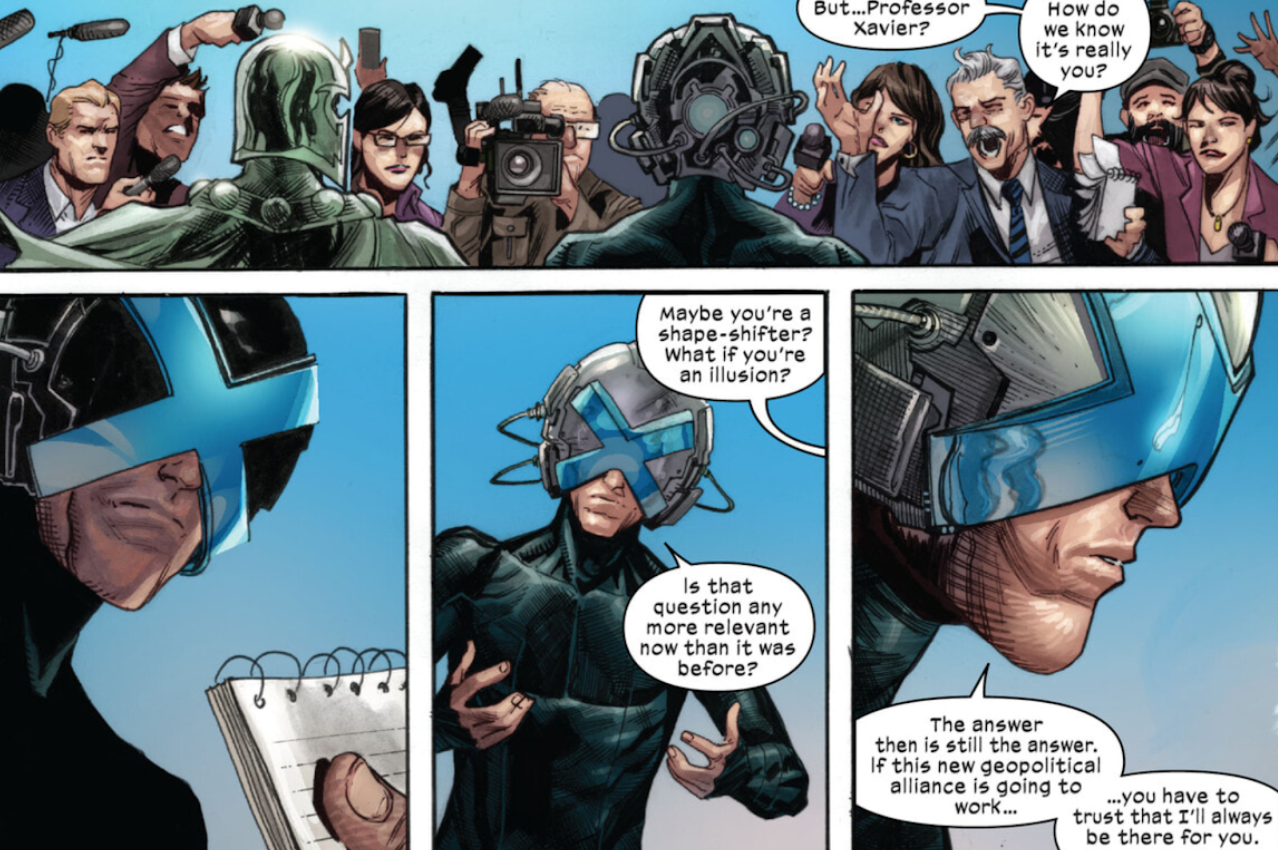 But the next data page subtly clarifies that Xavier has adroitly turned the traumatic attack on Krakoa into a kingmaker spectacle—for the benefit of himself the Krakoan nation. (How far was Magneto in on this, if at all?
(And why didn't Xavier chuck the Cerebro helmet that night as he dashed into the woods?
(Also, Xavier is clearly going to break his promise to Magneto concerning the Cerebro Sword's safety.)
It's unfortunate but likely entirely intentional that we haven't seen much interiority from Xavier. Again, this is the most we've gotten here. Picture: The sleepless ruler, never knowing peace—or dreams…
The eventual revelation of his secret deeds and rationalizations are the hinge on which this era is rushing toward some cataclysm—or inferno. Xavier's presence in this title particularly always seems full of portents of his own doom. Is he a tragic hero to be revered as much as reviled? Or a broken and outmoded caricature of a patriarch who simply needs to be superseded? Is this something being hashed out right now inside the X office, as younger creators have helped fire up a new generation of fandom?
After his return, we get Xavier's manifesto for X-Force, to whom he'll apportion "muscle" (Wolverine, Domino, Quentin—hah!) and "brains" (Jean, Sage, Beast—hmph!).
At the last we're given eerie parallels between Xavier and the masked peacock (from whom we also get a name for his supremacists: XENO*—the first letter accentuating the mirroring of the predatory dynamic between human terrorists and black-ops Krakoans).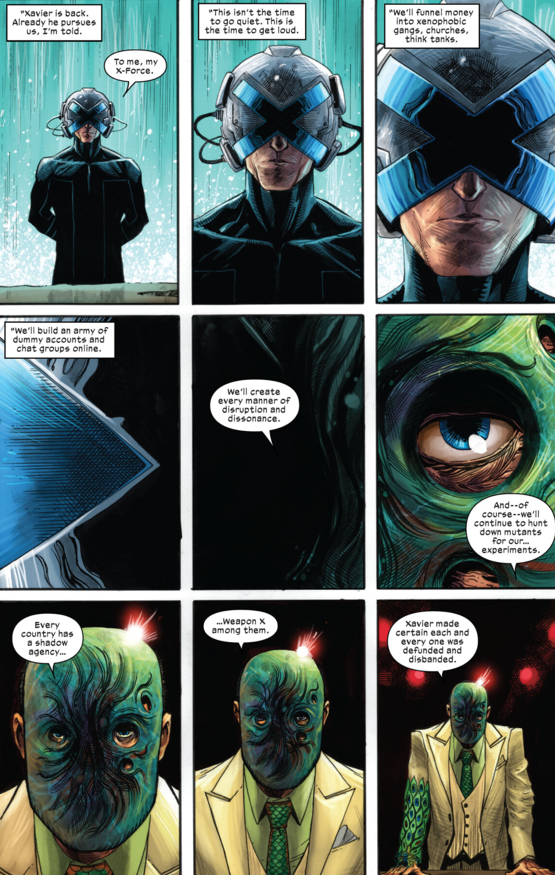 Even Jean will see a distorted reflection, inspiring Exodus.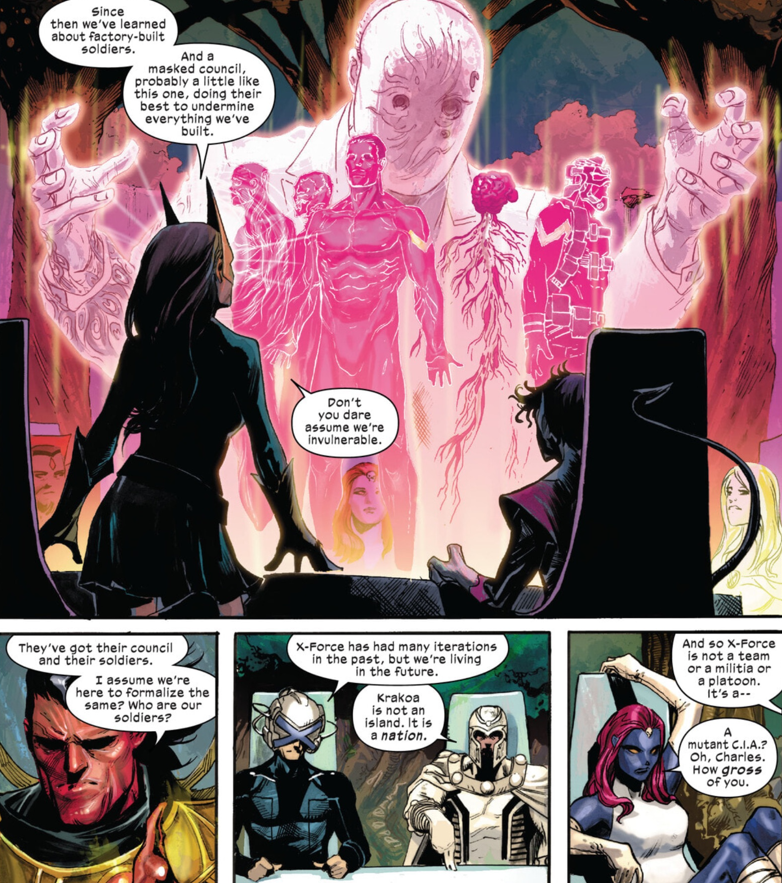 (Having been blackmailed—with debatable justification—into becoming Xavier's personal secret agent back in the interesting early 2000s Mystique series, Mystique trolling Xavier here is but a mild jab.)
*How did this shadow agency escape Xavier's notice when he's been able to shut down all others?
B. Further Quandaries
4. Blood Economics
We start off here with our first Krakoa-era glimpse of Jamie Madrox the Multiple Man, working at this seemingly one-off "Xavier Pharmaxeuticals" site; he'll continue to appear elsewhere in Krakoan R&D and engineering—quite different from his X-Factor days but actually true to his earliest appearances.
How many of Xavier's corporate holdings are merely shell companies? All of them, I bet!
Oh, the dark money on which nations are built and secured…
We'll see Jean's alt-timeline daughter Rachel practice similar but cooler psionic forensics in X-Factor, but what we need to see more of in this title is Sage who clearly eats Sherlocks for breakfast—demonstrating her skills as she digs into the motives and tactics of this new antimutant hit squad.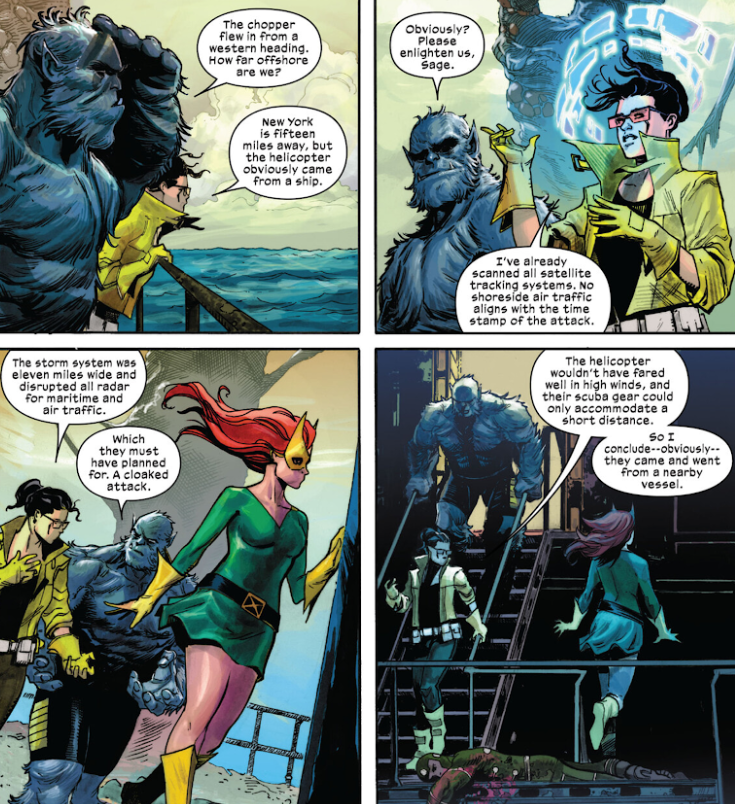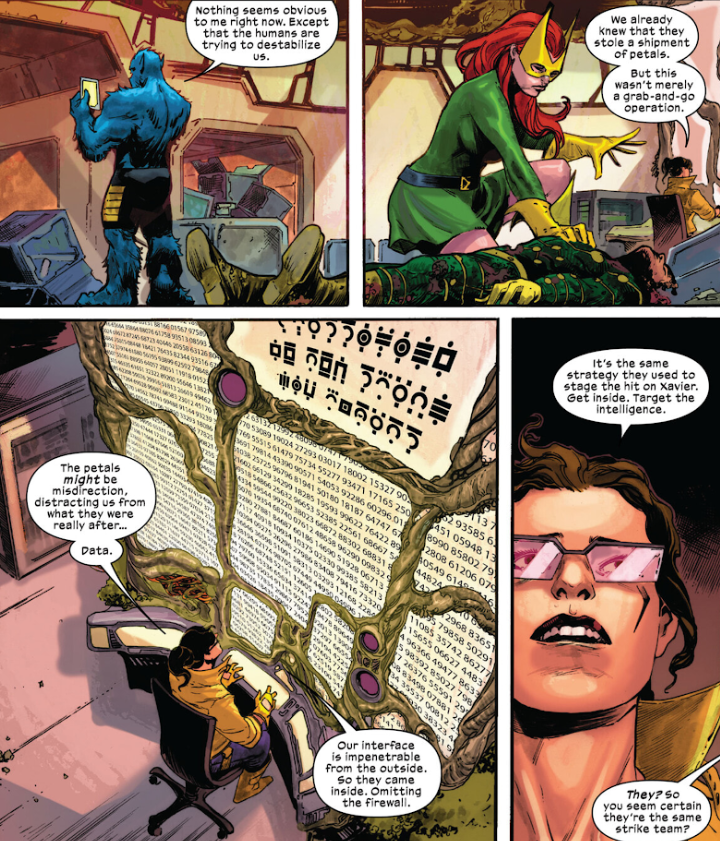 [Krakoan reads: "Classified – Do Not Share with Humans"]
Appropriately, the technopath Forge arms X-Force's "muscle."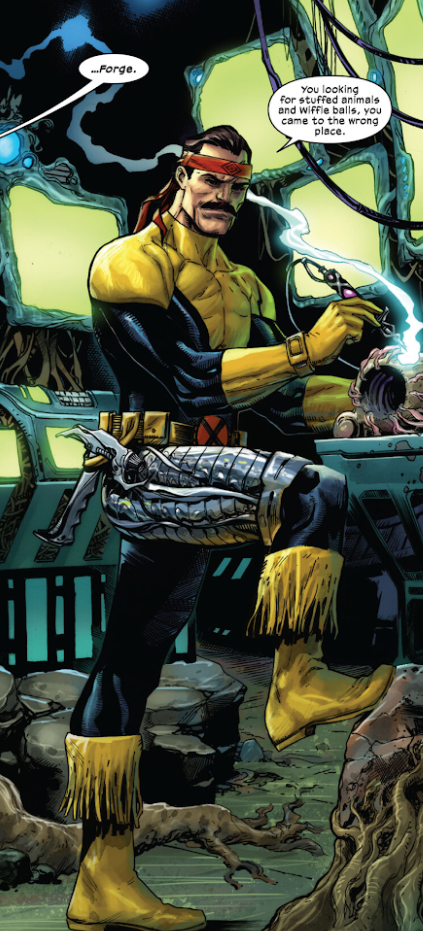 He's got Dom covered, or sleeved, in a kind of weaponized secondary skin.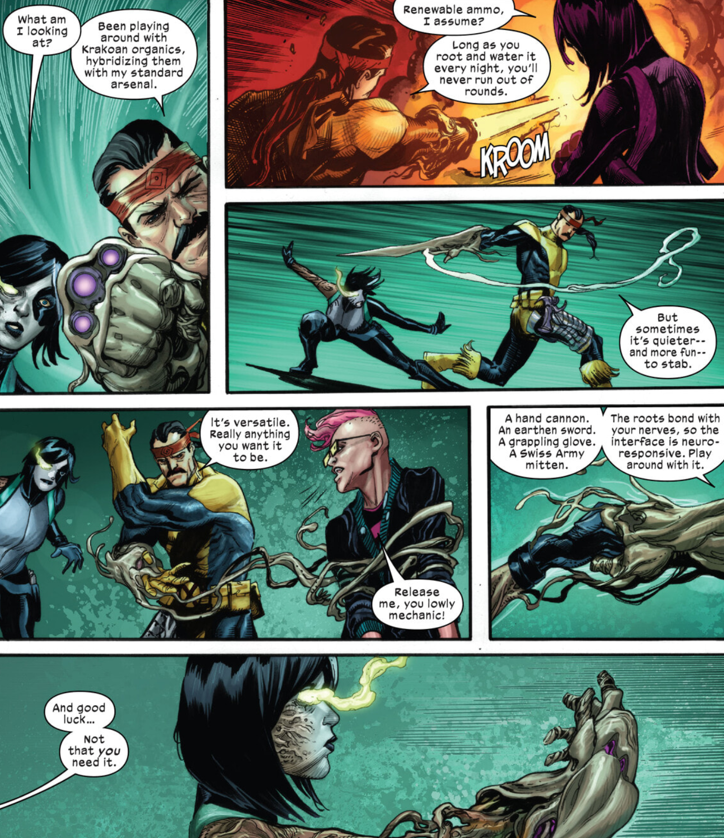 After Forge snubs Quentin to dry comic effect, we at last see the vat of adamantium ready and waiting for Logan as needed. But apparently, he makes a request here that some of it be weaponized in some way for personal use.
The glimpse at Forge's daily planner offers more dry Percy wit. Items 6 and 11 are of particular interest for the plot and tenor of the series going forward.
We conclude with the new hit squad killing human scientists allied with Xavier and then booby-trapping a Krakoan gate, destroying it, chopping Logan in half, and killing Quentin—kicking off Quentin's cycle of death and resurrection which may or may not assist in his turbulent maturation.
Also, this catastrophe raises the serious worldbuilding question: Why isn't this happening all the time?
5. Necessary Force
Logan, sans his lower half, manages to radio Dom back on Krakoa. Looking down at what he's suffered she vows to do for him what he did for her. With the gate to the site destroyed, guest-surprise teleporter Gateway (from the late '80s Outback period) ferries her and Forge to the scene, much to their foes' shock.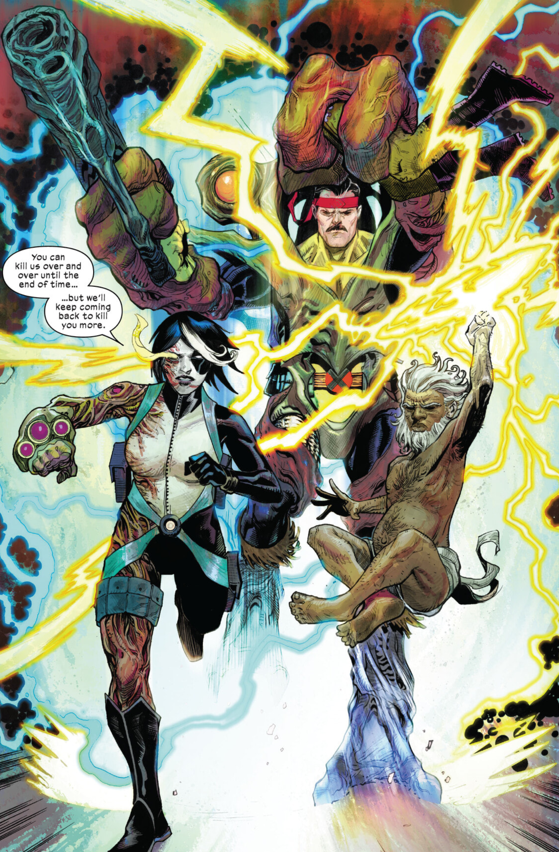 But Wolverine, of course, gets first kill.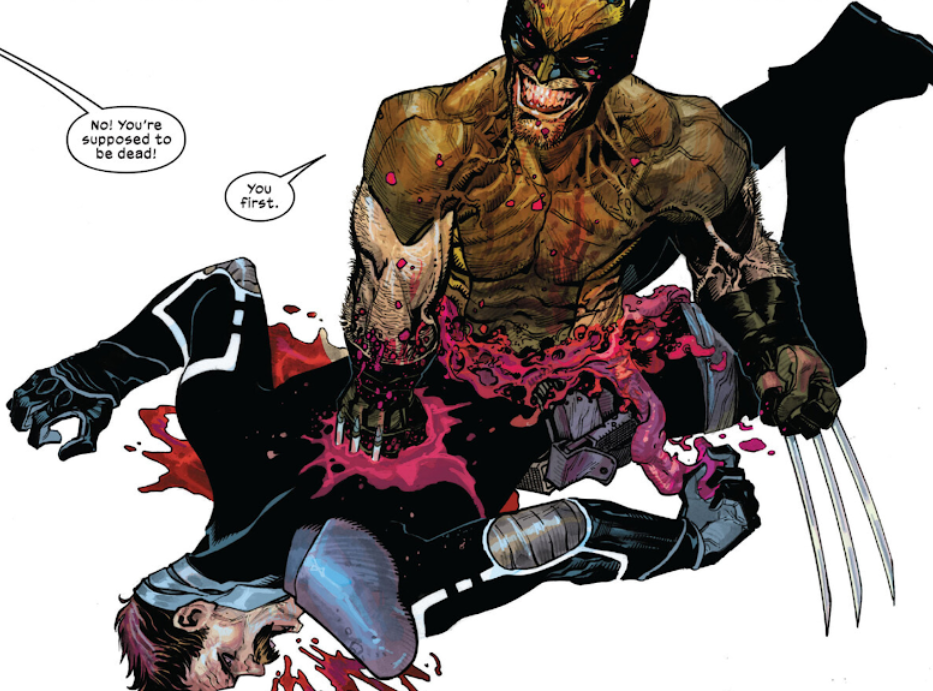 Gateway himself gets to act as "muscle," too, crashing the mercs' chopper, while inside the other two make short work of these human goons—Domino believing she's striking back directly at her tormentors. But no such luck. Are her powers really on the ebb tide now?
Later in interrogation, it's Jean who discovers the connection between these MERCs and Mr. Peacock.
The final data page detailing the origin of MERC is a fascinating bit of geopolitics and sociology in brief. That Hank inquired about their services presages the deeper dive into Hank's inner anomie next issue.
Beast insisting they hold back from killing, for both practical and moral reasons, gets him a sour look from Sage—who probably already sees through his hypocritical b.s., even before Terre Verde.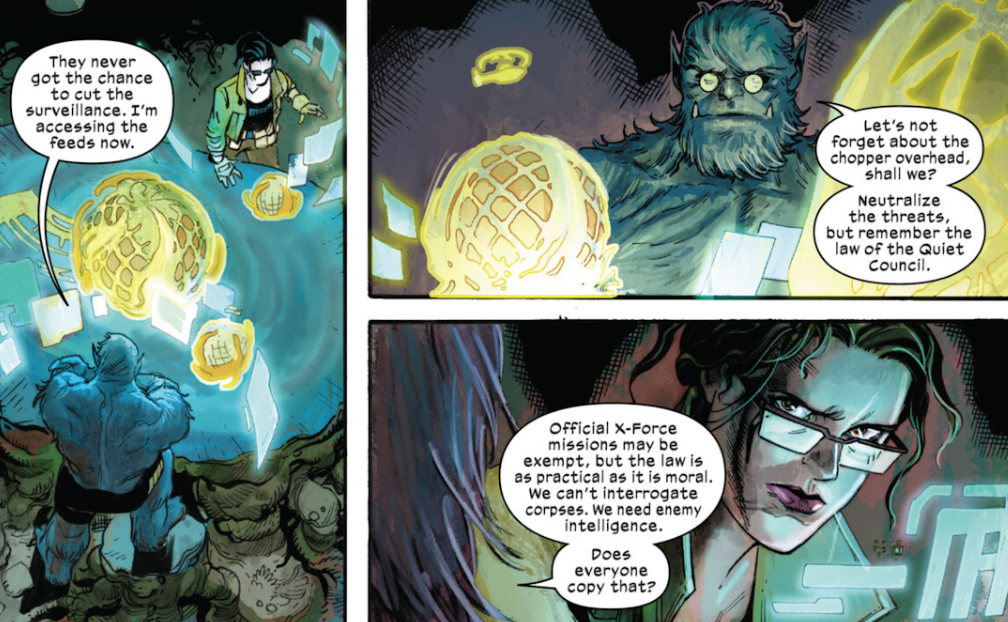 Forge's M.O. as battlefield medic is horrifying as it is brilliant—perfect for X-Force. His suit is gnarly as hell too, weaponized organics, chimerically mashed together.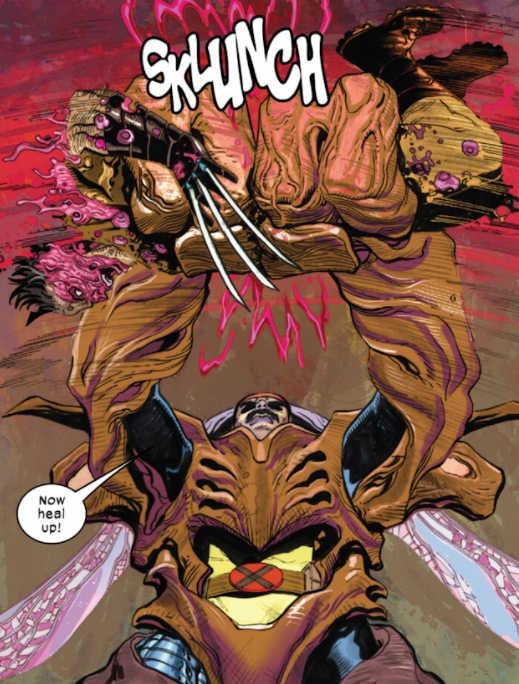 The nicest moment, though, this issue is the quiet seaside twilight Dom and Logan share afterward.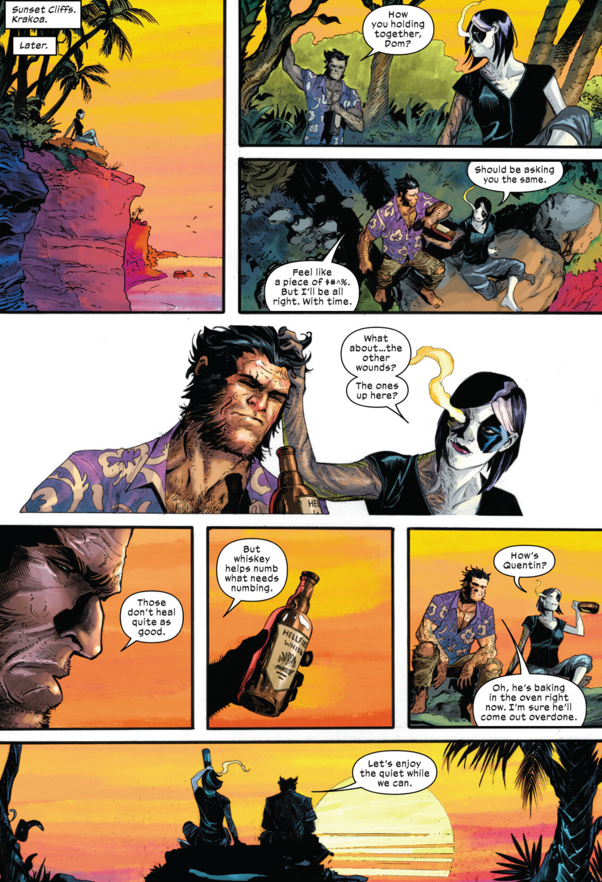 This deepens Logan's earlier heartfelt assurance to Dom in issue #3.

6. Intelligence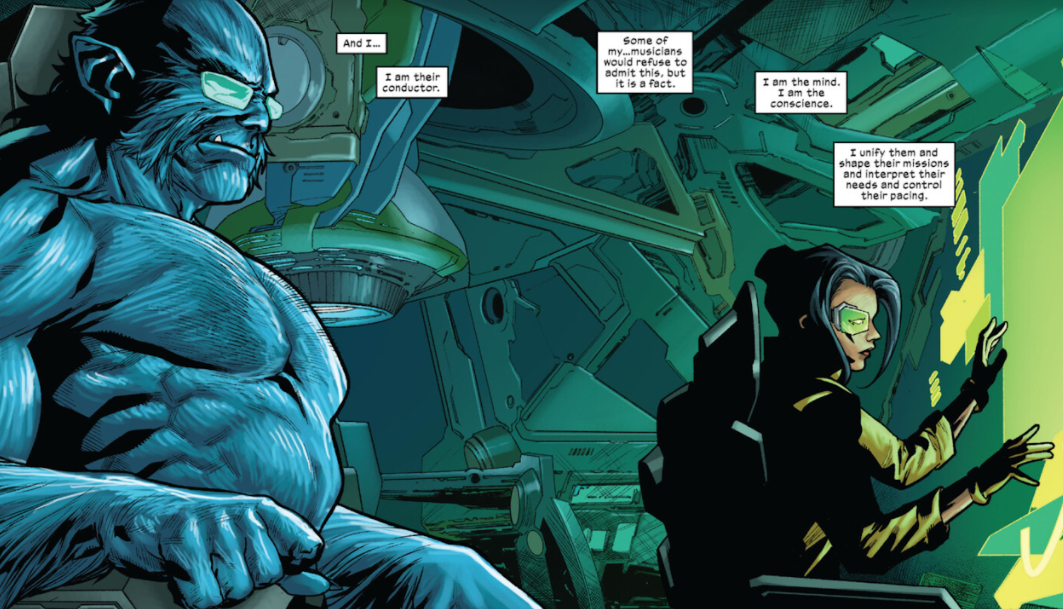 Beast, after many years of making morally questionable and ultimately catastrophic decisions, finally becomes in Percy's X-Force unquestionably repugnant and irredeemable. We'll look closer at this issue when we cover issues #6-10.
But for now, anyone wondering what happened to the supposedly lovable blue bouncin' boy, check out this insightful piece.
NEXT TIME: Brisson and Flaviano's New Mutants, Pt.1